34 of the Smartest New Household Gadgets
These fun new toys make everyday tasks a snap.
by Sarah Newell
A Cake Decoration Pen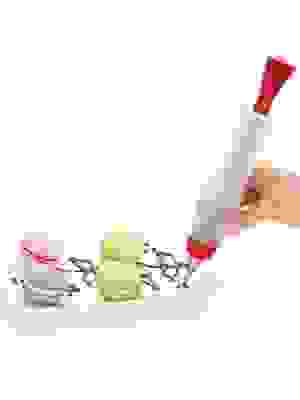 This pen makes writing messages on a cake as easy as writing a memo!
Browne USA Cuisipro deluxe decorating pen, $15, Cuisipro.com
A Colander Bowl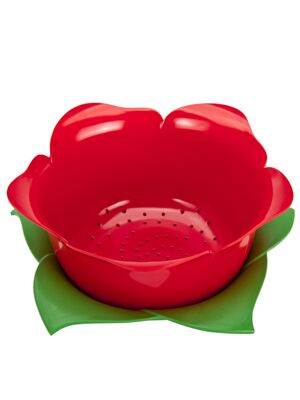 The new larger size holds up to two quarts.
Zak Designs colander and dew bowl, $25, Zak.com
A Salad Spinner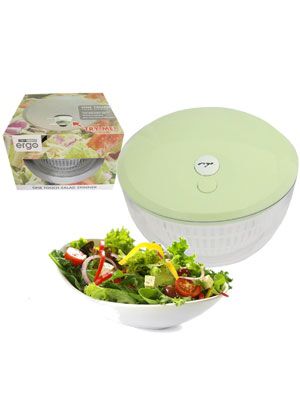 This one is battery-operated, so all you do is toss in the lettuce and press start.
Ergo battery-operated salad spinner, $40, Chef-Select.com
A Custom Coffee Machine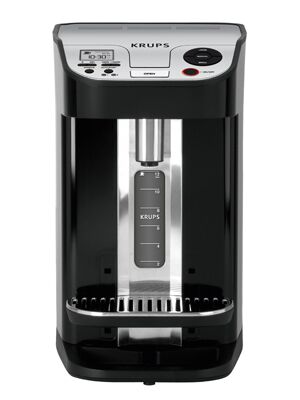 This machine can make one cup at a time, and if you're not ready to enjoy it, it'll keep the internal coffee tank warm for up to four hours.
Krups Cup on Request coffee machine, coming soon
Silicone Measuring Cups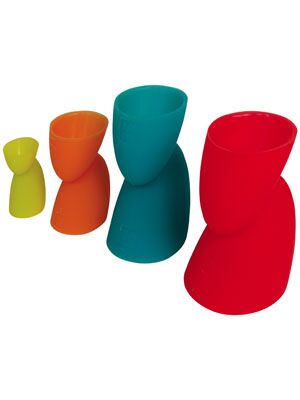 These cups are ideal for sticky foods like peanut butter and shortening.
Measuring cups $20, Casabella.com
Battery-Powered Salt and Pepper Mills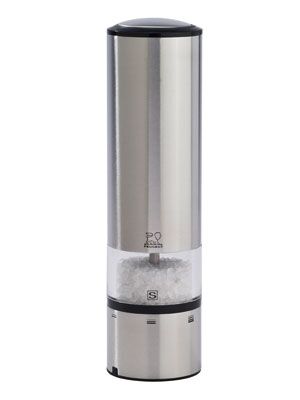 A battery-operated mill with a lifetime warranty -- that's pretty great.
Peugeot Elis Sense salt and pepper mills, $130 each, Williams-Sonoma.com
A (Genius) Popcorn Maker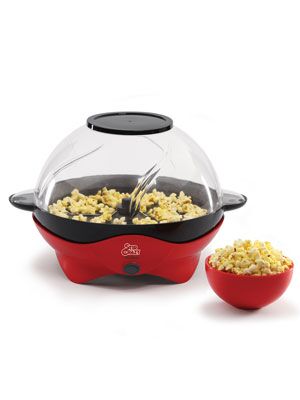 Make delicious popcorn at home with this updated classic -- the lid doubles as a bowl.
West Bend Housewares Stir Crazy Deluxe, $50
A Battery-Operated Ice Cream Maker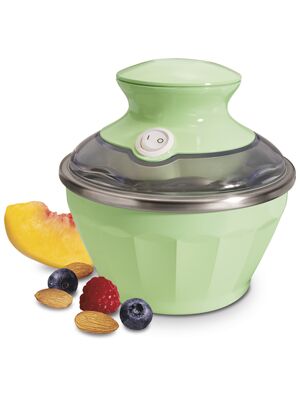 Now available as a battery-operated model so you can make ice cream anywhere!
Ice cream maker, $30-$35, HamiltonBeach.com
A Better Blender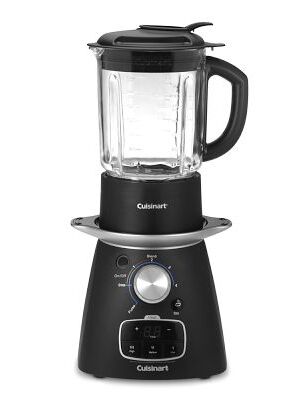 This blender and soup maker will chop and saute your veggies before pureeing to make soup -- all in one!
Cuisinart soup maker and blender, $200, Williams-Sonoma.com
A Luggage Scale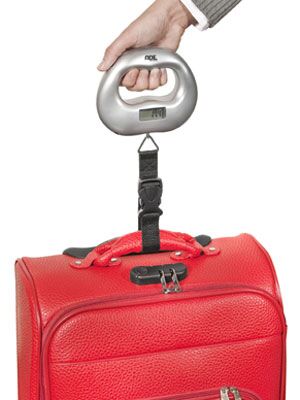 No more overweight bag fees! Weigh your luggage before heading to the airport.
Frieling ADE digital luggage scale, $19, Amazon.com
A Soda Maker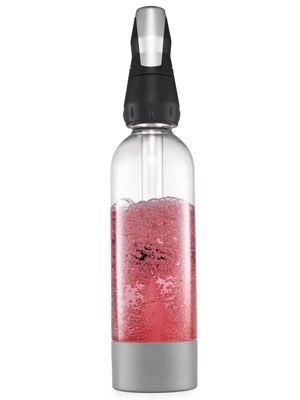 Quickly carbonate any beverage with a twist of the lid.
iSi North America Twist 'n Sparkle direct carbonator, $50, Williams-Sonoma.com
An Egg Cracker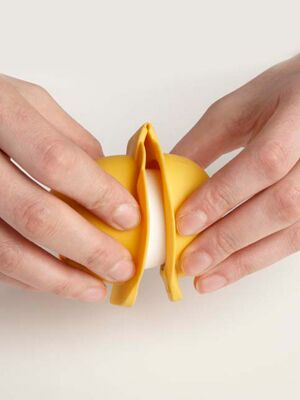 Never drop a piece of shell into your bowl again with this handy tool.
Amco Houseworks egg cracker, $5
A Tough Toaster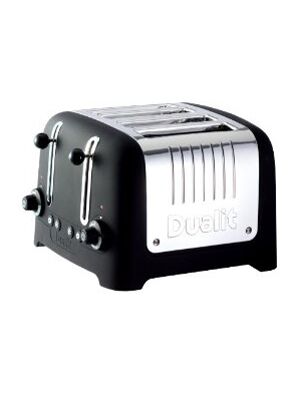 We love the new Peek & Pop function so you can check your toast without stopping the toasting cycle.
Dualit Lite "chunky" Four Slice Toaster, $130, Target.com
Corn Desilker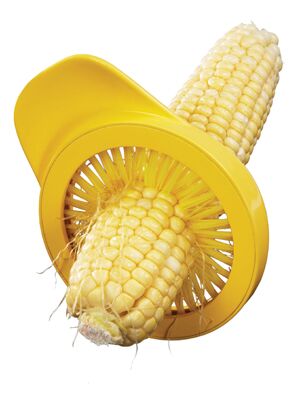 Remove any remaining silk from corn by sliding each cob through the bristles.
Amco Houseworks Clean Glide corn desilker, $7, BedBathandBeyond.com
A Pepper Prepper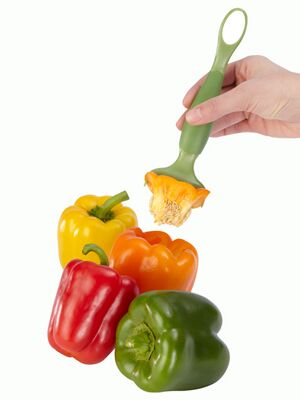 Pit and core a fresh pepper without breaking the shape of it -- perfect for making stuffed peppers.
Amco Houseworks Pepper Prepper, $8, Cooking.com
A Tea Infuser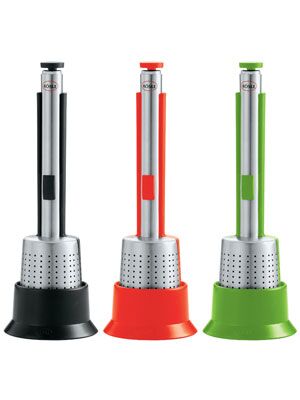 Fill the infuser with your favorite loose tea, place in a mug or kettle filled with hot water, and pull the tab to press the leaves and make perfectly brewed tea. It's also dishwasher-safe!
Tea infuser, $20, RosleUSA.com
Cooktop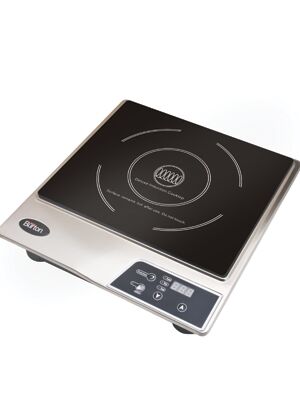 Great for holidays or large dinner parties, this stainless-steel model is twice as efficient as your stove, has 10 power and temperature levels, and is a safe alternative to an open-flame, gas stove.
Aervoe Industries deluxe induction cooktop, $120, Aervoe.com
A Fast Can Opener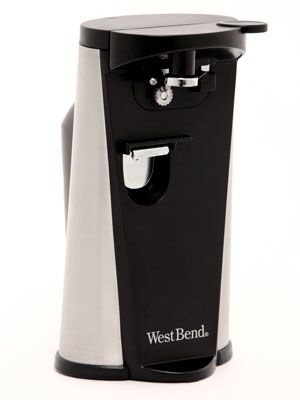 Quickly opens a can in eight seconds flat.
West Bend Houseworks electric can opener, $28, Amazon.com
Measuring Cup Bowls
These bowls do double duty -- measure your ingredients and then mix!
Measure Up Bowl, $20, ShopMeasureUpBowl.com
A Thermal Cooking Pot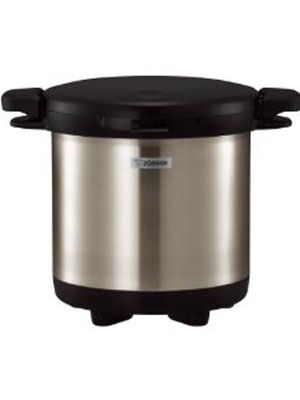 Reduce your energy costs with this pot -- simply heat the inner cooking pan, and then place it in the outer container and close for a perfectly cooked meal.
Zojirushi America stainless-steel thermal vacuum cooking pot, $269 for 1-1.5 gallons, Amazon.com
An Apple Divider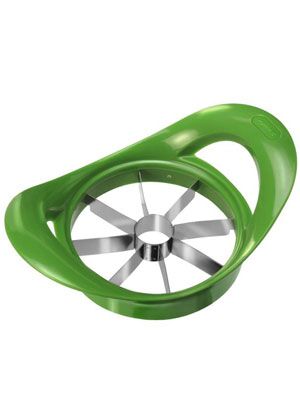 Smooth, comfort-grip handles allow for precise apple coring and cutting.
DKB Houseworks USA Zyliss apple divider, $8, available in summer 2011 at Amazon.com
A Food Dam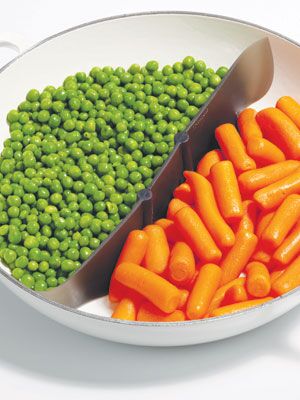 Cook two sides in one pan with this nifty food dam -- it expands to fit 8- to 14-inch pans.
Food dam, $10, Fusionbrands.com
Tough Knives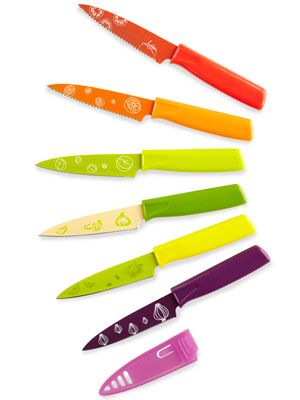 Made of high-carbon stainless steel with a colorful nonstick coating, this knife is sturdy and pretty.
Kuhn Rixon Farmers Market knives, from $10 each, FactoryDirect2you.com
A Trivet With a Twist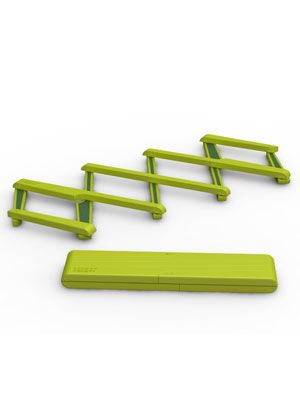 This vibrant trivet expands to hold small platters, big platters, and everything in between.
Stretch trivet (in green, pink or black), $16, JosephJoseph.com
A Hand-Crank Juicer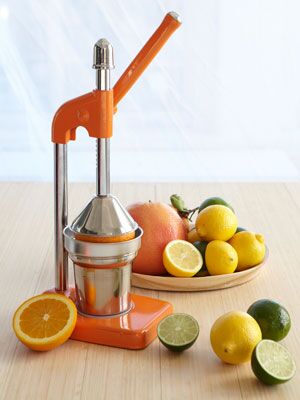 Pretty enough to display on your counter when not in use.
IMUSA juicer, $25, BedBathandBeyond.com
A Tea Thermos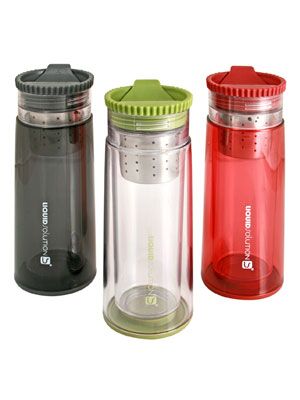 The double-walled plastic keeps your tea hot; plus, the brewing basket is removable, so you can use bagged or loose tea.
Majes-Tea Brewer (in Earl Grey, Oregon Berry, and Green Tea), $18, Liquid-Solutions.com
A Digital Thermometer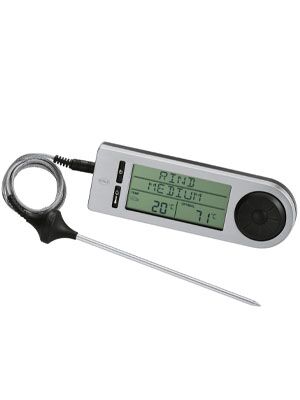 This two-in-one thermometer measures the inside temp of the oven as well as the internal temp of the meat.
Digital roasting thermometer, $40, RosleUSA.com
A Kitchen Timer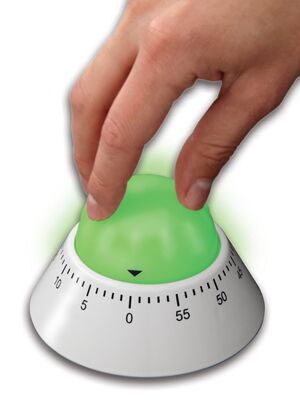 This space-age-looking timer will change colors to let you know when there's five minutes left, and then it'll blink red when there's only one minute left!
Amco Houseworks Color Alert kitchen timers, $10
A Pie and Cake Maker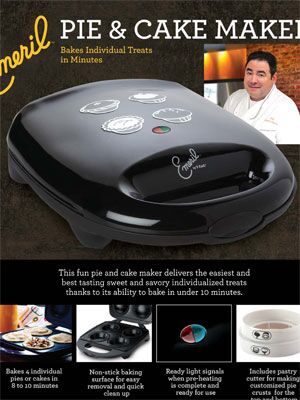 Kind of like a waffle maker, you can bake four individually sized pies or cakes in under 10 minutes with this guy.
Emeril pie and cake maker, T-falUSA.com
A Cotton Candy Maker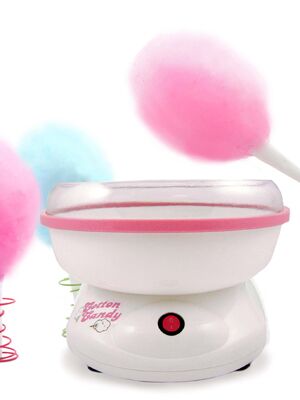 This tabletop-size machine makes individual servings of cotton candy on a stick. (You know you want it!)
Back to Basics cotton candy machine, $40
Stainless-Steel Coffeemaker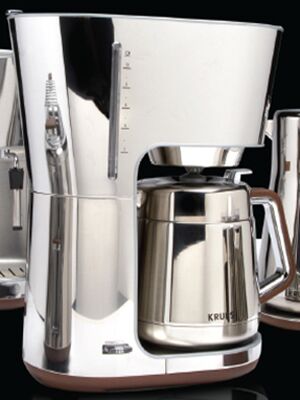 New high-gloss chrome and touches of natural wood elevate the traditional kitchen appliance to a piece of art.
Silver Art Collection, Krups.com
A Spice Grater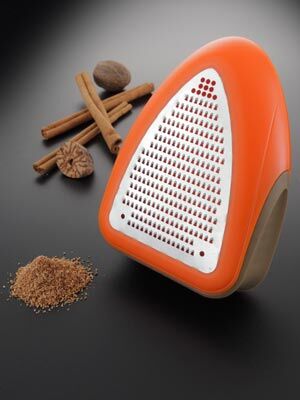 This handheld grater has etched teeth that can tackle hard spices like nutmeg.
Edgeware spice grater, $13, Amazon.com
Man Claws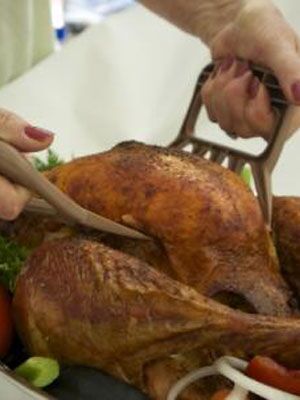 Like tongs but better -- just stick and easily lift a large piece of meat (even a whole chicken) from a hot pan while keeping it intact.
Cameron Products Man Claws
A Snow Cone Maker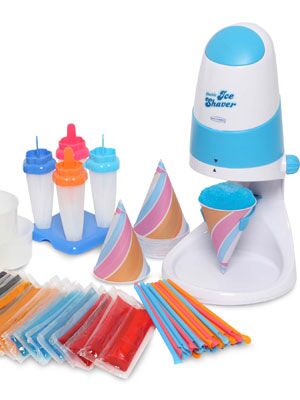 This kit comes with everything you need to make shaved-ice treats: maker, syrup, cups and straws.
Back to Basics Ice Treats Party Pack, $40
Don't Miss: 15 Luxe Pieces for Your Registry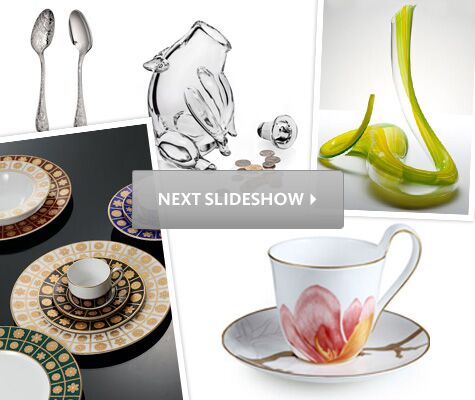 Crystal decanters, high-end china, and more -- consider adding a few of these to the list. You know, as a group gift option or for your parents' well-to-do-friends.