5 Things to Know Before Wedding Dress Shopping, According to Bridal Salons
Please, please don't bring your morning latte into the salon—and four other things to know before going wedding dress shopping.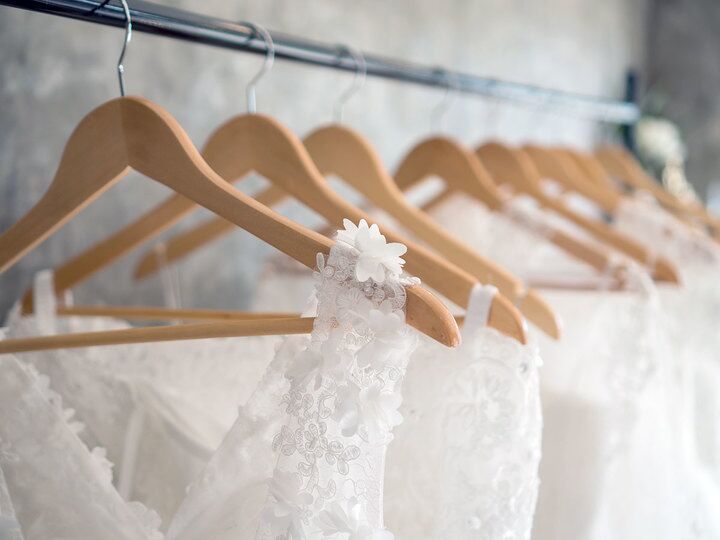 iStock
There are a few main things to know before going wedding dress shopping at your local bridal salon. For starters, you'll want to limit your entourage and always make an appointment. And then there are a few under-the-radar things to know before wedding dress shopping—things bridal shop owners and salon consultants really want you to know too. Follow our guide to properly prepping and displaying the best etiquette before and during your bridal salon appointment.
1. Be respectful of your appointment time.
One of the main things to know before dress shopping is that many bridal salons operate by appointment only or have designated walk-in times for a reason. Your bridal consultant wants to be able to completely focus on finding the perfect dress for you, but if you're a no-call no-show, or running late to your appointment, it can throw things off. And since consultants want to avoid delaying another customer's appointment on your account, you may get charged a fee for not showing up or have to accept a shorter appointment window and reschedule for another. If you know you can't make your appointment, be respectful of everyone's time and call as far in advance as possible to reschedule.
2. The salon may not be able to serve you and your squad celebratory champagne.
Although lots of bridal salons do offer a celebratory glass of bubbly for you and your entourage, not every salon can pop a bottle. If the owner doesn't have a permit or license to serve alcohol (it can vary based on county and state laws), you may have to go to a restaurant to toast after.
3. Be respectful of the bridal salon's furniture.
Bringing a posse with you? There are a few things they need to know before wedding dress shopping with you. Bridal salons often have sofas and chairs to make your group more comfortable while you try on dresses, but many shop owners see friends and family members getting a little too comfortable, like putting their feet on furniture or taking their shoes off if they're there for a while. As welcoming and gracious as bridal salons are, always remember you're a guest and not in your own living room.
4. Don't bring in food or drinks that could damage the gowns or the salon's furniture.
We definitely recommend making a fun day out of dress shopping with your friends or family members, like having lunch together after dress shopping—just don't try to combine the two activities. That means keep any food or beverages outside of the shop. Even if you think a small bag of chips is innocuous enough, shop owners are concerned about greasy fingers touching and potentially damaging fragile fabric. Even iced or hot beverages in to-go cups could spill or leave rings on furniture in the salon. Bottled water is usually fine, but leave anything else to be eaten after shopping.
5. Children should never be left unsupervised in the bridal salon.
Kids are adorable—but if they're left unattended in a bridal salon, you may have a higher bill on your hands than you thought (always a good thing to know before wedding dress shopping with little ones). Your bridal consultant doesn't double as a babysitter, so if you bring your child to your appointment, it could be a gamble unless you know for sure they'll sit still and behave. In that case, it's best to bring along someone who can watch them. Otherwise, you and your consultant will be too busy to make sure your child is okay and behaving while left unsupervised—so if they end up adding a little color to a wedding dress with crayons, you'll likely be purchasing an extra dress. Some bridal salons are adults only in the first place, and will say so on their website or tell you when you book your appointment.
Ready to start wedding dress shopping? Head The Knot Marketplace to find bridal salons near you.