11 Mistakes Couples Make That Drive Photographers Crazy (in GIFs)
It's best to let the pros handle their jobs on your wedding day.
by Carrie Anton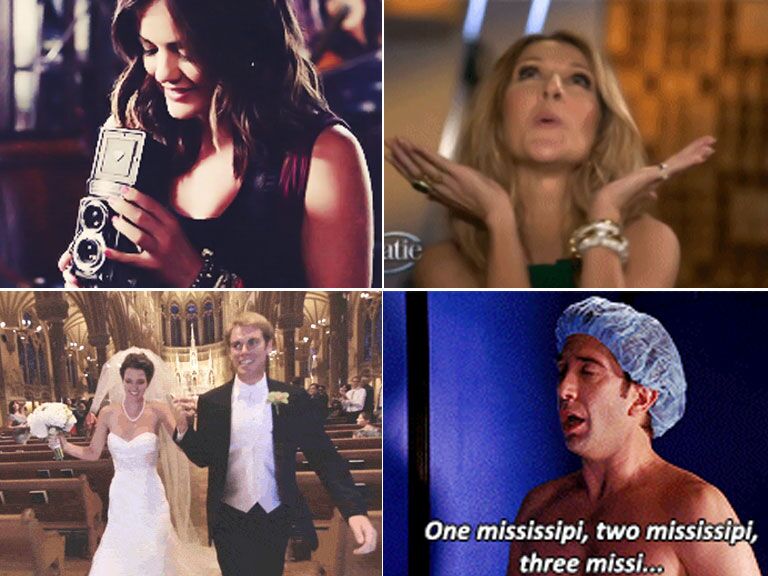 It's safe to say that you and your wedding photographer have the same goal: to create gorgeous pictures that capture all the magic of your day. If you've researched the photographer's work, met for a consultation and feel confident that they're a good fit (our All-In-One Wedding Planner app will match you with one in your area that's perfect for you), nothing should stand in the way of achieving that goal—except, perhaps, you.

Wedding photographers love their couples—it's safe to say they wouldn't be doing this job otherwise. And with that love is their desire to deliver the highest quality snaps possible. But that becomes increasingly more difficult when brides and grooms—along with their entourage of family and friends—sometimes create obstacles that make photographers feel like hurdle jumpers training for the Olympics. On your wedding day, leave the picture taking—and all that goes with it—to the pros. And when it comes to the following common mistakes, avoid them at all costs.
1. Posing Like a Supermodel
Remember, photographers are there to document your wedding day, not hold a personal photo shoot. While there will be some formal pictures, your job is not to strike a pose or be a diva (even though you are the guest of honor). What looks good and natural through the lens might feel a bit awkward in real life, so trust your photographer and follow their cues.

2. Adding an Orange Glow
While it's admirable to take a safer approach to sun-kissed skin, your natural complexion will read better in pictures than any spray tan. You can always ask your photographer to warm up the tone of your shots in the editing process, which is time better spent than filling in the white spots missed by your tanner.

3. Leaving Photographers Out of the Planning
Having worked countless weddings, your photographer knows best if it's possible to capture the 200 family photos you've requested and still make it to your cocktail hour on time. A schedule is great for keeping the day's events moving ahead, but make sure you give everyone the time needed to do their jobs.

4. Keeping Photographers in the Dark (Literally)
Photographers can shoot in all kinds of lighting, but sometimes it requires setting up extra equipment so some moments don't look dim or cloudy. Whenever possible, plan to shoot photos in areas with natural light. For example, instead of having your hair and makeup done in a dark room, select a setup near a sunny window. If natural lighting isn't an option, give your photographer a heads up in advance so they know to bring backup lighting.

5. Having Unrealistic Expectations
It's great to know—and communicate—what you envision your wedding pictures to look like, but don't forget to be realistic. An indoor wedding in a modern hotel is going to look very different than a sunset wedding on an ocean beach. Photographers can capture magical moments, but they aren't magicians.

6. Denying There's Family Drama
No family is perfect, and that's okay. But if two of your relatives tend to bicker when in close proximity, don't place them next to each other for family portraits, even if their outfits happen to complement one another perfectly for the shot. While you don't have to dish the dirt on your family's private business, giving your photographer a heads up on potential drama can only be a good thing.

7. Inviting a Snap-Happy Friend to Take Photos Too
When there's more than one person holding a camera, those in the picture don't know where to look (plus, then the professional photos will be filled with people taking photos, not having fun—less than ideal). Since you're paying a pro to take the best pictures possible, politely ask your camera-loving friends to save their hobby for another time. Your wedding photos will look better for it.

8. Eating During Toasts
By the time you finally sit down to eat at your reception, you'll likely be famished. Before digging in, wait until everyone has given their toasts (or at least take small bites intermittently between speeches). Photographers want to capture your responses to the special words shared, and that's not alway possible if you have a mouthful of food.

9. Not Saving Them a Good Seat
It's a given that your photographer should be served a meal, but make sure their seat is located where the action is. If your photographer can't see what's happening during dinner, there's no chance to snap a pic when a spontaneous moment arises.

10. Not Giving Them a Break
Yes, you're paying photographers for their services, but that doesn't mean they don't occasionally need bathroom breaks and a chance to grab some food. Make sure the agenda allows them the little extra time they need, instead of having to rush through a meal.

11. Worrying Instead of Enjoying Yourself
Your wedding day only comes once—instead of stressing about the little details, don't forget to relax and enjoy it all. You want photos of yourself smiling, laughing and dancing, not bossing the caterer around or worrying over centerpieces, right? You're marrying the love of your life while surrounded by family and friends. Soak up every special moment you can.

And remember, while you're living your best day ever, trust that your photographer will do anything to get the shot.
Now, that's dedication!
Ready to find your shooters? 
Start your search for local photographers and videographers.