25 Sunflower Wedding Ideas to Brighten Your Big Day
These iconic yellow flowers will make a statement in your wedding floral arrangements.
Few flowers are as distinct and easily identifiable as a sunflower. The bloom is so iconic that Kansas named the sunflower their state flower. However, when it comes to weddings, it can sometimes be tricky to blend such bold and statement-making flowers into designs in a seamless and cohesive way. To help tackle this task, we tapped Samantha Leenheer of Samantha Joy Events and Joan Wyndrum of Blooms By The Box to weigh in with expert advice for couples planning sunflower-themed weddings.
"When considering working with a popular flower like a sunflower, you want to think of how to use it in new ways. There are so many varieties of sunflowers and a great way to pull them into your wedding is to use a unique variety like the strawberry blonde or chocolate varieties that aren't your typical yellow colors. This will provide a fresh view of the sunflower. If you love the yellow tone, look into different size blooms and incorporate other flowers in similar tones to keep the arrangements cohesive. Try incorporating them into your installations for the ceremony, seating chart and stage coverings. This will allow you to take advantage of larger size sunflowers and cover more visual space," says Samantha Leenheer of Samantha Joy Events. Joan Wyndrum of Blooms By The Box goes on to suggest that, "sunflowers represent more of a rustic feel for weddings but can certainly be used for a more sophisticated look. Only including a small number of sunflowers in an arrangement or bouquet is one way to tone down the rustic vibe. If you are making a bouquet, include only two sunflowers, so they become more of an accent flower than a focal flower."
In this story:
Pros and Cons of Including Sunflowers in Your Wedding Flowers
"Sunflowers are great to use when they are in season in late summer. The size of them can cover more visual space, which can save you on other blooms. Sunflowers are available in smaller dainty blooms and some oversize giant ones as well, so you have a wide variety of options when working with them. The downside is you need to use them in new ways and can sometimes be viewed as a very rustic or budget flower," says Leenheer.

Wyndrum says that "sunflowers represent a rustic theme, so if you plan to use them for that, they are perfect. They are in season all year round, which is another plus. Sunflowers are hardy and have a long vase life which is another pro to using them. One con to using sunflowers is that they can be tricky to arrange and sometimes require adding wire to the stems as the heads are often large and heavy."
Sunflower Wedding Bouquet Ideas
1. Sunflower Bouquet for Summer Wedding
Sunflowers have a naturally casual feel to them so they felt right at home at this couple's laid-back summer wedding.
2. Matching Sunflower Bouquets for DIY Backyard Wedding
White hydrangea blooms complemented the eye-catching sunflowers in these bouquets.
3. Sunflower Bridal Bouquet with Protea and Greenery for Beach Summer Wedding
King protea is another flower that has an equally commanding visual presence as sunflowers. However, by adding in greenery, this floral designer ensured the two bold blooms complemented each other, instead of competing against each other.
4. Sunflower Bouquet with Feathers and Eucalyptus for Rustic Fall Wedding
When planning your bridal look, it's important to think holistically about how your dress will match your hairstyle, makeup and bouquet. Hairstyles with loose waves, like this bride sported, look great with boho-inspired sunflower bouquets.
5. Sunflower Bouquet with White Roses and Greenery for Summer Weddin
Since blue and yellow go so well together, thistle is a great choice to accent sunflowers in a rustic bouquet for a summer wedding.
6. Colorful Bridesmaid Bouquets with Teddy Bear Sunflowers
This bride's wedding party attendants walked down the aisle with bouquets made with a sunflower variety known as Teddy Bear sunflowers. The vibrant yellow blooms popped against the neutral bridesmaid dresses they wore to the Missouri wedding.
Sunflower Wedding Boutonniere Inspiration
7. Sunflower Boutonniere Wrapped in Burlap
Burlap and sunflowers have long been used together. Here, the tan fabric finished off this rustic boutonniere.
8. DIY Boutonniere with Faux Sunflower Bloom
If you or your partner want to use faux blooms in your wedding flowers so the pieces will last past the wedding, Etsy is a great place to begin your search for the perfect big day arrangement. Another benefit of faux blooms is that they work well in headpieces since they can readily withstand wear and tear.
Sunflower Wedding Ceremony Ideas
9. Sunflower Aisle Markers with Gerbera Daisies, Thistles, Roses and Baby's Breath
It's easy to see why Pinterest and countless wedding blogs are filled with sunflower wedding inspiration. The bloom is sure to make a statement at your wedding ceremony.
10. Rustic Mountainview Ceremony with Sunflower Wedding Decorations
Mountains have such a commanding visual presence that most flowers would get lost visually if they were used with a mountain backdrop. However, this couple used sunflowers to decorate their outdoor wedding ceremony and the end result was breathtaking.
11. Country Wedding Ceremony in a Sunflower Field
For to-be-weds leaning into a sunflower wedding theme, go all out and say "I do" in the middle of a blooming sunflower field.
12. Sunflower Wedding Arch for Spring Wedding
Sunflowers are ideal for use in wedding arches because of how hardy they are. The blooms hold up well in large-scale installations where other blooms might wilt.
13. Mandap Wedding Ceremony Inspiration with Sunflower Decorations
Clusters of sunflowers graced this rustic wood mandap at a wedding in the mountains.
14. Rug-Lined Ceremony Aisle with Sunflower Wedding Decoration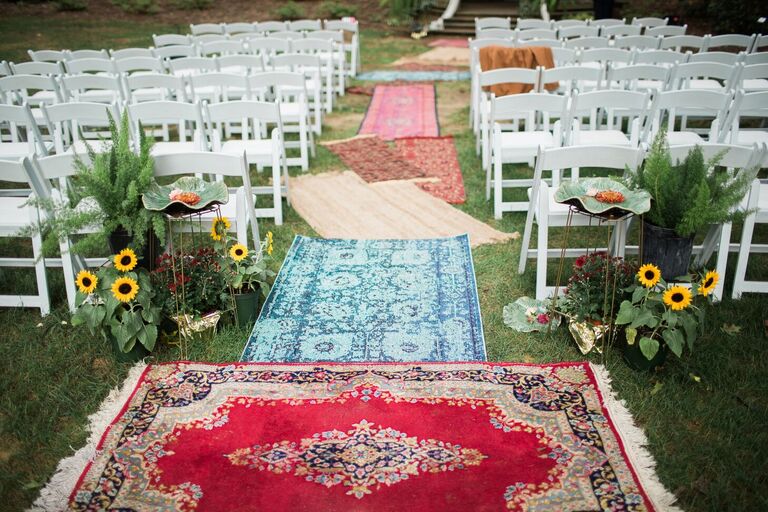 Sunflower arrangements welcomed guests as they walked down the rug-laden aisle at this outdoor fall wedding.
Sunflower-Themed Wedding Reception Inspiration
15. Farm Table for Hors D'Oeuvres with Sunflower Centerpieces at Rustic Wedding
Even before this grazing table was covered in hors d'oeuvres, sunflower centerpieces made the furniture piece look totally eye-catching.
16. Sunflower Wedding Centerpiece with Navy Blue Accents
This tablescape is proof that sunflowers work just as well with classic and romantic wedding aesthetics as they do in rustic-themed weddings.
17. Wedding Cake with Sunflower and Wildflower Accents at Barn Wedding
If you and your partner don't want a towering six-tier cake as this couple chose, mini sunflowers and sprigs of wildflowers would look great atop cupcakes at a rustic barn wedding with a sunflower theme.
18. DIY Wedding Centerpiece Inspiration for Fall Wedding
The great thing about wedding centerpieces made up of groupings of small posies is that you can give guests blooms as wedding favors at the end of the night, if you wish. If you're looking for another wedding favor idea for your sunflower wedding theme, sunflower seeds are a great gift to send home with attendees.
19. Personalized Rustic Sunflower Seating Chart with Bottles
This couple used calligraphed beer growlers for their seating chart display, but mason jars or other vintage glass vessels would also work. Your wedding stationery and wedding invitations set the tone for your big day so incorporating sunflowers into these stationery elements is a great way to convey your chosen theme.
20. Sunflower Centerpiece to Complement Blue Wedding Colors
Table numbers cut out of vinyl were attached to pieces of sea glass at this sunflower-themed blue-and-yellow wedding. For DIY-minded couples, Etsy is filled with printable table numbers to help you achieve an effect similar to what this couple pulled off.
21. Blue Wedding Cake with Sunflower Accents and Gerbera Daisy Topper
Blue and yellow is one of the wedding color combos that'll never go out of style, as evidenced by this blue wedding cake with yellow floral accents.
Alternative Sunflower-Inspired Blooms
You can have a sunflower wedding theme even if you don't use sunflowers in every part of your wedding day. Sunflowers have a very bold presence and, as such, should be used intentionally. Below, we're taking a look at other flowers that resemble sunflowers in many ways but can be layered into your flower designs in lieu of sunflowers should you see fit to make a swap.
22. Black-Eyed Susan Wedding Inspiration
A benefit of black-eyed Susan flowers is that they're small and work well in combos with other wildflower-like blooms.
23. Yellow Gerbera Daisy Wedding Flowers
Gerbera daisies have a fresh, joyful countenance that makes the bloom perfect for bridal shower and wedding reception centerpieces alike.
24. Orange Spider Mum Wedding Decor for Boho Big Day
The prickly nature of spider mums makes them a great alternative to sunflowers. Calendula and cactus dahlias look similar and would also make great swaps for sunflower.
25. Yellow Chrysanthemum and Wildflower Wedding Flower Inspiration
If you're picking a bold color like yellow for your wedding colors, go big and incorporate it into your elegant wedding invites, wedding cards for your seating chart and watercolor programs, like this couple did, in addition to mixing the hue into your wedding flowers.