Your Complete Ceremony Site Checklist
Read these seven steps to ensure every ceremony detail is accounted for.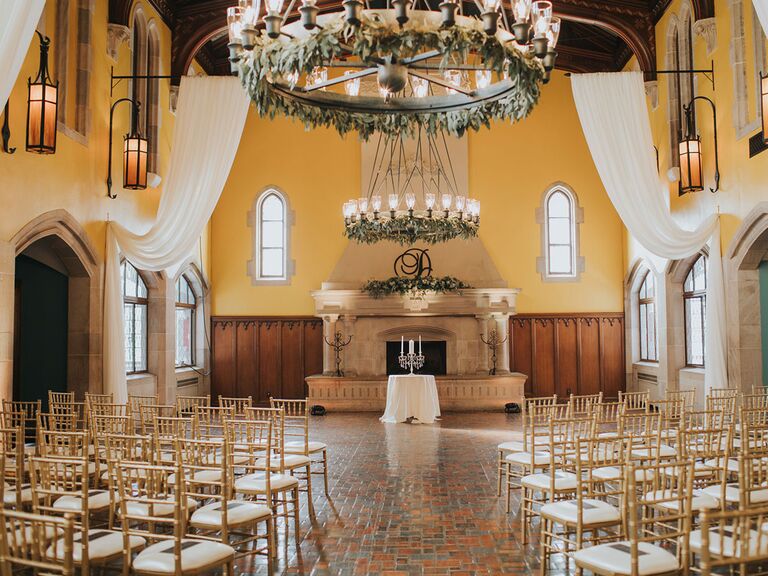 Copper Photo Co.
From booking the site to saying your vows, here's every box to check off for a seamless ceremony at the venue of your dreams, whether it's a house of worship, a botanical garden or a beachfront property.
1. Find and Book Your Site
First, you need to find the right ceremony venue. Researching ceremony sites should be one of your first to-dos, so if you're getting married in 14 months, start the search process about 12 months out. You'll need someone to perform the ceremony too, so research officiants around the same time to make sure you can score them at the same time as your venue.
Think you've found the right spot? Amazing! Before you book, have a chat with the site manager to make sure all your questions are answered and your ceremony needs can be met. Same goes for your officiant—ask them these important questions and iron out all the details before you sign anything.
Now it's time to make it official, and, as with all your pros, you should absolutely get it in writing. Along with the basics, like the date, location and time of your wedding, here are specific points to include on both your ceremony site contract and your officiant contract.
2. Rent Ceremony Essentials
Not every ceremony venue will have everything you need. If your site doesn't include essentials like lighting, electricity, tables, chairs or suitable restrooms, you'll need to contact a party rental company to complete the space. On the other hand, you may only be missing ceremony-specific items, like a ceremony arch, mandap or chuppah. Here are some must-have items you might need to rent for your ceremony:
Chairs  
Cocktail tables (to hold floral arrangements, signage or programs, or for standing and mingling guests)
Chuppah
Columns or arch 
Mandap
Candelabra or candles
Wire stands for flowers
Portable restrooms
Sound equipment (for officiant and musicians—ask them if they'll bring their own when you interview potential pros)
Heaters or fans, depending on the season and location
3. Prepare the Actual Ceremony
Now it's time to think about the marriage service. Research readings (get inspiration here and here) and religious or ethnic customs and traditions you'd like (or might need) to include in your ceremony.
4. Meet With Your Officiant Again
Set up a second meeting to discuss any literature you intend to incorporate with your officiant. This is also the time to ask your officiant for any ideas and advice if you're stuck on which readings or customs to use.
Have your officiant give you a copy of their standard ceremony so you can ask questions, clarify uncertainties and make changes to suit you (if allowed).
If premarital counseling is required, this is the time to schedule it and go. (Here's what you might expect from a premarital counseling session.)
5. Finalize the Ceremony
By now, you should have a pretty good idea of the overall structure and main elements of your ceremony, including readings, candle lighting, other special rituals and music, as well as who will participate in each. If not, now's the time to enlist trusted loved ones to do a reading (this is a special way to include a dear friend or relative who isn't in your wedding party).
6. Gather Ceremony Extras
Determine which of the following ceremony items you'll need and start shopping or make arrangements to have them made or ordered. Don't forget, your florist or planner may also be able to provide a few things.
General Extras
Guest book (if you'd like guests to sign as they enter)
Aisle runner
Bible
Ketubah or other marriage contract
Yarmulkes
Unity candle (or sand for a sand ceremony)
Glass (if applicable)
Other traditional or religious elements (such as a broom for the jumping of the broom or crowns for a Greek Orthodox ceremony)
Ring pillow
Flower girl basket(s)
For Guests
Pashminas
Something to toss (confetti, rose petals)
Fans (if applicable)
Umbrellas
Refreshments
Shoe or heel protectors
Bug spray (if your wedding is outdoors)
7. Write Your Vows
Writing your own vows? They're going to be beautiful. Start working on them together at least two months before the wedding to avoid a last-minute scramble and more prewedding jitters. Definitely don't be afraid to consult your officiant for help on this front as well. Chances are they've seen many couples through the process of crafting unique and meaningful vows and will be happy to lend a hand.

Get more wedding ceremony inspiration, etiquette and planning tips right here.