Everything You Need to Know About Getting Married in Minnesota
Look to The Knot for local details about getting married in Minnesota, from choosing your wedding venue to getting your marriage license.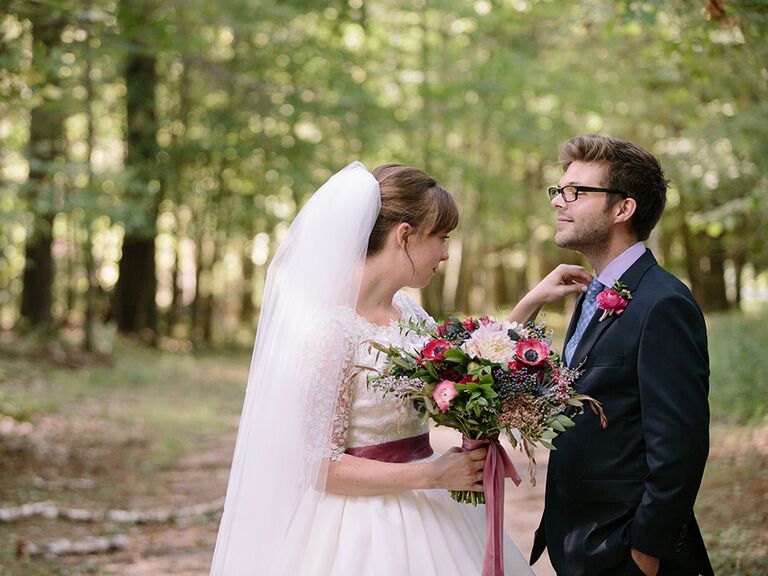 Amanda Summerlin Photography

Ultimate Guide to Getting Married in Minnesota
Nestled in the Upper Midwest, Minnesota provides stunning backdrops for a wedding, whether you are looking for a rustic venue on a lake or a traditional ballroom in the city. The best Minnesota wedding venues combine local offerings such as jazz and ethnic cuisine with modern amenities that are sure to make each guest feel comfortable and remember the event for the years to come. After all, the state motto of Minnesota is "L'Etoile du Nord," which translates as "The Star of the North." What better way to sum up everything this picturesque area has to offer?
If you are planning to get married in Minnesota, this comprehensive guide can help with every step, from choosing the perfect venue to getting your Minnesota marriage license and the legal requirements for changing your name. Moreover, you can learn about everything the state has to offer in terms of attractions and entertainment to provide your guests with an exceptional time.
Top Wedding Trends in Minnesota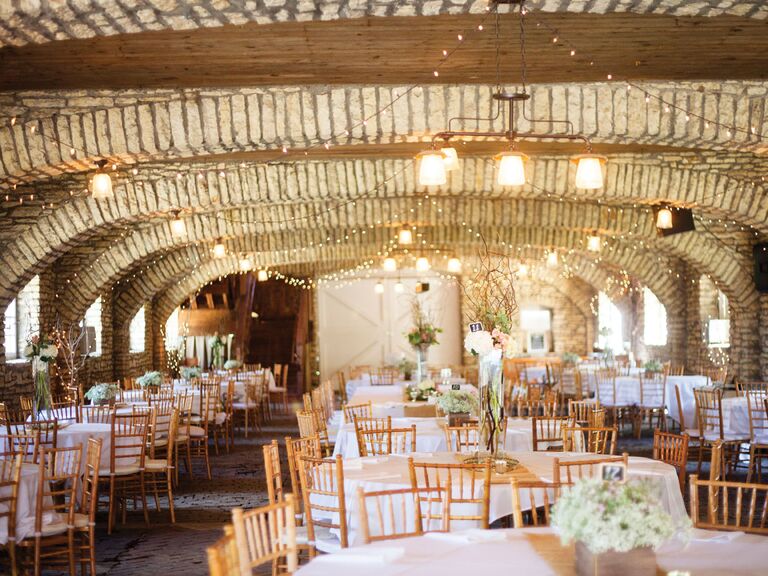 The unique characteristics of Minnesota urban and rural settings give an authentic touch to weddings in the state. According to The Knot 2015 Real Weddings Study, couples in Minnesota spend an average of 11.7 months planning their wedding. Forty-two percent of couples chose to have a summer wedding, 38 percent chose a fall wedding, 15 percent chose a spring wedding and only 5 percent celebrated a winter celebration.
Couples in Minnesota prefer semi-formal or black tie events, with 86 percent opting for this kind of celebration—70 percent semi-formal and 16 percent black tie—according to The Knot 2015 Real Weddings Study. Approximately 74 percent of couples had an indoor wedding, with the rest preferring an outdoor wedding or a combination of both that allowed them to mix the natural beauty of Minnesota with the elegance of a traditional venue.
Cocktail receptions and garden-style parties are popular options among couples in Minnesota, but quirky wedding themes and modern approaches to tradition are growing with to-be-weds getting married in Minnesota.
Minnesota Marriage Rates and Wedding Costs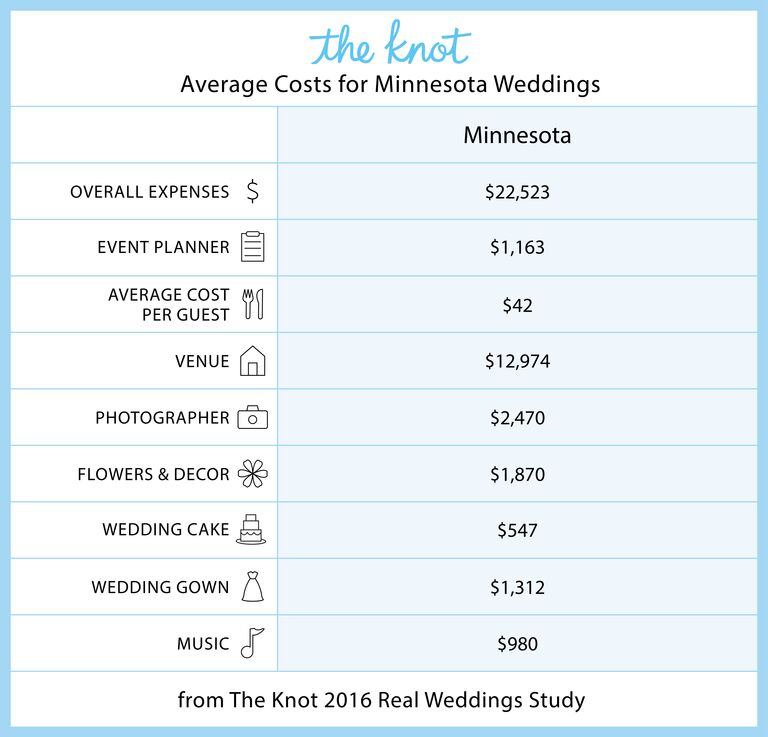 Planning a wedding can be a lot of fun, but affording it is another story entirely. No matter which type of wedding venue you choose or what type of theme fits your personalities, make sure you've created a budget and that you're sticking with it. The Knot Budgeter can help keep you on track! But before you take that important step, here's a little background info on how many couples are tying the knot in Minnesota, plus what you can expect to pay for common wedding costs in Minnesota, as reported by The Knot 2015 Real Weddings Study.

Minnesota Marriage Statistics
So how many couples are actually getting married in Minnesota? Turns out the marriage rate is below average, at around 5.9 per 1,000 people. And according to The Knot 2015 Real Weddings Study, the average length of an engagement in Minnesota is 14.1 months, which is just about equal to the national average of 14.5 months. Couples in Minnesota spend about 11.7 months planning their wedding, and they generally do so for 6.3 hours per week.
The average number of guests at a Minnesota wedding is 180 with the average spend per guest at $145, which is well below the national average of $237. Couples spend an average of $22,214 (below the national average) on their wedding, excluding the cost of the engagement ring and honeymoon. Of course, prices vary according to season and the types of vendors you choose for the event.
Working the Budget - Average Costs for a Minnesota Wedding
Getting a sense of what you'll pay for your wedding day expenses will make it easier to budget and negotiate with vendors. Above you'll find average costs for some of the more common wedding categories.
Top Cities in Minnesota to Tie the Knot
From the Twin Cities to St. Cloud, Fergus Falls and Mankato, there are a variety of wedding venues in Minnesota that stretch across the state. However, there are two city centers which stand out as top picks for Minnesota weddings:
Make It Legal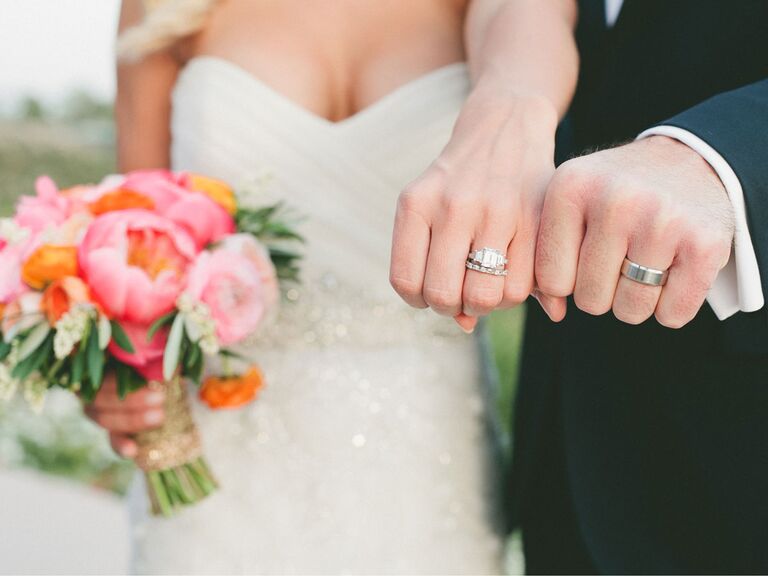 While we hope that planning your wedding feels like it's filled with fun events like cake tastings and finding the perfect DJ or band, there are some strings attached to tying the knot in the Land of Lakes. Understanding the ins and outs of not only getting your Minnesota marriage license, but also taking care of details like permits and changing your name(s), is equally important in the weeks and months leading up to saying "I do."
The Basics of Getting a Minnesota Marriage License
Obtaining a marriage license in Minnesota varies from one county to another, but as a rule of thumb, you need to submit an application in the city where you want the wedding to take place. Those who live out of state can submit the application to any city clerk. Some information required for obtaining a Minnesota marriage license includes the full name and age of the to-be-weds, current residence, place of birth and whether or not they have been married before.
You need to obtain a marriage license in Minnesota at least five days prior to the wedding day, which expires if you do not use it in six months.
To get married in Minnesota, both parties need to be at least 16 years old with parental consent and no blood test is required. You need to provide identification in the form of a state I.D. or driver's license, and the marriage license fee has to be paid at the same time the application is submitted.
Permits and Other Legal Requirements for Minnesota Wedding Venues
Those who want to get married at a wedding venue such as a state park or historic building may need to follow special regulations and get a permit for the event, and special permits may also be required for serving alcohol. It generally takes time to apply for a permit, so make sure you plan accordingly, especially for popular venues. For example, to apply for a wedding permit for park and facility reservations in St. Paul, Minnesota, you need to do so with a minimum of seven business days before the wedding. For large events, you may need to consult with a park administrator to see whether they can accommodate your party. For most buildings, there is a minimum three-hour requirement.
How to Change Your Name After the Wedding Ceremony in Minnesota
If either to-be-wed decides to change his or her name, the appropriate paperwork needs to be filed with the Social Security Administration and Department of Motor Vehicles. To start, a name change application needs to be submitted to your local Social Security Administration office. Once you get a new Social Security Number card, you can go to the Department of Motor Vehicles to get the name changed on your driver's license. For this, you need to provide identification and proof of a name change in the form of your marriage certificate. To streamline this process, go through HitchSwitch and let them take care of this headache!
It's All About Timing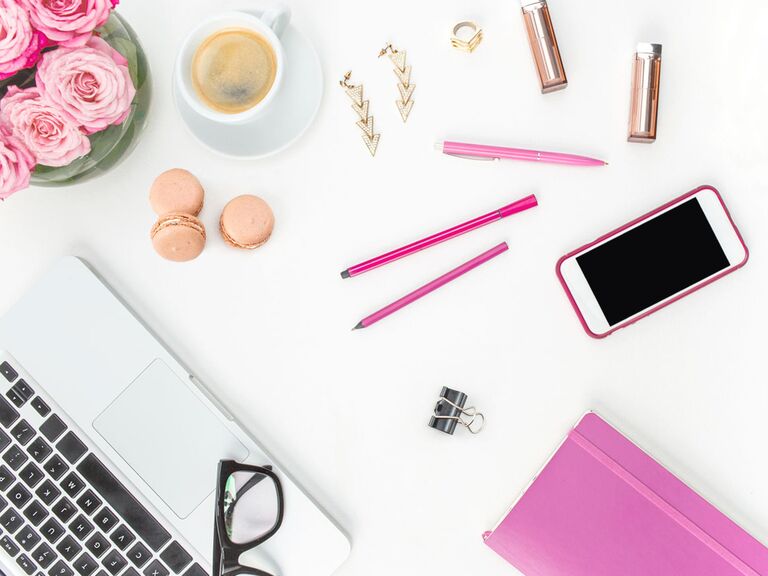 The mild temperatures of summer and fall make these seasons ideal for a wedding in Minnesota, which is why 80 percent of couples decide to tie the knot during these periods, according to The Knot 2015 Real Weddings Study. However, Minnesota winters are beautiful, so you might consider using a white, winter wonderland setting for your wedding day as well.
Four-Season Wedding Possibilities in Minnesota
The typical continental climate of Minnesota makes the area suitable for four-season wedding possibilities. The location of the state in the Upper Midwest means that you get all four seasons, so you can have a wedding any time of the year, according to your seasonal preferences.
Heat and humidity predominate in the south of the state in summer, with high temperatures hitting the mid-80s. You probably won't have to worry about rain on your wedding day, as Minnesota is the driest state in the Midwest. Spring weather is largely the reverse of fall, but keep in mind that these seasons may be windy at times. Tornadoes are possible between March and November, with June being the peak month.
Minnesota Wedding Dates to Avoid
Depending on where you get married in Minnesota, there are some important dates you may want to avoid in order to make sure that your wedding guests are comfortable and can easily find a place to stay. Ask your wedding planner or venue for tips about how to avoid major traffic times or local events that might make your wedding weekend more difficult for guests and more costly for you.
If you're on a tight budget, try to avoid common national holidays and busy weekends that tend to inflate the cost of everything! (We cover these dates for 2016-18 in our comprehensive guide). Additionally, here are some nationally-recognized festivals and events you may want to note for 2017:
Saint Paul Winter Carnival, (late January – early February)
Grumpy Old Men Festival, Wabasha (late February)
Festival of Nations, St Paul(early May)
MayDay Parade & Festival, Minneapolis (mid May)
Grand Celebration Powwow, Hinckley (mid June)
Dragon Festival, Saint Paul (mid July)
Bayfront Blues Festival, Duluth (early–mid August)
Minnesota State Fair, Saint Paul (mid August–early September)
New Ulm Oktoberfest (October)
Great Guest Experiences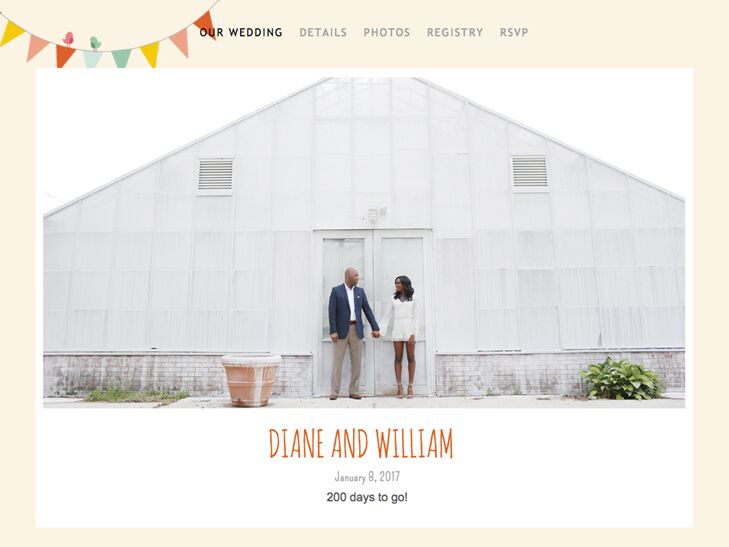 Helping your guests feel comfortable and welcome is one of the key ingredients to wedding success. With such a wide variety of unique wedding venues in Minnesota—from rustic barns to lakeside beaches—there are so many places for a celebration that is a true reflection of your couple style while also making it fun for your friends and family. No matter where you choose to get married, giving your guests a great experience starts with you creating your very own wedding website. It's a great way to keep everyone connected and informed.
Around Town: What to Do and See in Minnesota
Minnesota has a lot to offer when it comes to entertainment and sightseeing. From cultural activities such as art and history museums to historical sites, casinos and outdoor activities such as golf or hiking, there are a number of activities your guests can enjoy. Here is a list of some of the most popular sights to visit in Minnesota:
Como Park Zoo and Conservatory
Mall of America
Superior National Forest
North Shore Drive
Cathedral of St. Paul
Voyageurs National Park
International Wolf Center
Split Rock Lighthouse State Park
Munsinger Clemens Gardens in St. Cloud
Aerial Lift Bridge
Finding Your Way: Minnesota Travel Info
Located in the heart of the Midwest, Minnesota is easy to travel to no matter where your guests are coming from. Direct flights are available to and from the Minneapolis–St. Paul International Airport (Wold-Chamberlain Field) and Rochester International Airport, so whether your guests are flying within the USA or internationally, they can find a suitable flight.
Minnesota is well-connected with the rest of the country via multiple interstates, including I-35, which is the ninth longest interstate in the country that connects the state with Texas, Oklahoma, Kansas, Missouri and Iowa. If your wedding is in an urban area, bus and light rail services are generally available for your guests to reach your wedding venue as well.
Go Local: Food and Favors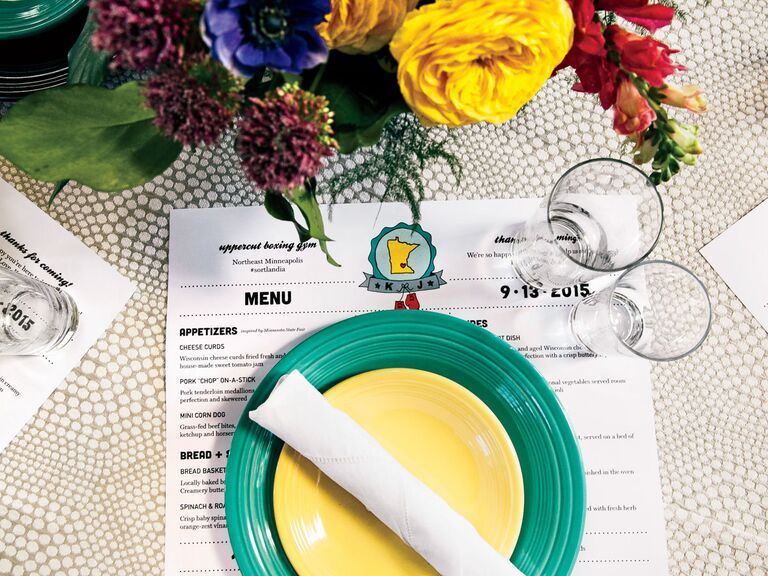 Whether you come from two born and bred Minnesota families or are bringing in relatives from all over the country (or world), embracing unique elements of The North Star State will help make your wedding memorable for all who attend. Consider these ideas for bringing the food and culture of Minnesota to your wedding celebration. Check out The Knot Shop for other personalized favors.
Incorporate Local Minnesota Cuisine and Beverages Into Your Wedding
From the Matt's Bar's Jucy Lucy to Zorbaz on the Lake's Lowden Zpecial, Minnesota is known for some of its amazingly tasty comfort food (hot dish anyone?). Not only can you include some of these local favorites in your wedding, you can ask your caterer to create dishes that focus on abundant local ingredients to bring out the flavors of this state. Minnesota specialities include walleye (the state's "official" fish), lefse, Swedish meatballs, venison and wild rice. All of these foods work well either by themselves or in combination with other cuisines, for a modern, fusion-like approach to wedding food.
Do Your Guests a Favor: Minnesota-Inspired Take Home Treats
There are plenty of iconic images that involve Minnesota. Whether you are a Gopher by birth or by degree, a die-hard Vikings fan or own every track produced at Paisley Park, there are many ways to bring Minnesota charm into your wedding through individual favors or fun regional items placed into guest welcome bags. Try these unique ideas to get you started:
A candy bar with take home bags, featuring local favorites like Pearson's Nut Goodies, Salted Nut Rolls and Coconut Patties.
Small apothecary-style jars of wild rice, with a tag that includes your names and the phrase "wild about each other"
A mix CD of tunes from Minnesota artists like Prince, The Replacements and Bob Dylan
Bottles of Great Northern Porter from Summit Brewing Company or everyone's dad's favorite beer, Grain Belt
Minnesota City Guides
With a number of urban and rustic settings to choose from, it is not difficult to find the ideal Minnesota wedding venue to host your event. By using The Knot vendor marketplace, you can find the top vendors in the area of your choice. Although there are multiple venue choices available, Minneapolis–Saint Paul and Rochester are the most popular options for Minnesota weddings.
Minneapolis–Saint Paul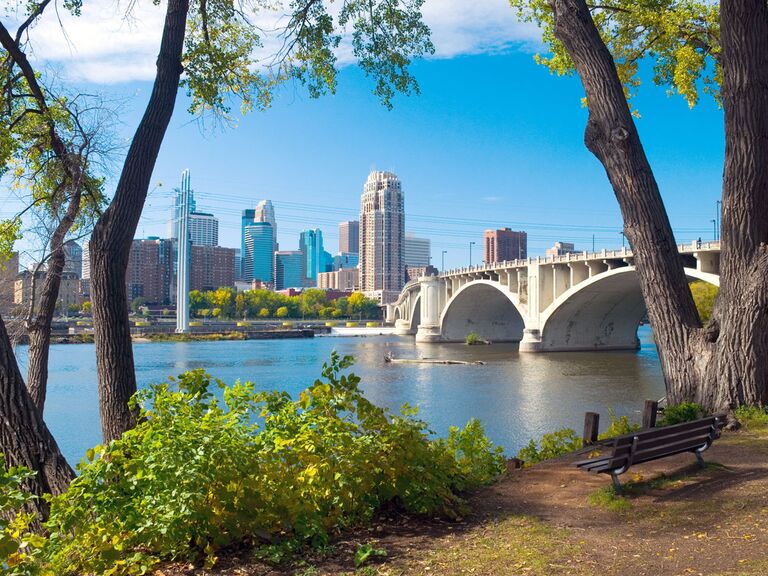 A diverse area that is home to a number of historic venues, cultural activities and dozens of parks, the Minneapolis–Saint Paul area has something for everyone. Whether you are a theater-goer or an outdoor enthusiast, this area built around the Mississippi, Minnesota and St. Croix rivers truly has it all.
Also known as the "Twin Cities," Minneapolis–Saint Paul is the second largest economic center in the Midwest. Influenced by its Scandinavian and Lutheran heritage, the city has grown into a diverse community that is home to more than 3 million people. The area has numerous lakes and parks, which are all incredible settings for those looking for an outdoor wedding.
Below is a list of some of the top vendors in Minneapolis–Saint Paul area:
Rochester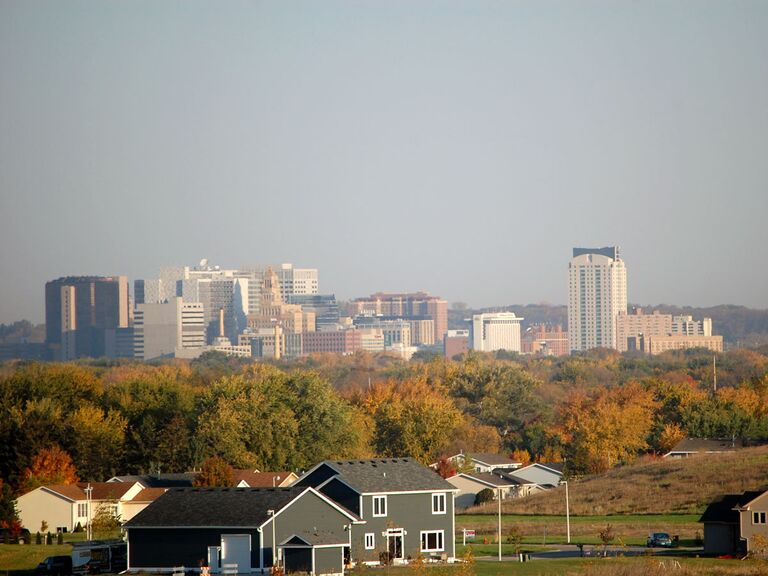 Considered one of the best places to live in the United States, Rochester is Minnesota's third-largest city and is home to a multitude of parks. Even though this is one of the few cities without a natural lake, Rochester has several artificial lakes, including Silver Lake.
The warm summers in Rochester are the perfect season for a sun-filled wedding, and the city is home to a large number of historical buildings such as the Avalon Music, Chateau Theatre and the Rochester Symphony Orchestra & Chorale. The downtown Rochester area has a number of restaurants and shops to keep everyone entertained during the wedding weekend.
Here is a list of top Rochester wedding vendors that you may want to consider for your event:
Check out more Minnesota wedding inspiration here.
Don't forget to download The Knot Wedding Planner app—it's a must-have for on-the-go planning.
Download for iOS: Wedding Planner App by The Knot

Download for Android: The Knot Wedding Planner