How to Get Legally Married in Minnesota and Plan Your MN Wedding
We've got your back when it comes to marriage laws in the Land of 10,000 Lakes.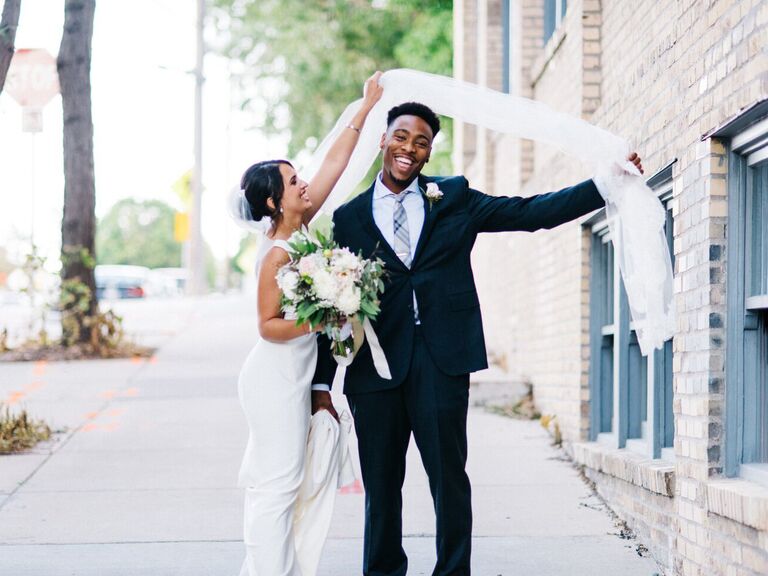 Roy Son Photo
Those tying the knot in Minnesota are probably used to the area's friendly and laid-back vibe—and planning a wedding in the Midwest can be just as chill. Minnesota has a number of amazing wedding venues and vendors perfect for any couple's taste, no matter if you're planning on getting hitched in a scenic garden or at a luxurious ballroom. Luckily, getting a Minnesota marriage license is fairly straightforward, but still shouldn't be left to the last minute. And if you're interested changing your last name after their wedding, it's also important to learn more about the name change process in Minnesota. Taking time to plan in advance and double check all of your details will surely make your special day in the Land of 10,000 Lakes one to remember.
How to Get Married in Minnesota
Yes, there are a lot of details involved in planning a wedding, but that doesn't mean you can skip the Minnesota marriage license process. Here's what you need to know to make sure you day goes off without a hitch.
Is there a waiting period to get married in Minnesota?
If you're rushing to get down the aisle, Minnesota has no waiting period when it comes to tying the knot. The only waiting period exists for ex-felons who are interested in pursuing a name change right away, who have a 30-day waiting period before they can receive their Minnesota marriage license. Those with a felony conviction who choose to pursue a name change after they've legally wed can proceed without the waiting period and instead petition the court for a name change after their nuptials.
What are the legal requirements to get married in Minnesota?
Minnesota does have some marriage age restrictions, so those under the age of 18 cannot get legally married, even if they have permission from a parent or guardian.
What's considered a common law marriage in Minnesota?
Minnesota doesn't recognize common law marriage, so for you and your partner to wed, you've got to proceed with a traditional wedding ceremony and get a marriage license before the event. For the marriage to be legal, it must be witnessed by two adults who are 16 years of age or older. The couple must also have an authorized officiant perform their wedding.
Minnesota Marriage License 101
You're well on your way to heading down the aisle, but if you want to get married in Minnesota, you first have to pick up a marriage license. You don't have to be a resident of the North Star State to get a Minnesota marriage license, and you can wed in any Minnesota county, no matter where you get your license.
What do you need to get married in Minnesota?
Your first step to getting a marriage license will be to complete an online pre-application that will help your appointment go as smoothly as possible. Both parties must be present in person to apply for their marriage license at the County Recorder's Office, but if for some reason one of you can't make it, you must bring the correct notarized forms to move forward with the process. Make sure to bring some form of ID like a driver's license, certified copy of your birth certificate, or state ID. The application will ask for information such as your social security number, current address, previous marriage information, legal name, past felony convictions, and if you're seeking a name change.
What does a Minnesota marriage license cost?
Clocking in as one of the most expensive marriage license fees in the country, interested applicants will be paying a $115 application fee for their Minnesota marriage license. But, if you're looking for a big discount, couples can complete 12 hours of premarital education to get a reduced fee of only $40 as long as they have a premarital educator's statement.
How long does it take to get a marriage license in Minnesota?
Interested couples will walk out of their marriage application appointment with their license in hand that very same day.
Your marriage license will expire six months after your time of application, but can be renewed for free if you have extenuating circumstances that kept you from walking down the aisle on time. So, it's better to plan ahead and grab your license a few months in advance than be rushing last minute to tie up loose ends.
Can you apply for a marriage license online in Minnesota?
Applicants must apply for a marriage license in person before getting married, so you'll have to take time off work and plan a day for both you and your spouse to go in and finish your application.
How do you get a copy of your Minnesota marriage license?
Marriage certificates must be filed with the county by your officiant within five days of the wedding ceremony. Certified copies of your marriage certificate or marriage records can be purchased for an additional fee from the same county you originally applied to.
How to Plan a Minnesota Wedding
Congrats! You've got your license and are confident you've figured out all of the legal red tape to make your wedding run smoothly. It's time for the stuff you've been waiting for: the planning! Getting married in the State of Minnesota means you've got a ton of wonderful venues and vendors to choose from right at your fingertips.
The Different Cities and Areas to Consider for a Minnesota Wedding
The most popular cities to get hitched in Minnesota are:
Minneapolis–St. Paul
Rochester
The Twin Cities are a popular wedding destination for many reasons. Both cities are art havens, but if you're more interested in a modern city wedding, Minneapolis might be the destination for you. If you want your wedding to feature some more historic architecture, you may look more toward St. Paul. And if you're looking for a friendly atmosphere with parks and historic buildings, set your sights on Rochester.
What to Look For in a Minnesota Wedding Venue
Depending on whether you're looking for something a little more chic or rustic, Minnesota couples can tie the knot in rustic barns, event centers, golf clubs, farms, historic buildings and more. No matter the theme of your special day, or the weather, you'll be able to find the perfect spot to host the event of your dreams. Find some of the best Minnesota wedding venues at The Knot Marketplace.
How to Find Minnesota Wedding Vendors
If you're feeling a little lost when it comes to picking out the right Minnesota wedding vendors, you can check out The Knot Marketplace to secure vendors for everything you'll need, including flowers, food, music and more.
The Best Times of Year to Have a Minnesota Wedding for Good Weather
Minnesota is pretty far north, which means it gets hit by some serious winters. Luckily, Minnesota is equipped to deal with even the heaviest snowfall, so if you're set on having a winter wonderland wedding, there's no need to worry! Summers can be quite humid and warm, but spring and fall tend to be fairly temperate. Luckily for Minnesotans, as one of the drier states in the U.S., it isn't likely for you to get rained out on your special day.
Now that you've got all the info about planning the perfect Minnesota wedding, you know there's no need to worry! Pay attention to detail and you will be well on your way to your Midwestern dream ceremony.