The 15 Hottest New Wedding Songs for 2017
Prepare the dance floor—these are the top wedding songs in 2017.
by Maggie Seaver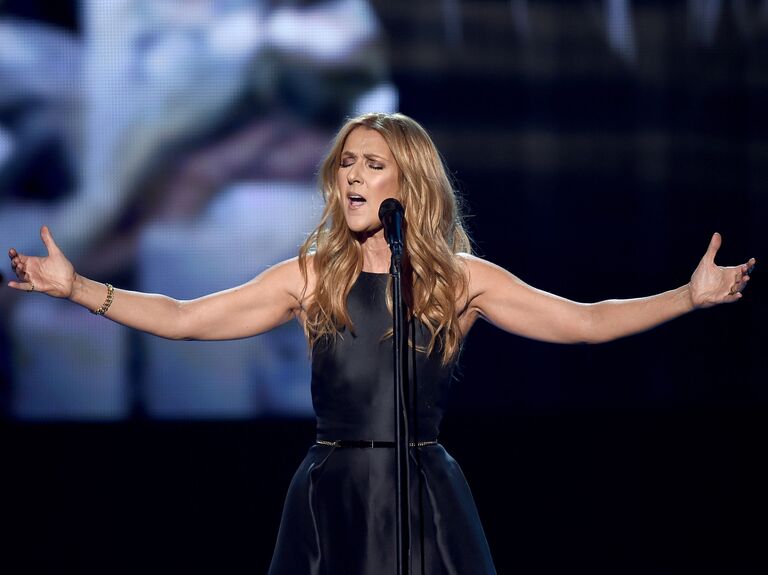 Kevin Winter/Getty Images
Another wedding season, another epic wedding playlist. Scroll through our roundup of 2017's hottest songs, both current favorites and soon-to-be hits, to inspire your first dance number, entrance song and reception jams. (Spoiler: Ed Sheeran may or may not be on here twice.)
1. "Meant to Be" by Bebe Rexha and Florida Georgia Line
Dance-pop crooner Bebe Rexha teams up with Florida Georgia Line in this smooth, mellow track about letting your love go where it's meant to go and just enjoying the ride together. It's a catchy love song with hints of R & B and country flair that you'll love for your first dance.  
Lyrics you'll love: Who knows where this road is supposed to lead/We got nothing but time/As long as you're right here next to me, everything's gonna be alright/If it's meant to be, it'll be, it'll be/Baby, just let it be

2. "Body Like a Back Road" by Sam Hunt
This sweet, feel-good tune from recently married country singer Hunt is both mellow and fun. You definitely don't need to be a country music fan to appreciate it, and it works for anything from a upbeat first-dance song to a track on your wedding car playlist.

Lyrics you'll love: Body like a back road, drivin' with my eyes closed/I know every curve like the back of my hand/Doin' 15 in a 30, I ain't in no hurry/I'mma take it slow just as fast as I can
3. "Something Just Like This" by The Chainsmokers and Coldplay
Not only is the message of this hit collaboration incredibly romantic, the gorgeous, synthesized arrangement and head-bobbing rhythm are completely infectious.

Lyrics you'll love: I'm not looking for somebody/With some superhuman gifts/Some superhero/Some fairytale bliss/Just something I can turn to/Somebody I can kiss/I want something just like this
4. "Sweet Creature" by Harry Styles
It's true, there's no One Direction song to offer you this time around, but a tender, guitar-backed solo from Harry Styles will help make up for it. This fresh, simple single is the perfect choice to sway to as newlyweds.

Lyrics you'll love: Sweet creature, sweet creature/wherever I go, you bring me home
5. "Heatstroke" by Calvin Harris ft. Young Thug, Pharrell Williams and Ariana Grande
Harris's uncharactaristically lighthearted album Funk Wav Bounces Vol. 1 (which also brought us hits like "Slide" and "Feels") came out in June, and we're loving this groovy track as an entrance song—but could also see the whole party getting low with champagne in hand.

Lyrics you'll love: Release, let go, and have a good time/Have a good, have a good time, yeah/Have a good, have a good time
6. "Shape of You" by Ed Sheeran
Is a wedding reception really a wedding reception if you don't play Ed Sheeran? This ubiquitously popular, marimba-inspired single was released in January and has made a home at the top of music charts all over the world—which means it belongs on your wedding playlist for sure.

Lyrics you'll love: Girl, you know I want your love/Your love was handmade for somebody like me...I'm in love with the shape of you/We push and pull like a magnet do/Although my heart is falling too/I'm in love with your body
7. "Helium" by Sia
Sia's dreamy vocals celebrate the power of love to lift us up when we're "down, down, down." Dance to this song for the first time as newlyweds for a truly emotional, dramatic moment.

Lyrics you'll love: Thought I could do all this on my own/But even Superwoman/Sometimes needed Superman's soul/Help me out of this hell/Your love lifts me up like helium/Your love lifts me up when I'm down down down
8. "Malibu" by Miley Cyrus
Inspired by longtime love Liam Hemsworth, Cyrus wrote this happy, confessional single that captures the magic of romance in the California sunshine. Play this one for upbeat, yet low-key vibes.

Lyrics you'll love: We watched the sun go down as we were walking/I'd spend the rest of my life just standing here talking…. But here I am/Next to you/The sky is more blue/In Malibu
9. "Outside the Lines" by Misterwives
This joyful, totally danceable anthem by Misterwives perfectly describes what it feels like to be high on love. One listen and everyone will be all smiles and ready to party.

Lyrics you'll love: Say, what we wanna/Do, make it all come true/Because nothing is impossible with you…. Open my eyes/To see you and I/Can't believe this is life/We're coloring outside the lines
10. "Perfect" by Ed Sheeran
Sheeran's latest album, Divide, is full of wedding-worthy songs, but we feel like this one's in the running to rival "Thinking Out Loud" as the next most popular first dance song. It's just so sweet!

Lyrics you'll love: Well I found a woman, stronger than anyone I know/She shares my dreams, I hope that someday I'll share her home/I found a love, to carry more than just my secrets/To carry love, to carry children of our own
11. "The Cure" by Lady Gaga
Lady Gaga's most recent single is the perfect catchall wedding song—from your getting-ready playlist to the last dance. This irresistible pop song about the healing power of love will make you want to throw your head back and jam out.

Lyrics you'll love: So baby tell me yes/And I will give you everything/I will be right by your side/If I can't find the cure, I'll/I'll fix you with my love
12. "Call On Me" by Starley (Ryan Riback Remix)
No one can resist getting up to dance to this punchy remix of Starley's "Call On Me." Wait until the chorus and watch everyone clap in unison to the super-catchy, piano-filled beat.

Lyrics you'll love: You know you can call on me/When you need somebody/You know you can call on me/When you can't stop the tears from falling down
13. "Love Someone" by Brett Eldredge
Eldredge's new album dropped August 4, and we couldn't be more excited. Snag this sentimental single for a quintessential country first dance song.

Lyrics you'll love: You put the cool in the breeze/You put the weak here in the knees/You put me right where I'm supposed to be/In your blue-eyed sea/And I wanna sail away
14. "How Does a Moment Last Forever" by Celine Dion
We can't all be Belle from Beauty and the Beast, but doing your first dance to this gorgeous love song—performed by Celine Dion for the live action Disney classic—will get fairytale fans as close to it as possible.

Lyrics you'll love: Through the darkest of our troubles/love is beauty, love is pure/love pays no mind to desolation/it flows like a river through the soul/protects, persists and perseveres/and makes us whole
15. "Despacito" by Luis Fonsi and Daddy Yankee ft. Justin Bieber
You can't make a reception playlist without including the latest chart-topper from the Biebs. First released by Puerto Rican artists Luis Fonsi and Daddy Yankee, "Despacito" featuring Justin Bieber has been winning over hearts, summer playlists and dance floors alike since the day it dropped.
Lyrics you'll love: Oh, you are/My sunrise on the darkest day/Got me feelin' some kind of way/Make me wanna savour every moment slowly, slowly