12 Small Wedding Venues in Pittsburgh, Hand-Picked For You
Planning an intimate wedding in the Burgh? Don't overlook these 12 venues.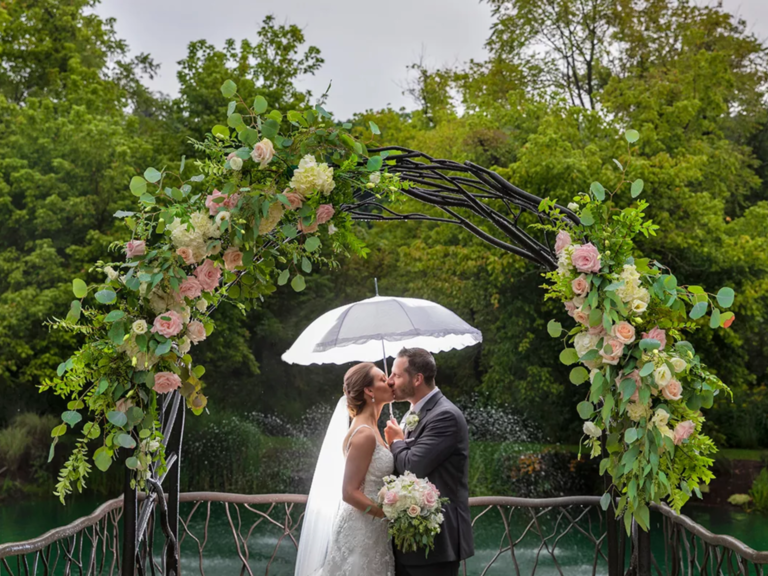 Photo: Bella Sera Event Villa
Congratulations on your engagement! Whether you're a Pittsburgh local or you're an out-of-towner looking to marry in the City of Bridges, you landed here because you're interested in learning more about what's available for small weddings in this Southwestern Pennsylvania city. And we're here to help!
Pittsburgh is a city known for its history, art, sports and so much more. It's also a wonderful place to wed, whether you want to plan a grand affair or, in this case, an equally meaningful micro-wedding or elopement. Below, kick off or continue the wedding planning process by browsing 12 Pittsburgh wedding venues that have the capability to host an intimate celebration of love. The list is inclusive of hotels, restaurants and event spaces of all kinds—from fancy to relaxed…and blank canvases to all-inclusive establishments.
Bella Sera Event Villa & Catering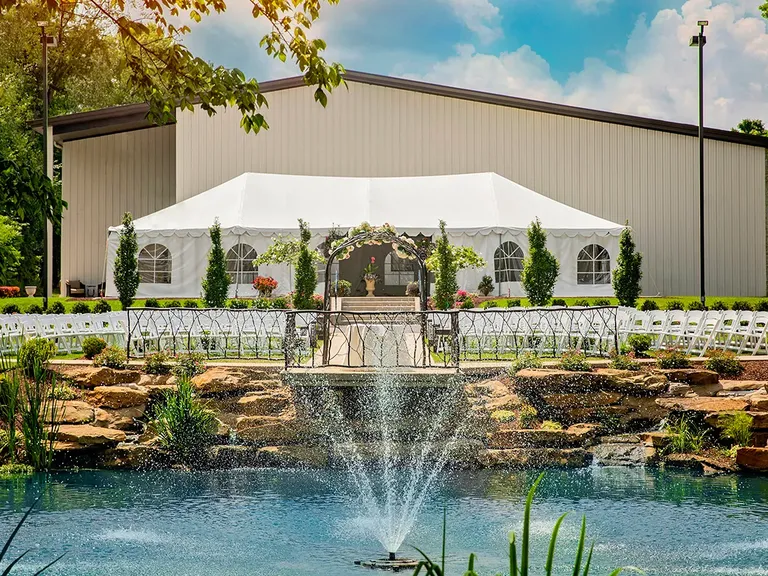 Twenty-five minutes south of Pittsburgh, you'll find Bella Sera—a Best of Weddings Hall of Fame event venue. The Tuscan-inspired villa may be able to host gatherings as large as 275 guests, but it's also great for more intimate get-togethers. Bella Sera's Greco Room, on its second level, is perfect for weddings of up to 60 guests. You can host your ceremony in the picturesque gardens before heading upstairs for a smaller party or dinner. As an added bonus, wedding packages here are thorough; you'll get a wedding consultant to assist you in planning, a day-of coordinator and banquet manager, on-site catering and bar arrangements—and much more.
City Winery Pittsburgh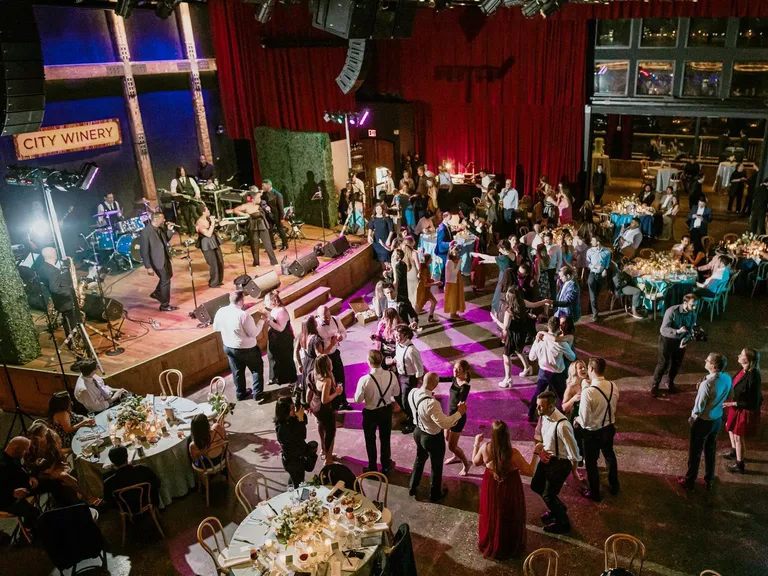 Pittsburgh's City Winery location can also host celebrations of all sizes, from groups as small as 12 to as large as 350 in size. The spaces available for a micro-wedding include the Main Dining Room, the Mezzanine Level and the Private Dining Room. The Main Dining Room, which accommodates 50 seated or 75 for a reception, is a private area with a built-in bar, tables, chairs, barstools and original beams. The semi-private Mezzanine Level overlooks the on-site concert venue and can hold up to 20 seated or 40 for a reception. Lastly, the Private Dining Room has room for 12 seated, and it features floor-to-ceiling glass panels.
Cozzi Acres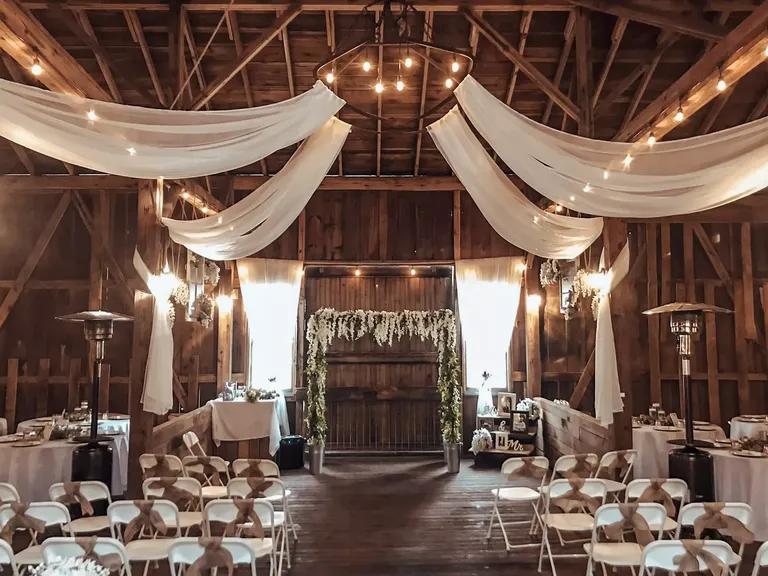 Just 20 minutes from downtown Pittsburgh, aptly named Cozzi Acres is a farm venue boasting an 1890s bank barn and a farmhouse. Offering basic amenities, the barn provides a blank slate in which you can dream up your intimate big day. The barn features original details mixed with cosmetic updates, two floors of event space, a bar and cocktail area, accent lighting, sliding barn doors and more. The farmhouse is an extra perk, featuring a master suite, a kitchenette and five additional bedrooms that can accommodate up to 10 of your guests. Cozzi Acres also promises vendor flexibility and affordable pricing.
TRYP by Wyndham Pittsburgh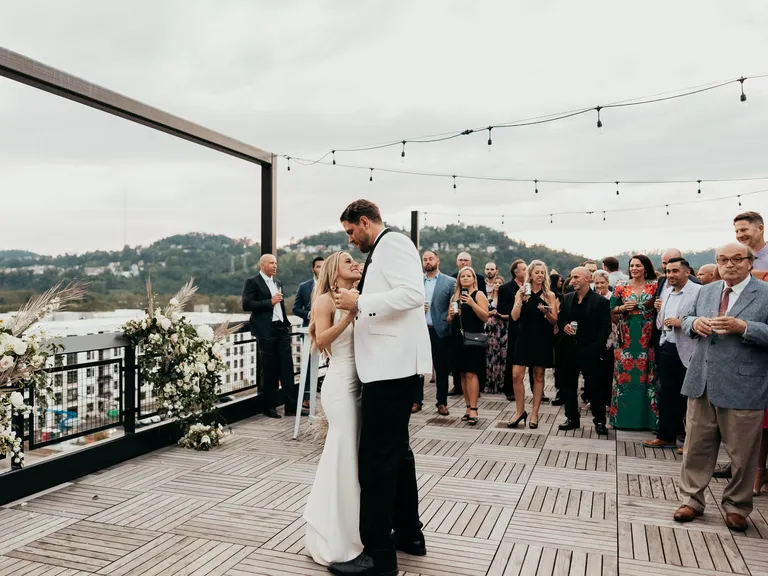 In Pittsburgh's Lawrenceville neighborhood, you'll find the TRYP Hotel, inhabiting a historic building that dates back more than a century and once housed a vocational school. The hotel has 108 rooms, two restaurants, a coffee bar, and two event spaces—the Washington Room and Bier's Landing. The Washington Room, dubbed as "the big space," sits above the main lobby and is a "deceptively intimate and private setting." Bier's Landing is described as "the social space," an ideal area for cocktail hour. The hotel's two on-site restaurants, the street-level Brick Shop and the rooftop Over Eden, are also available for event rentals and buyouts.
Hyeholde Restaurant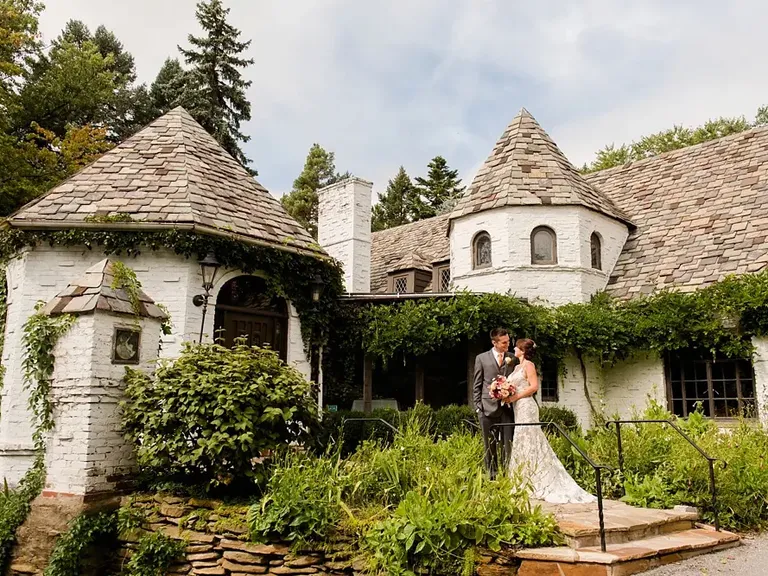 The upscale Hyeholde Restaurant is a beloved, highly rated establishment among locals and visitors alike. Hyeholde's Round Room, a self-described stone-and-glass sanctuary surrounded by trees and gardens, has hosted countless private events of up to 100 people. Other areas perfect for events include the Great Hall, the Outdoor Patio and the "Q," a private pub space. Base fees start at $1,200 for ceremony and reception setup. All ceremonies begin by 3 p.m. Tuesday through Saturday. Packages cover a five-hour event window and come with a tasting appointment for two, linens, napkins, a champagne toast, a private event manager and more.
The Art Room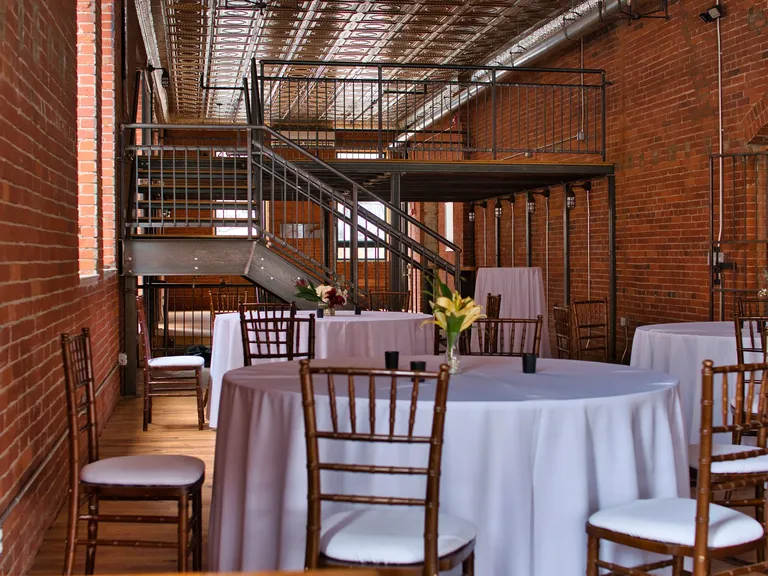 Pittsburgh's Strip District is home to the modern-industrial Art Room. The 4,000-square-foot venue can hold up to 150 guests and seat 100 comfortably for a ceremony, but it prides itself on being equally suitable for more intimate events. The interiors feature a tin ceiling, large windows, lots of natural light, brick walls, hardwood floors, iron railings and two lofts. The Art Room has a liquor license and a full-service catering menu, but they'll also allow you to outsource from one of their preferred vendors. A wedding here includes 60-inch round tables, vintage seating, farm tables, cocktail and banquet tables, linens and garden chairs.
Wigle Whiskey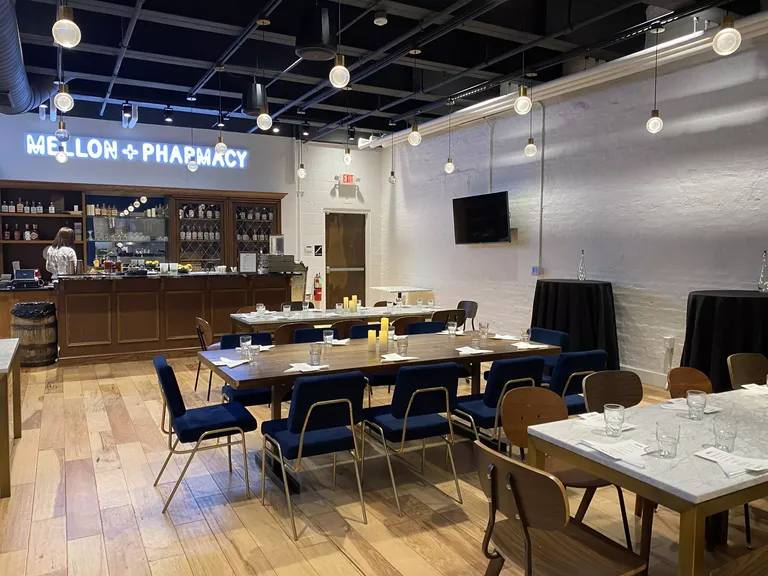 Are you or your spouse-to-be a whiskey lover? If so, look no further than Wigle Whiskey, a small-batch craft whiskey distillery in the Strip District. The distillery doubles as a one-of-a-kind private event venue, with just enough space for small to midsize celebrations. On the more intimate side, the Legacy Tasting Room, located next to the production site, can seat 25 and the Repeal Room, behind the tasting room and kitchen, can seat 35. For something a bit larger, the Distillery can seat 90. Catering is provided in-house, and you can choose anything from a full-course sit-down dinner to an appetizer buffet.
Hofbrauhaus Pittsburgh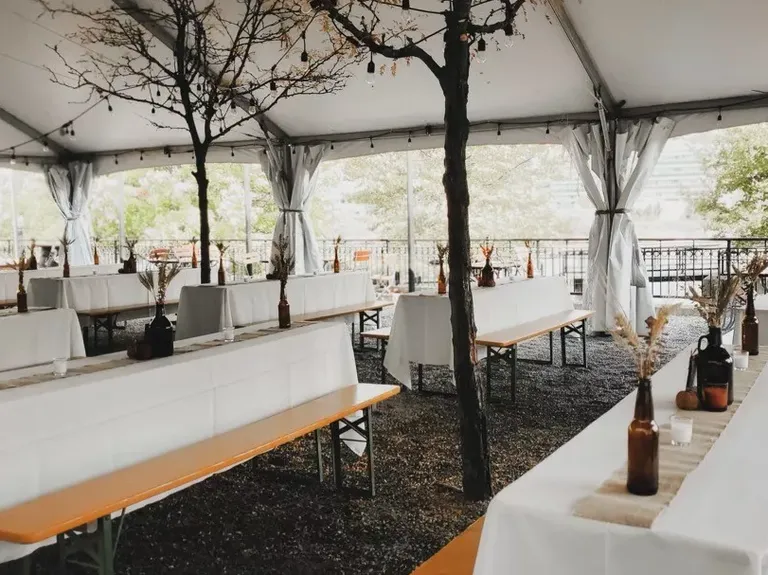 Hofbrauhaus Pittsburgh is a restaurant for authentic Bavarian food, beer and entertainment. The beer is legit, too: It's brewed on-site daily by the establishment's Brew Master, using 400-year-old recipes. Hofbrauhaus hosts all sorts of events, including birthdays, happy hours, corporate meetings and, most importantly, weddings. Host your wedding here, and the venue guarantees "great spaces, stress-free planning and impeccable service" for groups between 40 and 100 people in size. The facility has three spaces—the Bier Hall, the Stube and the Bier Terrace.
Cioppino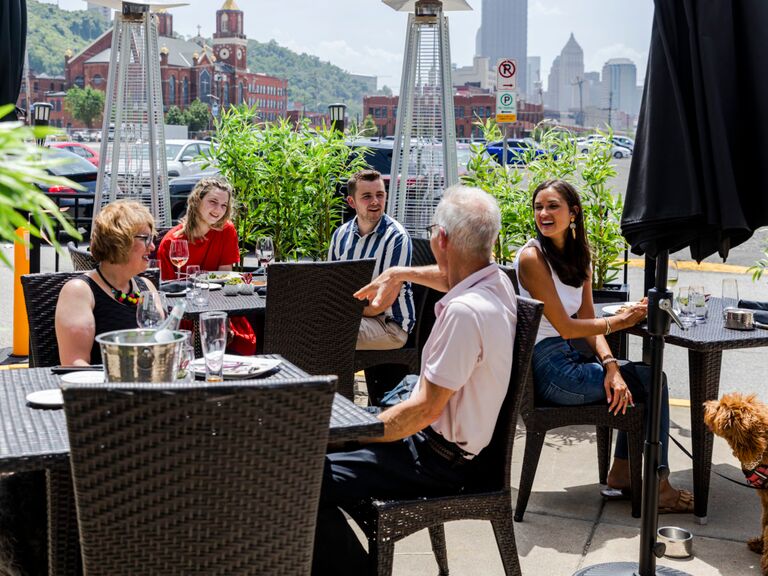 Another Strip District location, Cioppino Restaurant and Cigar Bar has been around for over a decade—serving up seafood, steaks, small plates, whiskeys, wines, cigars and more. For private events, like an intimate wedding, Cioppino can host up to 60 guests. The private dining room is great for groups ranging in size from eight to 30, or you can buy out the central dining room and bar lounge. Banquet menus cover a range of palates and diets, including vegetarian, vegan and gluten-free. Complimentary A/V is also available.
Fairmont Pittsburgh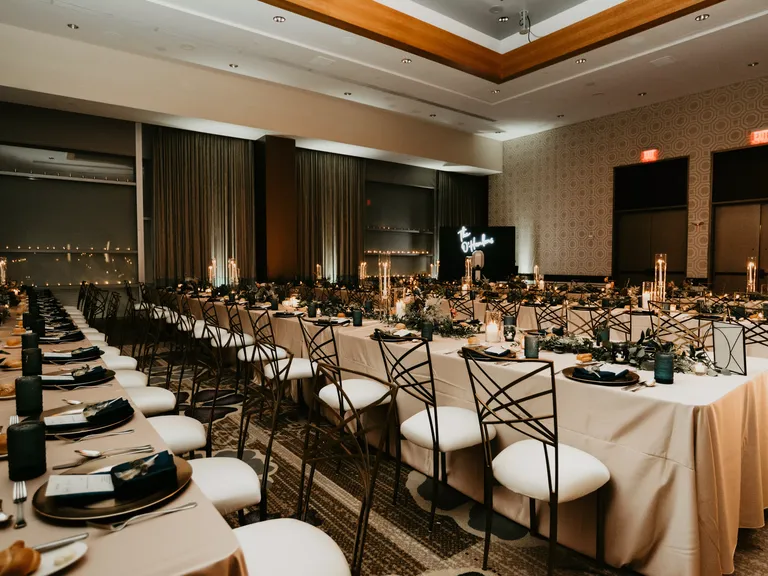 Another member of the Best of Weddings Hall of Fame, Fairmont Pittsburgh is the city's only Four Diamond LEED Gold-certified hotel—and it has so much to offer for weddings of all sizes. For those on the small side, the Yeager room, Ryan's Court and the Knox space are available. All weddings here come with a dedicated sales manager, a banquet maitre d' and a culinary team that will help you envision (and then bring to life) your dream menu. The Fairmont also offers an elopement package, starting at $3,300 for two guests, that includes a ceremony on the hotel's grand staircase, an intimate dinner, a bouquet and a boutonniere, one hour of photography and a one-night stay in a suite.
Wintergarden at PPG Place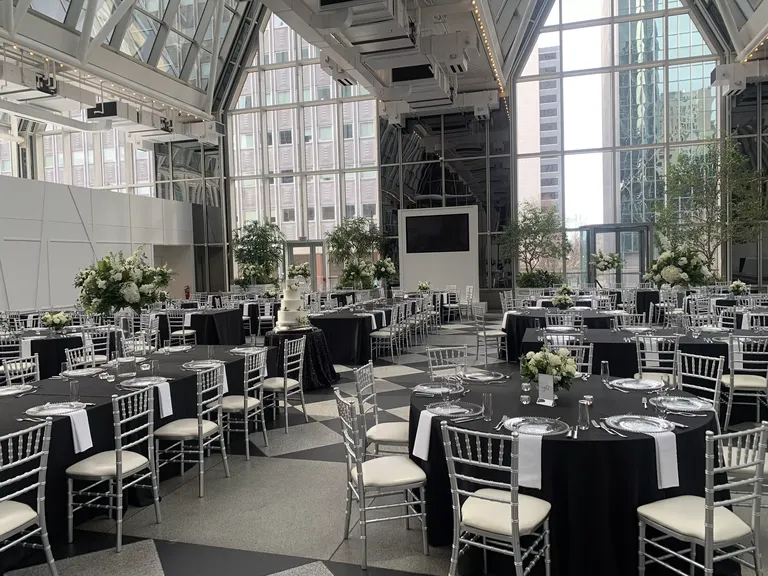 Downtown Pittsburgh's Wintergarden at PPG Place is an 8,000-square-foot, glass-enclosed venue. Yes, Wintergarden has space for very large weddings, but that shouldn't be the reason you shy away from an intimate event here, as the team will work with you to "create any seating arrangement and design setup that best matches your vision"—even an elopement. (However, Wintergarden does not offer ceremony-only events.) Packages come with a sales manager, a day-of operations team, bartenders (one for every 50 guests), servers (one for every 25 guests), kitchen staff, a sparkling wine toast and many additional inclusions.
Vallozzi's Pittsburgh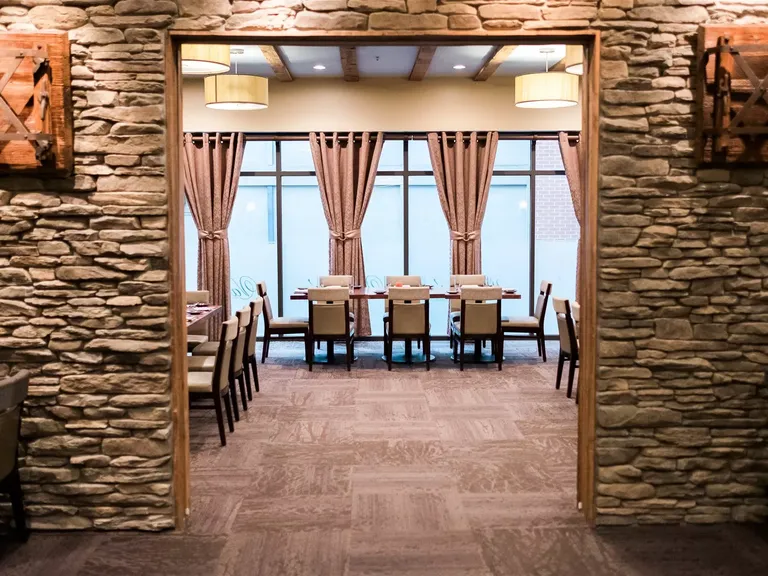 Last on our list is Vallozzi's, a restaurant and a venue for all types of wedding festivities. The Italian eatery, found in the Cultural District, has five distinct private party spaces—the Lounge, Colonna, Main Dining Room, Skattaglia and Wine Room. Embellishments throughout the venue include a walnut bar, picture windows, plush carpeting, wine racks, stone walls, wood beams and other comforting-yet-elegant details. Vallozzi's recommends the lounge for cocktail-style events. Colonna, Skattaglia and the Wine Room are great for sit-down and family-style dinners and luncheons.