34 Simple Wedding Cakes That Prove Less Really Can Be More
Minimalists, these sweet treats are for you.
With wedding cakes, less is, on occasion, more. If you're not in love with oversized confections covered in mounds of frosting and fresh flowers, simple wedding cakes are likely better fit to your taste. You don't need an extravagant dessert to make a statement—even a minimal, one-tier cake can stand out on your sweets table. Work with your caterer or pastry chef to design a cake that speaks to you and fits the vibe of your wedding day. They're the experts, after all, so they can produce cake that's pleasing to your eyes and your taste buds.
If a simple wedding cake is what you dream of, there's no shortage of inspiration. To help you narrow down your dessert vision, we've rounded up 34 simple wedding cakes that are seriously stunning. From multi-tier creations to small cutting layers, these simple wedding cake ideas are sure to give you plenty of inspo for your big day. (They might make your mouth water too—don't say we didn't warn you.) Below, browse our favorite simple wedding cakes that prove less is more.
In this article:
Small and Simple Wedding Cakes
1. One-Tier Wedding Cake with Garden Roses
Add finesse to a simple one-tier wedding cake with flowers that complement the season. Blush garden roses are pretty for spring and summer, but you could switch to red or dark purple blooms for fall and winter.
2. Simple Buttercream Wedding Cake
If you're planning on having a dessert spread, a simple one-tier cutting cake will give you something to slice during the special reception moment. We love the casual white icing on this treat, which has a bright yellow ranunculus placed on top for a pop of color.
3. Small Wedding Cake with Edible Flowers
Pressed flowers are a unique way to accent a simple wedding cake. We love how this couple decorated their one-tier cutting cake, complete with a matching cake topper and cake stand. With a variety of colors and shapes, the delicate petals are almost too pretty to eat.
4. Classic and Simple One-Tier Wedding Cake
White flowers will add subtle dimension and detail to a white buttercream cake, while keeping the overall design simple and classic.
5. Wedding Cake with Rainbow Sprinkles
Sprinkles, anyone? Consider accenting your simple white wedding cake with this nostalgic topping for a memorable dessert.
6. Boho One-Tier Wedding Cake
Make your bohemian dreams come to life by adding earthy accents (like pampas grass) to your wedding cake. Fresh fruit on the top layer adds natural color to an otherwise subdued palette.
7. Modern Small Wedding Cake
Small flecks of gold adorn the outside of this single-tier cutting cake, and they match the corresponding gold cake topper too. If you're dreaming of a simple wedding cake that has glam accents, this design is for you.
Simple Two-Tier Wedding Cakes
8. Fondant Wedding Cake with Sugar Bow
A sugar bow is an unexpectedly chic way to decorate your two-tier wedding cake for any season. You can add flowers or greenery if you want, but we love this minimalistic design as-is.
9. Elegant Two-Tier Wedding Cake
It doesn't get more classic than this simple two-tier wedding cake. Decorated with buttercream beading and gorgeous garden roses, it's a timeless design.
10. Pink Ombré Wedding Cake
Here's proof that some simple wedding cakes are anything but boring. Consider adding a single ombré tier to include a bold pop of color. We love how this couple tied in the palette by adding a darker pink flower at the base of the cake.
11. Simple Fall Wedding Cake
We can't help but obsess over this rustic creation. This simple two-tier wedding cake has a grassy cluster of autumnal flowers and leaves that embody fall.
12. Minimalist Two-Tier Wedding Cake
If you choose to have a simple, elegant wedding cake with few accents, let the surrounding decor bring the excitement. This couple opted for two small sprigs of greenery that matched hanging flowers on the wall behind their cake.
13. Buttercream Wedding Cake with Copper Leaf
Metallic accents are a trendy way to make your cake stand out. Flecks of edible copper leaf stand out against the cake's textured icing, while a small cluster of dark blooms provides a small pop of contrasting color.
14. Simple Square Wedding Cake
Small squares can still have a big presence. Simple, small wedding cakes are the perfect in-between option for couples who want to serve other desserts too, and this confection is just big enough for the newlyweds to share.
15. White Wedding Cake with Marble Stand
Another way to make your small wedding cake stand out is with a memorable cake stand. This chic marble option has a gold half-circle bottom, which matches the gold flecks throughout the cake.
More Simple Wedding Cake Designs
16. Contemporary Three-Tier Wedding Cake
Skip the flowers for decorative wafer paper details instead. The thin, edible sheets of "paper" can be molded into various designs or shapes, and when left uncolored, they'lll add a monochromatic 3D look to your cake.
17. Unique Wedding Cake with Paper Airplanes
If you're feeling crafty, recreate this design that features dozens of miniature handmade paper airplanes, inspired by the couple's love of travel. By keeping all of the airplanes white to match the fondant, the overall look is simple and modern.
18. Simple Summer Wedding Cake
Let the height of your wedding cake do all the talking and keep the rest of the design simple. A few green cymbidium orchids gave this five-tier masterpiece a tropical, summery look.
19. Rustic Semi-Naked Wedding Cake
If you're not totally sold on the naked wedding cake trend, go for semi-naked icing instead. Sheer layers barely reveal the cake underneath and act as a design on its own, so you don't need too many other accents. Sparse flower clusters or leaves can help breathe life to the minimal tiers.
20. Simple Wedding Cake with Greenery
Spice up your tiers by adding garlands of thin greenery on each level. We love how this couple opted for smooth icing around each tier—and if you look closely, you'll see their initials stamped into the center of the center for a subtle, personal touch.
21. Succulent Wedding Cake
Succulents, anyone? If you have a green thumb, add your favorite houseplants to your cake. In addition to fresh greenery, textured icing (as seen here) can add a small amount of drama to your simple wedding cake.
22. Fault Line Wedding Cake
Of all the simple wedding cakes we've seen, this is among our favorites. The fault line—a section of the cake that is cut away to reveal a different design below—adds the only pop of color to this crisp (and savory!) white confection.
23. Harry Potter Wedding Cake
Yep, you can have a wedding cake that subtly references your favorite movie. This Harry Potter-inspired wedding cake has a cake topper and four accent pieces that channel the beloved franches.
24. Garden-Inspired Wedding Cake
If you prefer real blooms over icing flowers, surround your simple wedding cake with fresh stems. This dessert's only accent is a small cluster of flowers under the top tier.
25. Simple Wedding Cake with Deckled Edges
This creation is a breath of fresh air in cake form. Elegant white flowers adorn this crisp white confection, while delicate green leaves add just enough color to make this cake stand out.
26. Splatter Wedding Cake
A splatter of blue color brings an artsy feel to this simple wedding cake. A ribbon of textured white icing adds dimension across the tiers.
27. White Marbled Wedding Cake
Your wedding cake doesn't have to be round. Square tiers feel effortlessly modern and chic—and with a soft marble pattern, this cake is as elegant as can be.
28. Hidden Rainbow Wedding Cake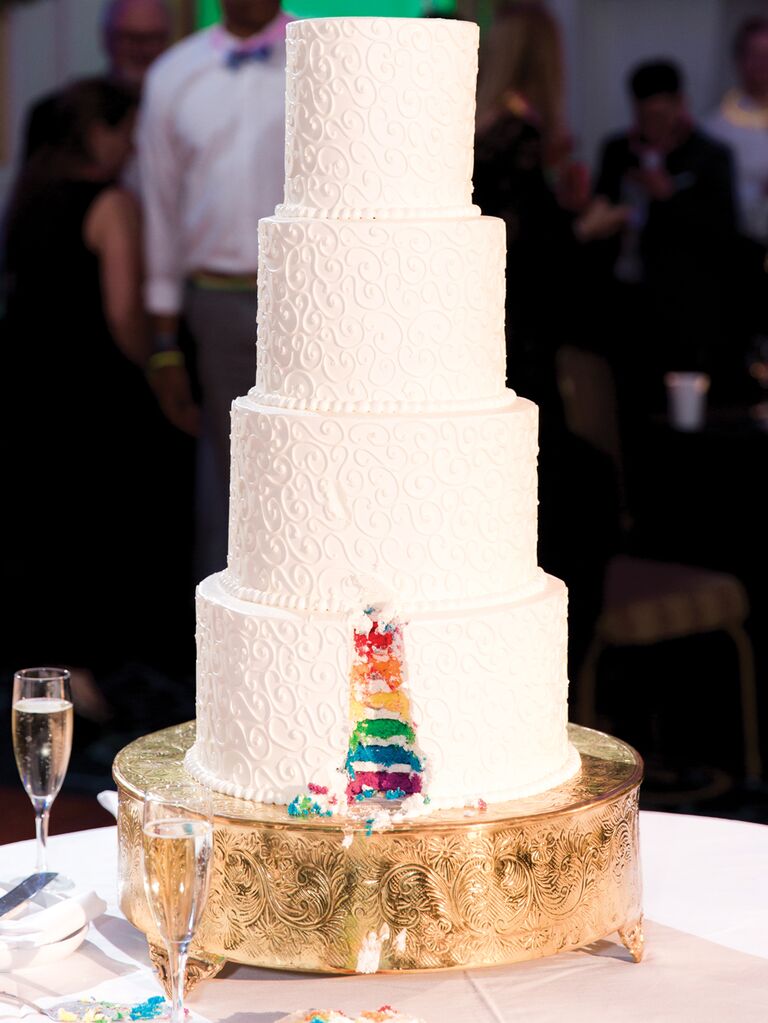 No one said minimalistic wedding cakes also have to be simple on the inside. A small cut reveals this cake's rainbow interior, which will surprise (and delight) guests. After all, who can resist a colorful slice of cake?
29. Textured White Buttercream Wedding Cake
Textured icing will enhance your simple wedding cake without taking it over the top. The alternating tiers have a modern look, while a small sprig of yellow flowers adds just enough color to make this cake look like a work of art.
30. Black Wedding Cake
Simple wedding cakes don't have to be white—take this one for proof. Even with a dark color, this three-tier dessert doesn't feel overpowering. Minimal design elements on each tier add just enough drama to this moody creation.
31. Funfetti Wedding Cake
You don't have to conceptualize a simple wedding cake design when you have a funfetti interior. The sprinkles baked into this treat can serve as accents on their own. In forgoing icing on the outside, this naked cake is a playful idea for couples who want a fun dessert.
32. Classic Three-Tier Wedding Cake
Your simple wedding cake doesn't have to be small. If you're dreaming of a towering treat that's not too overpowering, keep the rest of the design simple. Small floral clusters and an elegant cake topper add just enough color to this minimal confection.
33. Simple Spring Wedding Cake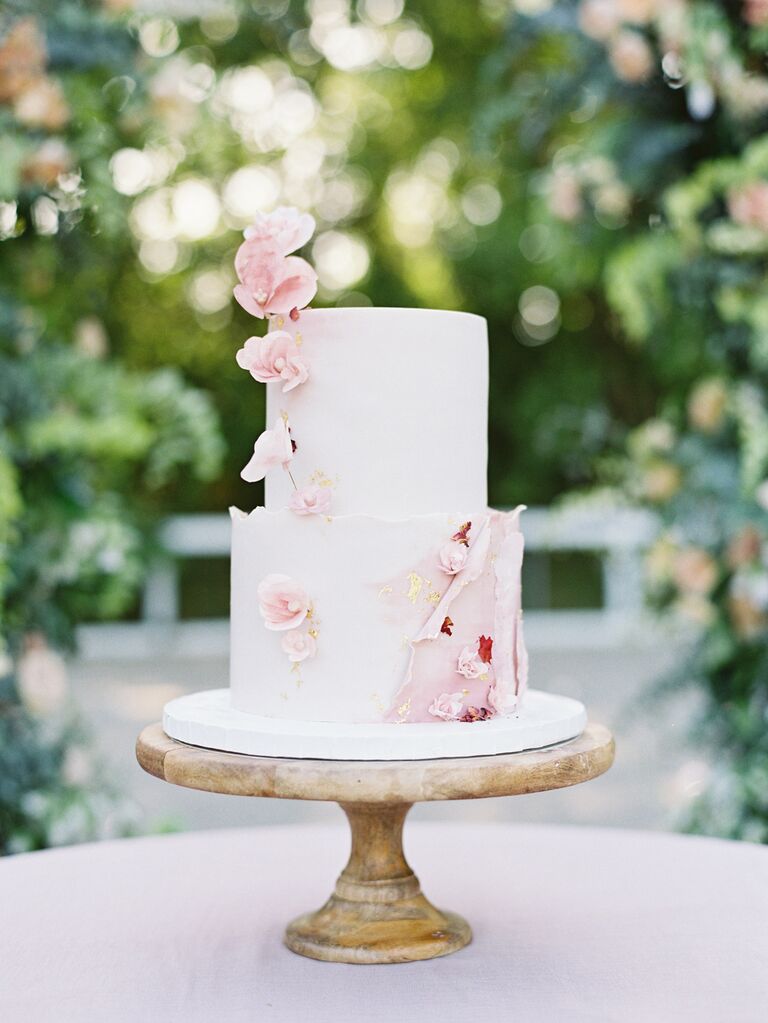 This cherry blossom-inspired wedding cake is as romantic as can be. We love how the bottom tier has an ombré pink finish, while a string of cherry blossoms pokes out from below the top tier.
34. Naked Wedding Cake with Fresh Fruit
Fresh fruit is always a crowd-pleaser. This naked wedding cake has a dusting of powdered sugar and rings of berries, which give it a mouth-watering finish.