31 Out-of-the-Box Wedding Bouquet Alternatives We Love
Skip the flowers and go with something eclectic instead.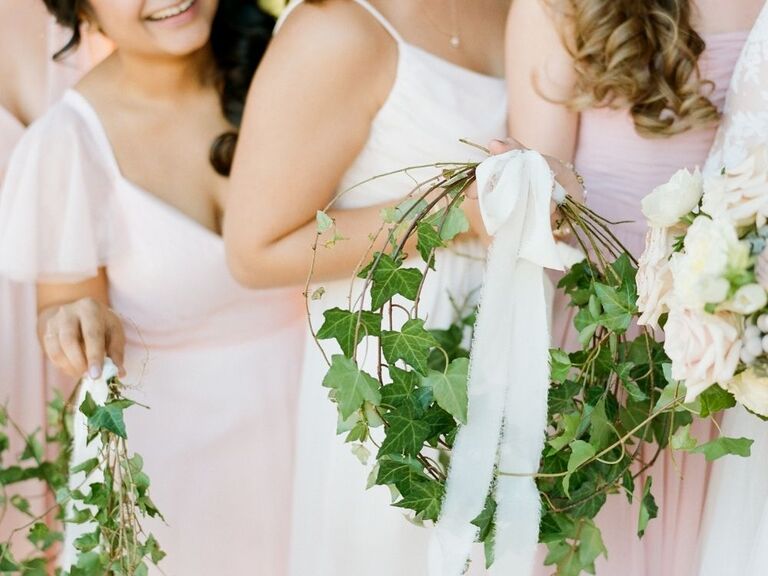 Bouquets are often a major part of a wedding's floral design. They're the perfect way to accessorize a to-be-wed or wedding attendant's look while calling attention to the special role that person is playing in the day's celebration, either as a marrier or close loved one standing beside and supporting the to-be-wed. While bouquets most traditionally are made with wedding flowers, we love to see couples reinvent traditions and personalize their big days. Enter: Wedding bouquet alternatives.
There's absolutely no rule that bouquets be made of fresh flowers or even be structured as an arrangement of botanicals. Non-floral wedding bouquet ideas, from simple greenery clutches to totally inventive ideas like having the wedding party carry lanterns, or even puppies, are on the rise. The idea is simply to accessorize a wedding-day look with a little something special—but that item can truly be anything.
If you have a wedding theme for your big day, letting that inform the direction you take with your wedding bouquet alternatives is a great option. Maybe you're hosting a Harry Potter-themed wedding packed with magical wedding decor and each bouquet-carrying person is instead given a wand to complete their outfit. Or maybe you and your spouse-to-be are planning a rustic wedding or camping-inspired outdoor wedding–why not have each person carry a vintage oil lantern to reinforce the wedding's aesthetic? Truly, the world is your oyster when it comes to turning traditional wedding bouquets into fun, funky and eclectic moment of personalization.
Below, we've highlighted some of our favorite unique bouquet alternatives and ideas to inspire you. As you browse, make sure to save the wedding ideas that pique your interest so you can share that wedding inspiration with your wedding planner or designer. No matter where you're tying the knot, there's sure to be a non-floral wedding bouquet idea that's perfect for your nuptials.
1. Hoop Bridesmaid Bouquets
Instead of carrying traditional floral bouquets, these bridesmaids walked down with wreath-style decorated hoops.
2. Floral Brass Knuckles
If you're a fan of corsages and like the idea of having wedding party members wear something petite then this may be the perfect eclectic idea for you. Attendants at this wedding accessorized with decorated brass knuckles as a great alternative wedding bouquet option.
3. Yellow Balloon Wedding Bouquet Alternative
Yellow balloons added a pop of color to this group's ensembles for a summer wedding in Minneapolis.
4. Rainbow-Colored Hoop Bouquets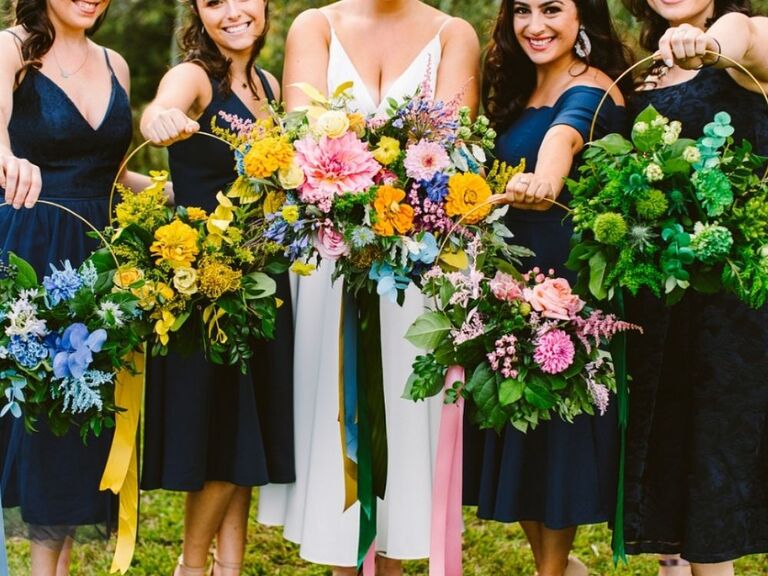 Not only did this couple settle on unique hoop bouquets for their wedding attendants, but they also got creative with the colors of the hoop designs as well. Instead of just utilizing one or two wedding colors, the hoop bouquets reflected the colors of the rainbow with each design showing off a different hue.
5. Woven Basket Wedding Bouquet Alternative
Baskets aren't just for flower girls—they're a great option for all your wedding-day attendants as well.
6. English Ivy Bridesmaid Bouquet Alternative
Greenery vines, like ivy and eucalyptus, are incredibly versatile which makes them a great material to use if you've come up with an especially creative bouquet alternative idea.
7. Origami Paper Flower Pomander
Sphere-shaped pomanders are a fun twist on the traditional wedding bouquet design. This pomander was even more unique, however, because it was made of origami paper flowers.
8. Lantern Wedding Bouquet
If you love thrifting and are looking for a fun DIY wedding project, consider visiting vintage stores to find objects, like lanterns, that could work as bouquet alternatives at your wedding.
9. Rescue Puppy Wedding Bouquet Alternative
If supporting rescue animals is something you and your partner feel passionate about, you could consider partnering with a local animal rescue for your wedding. In addition to posing with shelter pups to raise awareness, you could create a GoFundMe registry to support the charity of your choice so all your guests can join in the activism.
10. Wood Flower Box Bouquet Alternative
If you're looking for a bouquet alternative that could double as wedding decor, work with your florist to identify vessels that wedding attendants could first carry down the aisle before those designs are placed on reception tables as centerpieces.
11. Keepsake Lantern Bridesmaid Bouquet Alternative
Much like wood boxes, lanterns as a versatile option that could double as both ceremony bouquets and reception table decor.
12. Giant Balloon Unique Wedding Bouquet Alternative
Talk about making a statement! Oversized balloons are a fun option for eclectic couples who want a big, bold accessory.
13. Origami Paper Wedding Bouquet
Origami can be folded to resemble almost any flower you can imagine, making the art form a great option for couples who want paper flowers but don't want to sacrifice style and creativity.
14. Vegetable-Filled Wedding Bouquet
Flowers aren't the only plants that can be arranged into creative designs. Vegetables, like cabbage and kale, are a fun alternative, especially if you're tying the knot somewhere like a farm or greenhouse.
15. Glam White-and-Gold Brooch Bouquet
Make your bouquet serve as your "something old" by creating a handheld design comprised of vintage brooches passed down from family members.
16. Alternative Bouquet Made of Fabric Rosettes
If you're looking for a bouquet idea that will last as a keepsake for a long time after the wedding, an arrangement made of silk flowers may be the way to go.
17. Rustic Succulent Bouquet
Succulents are a popular element in rustic centerpiece arrangements, but the plant can be included in bouquets as well.
18. Oversize Pink Paper Flower Bouquet
Instead of designing a bouquet with lots of little flowers, this couple decided on one giant paper flower to really pack a punch and make a statement visually.
19. Boho Metal Hoop Alternative Wedding Bouquet
One reason that a hoop bouquet is a fun option is that after the wedding, attendants can take the design home and utilize it as a wreath or home decor.
20. Musical Metal Triangle Bouquet Alternative
For musically minded couples, a musical metal triangle might be a fun option for wedding attendants to carry. Connect with your ceremony musicians to see about coordinating and having the wedding party members play the triangles as they process into the ceremony.
21. Artichoke Wedding Bouquet
Visually similar to succulents, artichokes are a fun and out-of-the-box plant to consider for your bouquet needs.
22. Bouquet of Dried and Metal Flowers
This dried flower bouquet got a glam upgrade thanks to the inclusion of spiked metal flowers.
23. Bouquet of Jeweled Brooches
There's something so timeless and elegant about jeweled brooches, which is all the more reason to include them in your wedding day.
24. Whimsical Bouquet of Paper Butterflies
Every detail of this couple's wedding was butterfly-themed, down the non-floral bouquet the bride carried.
25. Fresh Fruit and Vegetable Bouquet
This bouquet was comprised of only the healthiest ingredients—berries, broccoli, kale and artichokes.
26. Luxe Brooch Bouquet With Pearl Accents
Especially if you're hosting a glam winter wedding, a brooch bouquet is a great way to add even more sparkle to a snow-laden soiree.
27. Peony Bouquet Made of Crepe Paper
Coral charm peonies are beautiful, but have a limited growing season and may not be readily available on your wedding day. If that's the case, take a cue from this to-be-wed and opt for peonies made of crepe paper instead.
28. Petite Leaf Bouquet
Sometimes less is more. Take this minimalist leaf bouquet, for example. The design was made up of just a few leaves, but the effect was dramatic and eye-catching.
29. Bouquet With Leaves and Wheat Stalks
To add more texture to this greenery-centric arrangement, the florist layered in preserved wheat stalks.
30. Glam Red Brooch Bouquet
Since jeweled brooches can be sourced in a variety of colors, consider curating a collection that complements your wedding colors to use in your non-floral bridal bouquet, like this to-be-wed did.
31. Bunny Bouquet Alternative
Much like the shelter puppy idea, if supporting rescue rabbits means a lot to you then consider working hand-in-hand with a bunny rescue to see how your wedding could be a source of activism to support the shelter. While the shelter would likely appreciate the publicity that images of their rescues would garner, consider taking things a step further by including their organization as a charity donation option within your wedding registry.