Everything You Need to Know About Wedding Gift Opening Parties
Will you be incorporating this event into your wedding weekend?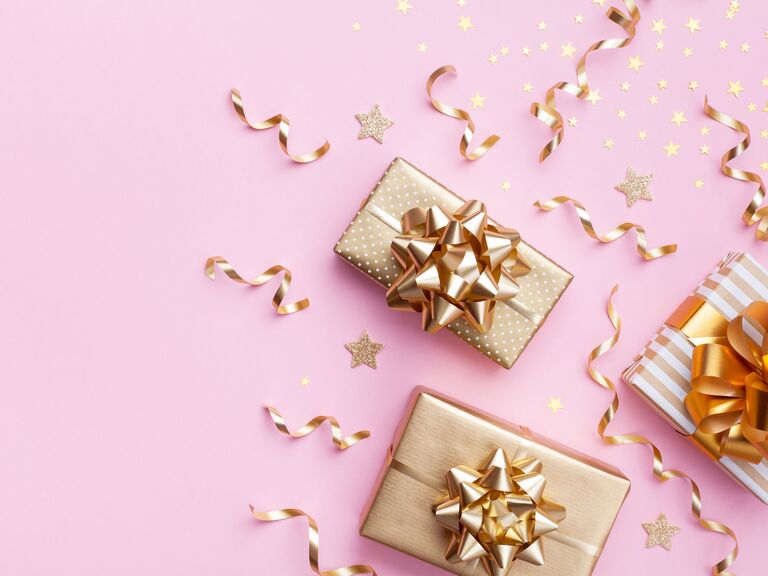 One of the (many!) decisions you'll face as your big day approaches is how you'll handle the wedding gifts you'll inevitably receive. That's where a wedding gift opening party comes in. This event offers a designated time and place to open gifts, which might be a relief, given there never seems to be a perfect time to dig into those presents.
While you'll likely have several gifts trickle in before your wedding day, there will probably be several beautiful packages stacked on your gift table by the time your reception draws to a close. But wedding gifts shouldn't be opened at the reception—that's a time to dance, mingle and spend time with your guests. And it can feel funny unwrapping the presents that come by mail ahead of the big day (even if you might have an idea of what they are already because of your registry). If you think a wedding gift opening party could be for you, keep reading to learn the wedding gift opening party etiquette that'll help you make a more-informed decision.
In this article:
What is a wedding gift opening party?
In short, a wedding gift opening party is an event that takes place after the nuptials where the happy couple opens all of the wedding gifts they've received. It's a chance for you and your partner to gather with family and friends and open your wedding gifts in their presence instead of on your own. If you're wondering if it's normal for a gift opening party after a wedding to take place, know that this post-wedding event is growing in popularity in many parts of the country, but has long-standing roots in regions like the Midwest.
"This is really an anything goes kind of event," says Lynne Goldberg, founder of Lynne Goldberg Group, a luxury wedding and event planning consulting firm. "It can be super casual or as elaborate as you'd like." There aren't many hard and fast rules to follow, either. You can have a large event or the most intimate of affairs where you only invite parents and siblings. It's also popular to use the party as a replacement for the day-after brunch, so early afternoon parties are popular.
Who hosts the wedding gift opening party?
Goldberg says that if the wedding gift opening party isn't hosted by the couple themselves, it's typically hosted by someone very close to them—like a parent, sibling or best friend.
Many couples might hesitate to plan yet another event in the days following their wedding, though, and instead take the day to let themselves and their guests take a breather after the celebration. "Not all couples choose to have a wedding present opening party," says Goldberg. "And some may opt to open their gifts in private with just their spouse."
If you're unsure about having a wedding gift opening party, but your parents or your partner's parents want to host one, you could compromise in a few different ways:
Agree to the party, but keep the guest list very small and set a time limit

Have the party at a later date, such as when you return from your honeymoon

Have a gathering with only your parents (or the family member or friend that wants to host the event)
Who gets invited to a wedding gift opening party?
If a couple decides to host a wedding gift opening party, family and close friends are generally the only ones invited to this gathering. But when it comes to wedding gift opening party etiquette, there aren't any hard and fast rules.
"It's up to the couple and the hosts to decide how large or small to make the event," Goldberg says. If you're looking to host a more chill affair or an event that's a few days or weeks after the wedding, you'll likely keep the guest list intimate. But if most of your guests traveled to attend your nuptials and blocked out the weekend for wedding festivities, hosting a wedding gift opening party the morning after your big day in tandem with a wedding brunch might garner a bigger crowd. If anyone wants to see the smile on your face when you unwrap their present, they'll likely be excited to stick around.
Where is the wedding gift opening party?
The best venue for a wedding gift opening party will depend on your personal preference, along with the size of your guest list. Intimate affairs can be held in your home or a family member's home (or backyard, if you prefer an outdoor setting). Other possible places to hold a wedding gift opening party include:
An outdoor park or botanical garden

A restaurant

A public event space

A local brewery or vineyard

A church hall
Keep in mind: You'll have to transport your presents to and from whatever venue you choose, so an intimate eatery might not be the best choice if you have packages from 200 kind guests.
Do you need to have a wedding gift opening party?
You don't need to have a wedding gift opening party if it's not your thing. Today's wedding celebrations come with many possibilities for additional gatherings and celebrations, like bachelor/bachelorette parties, showers, brunches and—of course—wedding gift opening parties. But none of these events are required. After all, a wedding is to celebrate the union of two people and that can look different for every couple in terms of how much and how often they celebrate, and in what way.
You can definitely opt to skip any further celebration after your big day draws to a close, but if you are keen on gathering everyone together one final time for a sweet guest send-off, there are some lovely events you can hold in place of a wedding gift opening party to fend off any postwedding blues. A simple brunch for any close friends or family still in town the next day is a classic option. Or maybe a relaxed evening by your backyard fire pit or a day-after-the-wedding hike or beach party might be a more suitable way to spend time with your nearest and dearest. Regardless of which option you choose (or if you choose none at all), your guests will look back on your nuptials fondly.