Wedding Reception Music Broken Down By Genre
Want your wedding guests to get funky on the dance floor? Let us lead. Our ideas are packed with crowd appeal, from salsa to foxtrot.
by The Knot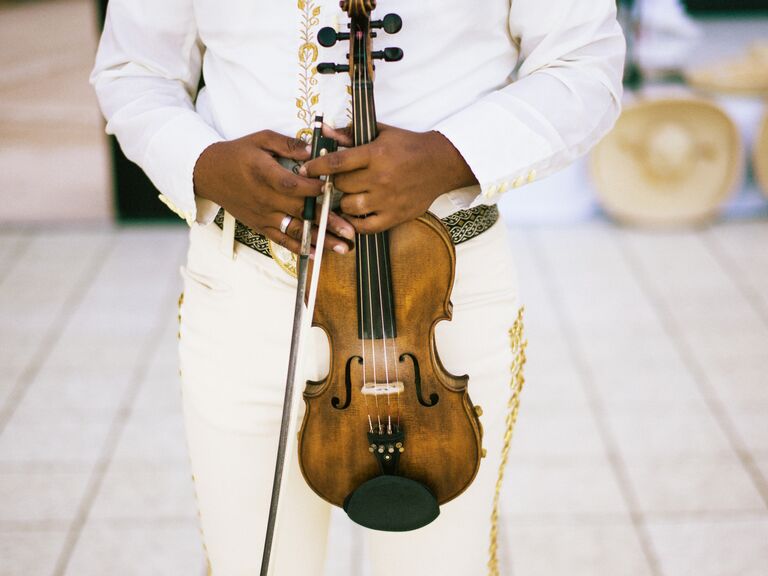 Whenever different age groups come together to celebrate, you've got to make concessions. With wedding reception music, you may have to keep your most radical rhythms in check. But that doesn't mean your bash is bound for banality. The latest trend? Mix it up! Turn out tunes that will have everyone gyrating, jitterbugging, and jazzing it up. Work with your wedding band or DJ to include some or all of the following crowd-pleasing ideas.
Wedding Music Idea: Latin Music
Salsa and merengue have fired up many a fiesta. Well-known salsa artists include Tito Nieves, Eddie Palmieri, Willie Colon, and Ruben. Mix in a little Ricky Martin if you must. Cuban jazz, which is a little easier on the feet, is also making a comeback, thanks to The Buena Vista Social Club. Guepa! Is it hot in here?
Wedding Music Idea: Swing Music
Hipsters, old-timers, and teeny tykes alike will thrill to the rousing, upbeat sounds of swing. With its rigorous drumbeats, snappy melodies, and robust brass explosions, swing can motivate nearly anyone to jump and jive. Spread the word so novices can splurge on lessons and stylin' hepcats (your grandparents) can dust off their vintage albums and start practicing. Listen to old-school gurus like Count Basie, Benny Goodman, Duke Ellington, and Louis Prima, then move on to newer crop of zoot suit rioters -- Cherry Poppin' Daddies, Big Bad Voodoo Daddies, and the Brian Setzer Orchestra.
Wedding Music Idea: Country Music
Why not let line dancing liven up your party? We recommend: "Baby Likes To Rock It" (The Tractors); "Fast as You" (Dwight Yoakam); "God Blessed Texas" (Little Texas); "High Tech Redneck" (George Jones); "The Wanderer" (Eddie Rabbitt); "T-R-O-U-B-L-E" (Travis Tritt); "What The Cowgirls Do" (Vince Gill); "Whose Bed Have Your Boots Been Under?" (Shania Twain); and "Why Haven't I Heard from You?" (Reba McEntire). Line dancing is a darn good way to get certain single friends to at least say "howdy" to each other. The lucky devils will be nuzzling to Patsy Cline in no time.
Wedding Music Idea: R&B Music
Always in style, always romantic, R&B is sure to get your guests grooving. This genre includes the Motown hits we all know and love, plus soul icons Al Green, Barry White, and Curtis Mayfield. Spice up the mix with contemporary faves like Luther Vandross, Sade, Vanessa Williams, Lauryn Hill, Chaka Khan, Whitney Houston, Brandy, D'Angelo, R. Kelly, Erykah Badu, Boys II Men, Usher, TLC, and Toni Braxton.
Wedding Music Idea: Ballroom Music
If orchestral music, high heels, and top hats are in the cards, bring on the ballroom dancing. Formal affairs beg for dashing hints of romance -- give your most elegant guests a chance to show off with tunes that let them waltz, tango, foxtrot, and cha cha. The rest of your crowd can learn a few steps from the Freds and Gingers or just enjoy the show. You can also hire a pair of pros to start the fancy footwork in grand style.