40 Meaningful 35-Year Anniversary Gifts for Your Spouse or Loved Ones
Make the coral anniversary one to remember with a thoughtful present.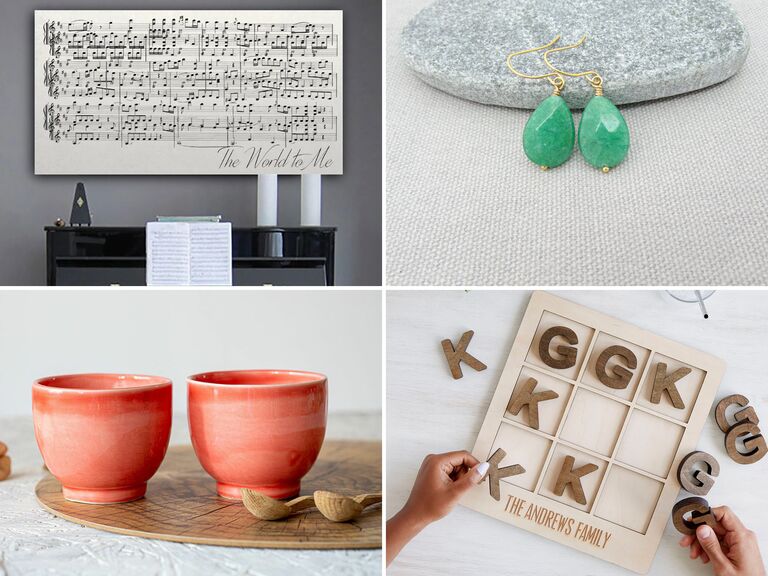 We have included third party products to help you navigate and enjoy life's biggest moments. Purchases made through links on this page may earn us a commission.
Whether you've been married to your better half for 35 years or know a couple celebrating the impressive milestone, congratulations are in order. But at this point, the marriage has been commemorated many times over, so figuring out what to get for a 35th anniversary gift can be a bit tricky. If you're feeling a lot of pressure to get the perfect present (or even just not repeat the same gift), fear not. Each year of wedded bliss is assigned traditional and modern themes, which makes it easier for you to find a 35-year anniversary gift for your spouse, parents or another favorite couple. Still, there are a lot of options to choose from, so we've made it even easier by rounding up thoughtful gift ideas that'll delight anyone in your life.
In this article:
What is the traditional 35th anniversary gift?
Traditional: Coral
The traditional 35th anniversary gift is an unusual one: coral. This unique marine species is incredibly important when it comes to maintaining the delicate balance of the ocean's ecosystem. And much like a 35-year union, it takes a long time to form. Coral is also associated with a red-pink hue as vibrant as the marriage you're celebrating. Not only does anything in the 35th wedding anniversary color make a beautiful gift, but it's also a symbol of protection. Coral is believed to heal and defend against harm—just like the love couples have for each other—making it a fitting gift for this relationship milestone.
Modern: Jade
Jade, the modern 35th wedding anniversary symbol, is known for both its distinct green color and its beauty. It also represents good fortune, wisdom and love, and has been a prized material for many years all over the world. In turn, it makes sense that it's the modern material for this special occasion, representing how much couples value each other after 35 years of marriage.
FYI: The inspirational themes don't stop there. While there may not be a specific 35th wedding anniversary flower like there are for some other years of marriage, there is a special gemstone associated with the milestone: emerald. Indicative of a long-lasting relationship, the dazzling green gem is another excellent gift idea.
Coral Anniversary Gifts
The traditional gift for 35 years of marriage isn't the easiest material to work with, especially since the conservation of coral reefs around the globe is super important—but that's where we come in. Rather than the real thing, these creative presents are simply inspired by the underwater species, so you can rest assured no coral was harmed in the making of this gift guide.
Vibrant Blooms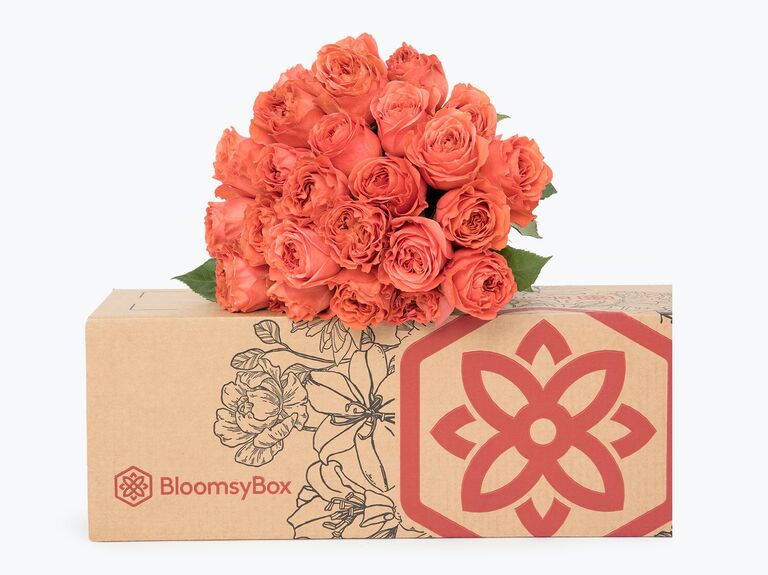 Who said there had to be a specific 35th wedding anniversary flower to pick out an on-theme bouquet? These bright, coral-hued roses give a colorful nod to the traditional material. The best part? You get to surprise your other half by having these hand-tied blooms delivered right to the door.
Unique Coasters
A chic new set of coasters is always a welcome present, especially for the couple that loves to host. This handmade wooden gift set from Denvers Designs features a stunning coral cutout design that's sure to spark both joy and conversation.
Patterned Serveware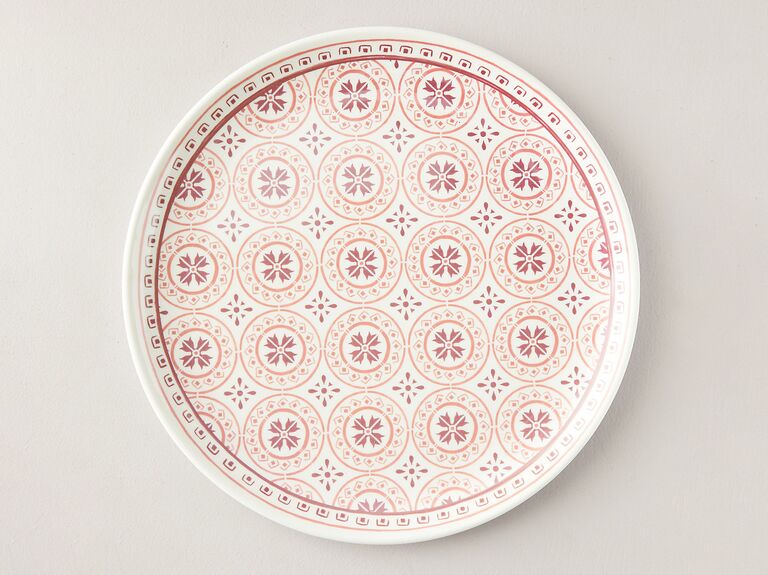 Pretty serveware like this melamine platter is an excellent 35th wedding anniversary gift for parents who take pride in their elaborate table spreads. Whether they only break out the good crockery on special occasions or it's a weekly Sunday-dinner kind of deal, they'll love adding this coral tile-inspired serving tray to their collection.
Rustic Photo Frame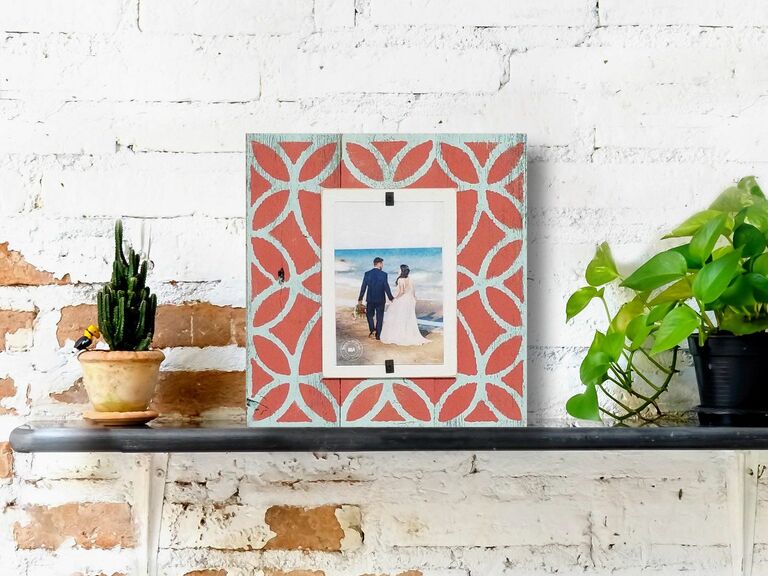 The anniversary photo shoot might have to wait, but that's not to say they can't keep a romantic photo from their 35th year together in this one-of-a-kind coral-colored wooden frame. This simple-but-sweet present from Beach Frames is sure to earn prime real estate on the couple's mantelpiece.
Colorful Wine Set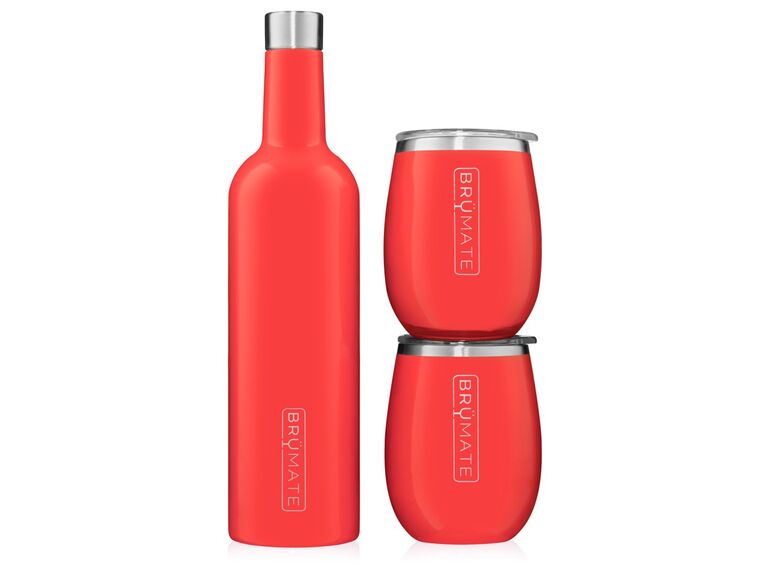 Shopping for the lovebirds with a taste for good wine? This colorful set includes a 25oz wine insulator and two matching tumblers so they can enjoy chilled vino for longer. It's an extra-thoughtful anniversary present if the couple enjoys sipping their favorite red or white outdoors by the pool, beach or around a campfire.
Faux Coral Decor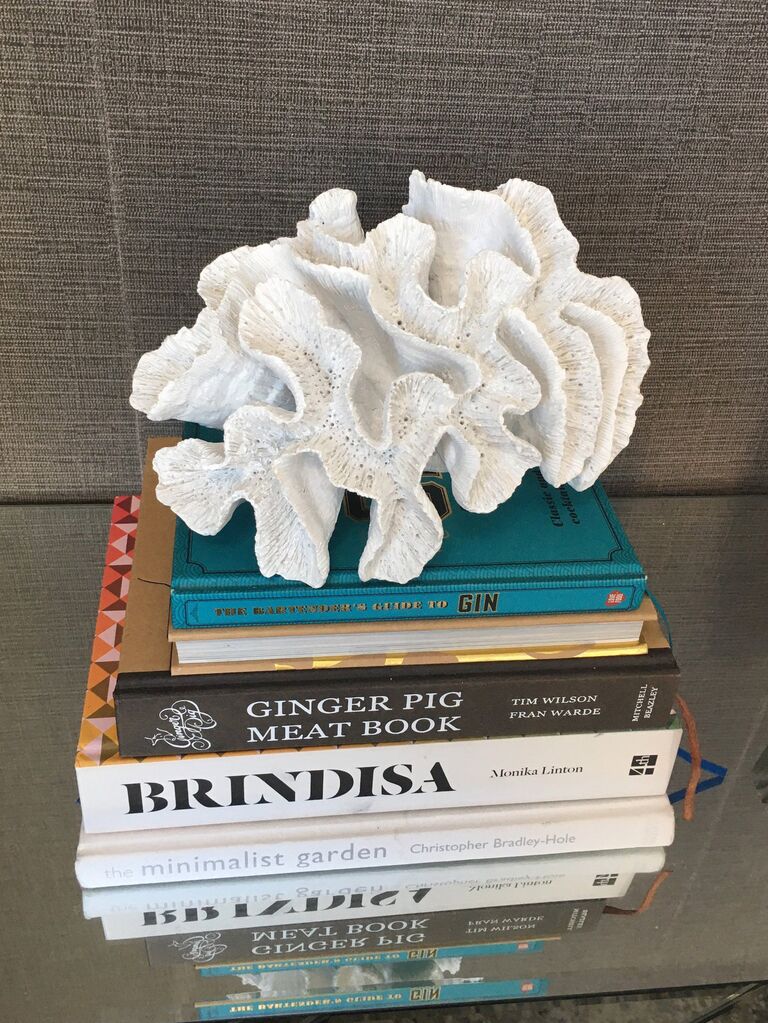 While real coral ought to be protected and preserved in our oceans, there's no reason you can't get your spouse or favorite duo some faux coral decor. Oli and Kitty's white resin ornaments bring a fresh, beachy vibe wherever they're placed.
Fashionable Ring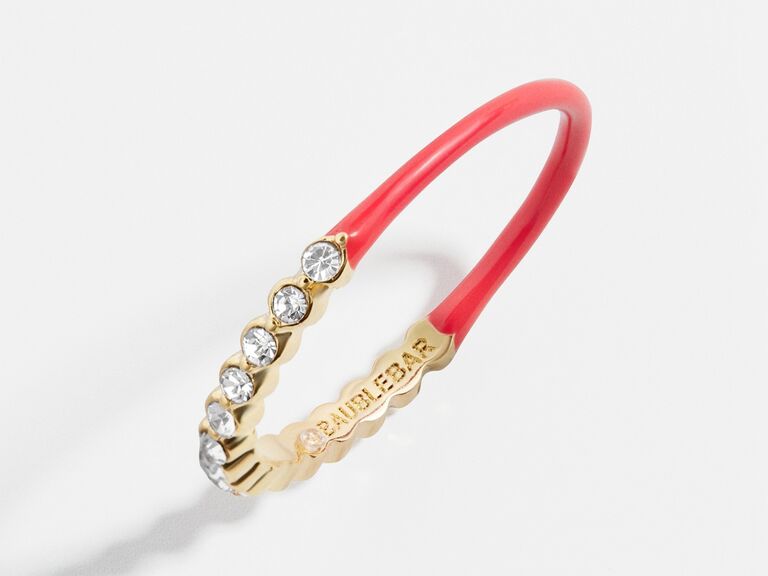 This stylish piece of jewelry proves just how chic and modern coral gifts can be. The pavé glass stones add a subtle sparkle, while a dainty band makes it great for stacking. It'll add a bright pop to your partner's accessory collection.
Matching Mugs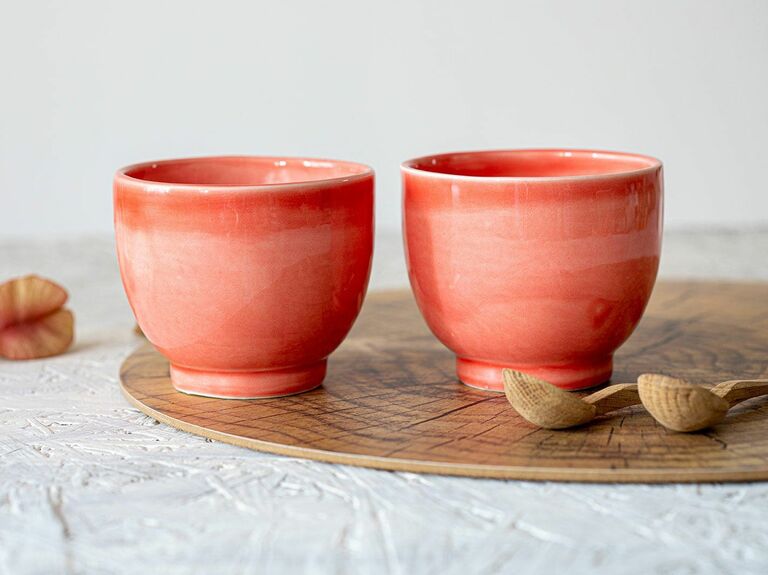 Do they always sip coffee together on Sunday mornings? Give the couple an on-theme way to continue that tradition with these handmade ceramic cups in a vibrant coral shade. We especially like the mugs' handle-free shape, perfect for warming their hands on. Check out Zohar Shaham's Etsy store for even more beautiful handmade ceramics.
Comfy Hammock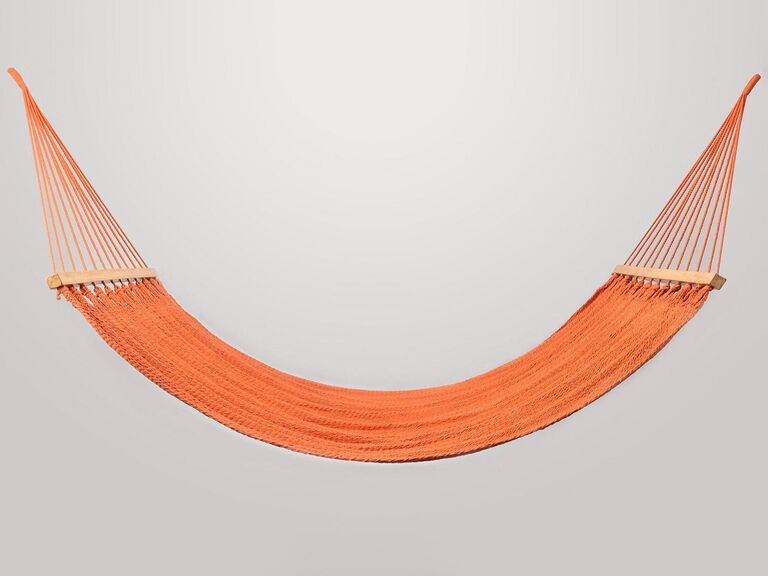 If sunny days in your backyard are your partner's idea of paradise, we've got the gift for them. Level up their favorite space with this comfy hammock from woman-owned business Artissanos. It's made with sustainable cotton and natural wood (oh, and peep that vibrant coral-orange hue).
Formal Cuff Links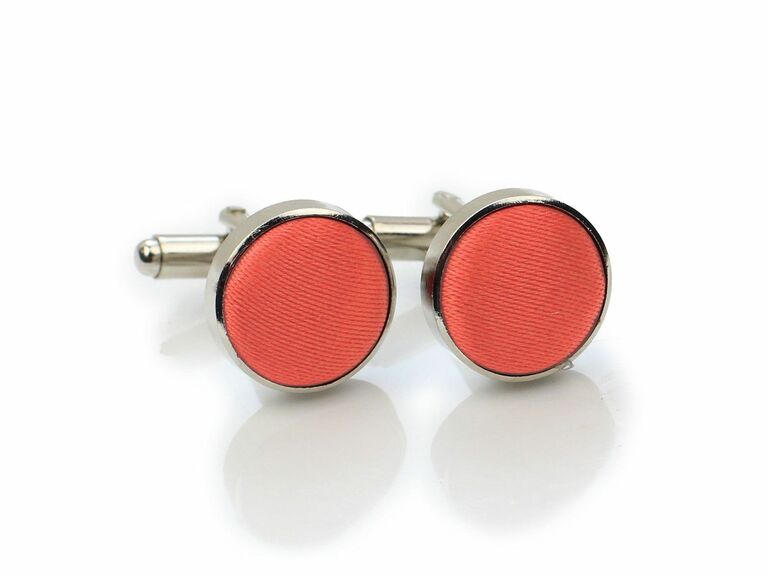 Wondering what to do for your 35th wedding anniversary? If heading to your favorite restaurant is a no-go, plan a romantic celebration at home instead. You can still get dressed up, and your partner can finish off their ensemble with this fun pair of cuff links from Bows-N-Ties. They're especially on point if your other half has a preppy sense of style.
Charitable Donation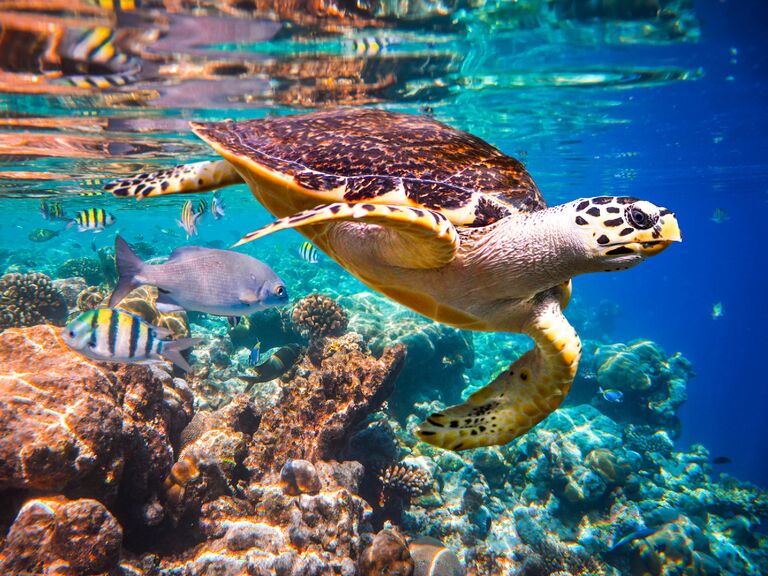 If you've been challenged with the task of shopping for the couple who seems to have everything already, consider donating to a charity on their behalf. The Reef Life Foundation works to restore coral reef habitats in areas affected by hurricanes. Once you've dedicated your donation, you can send an e-card right to their inbox.
Unusual Art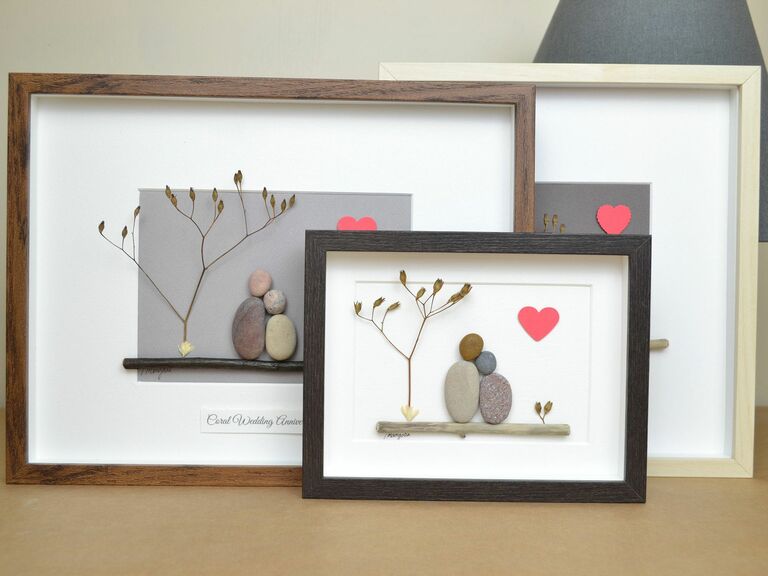 There's a lot to admire about this unique piece of art. Pebble Art by Magnolia uses natural pieces including pebbles, shells and seaglass for a one-of-a-kind creation. The coral heart adds a vibrant touch and nods to the traditional 35-year anniversary color.
Wine-Preservation Device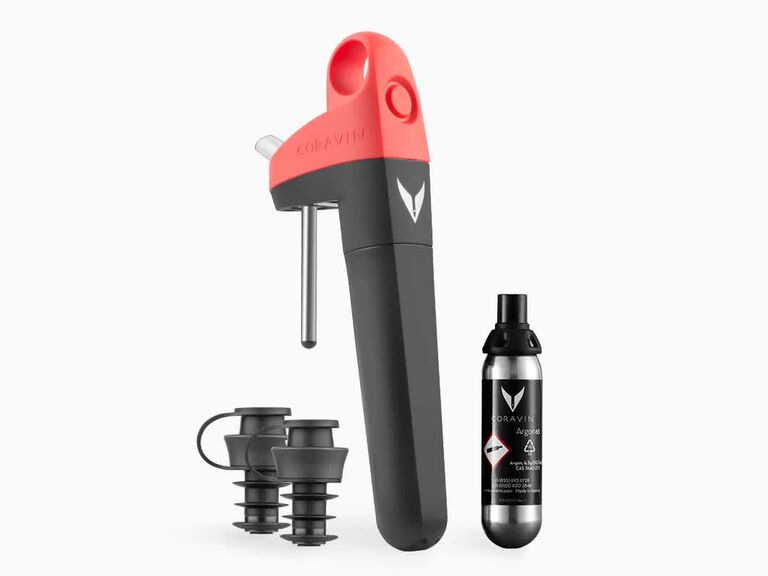 Here's another super-cool present for wine lovers. This clever little device is used to extend the shelf life of opened bottles of vino by up to four weeks, so they have plenty of time to enjoy all that anniversary wine without pouring anything down the sink. It works by safely using argon gas to pressurize the bottle. The gadget will allow them to pour freely, but once removed ensures the preservation of anything left over.
Compact Cardholder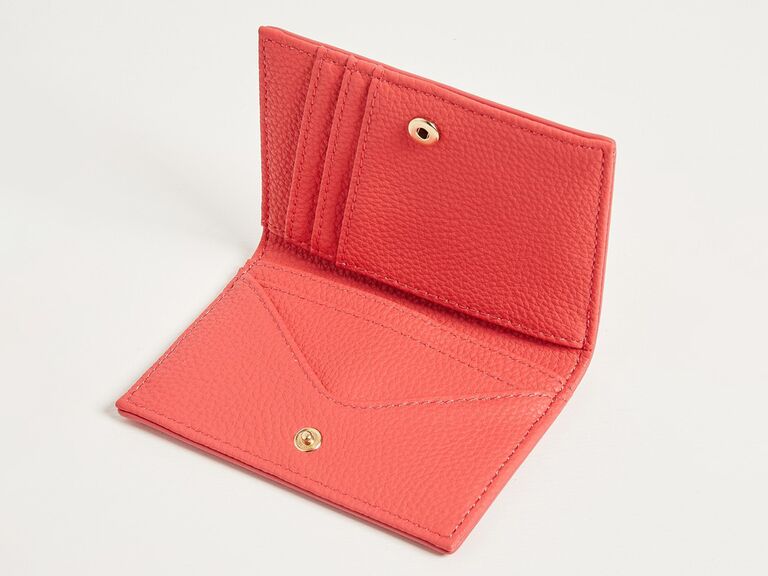 You don't have to break out your rainy day fund to get a nice coral-themed present for your partner. This cute and affordable wallet has slots for seven of their most important cards. It's perfect for short trips to the store or café so they don't have to carry a bulky purse or tote.
Cute Couples' Shirts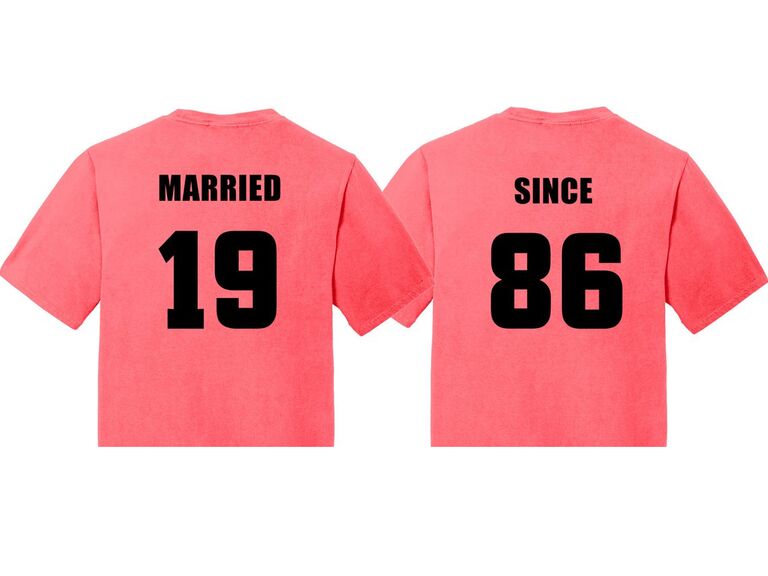 Looking for fun 35th wedding anniversary gift ideas for the couple? These matching T-shirts from Groom Socks are an adorable nod to the year they tied the knot. Just make sure to get a snap of the lovebirds wearing their coordinating coral tees so they can look back on the memory in the future.
Jade Anniversary Gifts
If coral doesn't seem like the right fit, don't be afraid to ditch the traditional gift altogether. Remember, there are still a few other themes associated with this special milestone you can use for inspiration. Check out our favorite jade gifts below that'll work for him, her and them.
Stylish Ring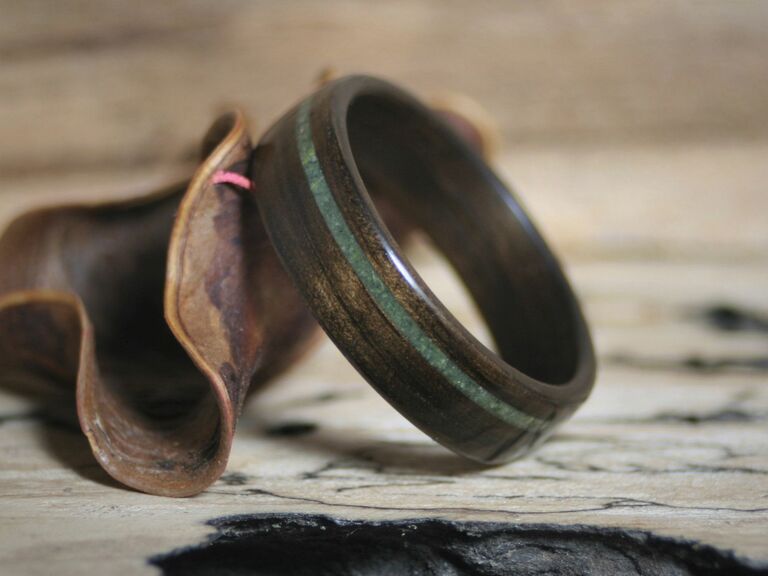 If it's been three-plus decades since you last put a ring on your other half's finger, consider the gift of a 35-year anniversary ring. We love the understated beauty of this natural eucalyptus wood and jade jewelry from Ridgewood Rings.
Gorgeous Greenery
This jade plant will make a great windowsill decoration for the couple with a green thumb. And if they don't have a green thumb? Good news—it's classified as low-maintenance.
Luxe PJs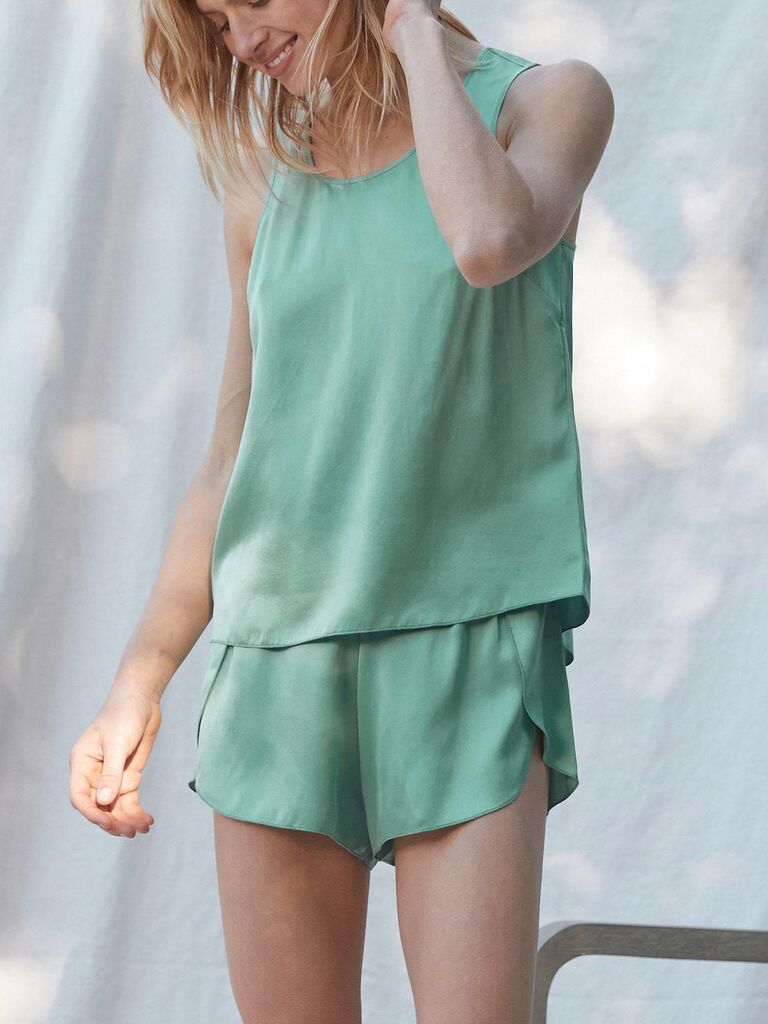 As if washable silk PJs weren't already high on our list of amazing gift ideas, this stylish set comes in a jade-inspired shade of green, honoring the modern 35-year anniversary theme. (Psst, if you really want to spoil your partner, there's a matching robe!)
Precious Golf Tees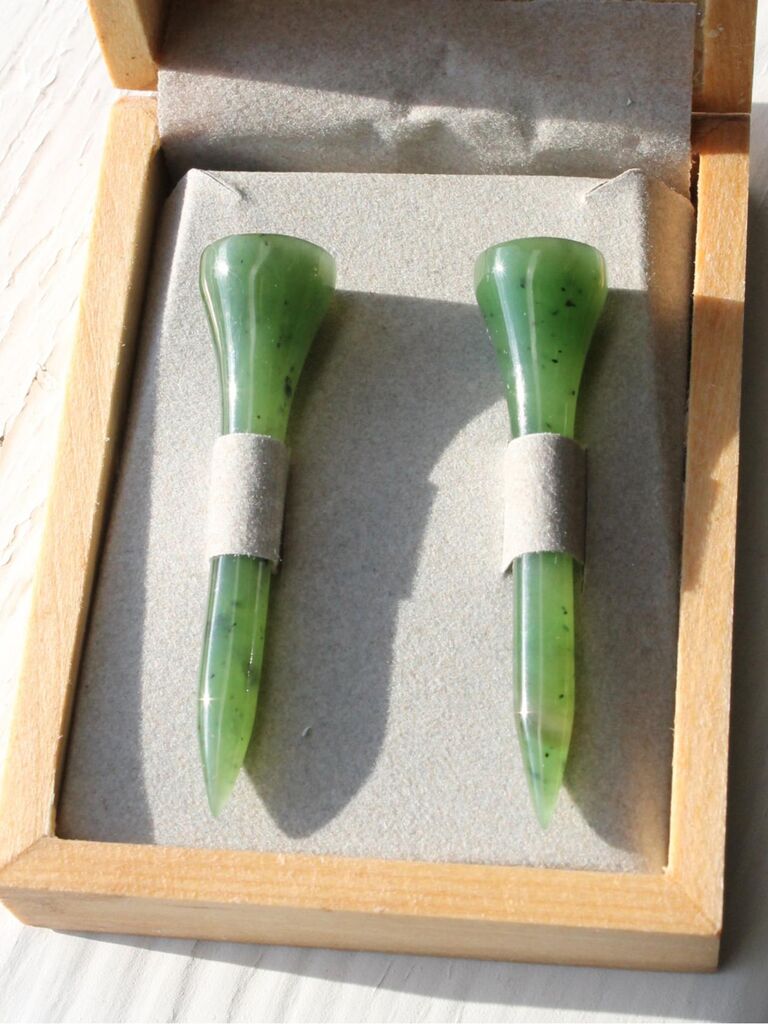 A set of precious jade golf tees will be appreciated by anyone who spends their spare time on the green with a golf club in hand. The Jade Mine's tees are perfectly functional, but if your spouse doesn't want to risk losing them, they'll also make for an interesting display at home.
Thoughtful Print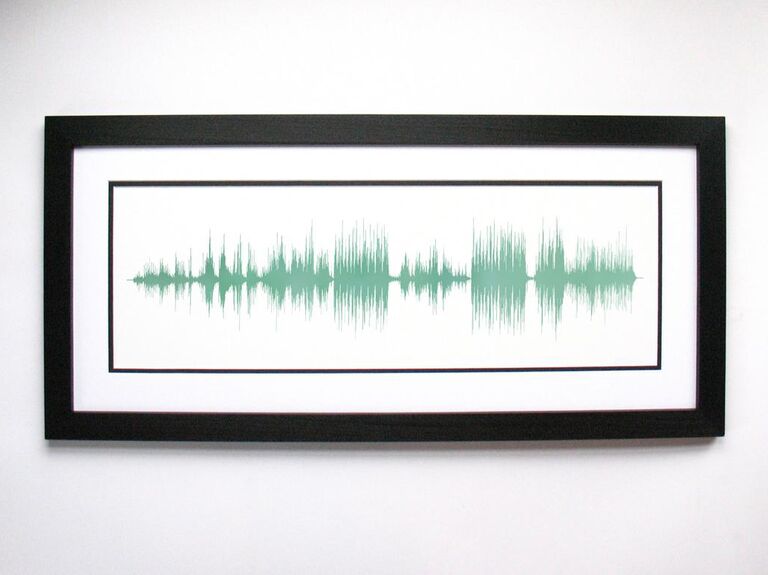 Still looking for the right present? We've got plenty more 35th wedding anniversary ideas to come. Personalize this jade-green wall art from Voice & Sound with the soundwave of a meaningful tune (think: their first dance song) and have it framed for a display-ready gift.
Cozy Sweater
A lightweight cotton sweater is a must-have when it comes to transitioning between the seasons, making it a valuable addition to your partner's wardrobe. This casual crew neck is perfect for everyday wear, and the on-trend jade hue only makes it more stylish.
Chic Earrings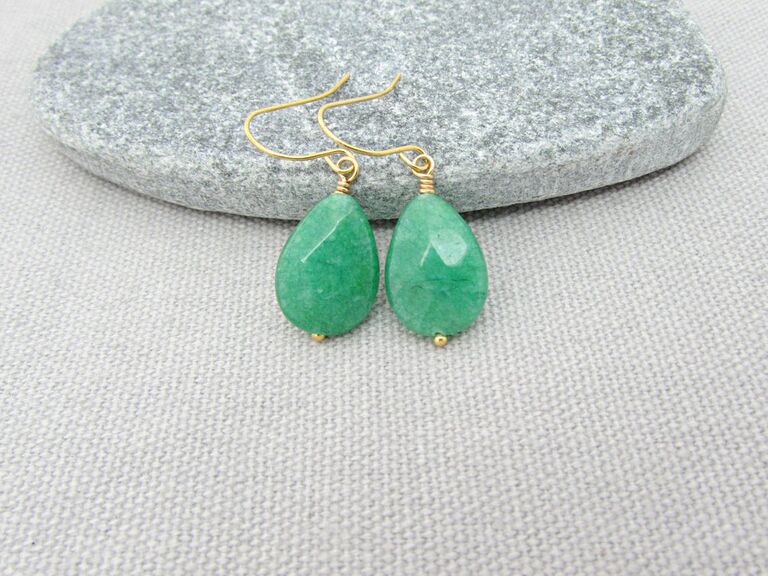 In search of a piece of on-theme jewelry that they can wear on the regular? Look no further. These gorgeous jade drop earrings from Little English Jewelry are a classic way to incorporate this stunning shade.
Pampering Skincare Set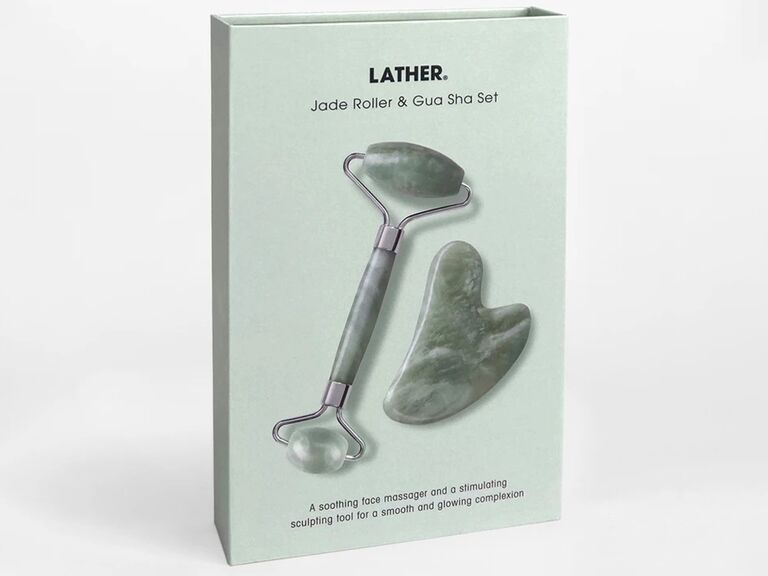 After 35 years of undying love and commitment, you've both earned a spa day. Why not turn your home into a pampering paradise? Just grab a pair of cozy robes, stock up on some skincare essentials and you're good to go. This jade roller and gua sha gift set is an excellent finishing touch.
Wishing Bracelet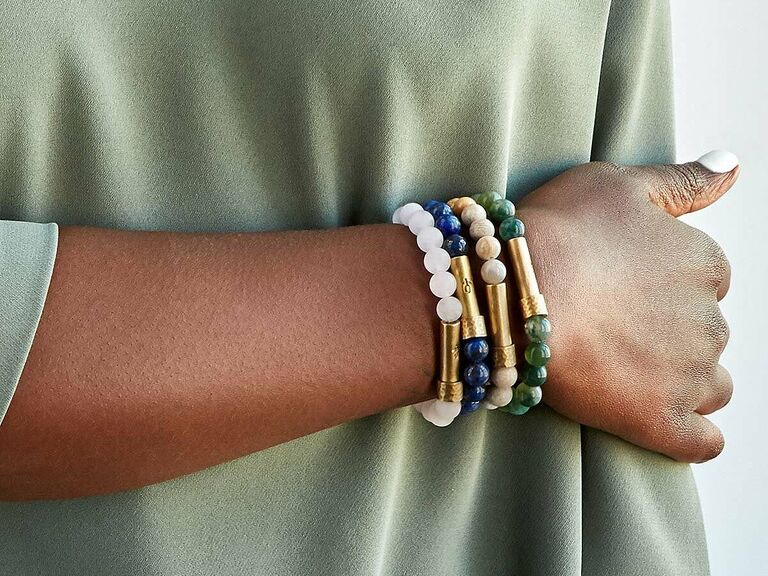 While their wishes certainly did come true the day you both said "I do," your partner might have a few new ones up their sleeve since then. Let them know just how much you care about their dreams and desires by handing over one of these meaningful bracelets with a secret compartment for tucking a wish (or a romantic note) inside. Choose the coral jade option to stay on theme or pick out another color your S.O. will love.
Heart-Shaped Keychain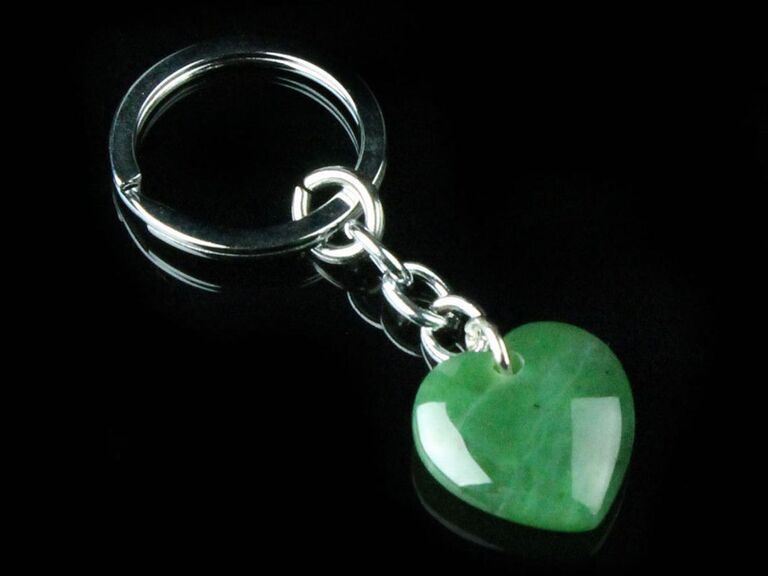 The Jade Mine has lots of great jade gifts for your husband or wife. This affordable, heart-shaped keychain is a small token of your long-lasting love they can carry with them wherever they go.
Alternative 35th Anniversary Gifts
Who says you have to stick to a theme? There are lots of other ways to celebrate that special someone (or couple) in your life. Need a little help to get started? We've rounded up some of our favorite 35-year wedding anniversary gift ideas right here.
Family Story Book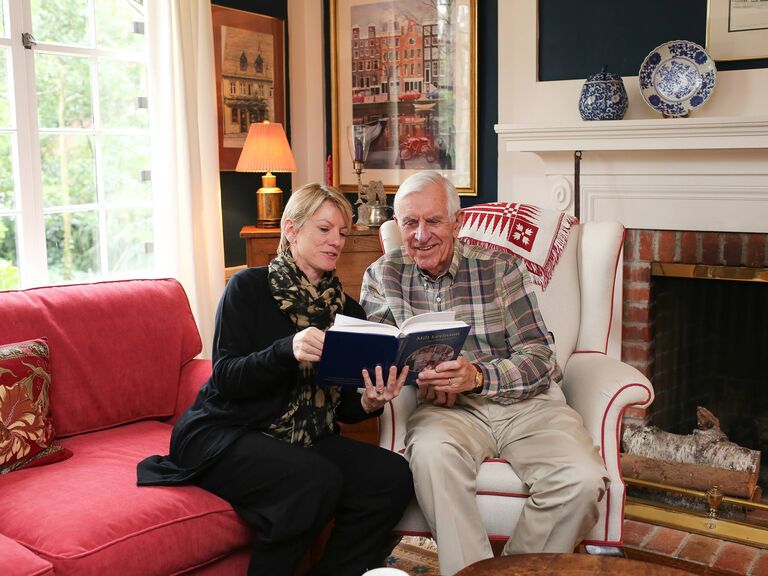 StoryWorth is an awesome 35th anniversary gift for parents that'll preserve their personal history in a keepsake memoir. Every week, they'll be sent a writing prompt they can respond to together with both text and photos. After a year of collecting fascinating stories from your parents' past, their responses are turned into a sleek, hardcover book.
Retro Reel Viewer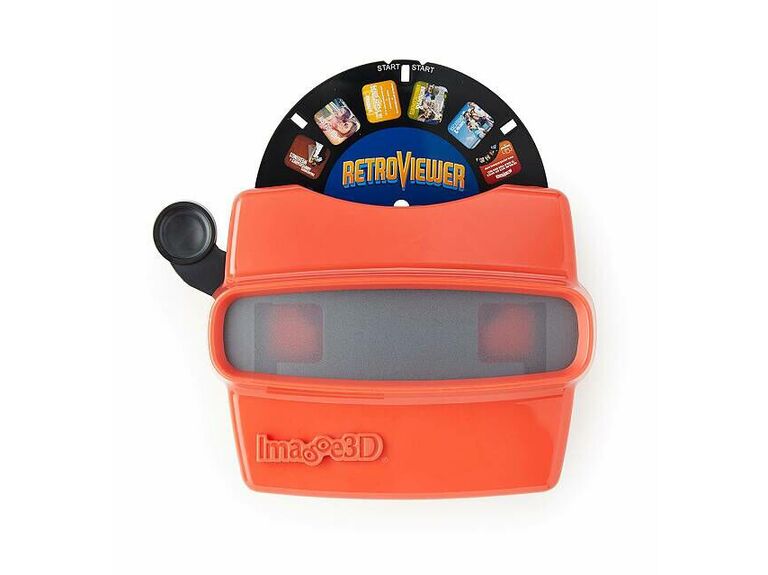 After 35 years, your spouse may be feeling nostalgic. Personalize this old-school reel viewer with the photos of your choosing so they can enjoy all the great memories you've shared over the years.
Stunning Pendant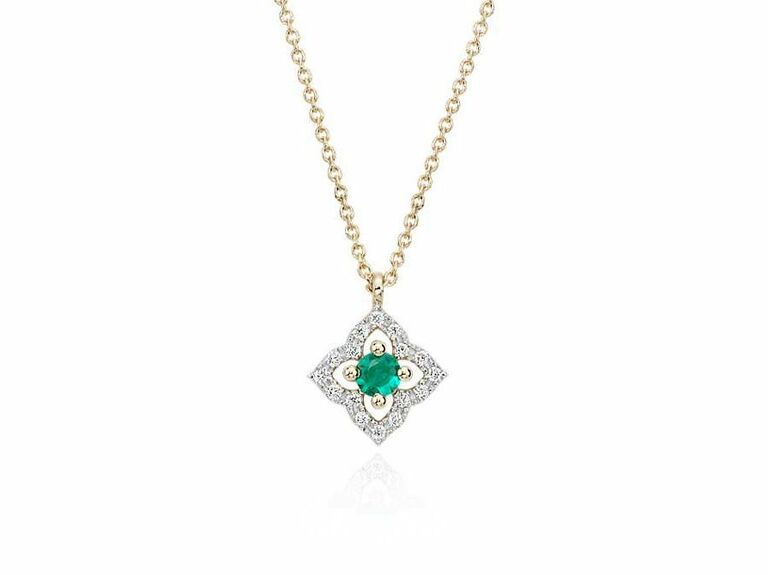 Give your S.O. something that sparkles just as much as they do. This gorgeous necklace features the 35th wedding anniversary stone (emerald) set in a floral frame of diamonds. It's a smaller size, so they'll feel comfortable wearing it all the time.
Indoor Garden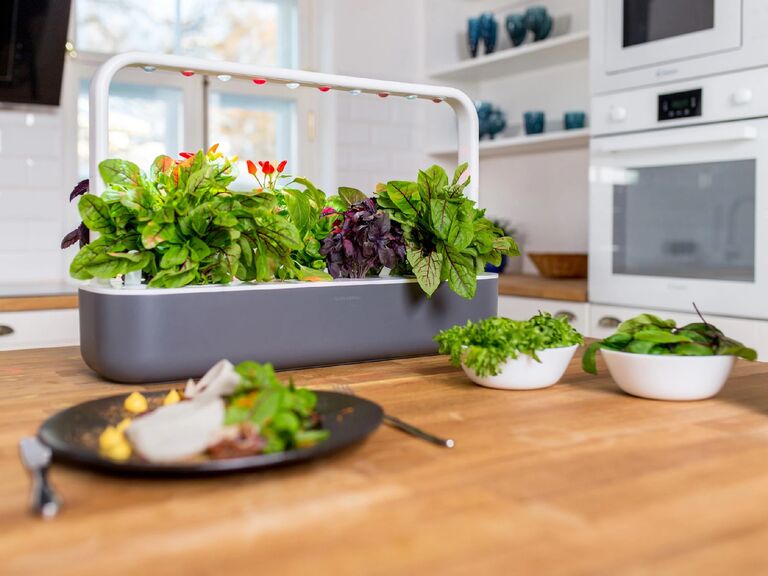 There are so many reasons why this sleek indoor garden makes a great gift. For starters, it'll allow your loved one(s) to grow fresh greens without the need for a spacious backyard or cooperative weather conditions. They'll have delicious herbs and veggies on hand all year round to bring meals made from scratch even closer to home. But that's not even the best part. This clever device takes care of regulating water, light, nutrients and oxygen levels so they barely have to lift a finger.
Sentimental Canvas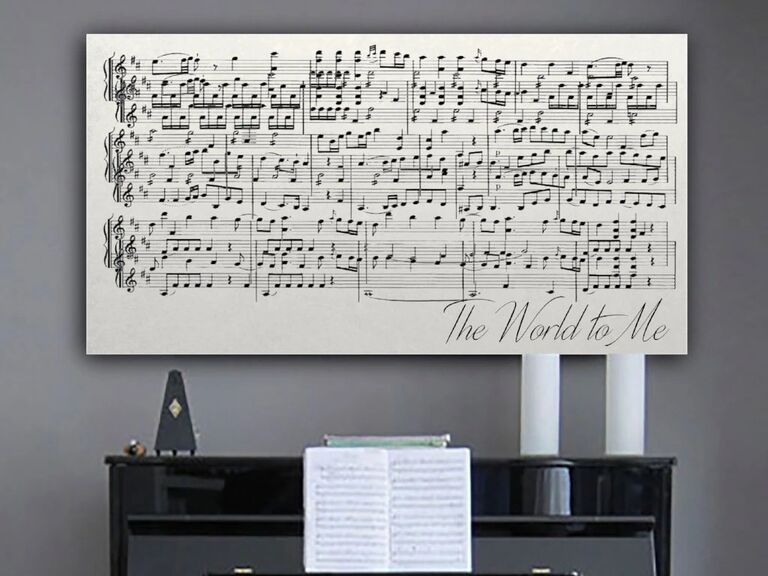 You're pretty much guaranteed to find a thoughtful 35th wedding anniversary gift for your wife, husband or the couple at Canvas Vows. This sheet-music wall art will instantly elevate their home wherever they choose to put it. Have it personalized with a meaningful song from the wedding day or another special tune.
Personalized Serveware
This personalized serving board made by Jeremiah and Kassy Reynolds will be an eye-catching centerpiece at their next family dinner or wine and cheese night. It's made out of gorgeous reclaimed oak, resulting in an elegant, authentic style.
Celebratory Cake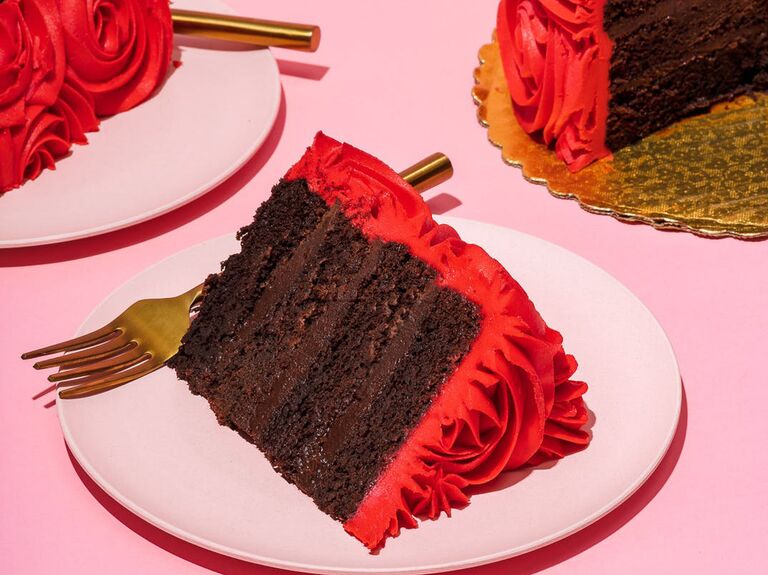 Using cake as a symbol of celebration is a custom that spans hundreds of years. That's why this decadent chocolate dessert from We Take the Cake is a great way to kick off the special occasion. It's got four layers of rich chocolate sponge paired with chocolate cream cheese buttercream. The icing on the cake? Delicious red vanilla buttercream piped to look like roses.
Elegant Earrings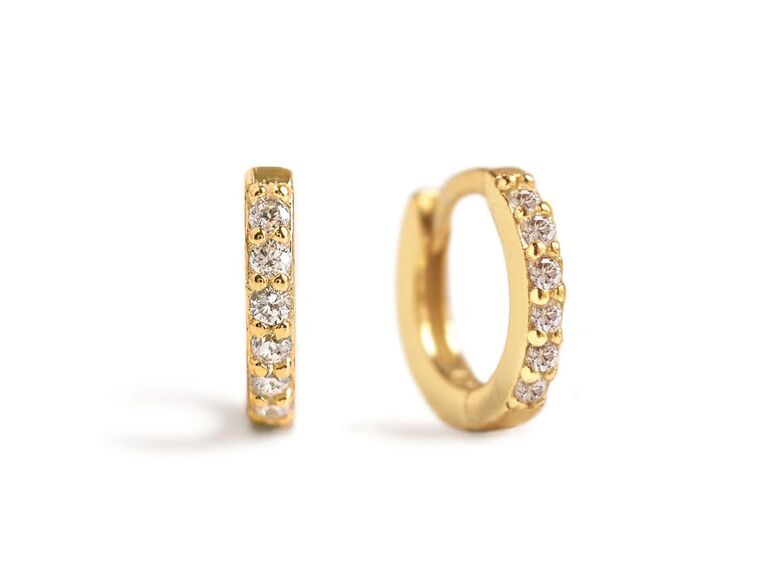 These classic crystal huggies are a precious, wearable keepsake that'll remind your other half of this amazing milestone every time they're worn. That's what makes jewelry such an excellent 35th anniversary gift.
Meaningful Montage
Here's another unexpected gift for the couple who has everything. Use Tribute to put together a heartfelt montage of anniversary messages from loved ones they can watch from the comfort of home on their computer. Simply invite friends and family to contribute via email and use the online editing tools to transform their videos into one emotional montage.
Self-Cleaning Vacuum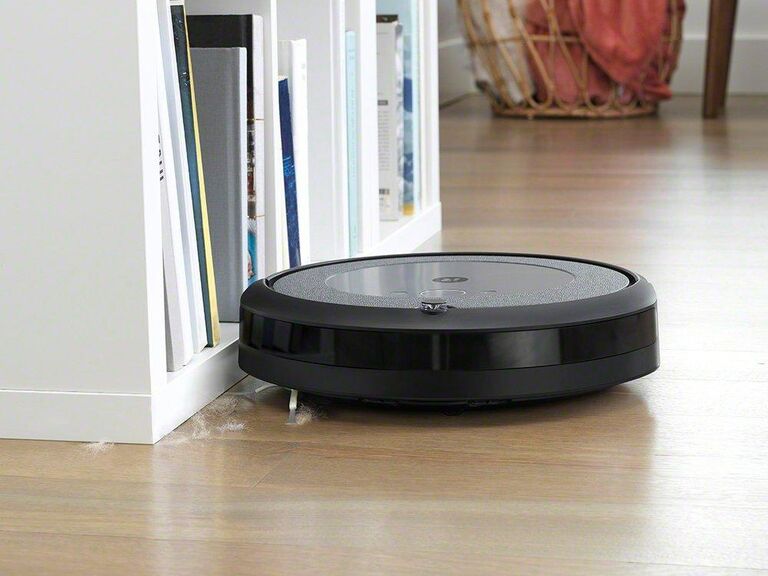 We have to say, the gift of permanently vacuumed floors is pretty enticing. If you haven't heard of this nifty little gadget, the Roomba is a free-roaming vacuum that automatically picks up dirt, dust and other allergens in the home. They can connect it to their Google Assistant or Alexa device for voice-activated control or simply use the iRobot app.
Custom Tic-Tac-Toe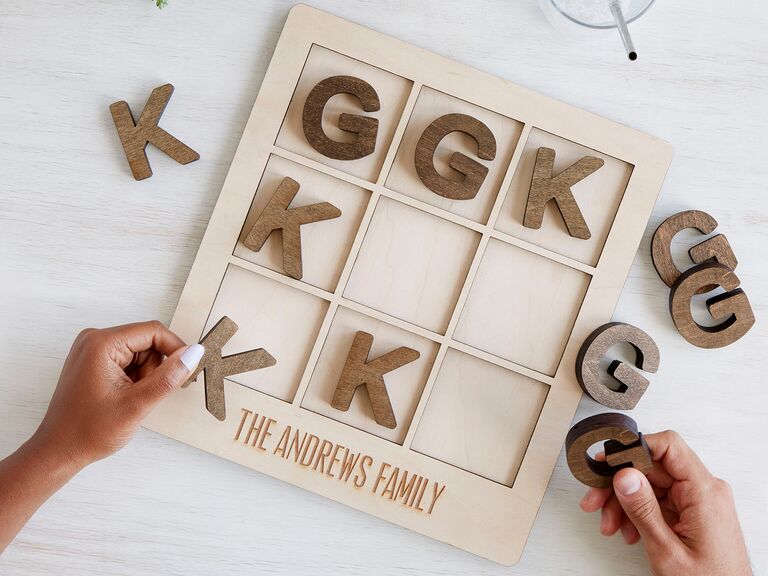 On the hunt for a 35th anniversary gift for your parents (or your kids' grandparents)? This custom tic-tac-toe set made by Kasey and Justin Pearson will look great on their coffee table, plus it's a fun game to play with the grandkids. Instead of Xs and Os, the pieces are the couple's initials—how sweet!
Commemorative Champagne Flutes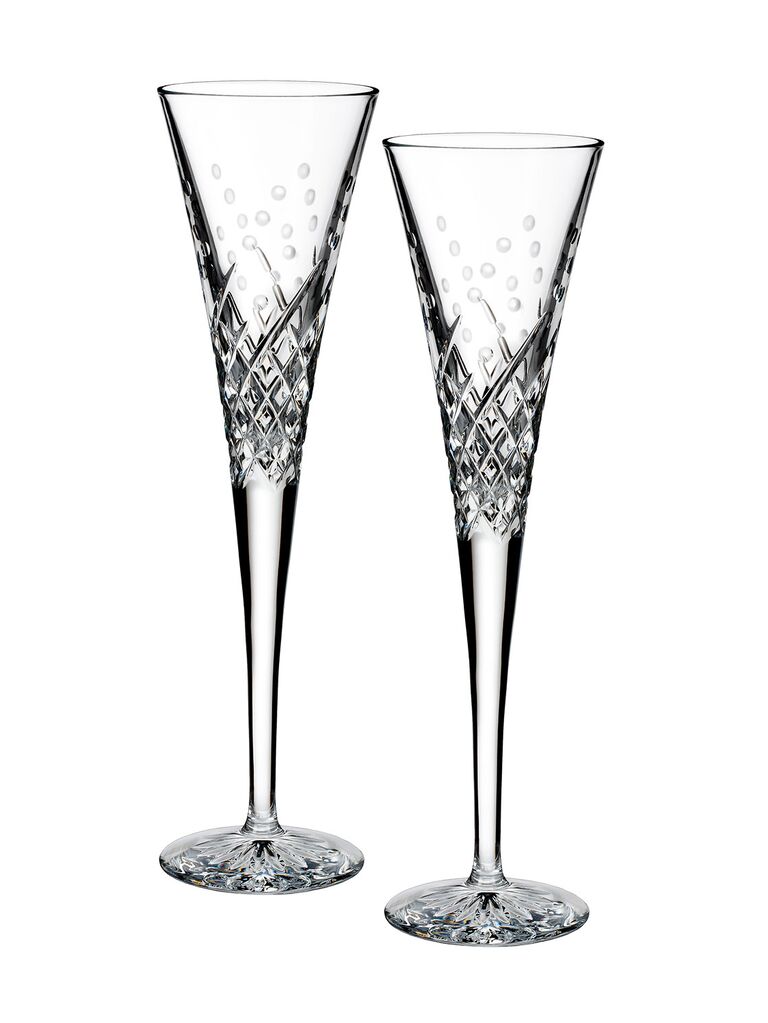 A set of toasting flutes is a fitting gift for any milestone, and these Waterford Crystal glasses double as a beautiful piece of home decor. Whether the couple decides to place them in their display cabinet or they're a permanent feature at the dinner table, this glassware won't disappoint.
Decorative Frames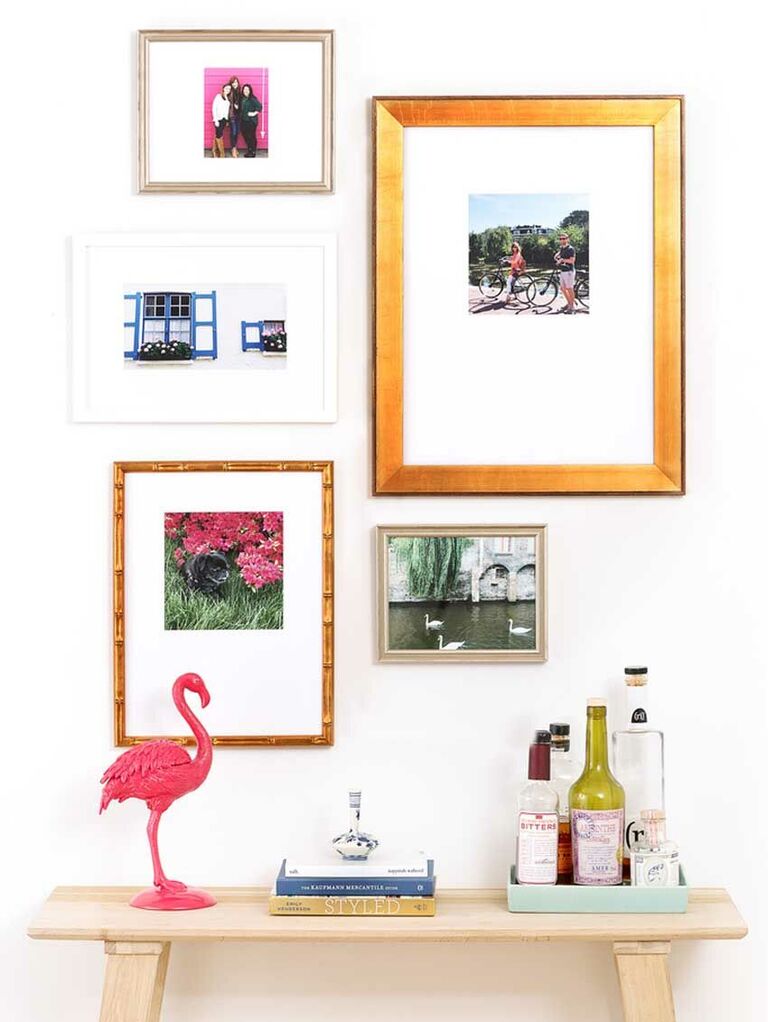 Gifting your spouse or favorite lovebirds this gallery wall package will help them hang up any special photos, love poems or other mementos they haven't gotten around to displaying yet. The set comes with frames in various finishes, which will instantly freshen up their walls.
Romantic Puzzle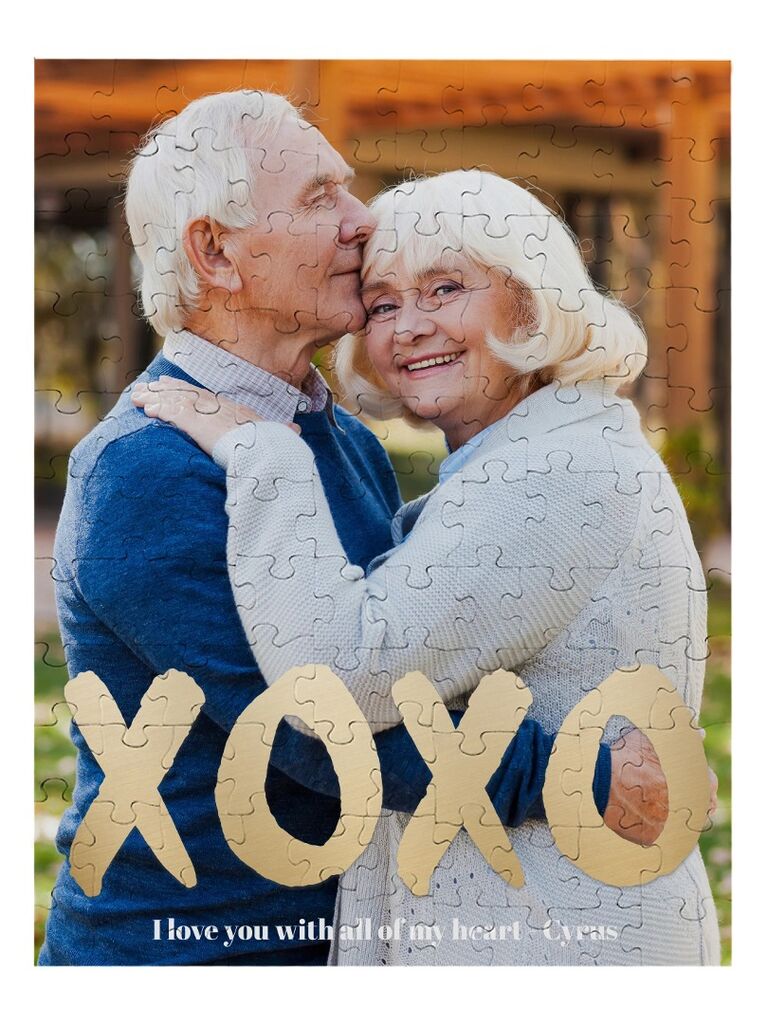 There's nothing puzzling about your relationship after 35 years of wedded bliss. That said, we still think a custom photo puzzle is a romantic present. Just upload your favorite picture, add your own custom text and you're good to go! This one reads: "I love you with all my heart."
Fancy Wine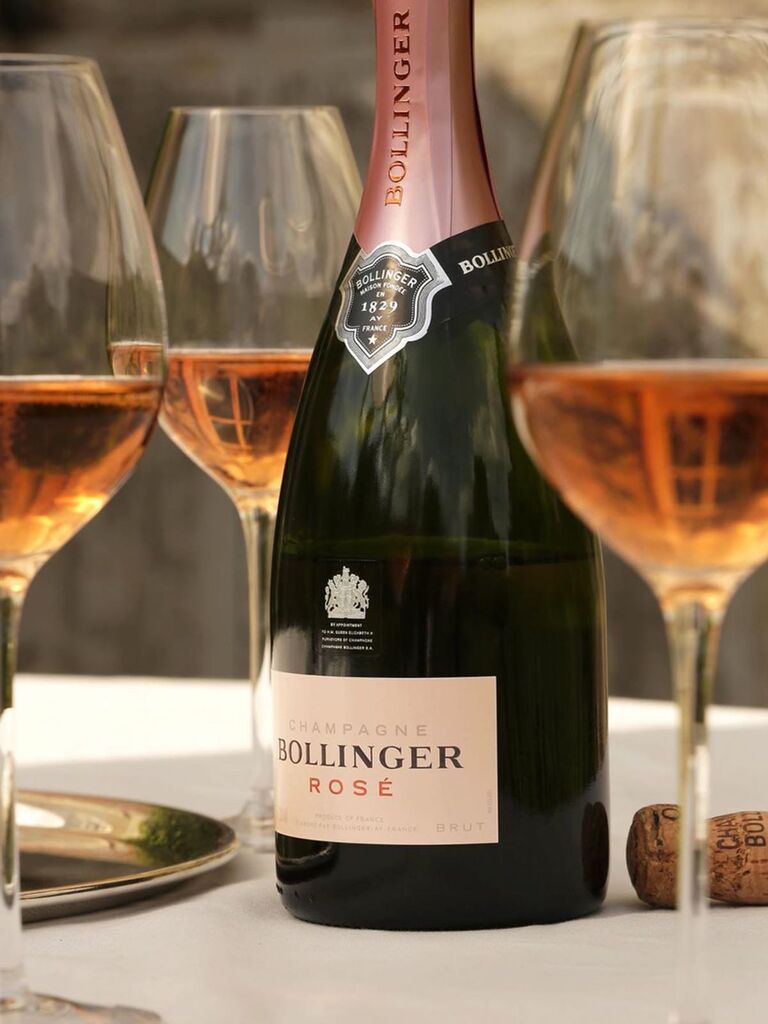 If popping open a bottle of wine or bubbly has become a rite of passage for your (or the couple's) celebrations, a popular champagne or much-loved vintage from this expertly curated selection is easily one of the best anniversary gifts.