Meaningful 35 Year Anniversary Gifts to Give Him, Her or Them
Worried about finding the perfect gift for your husband, wife or the happy couple for the 35th anniversary? Celebrate in style with these options.
by Francesca Conlin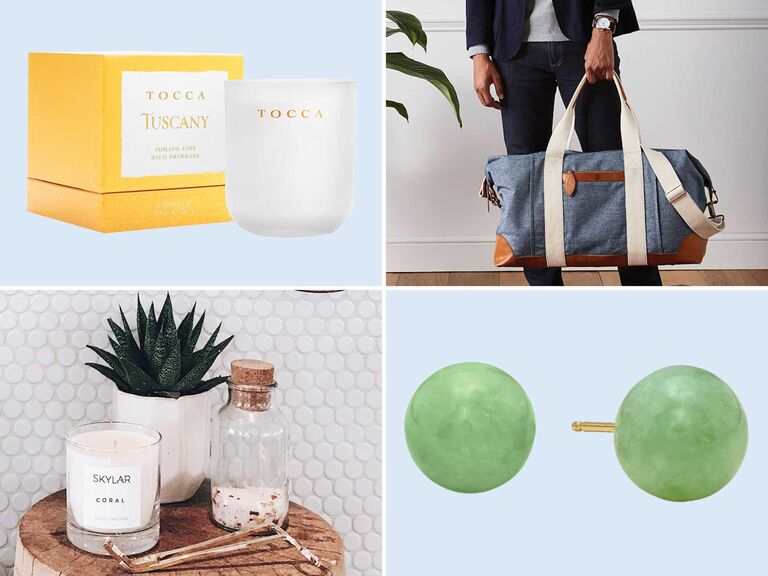 If you've been married to your better half for 35 years, or know a couple who's celebrating that anniversary, congratulations are in order. Although, being by each other's side for so many years means you've memorialized your marriage many times over, so figuring out what to get your husband, wife or the duo during this important milestone can be a bit of a headache. There's a lot of pressure to do it right and not repeat the same gift. However, there's light at the end of this long tunnel since each year of wedded bliss is assigned a "theme" with a traditional and modern gift idea that makes it easier to tie into the 35th anniversary, which we've conveniently outlined for you here (thank us later). Beyond that, we've made it even easier with additional thoughtful gift picks that'll delight your lucky spouse or the couple.
What Is the 35 Year Anniversary Gift?
Traditional: Coral
Coral (like that at the bottom of the sea) has represented the 35th year traditionally. It actually takes a long time to form, much like how long your union has been developing over these three-plus decades. When it's polished, it shows a vibrant red-pink color. Not only does anything coral-colored or -inspired make a beautiful gift,, but it's also been given as an anniversary gift as a symbol of protection too. It's believed to heal and defend against harm, which the love you have for each other also does, making it a fitting gift for this year.
Modern: Jade
Also known for its beauty, jade, the modern gift, has a very distinct green color. More than that, it represents good fortune, wisdom and love too. It's been prized for many years in countries all over the world, so it only makes sense that it's the material for the 35th wedding anniversary since you've both valued each other for so many years as well. A gift made of jade or in the same hue will also be cared for and loved for the next 35.
In this article:
35 Year Anniversary Gift Ideas For Her
Who says you have to stick to the theme? It's more like a suggested (but not required) guideline if you want to make your gift specific to your anniversary year. But so you're not at a total loss for what to get your wife, we've got you covered with these five picks that are still just as significant.