30 Meaningful 35th Anniversary Gifts They'll Love and Appreciate
Celebrate three and a half decades of marriage with one of these thoughtful and sentimental gifts.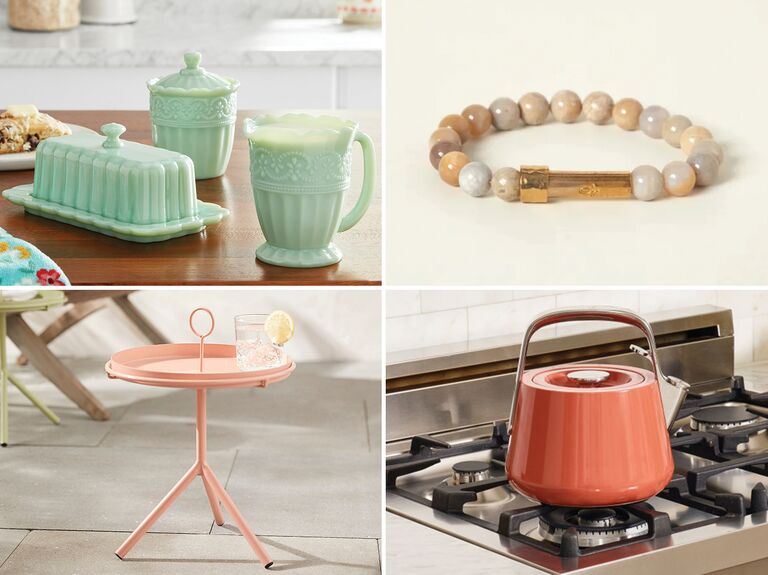 Photos: Walmart, Uncommon Goods, Terrain, Caraway
We have included third party products to help you navigate and enjoy life's biggest moments. Purchases made through links on this page may earn us a commission.
It's time to celebrate! You and your spouse have been married for 35 incredible years, a marriage milestone worthy of a special 35th anniversary gift. After three and a half decades together, it's completely understandable if you've run out of great gift ideas, which is why we're here to help. Each year of wedded bliss is assigned traditional and modern themes that you can incorporate into your gift, but that's not all—there are plenty of alternative options to consider if you feel like going off-theme. Whatever route you choose, we've got you covered with our round-up of thoughtful 35th wedding anniversary gifts for him, her or them.
In this article:
Traditional 35th Anniversary Gifts
What is the traditional gift for 35 years of marriage? Coral is the symbol chosen for the 35th wedding anniversary. This unique marine species plays a vital role in maintaining the delicate equilibrium of the ocean's ecosystem, making it a fitting tribute to the balance required in a successful marriage. Much like a 35-year-long union, coral takes time to form and needs protection in order to thrive. The conservation of coral reefs is very important today, so we've included some creative 35th anniversary gifts inspired by the underwater species and even a couple that protect their habitat. We've also found a few options in the coral color, a vibrant red-pink hue that looks great on everything from bedding to jewelry.
Monogrammed Coral Handbag
This coral-colored leather bag is a bold accessory to gift your spouse for the 35th wedding anniversary. It's handcrafted from soft Italian leather and comes with three compartments, including an internal zippered section, making it ideal for everyday use. You can even have it monogrammed in gold foil for a luxe touch. To really up the ante, hide a little surprise inside, like a handwritten anniversary card or a day pass for a fun experience you can enjoy together.
Recycled Ocean Plastic Watch
Here's a coral-inspired gift that's stylish, useful and mindful of the environment. This cool watch is made from 100% recycled ocean plastic and is designed to reduce sea pollution, which can harm coral reefs and other underwater creatures. It comes in a wide variety of bright colors (including coral, of course) for a traditional 35th anniversary gift that's right on theme.
Pink and Orange Roses
If you're looking for a classic and romantic gift for your spouse, a bouquet of beautiful flowers is always a win. Choose this vibrant bunch of coral roses to represent the traditional 35th anniversary theme and your unwavering commitment to your other half. Have these hand-tied blossoms delivered right to the door, so you can watch your spouse's joyful reaction first-hand.
Coral-Colored Wine Glasses
Think coral anniversary gifts are tricky to shop for? Think again. These coral-colored wine glasses are a trendy, on-theme option that'll impress the wine connoisseur in your life. They're made from tinted handblown glass that'll bring a rosy glow to any serving of bubbly or vino. Pair them with a bottle of your favorite wine for a romantic 35th anniversary date night at home.
Coral-Colored Pendant
While your spouse has probably amassed plenty of jewelry over the years, we've found a stylish necklace that'll stand out from the rest. This coral-colored pendant is made from pink rhodochrosite and 18K gold, a glowing combination that'll elevate even the simplest of outfits. It's a winning 35th anniversary gift for anyone who appreciates accessories that make a statement.
Wooden Coral-Inspired Coasters
A chic new set of coasters is a great anniversary gift idea for a spouse or couple who loves to host. This handmade wooden gift set features a unique coral cutout design that'll add an aquatic element to their coffee table. Choose between a set of four or six for a winning 35-year anniversary gift that's practical and thematic.
Coral Quilt Set
A peaceful night's sleep is one of the greatest gifts of all, so here's an anniversary gift to help you and your spouse catch some quality z's. This coral bedding set includes a soft quilt and one or two shams (depending on the size), all made from 100% cotton. It's perfect for layering over the bed for extra warmth or adding a splash of color to a muted bedroom color scheme.
Coral Tea Kettle
Tea for two, anyone? If you and your partner like to chat over a cuppa, this coral tea kettle will help you brew it in style. It's made from stainless steel and non-toxic materials for boiled water that's clean and chemical-free every time. Not only that, it's compatible with all kinds of stovetops, including electric, induction and gas. To make this gift even better, pair it with a tea subscription so they can look forward to a new brew every month.
Coral Side Table
If your partner likes to lounge by the pool or on the deck, this elegant side table will ensure all their snacks are nearby. Lightweight yet sturdy, it's made from powder-coated iron and is suitable for both indoor and outdoor use. The tray top is even removable (genius!), so it can also be used to serve guests when they swing by for a cocktail or two.
Charitable Donation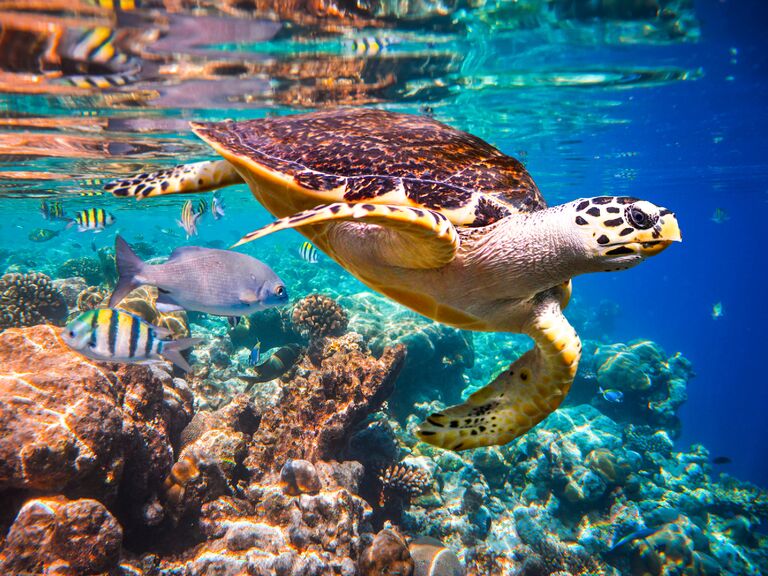 Finding a meaningful 35th anniversary gift can be tricky, especially if your spouse already has everything they'll ever need. Donating to charity on their behalf is a lovely gesture and a great way to direct your money towards a worthy cause. The Reef Life Foundation works to restore coral reef habitats and marine life in areas affected by hurricanes. Once you've made your donation, you can send an e-card right to your partner's inbox to let them know.
Modern 35th Anniversary Gifts
If a coral gift doesn't seem like the right fit for your spouse, look to the modern 35th anniversary theme of jade to inform your shopping instead. This prized material symbolizes good fortune, love and wisdom, making it a fitting tribute to a happy 35-year marriage. With a distinct green color and unique beauty, jade offers lots of inspiration for sweet and sentimental gifts. We've decided to be creative with the modern 35th anniversary symbol, including options made from the gem itself and gifts that come in its unique hue. Read on to discover our top picks for the 35th marriage milestone.
Jade-Colored Serving Bowl
Pretty yet practical, this hand-thrown bowl is a great way to honor the modern 35th anniversary theme. It's beautifully glazed with jade and brown hues and bears a romantic inscription around the rim: "True love is not a destination, but a journey shared by the travelers on its path." Whether they use it to serve fresh fruit or display it on a shelf, your partner will always be reminded of the life path you're taking together.
Green Pocket Leggings
If you're married to someone who likes to keep fit, a pair of soft and stretchy leggings is a gift worth giving. Whether your spouse wears them for their morning walk or weekly yoga class, they'll feel cool and comfy thanks to the moisture-wicking fabric. They even have side pockets, which are ideal for storing their phone or keys while they work up a sweat. Best of all, this stylish athleisurewear comes in soft jade green, making it totally on theme for the 35th wedding anniversary.
Jade Wishing Bracelet
While their wishes certainly came true 35 years ago when you two said "I do," your partner may have a few more dreams they hold dear. Let them know just how much you care about their desires by handing over this meaningful bracelet, which comes with a secret compartment for tucking a wish (or a romantic note) inside. Choose the coral jade option to really stay on theme or the grass agate to represent the anniversary's rich green color.
Green Soundwave Wall Art
Soundwave art is a really creative and sentimental anniversary gift, particularly if your spouse is musically inclined. This unique piece is modeled off a soundwave from a tune you both love (like your wedding song or a track from when you first met each other). Choose the jade green option to commemorate the modern 35th anniversary material, and have the piece framed for a display-worthy finish.
Jade Floral Pendant
If you're searching for a piece of on-theme jewelry for the 35th wedding anniversary, this pretty floral pendant ticks all the right boxes. The square jade gemstone is set in 14K-plated silver and is carved with delicate mother-of-pearl flowers. Its vintage-inspired aesthetic gives this stunning piece an heirloom quality that any fashionable spouse will appreciate.
Jade Facial Roller
While true beauty really does come from within, it's perfectly fine if your spouse likes to look their best. This double-ended jade facial roller is a handy tool that'll impress the beauty enthusiast in your life without blowing the budget. They can use it for a relaxing facial massage to soothe muscle tension and enhance their gorgeous glow. Bonus: It comes with a pouch for easy storage and safe-keeping, which is great for packing for overnight trips (like a 35th anniversary vacay, perhaps?).
Mixed Media Crystal Art
If your spouse loves to embrace their spiritual side, this mixed media wall art will be a welcome addition to their living space. Inspired by nature, it features a Tree of Life design surrounded by nine types of crystals, including green jade, rhodonite and prehnite. This handmade piece is said to carry healing energies and draw positive vibes into the home, which will (hopefully) help your other half achieve inner peace.
Jade Glass Serveware
Bring the jade theme to the kitchen table with this vintage-inspired set of serving pieces. It has everything your spouse will ever need to host an elegant afternoon tea, including a creamer, a sugar bowl and a butter dish. Each piece is crafted from jade-colored glass and embossed with scalloped details for added flair. We bet your partner will want to use them right away for an intimate anniversary tea date with you.
Jade Anniversary Milestone Tree
Celebrate how much your relationship has grown over the last 35 years with this gorgeous handmade ornament shaped like a bonsai tree. The branches are made from copper wire and finished with delicate jade beads for a beautiful tribute to your latest marriage milestone. There's even an option to choose jade and coral beads for a 35th anniversary gift that incorporates both the traditional and modern themes. We bet your spouse will be enchanted when they unwrap this symbolic gem.
Jade Glass Vase
While flowers are always a fantastic anniversary gift, a pretty vase will last a lot longer. This petite vessel is made from jade-colored glass and is designed to hold a single stem or a small bunch of blooms. Choose from two sizes (small or medium) and fill it with a standout bloom to surprise your significant other on your 35th wedding anniversary.
Unique 35th Anniversary Gifts
While coral and jade gifts are undeniably beautiful and meaningful, it's okay if you're looking for something different. There are a couple of other symbols—like the 35th anniversary gemstone and color—to inspire your gifting. Emerald is the official stone, a dazzling green gem that symbolizes true love, loyalty and devotion (aww!). Unsurprisingly, coral is the hue associated with the 35th wedding anniversary, an alluring orange-pink shade that's said to heal and defend against harm. While there isn't a specific 35th wedding anniversary flower, you can still treat your spouse to some pretty blooms in honor of the occasion. If, after all that, you want to skip themed gifts altogether, we've included some great alternative 35th anniversary gifts to help you celebrate in style.
Sheet Music Wall Art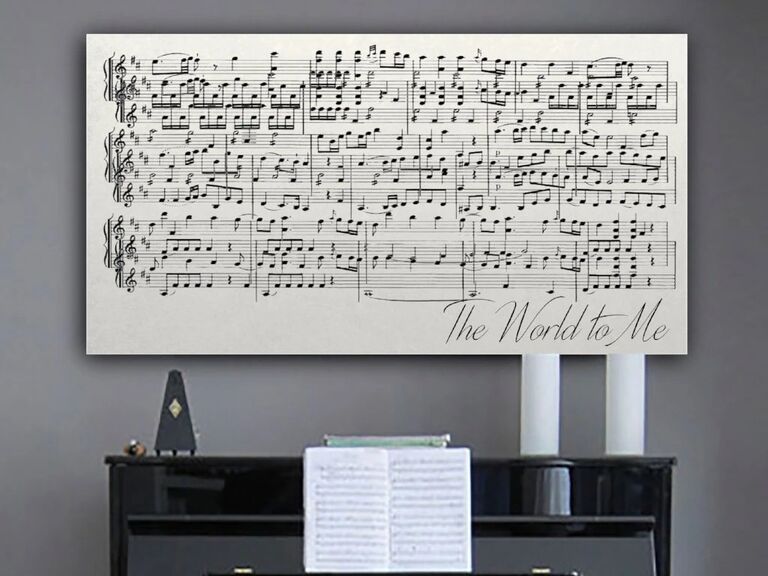 If you remember your first dance like it was yesterday, we've found a thoughtful 35th wedding anniversary gift that'll hit all the right notes. This sentimental wall art can be personalized with the sheet music of your first dance (or another tune you both love) for a piece of decor you'll have for years. We bet your partner will be so delighted they'll be humming your romantic soundtrack for days on end.
Luxurious Lounge Sweater
Luxurious loungewear from Lunya is one of our favorite alternative anniversary gifts for several reasons: It's seriously stylish, sumptuously soft and looks great on everyone. This ribbed sweater has a trendy oversized fit and is made from a plush cotton and silk blend for maximum comfort. The button-down details give it a smart finish that your spouse can pair with jeans or joggers for the perfect off-duty look. (Psst: Are you a first-time customer? Take $20 off your order of $100 or more with the code FOR-TK20).
Custom Four-Across Game
A personalized anniversary gift is always a good idea, especially if it's a game you can play with your spouse. This custom four-across set features heart-shaped slots and letters spelling out your names and anniversary date. Challenge your partner to the best of five, or better yet, take turns with your family and friends for even more fun.
Personal Care Essentials Kit
If your spouse prides themselves on being well-groomed when they go out, here's a unique 35th anniversary gift they'll love and use. While this personal care kit may look compact, it's bursting with toiletries—including hair spray, nail polish, extra buttons, dental floss and so much more—to ensure they're prepared for any beauty emergency that crops up during the day. Best of all, it's small enough to fit in a purse, so they can easily carry it around while they run errands.
Indoor Smart Garden
Whether you're shopping for a gardening novice or a seasoned pro, you can't go wrong with a smart indoor garden from Click & Grow. This handy device is designed to take care of plant watering, light and nutrients, providing a foolproof way to grow fresh herbs, veggies and flowers at home. It's a thoughtful 35th anniversary gift that'll bring them plenty of satisfaction—not to mention super fresh greens!
Custom Reel Viewer
If you're looking for a nostalgic gift to commemorate your 35-year union, this retro-inspired reel viewer from Uncommon Goods is guaranteed to give your partner all the feels. Choose your favorite digital photos to create your own made-to-order reel using the redemption code. Then, add it to the viewer and give it to your spouse so they click through each sentimental snapshot. Cue the happy tears!
Family Story Book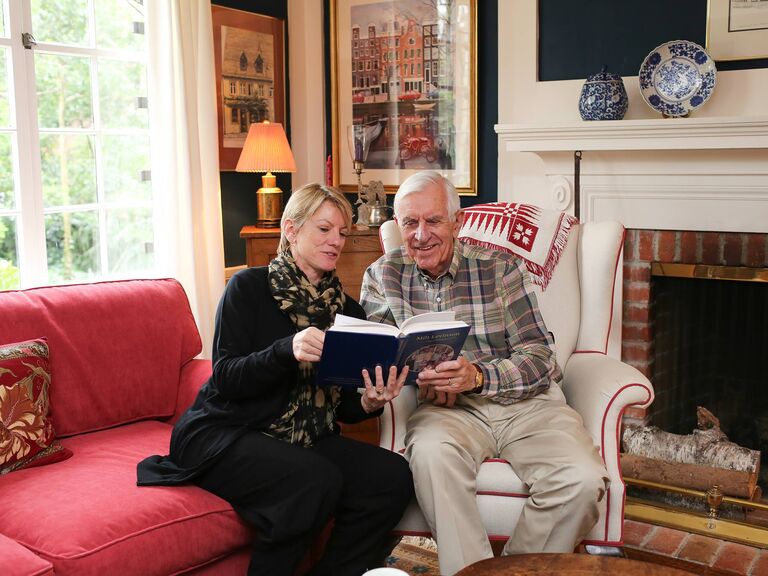 StoryWorth is an extra-sweet 35th anniversary gift for anyone who wants to preserve their personal history in a keepsake memoir. Every week, your spouse will be sent a writing prompt they can respond to with both text and photos. You can even turn this into a romantic activity by joining them in their creative endeavors. After a year of collecting memories, their written responses are turned into a sleek, hardcover book for an heirloom that's as unique as they are.
Personalized Photo Frame
Surprise your spouse with a treasured throwback photo presented in this beautiful frame. It can be personalized with your names, wedding date, milestone and a thoughtful message for a sweet and sentimental gift. If you'd prefer to use a more recent picture of you two, we suggest booking a photo session to celebrate your 35th anniversary. Get ready to smile for the camera!
Coral Cotton T-Shirt
Pay tribute to the 35th anniversary color (coral) with this classic crewneck tee. Made from 100% organic cotton, it's lightweight and breathable, making it the perfect choice for long summer days. The sun-washed finish adds a beachy vibe to the overall look, while the chest pocket finishes the design nicely. Whether they rock it with their favorite chinos or a pair of Bermudas, your spouse will look the part.
Emerald Huggie Earrings
If you want to splash out on some fine jewelry for your partner, why not take your cue from the 35th wedding anniversary gemstone? These emerald huggie earrings are simple yet elegant and a great pick for anyone who loves timeless accessories. Even better, they're made from ethically sourced lab-grown emeralds pavé-set in 14K gold, which is sure to win over any eco-conscious (and stylish!) spouse.