Your Search for the Perfect Four-Tier Wedding Cake Stops Here
Here are dozens of four-tier wedding cakes to inspire the dessert of your dreams.
A four-tier wedding cake has plenty of space to get creative or make a statement. By working with an incredible baker, which you can look up and connect with on The Knot Vendor Marketplace, you will be able to have a wedding cake that will leave guests in awe and also taste downright delicious. Whether you want it covered in flowers, simple and stately or to bring a pop of color to your reception, we have something here to inspire you.
We also spoke with wedding cake expert Megan Rois, the bakery manager at The Cakery in St. Louis, Missouri, for the best tips and tricks when choosing and slicing a four-tier cake.
Our Favorite Four-Tier Wedding Cakes:
With Flowers | Elegant | Rustic | Simple
Four-Tier Wedding Cake Advice:
How Much Does a Four-Tier Wedding Cake Cost? | Four-Tier Wedding Cake Sizing | How to Cut a Four-Tier Wedding Cake
Four-Tier Wedding Cakes With Flowers
Weddings are an incredible time to use fresh flowers for decoration because they add a romance hard to find in other decor options. Opting for a flower-covered wedding cake also allows you to highlight the time of year you've chosen to tie the knot by using in-season plants and buds to adorn the cake.
White Four-Tier Wedding Cake With Intricate Piping and Flowers
Leaving long stems on the decorative flowers added a new dimension to this gorgeous four-tier wedding cake. With intricate piping and an elevated cake stand, this natural, springy dessert brings a fresh vibe to the reception.
Ranunculus-Trimmed Four-Tier Wedding Cake
Giving off still-life art vibes, this elegant four-tier wedding cake with flowers uses whole pomegranates and figs tucked amongst eucalyptus and ranunculus to highlight its layers. The dessert table was complete with tea lights surrounding the masterpiece.
Four-Tier Naked Wedding Cake With Rose Garland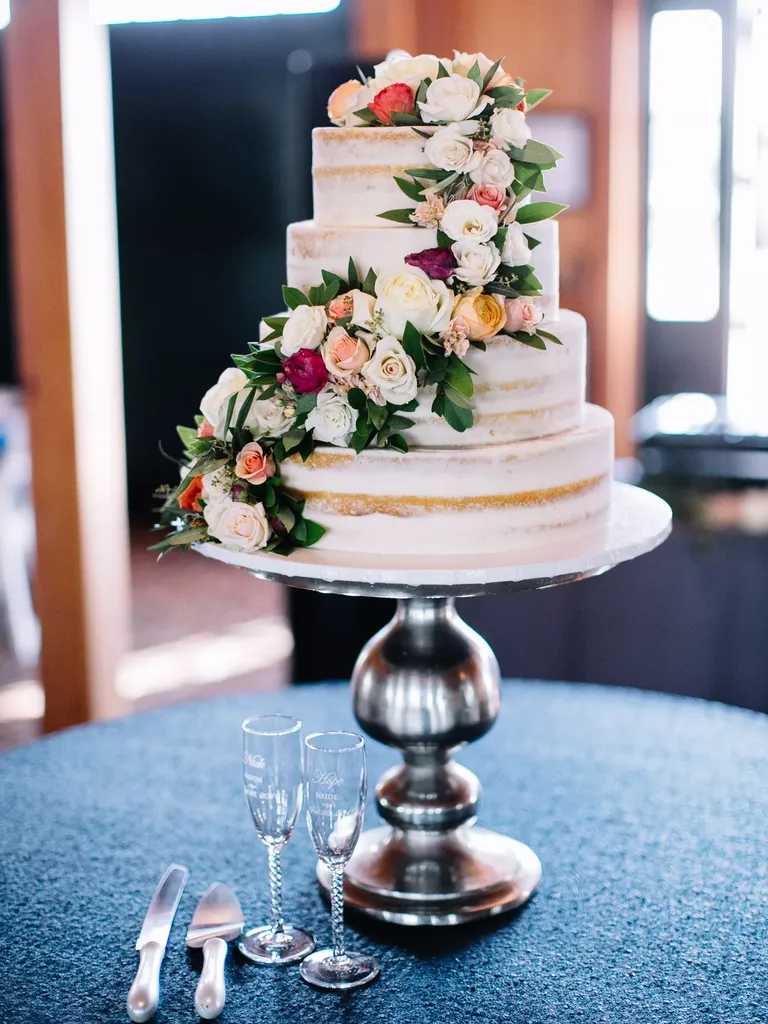 Fondant and layers of thick icing are not for everyone, which is one reason many couples choose the understated sophistication of a naked cake. This four-tier cake display drips with elegance with its wrap-around rose garland.
Four-Tier Ivory Wedding Cake With Fuschia Flowers
To pull off a truly glamorous look, this wedding cake used bright fuchsia roses and ribbons alongside strands of crystals. Sitting atop a gilded silver cake stand, every aspect of this four-tier round wedding cake was carefully thought through.
Blue Four-Tier Wedding Cake With Rainbow Flowers
This simple robin's egg blue cake was the perfect backdrop to display a rainbow of flowers. This color scheme works well for spring and summer celebrations hoping for a whimsical or garden feel.
Four-Tier White Wedding Cake With Red and Purple Flowers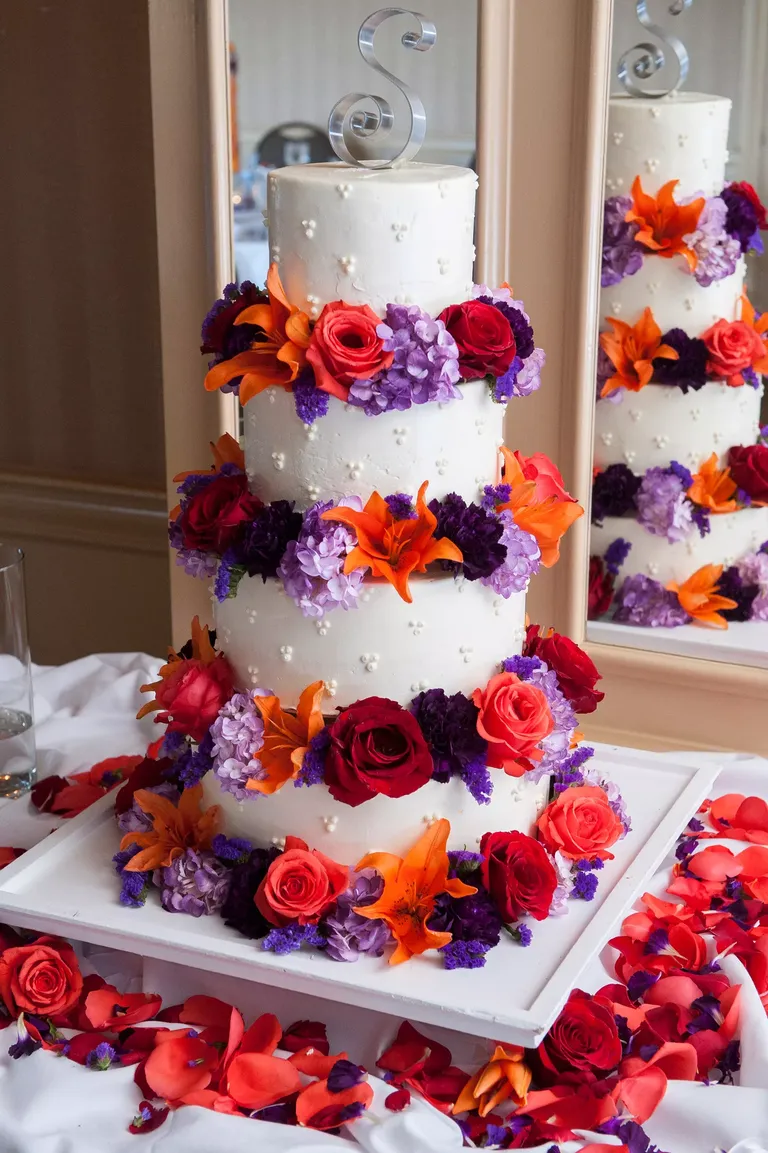 This four-tier wedding cake contrasts a bright pop of color from the flowers against the dainty pattern created by the Swiss dot icing pattern. The couple tied in their color scheme by using matching flower petals on the rest of the dessert table.
Hand-Painted Floral Wedding Cake With Pink Roses
Real flowers are not the only way to incorporate nature's beauty into your wedding day. This four-tier wedding cake has hand-painted flowers on each layer as well as a natural rose bouquet near the top.
Elegant Four-Tier Wedding Cakes
When creating a timeless or upscale vibe, you may be searching for a more elegant wedding cake. Sometimes, this means choosing a bold and unique color, while other times you might ask your baker to create a one-of-a-kind work of art.
Find all the vendors you need
Meet every kind of expert from bakers to bartenders and more.
Emerald and Gold Four-Tier Wedding Cake
A wedding cake should be whatever the couple wants it to be, and sometimes that means the cake comes in a unique color and style. This incredible emerald green four-tier wedding cake has gold leaf accents to compliment its hand-painted icing.
All-White Four-Tier Wedding Cake
This all-white four-tier wedding cake is nothing but elegant with its cascading flower design. It is hard to imagine cutting into such a stunning and delicate creation.
Eclectic Four-Tier Wedding Cake With Pink Sugar Roses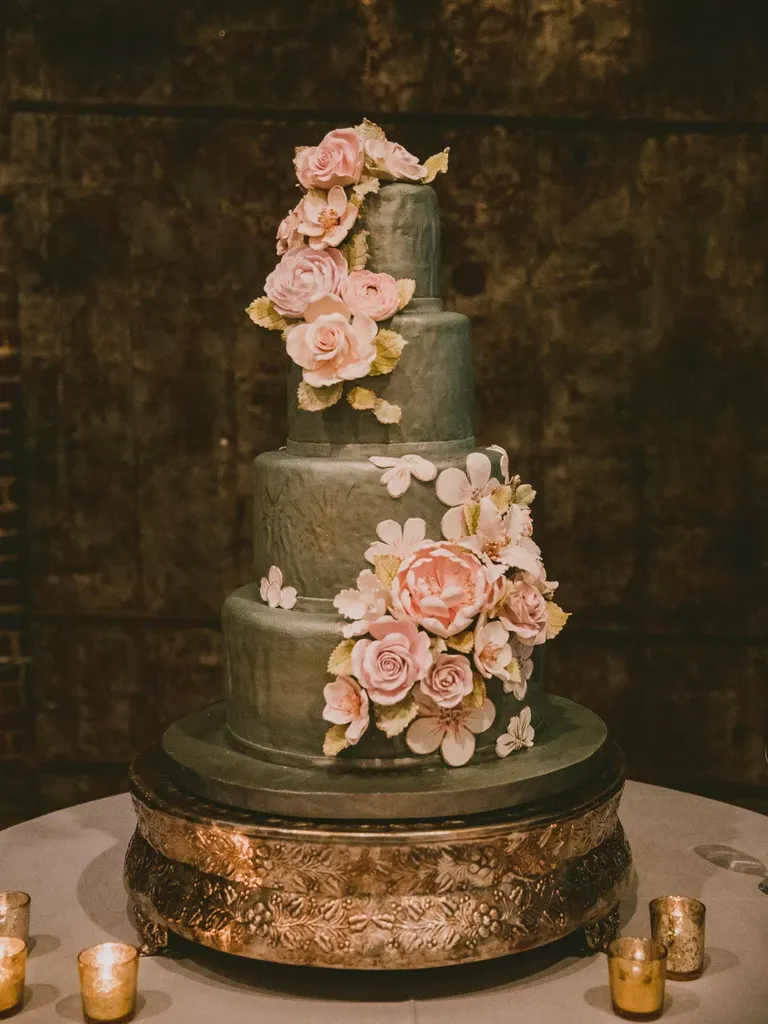 Hand-crafted pink sugar roses adorn this eclectic four-tier cake. The deep silver and gold tones paired well with the slightly textured icing, allowing this cake to feel right at home at an art gallery wedding.
Four-Tiered Wedding Cake With Cascading Red Flowers
Orchids, roses and dahlias are wrapped around this romantic four-tier wedding cake. The cascading flowers use just a hint of greenery to add depth to the creation, while the bright tablecloth ties it all together.
Black and White Four-Tier Square Wedding Cake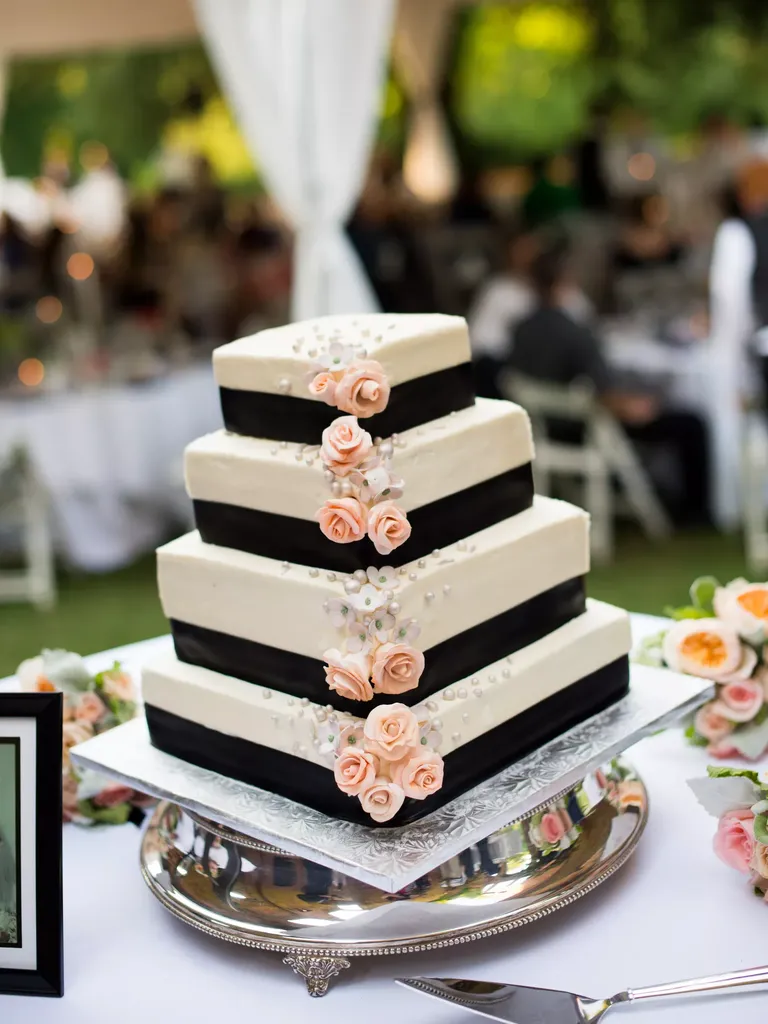 This four-tier black and white wedding cake matched the wedding's classic garden theme with black ribbon, small pink roses and pearls. The classic silver and glass cake stand and fresh flowers on the table welcomed guests to enjoy this work of art before it was time to dig in. But even with these adornments, it is clear that this four-tier buttercream wedding cake stood out because of its shape and bold stripes.
Gold-Leaf White Wedding Cake on Rose Cake Stand
If you love roses but don't necessarily want them all over your cake, try incorporating them into your cake stand. This stunning white and gold four-tier wedding cake does just that.
White and Peach Four-Tier Wedding Cake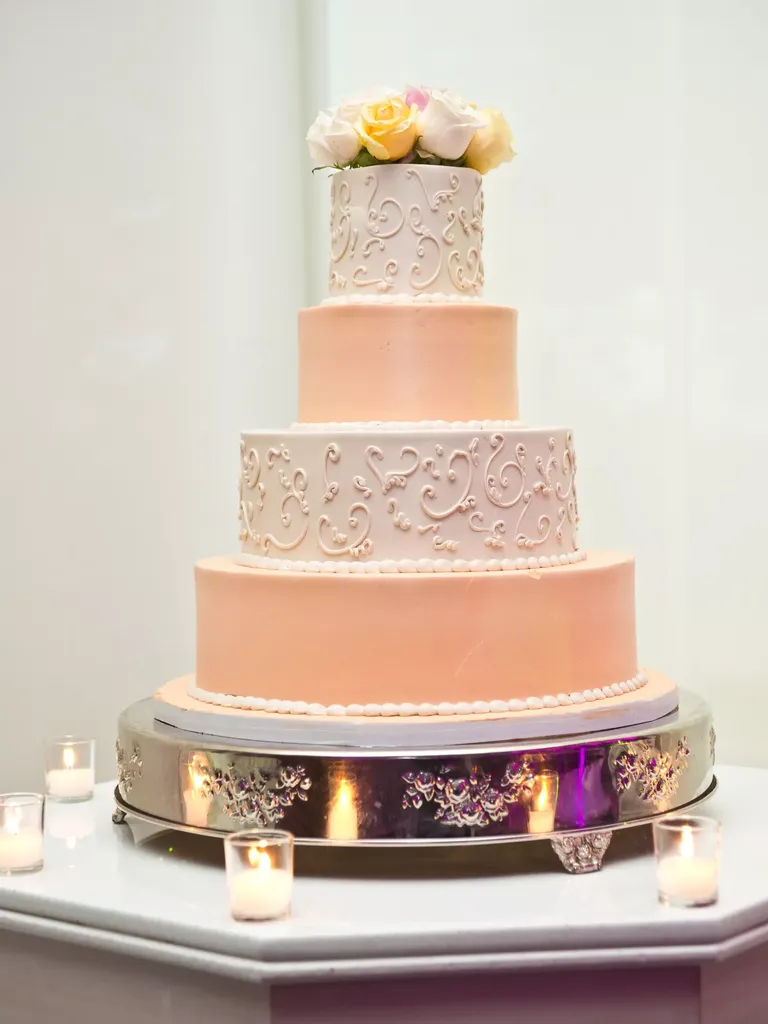 Intricate piping swirls are paired with peach-colored layers to showcase this cake's four layers. Using roses as a cake topper, this cake's simple beauty has quite a timeless feel.
White Four-Tier Wedding Cake With Gold Lace and Flowers
Gold filigree on the bottom layer of this four-tier white wedding cake adds a darling touch to its classic design. Complete with fresh flowers and pristine fondant, this confectionary is truly pleasing to the eye.
Rustic Four-Tier Wedding Cakes
Whether you're getting married at a cabin in the woods, a national park or at a farm overlooking fields of corn, a rustic cake can easily be the focal point of your reception. By incorporating natural design elements into the treat, this dessert can showcase your theme without skimping on taste.
Naked Rustic Cake With Greenery and Berries
A naked cake often gives off a rustic vibe, and this one elevates that theme with its natural adornments, including blue corn in honor of the couple's location. Using almonds for texture and fresh berries, this cake impressed guests with its unique flair.
Four-Tier Rustic Wedding Cake With Roses and Raffia
This simple four-tier white wedding cake uses raffia and roses to fit right into the countryside. Ideal for a farm or barn wedding, this is one of our favorite rustic four-tier wedding cake ideas.
Textured Ivory Four-Tier Wedding Cake Wrapped in Twine
This ivory cake mimics the texture of twine in its icing, creating a cohesive rustic theme throughout the dessert. The simple cake topper was the final touch to this four-tier cake.
Elegant Yet Rustic White Four-Tier Cake With Flowers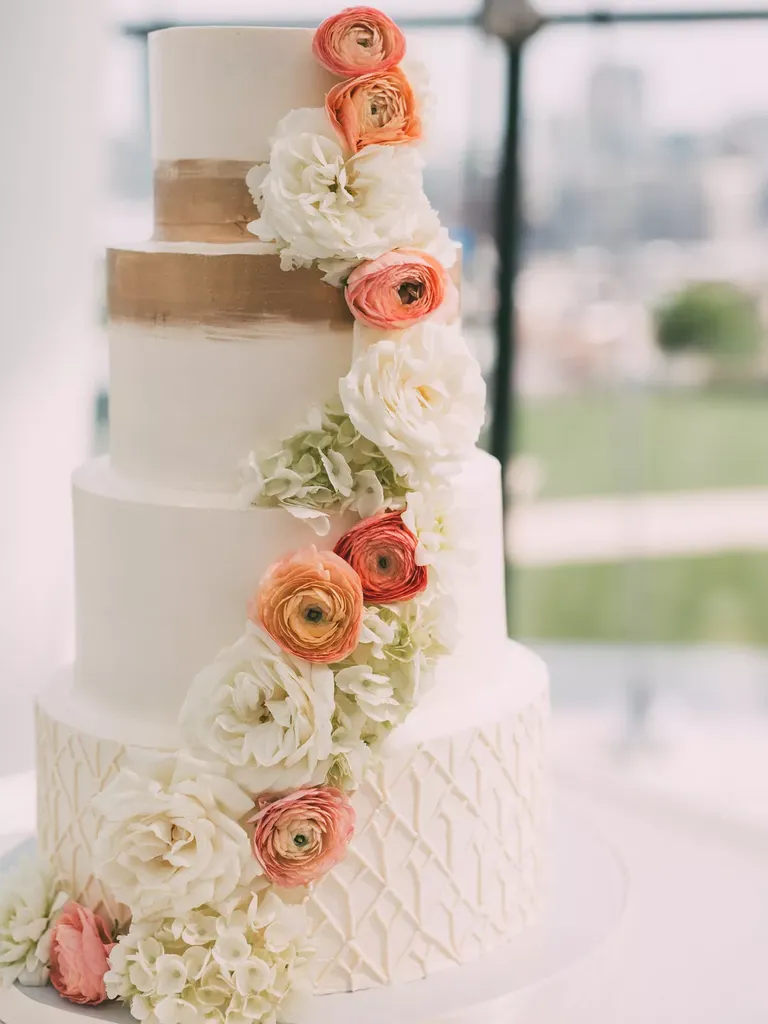 The brushed brown stripes and earth-tone flowers allow this elegant four-tier wedding cake to still have a rustic feel. With intricate piping on the bottom tier, this cake would fit in on the ranch but also at an upscale city reception.
Plant-Detailed Nearly Naked Four-Tier Wedding Cake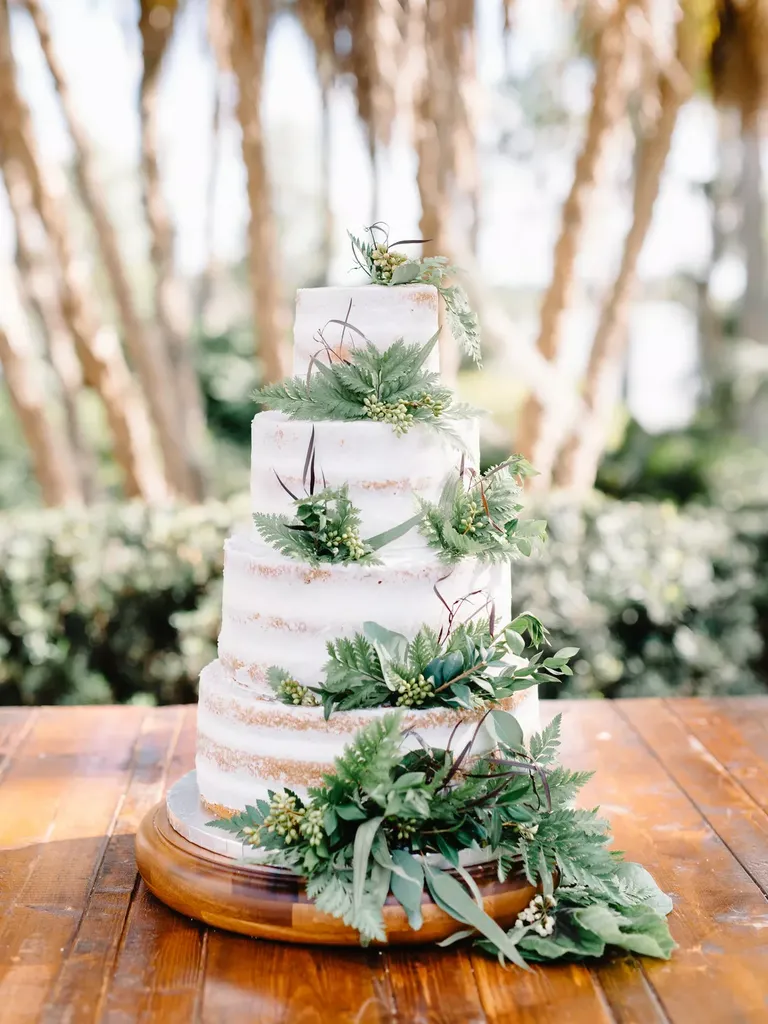 This almost naked cake used plenty of fresh greenery to give off a woodsy feeling. The wooden cake stand and table complete the rustic look, making this cake fit right in at the outdoor reception.
Simple Four-Tier Wedding Cakes
While there is a lot a baker can do with four tiers of cake, sometimes simple is best. The following simple wedding cakes show that sometimes the biggest statements are actually made with less noise.
Pastel Blue Four-Tier Wedding Cake With Pink Flowers
Just like a statement piece of jewelry, this blue four-tier wedding cake uses four pink flowers to make itself stand out. The cake's clean lines also highlight the treat's elegance.
Classic Ribbon Four-Tier Wedding Cake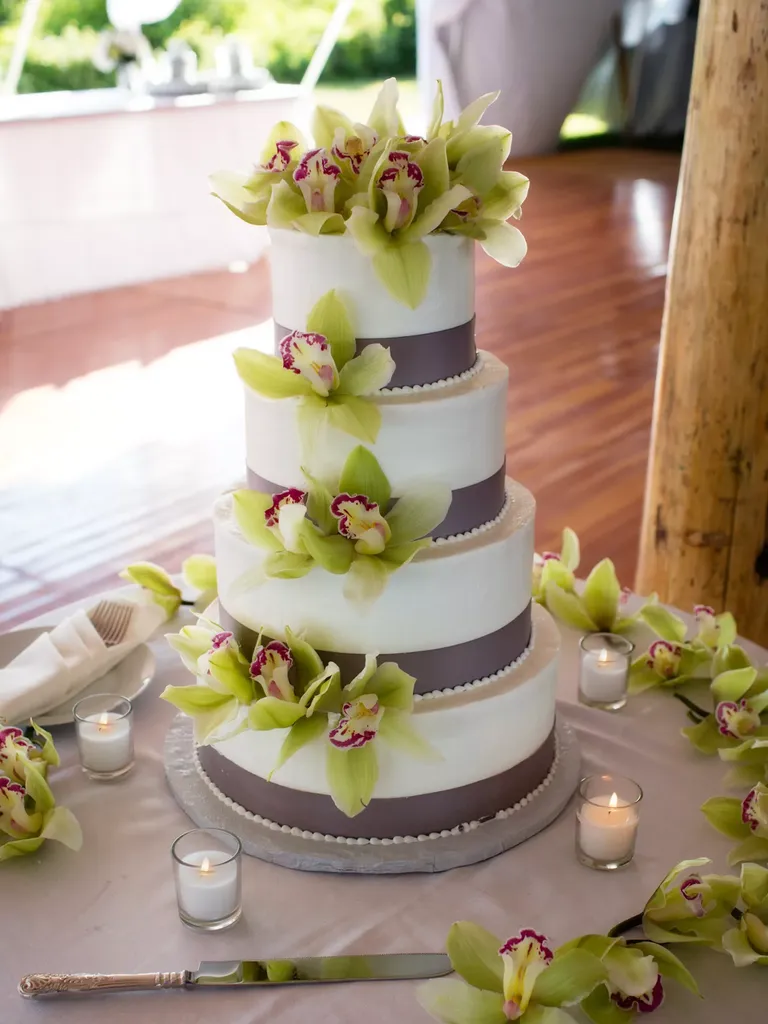 Ribbon designs highlight the layers of a tiered wedding cake. These dark stripes and dainty icing beads show off this cake's height while fresh green flowers tie it into the rest of the reception decor. Simple tealight candles complete this classic look.
Hexagonal Wedding Cake With Simple Piping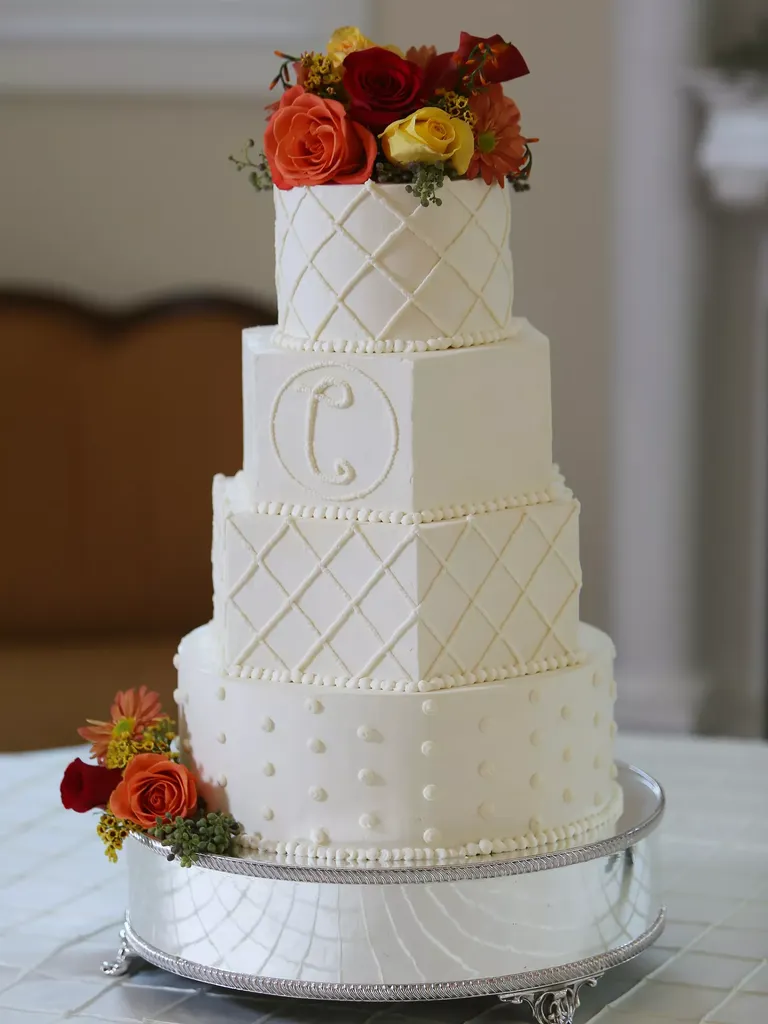 This simple four-tier white wedding cake uses different shapes and textures, as well as the letter of the couple's last name, to set itself apart. Fall-inspired flowers sit atop both round and hexagonal tiers, making this design a great option for an autumnal celebration.
Gold Ruffled Four-Tier Wedding Cake
Playing with color contrasts and icing textures is the easiest way to create a simple wedding cake that doesn't skimp on style. By pairing ruffled fondant with painted gold, this four-tier cake wowed guests.
Rosettes and Ruffles Four-Tier Wedding Cake
By alternating rosettes and ruffles, this all-white wedding cake was picture-perfect. The silver cake stand and surrounding greenery both complemented the cake's simple beauty.
Ivory Four-Tier Cake with Gold Dots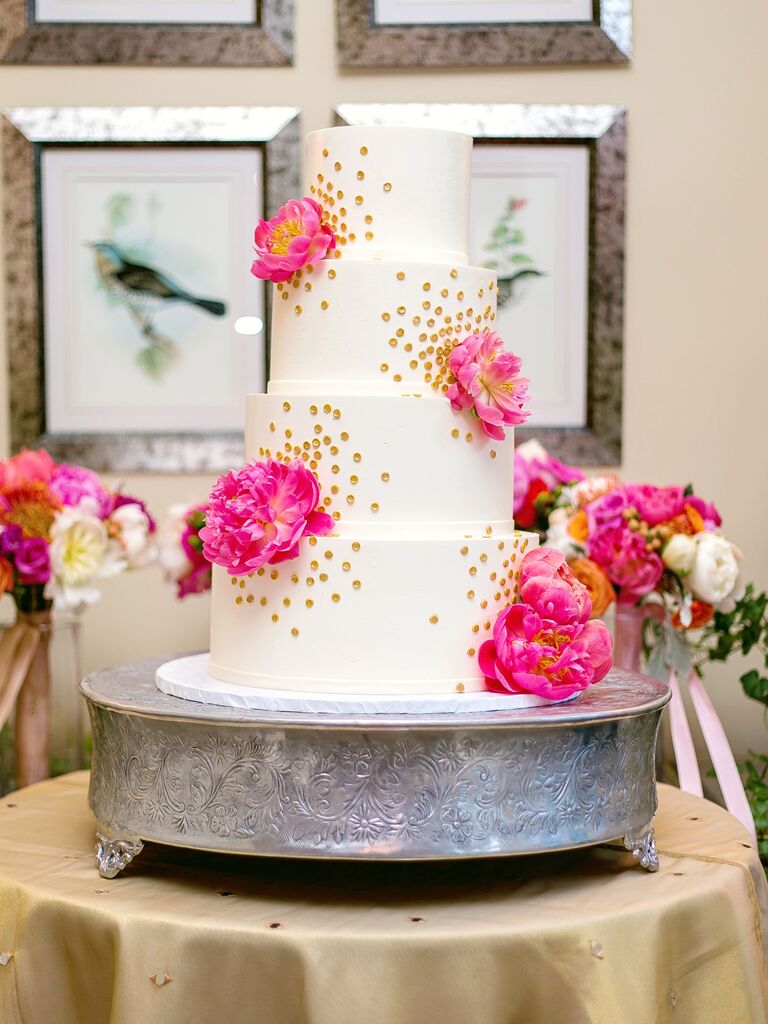 This simple ivory four-tier cake was decorated with small gold dots on each layer. Hot pink peonies added a pop of color to the outside of the cake. The inside of the cake featured two flavors: strawberry with cream cheese filling and peanut butter with chocolate mousse filling.
How Much Does a Four-Tier Wedding Cake Cost?
The Cakery's bakery manager Megan Rois shared that their bakery, which is widely considered one of Missouri's best wedding cake bakeries, has four-tier wedding cakes starting at $371. However, this price will increase depending on the flavor and decorations desired. Additionally, wedding cake costs can vary regionally across the US.
Four-Tier Wedding Cake Sizing
When dreaming of big cakes, many people will ask, "A four-tier cake feeds how many?" To answer this, Rois shared that four-tier wedding cakes are typically too large for a 50-person wedding. The Cakery Bakery's "smallest four-tier option will serve 106 people and starts at $371." If you bump up to a slightly larger cake, it will serve 169 people and with a starting cost of $591.50. This option is the best four-tier wedding cake to serve 150.
How to Cut a Four-Tier Wedding Cake
Cutting a wedding cake and choosing the right time to do so are not easy feats, but Rois provided a simple way to break the process down. She wrote to "take the tiers apart starting with the top tier. Lift the top cake off with a cake server or pancake spatula, then work your way down until they're all apart."
Once you have the cake deconstructed, slice it "like a dart board." She noted that "if you're looking at the top of the cake, you will cut straight down into the cake about 2 inches in from the edge to create a ring of cake. From that ring, you will cut straight down every inch. Repeat until you get to the center 4 inches and then cut that section like a pie." This will provide the best number of four-tier wedding cake servings for your whole reception.