The 26 Most Delightful Three-Tier Wedding Cakes for Any Theme or Season
Three cheers for three tiers.
Wedding cakes are an incredible way for couples to incorporate a beautiful statement piece into their reception that accents their theme and personality. In particular, a three-tier wedding cake allows newlyweds to celebrate their love with a treat that has plenty of space to be personalized to their taste, both inside and out.
In addition to rounding up our favorite three-tier wedding cake ideas, we also spoke with Jennifer Low, the owner of the Philadelphia-based Frosted Fox Cake Shop to get an expert's opinion on the sizing, design and slicing tips for a three-tier wedding cake.
Our Favorite Three-Tier Wedding Cakes:
With Flowers | Rustic | Elegant | Simple | Small
Three-Tier Wedding Cake Advice:
How Much Does a Three-Tier Wedding Cake Cost? | Three-Tier Wedding Cake Sizing | How to Cut a Three-Tier Wedding Cake
Three-Tier Wedding Cakes With Flowers
Flowers add so much beauty to a wedding, whether they are in a to-be-wed's bouquet, surrounding the altar or found draped on the wedding cake. As you look into incorporating this natural element into your day, we've collected some stunning flower-covered cakes to inspire your own three-tiered confectionary.
Combed White Three-Tier Wedding Cake With White Roses
This three-tier cake epitomizes elegance as roses and eucalyptus drape around its layers. The all-white combed icing creates the perfect background to showcase the flowers' simple beauty.
Green and White Three-Tiered Wedding Cake With a Variety of Flowers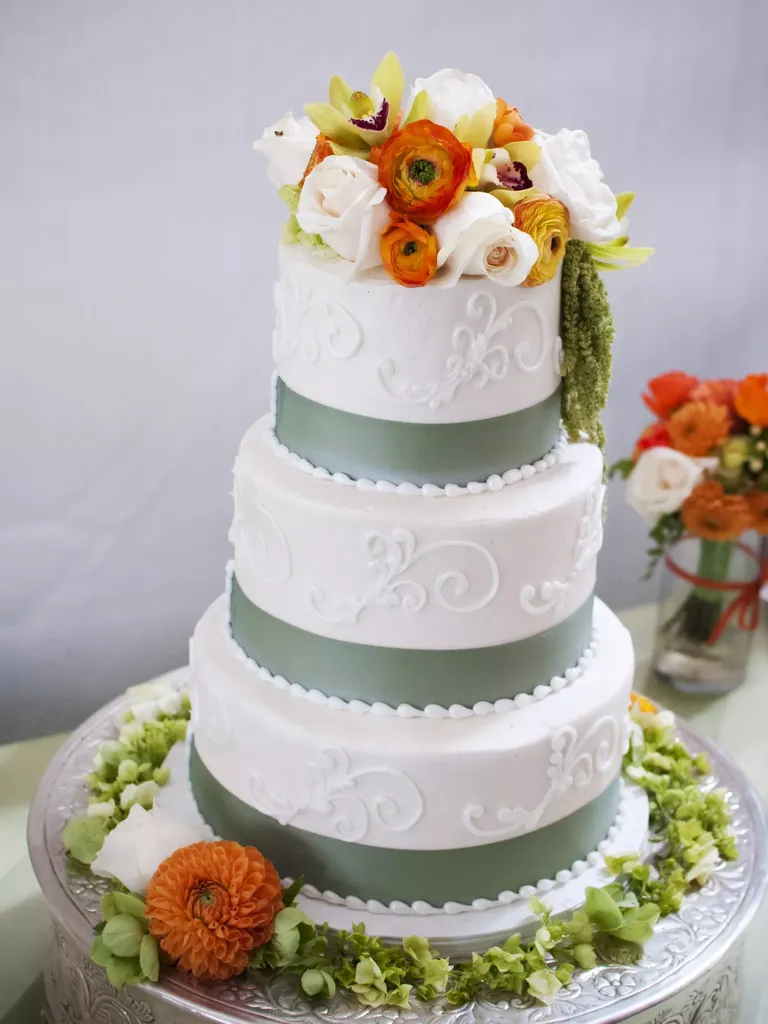 This cake uses green ribbon icing to highlight its layers while roses, ranunculuses, orchids and dahlias give it a pop of color. The intricate piping details on the side add a touch of elegance to the three-tier elegant wedding cake.
Three-Tier Blue Wedding Cake with Bright Peonies
When dreaming up three-tier wedding cake ideas, don't limit yourself to just white cakes. A pale blue cake can use bright pink peonies and roses to make itself stand out at the reception.
White Three-Tier Wedding Cake With Dried Flowers
The best simple three-tier wedding cake will pair minimalism with creativity to wow guests. The dried flowers of all colors on this dessert show off the beauty of spring without going over the top.
Intricately Piped White Wedding Cake With Pink Roses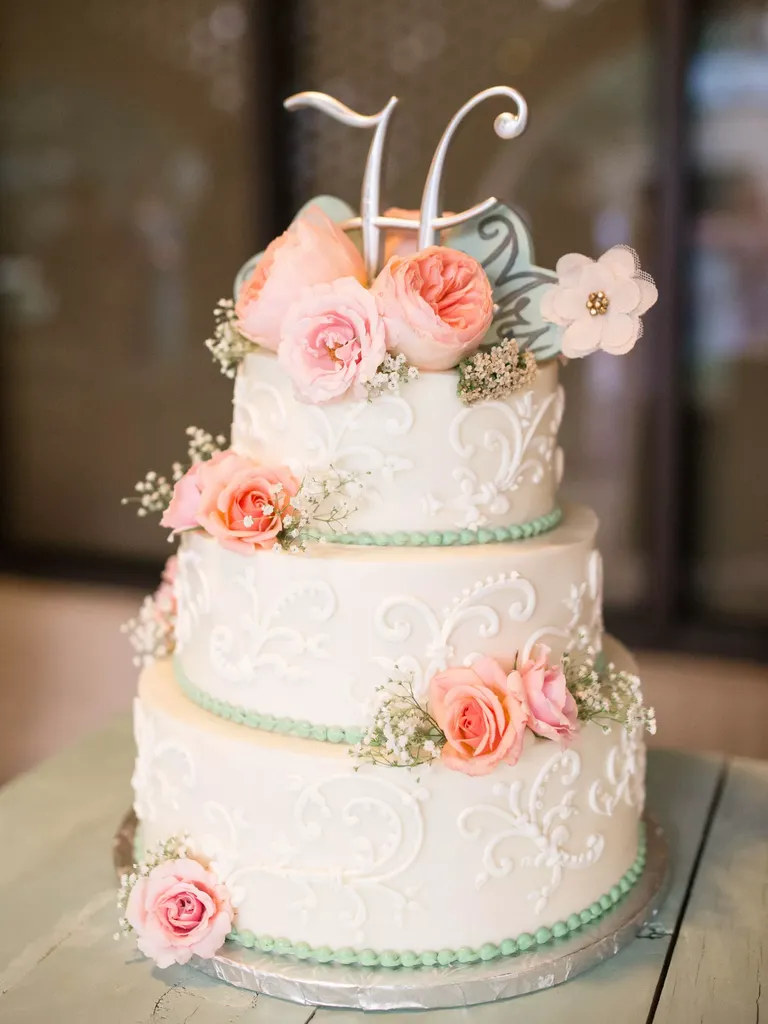 This vintage three-tier wedding cake with flowers uses dual-tone piping and pink roses to tie everything together. The delicacy of this cake is truly a work of art.
Rustic Three-Tier Wedding Cakes
Whether you're getting married at a ski lodge, a cabin in the woods or simply like the rustic theme, having a cake to match the party's vibe is key. These three-tier rustic wedding cakes do just that.
Cowhide-Inspired Three-Tier Wedding Cake
Not every three-tier rustic wedding cake needs to incorporate wood or twine elements. This cowhide-inspired design was elevated by the earth-toned florals for an unbelievably elegant but still rustic wedding cake.
Pinecone Painted Three-Tier Rustic Wedding Cake
A three-tier buttercream wedding cake can take many forms, including this adorable rustic pinecone cake. Perfect for a woodsy wedding, this cake reminds us never to underestimate the artistry of a baker.
Nature-Inspired Three-Tier Wedding Cake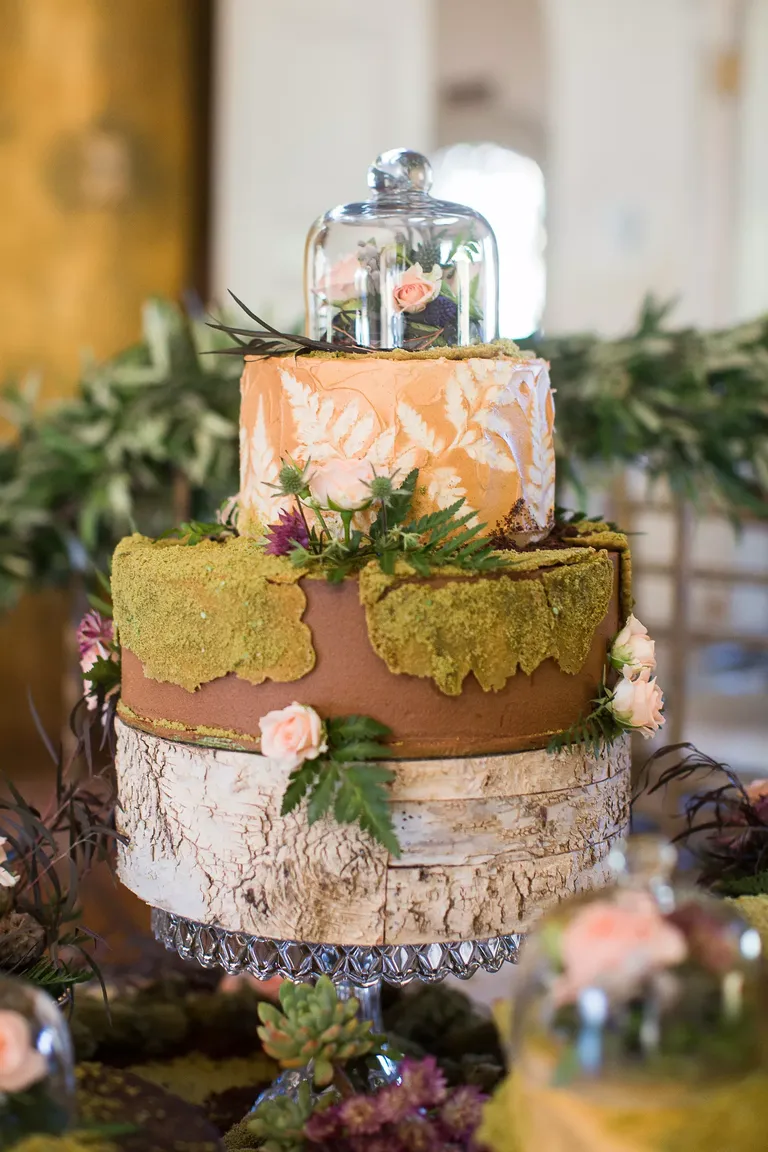 Fitting in with a secret garden-themed reception, this wedding cake brought in many natural elements, including moss, bark and leaves. The glass cloche on top adds height and romance as well.
Hydrangea- and Rose-Covered Rustic Wedding Cake
The roses and hydrangeas on this three-tiered wedding cake emphasize the couple's rustic theme as it sits atop a redwood slab cake stand. Giving off bohemian vibes too, we would find it difficult to cut into this beauty.
Find all the vendors you need
Meet every kind of expert from bakers to bartenders and more.
Three-Tier Aspen Tree Wedding Cake
It is hard to beat the designs that nature already has, which is why one couple asked their wedding cake to mimic an aspen tree. With their initials carved on the front, this three-tier rustic wedding cake is stunning, especially with the pop of color added by the bright flowers.
Elegant Three-Tier Wedding Cakes
It's not often that people get to eat an exquisite cake, but if there's ever a time to do so, a wedding is the perfect chance. The three-tier wedding cakes below are all elegant and sophisticated in their own way, allowing newlyweds to celebrate their vows alongside some of the finer things in life.
Three-Tiered Chocolate Ganache Wedding Cake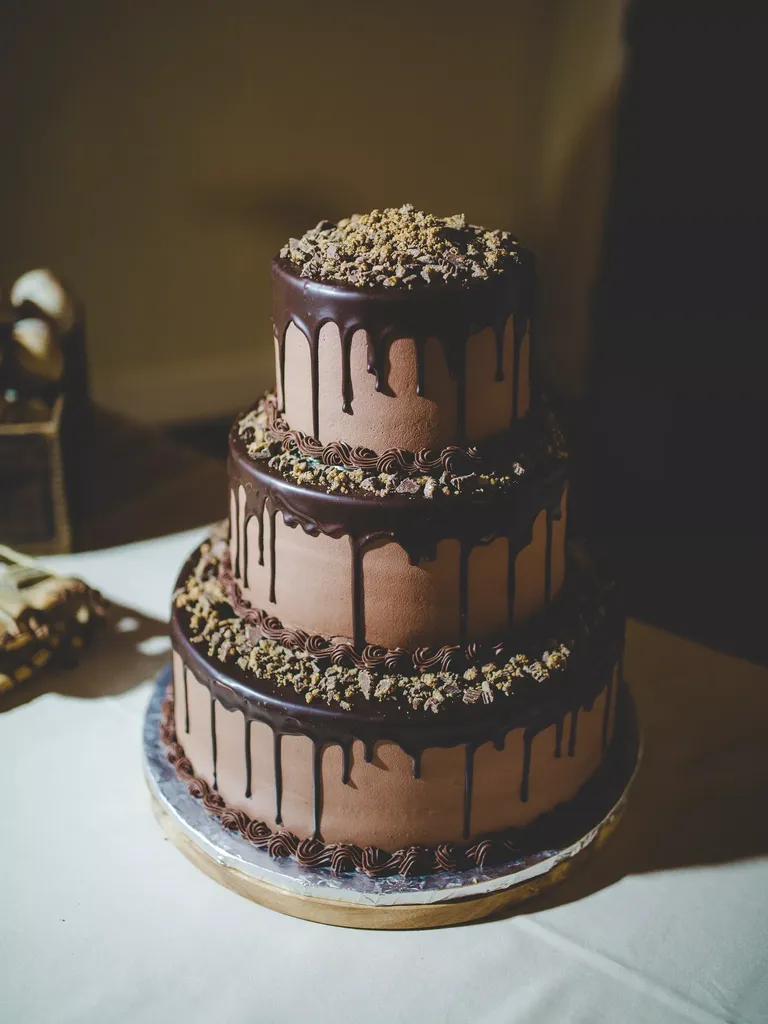 While many three-tier wedding cakes are white, it is more than okay to choose a deep chocolate brown for a wedding cake. This three-tier cake used chocolate buttercream frosting and Reese's Peanut Butter Cup crumbles to bring true elegance to the wedding reception without compromising on taste.
Hand-Painted Three-Tier Wedding Cake
Choosing a hand-painted three-tier wedding cake is pretty close to having a custom work of art at your wedding. This particular cake uses deep blue and gold to create a modern feel that left guests in awe.
Textured White Staircase Wedding Cake
The delicacy of each layer on this three-tier elegant wedding cake is unmatched. By offsetting each tier in a staircase pattern, this all-white cake is quite sophisticated.
Hand-Painted White-and-Blue Chinoiserie Three-Tier Cake
The silver and blue tones on this hand-painted chinoiserie cake make the design adaptable to a summer garden wedding or a snowy, winter celebration. Complete with the couple's custom logo at the top, this wedding cake can be both elegant and personal.
Three-Tier Red Wedding Cake With Berries
Many couples getting married in the winter use deep jewel tones at their reception. This cake leans into that theme with its burgundy frosting, painted flowers and fresh berries.
Combed White Three-Tier Cake With Vintage Topper
The combed icing on this vintage three-tier wedding cake pairs well with the simple ranunculus adornments. On top sits an heirloom cake topper, completing the elegant look.
Marbled White Three-Tier Cake With Gold Ribbon and Peonies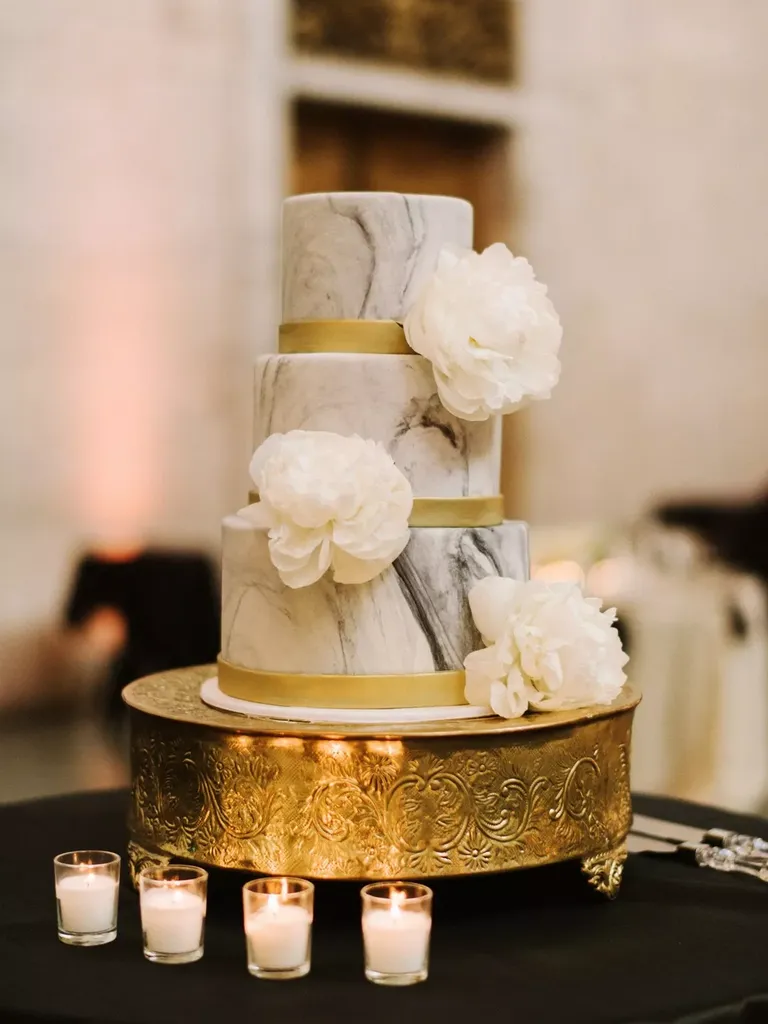 Sometimes less is more, and that's exactly what this cake shows us. This stunning marble and gold design was set on a gilded, golden stand for a glamorous dessert table.
Simple Three-Tier Wedding Cakes
Just because a cake has three layers doesn't mean it has to be over the top. In fact, there are numerous ways to keep a three-tier cake simple without being bland. These simple wedding cakes show how beautiful just small touches can be.
Hexagonal Three-Tier Wedding Cake with Fondant Bees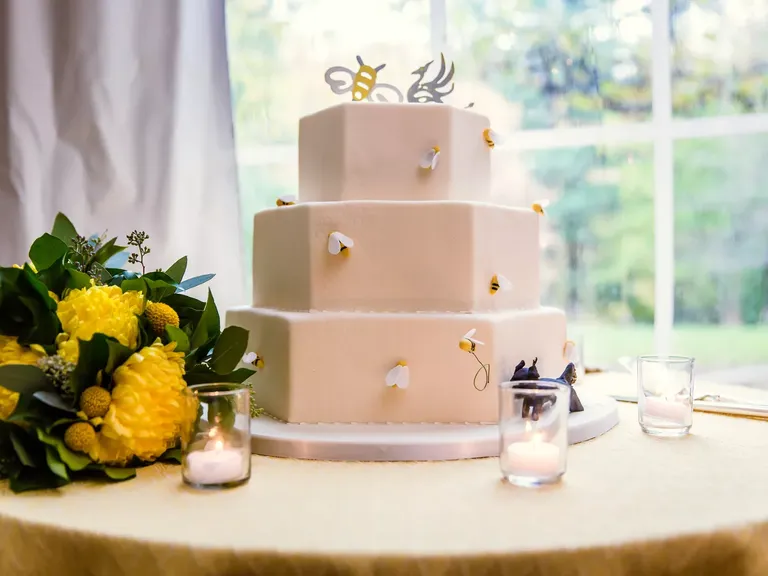 Thinking outside the box, this cake uses hexagonal layers and petite fondant bees in its spunky, chic design. Complimented by a miniature of the couple's dog, this small three-tier wedding cake uses every aspect of its design to highlight the couple and their interests.
Simple Wedding Cake Decorated With Greenery and Figs
This minimal and modern wedding cake is all-white with figs and ferns to show off its layers. The design could be duplicated with different fruits and greenery to adapt to nearly any theme or color scheme.
White Three-Tier Butterfly Wedding Cake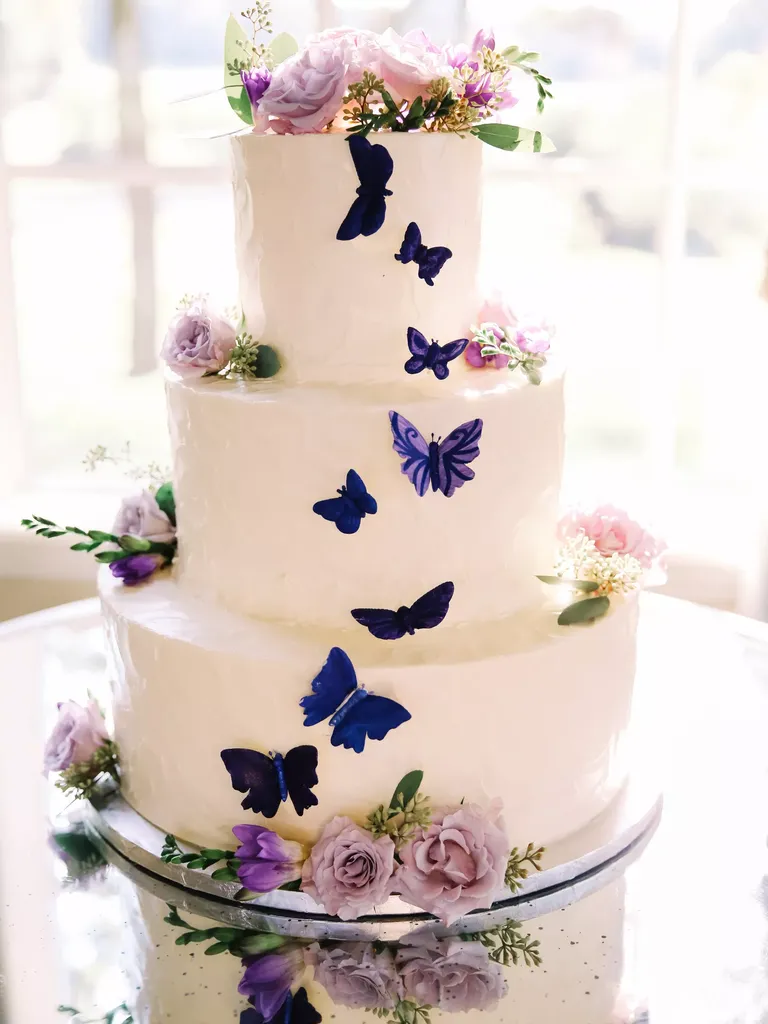 This simple white three-tier wedding cake with flowers set itself apart with a flutter of butterflies climbing up to the top. The mirror-topped table helped reflect the whimsical beauty of this dessert too.
Three-Tier Beach Wedding Cake
For anyone getting married with a nautical or beach theme, this elegant three-tier wedding cake is a must-have. The delicate details like golden fondant rope, the couple's monogram and coral roses with babies breath were the perfect addition to the simple cake.
Simple Three-Tier White Wedding Cake With a Twist
The sculptural accents on this tall, rounded three-tier wedding cake delivered a unique and sophisticated quality to the wedding festivities. Complimented by the golden tablecloth and tinted champagne flutes, this set up would work very well at a formal wedding.
Small Three-Tier Wedding Cakes
While a three-tier wedding cake may sound large, there are many small ones that still work well for more intimate gatherings. Don't count these small wedding cakes out before you've looked at all of them.
Pink Three-Tiered Wedding Cake Adorned With Flowers
Adding extra color to your wedding reception through your wedding cake is a wonderful idea, and that's just what this pink cake does. With different textures on every layer and lovebird accents, this vintage three-tier wedding cake was finished off with faux pearls, roses and lily of the valley.
White and Coral Three-Tier Square Wedding Cake
To give a three-tier square wedding cake a little extra pizzazz, this couple chose to twist each layer just a bit. The initial cake topper, piping variety and small rose accents make the cake versatile for a variety of seasons and reception styles.
Small White Wedding Cake with Eucalyptus Decor
A eucalyptus hoop makes this simple three-tier wedding cake unique. The delicate flowers and golden center layer give it a vintage feel, perfect for an outdoor or garden wedding.
Cascading Calla Lily Wedding Cake
The texture of the smooth calla lilies and ruffled fondant ribbon create a marvelous display on this wedding cake. Using simple glass gems alongside the cake was just one delicate detail that helped tie the color scheme together.
How Much Does a Three-Tier Wedding Cake Cost?
Low, who has more than 15 years of experience with wedding cakes, shared her two cents about three-tier wedding cake prices. They typically cost between $7-10 per slice. However, she highlighted that variation will take place "depending on how elaborate the design is and how far the cake is traveling."
Her bakery's smallest three-tier cake will feed about 35 people and typically costs between $250 and $350. Three-tier wedding cakes for large receptions can quickly add up to $1500, although she noted that "there is no one size fits all price."
Three-Tier Wedding Cake Sizing
When considering three-tier wedding cake sizes, Low shared that the first thing to do is decide whether or not the couple wants to save their top tier for eating later, like on their first anniversary. If so, that layer will not count towards the amount of cake needed to feed wedding guests. She suggests that for 50 attendees, a baker should make "a 4-inch diameter tier, atop a 7-inch diameter tier, atop a 10-inch diameter." However, depending on the design, slightly larger cakes will be more appealing to the eye, although that would also leave the couple with leftovers.
Low also shared that when debating a wedding cake size for 100 guests, there are two sizes that would work well: A cake with 6-inch, 9-inch and 12-inch layers or one with 6-inch, 10-inch and 14-inch tiers.
When asked about the three-tier wedding cake size for 150 guests, the renowned Philadelphia baker shared how she typically uses a 6-inch topper, 11-inch middle layer and 16-inch bottom layer. She also wrote that those proportions are not her favorite, so she often recommends couples choose a smaller size or a taller cake and get a "kitchen cake to get to the desired serving count."
How to Cut a Three-Tier Wedding Cake
Low joked that the best way to cut a three-tier wedding cake is to "let your caterers handle it." But, if you don't have the professionals ready to help with this time-honored tradition, start by "slicing the entire tier (or set it aside to save) then remove the plate it sits on and move on to the middle tier." Follow a slicing chart to ensure you get the right number of slices from each layer and be mindful of the supports inside the cake, such as straws or wood dowels as you slice. Lastly, Low told us that "wedding cake slices are often thinner than birthday cake slicers because the cakes are tall and everyone has likely had a lot of food already!"