10 Must-See Local Destinations for Your Weekend Wedding
Who said the party has to stop after the reception? Treat your guests to a weekend of celebrating at one of these getaway wedding venues in D.C., Maryland and Virginia.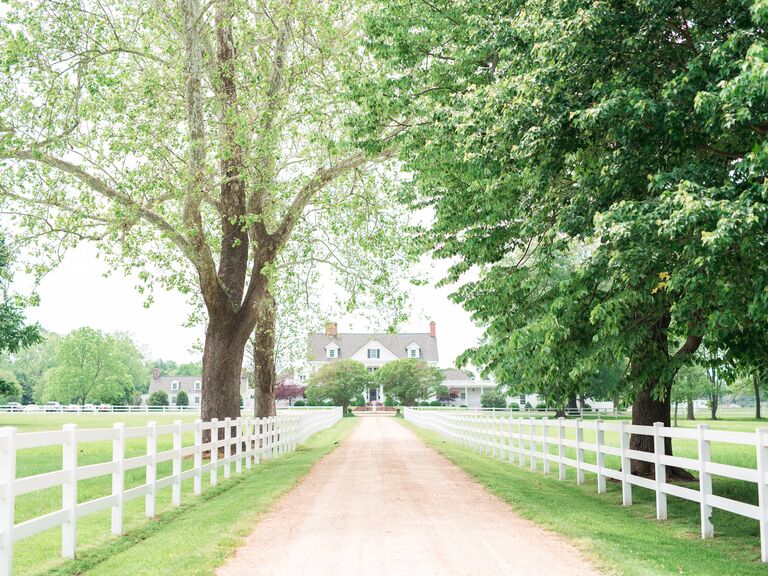 Audrey Rose Photography

Black Walnut Point Inn
4417 Black Walnut Point Road, Tilghman Island, MD;
(410) 886-2452; BlackWalnutPointInn.com
With a 330-degree view of the Choptank River, this waterfront venue is perfect for sunset ceremonies or receptions. The natural, intimate space is home to local bald eagles and monarch butterflies, which occasionally make an appearance at the venue's breathtaking outdoor events. The inn also includes a sun porch, pool, hot tub and nearby dock, all accessible to guests, and its staff can arrange outdoor adventures like sailboat rides, eco tours and cruises. And with an array of private weekend packages that can accommodate more than 150 guests, there's no limit on the amount of friends and family that can get in on the fun.
The Columbia Inn at Peralynna
10605 State Route 108, Columbia, MD;
(410) 715-4600; MyColumbiaInn.com
This boutique-style hotel offers the perfect space for an intimate, Southern wedding with up to 50 guests. Exchange vows on the manor's front lawn, then move to the airy Atrium for a reception with a stunning view of the rest of the grounds. To unwind pre- or postwedding, catch the sunset on the rear deck or relax with a novel from the second floor's lending library. Guests will love touring local wineries or walking around Centennial Park, not to mention stealing away for a romantic stroll in the rose garden.
Gaylord National Resort & Convention Center
201 Waterfront St., National Harbor, MD;
(301) 965-4000; Marriott.com
As the only waterfront resort in the DC region, this venue offers unparalleled views of the National Harbor. Torn by the 89 event space options? We love the Cherry Blossom Ballroom's elegant glass chandeliers and classic cherry blossom wall paintings in a space that easily fits 500 guests for a seated dinner. For an outdoor wedding, ask about the 15,000-square-foot RiverView Terrace—the Potomac River at sunset is the perfect place to say "I do." With optional features, like a firework display, your wedding celebration is sure to go out with a bang.
Harbourtowne Resort
9784 Martingham Drive, St. Michaels, MD;
(877) 957-8135; Harbourtowne.com
Located on the Eastern Shore, the Harbourtowne Resort boasts views of the Chesapeake Bay and Miles River. Host your ceremony or reception on the lawn at Bayside Point for a perfect riverfront view, or opt for the Prospect Bay ballroom for an elegant indoor affair that can easily accommodate up to 150—with a dance floor. The scenic Bayside Deck is even available for seated outdoor dinners of the same size, while the restaurant itself can seat up to 200. The picturesque 153-acre property even features an 18-hole golf course, sailing, kayaking and ample opportunities to explore the 19th-century seaport.
Historic Kent Manor Inn
500 Kent Manor Drive, Stevensville, MD;
(410) 643-4242; KentManor.com
With 220 acres of farmland, waterfront views, flower gardens and woodlands, Kent Manor provides every possible scenic ceremony setting. We love its gazebo; it's perfect for a lawn-side ceremony on the grounds of the historic manor. Afterward, invite up to 150 to a reception at the glass-enclosed waterfront Garden House. The inn offers 24 guest rooms, and your visitors will enjoy exploring the local antique shops of Old Stevensville or spending an afternoon day cruising.
Historic Mankin Mansion
4300 Oakleys Lane, Richmond, VA;
(804) 737-7773; HistoricMankinMansion.com
This Richmond bed-and-breakfast previously belonged to the owner of a highly regarded brick foundry. As a result, the mansion boasts stunning brickwork throughout. The five-acre property features formal English gardens, an Italian pergola and a 4,000-square-foot pavilion tent for events. It also includes two cottages and various suites on its premises for guest accommodations.
Historic Rosemont Manor
16 Rosemont Manor Lane, Berryville, VA;
(703) 879-5683; Rosemont1811.com
Situated on 60 acres of lush land, this historic bed-and-breakfast has hosted a number of high-flying DC politicians in the past. To reflect its rich history, the manor offers a number of wedding packages—all of which are named after the United States first ladies! Choose from the Rosemont Manor's grand portico, gazebo, garden terrace and lawn, or carriage house for everything from weekend-long celebrations to intimate elopements.
The Inn at Warner Hall
4750 Warner Hall Road, Gloucester, VA;
(804) 695-9565; WarnerHall.com
Once the home of George Washington's great-great-grandfather, this waterfront estate covers 38 acres near the Chesapeake Bay. The Inn at Warner Hall, a nationally registered historic site, operates as a bed-and-breakfast with occupancy for up to 28 guests and venue capacities of up to 176 guests. The renovated mansion features tons of old-world charm, including a river porch, grand staircase, drawing room and library. Located just minutes away from the battlefields of Yorktown and Jamestown, history fanatics will appreciate the Colonial Williamsburg setting, while non-history buffs can enjoy hiking, kayaking and fishing adventures.
Omni Shoreham Hotel
2500 Calvert St. NW, Washington, DC;
(202) 234-0700; OmniHotels.com
For a metropolitan getaway, consider the Omni Shoreham Hotel located right by the National Zoo. Dance the night away in the hotel's Blue Room (fits up to 350 guests), where John F. Kennedy courted Jacqueline Bourvier, or consider the art-deco-style Empire Ballroom (holds up to 200 guests) for a truly elegant reception. Outside, the gazebo overlooking Rock Creek Park makes for a charming reception locale for up to 350.
Salamander Resort & Spa
500 North Pendleton St., Middleburg, VA;
(540) 326-4033; SalamanderResort.com
Tucked away in the heart of Virginia's horse country, Salamander Resort & Spa has four outdoor venues and nine indoor options to choose from. Our tip? If you're leaning toward a rustic reception, check out the historic Stallion Barn—a century-old stone space perfect for intimate receptions of 24 or fewer. For a sense of Southern sophistication, try the 110,000-square-foot Grand Lawn with a stunning view of the mountains, or the casual Middleburg Ballroom for a fete for up to 350. The 340-acre venue also has an equestrian center, where your guests can enjoy scenic horseback rides around Virginia's countryside trails. You can even make the ultimate entrance to your reception thanks to horse-drawn carriage rides.
Find the perfect spot for a wedding weekend getaway here!