24 Gorgeous Wedding Flower Walls You'll Want at Your Wedding
Take your blooms to the next level.
We don't know who to thank for the proliferation of palatial wedding flower walls, but nevertheless, we're as obsessed with this trend as ever. And we don't think this wedding flower trend is going anywhere anytime soon. That's why we've rounded up our favorite flower wall ideas to give you all the inspiration you need for your future blooming backdrop. Just get ready to want to call your wedding florist ASAP.
Rose Wedding Flower Wall With Neon Sign
For this couple's intimate and romantic wedding, they included two wedding trends together: a neon wedding sign and a wedding flower wall. Having a neon sign nestled in a flower wall not only complements your sign's message but makes your flower wall more eye-catching.
Modern Wedding Flower Wall Backdrop at a Ceremony
At this modern-industrial wedding, the couple had a flower wall backdrop at their ceremony. By having a grand ceremony flower wall backdrop, we guarantee you'll shock your guests when they walk into your ceremony venue. Plus, this stunning idea will look amazing in your wedding photos.
Bohemian Wildflower Wedding Wall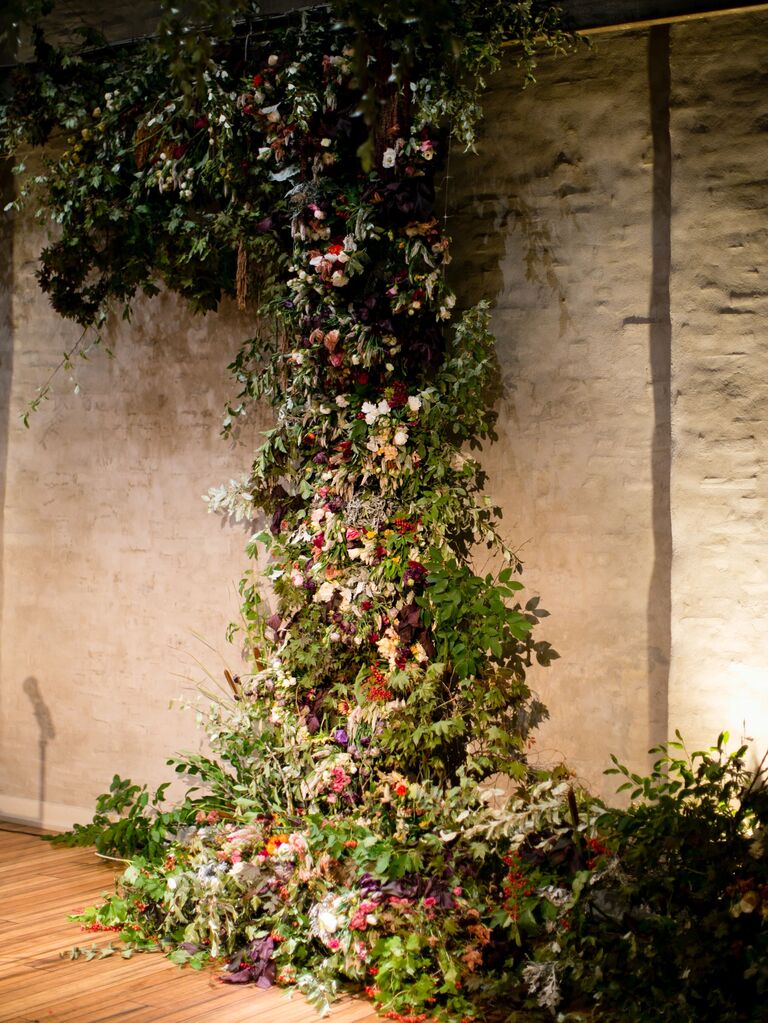 For couples who want unconventional blooms for their wedding, this wildflower and greenery display will definitely inspire you. Instead of covering an entire wall with your flowers, ask your wedding florist or wedding venue decorator to gently drape the flower arrangement on a small section of the wall. This idea can be a great place for you or your guests to take photos during the reception.
Ombré White, Pink and Purple Flower Wedding Wall
Want to know another way you can make your flower wedding wall unique? Steal this couple's chic idea by having an ombré flower wall. They used rich tones for their roses and hydrangeas but feel free to choose your favorite color schemes and flowers for your display.
Pink and Ivory Wedding Flower Wall With Escort Cards
Your wedding flower wall doesn't only have to function as a backdrop at your wedding, it can accent your escort cards too. You also get the added benefit of the flowers filling the space with a beautiful smell. So choose your blooms wisely, so when your guests look for their names and seating assignments, they can experience a scentscaping experience they'll never forget.
Glamorous Wall of Flowers at a Ceremony
This wall of flowers full of soft whites and pinks is a breathtaking addition to this luxurious wedding. Everyone knows that adding candlelight to any room automatically brings an air of romance. So take a page out of this couple's book by placing candles along the base of your flower wall. Just ensure that the candles aren't too close to be a fire hazard and are in a container, like a hurricane candle holder.
Yellow and White Flower Wall Backdrop
An intricate stripe floral design is only one of the many ways you can elevate your dessert area. This is why we believe hiring the right florist can open up endless possibilities for your flower wall wedding backdrop.
Find your kind of venue
From barns to ballrooms, discover reception venues that feel like you.
Dramatic Wall of Flowers at a Reception Entrance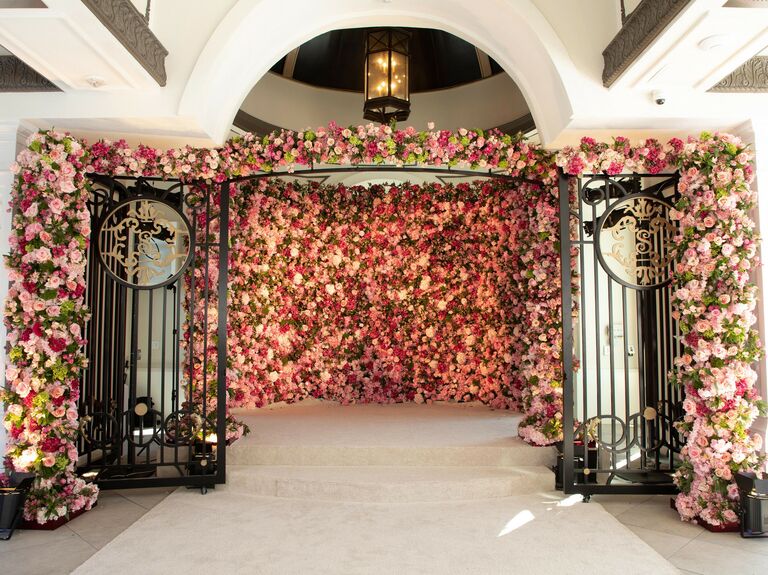 Consider letting the unique architecture of your wedding venue influence your flower wall design like this couple did. By placing the flower wall at your reception venue's entrance you can grab your guests' attention before they even walk in. The placement of this flower wall also gives guests an idea of the type of environment they're about to enter.
Bright Colored Paper Flower Wall for a Wedding
If you want to include DIY projects in your wedding, save money or have out-of-the-ordinary decor, a paper flower wall is a good option for you. With paper flowers, you can have fun adding different patterns, like polka dots or striped, and textures. For this wedding, the bride and her wedding party handmade a small flower wall to complement their sweetheart table decor.
Rustic Barnwood Flower Wall Wedding Backdrop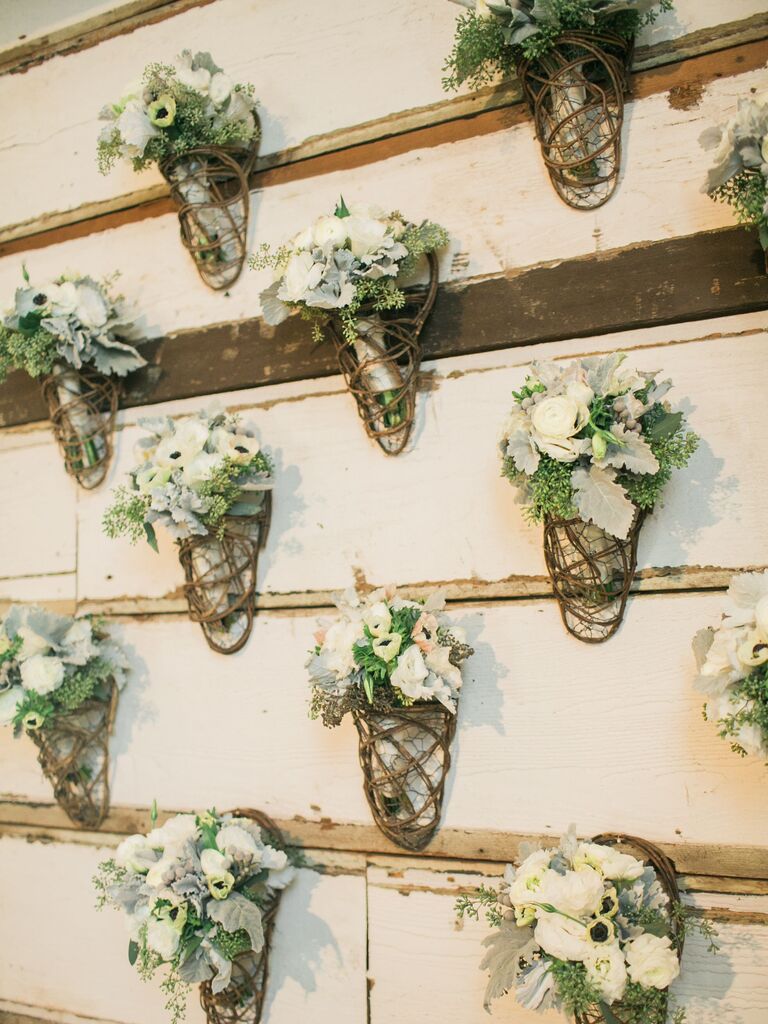 An alternative flower wall idea is hanging small bouquets on your venue wall. For a rustic and natural theme, copy this couple's design by using twig baskets as bouquet holders. Each bouquet can have the same color palette and blooms or you can have fun alternating those two elements for every other bouquet.
Bohemian Wedding Grass Wall
Speaking of using an alternative flower wall idea, why not forgo flowers altogether? To play into their bohemian wedding theme, the bride and groom decided to have a pampas grass wall. Still want to have some flowers at your wedding? Then, add a couple of bouquets. We love how the white flowers accent the grass wall at this happy couple's wedding.
Eucalyptus Flower Wedding Wall
This flower wedding wall is an example of how it doesn't always have to include only flowers. Feel free to add greenery to your display, like eucalyptus, ivy or moss––this addition will make your desired flowers pop.
White Paper Flower Wall for a Wedding
Go bold with your flower wall by having giant blooms. The floor lighting emphasizes the size of each paper rose and spotlights the sweetheart table in front of it. Without a doubt, all eyes will be on you with this flower wall setup.
Photo Booth Wedding Flower Wall
The bride and groom loved their giant wedding flower wall at their reception because they used it as a colorful photo booth backdrop. If you want to imitate this idea, don't forget to add funny photo booth props, like silly hats, sunglasses and feathered boas.
Glass Vase Flower Wall at a Wedding
This is one of the most outside-the-box flower wall ideas we've ever seen. The to-be-weds had long-stemmed roses and hydrangeas placed in glass pillar vases on white pedestals of varying heights to create this gorgeous flower wall. In the same kind of vases, there are floating candles to add even more romance to the room.
Orange and Pink Wedding Flower Wall Installation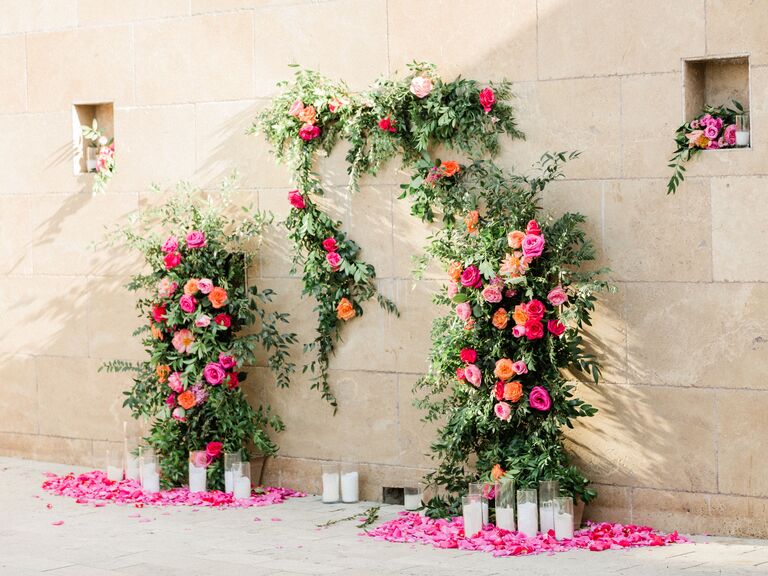 This vibrant rose-filled flower wall installation is just what you need if you're having a summer wedding. Another asymmetrical orange and pink flower wall was incorporated into the couple's seating chart display.
Lush Wedding Flower Wall at a Ceremony
The pale yellow and ivory colored flowers make the bride's dress pop, so consider using your flower wall as an accessory to your and your partner's wedding day looks. We also like how some flowers stick out from the flower wall since it gives a cool and dynamic 3D effect.
Green and Peach Flower Wedding Wall at a Ceremony
Are you booking a wedding venue with high ceilings? Use that to your advantage and have a tall flower wedding wall. Fun fact: This wall made of cascading peonies, ranunculus, roses and carnations was later split in half to serve as a backdrop for the head table and bar area.
Romantic White Flower Wedding Backdrop
This is a perfect example of how to match other aspects of your wedding to your wedding decor. But if you try this flower wall and wedding cake idea, you might have to warn your guests that the flower wall isn't edible.
Neon Wedding Hashtag Sign on an Ombré Wedding Flower Wall
If you're unsure how to display your wedding hashtag at your wedding venue, this is a great option for you. The stunning white and pink tones make the couple's neon sign even more striking.
Whimsical and Colorful Wedding Flower Installation
For people who don't want a large wall of flowers, check out this modern and unique idea. This wedding flower installation is made up of blue, purple, pink, yellow and white peonies and hydrangeas and uses a color-blocking technique.
Pastel Wall of Flowers in Golden Frames
Wedding flower walls are works of art, so why not treat them like one? Put your flower walls in picture frames as this couple did for their ceremony. They had three-paneled flower walls with a mixture of white roses and light pink hydrangeas. The center flower wall has a cross made of pink roses to honor the couple's faith.
Giant Flower Wall for a Wedding
This giant wedding flower wall combines glam and garden chic effortlessly. For couples who want to add elegance to their ceremony venue, this is the way to do it.
Spaced Carnation Flower Wedding Backdrop
Feel like you're being showered with your favorite flowers by having a spaced flower wedding backdrop. This layout will look great behind the head or sweetheart table or function as a beautiful whimsical background for a photo booth.