The Truth About Free Wedding Invitations
According to experts.
Planning a wedding can be pricey. Between venues, vendors, outfits and more, costs can add up. But using professional services is always a great investment, as it could save you time and money down the road. The same holds true for free wedding invitations. While they may initially sound like an effective way to keep your costs down, they could end up causing more issues in the future. "Free will most certainly cost you more time than having a professional printing company handle your wedding stationery," says Desirée Dent, owner of Dejanae Events in Chicago.
As with most DIY wedding projects, DIY wedding invitations require a great deal of time. It may seem doable at first, but planning a wedding can end up being more work than expected. You might end up stressing yourself out more with the extra work ahead of the big day. Additionally, free wedding invitations aren't exactly free. You'll still need to cover costs to get them in the mail and to your guests. All of those extra steps could end up impacting your budget in an unexpected way. So before you commit to free wedding invitations, read why experts say they're just not worth it.
What To Know About Free Wedding Invitations & Online Templates
Free wedding invitations are printable, editable templates that you can find online. You can either download pre-made templates or use a site to create your own invitation design. With diligent research (including reading the reviews), it is possible to find a great design for free. And if you end up choosing to go that route, free wedding invites can be a cost-effective option for some.
But generally, pros recommend you use a trusted retailer or professional stationery for your wedding day. "I have honestly never suggested or used 'free' wedding invitations for any of our couples," Dent says. "The design options are extremely limited and there are always hidden costs that are not taken into consideration when selecting a 'free' wedding invitation."
Factors To Consider When Deciding on Free Wedding Invitations
Undecided about free wedding invitations? We spoke to experts about why they might not be worth it in the end.
Free Wedding Invitations Will Cost You Time
While free online wedding invitations may initially save you money, they will cost you something else: your time. " It can be extremely time consuming to navigate through reviews, understand pricing and format the invitation template—and let's not forget the guest names and addresses that you have to input for the envelopes to be printed," Dent says. "The less expensive option might look great financially, but many hours will come into play when handling the invitations yourself with no real guidance."
Plus, other parts of the process are time consuming. "Free is a buzz word to lock you in, to peak your interest, but once all is said and done, you have spent hours trying to source a printer, get a quote from the printer, make sure the paper is what you want—and the correct size and format for the 'free invite' it is way more work than couples think," says Jove Meyer, owner and creative director at Jove Meyer Events.
Your wedding invitations are the first thing your guests are going to see leading up to your wedding. They set the tone for the whole event, so you want to make sure you do them right. Leave your stationery (everything from save-the-date cards to invites to thank you cards) to a trusted retailer or professional stationer and use your extra time for other wedding planning tasks (or for relaxation).
Free Wedding Invitations Aren't Always Totally Free
Don't be fooled by the phrase "free wedding invitations." It may cost nothing to download the template online, but you'll likely have to pay for extra materials (think: paper, printing services, envelopes, stamps and more). "The invitation itself may be free, but the fonts you select or even the colored ink may have a fee," Dent says. "The additional cards (like the reception card and rsvp card) and envelopes have a price associated with them." And don't forget to read the fine print. "You also may only be able to get a limited number for free then the price per invitation is added," Dent cautions.
Free Wedding Invitations May Be Lacking in Quality
Worried the free printable wedding invitation templates you found online are too good to be true? You might be right. Working with online templates means you have to vet the products very carefully. That means devoting time to reading reviews or looking through posted pictures. You want to make sure that the design online matches the product IRL.
Additionally, Dent says materials can be a concern. "The quality of the paper stock is very limited," she says. "For the thicker quality stock papers, an additional fee will most likely come into play." Our advice? See if you can order free samples ahead of time. Or, go with a trusted source to skip all of the extra leg work for your party invitations.
Our Favorite Cost-Effective Wedding Invitations
Is all that information making your head spin? We don't blame you. That's why we rounded up eight designs from The Knot Invitations that you can easily order for a reasonable price. They might not be free options, but these cost-effective invites will save you some serious time and keep your budget intact. Plus, you can order a sample kit to check out your favorite designs.
If you're a hopeless romantic, this beautiful script design is for you. The sentimental message on top will get your guests excited for your upcoming nuptials too.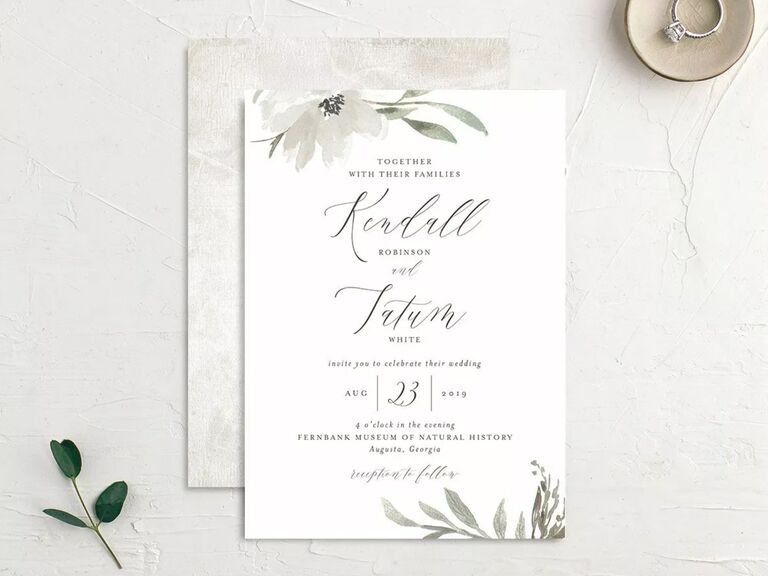 There is nothing more classic than a simple, floral wedding invitation. It works for any season or style, but it's especially great for spring and summer weddings.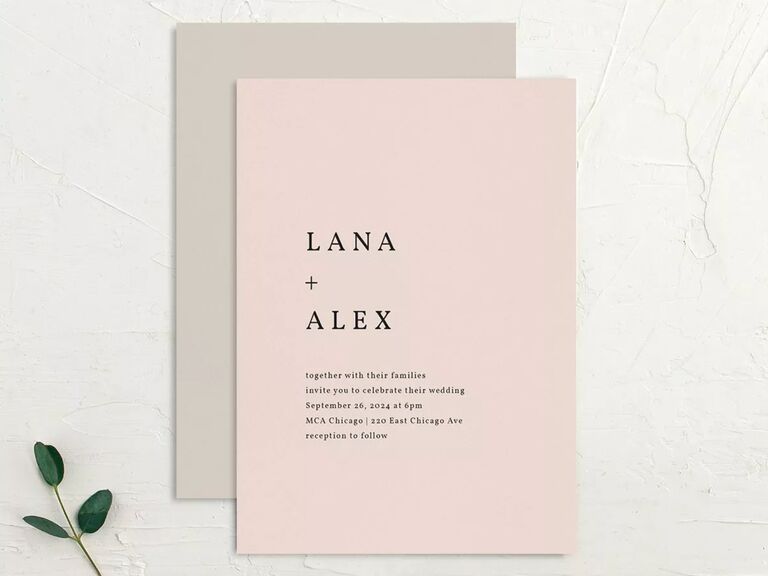 If you love a minimal aesthetic, this wedding invitation is for you. With neat print and a blank background, this invite is simple yet sophisticated.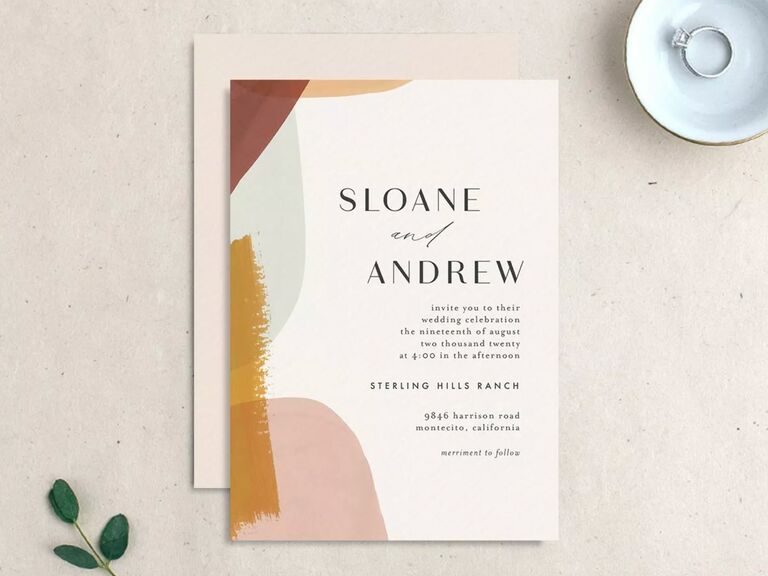 Looking for unique wedding invitations? These watercolor beauties are equal parts fun and elegant.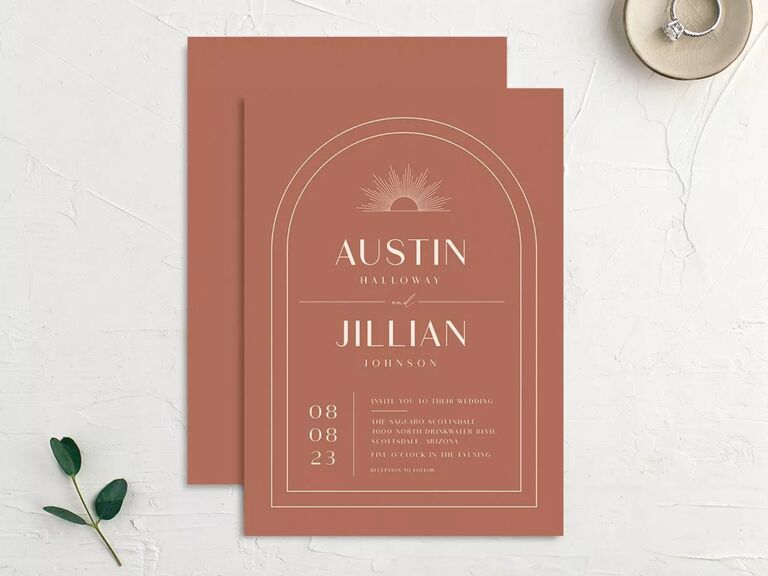 Calling all new romantics: This modern, dreamy invitation strikes the perfect balance between boho-chic and classic.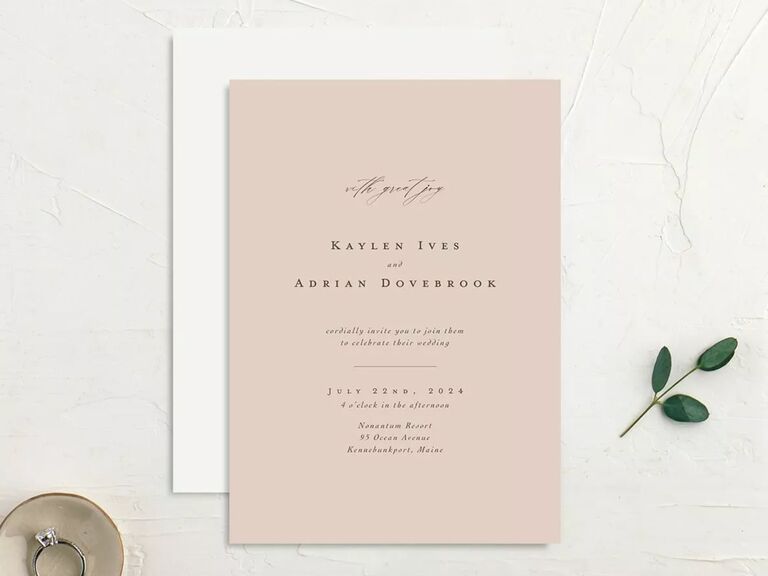 Get a vintage vibe without compromising on style. The pretty color paired with retro script will instantly take your guests back in time.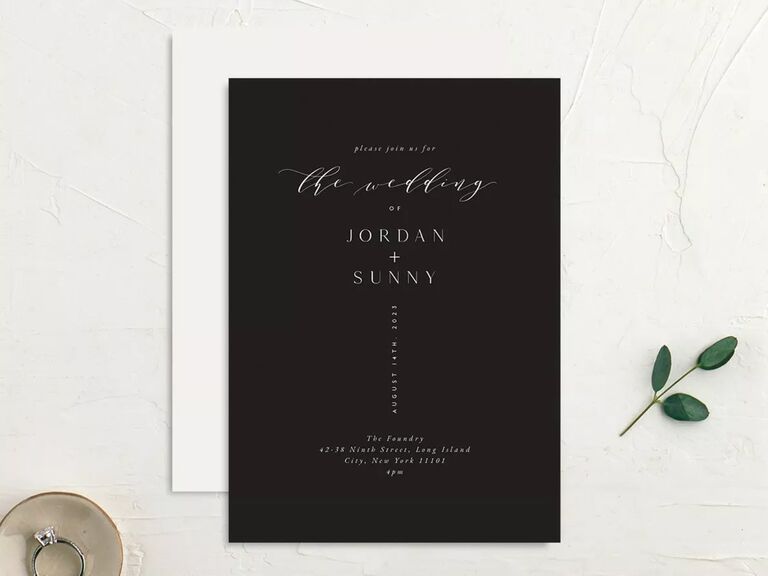 If you're looking for something a bit more alternative, get a classic design (complete with pretty calligraphy) in an unexpected color, like black.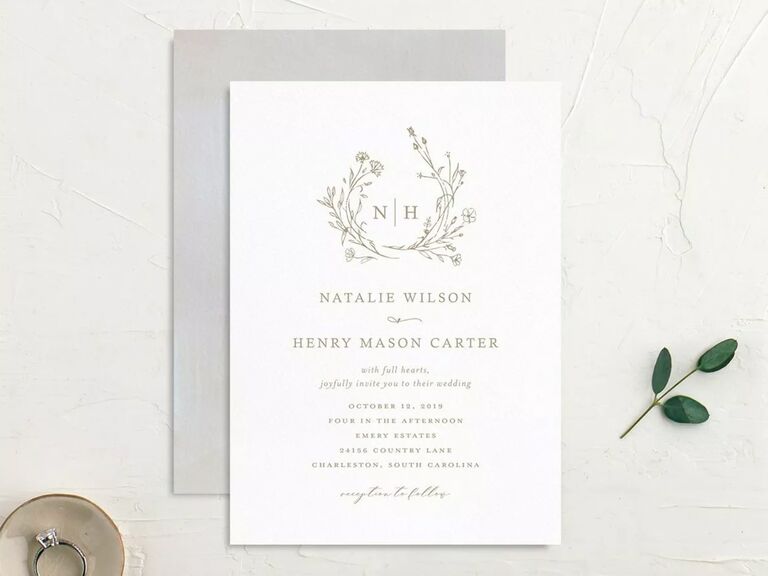 Give your guests with these rustic wedding invitations that feature on-theme greenery. They're perfect for a fall wedding.