Real Honeymoon: French Polynesia
If you're looking for an island escape after the stress of wedding planning, this is be the perfect honeymoon!
by Meghan Overdeep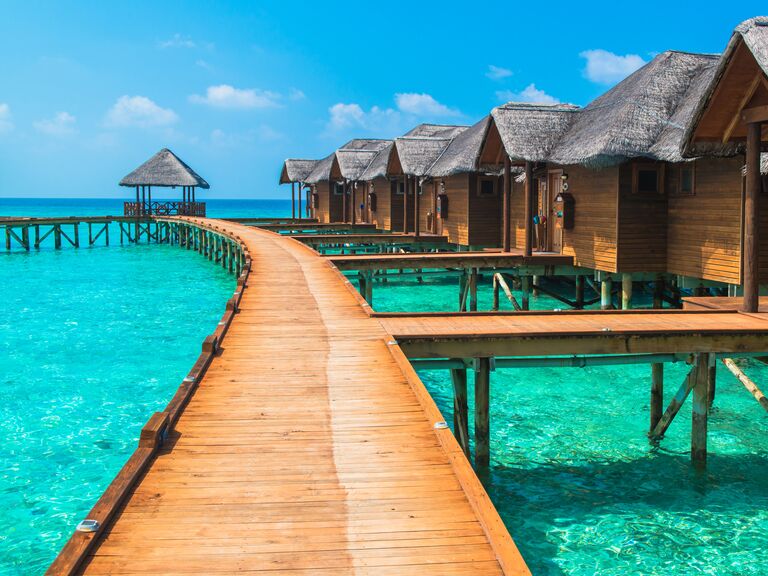 Looking for ultimate relaxation, Amanda and Tim headed to Tahiti, Taha'a and Bora Bora for almost two weeks of luxurious tropical living. Want their honeymoon?
Budget: $7,000
Time of Year: late September
Length of Trip: 12 days
Travel Time: 8.5 hours from Los Angeles
Where to Stay: The couple spent four days in a beachside villa at Le Taha'a Island Resort & Spa on Taha'a. "It felt like we were sleeping in the middle of the jungle—but in ultimate comfort," says Amanda. After "roughing" it, they made their way to Four Seasons Resort Bora Bora, where they spent five days in one of its incredible, you-only-live-once over-water bungalows.

While You're There: Because there are fewer people, Amanda says the snorkeling in Taha'a (a smaller, more remote island) is absolutely amazing. In Bora Bora, they took a break from lounging on the beach and by the pool to Jet Ski around Mount Otemanu and try stand-up paddleboarding. The views of the water and mountain are simply amazing and the ideal backdrop for the perfect day.
Follow their Advice: Avoid spending your entire honeymoon on the island of Tahiti. "We found it to be more touristy than some of the other islands," Amanda says.