The Cost of Your Wedding Could Determine How Long Your Marriage Lasts
A study from Emory University reveals that the size and cost of your wedding is related to how long your marriage is.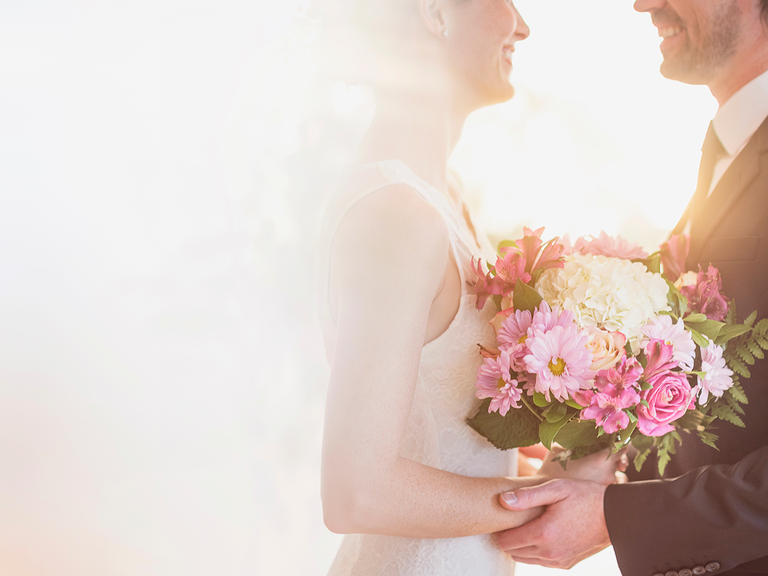 Tetra Images / Getty images
Two researchers at Emory University Department of Economics surveyed 3,000 married couples in the US to find out more about the relationship between marriage duration and several factors, namely wedding size, wedding costs, length of courtship and honeymoon plans. Their 2014 study had some interesting findings we might not have guessed ourselves, but after seeing the stats, the data actually seems pretty intuitive. Here's what we found most interesting.
Having a larger wedding could lead to a longer-lasting marriage.
We were super surprised to learn, according to the study, that couples who were married in only each other's company (whether they eloped or just decided to marry in private) were less likely to stay together than couples who married with 200 or more guests. Don't panic—if you're deciding to wed just the two of you, your marriage isn't doomed. You're not a statistic. If it's the right call for you, go for it! These stats seem to imply that couples surrounded by a large support group of family and friends have a greater chance of a lasting marriage, and because you decide to say "I do" quietly doesn't mean you don't have tons of people who love and care about you. And here's another great piece of news….
Having a large wedding is not the same thing as having an expensive wedding.
If you've looked at The Knot 2015 Real Weddings study, you know that the new national average cost of a wedding is $32,641. But if you're on a budget (and who isn't?), you'll love this factoid from the Emory study: Couples who spent less than $1,000 on their wedding were 47 percent more likely to stay together than those who spent over $20,000. Which pretty much proves that, when it comes to spending, more isn't always more. So make sure if you're planning a lavish affair that you splurge for the right reasons that really matter to you (like a larger venue to fit all of your loved ones or an awesome band to ensure an epic dance party), instead of spending a fortune just to say you did.
The longer you date, the longer your marriage will be.
According to the study, couples who dated for at least three years were 39 percent less likely to split than those who dated for less than a year, and couples in a relationship for one to two years were 20 percent less likely. This probably relates to the fact that couples who date for a few years before tying the knot might have more of a foundation to their relationship—time and experience always brings people closer together. But, hey, if you know, you know, so don't second guess yourself if you're really sure. The important thing to remember is that there's no pressure to rush if you're not ready.
Having a honeymoon could lead to a more successful marriage.
It's no secret we totally encourage a romantic postwedding trip to de-stress and spend time as a newlywed couple. That's why we love this statistic: Couples who had a honeymoon were 59 percent more likely to have a successful marriage than those who didn't get away after the wedding. So, the proof is in the numbers—whether it's a quick weekend escape a few months after your wedding or a three-week backpacking adventure straight after the reception, a honeymoon helps perpetuate a long-lasting union. You'll thank us later.