17 Gorgeous Hanging Floral Arrangements for Your Wedding
Turn your stems upside-down for extraordinary floral décor.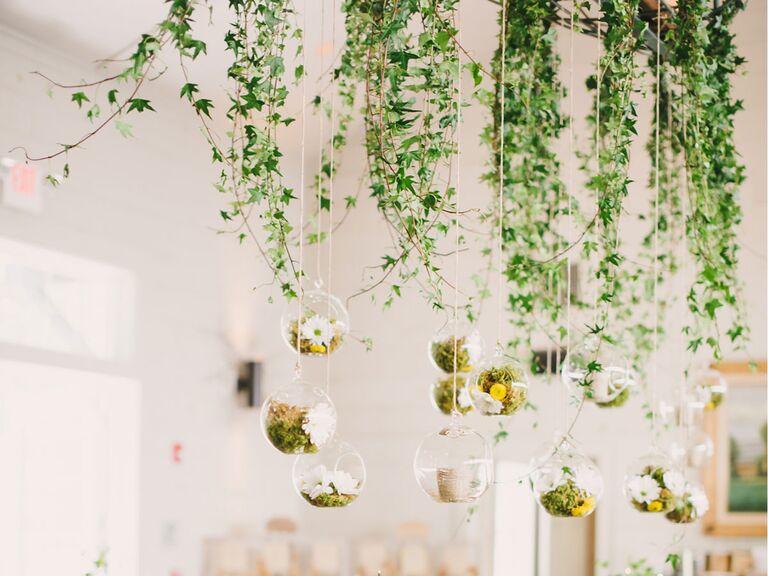 Callan Photo
Floral arrangements for your wedding encompass a lot more than your bouquets and centerpieces. You'll also need stems for the altar, cocktail table clusters, boutonnieres and even the escort card display. If you want to incorporate big blooms on your wedding day, wow your guests with hanging floral arrangements. Hang bold flowers from assorted vintage bottles over your reception tables for a rustic vision, or suspend wisteria stems from the ceiling for garden-fresh glamour. Here, 17 of our favorite hanging floral arrangements that will turn heads at your wedding.
1. A Pretty Canopy
Flowers: Roses, hydrangeas and willow branches
From: A Fairy Tale Wedding in Irvine, California
2. Hanging Leis
Flowers: Garden roses, anemones and ferns
From: An Intimate, Tropical Wedding at the Sugarman Estate in Maui, Hawaii
3. Ceiling Vines
Flowers: Wisteria
From: A Garden Party Wedding at Chicago Botanic Garden in Chicago, Illinois
4. Ribbons and Blooms
Flowers: Snapdragons, larkspur, spray roses and lisianthus
From: A Rustic Botanical Garden Wedding at Mayowood Stone Barn in Rochester, Minnesota
5. Preppy Skies
Flowers: Peonies, dahlias, garden roses, hydrangeas, ranunculus, spray roses, astilbes and Queen Anne's lace
From: A Romantic, Garden-Inspired Wedding at the Piedmont Room in Atlanta, Georgia
6. Overgrown Beauty
Flowers: Roses, eucalyptus and thistle
From: A Summer Garden Wedding at Campovida in Hopland, California
7. Whimsical Suspension
Flowers: Ranunculus, daisies, ivy and moss
From: A Rustic, Bohemian Wedding at Hidden Pond in Kennebunkport, Maine
8. Swinging Pots
Flowers: Poppies, garden roses, dahlias and abutilon
From: A Murray Hill Wedding in Leesburg, Virginia
9. Dazzling Blooms
Flowers: Wisteria
10. Adorned Lanterns
Flowers: Hibiscus and roses
From: A Pink and Teal Wedding at Rose Hill Mansion in Bluffton, South Carolina
11. Greenery Wreaths
Flowers: Hydrangeas, greenery and moss
From: A Lush Garden Wedding at Nicollet Island Inn in Minneapolis, Minnesota
12. Floating Garden
Flowers: Garden roses, Queen Anne's lace, wildflowers, thistle and greenery
From: A Bohemian Backyard Wedding at a Private Residence in Claxton, Georgia
13. Floral Arch
Flowers: Garden roses, wisteria, eucalyptus, birch, willow branches and moss
From: A Lush, Flower-Filled Wedding at The Planterra Conservatory in Bloomfield Hills, Michigan
14. Rose Chandelier
Flowers: Peonies, garden roses and greenery
From: A Floral-Inspired Barn Wedding at Chandelier Grove in Tomball, Texas
15. Dangling Greenery
Flowers: Ranunculus, anemones, thistle and greenery
From: A Bohemian Barn Wedding at Rodale Institute in Kutztown, Pennsylvania
16. Sunset Streamers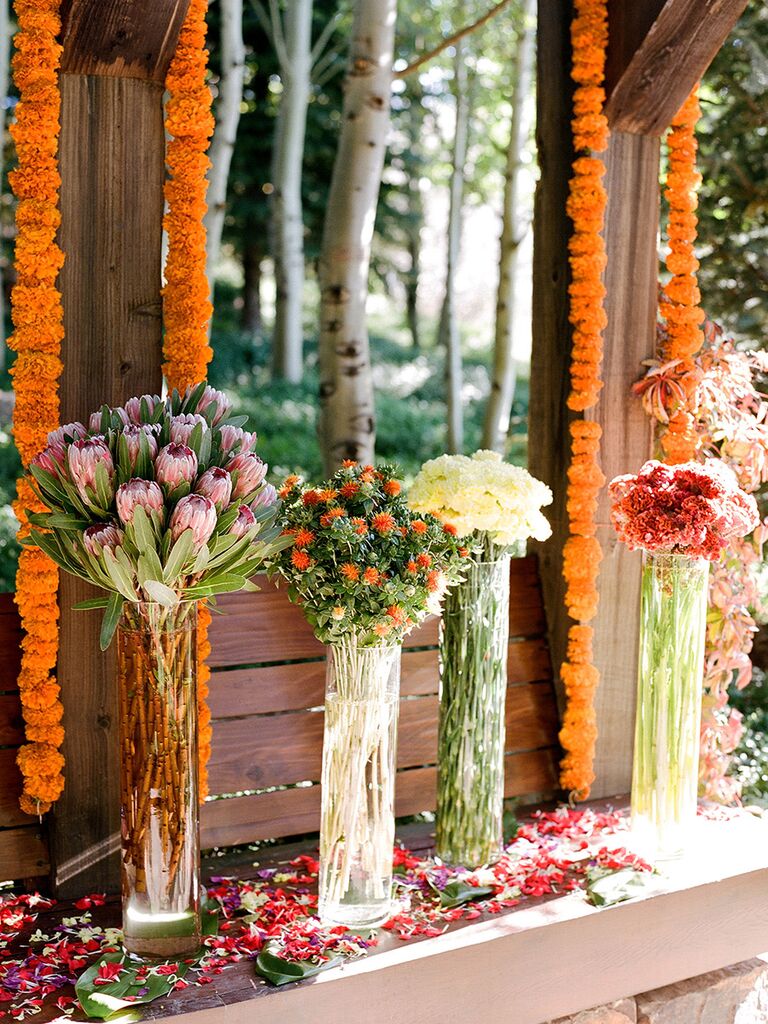 Flowers: Marigold
From: An Alpine, Fusion Wedding at a Private Residence in Aspen, Colorado
17. Suspended Globes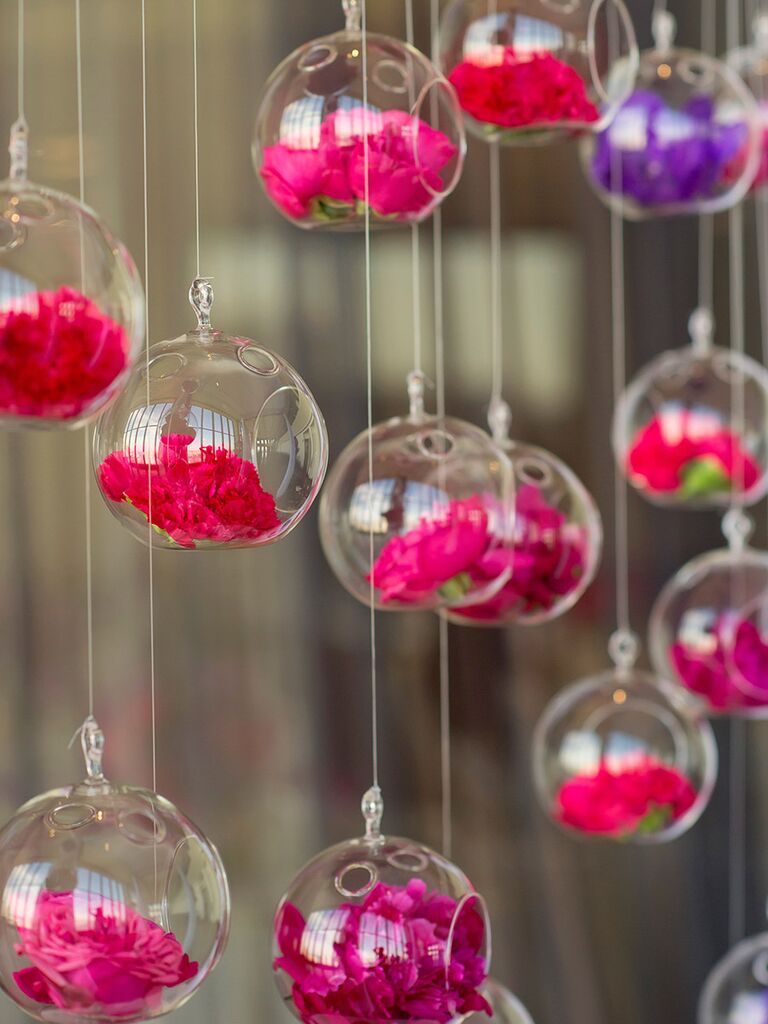 Flowers: Ranunculus