30 Hanging Floral Arrangements to Take Your Wedding Decor to New Heights
Turn your stems upside-down for an extraordinary look.
These days, the flowers for your wedding can encompass a lot more than the standard bouquets and centerpieces. A display of hanging flowers at your wedding is one of the grandest ways you can decorate your ceremony or reception space, and the results will completely wow your guests. From lavish flower chandeliers to understated greenery garlands draped across the ceiling, there are so many different ways to elevate your blooms. Here, we're defining some of the most popular types of hanging flower decorations, followed by 30 of our favorite head-turning ideas to try at your own wedding.
In this article:
What Is a Hanging Floral Arrangement?
The answer is pretty straightforward: A hanging floral arrangement is any type of floral decor that's suspended from above rather than being showcased in vessels on a tabletop or the ground. These larger-than-life flower arrangements can be used in addition to or in place of other floral accents, such as ceremony backdrops or traditional centerpieces. Incorporating hanging flowers into your wedding decor will create a focal point and add that "wow" factor to the space, whether it's above the head table at your reception, at the altar of your ceremony or centered over the dance floor. Depending on the existing structures at your wedding venue, your florist or event designer may need to add cables or poles to support the arrangements.
Types of Hanging Flower Decorations
While there's no denying that hanging flowers at your wedding will make a statement, there are actually a few different ways you can make it happen. Here are some of the most popular types of hanging centerpieces.
Flower Chandelier or Wreath
Mimicking the circular shape of a chandelier or wreath, a flower chandelier is an oversized hoop covered in fresh blooms, greenery or other botanical elements. It can be single- or multi-tiered and is sometimes designed using an actual chandelier, combining the lighting and floral elements into one detail.
Garland
The garland is a long, rope-like arrangement that is typically made with greenery leaves but can also include flowers. Garlands have so many different uses for wedding decor—they can be wrapped around staircase banisters, used as table decorations or table runners, hung around door frames or attached to the backs of chairs. They can also be strung from the ceiling to create a "tented" effect above a dance floor or reception space.
Floral Bridge Centerpiece
This "plank" style arrangement is either supported by decorative pedestals or suspended from above to create the illusion of one long, rectangular centerpiece running along the length of the table. Floral bridge centerpieces often incorporate other hanging elements, such as floating candles, crystal strands or ribbons to fill the space between the flowers and the tabletop.
Hanging Flower Ideas for Your Wedding
1. Greenery-Covered Lanterns
Put an unexpected twist onto your decorative lighting by adding eucalyptus or other greenery to hide cables and cords.
2. Colorful Abstract Hanging Centerpiece
This floating ceiling arrangement is filled with grasses, vines and palm fronds that create an organic, abstract look. If your wedding is taking place in a similar all-white space, the pops of color will stand out even more against the backdrop.
3. Hanging Flowers for Fairytale-Inspired Ceremony
Hello, modern-day fairy tale. A ceremony setup of flowing white drapery, twinkling chandeliers and hanging flowers will create the dreamiest backdrop for your wedding day.
4. Boho Hanging Centerpiece with Macramé
Accented with an intricate macramé rope curtain, this suspended floral bridge centerpiece is an alternative boho wedding idea you can recreate if you don't want to use pampas grass or dried flowers.
5. Glam Floral Chandelier Centerpiece
Bring out all the luxe vibes on your big day by hanging crystal chandeliers above the reception tables. The long-stem roses trickling down from the main floral arrangement are a unique way to build out the decor.
6. Hanging Tropical Greenery Centerpiece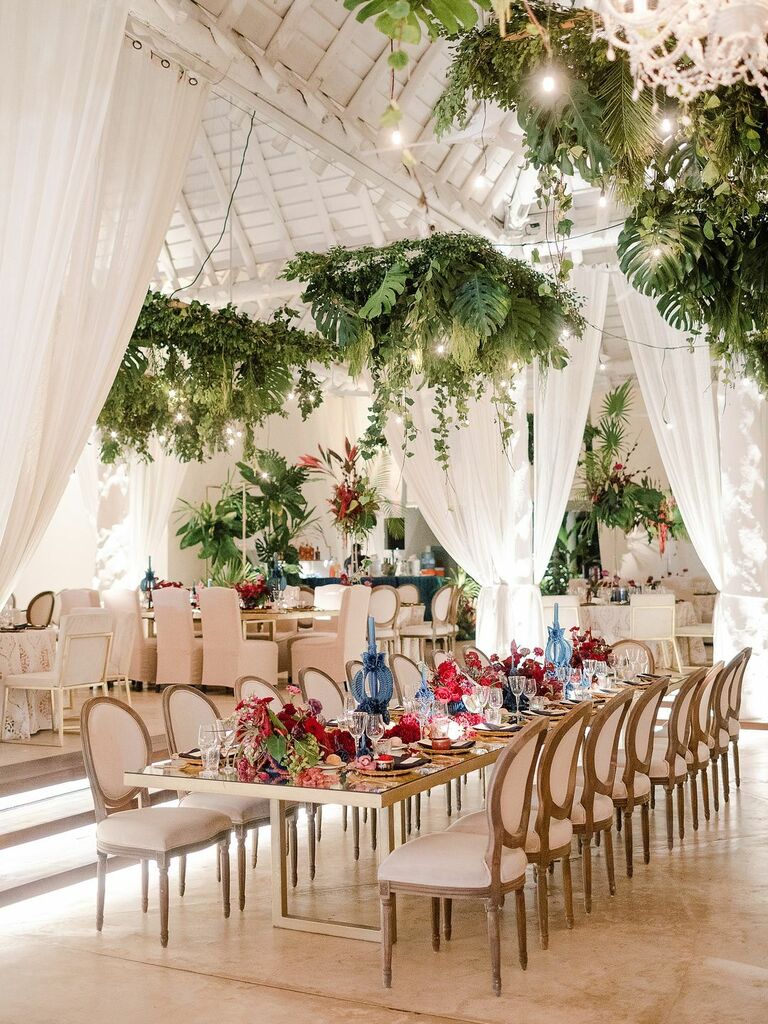 Monstera leaves are a go-to floral detail for beach and tropical themes, but they're given a fresh look when you add them to your ceiling decor. Keep the greenery minimal on the tabletops for more visual impact from above.
7. Monochromatic Hanging Centerpiece Pampas Grass
Baby's breath clouds are a big floral wedding trend, but if your style is a little more boho and earthy, you can switch to pampas grass instead. The neutral ivory tones of the grass complement this gray and beige tablescape.
8. Classic Hanging Floral Wedding Centerpiece
While a lot of hanging wedding flower installations tend to skew more trendy, you can definitely make them work for a classic wedding theme with the right approach. A simple color palette of green and white will prevent hanging centerpieces from seeming too busy or dominating.
9. Wooden Pergola with Chandeliers
If your outdoor wedding venue already has wooden pergolas in place, this flower chandelier idea will be easy to recreate. If not, a pro wedding planner or event rental expert will be able to help you out. We love how the pergola defines the space around this head table at an indoor wedding.
10. Hanging Plants as Wedding Centerpieces
Botanical wedding venues, like greenhouses and arboretums, often have hanging flower baskets and planters as part of their existing decor. Otherwise, you can add your own for a garden-inspired look.
11. Wisteria-Covered Ceiling at Wedding Ceremony Venue
Create a truly enchanting setting by adding wisteria vines to the ceiling of your ceremony or reception space. The end result is a floral canopy straight out of the iconic "Twilight" wedding scene.
12. Hanging Floral Installation with Pampas Grass
Muted pastel colors are on full display in this eclectic pampas grass installation. When using such an eye-catching hanging centerpiece, keep the tabletop arrangements small and simple.
13. Wedding Sweetheart Table Backdrop
Frame your VIP seats with a flower chandelier or garland hanging above the wedding sweetheart table. If you're using the same space for your ceremony and reception, the arrangement can first be used as altar decor, then repurposed during the venue flip.
14. Greenery and Floral Garland Centerpiece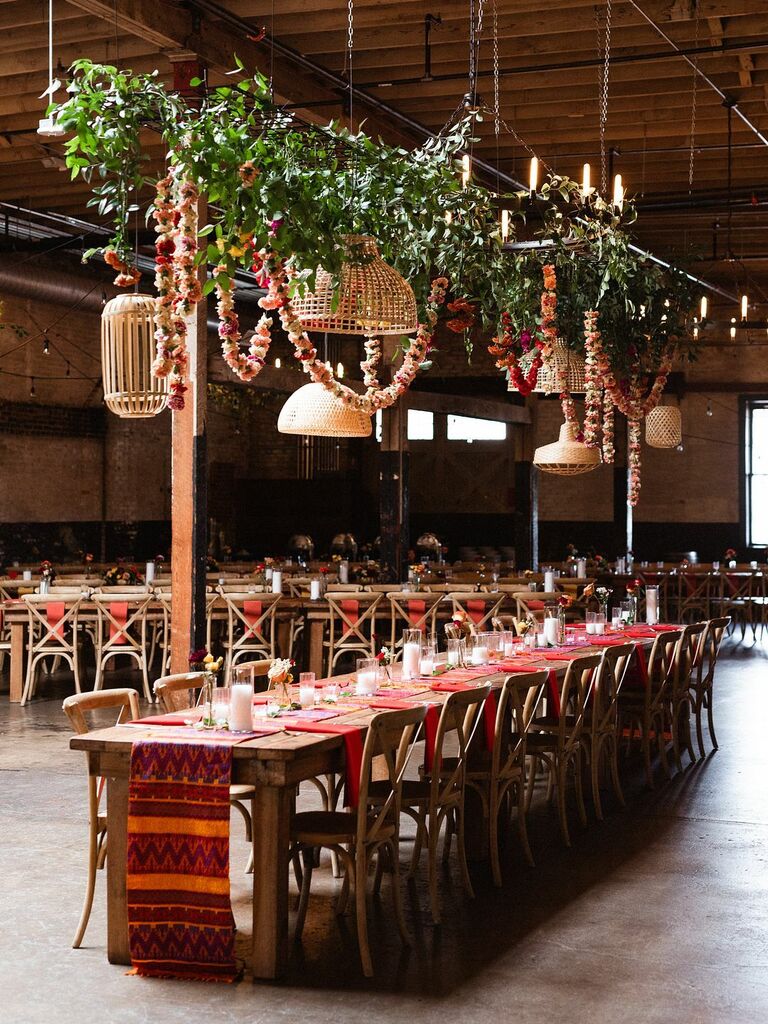 Use greenery as the base of your hanging wedding centerpiece, then string flower garlands through the arrangement to incorporate color. Mismatched rattan lampshades will add an unexpected visual element.
15. Rustic Hanging Wedding Centerpiece with Fall Foliage
We love this cozy birch branch canopy for a rustic fall wedding. The golden leaves and votive candles give off a warm, glowing ambience that feels inviting and homey.
16. Terracotta Pot Wedding Centerpiece with Macrame Plant Hangers
Inspired by the popular home decor trend, these terracotta pot hanging flower decorations are unique and whimsical. Use flowers that complement your color palette or potted plants that you can repurpose at home post-wedding.
17. Floral-Covered Ladder Wedding Centerpiece
A wooden ladder can be transformed into a decorative hanging centerpiece with the help of flowers and greenery. We'd envision this at a garden wedding—add flowers like delphinium, peonies, tulips and roses to complete the romantic, chic aesthetic.
18. Simple Greenery Chandelier Centerpiece
If understated floral design is more your style, you'll appreciate these wrought-iron chandeliers decorated with wispy greenery vines. The organic look us understated and easygoing.
19. Hanging Wedding Floral Arrangements in Woven Baskets
Woven baskets will conceal the mechanics of your hanging flower centerpieces while adding decorative flair to the overall design.
20. Indoor Wedding Ceremony with Greenery Installation
We can't decide what's catching our eye most about this wedding ceremony setup: the lush greenery ceiling decor or the chairs arranged in a circle around the room. Either way, this hanging flower idea would look equally amazing above a reception dance floor.
21. Clear Wedding Reception Tent with Colorful Hanging Centerpiece
When your wedding venue has a jaw-dropping view, you'll want to avoid any hanging flower decorations that will detract from the surrounding scenery. This red and fuchsia arrangement is a great example of how to bring in some color while keeping the waterfront setting as the main focus.
22. Floating Pampas Grass Wedding Centerpiece
Brown tones will add warmth to an airy, white reception space and pampas grass is the perfect solution. The addition of other dried grass plays up the earthy, organic feel of this design.
23. Wrought-Iron Chandeliers with Long-Stem Roses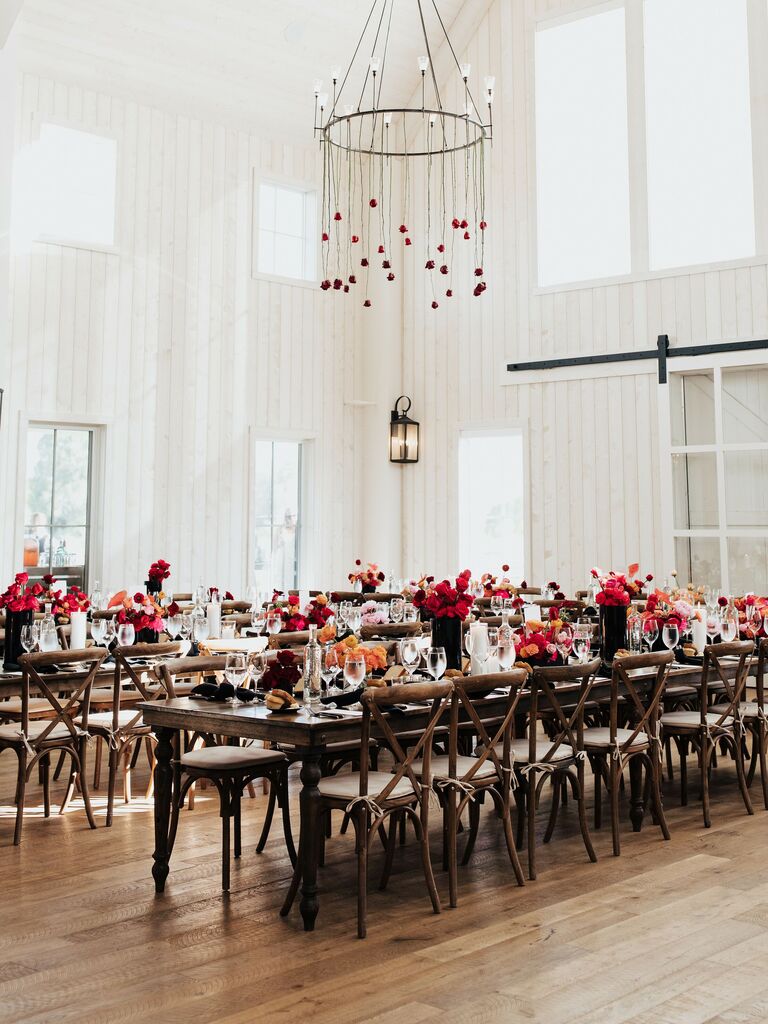 Want to incorporate hanging flowers at your wedding without going totally over the top? Use long-stemmed roses to accent chandeliers or hoops like this.
24. Garland Wedding Centerpiece with Vintage Lanterns
Ideal if you're having long banquet tables at your wedding reception, this greenery garland and lantern combo is eclectic and functional.
25. Edison Bulb and Jewel-Tone Floating Centerpiece
Edison bulbs are an offshoot of the industrial minimalist wedding aesthetic, but when paired with jewel-toned flowers, the vibe is a mixture of modern and glam.
26. Reception Tent with Draped Garlands and Patterned Lampshades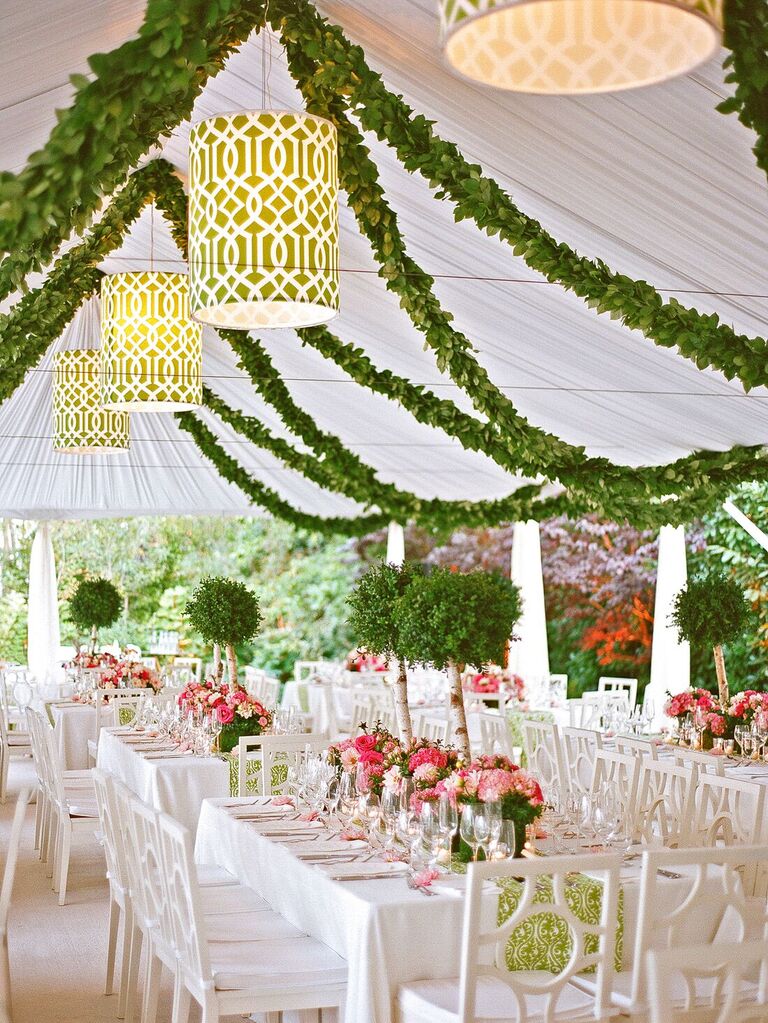 If you're looking for a truly creative way to decorate a tented wedding reception, here's your answer. Don't be afraid to branch outside of "traditional" wedding decor—these patterned lampshades are a great way to really customize the space for your own style.
27. Tree Branch Installation with String Lights
Sturdy manzanita branches can be used to hold flowers, greenery or string lights in your hanging wedding centerpieces. Their driftwood-inspired look makes them a good choice for beach weddings or coastal themes.
28. Ivy Vines and Wooden Plank Centerpiece
Here's a gorgeous example of a floral bridge-style wedding centerpiece. The exposed wooden plank adds a rustic farmhouse feel to the trailing ivy vines.
29. Whimsical Garden-Inspired Hanging Centerpiece
A pastel assortment of blue delphiniums, pink dahlias and yellow garden roses makes this flower chandelier a picture-perfect choice for a spring wedding. Silver chameleon chairs, white taper candles and ivory linens add formality to the wedding tables.
30. Flower Chandelier with Votive Candles
Maximize the impact of a floating centerpiece by adding glass orbs at varying heights. The candlelit glow will feel extra-romantic and enchanting after dark.