Here's What to Write in a Wedding Card When Giving Money
Love may be priceless, but a little cash can help bankroll the newlyweds' happily ever after.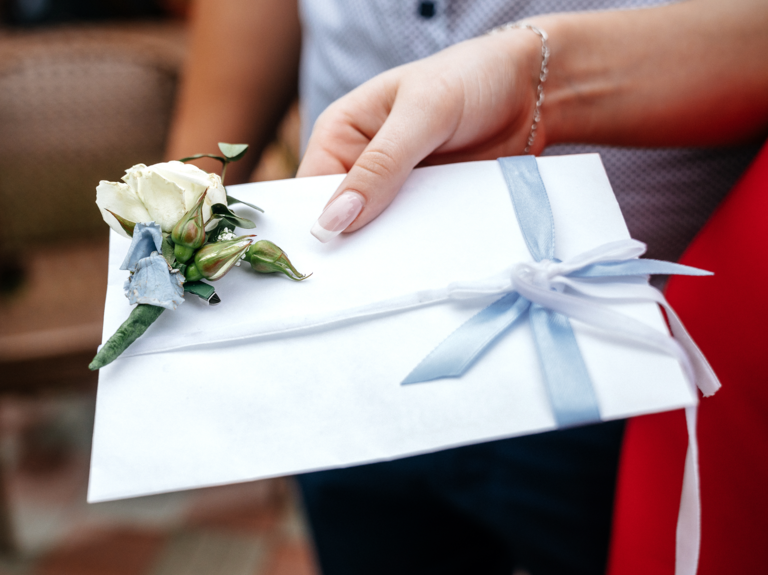 Photo : Dmitry Galaganov / Shutterstock
As far as foolproof gifts go, a financial contribution toward the newlyweds' future is gold—giving money as a wedding gift grants them the flexibility to use the funds as they see fit. Choosing what to write in a wedding card when you're giving money, though, is what has the potential to transform this practical gesture into something much more memorable. A sweet or thoughtful inscription in their card that speaks to building their new life together, indulging in an unforgettable honeymoon or supporting a meaningful cause close to their hearts allows your support and your heartfelt well-wishes for their future. Money opens countless doors for the couple and lets them choose where to spend it. It's a gift that, while straightforward, can make a significant impact on their journey as a married couple—so of course you'll want the card's contents to convey the same kind of genuine affection, warm wishes and thrill for what's to come.
If the sentimental strokes don't come naturally to you, it's totally okay, we're here to help springboard your creativity. Below, we'll give you specific examples of what to write in a wedding card with money, with options for cash, gift cards, charity donations and checks. Just don't forget to pick out a fitting greeting card to backdrop your wedding wishes and to sign, seal and deliver it on the big day.
In this article:
Wedding Money Card Messages - Cash Fund Contribution
Contributing to a couple's cash fund—like The Knot's Cash Funds—is a wonderful way to support their journey into married life. And when the couple specifically asks for cash, you don't have to feel weird about it (giving money isn't taboo anymore!). They'll be able to take the cash collected in the fund following the wedding and put it toward the cause they delineated, be it a dream honeymoon, furnishings and finishing touches for a new home together or even special allocations for their just-married date nights. There are countless types of cash funds couples add to their registries, so opt to put money toward whichever cause feels most exciting to you.
We hope our contribution to your "home renovation fund" gives you the keys to a very happy happily ever after. Love you!
May your marriage be as rich and beautiful as the love you share. We're so excited to help you live your best lives with this gift.
To our very best friends: Hope your wedding day is just the beginning of a joy-filled journey that lasts a lifetime. This gift is just a small token of our happiness for you both.
Not to be cheesy, but here's to forever cooking up wonderful memories together. We're thrilled to contribute to your couple's cooking class—you deserve to relax and spend some quality time together after the big day!
Happy wedding day! Now you have some extra spending money for your [location] honeymoon! Luxe champagne at dinner, scuba diving lessons or a day at the spa—you pick.
Marriage is an investment, one of the biggest you can make, and we hope yours grows and flourishes over time.
Wedding Money Card Messages - Gift Card
A gift card makes for an excellent wedding present for so many reasons, but first and foremost, it offers the newlyweds the freedom to choose exactly what suits their tastes and needs. Planning a wedding comes with a plethora of expenses, so your gift card can give their wallets a break and eliminate any guesswork, on your part, to come up with something they'll genuinely appreciate. Whether it's to Target, Macy's, Williams Sonoma, Doordash or Airbnb, your gift card will go a long way—and the below wedding gift card wishes will go well with your accompanying card.
As you start this wonderful journey together, here's a little something to help you along the way. Congratulations on your special day!
Your love is a shining example of what a true partnership should be. Hope this gift card can help kick off some great new adventures.
Use this dinner delivery gift card in good health and in bad. Indulge yourselves, you deserve it. Happy wedding day!
Cheers to the newlyweds, you're two very special people—let this gift card be your golden ticket to a life of fun together!
To my favorite people on the day we've all been waiting for. Take this Amazon gift card and do with it what you may. Can't wait to see all those boxes show up on your new doorstep. #Success
That Visa card just hits different when you're buying something postwedding. Without using your own money. Haha. Enjoy it, friends.
Wedding Money Card Messages - Charity Donation
A charitable donation to a cause that's special to the couple is a thoughtful wedding gift that really embodies the spirit of love, compassion and giving that weddings are all about. And if you're making a donation on the couple's behalf, you're essentially creating a lasting legacy of kindness and generosity that'll continue long after their wedding day. You might be able to enclose an insert in your card that comes from the charity, providing details of your contribution in their honor, but we're big fans of some additional storytelling. Here's what you can say for some wedding donation card wording that'll put a smile on their faces and gratitude in their hearts.
In celebration of your love and commitment to giving back, we've made a charitable donation in your names. Wishing you a lifetime of happiness and purpose.
We're all missing your mom/dad/sister/brother/grandma/grandpa today. But if they were here, they'd be beaming to see you marry the love of your life. We've made a contribution to [charity name] in your honor and their memory.
This new season of life for you isn't about money, it isn't about things, it's about the love you share—we know how altruistic the two of you are, so for your wedding gift, we're supporting [charity name].
We know you said no gifts, but it's your wedding day, the most special occasion ever. Instead of money or something material, we made a contribution to your favorite charity, [charity name].
On your wedding day, [charity name] got love and support, too. Thank you for being such a stellar example of compassion and generosity.
Wedding Money Card Messages - Check
And last, but not least, a wedding check is an ideal wedding card cash gift for a number of reasons. It not only lets the couple choose where they want to allocate the money, it treats you to the gift of not having to shop. While a check is practical and versatile, it's also a thoughtful gesture that shows how much you want to support their joy, happiness and good fortune ahead. Plus, that moment when the couple sees their names together on an official check to celebrate their best day ever is pretty priceless.
Congratulations on your wedding day! May this contribution bring you closer to the dreams you've envisioned for your life together.
To the newlyweds, thank you for including us in your special day. Hope you can put this toward something you've had in mind since way before you got engaged!
It's time to start recouping what you've put into this wedding of yours—I mean, it was all worth it, of course—but you deserve to spend this on something that isn't wedding cake or catering.
Happy wedding day! Don't spend this all in one place, okay? Kidding, you can do whatever you want with it, just be sure it's a joint decision, you're married now.
Here's to the beginning of a stunning love story. Hope this helps you write many more chapters of happiness together. We love you and can't wait to see where life takes you.
Congrats on taking this next step. It's official as of today! And remember, as long as you have your health and your love, you have it all, but some extra $ in the bank certainly can't hurt.