6 Ways to Use a Retro Airstream in Your Wedding
The vintage road-trip trailer is all set to take your wedding in new directions.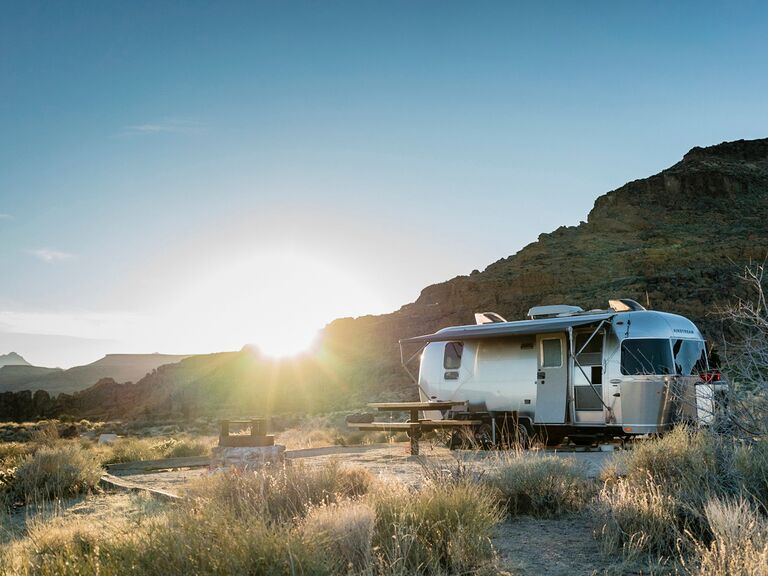 iStock
Full of retro style, vintage Airstreams are best known for camping and cross-country treks. However, as more couples look for unique options to make their weddings stand out, the silver-bullet styled bus or trailer offers a lot in a little space. Here, we've rounded use seven fun ways to get more miles out of Airstreams for your wedding.

1. Get Ready to Go
Hotel suites are great for bigger bridal parties, but when getting ready with just a couple of bridesmaids, park an airstream near the ceremony site to prep your hair and makeup.
2. Roll Up to the Bar
Give a retro vibe to cocktail hour by having bartenders serve up signature drinks from a drop down window.
3. Just Park It
When guests arrive to an Airstream parked at the wedding, they know they're in for a classic good time. Use the shiny vehicle as a decor statement piece, making it the must-see item of your retro theme.
4. Find Time for Two
Finding little moments to steal away with your new spouse is a must on your wedding day, so pop in when you just need a couple minutes away together.
5. Serve in Style
If renting or buying an Airstream isn't in the wedding budget, hire a food truck that serves tasty street fare from the silver bullet.
6. Hit the Open Road
Who needs frequent flier miles for a vacation when you can hit the open road and turn your newlywed time into a chance to travel the country?