23 Wedding Table Numbers That Will Look Gorgeous on Instagram
Check out our favorite personalized picks.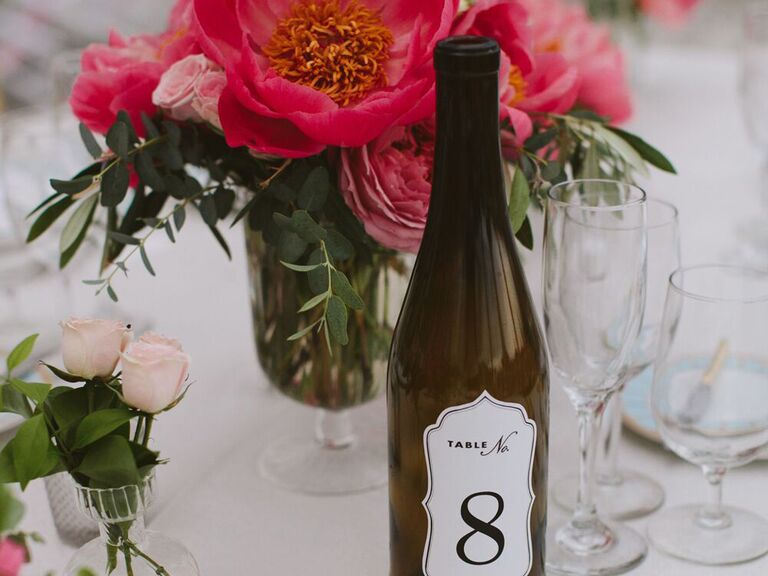 We have included third party products to help you navigate and enjoy life's biggest moments. Purchases made through links on this page may earn us a commission.
Escort cards are only half the equation when it comes to getting guests to their assigned reception seats. To help everyone settle in seamlessly, you'll have to make it easy for them to find said seats once they have their assignments. Wedding table numbers (or names or themes, if you're feeling extra-creative) that mark each designated seating section are best when they're ultra-eye-catching. They should also feel personalized to you as a couple—just like the rest of your event! To spark inspiration, we rounded up 23 wedding table number ideas—from rustic logs to television-inspired illustrations. Pro tip: Screenshot your favorites to show to your wedding planner so they can help bring your vision to life. Ready to get started? See our favorite wedding table numbers, below.
1. Wooden Wedding Table Numbers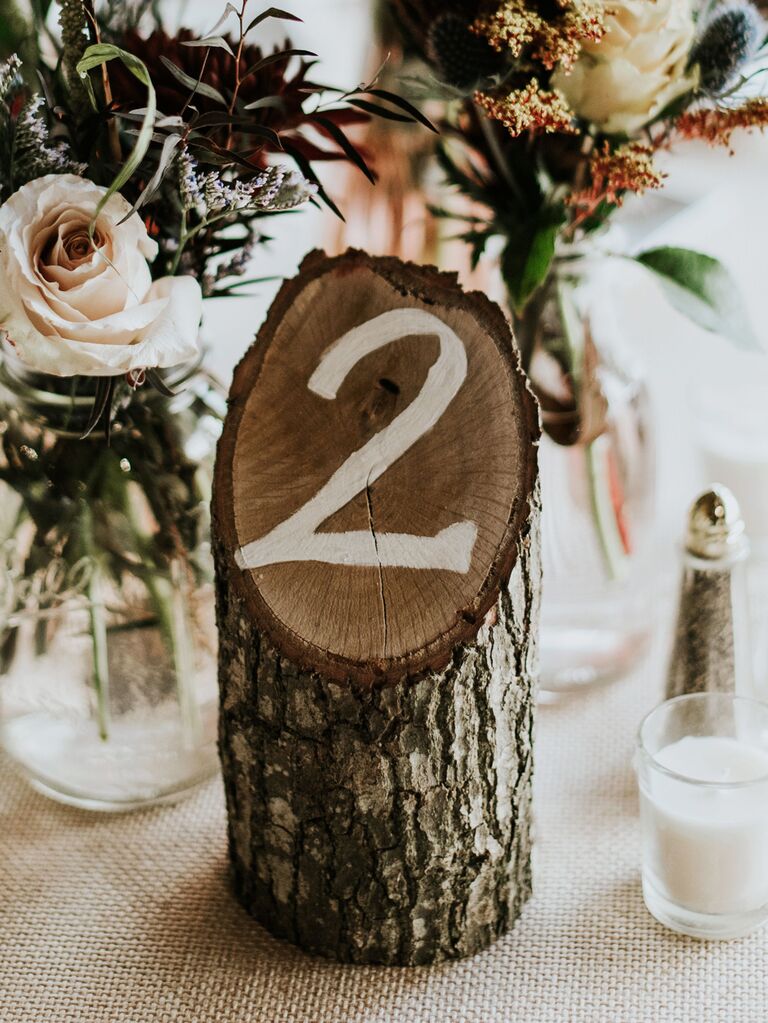 Get table numbers that stand tall all on their own with these natural wooden stumps that do just that. We love the idea for a fall, winter or otherwise rustic wedding. To DIY, just collect some lumber and paint the numbers on yourselves. Or, buy a premade option to save on time.
2. Geometric Wedding Table Numbers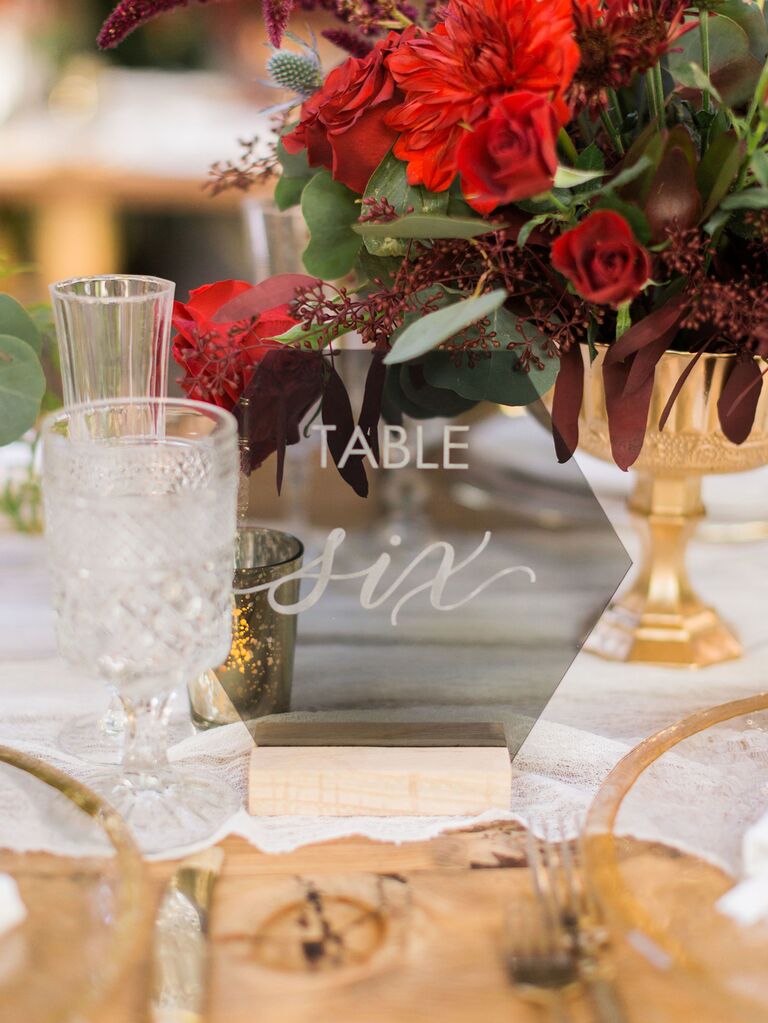 Consider yourselves a contemporary couple? Try hexagonal wedding table numbers that look just like these. They're chic, artsy and unique. Read: They'll look great on Instagram.
3. Agate Wedding Table Numbers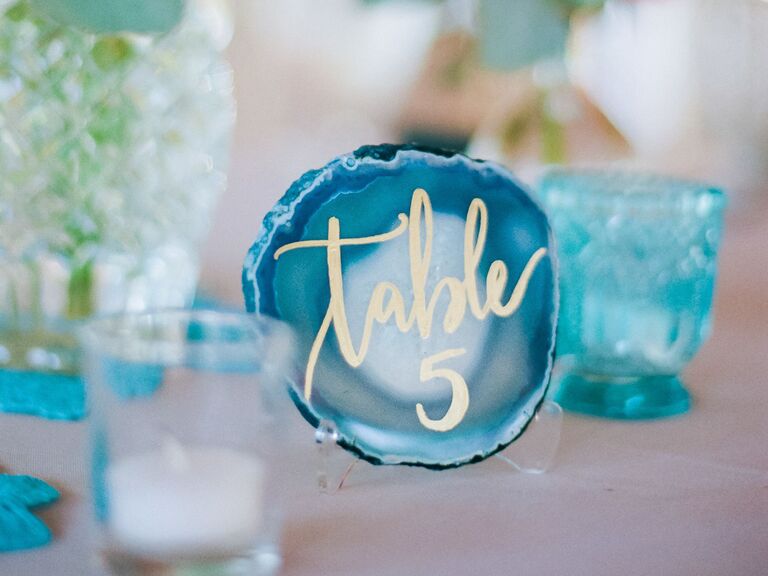 There's no doubt about it: This wedding's agate table numbers rocked. Love the look? Purchase your slabs then find table number stands to hold them. From there, you can handwrite the numbers or commission a calligrapher for the penmanship. That said, there's always the option to purchase pre-numbered agate slices and coordinate wedding table number holders.
4. Neon Light Wedding Table Numbers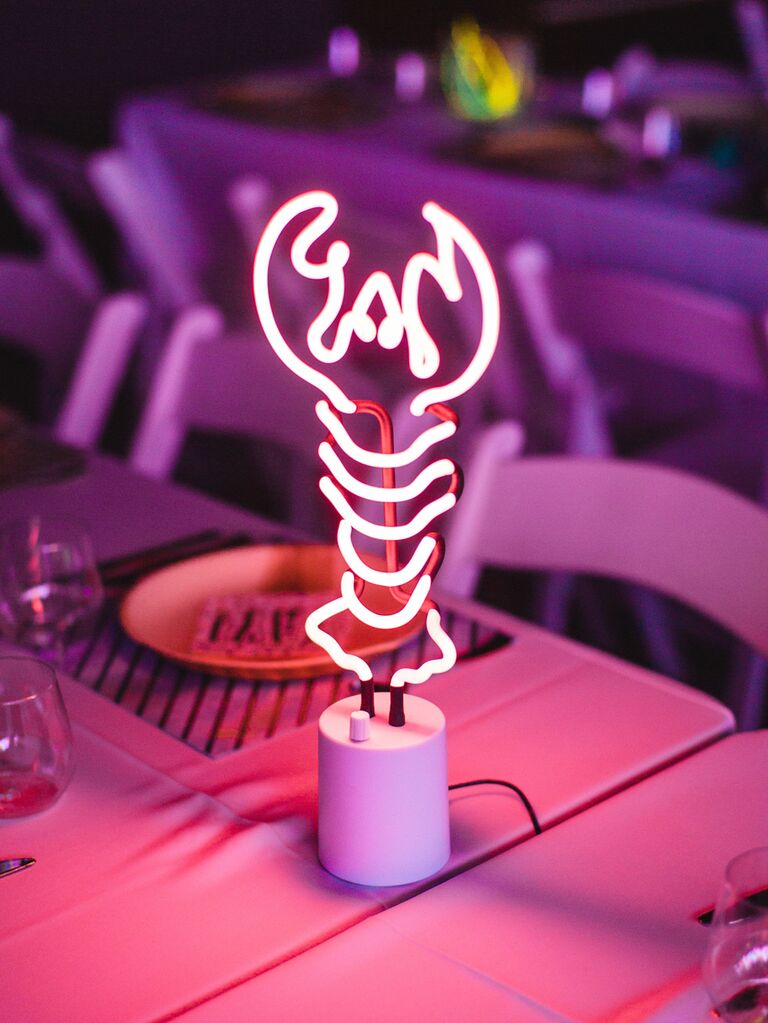 It looks like these two found their lobster! (Friends, anyone?) We're obsessed with neon wedding decor, including eye-catching wedding table numbers. Ready to replicate the idea? First, make sure your venue setup allows you to hide (and plug-in) any necessary wires. Then, shop for affordable standing lights that speak to you. (FYI: Target sells a bunch that you can buy in bulk or mix and match.) Bonus points if you keep them or give them as fun wedding party gifts postwedding!
5. Chalkboard Wedding Table Numbers
You can't go wrong with cute chalkboard signs. These all-in-one table numbers and table number holders prove it. The Knot Shop sells a bunch of similar options for any casual or rustic-chic event. From there, just buy the chalk!
6. Acrylic Wedding Table Numbers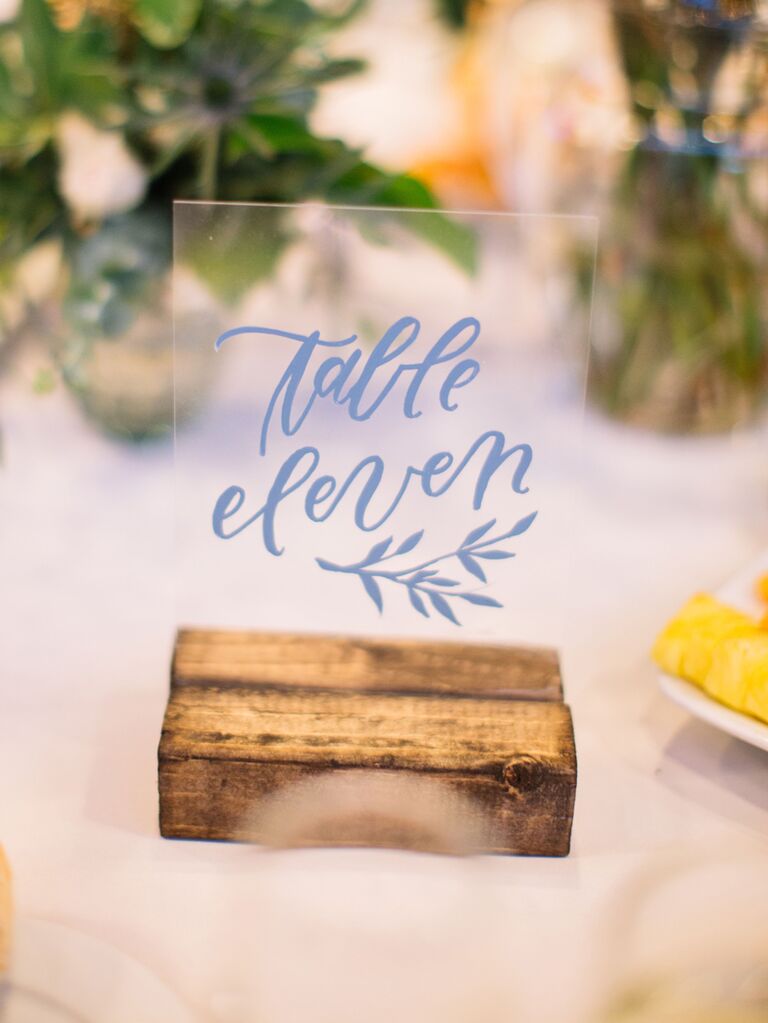 Acrylic wedding table numbers are taking the wedding world by storm. And are you really surprised? The minimalist look is equal parts dreamy and modern. We love the botanical accents on this real wedding's table numbers because they add a natural touch to the acrylic signs.
7. Mirror Wedding Table Numbers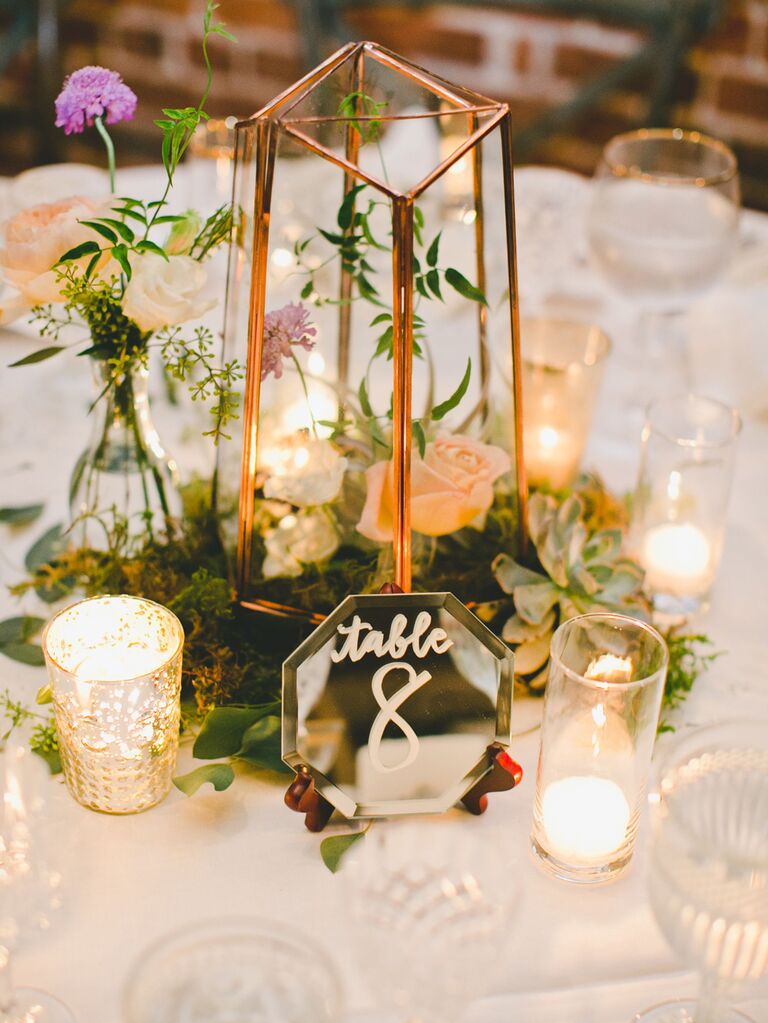 Mirror, mirror, on the wall, what are the prettiest table numbers of all? Perhaps these geometric stunners are the answer. Go hunting for vintage mirrors you can paint and display with table number holders, or buy a set of ones that come engraved for an extra-elegant touch.
8. Wine Bottle Wedding Table Numbers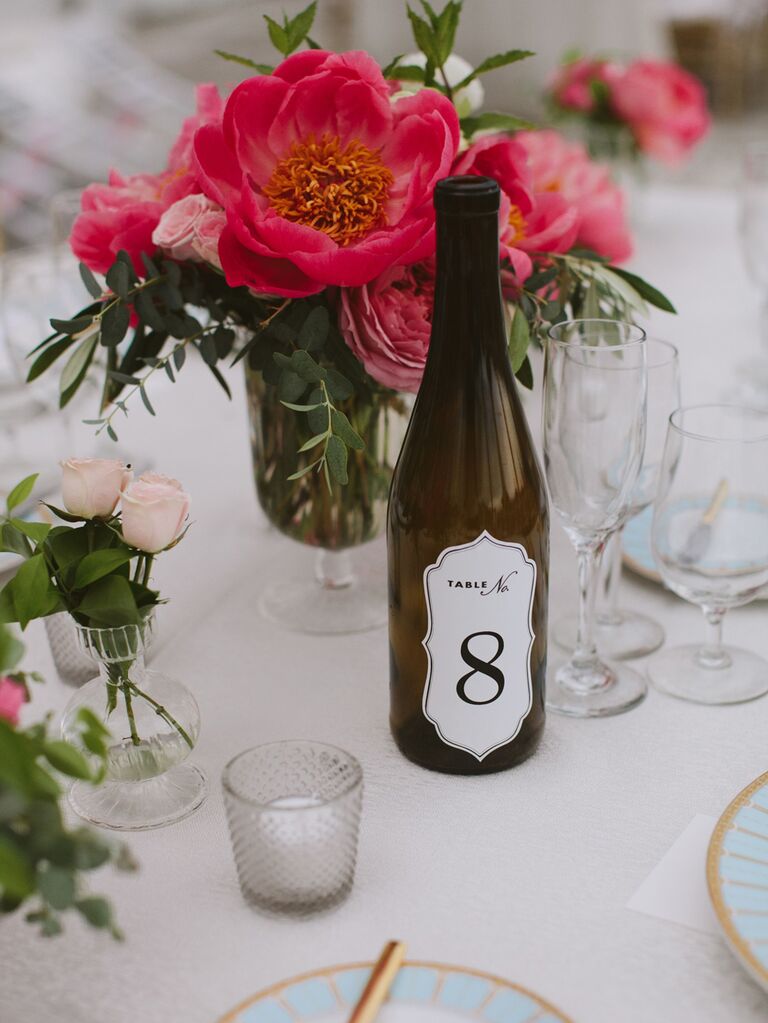 Vino-themed wedding table numbers? We'll toast to that. These wine bottles were decorated with custom stickers, which The Knot Shop sells a ton of. As for the bottles? Save the ones you drink while wedding planning—because planning goes well with a good glass of wine.
9. Playing Card Wedding Table Numbers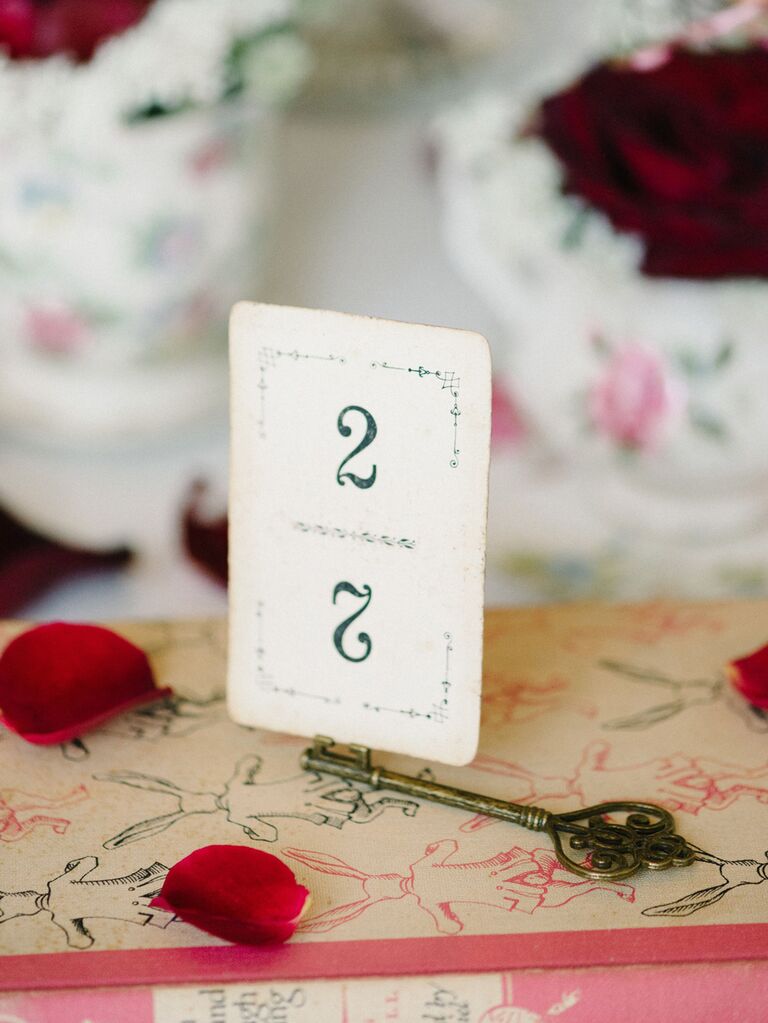 Playing cards work with so many themes (think: Alice in Wonderland weddings), especially with all the themed decks out there (we're looking at you, The Knot Shop). This wedding went with a whimsical, vintage event design. Check out those key table number holders! Color us impressed. Now impress your guests by replicating the look. Pro tip: Give attendees matching card decks as wedding favors so they'll never forget your amazing decor.
10. Watercolor Wedding Table Numbers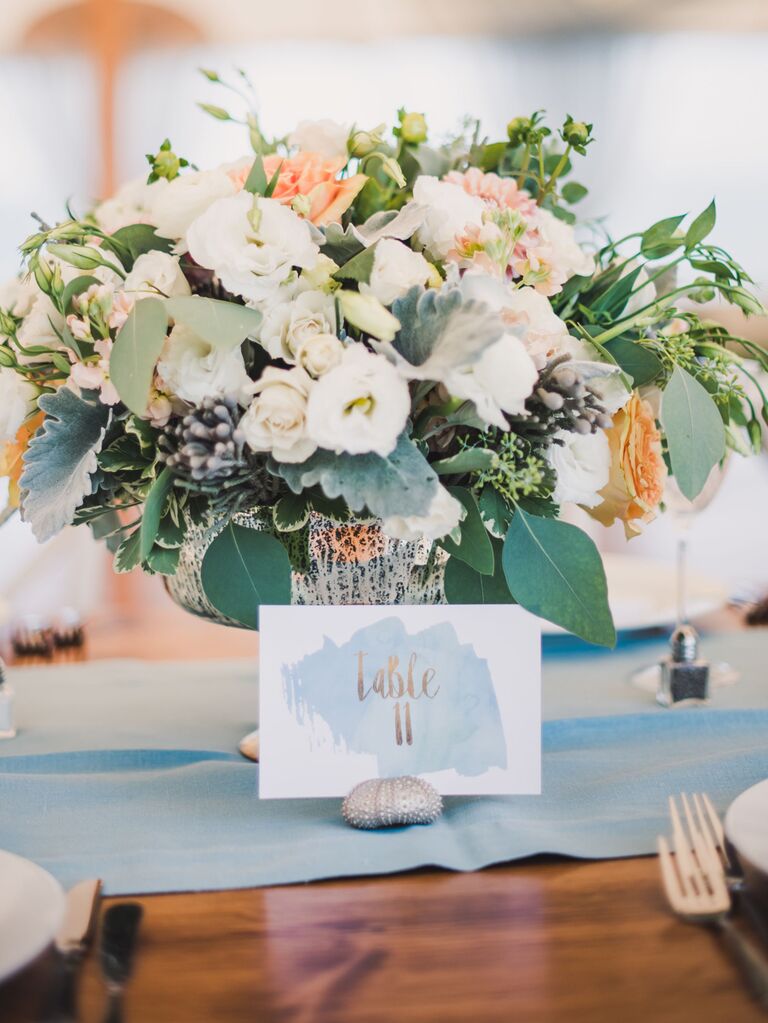 This seaside wedding featured gorgeous watercolor table number cards fastened to seashell stands. It's a foolproof combination for any oceanic event—and also really easy to replicate.
11. Scrabble Wedding Table Numbers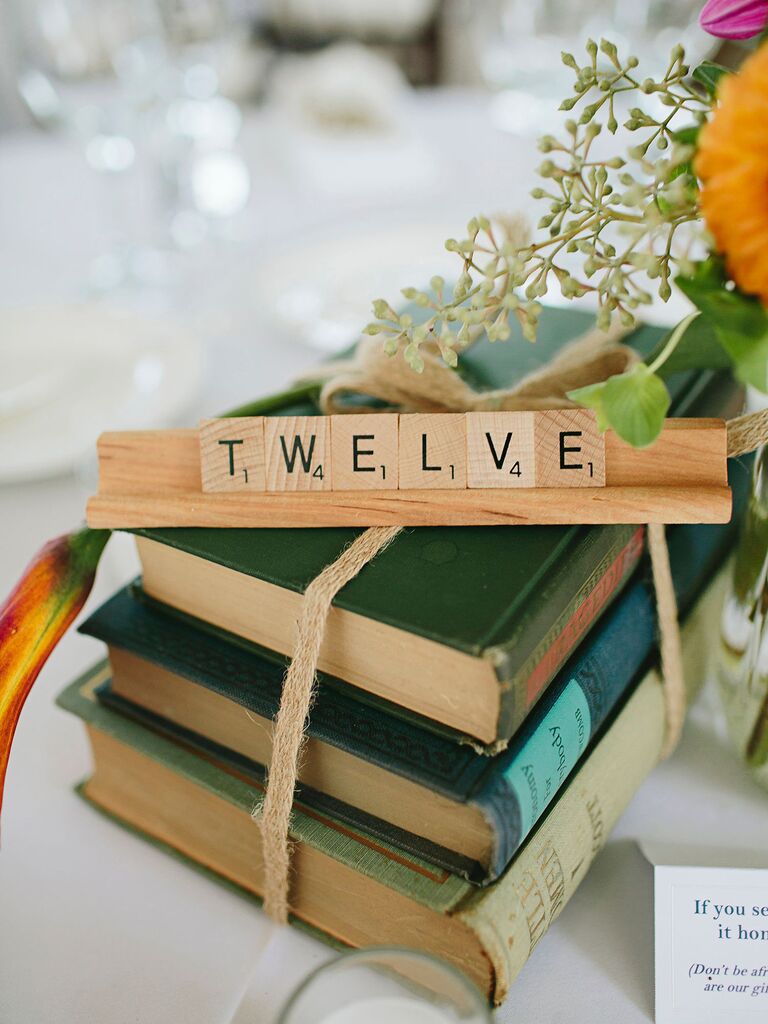 Talk about a genius idea—especially for wordsmiths. To create your own playful Scrabble-inspired table numbers, crowdsource pieces from the actual game. Or, shop for imitation pieces in bulk on Amazon (because Amazon really has everything.) Just make sure you have enough letters to spell out all your wedding table numbers. Also ensure that your letters fit into the stands you buy.
12. Driftwood Wedding Table Numbers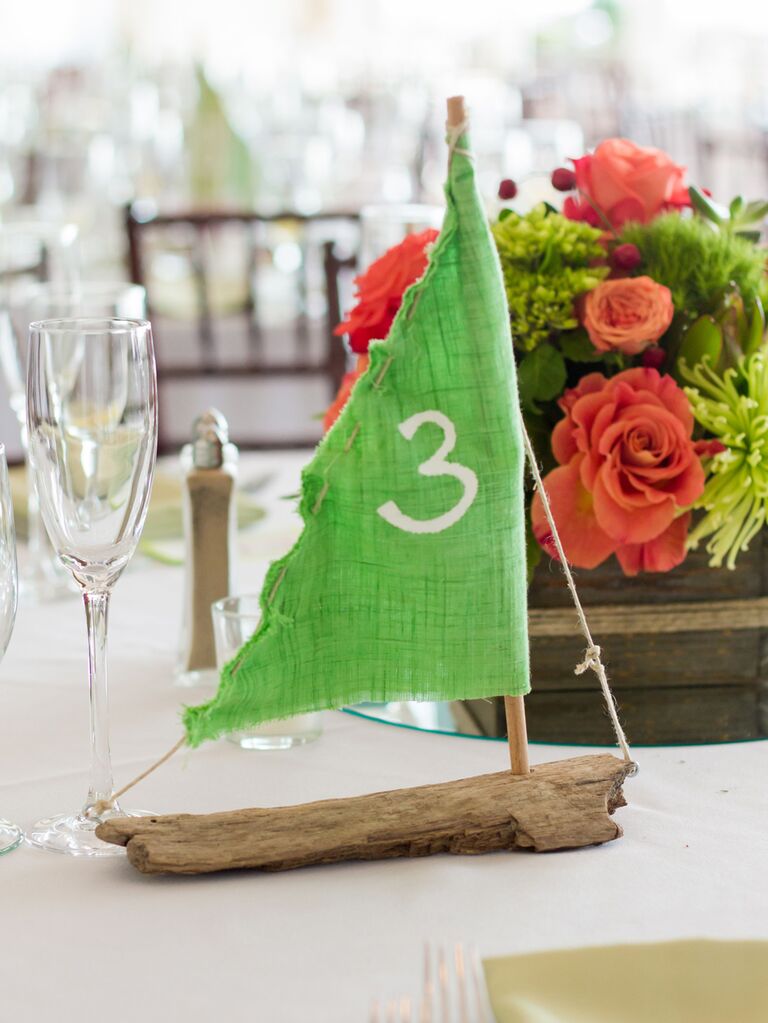 Ahoy, nautical couples. How cute is this sailing-inspired table number? The handmade decor pieces were designed using fabric, paint, a dowel, driftwood and twine. Don't feel very crafty? Don't worry. Buy the super-similar sailboat table numbers online instead.
13. Plate Wedding Table Numbers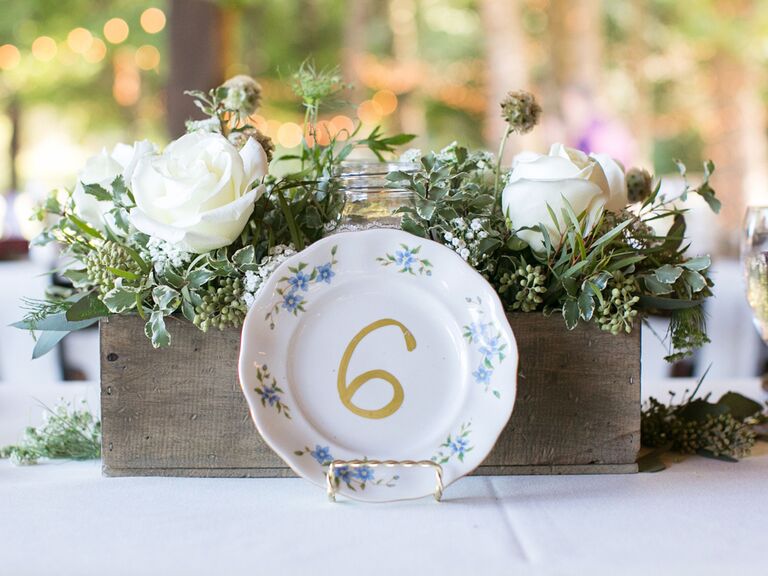 Here's another wedding table number idea that requires a little crowdsourcing (or estate/garage/yard sale browsing). Collect fine china or any other cool plates and customize them with stickers. (We prefer removable labels to paint so you can reuse the dinnerware.) The result will be elegant, eclectic table numbers just like these.
14. String Art Wedding Table Numbers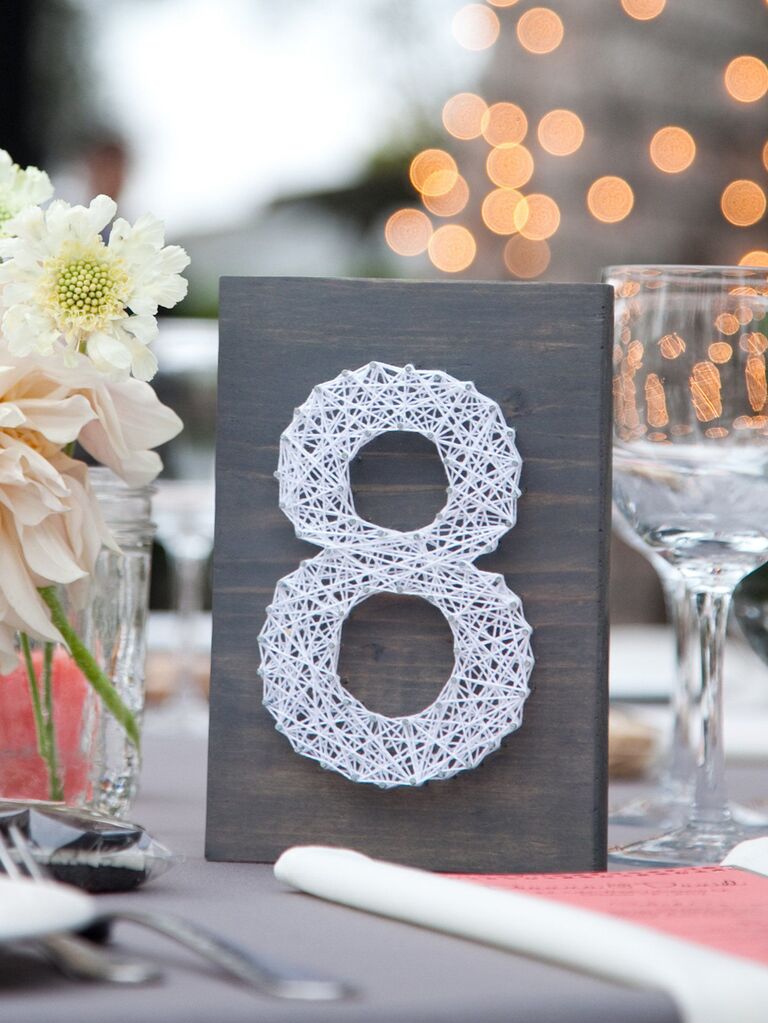 Feel free to make string art table numbers yourself—that's what this planner did! It could even turn into a fun wedding party bonding activity. Otherwise, commission the too-cool, bohemian table numbers from an artist.
15. Growler Wedding Table Numbers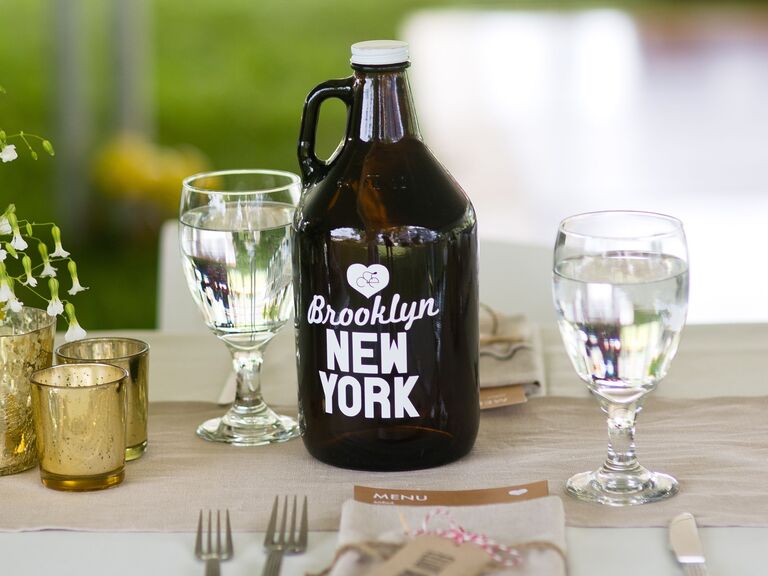 This idea is perfect for a brewery wedding or a couple who just really likes craft beer. Similar to the wine bottle idea above, all you have to do is collect a few growlers and customize them with numbers. In this case, vinyl decals work great. And again, they make excellent take-home gifts for the couple or their wedding party.
16. Modern Wedding Table Numbers
Calling all minimalists: This wedding table number idea is for you. Place a simple card into a small block of wood for a clean, chic look that won't overpower your table scape.
17. Travel-Inspired Wedding Table Numbers
If you and your partner love to travel, work that detail into your wedding. We love the idea of naming each table after an airport you've been to. Not only is it a fun detail, it's also a great conversation starter.
18. Tropical Wedding Table Number
Whether you're getting married in a tropical location or simply love the aesthetic, this wedding table number idea is for you. Use a colorful acrylic sign with a palm design and add the number on top.
19. Rustic Wedding Table Number
Hosting a rustic wedding? Try this wedding table number idea. We love it because it's the perfect balance of form and function. You can easily display your table numbers on the lanterns and light them at night when it gets dark.
20. Pop Culture-Inspired Wedding Table Numbers
A fun way to personalize your nuptials is to incorporate some of your favorite things. For example: TV shows. Sneak your go-to Netflix picks into the day by naming your tables after them.
21. Colorful Wedding Table Number
Use your wedding table numbers as a chance to work extra color into your wedding day. It's a great way to keep your color palette going throughout your reception.
22. Vintage Postcard Wedding Table Number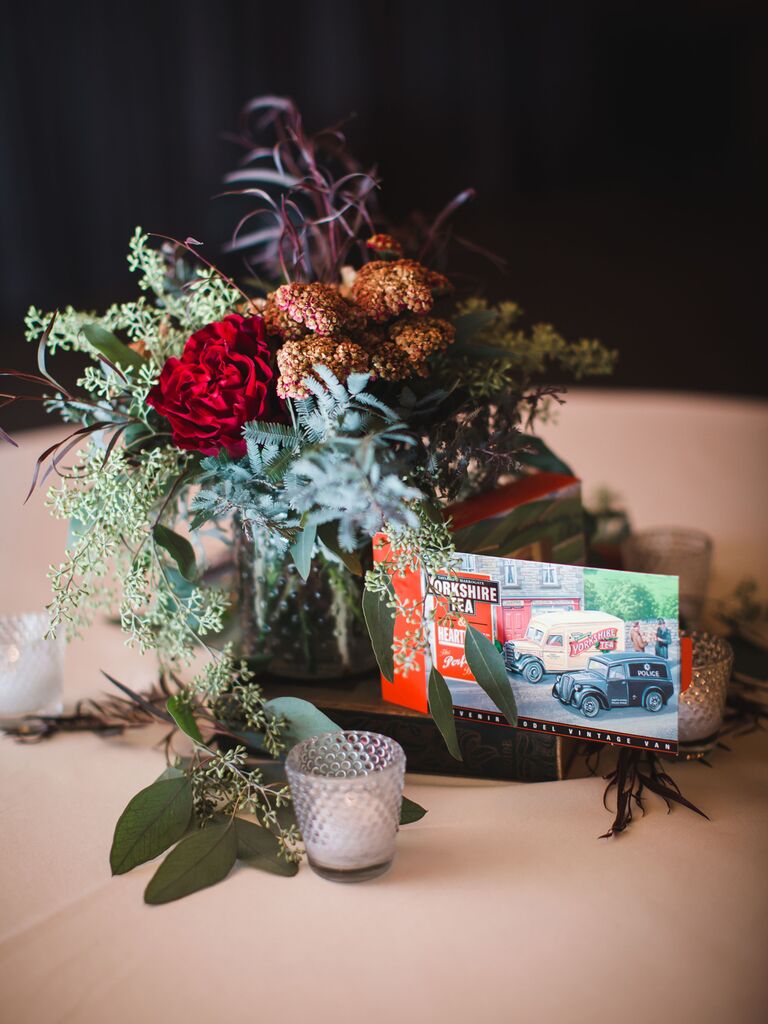 Show off your love of travel in a unique way. Name each table after a destination and mark them with vintage postcards.
23. Papel-Picado-Style Wedding Table Numbers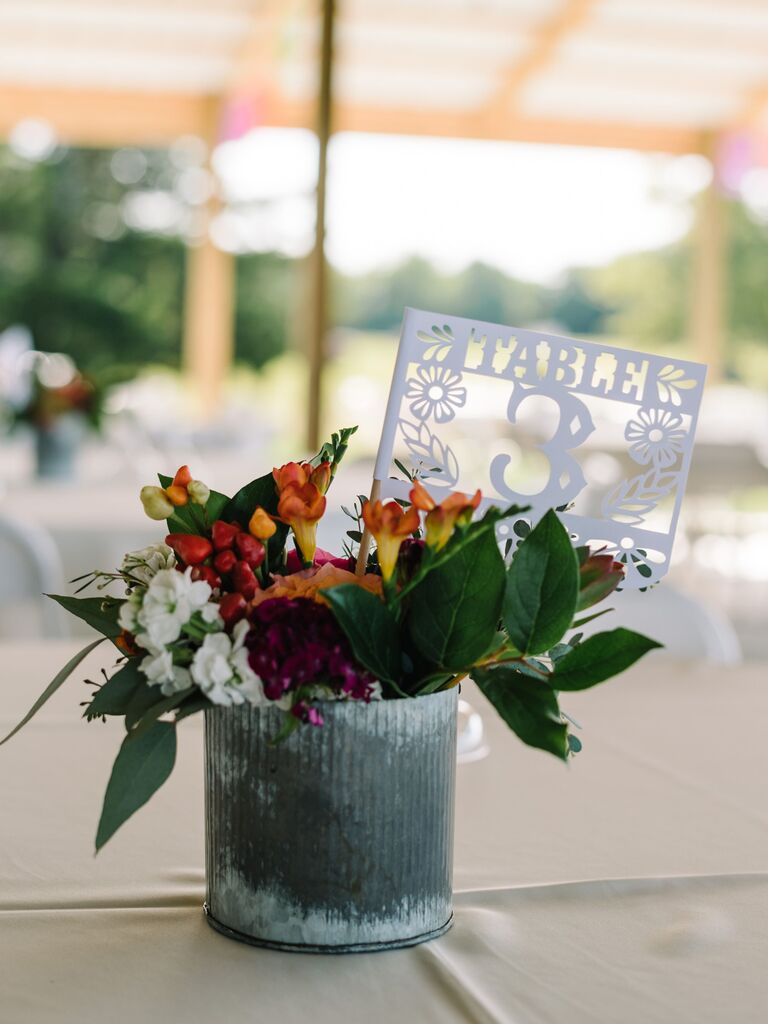 For a look that's equal parts rustic and elegant, consier papel-picado-style wedding table numbers. Surround them with pretty flowers for a dreamy look.