The Most Stunning Jewel Tone Bouquets Fit For Royalty
Be a gem on your big day with these florals.
Many couples might be indecisive in picking their wedding palette. But have you ever considered matching your colors to your ring? Having a gem-inspired wedding means wowing your guests with a jewel tone bouquet (that they'll be scrambling to catch during your bouquet toss). And finding a florist who can match your gem-tastic vision is as easy as visiting The Knot Vendor Marketplace. Let's dive into some jewel-toned inspiration so you can more easily plan your day around these stunning shades.
In this story:
What Flowers Are Jewel Toned?
Jewel tones are just one of many color palettes that we love. These bold hues evoke your favorite jewels and gems, like sapphires, rubies and opals. And thankfully, many flowers naturally come in these jewel tones, like carnations, dahlias, roses and tulips. Jewel tones are especially rich and bold, much like how jewels IRL are multi-faceted and colorful.
Jewel Tone Wedding Bouquet Ideas
With so many different jewel tones, it can be overwhelming to pinpoint which colors are right for your big day. These gorgeous bouquets will help give you an idea of how to update your inspo board for wedding colors.
Subtle Pop of Jewel Tones Bouquet
If diamonds and pearls are more your thing, then this bouquet, with its stunning whites and subtle pops of jewel tones, might just be for you. And this bit of greenery is also giving off jade and verdelite shades.
Enchanting Amethyst Jewel Tone Bouquet
These rich purples are as jaw-dropping as amethyst. Add some texture to your bouquet like this arrangement did with calla lilies and scabiosa.
Splendid Succulent Jewel Tone Bridal Bouquet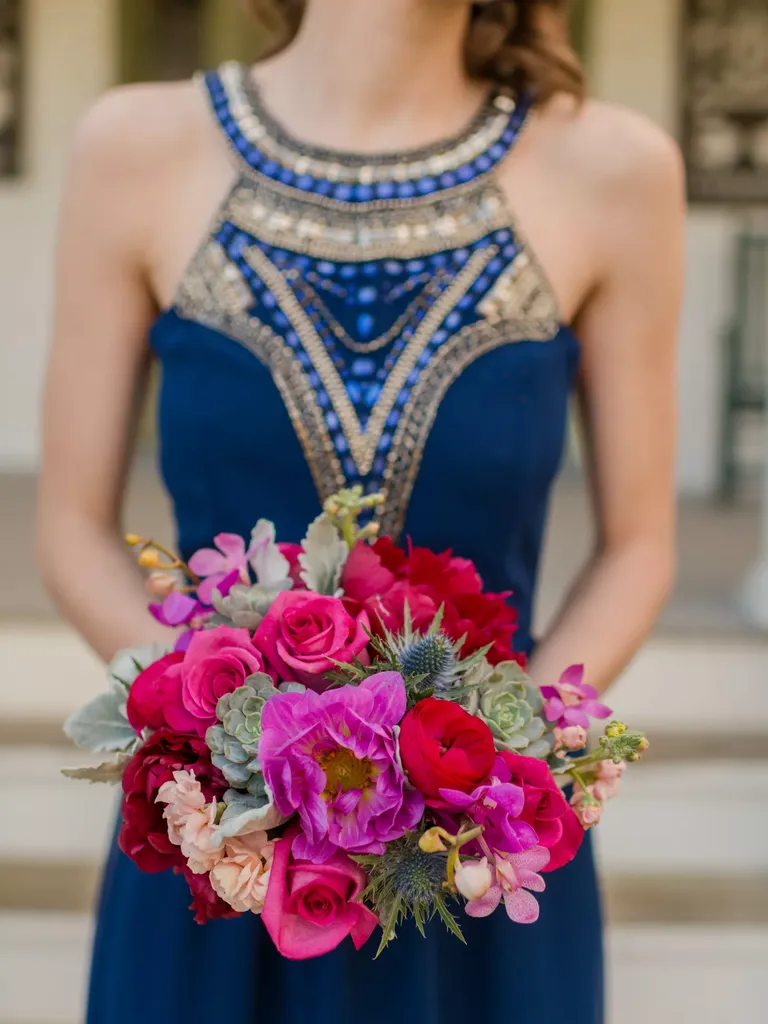 Injecting succulents in your jewel-toned bouquet is a great way to truly make your colors stand out. These rich pinks and reds can match anything from rubies to garnets.
Eye-Catching Anemone Jewel Tone Bouquet
Personally, we love how the centers of the anemones in this bouquet add even more jewel tones. And the oversized leaves bring a bit of the tropics to any wedding location.
Daring Dahlia Jewel Tone Wedding Bouquet
The bold dahlias in this bouquet resemble the shades of an imperial topaz, a rare gem. Make your bouquet one-of-a-kind when you blend pastels with gem-inspired hues.
Vintage-Inspired Jewel Tone Flowers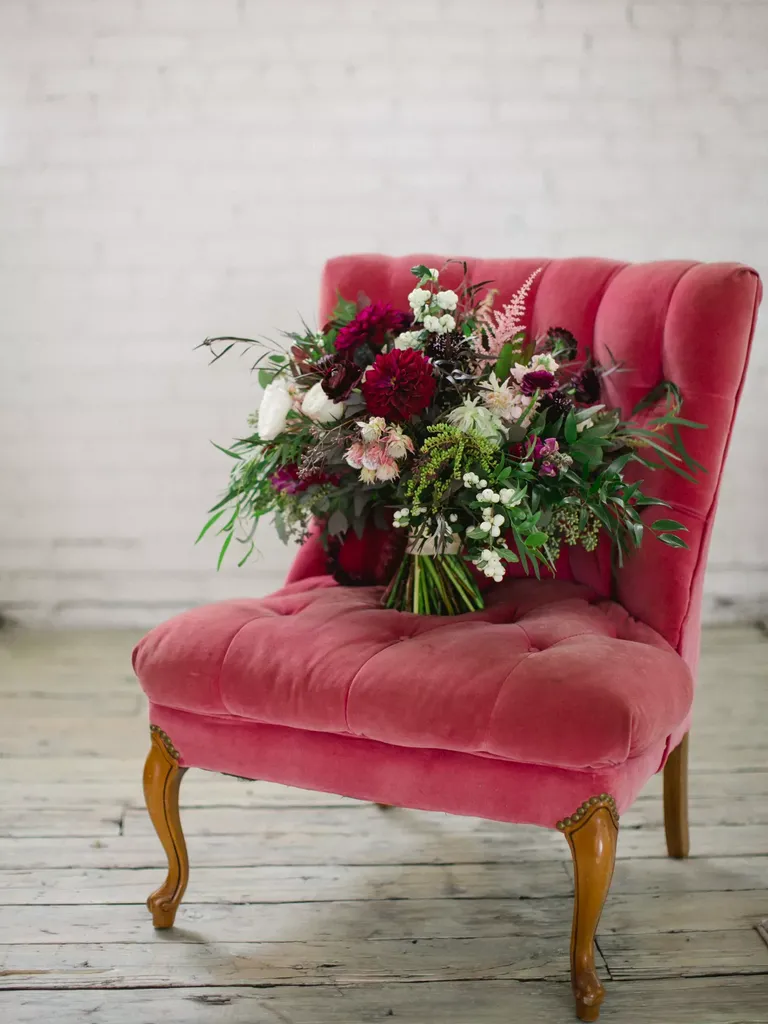 Nothing beats some vintage jewelry, and this bouquet's vibes are like your favorite heirloom. This arrangement's perfect if your whole day borrows from classic, timeless styles.
Wonderfully Whimsical Jewel Tone Bouquet
This bouquet blends whimsy and romance for a stunning array of jewel tones. And adding dimension to your arrangement is easy with long-stemmed flowers for a cascading effect.
Find all the vendors you need
Discover top-rated pros for any budget, background and style.
Elegant Wildflowers Jewel Tone Wedding Bouquet
Blending your favorite wildflowers into your bridal bouquet is a great way to naturally get some jewel tones. Plus, it gives that romantic feel of them being plucked right from a garden.
Pretty Peony Jewel Tone Bouquets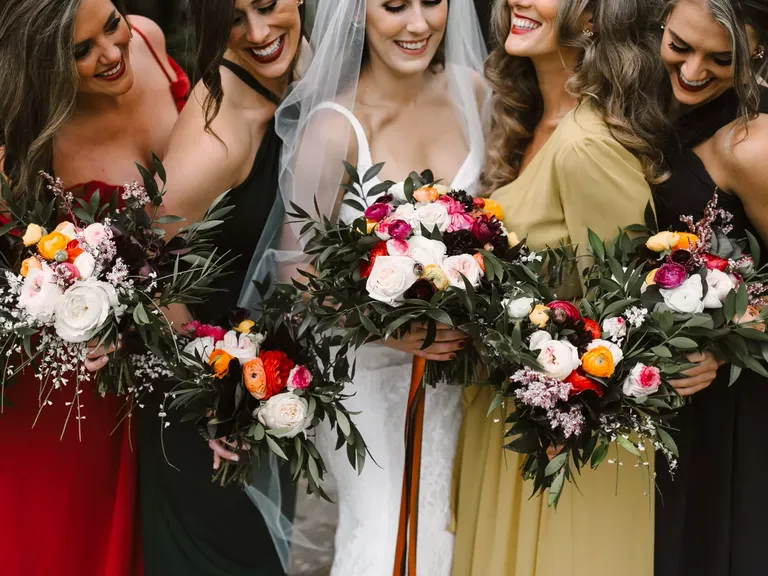 These bouquets mix deep shades and bright whites for a stunning color palette. Peonies are a top-notch choice for keeping the look cohesive while having a wide variety of hues to choose from.
Alexandrite Jewel Tone Wedding Bouquet
These florals in purples and pinks are rich like alexandrite. Pro tip: Consider the colors of your birthstone to inject meaningful jewel tones into your bouquet.
Pink Pearl Jewel Tone Bouquet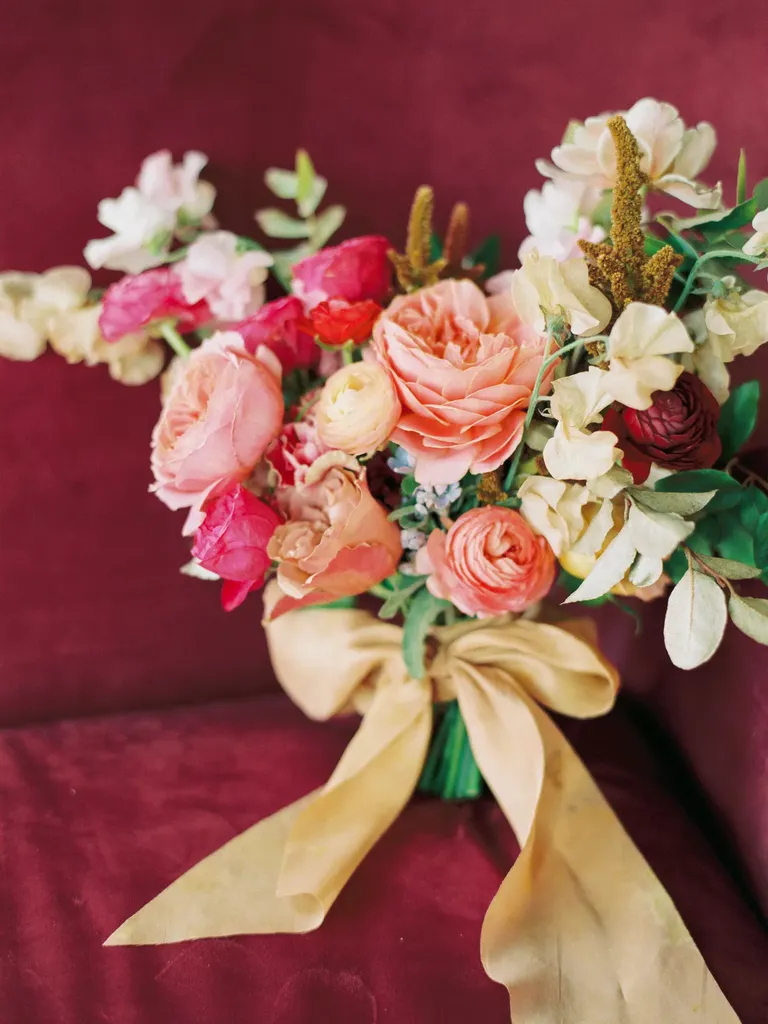 Since pearls can be pink or have a blush sheen, mixing white and rose colors into your bouquet is a fun way to play off this gem's shades. And these roses and sweet peas also offer tourmaline colors to round out the jewel tones.
Emerald Green Fern Jewel Tone Bouquet
You're practically off to Emerald City with this mix of bright green hues. And the rich reds are definitely giving off ruby red slipper vibes.
Desert Romance Jewel Tone Bridal Bouquet
Be your own desert flower with this jewel-toned bouquet. Have your florist blend your favorite gem-inspired shades and textured blooms like this display.
Stunning Summertime Jewel Tone Bouquet
Make your summer wedding a paradise of fuchsia with this jewel-toned bunch. This bouquet brings the sunshine to any wedding venue.
Asymmetrical Jewel Tone Bridal Bouquet
Who says bouquets have to be one shape? This asymmetrical design is artistic and sophisticated for the bride who loves a unique arrangement.
Ruby Red Rose Jewel Tone Bouquet
Here's a stunning mix of roses, eucalyptus and peonies for an explosion of ruby shades. And its incorporation of evergreen leaves means this bouquet could be used for any season wedding.
Autumnal Jewel Tone Wedding Bouquet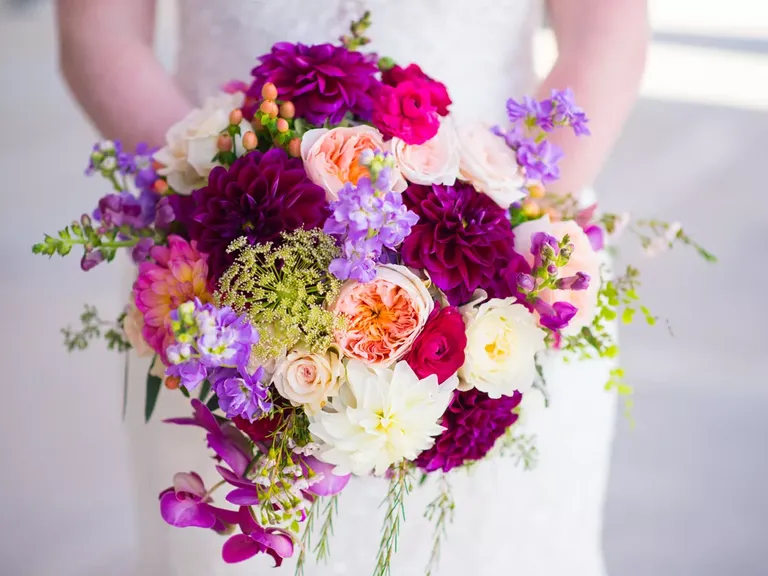 Here's a bouquet that can perfectly match your fall wedding colors with a touch of jewel tones. Colorful arrangements like these can really make your wedding dress stand out, too.
Glamourous White and Jewel Tone Bouquet
This jewel tone bridal bouquet takes it up a notch with gold-painted leaves. It's like having your favorite bit of jewelry in a floral arrangement.
Gorgeously Garnet Jewel Tone Bouquet
If garnet is your favorite, then this bouquet will surely suffice. Its rich burgundy color is reminiscent of almandine and pyrope for a gorgeous display.
Mixed Foliage-Filled Jewel Tone Wedding Bouquets
These moody shades utilize greenery to their advantage. Your bouquet doesn't have to be strictly flowers, and this display demonstrates the power of mixed greens.
Crown Jewels Wedding Bouquet
Walk down the aisle with a bouquet fit for royalty. These jewel tone colors remind us of the perfect crown gems, like amethyst.
Romantic Wintery Jewel Tone Bouquet
These romantic bouquets are the perfect palette for a winter wedding. Evoke the sense of snowy days by the fireplace with these wintery arrangements.
A Rainbow of Jewel Tones Bouquet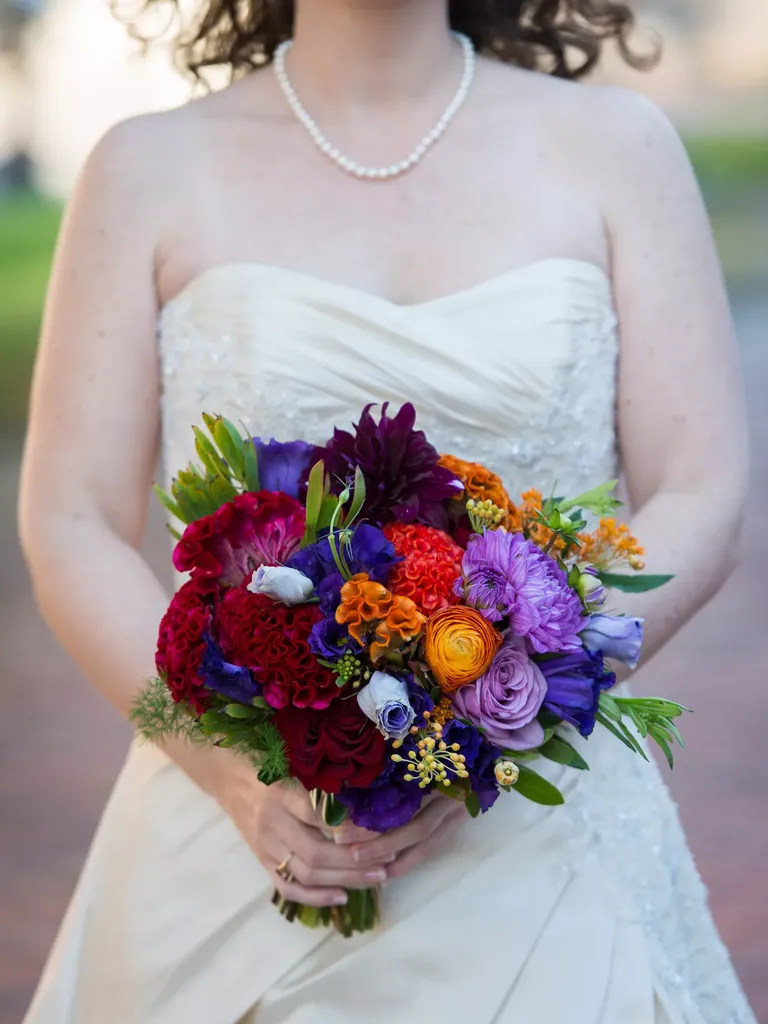 This bouquet can complement any colorful wedding with its incorporation of so many outstanding shades. Ask your florist to add a mix of colors from your palette that are both bright and deep.
Amber Opulence Jewel Tone Wedding Bouquet
If amber is the color of your energy, how about this stunner? These intense orange blossoms utilize lilies and chrysanthemums to give a jewel tone bouquet unlike any other.
Star Ruby Cascading Jewel Tone Bouquet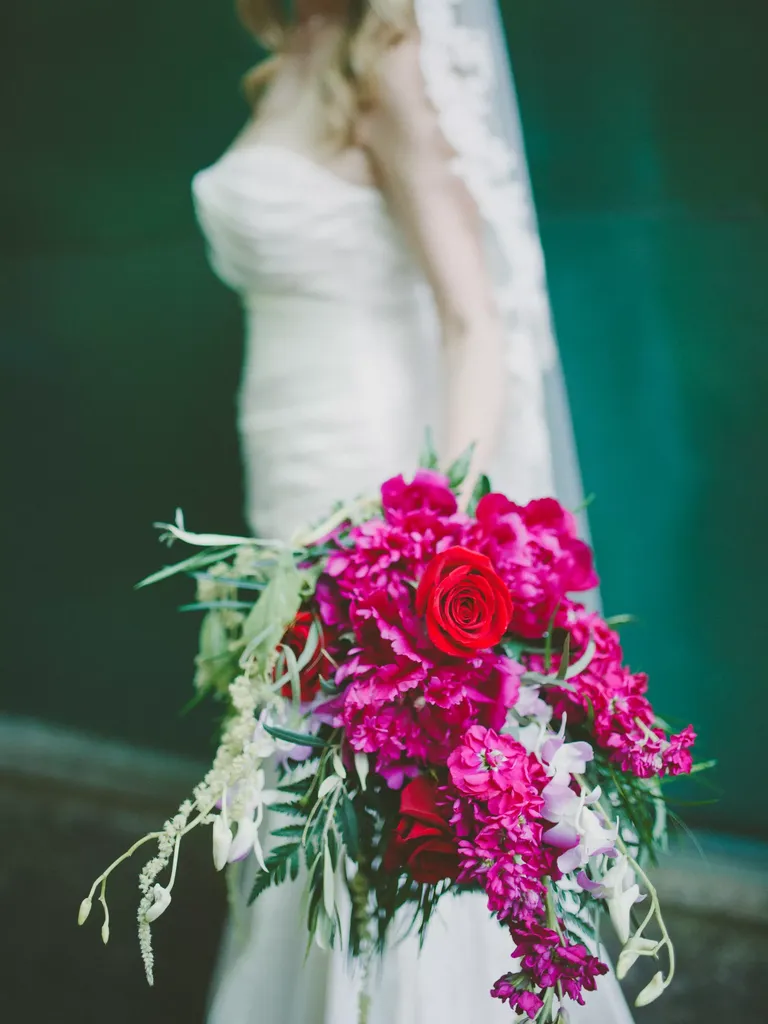 You'll be seeing stars with this star ruby red bouquet. With its cascades of flowers and vivid hues, your florals will fit the jewel tone vibes perfectly.
Graceful and Rustic Jewel Tone Bridal Bouquet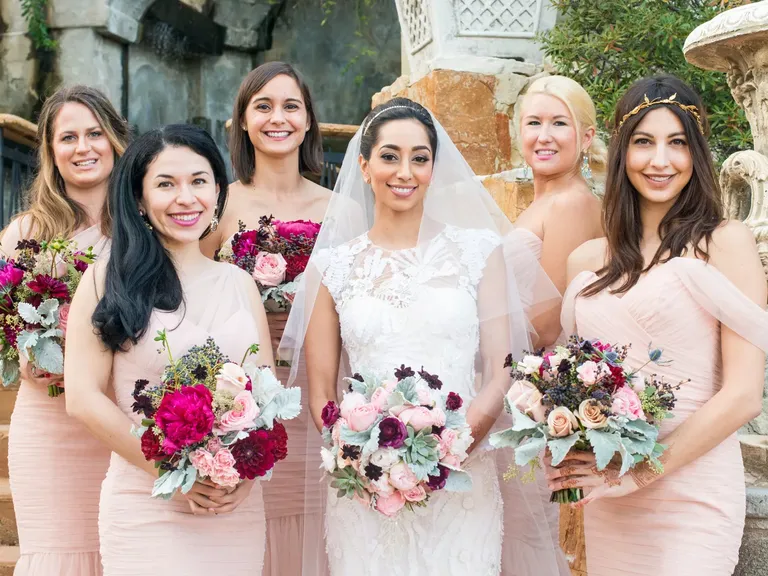 The great thing about jewel tones is that they can fit any venue or theme, like these rustic arrangements. And they added wild berries into the bunch for a unique spin.
Shades of Lazuli and Topaz Jewel Tone Bouquet
This bouquet takes its inspo from almost every kind of vibrant gem. You're not limited to just one color or flower with this lovely array.
Cascading Tanzanite Jewel Tone Bridal Bouquet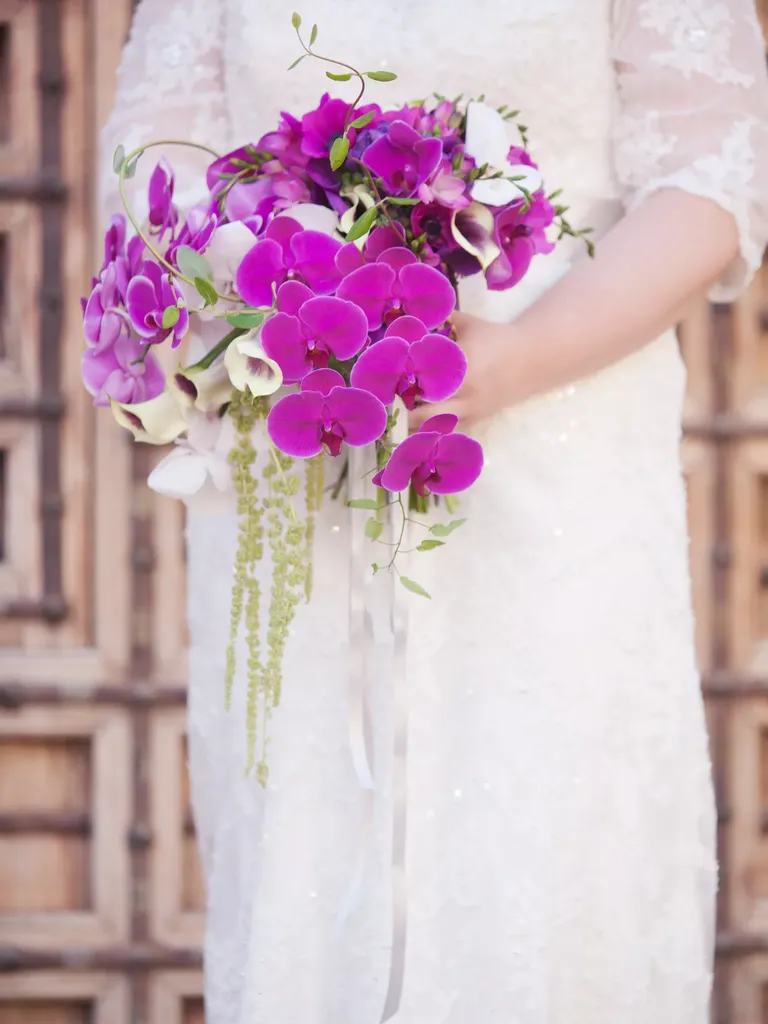 This waterfall of orchids is like a Tanzanite dream. Create a cohesive look for your bouquet when you mix various blooms of the same shade.
"Shine Bright Like a Diamond" Jewel Tone Bouquet
This bouquet is "beautiful like diamonds in the sky." And since gold matches just about any jewel, consider wrapping your bouquet with a golden ribbon like this arrangement.
Amethyst Hydrangea Jewel Tone Wedding Bouquet
This bouquet gets its jewel tones from vividly plum hydrangeas. It also cleverly mixes in some lighter shades to make those deep blooms truly blossom.
Sapphire and Spinel Jewel Tone Bouquet
Here's another hydrangea bouquet that perfectly blends many colors of this floral. And the round shape gives the feel of a round-cut sapphire or spinel.