11 Subscription Service Gifts Your Bridesmaids and Groomsmen Will Love
No monograms here.
They'll stand by your side at your wedding, so your bridesmaid and groomsmen deserve a gift that's thoughtful and personalized. One genius idea? Get them a subscription service. It's literally the gift that keeps on giving (usually for three months, six months or even an entire year). You could even give it as a gift to your bridesmaids at the moment you ask them to be in your bridal party, to show them your appreciation right up until the wedding day. Cute, right?! Below, a few of our favorite new ideas!
For The Instagrammer: Piccolo.is
Each month of the service Piccolo sends you prints of your Instagram or Facebook photos. This is perfect for your friend who always falls behind the group because they just can't miss a photo op! Plus photo prints are the gift that everyone wants, but will never buy for themselves.
> Piccolo.is, from $10/month
For Your Crafty Bridesmaids: WhimseyBox.com
You definitely have a friend (or two if you're lucky!) that's always wearing the cutest jewelry or headband and when you ask where she got it, you can't believe her response is "I made it!" She's the bridesmaid that's going to help you plan and assemble your welcome bags three days before your wedding and enjoy it. This subscription was made for her. Each month she'll receive supplies and directions for a cool DIY project, think geometric cuff bracelets, magnetic spice storage containers and floral body scrub.
> WhimseyBox.com, $15/month
For The Art Collector: Paprimass.com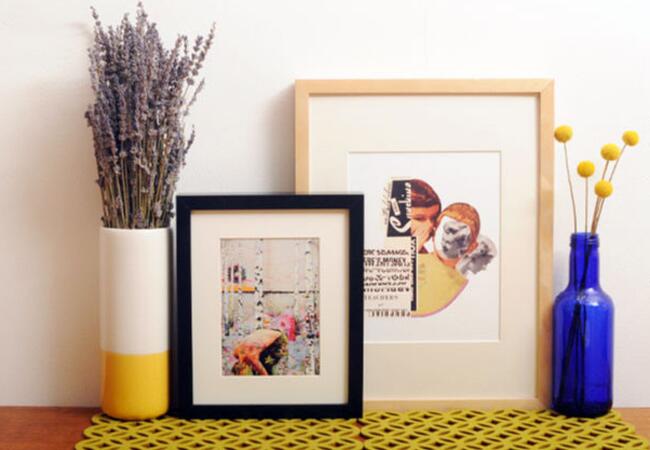 For the bridesmaid or groomsmen that's never finished decorating their apartment, and loves all things creative, this service delivers unique art prints from graffiti-inspired portraits, landscapes, illustrations, collages, to graphic novel excerpts, and even poems to their mailbox every month.
> Paprimass.com, $69/year
For The Geek or Gamer: LootCrate.com
If your best man wouldn't think of skipping out on ComicCon or is a 30 going on 13 (yeah, the opposite age switch of that Jennifer Garner movie) then this is the perfect box for them. Every month there's new products celebrating all things geeky like a Zombie Survival Guide, DC Comics themed wallet and Teenage Mutant Ninja Turtle magnets.
> LootCrate.com, from $13.37/month
For The Oenephile Invino.com
Introducing invino: the original private sale source for wine lovers from invino on Vimeo.
This is for your friend who always orders the wine for the table (and knows what she's doing). And while we know that giving a wine of the month club isn't exactly a new gift idea, Sonoma-based Invino.com is truly different. First of all, membership is free but it then gives you access to a whole slew of wines you wouldn't otherwise have. Sign up and you get tailored wine suggestions based on your tastes and preferences (like if you're more of a sweet and fruity type versus an earthy red type) and gives you a ton of insider information about what that wine has tasted like in the last 30-90 days, what winery it came from and why it was chosen. A membership also means access to fun flash sales and deep discounts. If you're doing it as a gift, sign up and buy her first bottle, then add a note in thank-you encouraging her to pick up more bottles at Invino.com. (Bonus: If she signs up, you also get a $20 credit.) Cool, right?

> Invino.com, Membership is free and wines come at as much as a 70% discount
For The Cheese Connoisseur MurraysCheese.com
Eating cheese is more than just about having a delicious, it's an experience. This is for your favorite cousin who's going to spend the whole cocktail hour hovering over the cheese platter instead of mixing and mingling with guests. There's so many different varieties that your foodie friends will definitely get excited about finding out what their cheese selection is every month.
> MurraysCheese.com, from $275/4 months
For Your Stylish Groomsmen: Zoraab.com
If your groom is looking for a one-stop-shop for all of his guys this is it. Here's why: You start by filling out a survey about the recipients personality and style then each sock delivery is chosen based on those preferences. That means there's your groomsman who wears formal business attire for his office job will get different socks than the artist who you'll never see in anything more formal than jeans and a t-shirt. It's also a win because guys always need nice socks but they'll never buy them for themselves. Get your groomsmen this and they'll have no excuse to go sock-less to your wedding (trust us, it's been done before).
> Zoraab.com, from $20/month
For Your Beauty Product Obsessed Bridesmaids: Birchbox.com
Give your bridesmaids the gift of pampering. Each month Birchbox sends new and tried and true beauty product samples (and there's a full shop where they can buy the ones they love).
> Birchbox.com, $10/month
For Your Carnivorous Friend: CarnivoreClub.us
The same concept as a monthly cheese box, but for your carnivorous friend or family member.
> CarnivoreClub.us, $50/month
For Your Grooming Obsessed Groomsmen: Harrys.com
One of the few grooming necessities every man needs this will be a hit for the groomsman that has to have every hair in place. Don't have a groomsman like that? Well, getting a nice razor and shaving cream in the mail might just be the thing that convinces your friends to tidy up that moustache they've been growing out, you know, before all the wedding photos.
> Harrys.com, from $2.00 per blade
For The Bartender: Julibox.com
For your friend who always takes it upon themselves to man the bar at any party you throw (they may even try to climb behind the bar at your cocktail hour). There's plenty of wine of the month clubs out there, but this cocktail mixing box is a bit more interactive. Each month they'll receive ingredients and directions to prepare a signature cocktail. Yum!
> Julibox.com, $114/three months
Want more? Of course you do!
> 6 must-have gifts for groomsmen