32 Fall Wedding Bouquets Perfect for an Autumn Wedding
Stunning seasonal arrangements for your big day.
There's so much to love about fall weddings: crisp air, vibrant foliage and wedding bouquet ideas that are nothing short of jaw-dropping. As you're starting to brainstorm fall bouquet ideas to complete your autumnal floral design plans, there are plenty of options for to-be-weds planning nuptials of all styles. For couples opting for a rustic wedding day atop a mountain, fill your fall wedding bouquet with plenty of greenery and an assortment of blooms that look like fresh-from-the-friend wildflowers. For the boho-minded duo, pampas grass looks right at home amid autumnal flower arrangements. And for those nearly-newlyweds who like a romantic aesthetic, don't be afraid to pack your bouquet full of color with vibrant rose and ranunculus blooms. As you'll see in the ideas ahead, the world is truly your oyster when it comes to designing a fall wedding bouquet that you'll love and will leave your guests' jaws on the floor.
In this article:
Fall Wedding Flower Top Tips
Start With a Mood Board
Alyssa Abshier and Victoria Nadler, co-founders of Amber Sol Collective encourage to-be-weds to start their floral design plans by creating a wedding decor mood board and "doing research on specific flower styles, flower types and what color palette you're envisioning. The more specific you are, the better your florist can emulate your vision. And having an inspiration board will help you and your planner really narrow down your unique design for your big day."
Lean Into Foliage
Fall is the season of foliage. As the trees surrounding your venue begin to turn vibrant shades of burnt orange, don't be afraid to bring ample foliage into your bouquet as well. From rust-hued maple leaves to pampas grass and seeded eucalyptus, fall-inspired designs work really well with lots of foliage. And as an added bonus, incorporating foliage into your clutch can help stretch your floral budget further.
Rustic Fall Wedding Bouquets
If you're exchanging vows under the exposed timbers of a storied barn or at a chateau nestled beside a mountain lake, then lean into your rustic aesthetic and carry the vibe throughout all your wedding-day details, bouquets included.
1. Rustic Fall Bouquet With Decorative Cabbage, Fern and Magnolia Leaves
Heads of decorative cabbage resemble flowers but are a hearty and rustic option that works well during autumn.
2. Berry-Filled Bouquet
Berries, like snowberries and hypericum berries, add whimsy to fall and winter wedding flowers.
3. Ranunculus Bouquet With Dried Leaves
If your wedding colors are orange or rust, including dried fall leaves in your bouquet as filler is a great way to incorporate seasonality in your floral arrangements.
4. Anemone, Chrysanthemum, Scabiosa and Spray Rose Bouquet
Spider mums are a variety of chrysanthemum that adds eye-catching dimension to arrangements, especially when paired with other lush flowers like scabiosa blooms.
5. Dahlia Bouquet With Dried Leaves
Trailing branches of dried leaves added a rustic feel to this elegant bouquet filled with large dahlia blooms.
6. Rose Bouquet With Dried Ferns
Sprigs of dried ferns served as filler in this bouquet that included both garden roses and spray roses.
7. Autumn Bouquets With Hydrangea and Sunflower
For their bridal bouquets, these to-be-weds carried matching DIY bouquets filled with white hydrangea and vibrant yellow sunflower blooms.
8. Fern-Filled Greenery Bouquet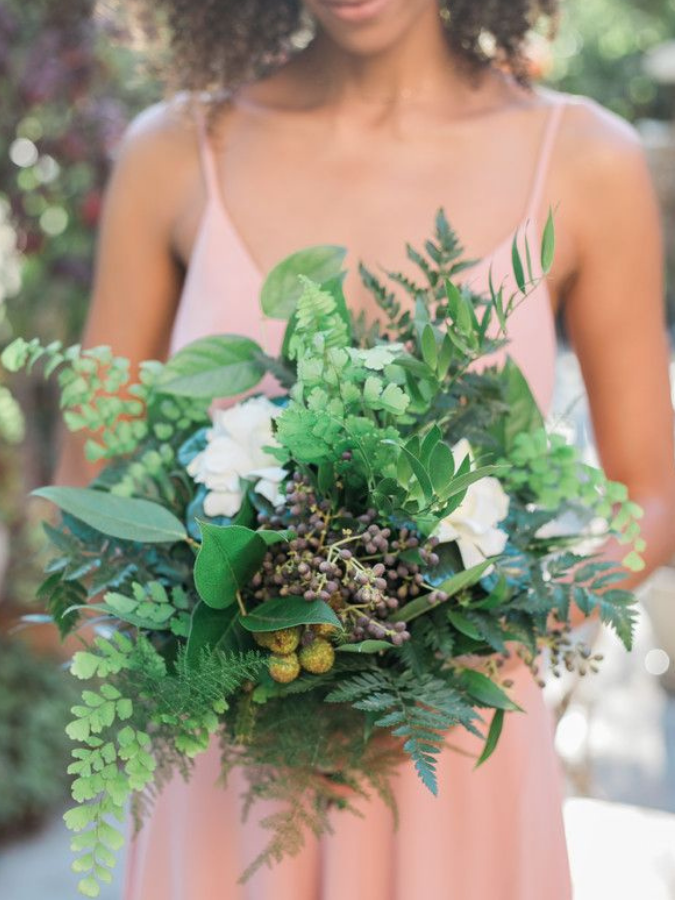 Berries and varied greenery dominated this rustic clutch.
9. Dahlia, Lily and Rose Bouquet
Lilies tend to bloom from early summer to fall, so depending on the time of year when you're tying the knot, lilies could be a great addition to your flower arrangements. Varieties like calla lilies, Stargazer lilies and Tiger lilies are consistently popular among to-be-weds.
10. Moody Oversize Bouquet With Burgundy Flowers
Beyond paying attention to flower variety when brainstorming your fall wedding ideas, take some time to think about color. Picking a moody and dramatic shade like mauve or burgundy is a great option for fall wedding flowers that will wow.
11. Branch-Filled Bouquet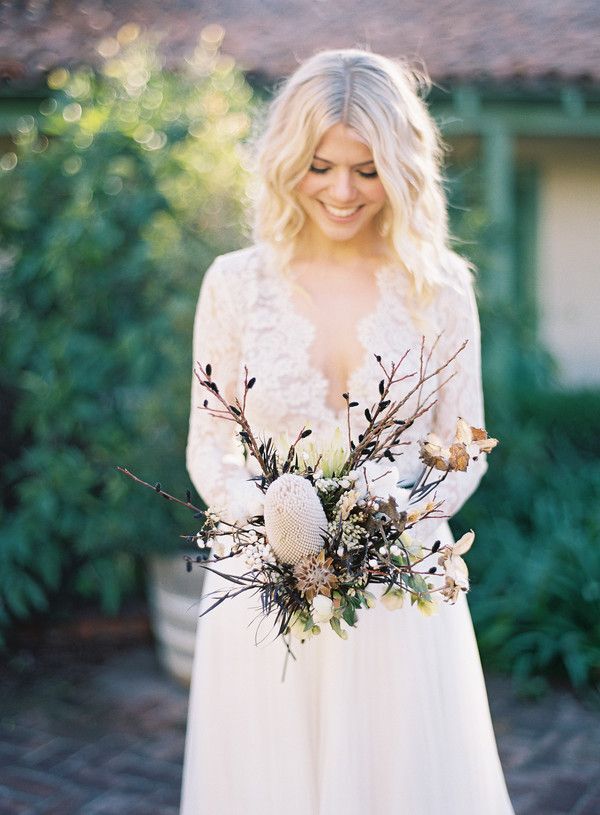 In addition to using dusty miller, leaves or succulents as filler, branches work well in fall wedding bouquets and even in reception arrangements like centerpieces.
Boho Fall Wedding Bouquets
For engaged couples who love boho wedding trends, ask your florist to incorporate amaranthus, anthurium, astilbe, baby's breath, heather, king protea, pampas grass, thistle or wax flower into your wedding bouquet. These botanical varieties blend beautifully with a whimsical, bohemian aesthetic.
12. Caramel-Hued Rose Bridesmaid Bouquets
The bridesmaids at this wedding carried caramel-hued bouquets filled with roses and dried palm leaves.
13. Dahlia Bouquet With Ribbon
To complement the bright blooms in this bridal bouquet, the floral designer finished off the design with strips of jewel-tone ribbon to wrap the bouquet.
14. Gold-and-Pink Bouquet With Anthurium and Rose
This cheery color palette of rich gold and pastel pink would look just as great at a spring or summer wedding as it would at a fall wedding.
15. Red Lily Bouquet
Vibrant red blooms wowed in this fall wedding bouquet.
16. Cascading Bouquet With Baby's Breath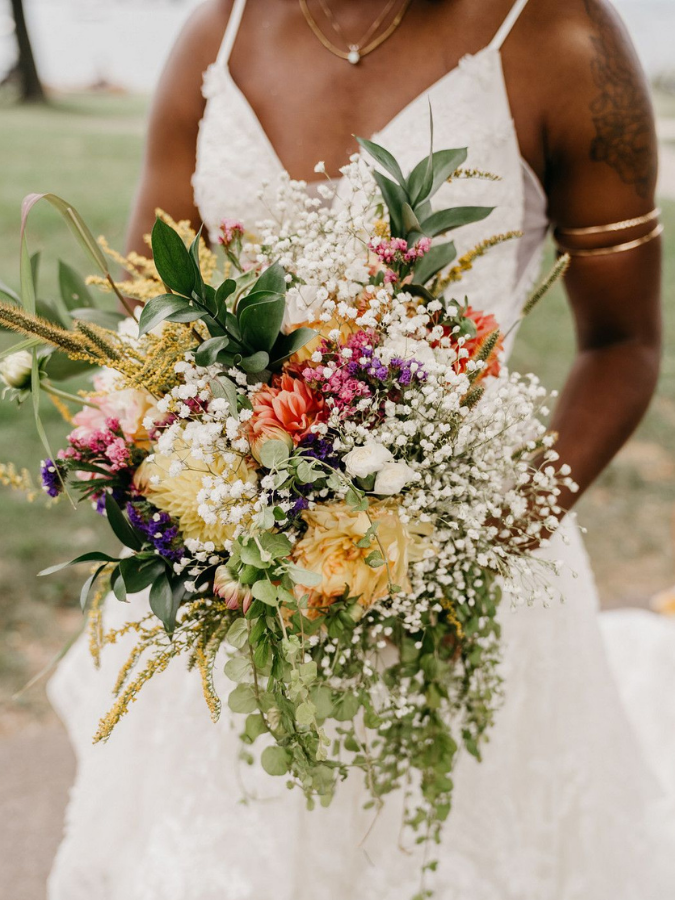 Sprigs of baby's breath added softness to this cascading bouquet.
17. Petite Bouquet With White Cosmo Blooms
For her backyard wedding, this to-be-wed opted for a petite clutch.
18. Amaranthus and King Protea Bouquet
Trailing pieces of amaranthus added movement to this dramatic bouquet which included king protea blooms.
19. Neutral Anthurium, Orchid and Rose Bouquet
Although this bouquet was all one color, it was anything but one note. The dramatic shapes that anthurium and dendrobium orchid blooms added ensured the arrangement was eye-catching.
20. Rose Bouquet With Eucalyptus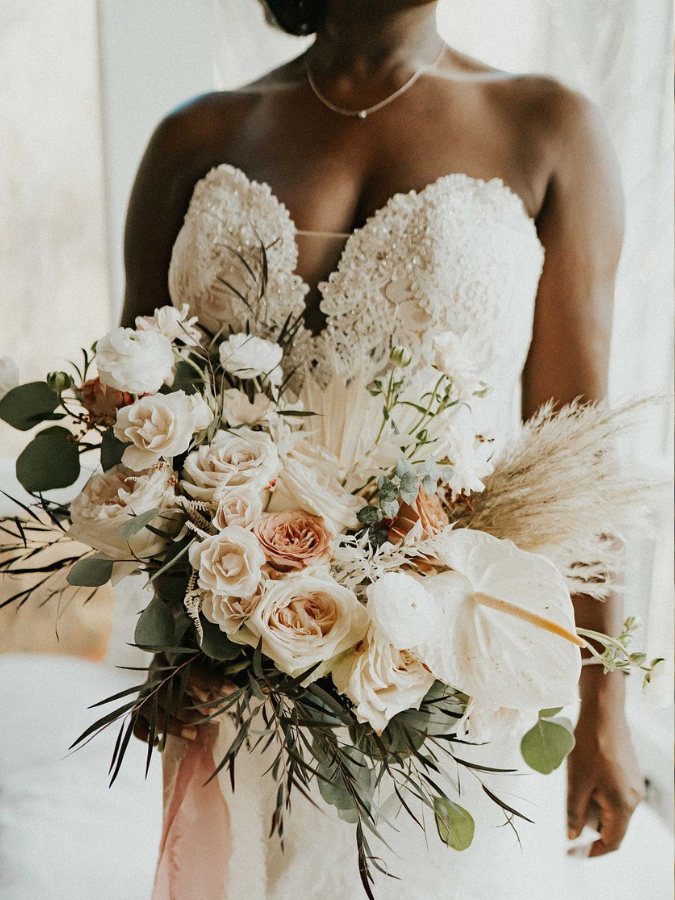 Two types of eucalyptus—sand dollar and willow—were used as filler in this rose bouquet.
Romantic Fall Wedding Bouquets
If you're planning a romantic autumn wedding, flower varieties like lisianthus, lily, ranunculus and rose deserve a spot in your designs. Depending on if your floral designer is able to procure them during this time of year, orchids, peonies and tulips would look right at home within your autumnal flower arrangements.
21. Romantic Burgundy Bouquet
Burgundy is a great color for fall wedding flowers and, luckily, to-be-weds have plenty of burgundy flowers to choose from: dahlias, mums and scabiosa to name a few.
22. Moody Pink-and-Black Rose Bouquet
This rose bouquet had a moody edge, thanks to the inclusion of dark-hued scabiosa blooms.
23. Red Ranunculus Bouquet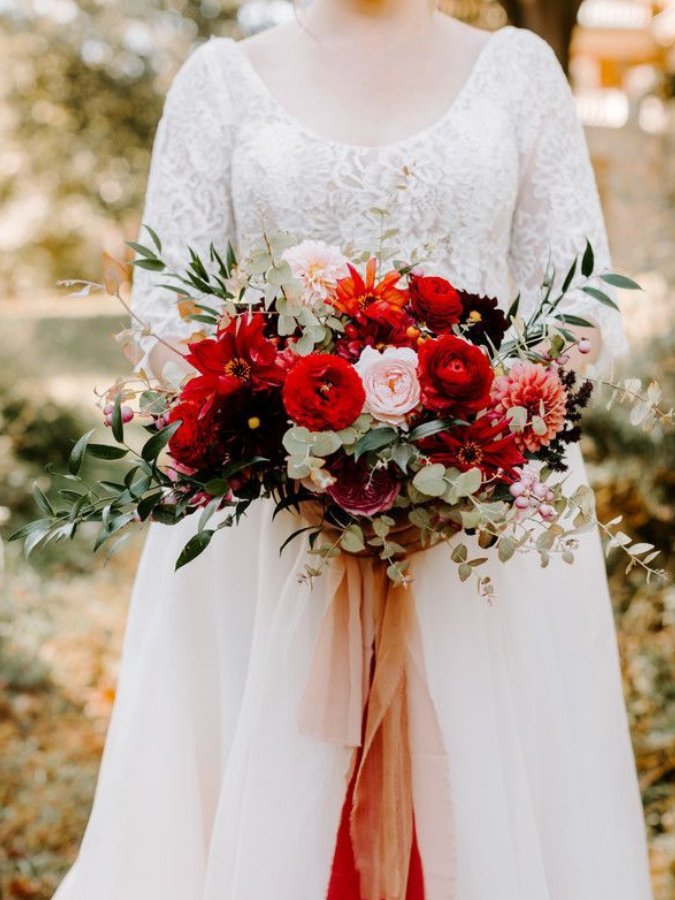 Stems of baby blue eucalyptus filled out this red ranunculus bouquet.
24. Yellow Bouquet With Craspedia, Rose and Yarrow
Craspedia, also known as Billy balls, are a fun way to add color and whimsy to a bouquet.
25. Bouquet With Thistle
Blue thistle blooms added a burst of blue to this green-and-white bouquet.
26. Cream, Green and Mauve Bouquets
These bouquets included eucalyptus, scabiosa and rose, among other botanical varieties.
27. Caramel-Hued Lisianthus and Rose Bouquet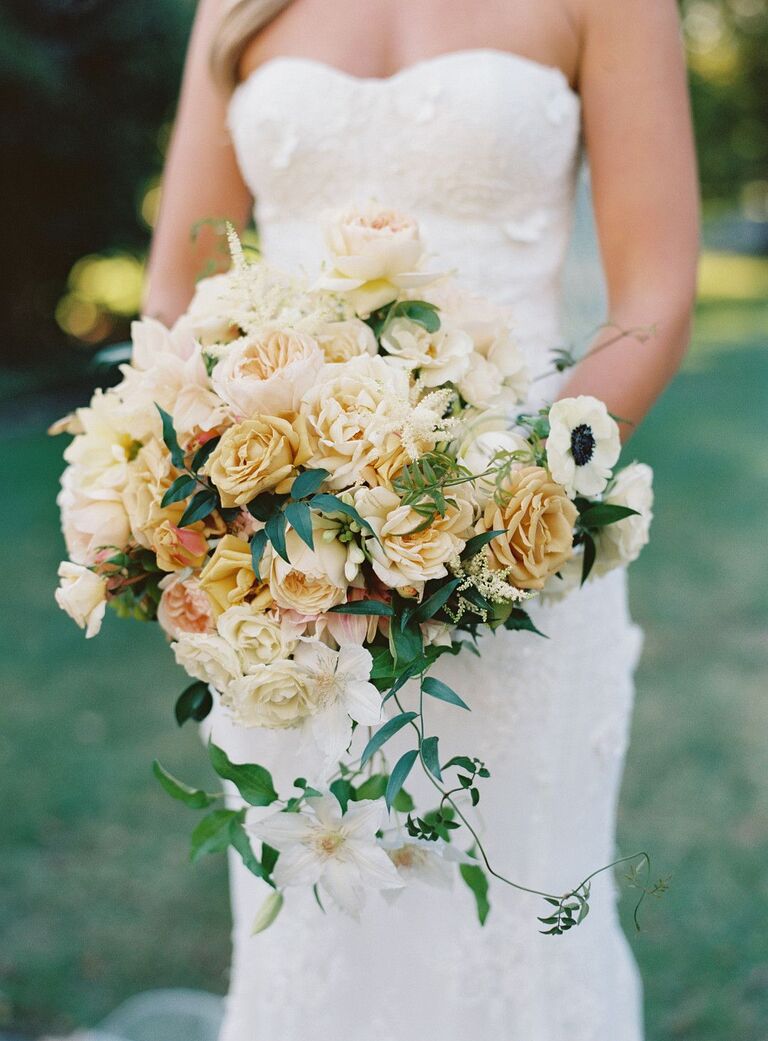 Lisianthus blooms work well alongside roses because the buds so closely resemble each other.
28. Peony, Rose and Wax Flower Bouquet
Every single bloom in this arrangement was absolutely stunning.
29. Bouquet With Hops
As an alternative to leaves as filler, hops are a fun option for beer lovers.
30. Red Dahlia, Mum and Rose Bouquet
Vibrant dahlia, mum and rose blooms filled this bridal bouquet.
31. Bouquet With Lisianthus, Ranunculus, Rose and Scabiosa
These fall-hued bridesmaid bouquets had a just-picked-from-the-field look to them.
32. Purple Rose Bouquet
This clutch included roses in a soft pastel lavender.