55 Fall Wedding Bouquets Perfect for the Autumn Season
Who says your flowers can't be inspired by pumpkin spice?
There's so much to love about fall weddings: crisp air, vibrant foliage and rich color palettes that make you feel all warm and cozy inside. As you're starting to brainstorm fall wedding bouquet ideas, one of the fun parts is browsing inspiration to see how other couples incorporated seasonal elements into their arrangements. If you're opting for a rustic wedding look, fill your bouquet with plenty of greenery and an assortment of freshly picked wildflowers. For the boho-minded duo, pampas grass looks right at home in an autumn wedding bouquet. And for couples who like a romantic aesthetic, don't be afraid to pack your fall wedding bouquet with red and burgundy tones. Once you've got an idea of your budget and aesthetic, check out The Knot Vendor Marketplace to find professional wedding florists and read reviews. Like what you hear? Keep reading to see 55 of our favorite bouquets for fall weddings.
Our favorite fall wedding bouquets:
Rustic | Simple | Boho | Elegant | Unique | Romantic
PLUS: Fall Wedding Bouquet Tips
Rustic Fall Wedding Bouquets
If you're exchanging vows under the exposed timbers of a storied barn or at a chateau nestled beside a mountain lake, then lean into your pastoral aesthetic and carry the vibe throughout all of your wedding-day details. Use these rustic fall wedding bouquets to get started.
1. Rustic Fall Bouquet With Decorative Cabbage, Fern and Magnolia Leaves
Heads of decorative cabbage resemble flowers but are a hearty and rustic option that works well during autumn.
2. Berry-Filled Bouquet
Berries, like snowberries and hypericum berries, add whimsy to fall and winter wedding flowers.
3. Ranunculus Bouquet With Dried Leaves
If your wedding colors are orange or rust, including dried fall leaves in your bouquet as filler is a great way to incorporate seasonality in your floral arrangements.
4. Anemone, Chrysanthemum, Scabiosa and Spray Rose Bouquet
Spider mums are a variety of chrysanthemum that adds eye-catching dimension to arrangements, especially when paired with other lush flowers like scabiosa blooms.
5. Dahlia Bouquet With Dried Leaves
Trailing branches of dried leaves added a rustic feel to this elegant fall wedding bouquet filled with large dahlia blooms.
6. Rose Bouquet With Dried Ferns
Sprigs of dried ferns served as filler in this bouquet that included both garden roses and spray roses.
7. Autumn Bouquets With Hydrangea and Sunflower
For their bridal bouquets, these to-be-weds carried matching DIY bouquets filled with white hydrangea and vibrant yellow sunflower blooms.
8. Fern-Filled Greenery Bouquet
Berries and varied greenery dominated this rustic clutch.
9. Dahlia, Lily and Rose Bouquet
Lilies tend to bloom from early summer to fall, so depending on the time of year when you're tying the knot, lilies could be a great addition to your flower arrangements. Varieties like calla lilies, stargazer lilies and tiger lilies are consistently popular among to-be-weds.
10. Moody Oversize Bouquet With Burgundy Flowers
Beyond paying attention to flower variety when brainstorming your fall wedding ideas, take some time to think about color. Picking a moody and dramatic shade like mauve or burgundy is a great option for fall wedding flowers that will wow.
11. Branch-Filled Bouquet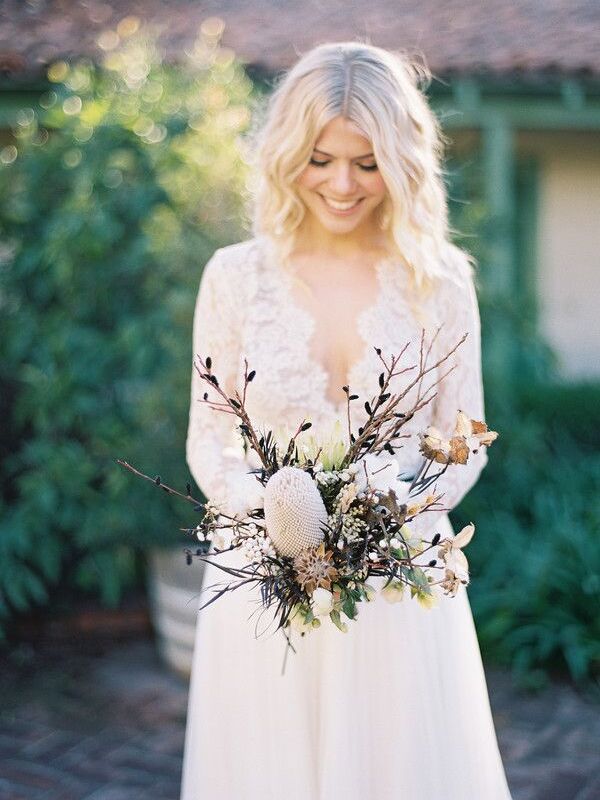 In addition to using dusty miller, leaves or succulents as filler, branches work well in fall wedding bouquets and even in reception arrangements like centerpieces.
Simple Fall Wedding Bouquets
Not into complicated floral arrangements? No problem. These simple fall wedding bouquet ideas will speak to your minimalist aesthetic without sacrificing on style.
12. White and Yellow Sunflower Bouquet
Sunflowers catch your attention all on their own, so you can pair them with flowers that are a little less bold. Stems of white stock and anemones will balance out the bright yellow hue, making this combo a lovely option for a September wedding bouquet.
13. Red and White Roses Bouquet
Roses are one of the most classic wedding flowers of all time, and they just so happen to look beautiful without the need for other embellishments or foliage. Mix and match two colors together, or stick with one color for an ultra-uniform look.
14. Neutral Fall Wedding Bouquet
When you choose flowers that are all the same color, you can mix and match a few different varieties without making the arrangement look too busy. This simple fall bouquet features white roses, sweet peas, stock and lisianthus with assorted greenery.
15. Peach-Hued Fall Wedding Bouquet
This fall-colored wedding bouquet is sweet and simple, mixing peach and pink hues inspired by the season. You can add some yellow fall foliage to complement the warm color palette.
16. Greenery and Decorative Grass Bouquet
This bridesmaid bouquet is extra-simple and skips the flowers altogether. All you need to recreate the look is your desired greenery (these are lemon leaf branches) and decorative grasses, like sea oats or fountain grass.
17. Simple Calla Lily Wedding Bouquet
It doesn't get more simple than this. Calla lilies are some of the most beautiful fall wedding flowers, whether you choose orange, dark purple, yellow or classic white.
18. Fall Wildflower Bouquet
Use an assortment of wildflowers if you prefer a simple fall wedding bouquet that doesn't look too overdone. Petite flowers like chamomile, lavender, Queen Anne's lace, yarrow and aster are just a few options.
Boho Fall Wedding Bouquets
For your boho fall wedding bouquet, ask your florist to incorporate wispy flowers like amaranthus, astilbe, baby's breath, heather, pampas grass and dahlias. These botanical varieties blend beautifully with a whimsical, laid-back aesthetic.
19. Bouquet with Dried Florals
Dried flowers and boho style go hand-in-hand. Accent your boho fall wedding bouquet with banksia flowers, fan palms and bleahced greenery in neutral colors for a trendy, earthy vibe.
20. Modern Boho Fall Bouquet
Pink, yellow and orange flowers are seasonal and fit the boho aesthetic. This presentation-style bouquet makes a statement with its oversized shape and eye-catching flowers, such as anthurium and orchids.
21. Caramel-Hued Rose Bridesmaid Bouquets
The bridesmaids at this wedding carried caramel-hued bouquets filled with roses and dried palm leaves.
22. Dahlia Bouquet With Ribbon
To complement the bright blooms in this bridal bouquet, the floral designer finished off the design with strips of jewel-tone ribbon to wrap the bouquet.
23. Gold-and-Pink Bouquet With Anthurium and Rose
This cheery color palette of rich gold and pastel pink would look just as great at a spring or summer wedding as it would at a fall wedding.
24. Red Lily Bouquet
Vibrant red blooms wowed against the more subtle white and blush flowers in this fall wedding bouquet.
25. Cascading Bouquet With Baby's Breath
Sprigs of baby's breath added softness and a hint of contrast to this cascading bouquet.
26. Petite Bouquet with White Cosmo Blooms
For her backyard wedding, this to-be-wed opted for a super-petite arrangement of playful cosmos and greenery.
27. Amaranthus and King Protea Bouquet
Trailing pieces of amaranthus added movement to this dramatic bouquet, which included king protea blooms.
28. Neutral Anthurium, Orchid and Rose Bouquet
Although this bouquet was all one color, it was anything but one note. The dramatic shapes that anthurium and dendrobium orchid blooms added ensured the arrangement was eye-catching.
29. Rose Bouquet With Eucalyptus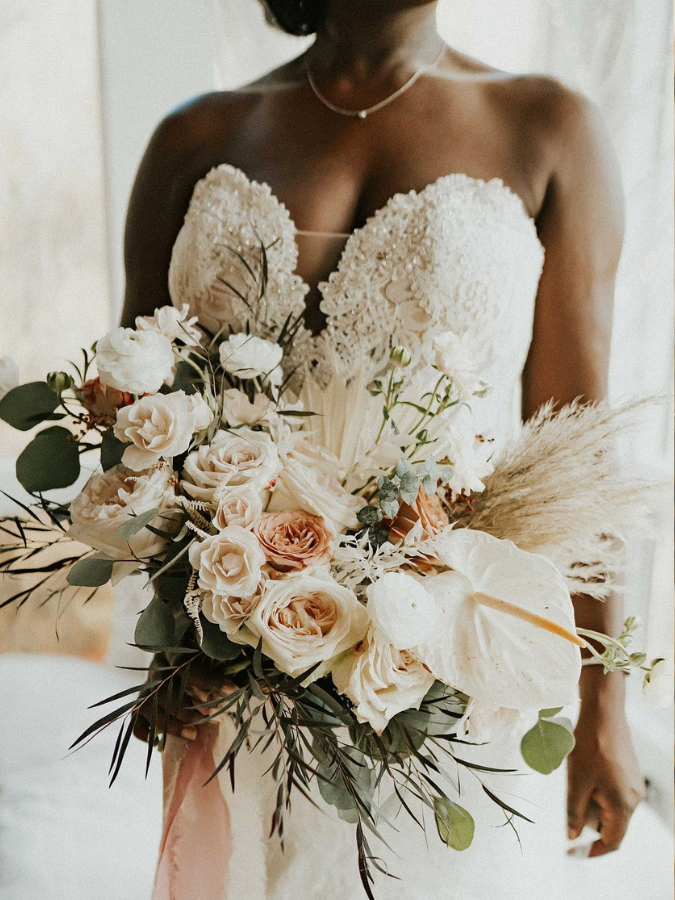 Two types of eucalyptus—silver dollar and willow—were used to fill out this rose bouquet.
Elegant Fall Wedding Bouquets
Love flower arrangements that are classic and timeless? These elegant fall wedding ideas fit the ticket, with traditional shapes and perfectly color-coordinated palettes.
30. Rose and Ranunculus Bouquet
Use plum-colored blooms to add contrast to a bouquet of white flowers.
31. Dramatic Burgundy and White Bouquet
For even more drama, up the ante by finishing your white and burgundy bouquet with overflowing greenery branches and vines. Wispy willow eucalyptus will do the trick.
32. Classic Red, Green and White Bouquet
This elegant fall wedding bouquet is on the smaller side, but it's packed with gorgeous blooms, like pieris, calla lilies and scabiosa pods. A handful of air plants give the arrangement an unexpected detail.
33. Elegant Fall Wedding Bouquet with Matching Bridesmaids Bouquets
Match the bridesmaids' bouquets to the main bouquet for a cohesive look in photos.
34. Elegant Greenery and Berries Bouquet
Seasonal berries are another way to fill out your fall bouquet—these dark blue viburnum berries are an elegant complement to the white flowers and greenery.
35. Fall Bouquet with Orange and Peach Flowers
Color-coordinated garden roses, dahlias and lisianthus fill this beautiful bouquet. Long green ribbons match the leafy eucalyptus to finish the arrangement.
36. Blush and Red Bouquet
Blush is a classic wedding color, but you can pair it with dark red and berry tones for an autumnal update. This elegant fall bouquet features seasonal foliage to add a touch of burgundy.
Unique Fall Wedding Bouquets
Make a total statement with one of these unique fall wedding bouquet ideas. Details like ornamental kale, oversized shapes and bold color palettes ensure that your bouquet won't be overlooked.
37. Statement Orchid Bouquet
We can't decide what's cooler about this unique fall bouquet—the monochromatic white color palette or the cascading shape.
38. Fall Bouquet with Ornamental Kale
Kale isn't the first thing that comes to mind when you think of bouquets for fall weddings, but that's exactly what. makes it a unique option. The green and purple tones on the kale leaves look beautiful paired with other seasonal blooms.
39. Orange Calla Lily and Greenery Bouquet
Carry this bouquet for a fall wedding at the beach. The greenery adds texture and dimension to contrast against the structural calla lilies.
40. Fall Foliage Bouquet
Orange, burgundy and red foliage surrounded the white roses and pampas grass in these unique fall wedding bouquets.
41. Moody Red and Orange Fall Bouquet
A pop of blue delphinium stands out in this moody bouquet of red, yellow and green botanicals.
42. Unique Asymmetrical Bouquet
This oversized bouquet is sure to capture guests' attention. Use sturdy greenery branches to create the asymmetric shape on either side of the blooms in the center.
43. Whimsical Wildflower-Style Bouquet
Have your florist arrange the flowers at different heights to give your fall bouquet plenty of movement and a unique shape.
Romantic Fall Wedding Bouquets
If you're planning a romantic autumn wedding, flower varieties like lisianthus, lily, ranunculus and rose deserve a spot in your designs. Depending on if your floral designer is able to procure them during this time of year, orchids, peonies and tulips would look right at home within your autumnal flower arrangements.
44. Romantic Burgundy Bouquet
Burgundy is a great color for fall wedding bouquets and, luckily, to-be-weds have plenty of burgundy flowers to choose from—dahlias, mums and scabiosa, to name a few.
45. Moody Pink-and-Black Rose Bouquet
This rose bouquet had a moody edge, thanks to the inclusion of dark-hued scabiosa blooms.
46. Red Ranunculus Bouquet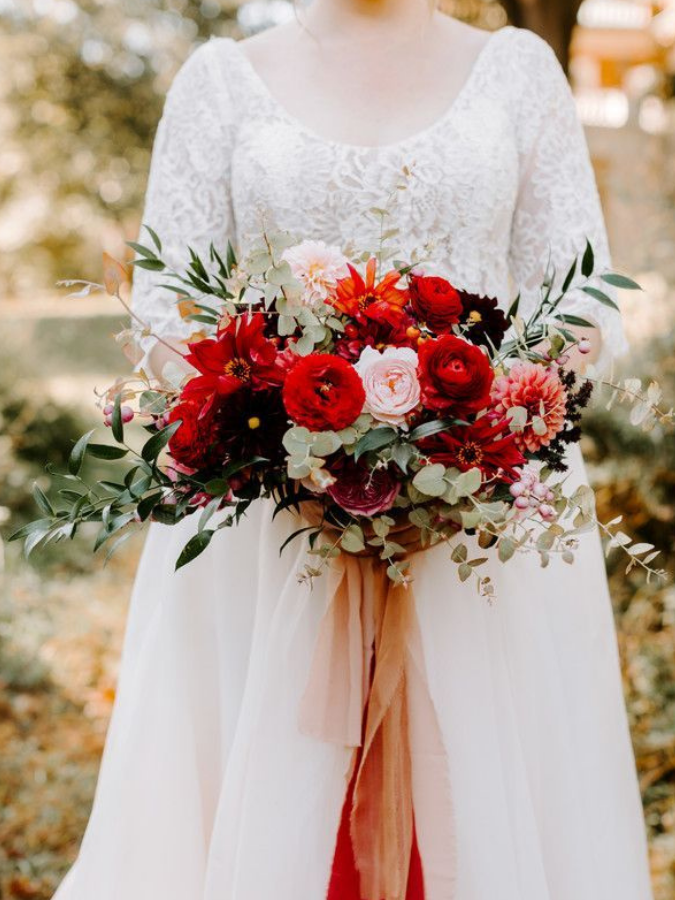 Stems of baby blue eucalyptus filled out this red ranunculus bouquet.
47. Yellow Bouquet With Craspedia, Rose and Yarrow
Craspedia, also known as Billy balls, are a fun way to add color and whimsy to a bouquet.
48. Fall Bouquet with Thistle
Blue thistle blooms added a burst of blue to this green-and-white bouquet.
49. Cream, Green and Mauve Bouquets
These bouquets included eucalyptus, scabiosa and rose, among other botanical varieties.
50. Caramel-Hued Lisianthus and Rose Bouquet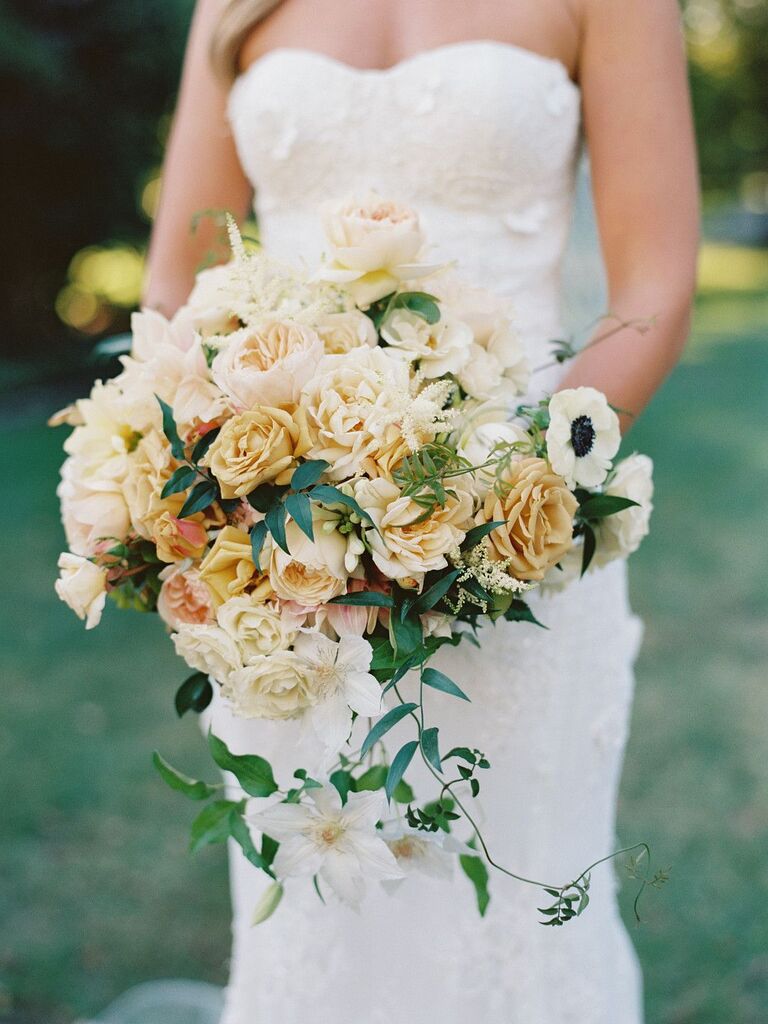 Lisianthus blooms work well alongside roses because the buds so closely resemble each other.
51. Peony, Rose and Wax Flower Bouquet
Every single bloom in this arrangement was absolutely stunning.
52. Bouquet with Hops
As an alternative to leaves as filler, hops are a fun option for beer lovers.
53. Red Dahlia, Mum and Rose Bouquet
Vibrant dahlia, mum and rose blooms filled this bridal bouquet.
54. Bouquet With Lisianthus, Ranunculus, Rose and Scabiosa
These fall-hued bridesmaid bouquets had a just-picked-from-the-field look to them.
55. Purple Rose Bouquet
This clutch included roses in a soft pastel lavender palette.
Fall Wedding Bouquet Tips
Inspiration for your fall wedding bouquet is important, but so are the logistics. Prepare for your florist consultation by having your budget and some design thoughts ready to go. Then, let your florist take it from there!
Start with a mood board.
Alyssa Abshier and Victoria Nadler, co-founders of Amber Sol Collective, an event planning company that specializes in one-of-a-kind styling, encourage to-be-weds to start their floral design plans by creating a wedding decor mood board. They also recommend doing research on specific bouquet styles, popular fall wedding flowers and possible color palettes you're envisioning. "The more specific you are, the better your florist can emulate your vision. And having an inspiration board will help you and your planner really narrow down your unique design for your big day."
Incorporate fall greenery and seasonal foliage.
Fall is the season of foliage. As the trees begin to turn vibrant shades of burnt orange, red and yellow, don't be afraid to incorporate ample foliage into your bouquet as well. From rust-hued maple leaves to pampas grass and seeded eucalyptus, fall-inspired designs work really well with lots of foliage. And as an added bonus, incorporating some types of foliage into your arrangement can help stretch your floral budget even further.
Let your florist work their magic.
As much as we recommend preparing for your florist consultation appointment, it's also important to keep an open mind for your florist's ideas too. They're the expert when it comes to making the most of your wedding budget and choosing the right flowers for your aesthetic. If their work is what drew you to hire them in the first place, you can trust them to bring your vision to life for your own special day.
Samantha Iacia contributed to the reporting of this article.