27 Stunning Lily Wedding Bouquets to Complement Your Wedding Day
These breathtaking flowers bring light, hope and elegance to any arrangement.
Few flowers balance beauty, delicacy and boldness as well as a lily. Known for its refined elegance, a lily wedding bouquet is a stunning choice for any nearlywed, as it reminds onlookers of purity, innocence and new life, things that often come with a marriage. Even Kate Middleton chose to go this route for her now-famous wedding bouquet, which included Lily of the Valley, myrtle, hyacinth and Sweet William.
If you're considering using lilies or many of the flower's look-a-like companions to bring your wedding day to life, the following tips and tricks can guide and inspire confidence in your choice.
In this story:
Different Types of Lilies
While lilies do come in a wide variety of shapes and colors, there is a myriad of flowers that share the name but are not classified as true lilies. Each lends a different beauty and meaning to a wedding bouquet.
Asiatic lilies come in many colors, although they do not have the traditional sweet lily scent that many people hope for on their wedding day. If you're looking for warm colors like white, yellow, pink, red and orange, these are a great choice. The blooms also cluster together creating full and luscious bouquets.
The well-known white or white-with-pink lily is the Easter lily, most commonly used on the holiday known by the same name, although the color and availability make them a perfect choice for a springtime wedding bouquet too. The calla lily, often associated with beauty, innocence and hope, is another distinctive, cone-shaped flower that is commonly white, although florists can usually source them in almost any shade of yellow, orange, pink, red or purple.
While technically not a lily and rather part of the asparagus family, lily of the valley (also known as andromeda or pieris) is often grouped together with other lily varieties. Lily of the valley is a small, delicate flower with an abundance of small white or pink blooms. These stems drape in stunning sprays and produce a sweet scent. It represents love, joy and happiness, each of which is welcome on a wedding day.
Oriental lilies typically come in shades of white, pink and red and are renowned for their sweet scent. A bold and striking oriental lily common in wedding arrangements for its resilience is the Stargazer lily. These lilies symbolize prosperity and abundance.
The orange Tiger lily is another beloved wedding bouquet option, as it is said to bring confidence and wealth to its holder. They also come in white, pink, yellow and red, although each variety will have the tell-tale black spots at the center.
When Are Lilies In-Season?
Like most flowers, lilies are in season from spring through fall depending on the variety, although many farmers can grow them throughout the year in a greenhouse. Easter lilies are typically the first variety to bloom, often to line up with the flower's namesake holiday in late March or April. Soon after, Asiatic lilies, including the stunning Tiger lily, start to open in May and June, right after peonies appear. Next, calla Lilies and lily of the valley, which are not true lilies, begin to bloom in early summer, although they may bloom a bit later in colder, more northern states.
Oriental lilies, which include the adored Stargazer lilies, are usually in season in July and August as they are slow growing. Lastly, trumpet lilies, which are typically more petite and clustered together, follow closer to fall.
Average Cost of Lilies
The cost of lilies will depend greatly on your location, the season and who is arranging your flowers. But, lilies typically cost around $4 to $8 per stem. Small bouquets can run between $50 and $70, while more robust arrangements can easily be over $200. More unique colors may be more difficult to find, driving the price up as well.
Tips for Adding Lilies to Your Wedding Bouquet
As you consider the vast options for putting lilies in a wedding bouquet, you may be wondering whether to mix in other flowers and colors or let the iconic bloom stand alone. While much of this is up to personal preference and the style of your wedding, we've put together some tips to help you think through what will work best.
What Flowers Go With Lilies in a Bouquet?
While many people chose to let lilies remain the only flower in their bouquet, adding other blooms to the mix can elevate a lily wedding bouquet. Common choices to add include orchids, roses, peonies and anemones. Of course, many brides love to surround their lily wedding bouquet with greenery, especially if outlining an all-white bouquet that will be held alongside a white dress.
Opt for Simplicity
Many people choose to showcase the beauty of a lily by refraining from adding other flowers. Commonly done with the modern and sleek calla lily, this allows for a sophisticated look that many brides seek.
Pick Bold Lilies for a Deep Contrast
As lilies come in almost any color, they provide a great opportunity to have a bouquet that pops. Whether you jazz up a traditional white wedding bouquet with purple calla lilies or choose a bright yellow tiger lily amidst a bed of cascading greenery, this is a great way to keep the guests' eyes on the bride.
Mix Textures
As many traditional lilies have a more firm, waxed look, providing greenery like ferns or lambs' ear can create a softer glow. If you have a Lily of the Valley bouquet, consider adding in large blooms, such as true lilies or orchids, to create a more complex bouquet. Lastly, using a bold ribbon or even a handkerchief keepsake to hold it together can add a personal touch.
As you consider different lily wedding bouquets, The Knot Marketplace is a great resource for finding florists to assist you in creating the perfect arrangement. These wedding vendors know flowers better than anyone else and can truly create a work of art with them.
Calla Lily Wedding Bouquet Ideas
Now that you know the ins and outs of lilies for a wedding, it's time for the fun part: inspiration. Here are some calla lily wedding bouquet ideas to inspire you.
Orange Calla Lily Bouquet With Red Accents
The warm color palette of this calla lily bouquet added a vibrant touch to this fall wedding day. By pairing light orange calla lilies with white lilies and other red accents, this bride captured the warmth of the day.
Fuchsia Calla Lily Bouquet Inspiration
Looking for something bright and bold? This bride's bouquet comprised completely of fuchsia calla lilies packed a beautiful punch on the big day.
Petite Dark Purple Calla Lily Bouquet
Since this bride opted for such a dark and dramatic shade of calla lily, she kept the arrangement small to ensure it didn't feel overpowering. As a bonus, the petite design also allowed her to show off a unique hand jewelry piece.
Cascading Purple Calla Lily Wedding Bouquet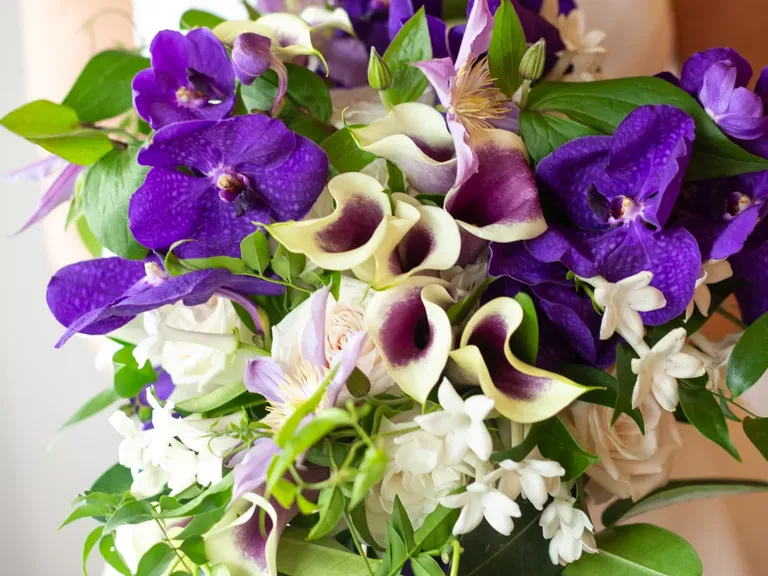 This modern bouquet came to live by mixing white-and-pink calla lilies with deep purple orchids. With an abundance of greenery and petite white flowers cascading down, this jewel-toned romantic assortment adds a perfect touch.
All-White Calla Lily Bouquet With Greenery
An all-white wedding bouquet is a stunning and traditional way to accent your special day. Consider ferns to help the bouquet stand out next to a wedding dress.
Fuchsia Calla Lily Wedding Bouquet
This fuschia wedding bouquet uses roses in many shades of pink alongside orchids and calla lilies to bring a boldness found in few arrangements these days. By keeping the shape round, it still gives a nod to classic bouquets.
Lily of the Valley Wedding Bouquet Ideas
Looking for a dainty lily to incorporate into your wedding bouquet? Let these Lily of the Valley bouquets inspire you.
Understated Lily of the Valley Bouquet With Large Leaves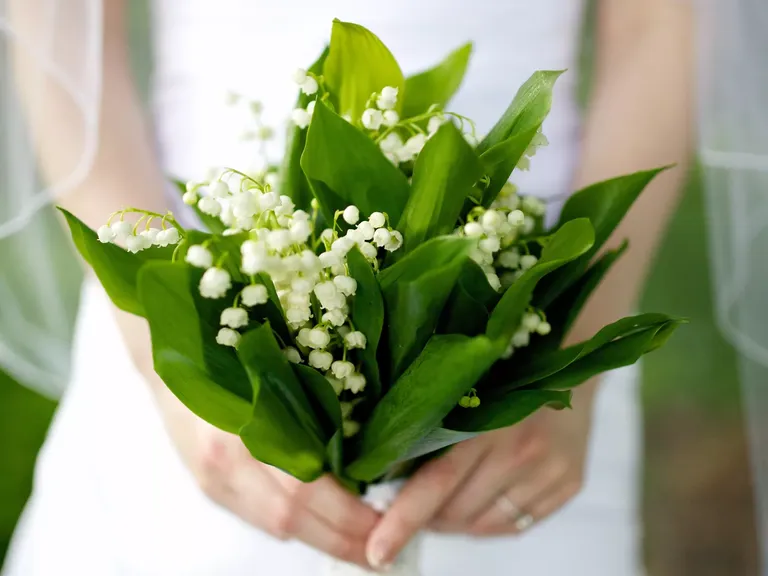 The tiny, bell-shaped blooms on Lily of the Valley contrast well with large leaves in this bridal bouquet. By keeping it smaller, this bride was able to enjoy the sweet scent this flower holds without taking away from the rest of the ceremony decor.
Overflowing Lily of the Valley Bouquet
Using white calla lilies alongside scabiosa pods and an abundance of greenery and lily of the valley, a florist created this unique and natural bouquet. The varying texture and pops of maroon really pull this design together.
Hand-Tied Garden Bouquet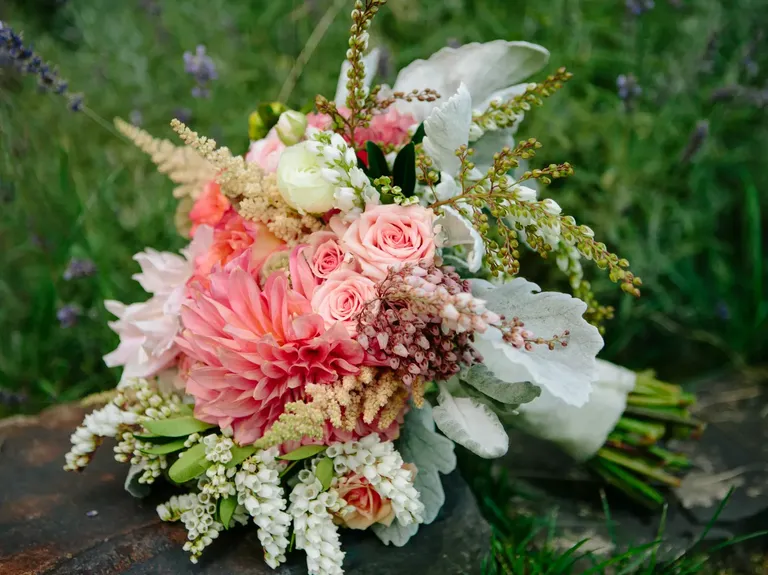 The substance of this bouquet comes from the pairing of pink dahlias, blushing roses and white ranunculuses, but the Lily of the Valley accents bring the romance. The various bud and flower sizes create a garden-like feel to this full bouquet.
Delicate Lily of the Valley Bouquet With a Bold Ribbon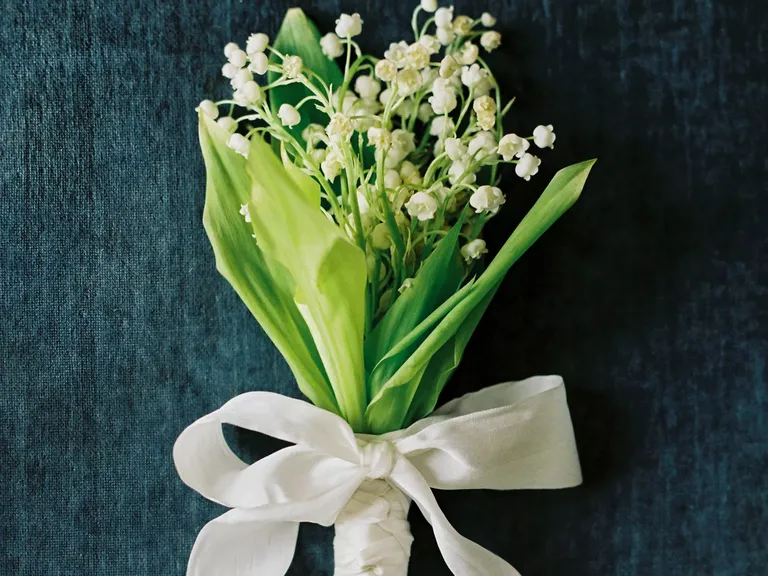 This simple lily of the valley wedding bouquet sets itself apart with its long and silky ivory ribbon. By keeping the arrangement small, the delicacy and beauty of this flower shine even brighter.
Blushing Bridal Bouquet
With wide open white roses and an assortment of small and medium-sized blush-colored blooms, this bouquet beckons thoughts of gardens with its green accents. With plenty of Lily of the Valley tucked in, this arrangement mixes romance and a chic design quite well.
All-White Lily of the Valley Bouquet
One bride kept it simple with this all-white Lily of the Valley bouquet. Accented with pearls, this traditional and timeless arrangement would fit in anywhere.
Stargazer Lily Wedding Bouquet Ideas
Stargazer lilies are perfect for to-be-weds who love bright, bold colors. Here are some of our favorite stargazer lily bouquet ideas.
Stargazer Lily Wedding Bouquet with Orange and Pink Roses
This eye-catching arrangement used the brightest flowers to draw attention to the bride. The dual-colored roses help the stunning stargazer lilies stand out in this cascading bouquet.
Red and White Stargazer Lilies With Sunflowers and Purple Aster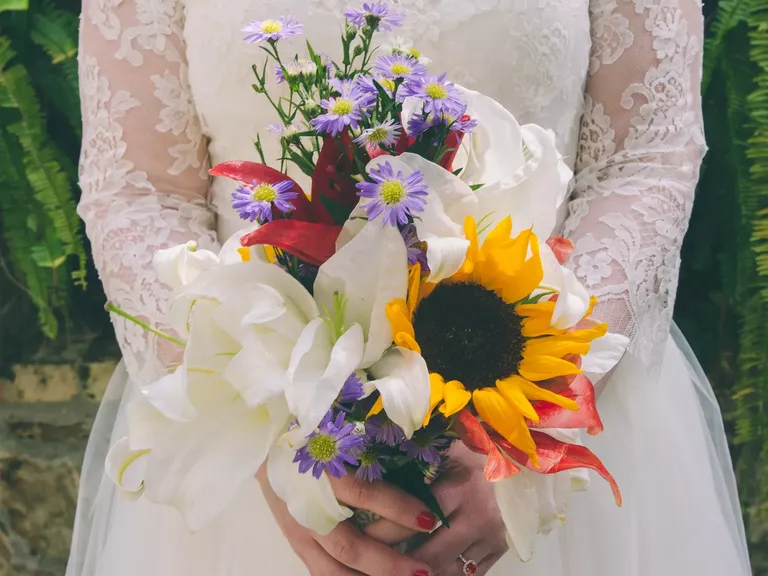 Mix colors and textures to create a natural bouquet to reflect the season and location of the wedding ceremony. The purple aster and sunflower complimented this two-tone stargazer lily bouquet to create a natural boldness.
Colorful, Bohemian Stargazer Lily Bouquet
This pink stargazer lily bouquet used ferns, pink roses and yellow accents to create a colorful arrangement for this bride. The arrangement's warmth complimented the modern, forest wedding well.
Pink Stargazer Lily Bouquet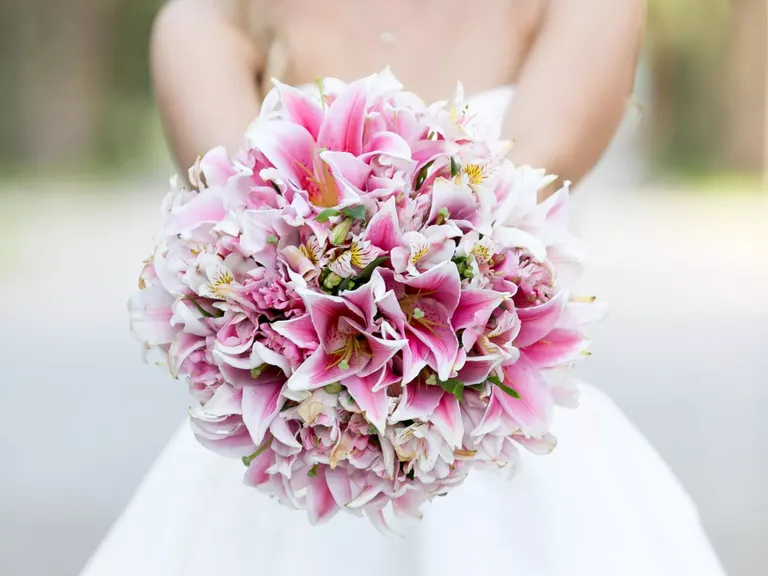 This bouquet consists mostly of pink stargazer lilies, although the bride also chose to mix in a few alstroemerias. It provides a delightful pop of color for any spring or summer wedding.
Classic White Lily Wedding Bouquet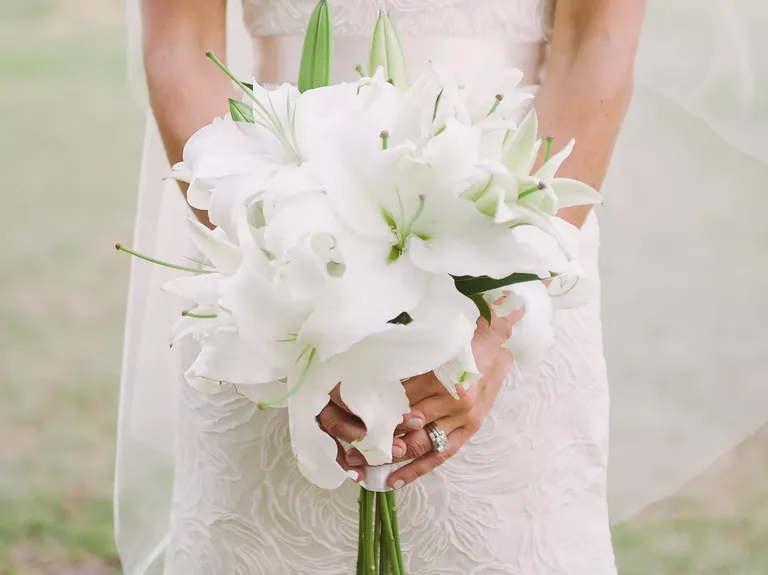 The fullness of white lilies in bloom lend themselves to simple and classic wedding looks. A white ribbon and long stems help bring depth to this particular bouquet.
Tiger Lily Wedding Bouquet Ideas
Identifiable by their speckled orange petals, tiger lilies will add beautiful vibrancy to any wedding bouquet. Scroll on for great tiger lily wedding bouquet inspiration.
Long-Stemmed Tiger Lily Wedding Bouquet With Zebra Grass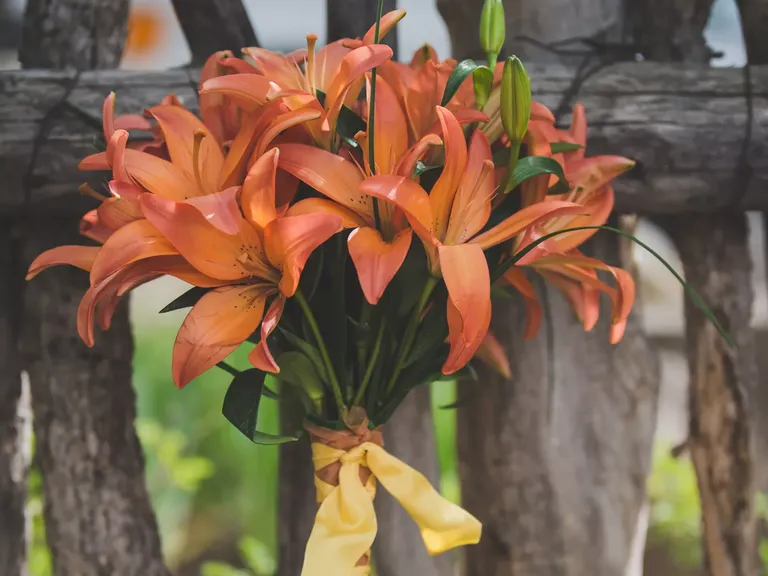 This large bouquet of traditional orange tiger lilies pulls together with a yellow ribbon on the long-cut stems. The long zebra grass provides a bit of depth as well.
Romantic Lily Bouquet With Gerbera Daisies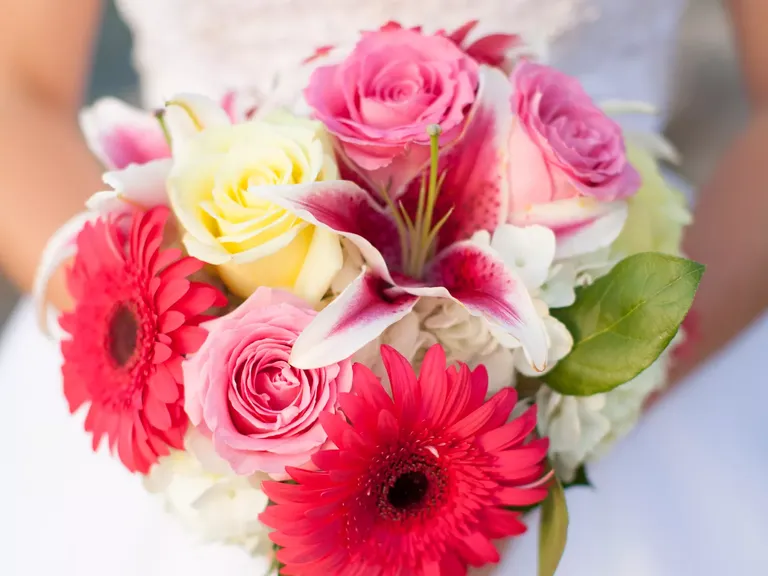 Using warm colors went far in this vibrant wedding bouquet, made complete by the speckled lily, bright pink gerbera daisies and roses. A few large green leaves were the perfect touch to round out this romantic and springy arrangement.
Tiger Lily Nosegay
The striking tiger lily does not need much to make a statement. This small bouquet, composed solely of the beloved orange spotted flower, can help tie in other colors from the wedding, including bridesmaid dresses or the ties worn by groomsmen.
True Lily Bouquet Ideas
Sometimes going back to basics is the best move. True lilies, like those seen in the inspiration below, are great for classic couples inspired by timeless blooms.
Pink Gloriosa Lily Bouquet With Succulents, Dahlias and Roses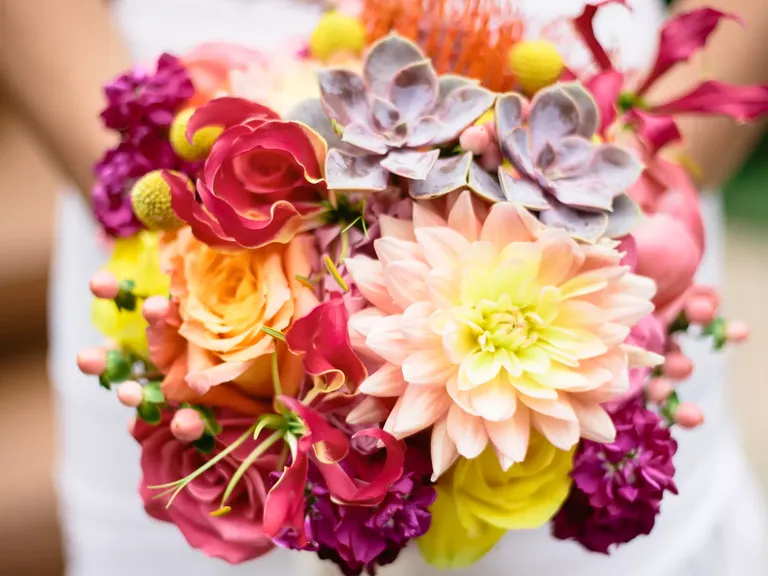 This wedding bouquet provides luscious color with its pink gloriosa lilies, blush dahlias, succulents and roses. Pops of orange and yellow from protea and craspedia pull it all together for a celebratory feeling.
Cascading White and Green Bouquet
Nothing can make both a dramatic and romantic statement as well as a cascading wedding bouquet. Using white lilies, roses and orchids amid draping green and white, this elegant arrangement could be carried any time of year.
Textured Pink and White Lily Bouquet With Greenery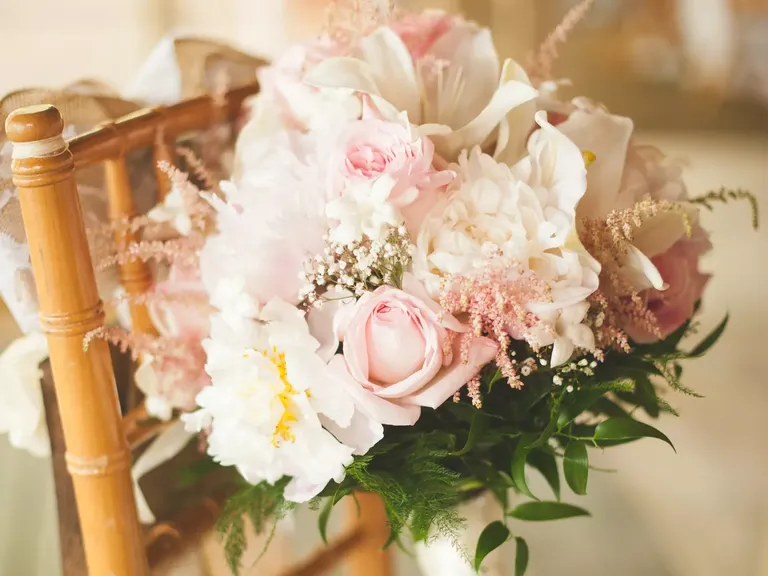 While all within the white and pink color scheme, this bouquet comes alive due to the varying texture of the baby's breath, lilies, peonies and tiny accent flowers. Framed with greenery and fully wrapped in white ribbon, this bountiful bouquet felt quite at home during an airy, mountaintop wedding.
Fresh Lily Wedding Bouquet With Closed Buds and Dusty Miller
While many bouquets use forest green accents to make the colors pop, this arrangement uses the silver-toned dusty miller to help the fresh white lilies stand out. Incorporating unopened buds also reminds onlookers of the beauty to come.
White and Cream Lily Bouquet With Deep Green Accents
Unopened lilies lie tucked beside romantic roses and gentle carnations to create this stunning bouquet. Accented with hypericum and greenery, this ivory arrangement fits right it during an autumn wedding.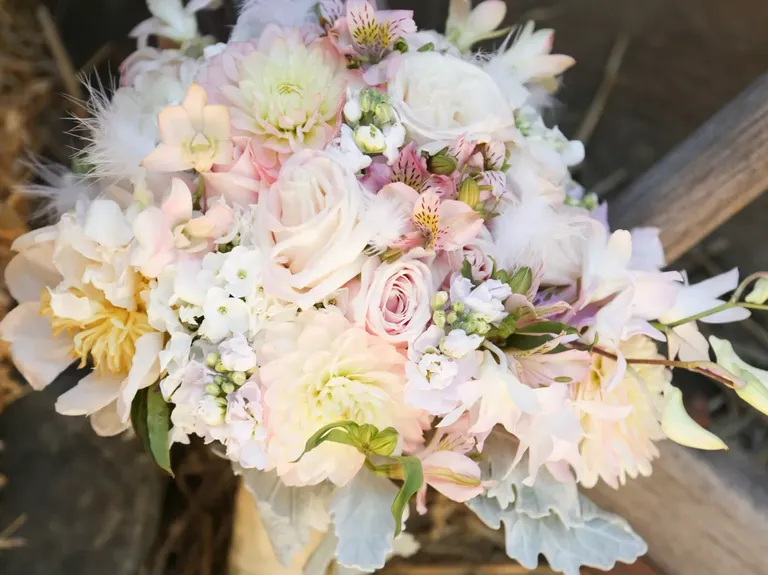 This elegant design came together by combining a soft, light arrangement of hydrangeas, baby's breath, lilies and roses alongside lamb's ears and lavender. The florist snuck in a white ostrich feather for a little bit of edge and personality for this unique and fluffy bridal bouquet.
Timeless White and Pink Bridal Bouquet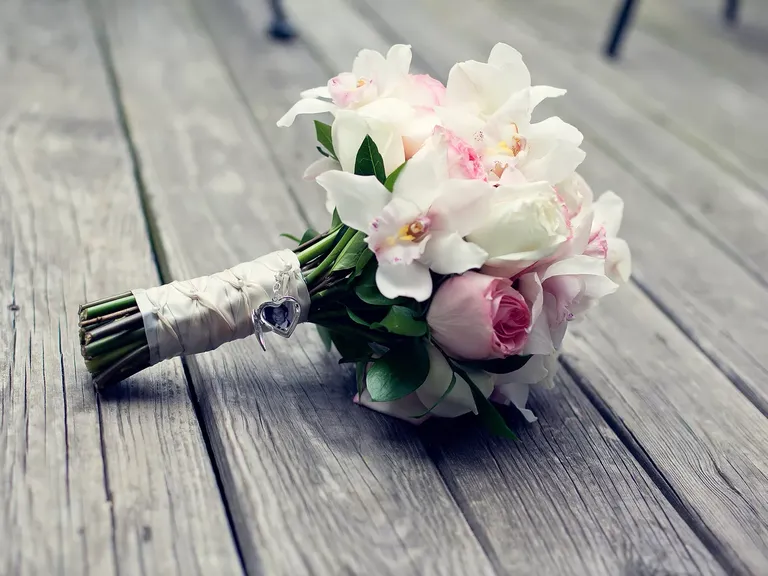 This traditional bouquet incorporates white and pink orchids and roses tucked between gorgeous white lilies. It is tied together with white ribbon and a keepsake locket.