Get Cozy With These Fresh October Wedding Ideas We Love
There's more to October than pumpkins.
According to our internal research, October is the most popular month of the year to say "I do." And it's not hard to see why so many couples choose to wed in October. There are boundless October wedding ideas to choose from, the weather is generally mild and pleasant and fall foliage creates a stunning backdrop. So, what are you waiting for? Let's get to planning your beautiful October wedding.
If you're thinking about hosting a wedding during October, you're probably also wondering how you would decorate your big day. We've gathered some of our favorite October wedding ideas to get you started on your wedding journey. Peruse the inspiration below and make sure to save the ideas that pique your interest to share with your wedding planner. No matter what, one thing is certain—an October wedding is sure to be stunning.
In this story:
Tips for Planning a Wedding in October
Wondering how to plan a perfect October wedding? Once you've settled on an October wedding date, there are some practical tips you need to keep in mind to ensure the fall wedding day runs smoothly.
Incorporate Seasonal Colors and Details
Especially if you're tying the knot in a location known for vibrant fall foliage, it's a great idea to include autumnal shades in your wedding decor. Additionally, take some time to think about seasonality with food, drinks and flowers. When it comes to in-season fall flowers, dahlias are a beautiful option. As for a seasonal fall wedding menu, flavors like pumpkin, apple, chai and maple are sure to wow wedding guests.
Plan in Advance and Be Mindful of Holidays
You may be asking yourself, "When is the best time to have a wedding in October?" Of the 31 days in October, there are a few wedding dates you might want to avoid. Notably, the second Monday in October is a federal holiday for Columbus Day and Indigenous Peoples' Day. Halloween is another big holiday during October that many people choose to avoid. However, if you're a fan of spooky things, you might actually consider hosting a ghoulish Halloween wedding. Whatever date you choose, make sure to decide early and clearly communicate your chosen date with loved ones via save-the-dates and a wedding website.
Consider the Changing Weather
October couples need to keep in mind that the weather may be getting brisk. If you're planning an outdoor wedding, you may want to rent a few heaters. Additionally, make sure to check the time of sunset for your wedding day and plan your photography schedule to accommodate the limited daylight.
Prioritize Guest Comfort and Warmth
Guest comfort should be top-of-mind for all couples, not just October couples. Think: extra blankets on hand at the ceremony and reception. We've also seen couples serving hot apple cider to guests upon arrival at the wedding ceremony to keep them toasty warm from the get-go.
Have a Backup Plan
A warm, indoor backup plan is a must if you're anticipating hosting any part of your wedding outside. If the weather ends up being cold or wet, you don't want that to get in the way of a perfect wedding celebration.
October Wedding Color Ideas
What's the best color to wear to an October wedding? What color palette is best for an October wedding? Don't fret, we've got you covered. Here are our favorite October wedding color ideas that you need to keep in mind for the fall.
Burnt Orange
Burnt orange is especially popular on Pinterest at the moment, and we can see why. The color feels bold, yet modern and totally fun.
Burgundy
Burgundy simply oozes romance. Whether you settle for a burgundy lip color or infuse the color into your day through burgundy flowers, the shade is going to shine.
Navy
Navy is almost a neutral—it's classic, versatile and timeless. We love the idea of groomsmen in navy suites just as much as we love the idea of navy throw pillows in a cozy lounge area.
Emerald
Emerald, and all jewel tones in fact, look great at an October wedding. Have a little fun with your tablescape and select emerald water goblets or emerald napkins.
Mustard
While some pastel shades of yellow might be a better fit for spring or summer nuptials, mustard is a rich hue that looks right at-home at autumnal weddings. Rent mustard velvet lounge furniture or select gauzy mustard table runners to lay atop a rustic wood farm table.
Dusty Rose
Step aside, blush, there's a new popular pink in town. We love dusty rose as an elevated alternative to blush.
Apricot
If true orange isn't quite your jam, consider a softer, lighter option: apricot. Since apricot is such a light hue, it can work much like a neutral in your decor. Consider using it for table linens or as part of your wedding invitation suite.
Dusty Blue
As a complementary color to orange, blue is going to look stunning against a backdrop of vibrant leaves. We're especially partial to the effortless, refined feel of dusty blue.
October Wedding Ideas
From maple leaves and pumpkins to velvet and leather, there's a unique wedding idea out there for every October to-be-wed, no matter your style. Get inspired by 50 of our favorite October wedding ideas.
1. October Wedding Flower Idea With Baby's Breath
Baby's breath is in season pretty much all year long, plus it's an affordable options—that's a win-win for all weddings, not just October nuptials. We love how this couple decorated their October wedding welcome sign and their seating chart with baby's breath garlands.
Find your kind of venue
From barns to ballrooms, discover reception venues that feel like you.
2. October Wedding Ceremony Altar Flower Idea
Instead of a traditional wedding arch, this couple commissioned an open-top flower installation for their ceremony altar so guests could enjoy sweeping views of the snow-capped Rockies at this October wedding. Plus, how fun as the vibrant jewel-tone flowers incorporated throughout?
3. Jewel-Tone Ceremony Flowers at October Wedding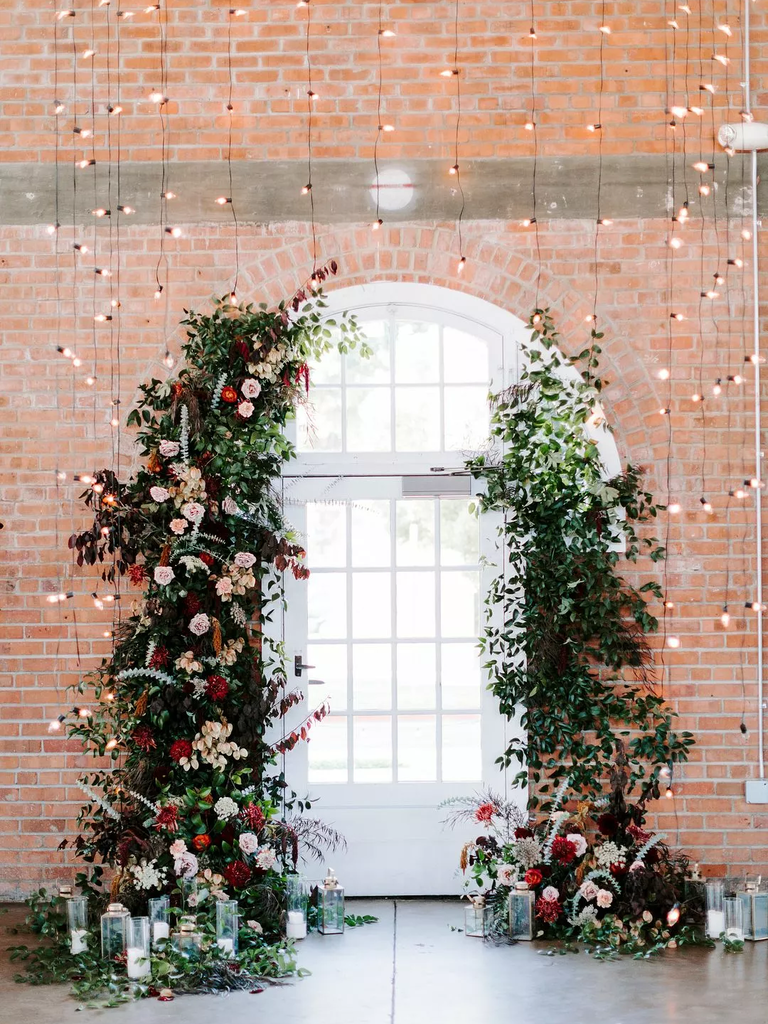 Candles, greenery and jewel-tone flowers galore decked out this wedding ceremony altar space. Adding candles to your floral installations at an October wedding is a great way to infuse warmth and coziness into the special day.
4. October Ceremony Backdrop Idea With Pampas Grass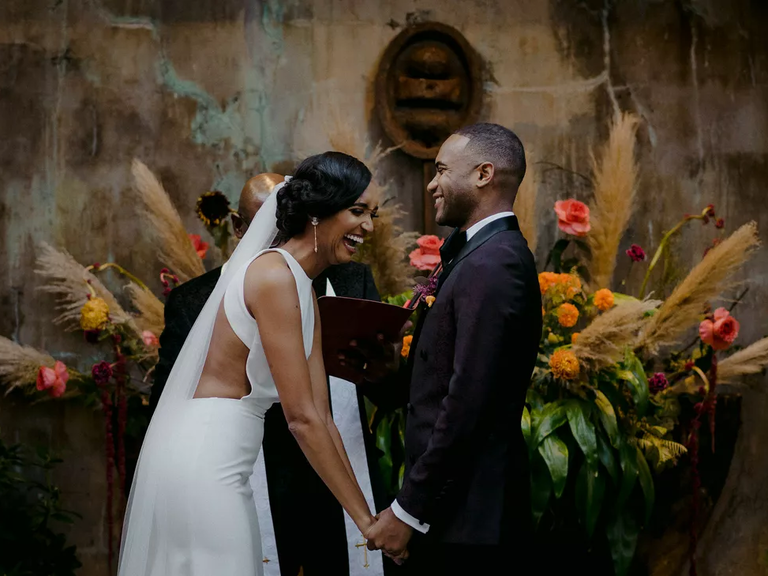 Dried botanicals, like pampas grass, are a great option if you want something versatile and don't want to have to worry about what will or won't be in season on your big day. This couple had their floral designer create a dramatic pampas grass backdrop for their October wedding ceremony at an industrial restaurant in New York.
5. October Wedding Boutonniere Idea
Remember when we said dusty blue is a must for an October wedding? If you still needed proof, let this groom's dusty blue suit convince you of how perfect the color is for an October wedding. For his fall vows, the groom paired his suit with a green berry boutonniere.
6. Orange Ceremony Flower Arch at October Wedding
How fun is this vibrant orange ceremony installation? We love how many varieties of orange botanicals this couple's floral designer used—from anthurium to roses and even dried leaves.
7. October Orange Wedding Bouquet Idea
In general, anemones are a great option for October weddings because their growing season lasts from autumn through winter and into spring. Orange roses and ranunculus rounded out this fall wedding bouquet beautifully.
8. October Cascading Wedding Bouquet Idea
Trees with leaves changing colors make great wedding portrait backdrops. This couple's wedding portrait came together beautifully since the vibrant tree complemented the fall-hued botanicals in their bouquet and boutonniere.
9. October Dahlia Wedding Bouquet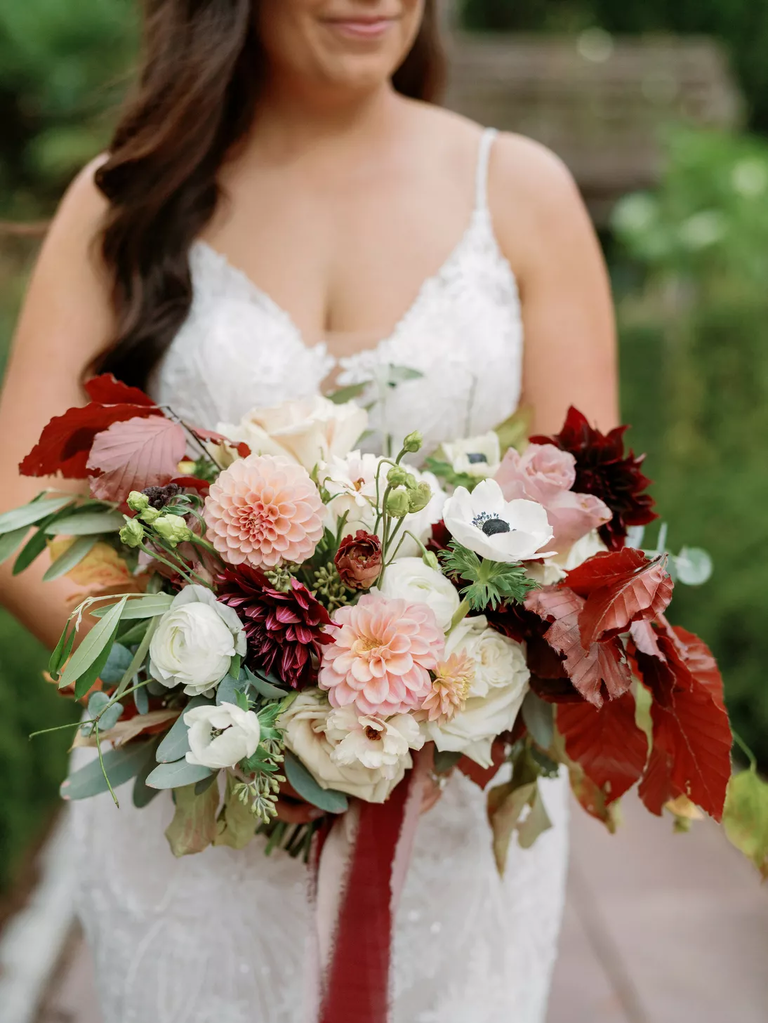 If you're an October to-be-wed, make sure dahlias are on your radar. Dahlias have a notoriously short growing season so not all couples are able to have the flower at their wedding, but the bloom is generally procurable in October.
10. Red Dahlia Bouquet Idea for October Wedding
Talk about an eye-catching bouquet! We love how the red dahlias and tendrils of amaranthus in this flower arrangement complement the bride's hair beautifully.
11. Wildflower-Inspired October Wedding Bouquets
While dried elements look great year-round, they're especially fun at October and other fall nuptials. This October bride settled on a mixture of dried leaves, eucalyptus, amaranthus and thistle for the wedding bouquets.
12. Orange October Wedding Cake Idea
Even if you aren't hosting a Halloween wedding, there's something about the pairing of October and orange that just feels right. We love how seasonal this two-tier orange wedding cake feels, especially on top of a gold cake stand.
13. October Wedding Cake Idea With Figs
Figs are generally in season from summer through October so most October couples should be able to catch the tail-end of fig season for their wedding menu needs. For their New York wedding, this couple served a semi-naked wedding cake finished with fresh figs.
14. Vibrant October Wedding Centerpiece Idea
Beyond dahlias, many other plants are readily available during October. At this wedding, the colorful dahlia centerpiece was accompanied by fresh peaches and tomatoes, both of which generally grow from summer until the very beginning of October.
15. Boho October Wedding Centerpiece Idea
Looking for a boho wedding centerpiece idea for your October wedding? This couple selected neutral roses to pair with pampas grass and dried palm fronds for their tablescape. To add even more personality to the tabletop they rented wood chargers and gold flatware.
16. Rustic October Wedding Centerpiece Idea
To say we're obsessed with this rustic wedding centerpiece would be an understatement. At this October wedding in the Rocky Mountains, the couple decorated their tables with rose centerpieces that included rustic leafy vines. To creatively juxtapose the rustic feel of the centerpiece, they unexpectedly selected cut-crystal stemware.
17. October Wedding Table Decoration Idea
If you're planning an October wedding and want to include pumpkins, but orange doesn't fit into your color palette, consider spray-painting gourds to match your chosen color scheme. This couple decorated their wedding with gold pumpkins, but just about any color could work.
18. Mauve Table Decorations at October Wedding
Don't you just wish you could be a guest at this glam wedding reception? Velvet and suede are great fabrics to bring into an October wedding design to create a luxe-yet-cozy feel as temperatures begin to drop.
19. Burgundy Table Decorations at October Wedding
Jewel tones, especially colors like wine and burgundy, are a fantastic choice for an October color palette. This cohesive tablescape included burgundy napkins which perfectly matched the colors seen in the tall rose and berry centerpieces.
20. October Wedding Favor Idea
Edible wedding favors are a wonderful choice if you want to give your guests a little something as a token of appreciation, but you don't want to present them with a tchotchke that would just collect dust. At this October wedding, the couple gave loved ones bottles of Diet Coke with a custom label that included the couple's name and wedding date.
21. October Wedding Koozie Favor Idea
Koozies are certainly not a new idea when it comes to wedding favors, but there's a reason so many people continue to purchase koozies—they're both fun and practical. Guests can use the koozie at the wedding and then take it home as a way to remember the special day anytime they crack open a cold one.
22. Blanket Favor at October Wedding
Here's the tricky thing about October: it is beautiful outside, but also starting to get crisp and chilly. We totally get why many October couples want to have their wedding ceremony outside, but if you do, think about having blankets on hand for wedding guests to keep them cozy during the "I dos."
23. October Wedding Food Idea
Fried chicken at a wedding? Yes, please! Don't feel obligated to stick with "traditional" wedding foods for the big day. If the idea of comfort food strikes your fancy, go for it. This October couple wanted to serve their favorite fried chicken at their wedding and we're sure it was finger-licking good.
24. Dim Sum Reception Food at October Wedding
Speaking of comfort food, we're just as obsessed with the idea of serving dim sum at a wedding reception as we are with serving fried chicken. This October couple served a selection of dim sum dishes at their California wedding as a cozy and tasty offering for guests.
25. October Wedding Cocktail Idea
Both prickly pear and thyme are wonderful fall ingredients to consider for an October wedding. At this wedding, guests could choose from two signature cocktails: a thyme sip with vodka or a prickly pear margarita.
26. Mirror Sign at October Wedding
As guests arrived to this October wedding, they were served apple cider and doughnuts to tide them over until cocktail hour. If you really want to enhance the guest experience at your wedding, welcome drinks and snacks are a nice way to surprise and delight loved ones.
27. October Wedding Welcome Sign Idea
While many couples choose rustic themes for October weddings to fit with the fall foliage, that's certainly not a must. This couple leaned into an elegant, modern feel for their wedding, as evidenced by this sleek maroon wedding welcome sign.
28. Eucalyptus Welcome Sign at October Wedding
Minimalist couples, this look is for you. If you chose your wedding date for a special reason (maybe it has nice symmetry like this couple's 10/10 wedding date) then don't be afraid to show it off on your wedding stationery and signage.
29. Boho October Wedding Invitation Idea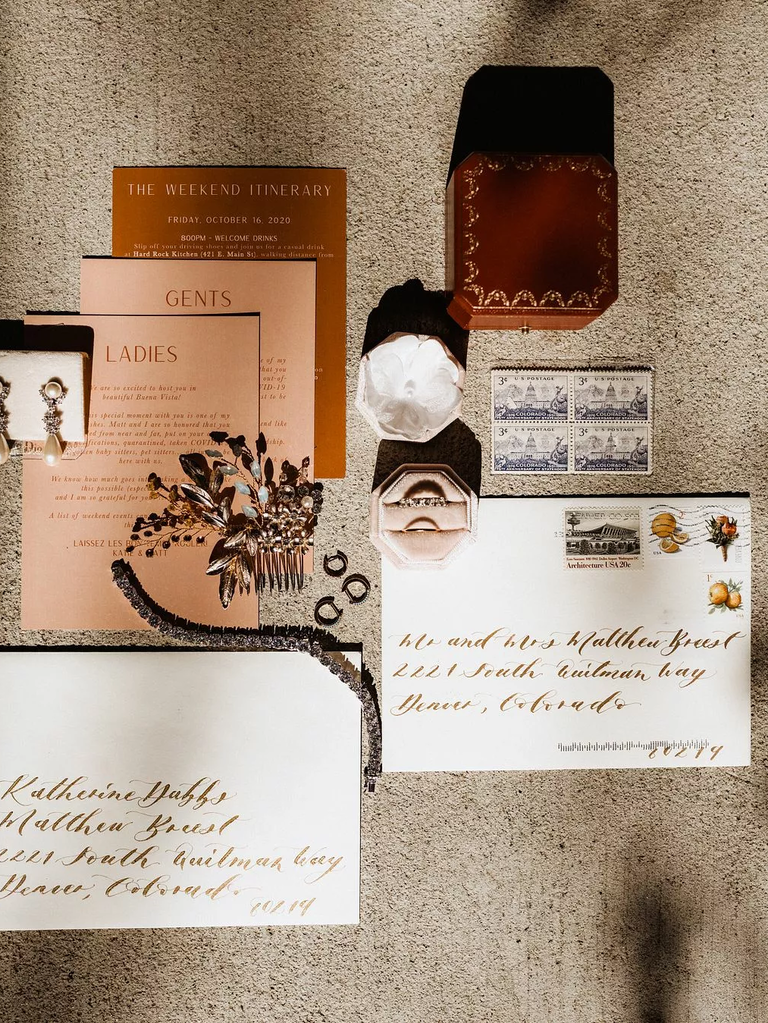 We're digging this rust and pale orange stationery color palette for an October wedding in Colorado. In addition to sharing practical wedding details, your wedding invitations are a good spot to give guests a peek into the colors and aesthetics to expect from your special day.
30. Romantic October Wedding Invitation Idea
We can't decide which part of this October wedding invitation suite is our favorite. Marigold ribbon, deckled edges, gold foil and dramatic calligraphy made this design especially memorable.
31. Elegant October Wedding Invitation Idea
Planning a modern October wedding? Let this suite with sleek handlettering and blush and navy accents inspire you.
32. Modern October Wedding Invitation Idea
We know what you're thinking, brown as a wedding color? Let this October wedding suite be your proof—even brown can be a stunning color for a wedding.
33. October Wedding Reception Lounge Seating Idea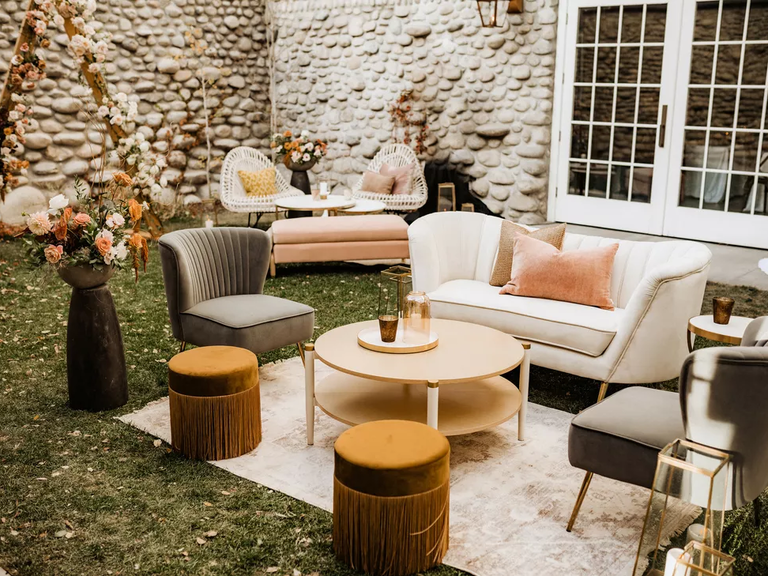 This couple tied the knot in the mountains of Colorado as the aspen trees turned yellow during October. To complement the surrounding foliage, they included rented yellow furniture in their lounge setup.
34. Boho Lounge Seating at October Wedding
Here's the truth: boho is always a great idea. We're big fans of boho weddings no matter what time of year you're saying "I do," but this lounge is proof that the boho rattan-centric aesthetic looks especially great at an October wedding.
35. October Wedding Party Attire Idea
Planning an October wedding is about more than just selecting season-appropriate decor, you also need to consider attire. This couple outfit their wedding party in long burgundy bridesmaid dresses and navy groomsmen suit for their autumn big day in North Carolina.
36. College Football Wedding Detail
October is peak college football season. There's a chance your loved ones may be sacrificing watching their alma mater play ball if they're attending your big day. As a way to still celebrate, consider having university paraphernalia incorporated into your photo booth or as props attendees can dance with.
37. Velvet Bridesmaid Dresses at October Wedding
Want your wedding party members to look great and feel cozy at your October wedding? Velvet dresses are the way to go. The bridesmaids at this October Michigan wedding looked stunning in gold-colored velvet dresses.
38. Navy Bridesmaid Dresses at October Wedding
Navy is a classic wedding color that looks good at any wedding, no matter the season. However, we're especially partial to seeing it used at fall weddings. Still need proof that it's a great October wedding color? These beautiful bridesmaids should be all the evidence you need.
39. Velvet Tux at October Wedding
We love it when to-be-weds get adventurous and go beyond a simple black tuxedo. For his October wedding in Maryland, this groom rocked an emerald-green velvet tuxedo jacket with a shawl collar and jeweled lapel pin.
40. October Wedding Venue Idea
If you're getting married outdoors during October, you may not need to go overboard with ceremony decorations because nature itself can serve as your decor. At this October wedding in Michigan, the couple kept their altar minimal with a simple wood arch and some draping so their farm venue could be in full view for all to enjoy.
41. October Wedding Place Setting Idea
This October couple's gold, blue and white tablescape was a memorable one. Instead of draping floor-length linens over their guest tables, the marriers opted for patterned runners to avoid hiding their wood farm tables.
42. October Wedding Glassware Idea
How fun is this eclectic mix-and-match jewel-tone glassware? Jewel tones are a solid color choice for October to-be-weds.
43. October Colorful Wedding Dress Idea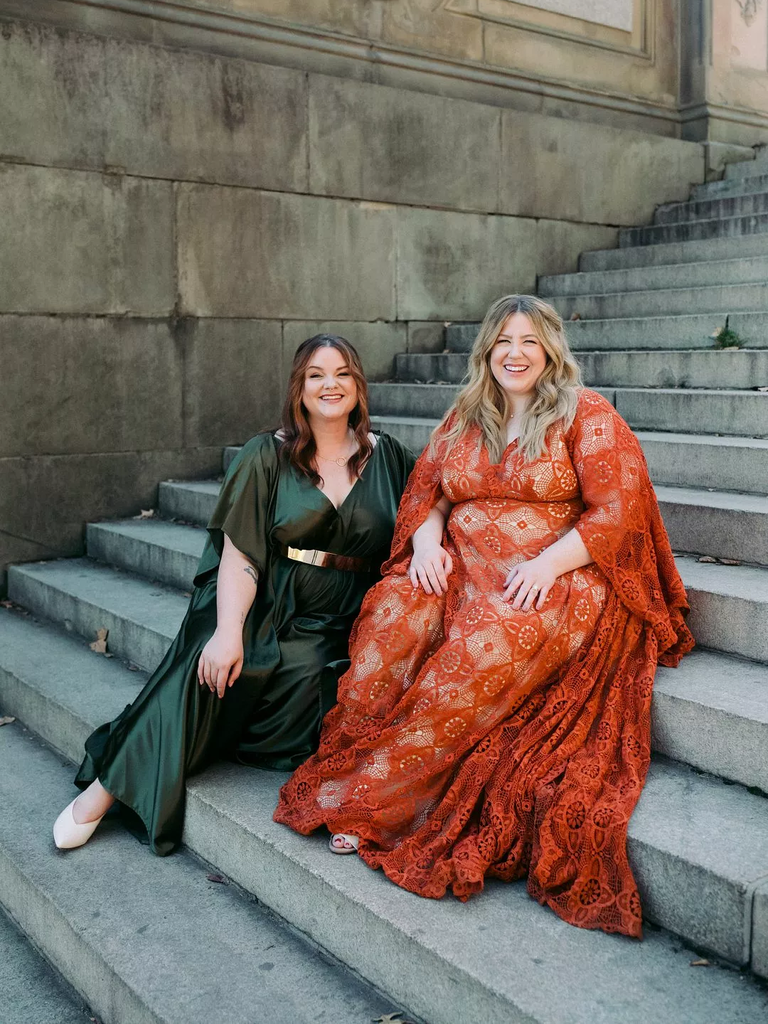 This brides, who eloped in Central Park in New York City during October, leaned into attire that complemented the surrounding foliage. One bride donned an emerald green frock while her wife rocked a burnt orange dress.
44. October Wedding Portrait Idea in Vineyard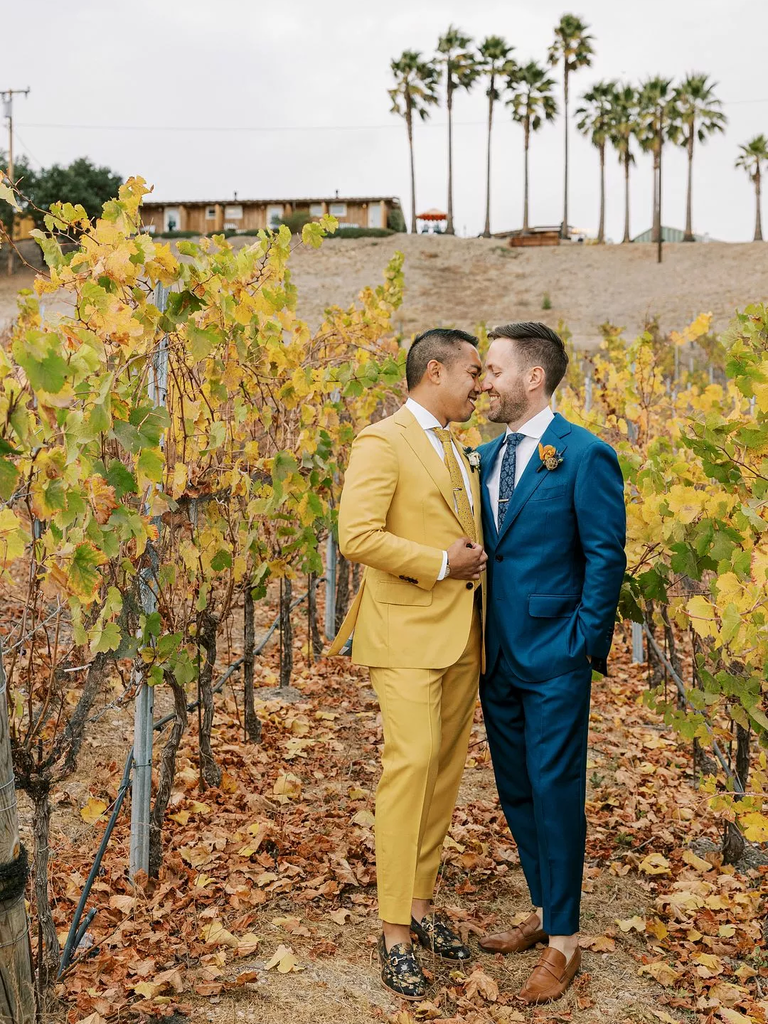 For their wedding portraits, these grooms took a stroll around their venue. They stopped for a quick picture amid some grape vines as the leaves perfectly matched the suits they'd selected for the October wedding weekend.
45. October Wedding Portrait Idea in Park
A great thing about October weddings is that the weather is generally fairly mild. This October couple made the most of the lovely weather and took wedding portraits in a park in Chicago, Illinois, on their wedding day.
46. Long Table With Wood Cross-Back Chairs at October Wedding
Guests at this October wedding in Georgia dined together at one long table. As the sun set, a canopy of cafe lights created a warm and inviting atmosphere for dinner.
47. October Wedding Dog Photo Idea
How cute is this family photo? Not only did the grooms at this wedding rock red ties to coordinate with their October wedding color palette, but their pet corgi also got in on the fun.
48. Twinkle Light October Wedding Reception Idea
Twinkle lights are always a good idea. Don't believe us, just let this couple's romantic October wedding reception be your proof. Wedding guests enjoyed dinner under sparkling lights at this special day in Los Angeles, California.
49. Flower Arrangement With Leaves at October Wedding
In addition to planning centerpieces for your wedding, there are some other floral arrangements you shouldn't overlook. Take a moment to consider what other spots at your wedding could use a little flower love. At this October wedding in Colorado, the couple placed an urn filled with leafy vines on their bar.
50. Halloween Wedding Decor at October Nuptials
Of course, no October wedding idea story would be complete without some Halloween inspiration. Halloween wedding invitations and skeleton decorations made this event especially spooky.