38 Darling Dahlia Wedding Bouquets That'll Steal Your Heart
This summertime blossom brings color to every season wedding
With its vibrant colors and unique shapes, chances are you've seen one of these flowers in someone's garden or at the flower shop. Dahlias are a beautiful bloom that holds many symbols, so it's no wonder many couples go with a dahlia wedding bouquet for their union. We're going to tell you all about this stunning flower and how it will truly transform your bouquet or arrangement.
In this article:
What Are Dahlias?
Dahlias are a native flower to Mexico and Central America, and they're part of the same family of flowers that include sunflowers, daisies, zinnias and chrysanthemums. These blooms symbolize love, beauty, dignity and devotion, a meaning that dates all the way back to the Victorian Era. They come in different shapes and sizes, such as pompom, cactus and ball.
Dahlia Colors
Though dahlias come in fifteen colors, there are many more bi-colors that total to over sixty varieties. These include classic shades like white, pink and purple, or bi-colors with a combination of lighter tips to lighter centers. You're guaranteed to find a flower in this bunch to complement your wedding colors or make your bouquet stand out.
Dahlia Wedding Bouquet Cost
Like most bouquets, the average wedding flower price for dahlias may depend on your location and the season. Since dahlias have such a long growing season, they won't be as expensive as other flower varieties whose bloom time is shorter. Typical costs can range, beginning around $50 or $60.
When Are Dahlias In-Season?
Dahlias are a long-blooming flower, beginning in summer and lasting all the way through fall. This is why they're a popular choice for weddings, along with their beauty and utility. Finding other summer flowers to pair them with will help build out your bouquet. Let's take a look at some other tips for adding dahlias into your floral arrangement.
Tips on Adding Dahlias to Your Bouquet
If the dahlia is one if your favorite flowers, including this flower into your bouquet may be a no-brainer. Here are some other things to consider when choosing this blossom as your showstopper.
What Flowers Go With Dahlias in a Bouquet?
Dahlias are a versatile bloom that work with so many other flowers. Some things to consider are what other flowers will be in season during your big day, and which colors will complement each other in your arrangement. Some classics include roses, hydrangeas and ranunculus.
Consider Color and Shape
Think about which of your wedding colors would go perfectly with dahlia varieties or the season of your big day. You should also play around with the different shapes of dahlias to see which flowers they'd look best next to in your bouquet.
Speak with a Florist
Speaking with Tennessee-based wedding expert Joanna Dyer, owner of Snapdragon Floral, she has a special tip for incorporating dahlias into your bouquet: "The trick with dahlias is to follow their shape. You can't manipulate them to face upward so be sure to let them shine in the front by using their natural frontward face. Dahlias can fade quickly so be sure to use the freshest blooms. They are quite a star flower, and you don't need many to show them off!"
To find your own local florist who can help make this flower truly "blossom" in your bouquet, check out The Knot Marketplace, a great resource for every couple about to walk down the aisle.
Dahlia Wedding Bouquet Ideas
Now that you know a little more about this lovely perennial, let's take a look at some bouquet inspiration for your wedding. These 38 ideas are sure to pique your interest.
Fantastically Fall Dahlia Wedding Bouquet
For a bouquet that evokes the feeling of autumn leaves and cooler nights, this dahlia wedding arrangement is the one for you. These lovely shades and fall flowers, like amaranthus, will add a touch of elegance and color to your big day.
Dahlia Wedding Bouquet and Flower Crown Combination
This dahlia bouquet and flower crown duo is a stunning way to incorporate even more fresh florals into your wedding look. It's a rustic spin on a classic, romantic aesthetic that your wedding party and flower girl can also wear.
Organic and Classic Dahlia Bouquet
Pairing white dahlias with other snowy flowers is a perfect way to accent a wedding dress, especially when some natural green foliage is thrown into the mix. This organic bouquet's flow is simple yet classy.
Bold Black Dahlia Wedding Bouquet
Though black dahlias are just a deep burgundy, adding some Black Knight scabiosa is a great way to inject some rich hues into your color palette. Offset the dark shades with some vivid flowers, and you've got the perfect unique arrangement.
Colorful Pastel Dahlia Bouquet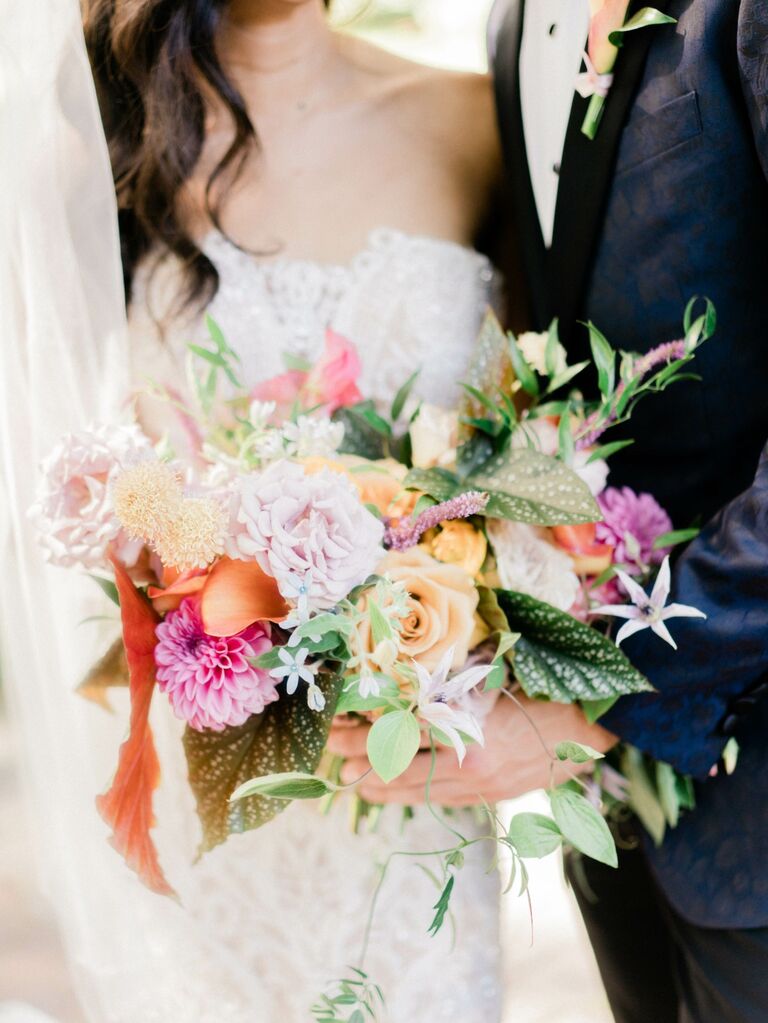 For a timeless pastel look, incorporate delicate dahlias and roses for a breathtaking bouquet. This particular arrangement also cleverly uses greenery for texture and pattern unlike any other.
Delightful Daisy and Dahlia Wedding Bouquet
If romantic vibes (and alliteration) are your cup of tea, then nothing will beat this combo of daisies and dahlias for your big day. You can even wrap up your bouquet with a ribbon from your color palette to tie it all together, literally.
Beautiful Burgundy Dahlia Wedding Bouquets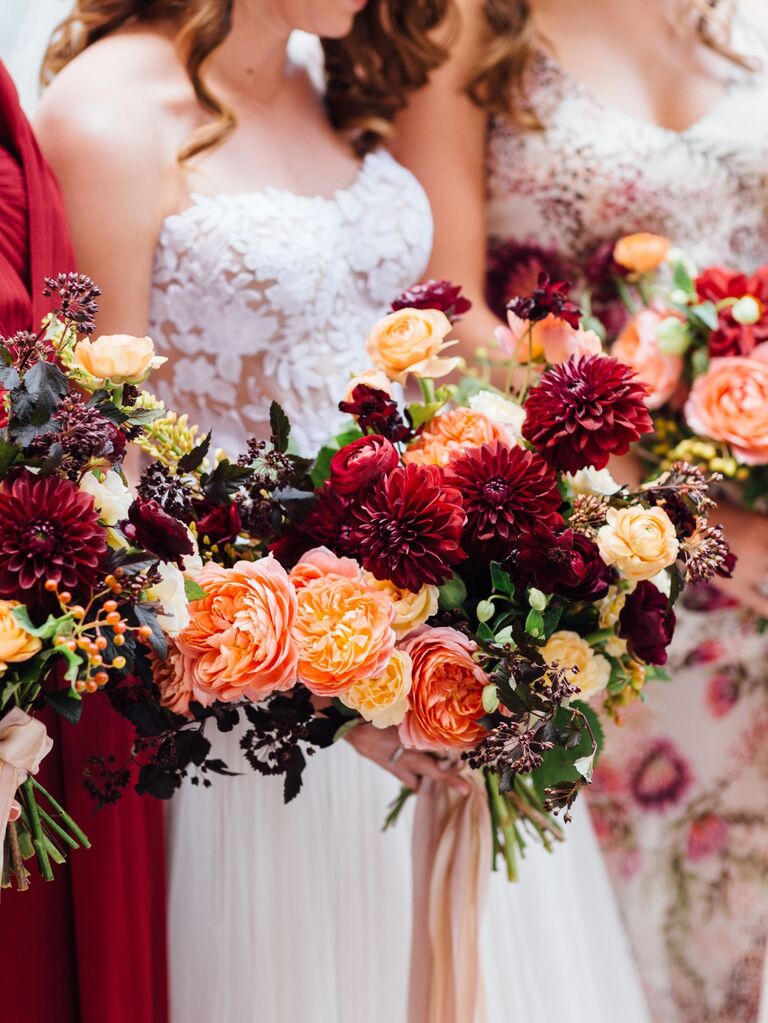 Burgundy dahlias are so versatile, you can easily pair them with any shade or size flower for some pizzazz. These peach and yellow colors perfectly offset the deep hues in this bouquet for a lively display you and your wedding party will love to carry down the aisle.
Ivory and Burgundy Dahlia, Rose and Ranunculus Bouquet Idea
Here's another burgundy dahlia option, but with pops of ivory instead. Incorporating white dahlias into this bouquet is a stunning way to inject some elegance and color.
Electric and Eclectic Dahlia Bouquet
Make your bouquet have a style as eclectic as yours with this alternative arrangement. The pink and orange shades of these dahlias will definitely wow your guests, especially when paired with amaranthus for a cascade of flowers.
Cafe Au Lait Dahlia Wedding Bouquet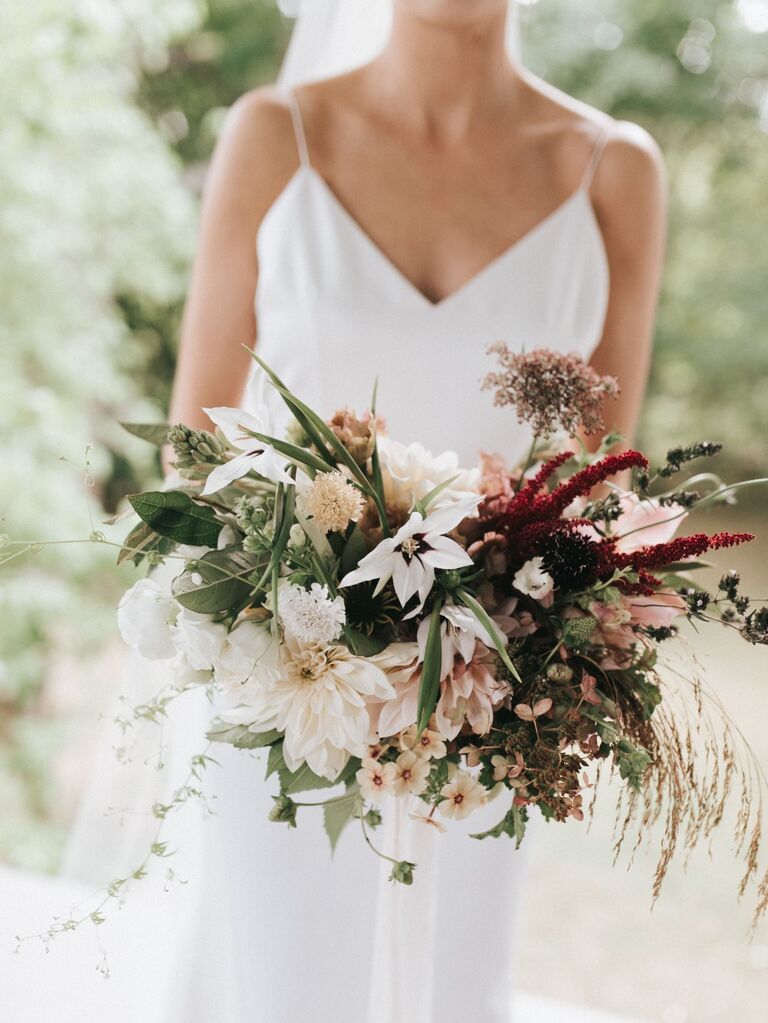 The Cafe Au Lait dahlias have become more popular throughout the years, and their coffee and milk color is a big part of their appeal. This adaptable tone works with a variety of flowers and grasses for a bouquet that's perfect for you.
Charming Muted-Shades Dahlia Bouquet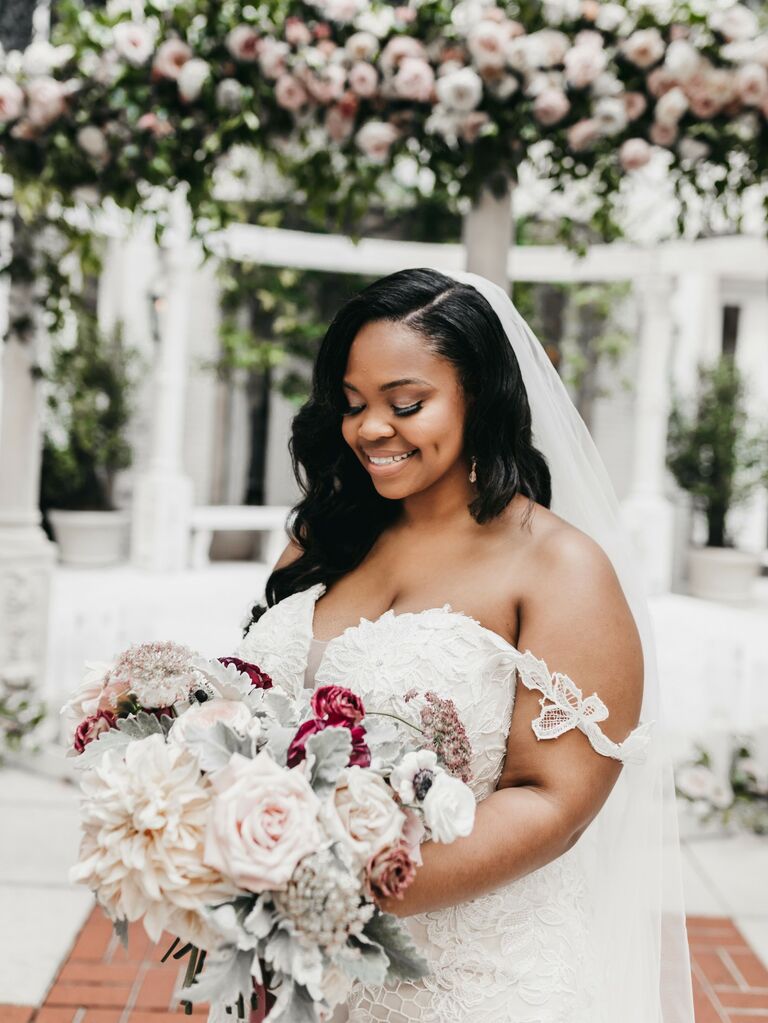 For a muted style that is anything but boring, try combining lamb's ear with paler dahlias and roses. The occasional burst of color will immediately draw attention to your bouquet and overall wedding look.
Stunning Dahlia and Rose Wedding Bouquet
Roses are a classic at weddings for good reason, and when joined with dahlias, it makes for an ultra-romantic pair. Play around with different hues from your wedding's color palette, like this mix of reds and pinks.
Romantic Dahlia Wedding Bouquet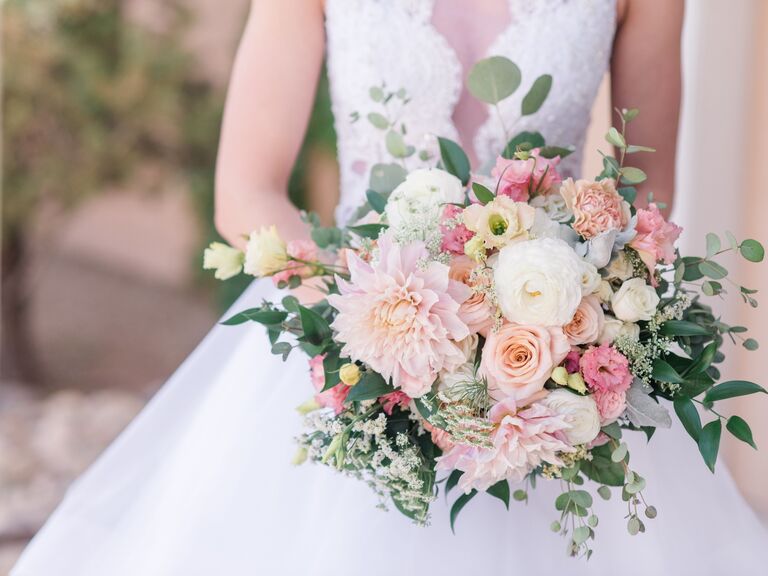 For a bouquet as "blush" as the bride, this romantic arrangement combines dahlias and eucalyptus in an exceptional way. Adding smaller foliage, like baby's breath, will truly make the larger flowers dazzle even more.
Eye-Catching Bohemian Dahlia Bouquet
Make it boho and chic with some dahlias, wildflowers, thistles and greenery from your other wedding florals to really pull together the look of your big day. Play "peekaboo" with vibrant colors like this bouquet.
Lively Pink Dahlia Wedding Bouquet
Pink dahlias can come in many shades, and this one utilizes the lightest variety for a late-winter wedding. The complementary roses and ranunculus elevate this look and bring hopes of both a vivid spring and happily ever after.
Spirited Summer Dahlia Bouquet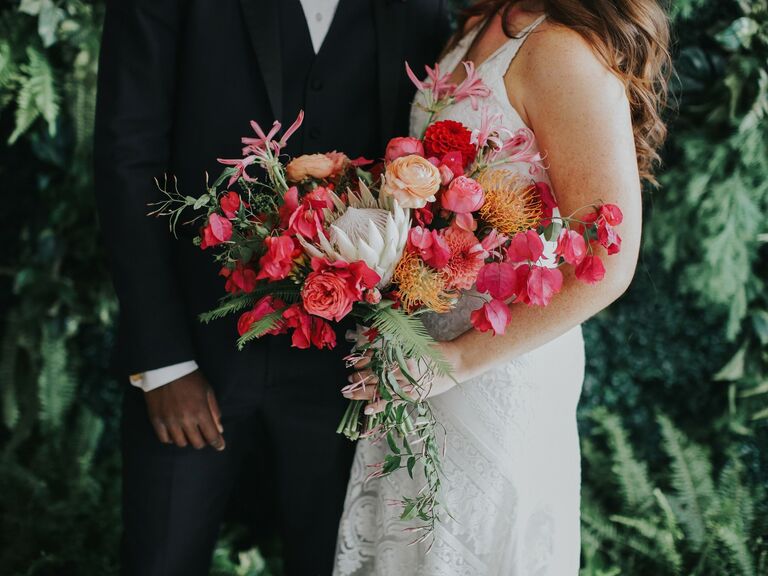 This bouquet will catch you in a summer daze with its electric hues. Infuse some texture and shape by throwing in blooms, such as proteas and flowing greenery.
Marvelous Purple Dahlia Wedding Bouquet
"Best believe I'm still bejeweled," which Taylor Swift must've sung about this jewel-toned dahlia bouquet. This arrangement is one example of why you should use all your favorite colors for your big day.
Dreamy Modern Dahlia Bouquet
Modern looks can still have a hint of timeless elements in them, and this bright bouquet incorporates the classic shape with a bit of a twist. Bouquets don't have to be perfectly round, and adding different sizes of stems and flowers makes this an unforgettable display.
Vivid Red Dahlia Wedding Bouquet
This upright bouquet will have heads turning all day, especially from its striking shades. Using a variety of dahlias, in both color and size, is an ingenious way to show off your wedding palette.
Winter Wonderland Dahlia Bouquet
It doesn't have to be all snowy white for your winter bouquet, and these deeply rich flowers prove why. You can even blend in some winter berries and foliage for a wonderland feel.
Bewitching Yellow Dahlia Wedding Bouquet
With fifteen different colors of dahlias to choose from, you're guaranteed to find the right tone for your bouquet needs. Make it as vibrant as you'd like with these yellow tones, wonderful for any season.
Regal and Rustic Dahlia Wedding Bouquet
For a romantic countryside wedding, this rustic bouquet beautifully merges marigolds, dahlias and unique greenery. Plus, these gorgeous hues and multi-colored ribbons will make you feel like you've just stepped out of Anne of Green Gables.
Lovely Overflowing Dahlia Bouquet
Overflowing bouquets are all the rage these days, and they're a fun idea for creating a whimsical shape. This floral designer took pampas grass and amaranthus amidst the dahlias to make the display flow in multiple directions.
Sweet and Simple Dahlia Wedding Bouquet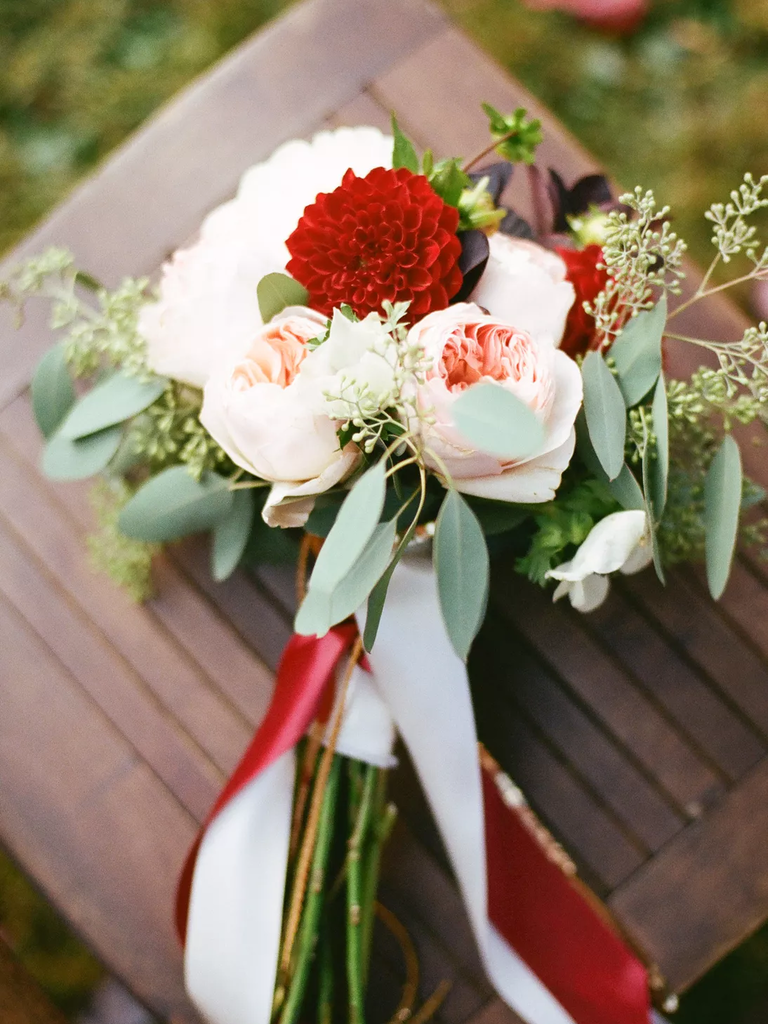 If a smaller bouquet that packs a big punch is more your thing, then consider a floral arrangement like this one. With garden roses and dahlias, this classic duo never goes out of style.
Spring Flowers Dahlia Bouquet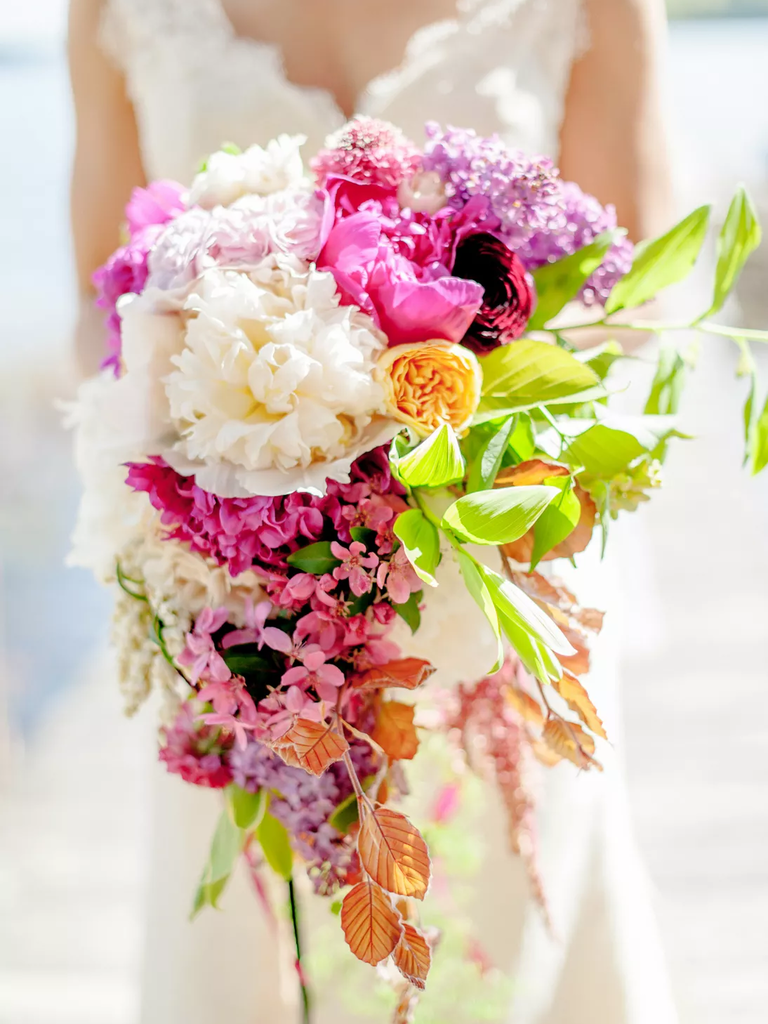 This cascading spring bouquet looks like a garden in the palms of your hands. With its array of dahlias, peonies, roses and other springtime florals, you can picture yourself running through a field on your big day, no matter the venue.
Wondrous White Dahlia Wedding Bouquet
These white dahlias complete the pale purples and yellows of this display. It's no wonder this color dahlia is popular in wedding bouquets, since it symbolizes a "rebirth" or purity.
Unique Accents Dahlia Wedding Bouquet
For the beer aficionados, incorporating hops into your bouquet is both clever and classy. This arrangement also uses dahlias and roses to keep it romantic, while being a fun use of color and shape.
Dramatic, Alternative Dahlia Bouquet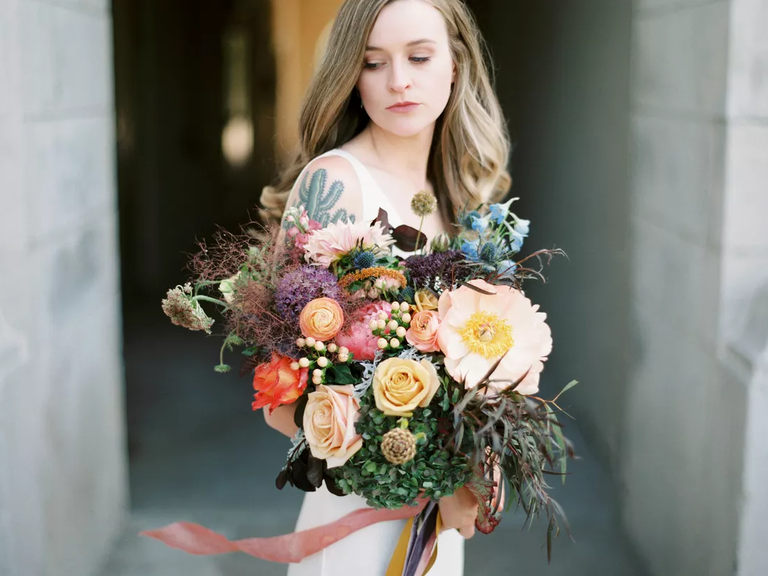 For a dramatic bouquet perfect for the alternative couple, these oversized blooms add flair to any wedding. The way it implements both moody and vibrant hues makes it truly unique.
Fairytale-Inspired Dahlia Bouquet
This timeless look blends dahlias and wildflowers, giving it the appearance of being plucked right out of a woodland fairytale. Whether you're the prince or princess in the story, this bouquet is a charming choice for your best day ever.
Daring Dahlia and Succulent Wedding Bouquets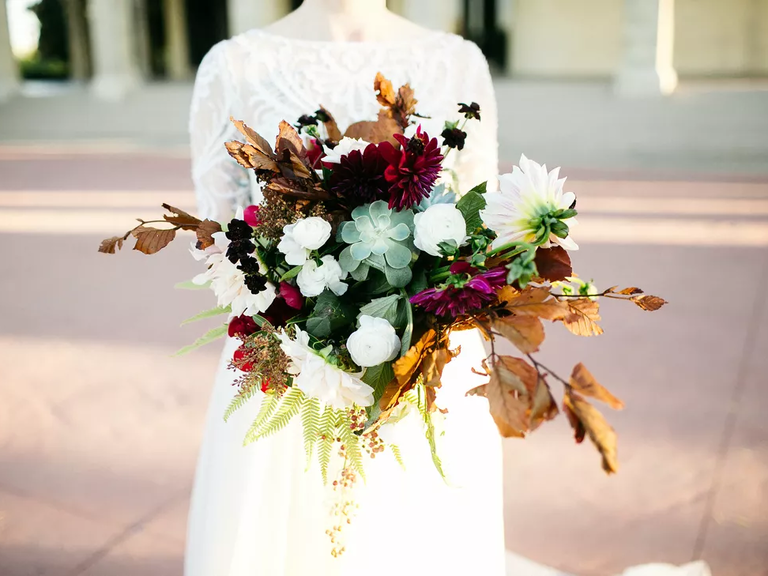 Striking red and purple dahlias inject intensity into this bouquet. With the combination of ferns, succulents and fall leaves, it's a boho-chic arrangement that just screams "autumn."
Outstanding Orange Dahlia Bouquet
These orange dahlias give the feeling of a dreamy sunset or sunrise, depending on your vibes. Whichever you are—early bird or night owly—ou'll be carrying your own bit of sunshine with this bouquet.
Heavenly Dahlias and Hydrangeas Wedding Bouquet
Since both dahlias and hydranges symbolize beauty, pairing them together for a wedding bouquet seems like the ideal choice. These brilliant colors have their own symbolism, too—a bright and beautiful future ahead.
Fabulously Whimsical Dahlia Bouquet
Throw in a bit of whimsy and fun into your big day with a bouquet as unique as you are. These cheery shades and eye-popping design use playful blooms to create a one-of-a-kind display.
Stylish Dahlia and Wildflower Wedding Bouquet
This wildflower and dahlia bouquet is a splash of colors that feels like your very own rainbow. There are no set rules for your big day, except for perhaps having the most fun with your palette to show off your personality.
Trendy and Moody Dahlia Bouquet
While some trends come and go, we think this moody dahlia bouquet is one that's here to stay. These rich pigments are giving off romance novel vibes and adventurous quests into the night.
Awesome Asymmetrical Dahlia Wedding Bouquet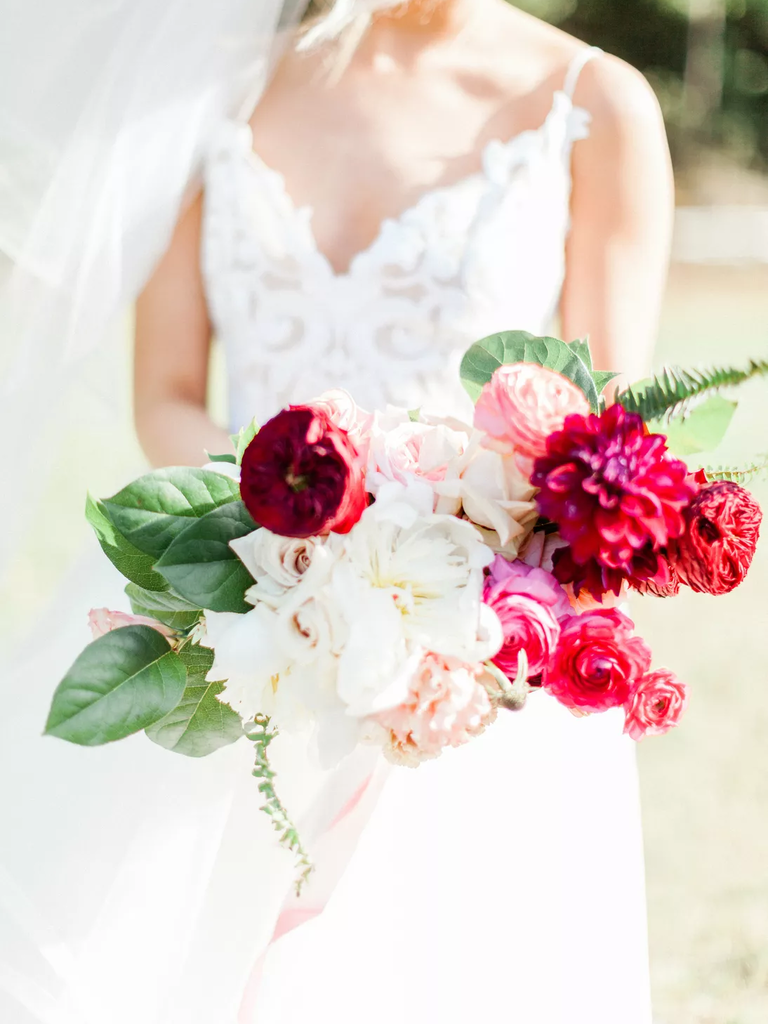 This pink dahlia bouquet has balance while being asymmetrical in its design. If the classic "round" shape isn't what you're looking for, consider an arrangement that utilizes a new form with a dash of flair.
Breath-Taking Dahlia and Baby's Breath Bouquet
For a bouquet that'll take your breath away, combine dahlias and baby's breath. This display, in particular, has April Dawn dahlias—pink petals fading into a white center—that will definitely awe.
Divine Dahlia Wedding Bouquet With Ribbons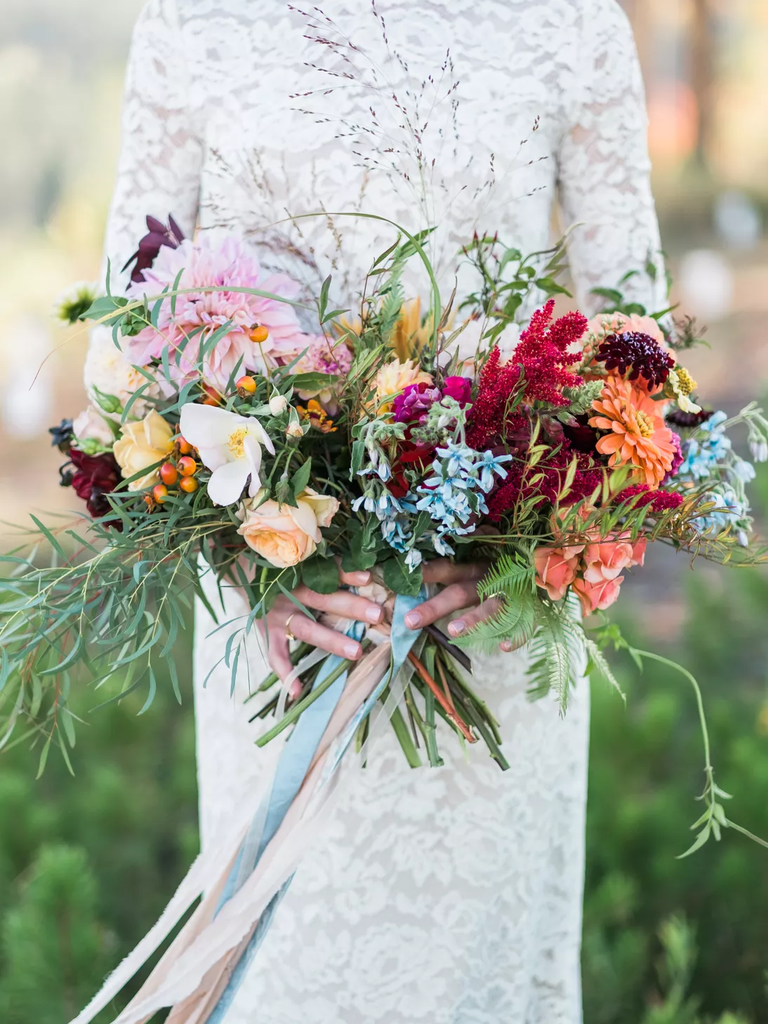 Make your "something blue" these lovely ribbons, tied perfectly around your bouquet full of dahlias and zinnias. You can also mix in some other colors from your palette with both the ribbons and the blooms.