The Prettiest, Wilt-Proof Bouquets for Your Outdoor Wedding
Twenty heat-resistant bridal blooms that will outlive the last dance.
Need outdoor wedding flower tips? We've got big bloom ideas for voluminous arrangements and lush foliage, plus a little something for every style and color palette from sliver to hot pink. Keep your flowers looking fresh by storing your bridal and bridesmaid bouquets in water before and after they're in use and avoid leaving any stems in of sunlight when possible. From these twenty different types of flowers, you can mix and match your way to a beautiful bouquet sturdy enough to stand up to even the driest, hottest summer temps. And when in doubt, your florist will know exactly what to do.
Pick Your Posies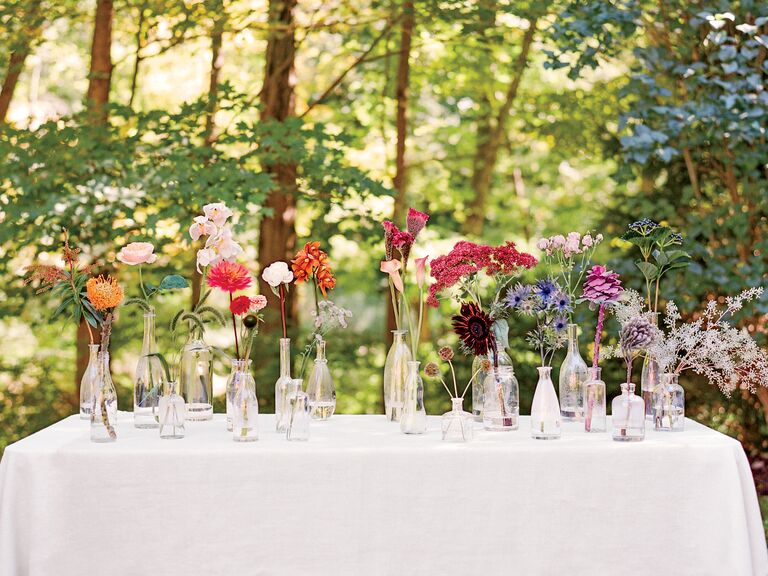 These blooms are guaranteed to stand up to heat. Make them the cornerstones of your bouquet for a bunch that won't wilt before the toss. 
Flower varieties from left to right: andromeda seed, pincushion protea, garden rose, millet, cymbidium orchid, dahlia, rudbeckia pod, peony, feverfew, cymbidium orchid, celosia, mini calla lilies, scabiosa pods, sedum, chocolate sunflower, thistle, garden spray rose, brassica (kale), silver brunia, viburnum berry and seeded eucalyptus.

Floral design, Blossom and Branch Fine Floral Design; prop styling, Kim Field
Modern Magnificence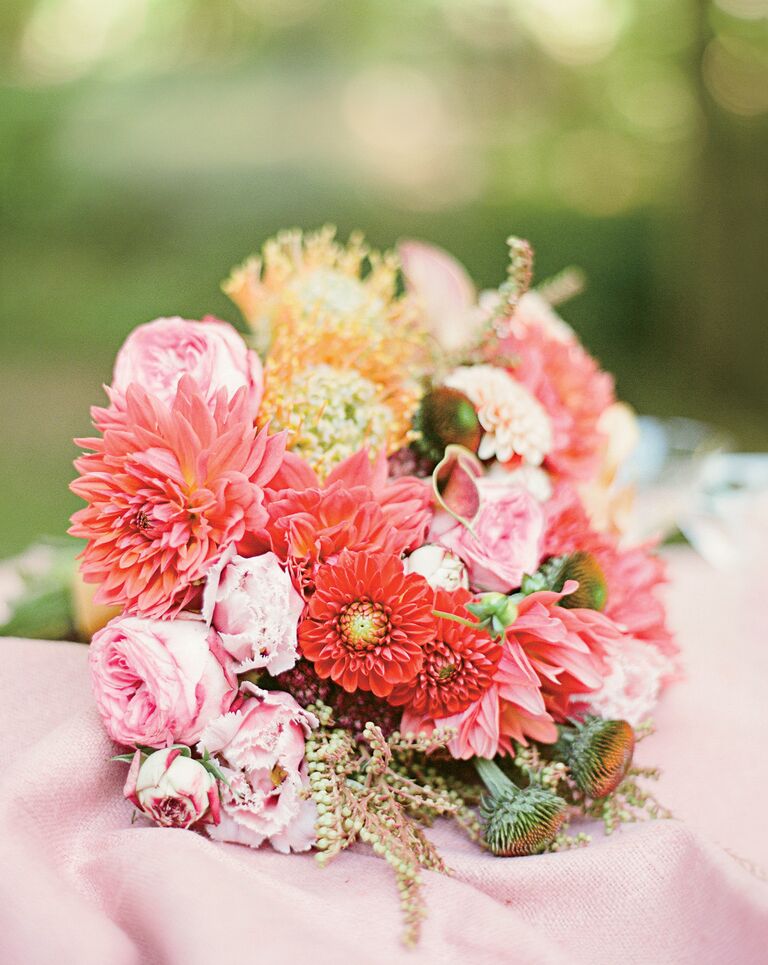 Go bold with colorful dahlias and garden spray roses, which thrive in heat. Waxy topical blooms, like the calla lily, have no real "petals," making them droop resistant and ideal for warm weather. Finally, varieties like sedum and pincushions add fullness to any bouquet.
Cascading Romance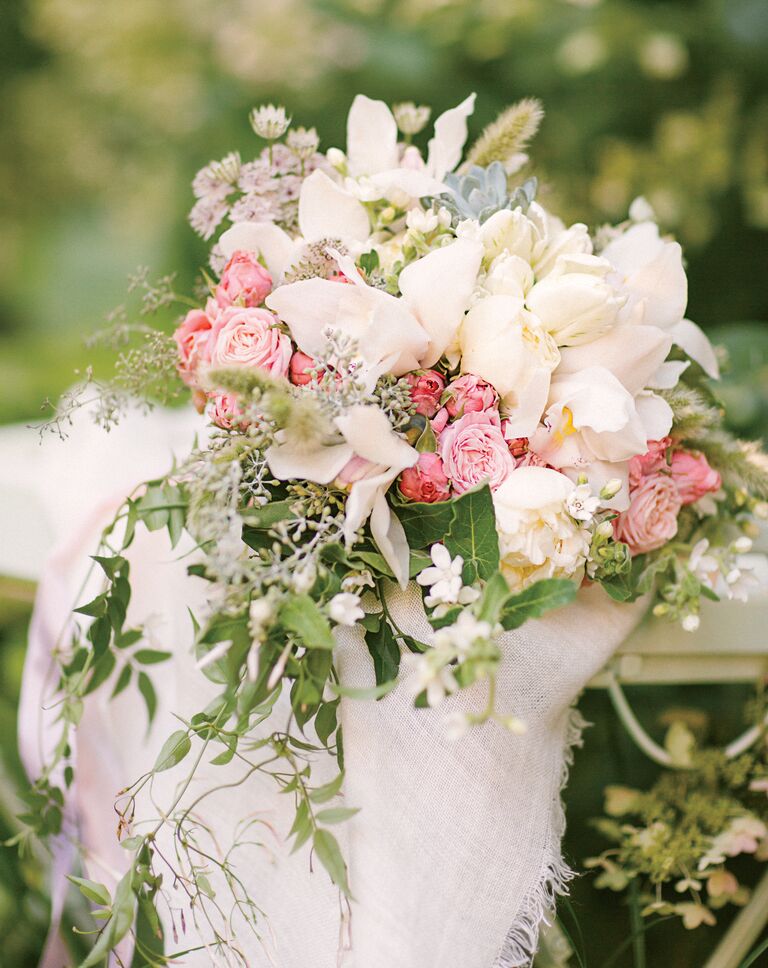 Enchant with a whimsical and frothy bouquet of fragrant jasmine (whose vines love heat), garden spray roses and seeded eucalyptus. Or go the other way and use succulents, or desert blooms, which are sculptural additions that won't fade (they retain their own water).
Rustic Splendor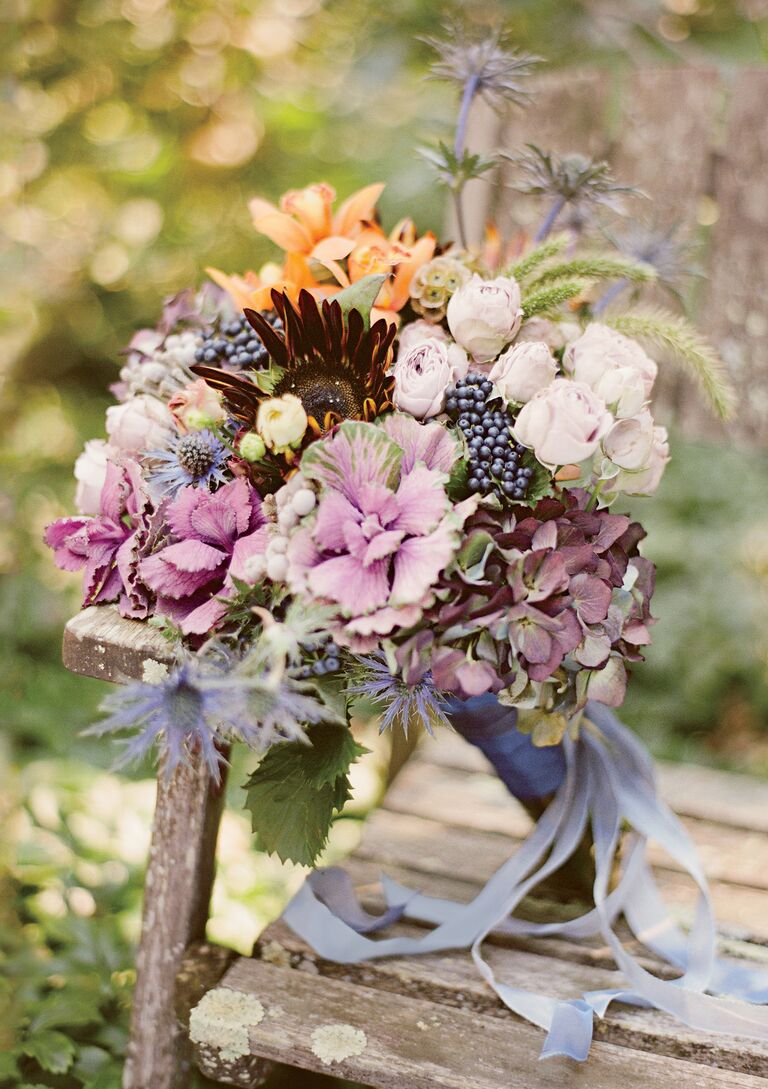 Use classic Dutch hydrangea (which are at their peak in the summer), garden spray roses and orchids offer color and softness, while chocolate sunflowers, silver brunia and viburnum berries are sturdy complements. This is a gorgeous arrangement for summer brides who love moody or muted tones (not all summer bouquets need to be hot pink).
Feeling inspired? Head to The Knot Marketplace to find your wedding florist.