15 Organic Succulent Wedding Bouquets
Your bouquet will be one of a kind with these textured beauties.
Succulents might not be the first thing that comes to mind when you're envisioning the perfect bouquet, but these eye-catching plants make for great accents in your floral designs. Pair a single succulent with blooms, or go all out with a textured bouquet of succulents that will look stunning.
1. Purple Petals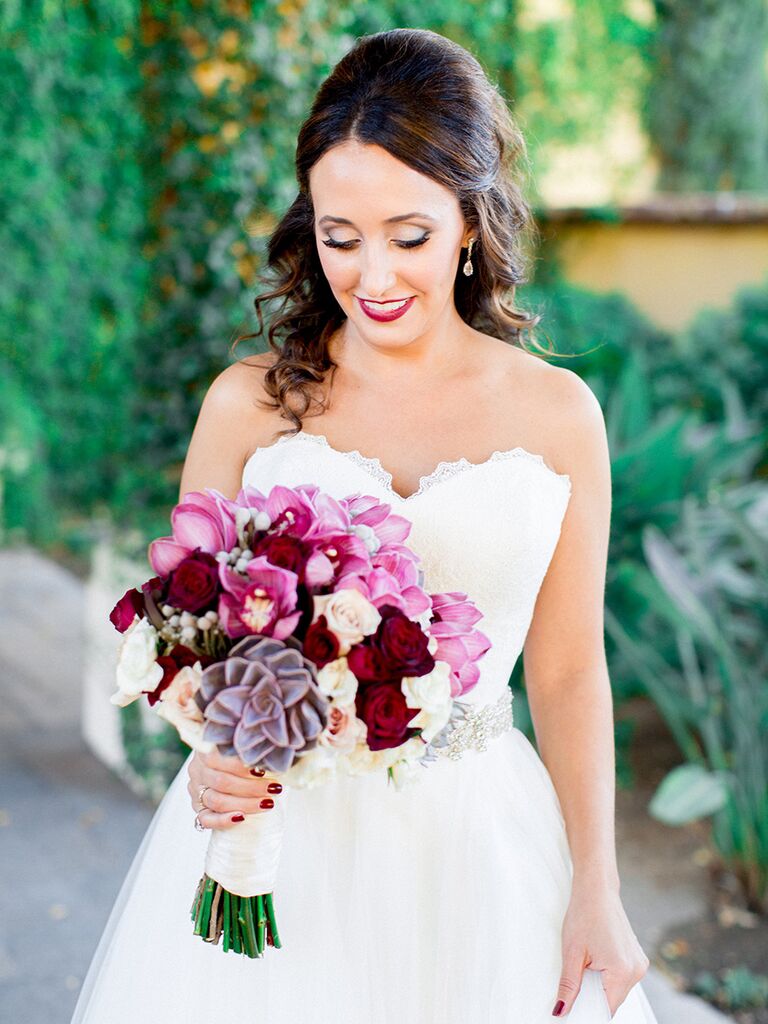 Flowers: Succulents and roses
From: An Elegant, Whimsical Desert Wedding at the Omni Scottsdale Resort & Spa at Montelucia in Scottsdale, Arizona
2. Single Succulent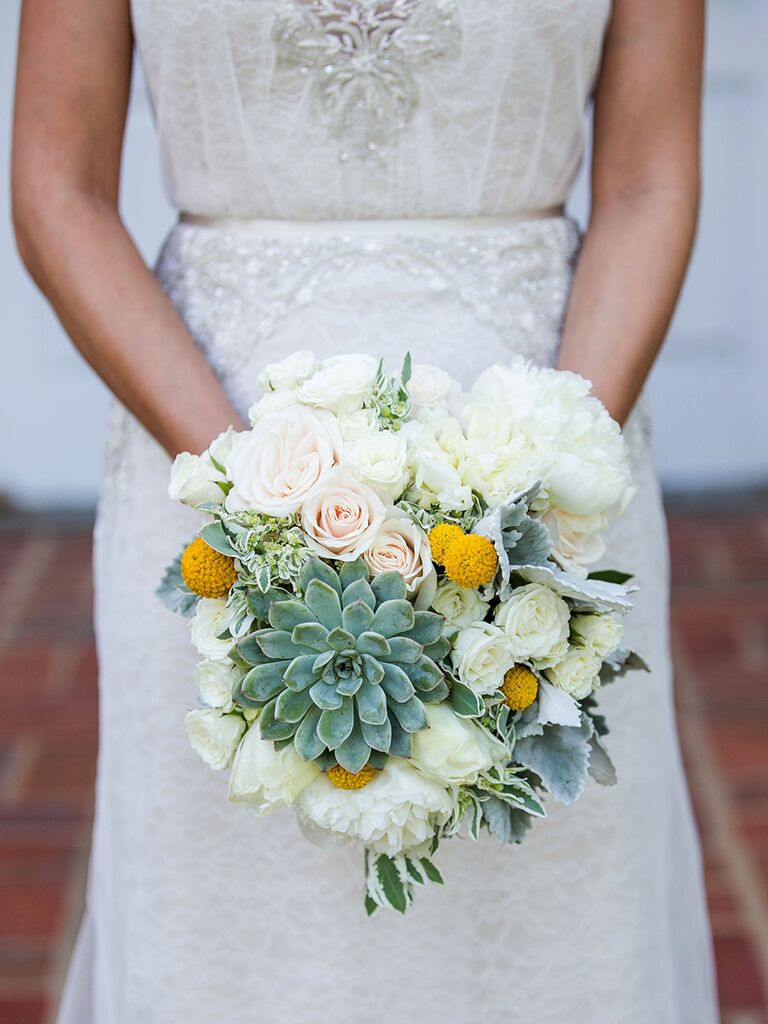 Flowers: Succulents, roses, craspedia and dusty miller
From: A Vintage, Art Deco-Themed Wedding at NorVa in Norfolk, Virginia
3. Wild and Leafy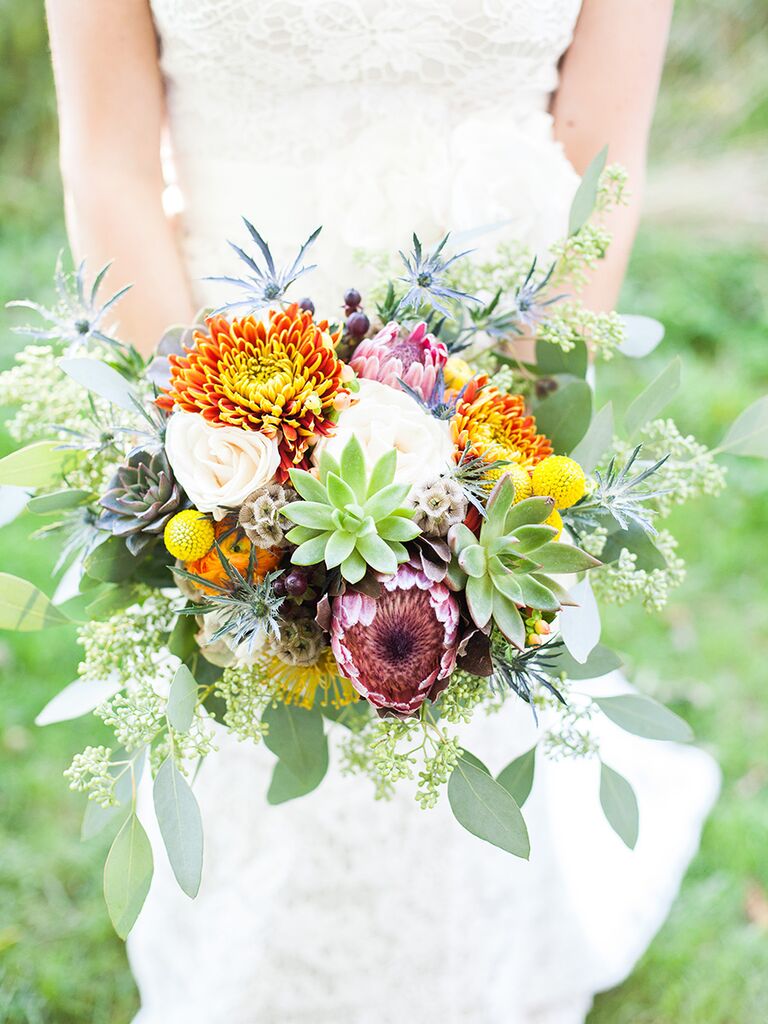 Flowers: Succulents, roses, chrysanthemums, craspedia, thistle and eucalyptus
From: A Nature-Inspired Outdoor Wedding at French Park in Cincinnati, Ohio
4. Rustic Vibes
Flowers: Succulents, roses and coral
From: A Garden Arboretum Destination Wedding at Springs Preserve in Las Vegas
5. Summer Dream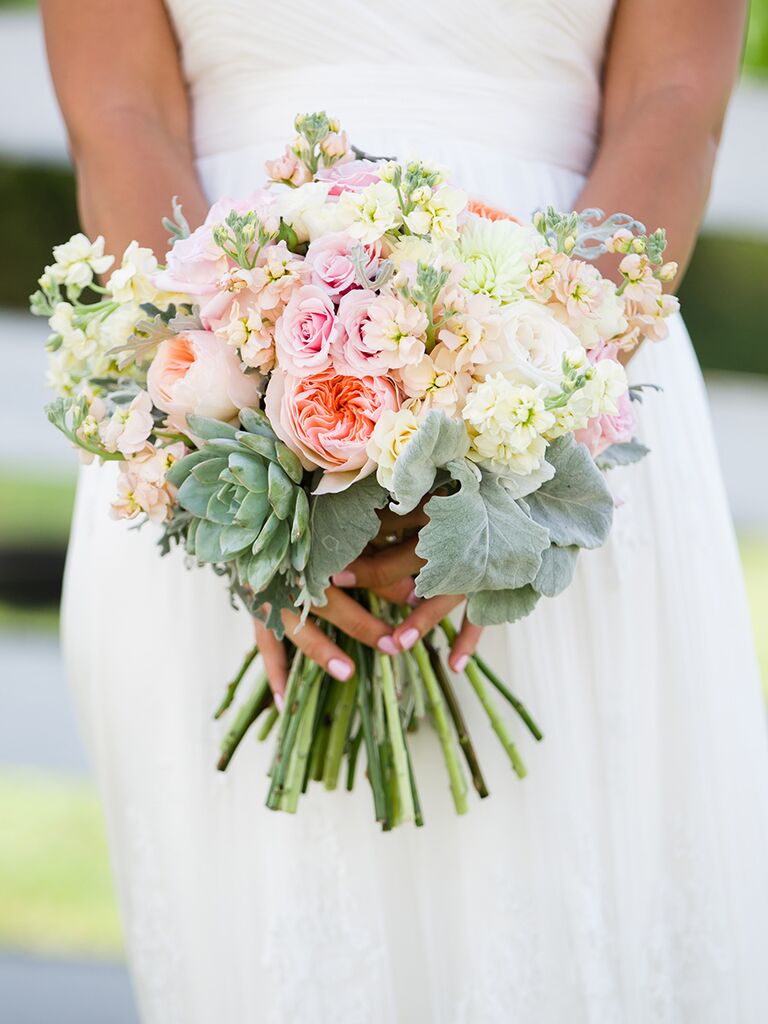 Flowers: Succulents and roses
From: A DIY Farm Wedding at Heritage Prairie Farm in Elburn, Illinois
6. Nature's Touch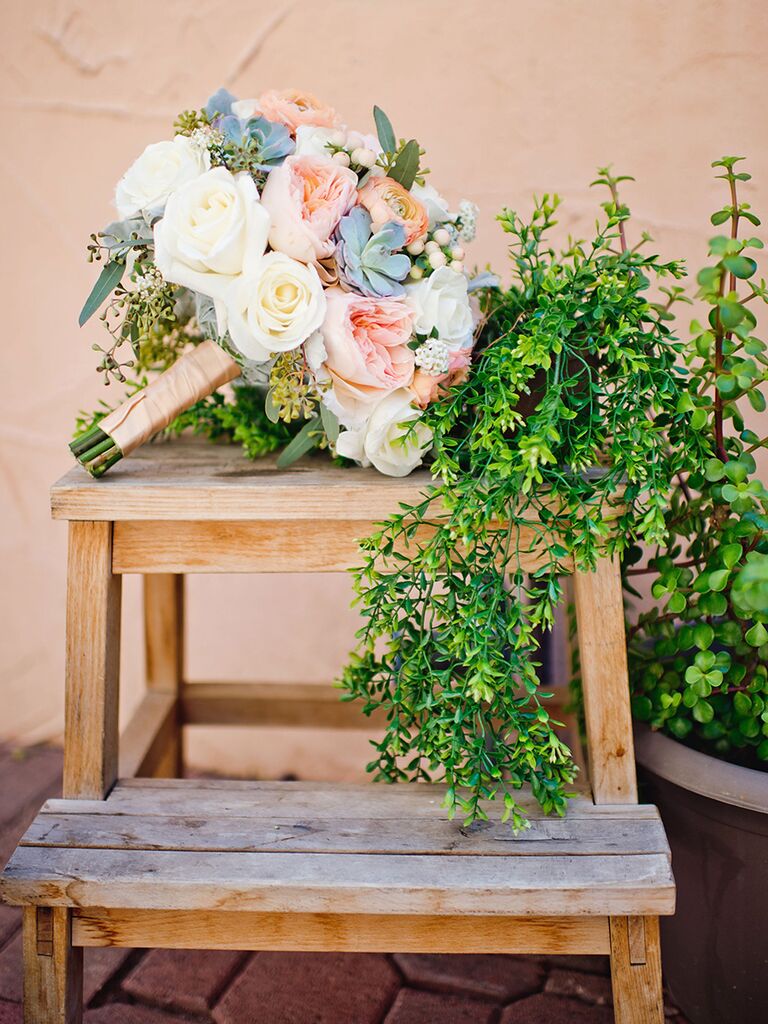 Flowers: Succulents, roses and eucalyptus
From: An Elegant Desert Wedding at Aldea at Tlaquepaque in Phoenix, Arizona
7. Sweet Succulent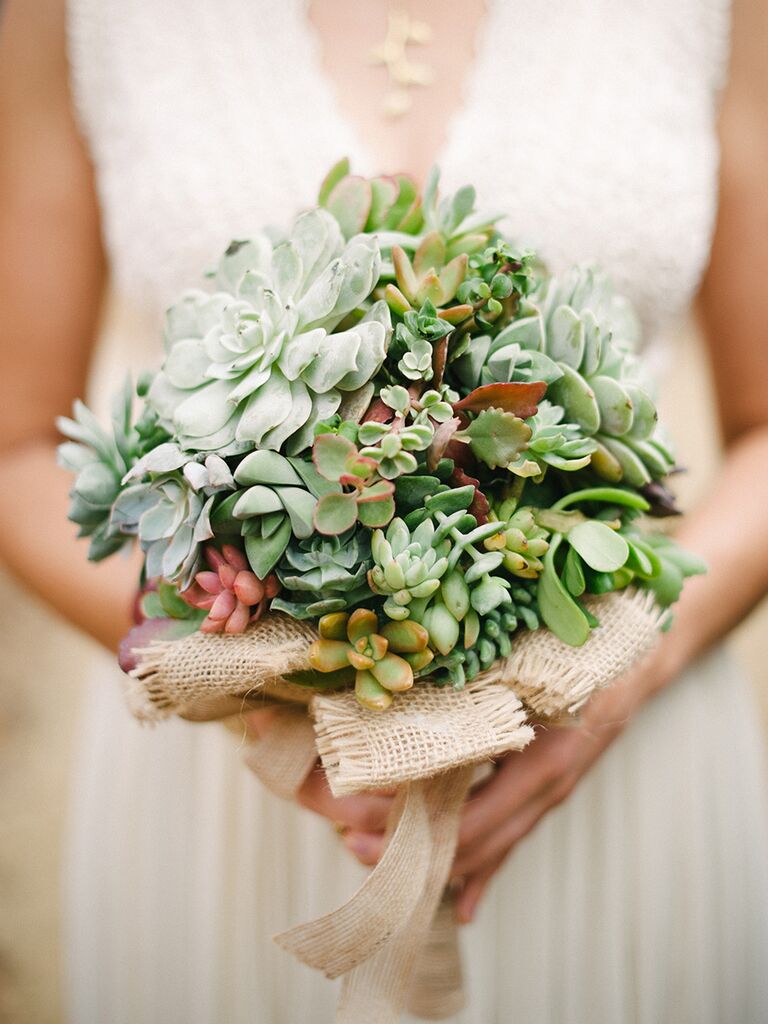 Flowers: Succulents
From: An Organic, Rustic-Themed Backyard Wedding at a Private Residence in Los Angeles, California
8. Wild Vines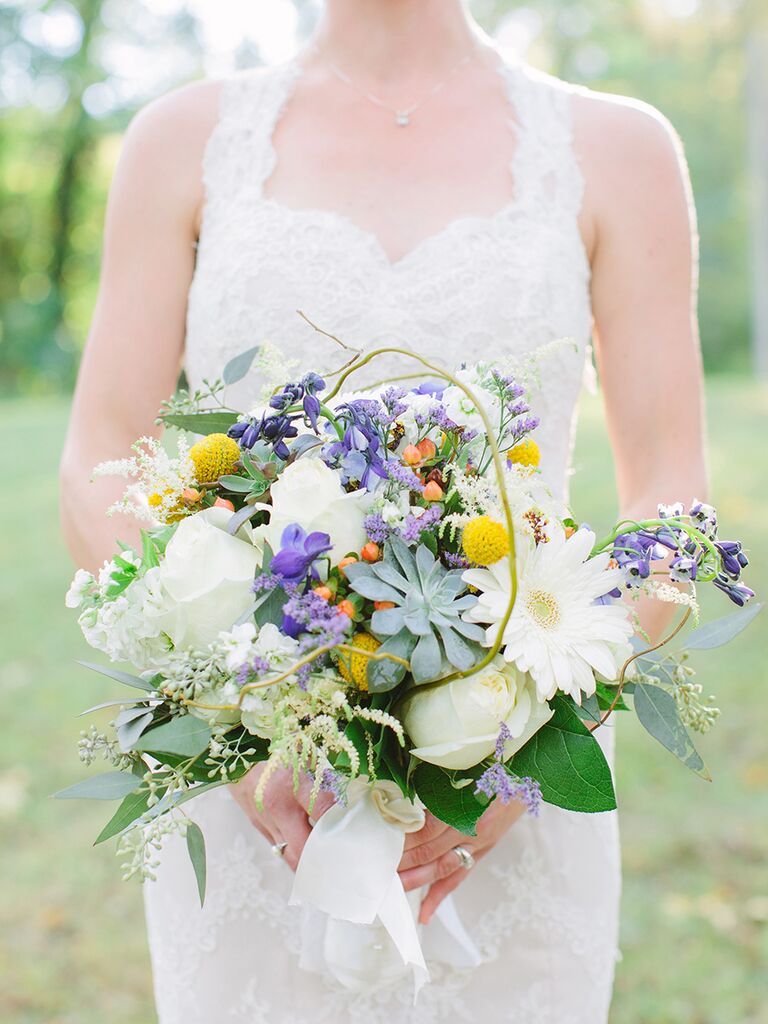 Flowers: Succulents, roses, daisies, billy balls, seeded eucalyptus and stock
From: A Rustic, Woodlands Wedding at Lost Hill Lake Events in St. Clair, Missouri
9. Pinks and Greens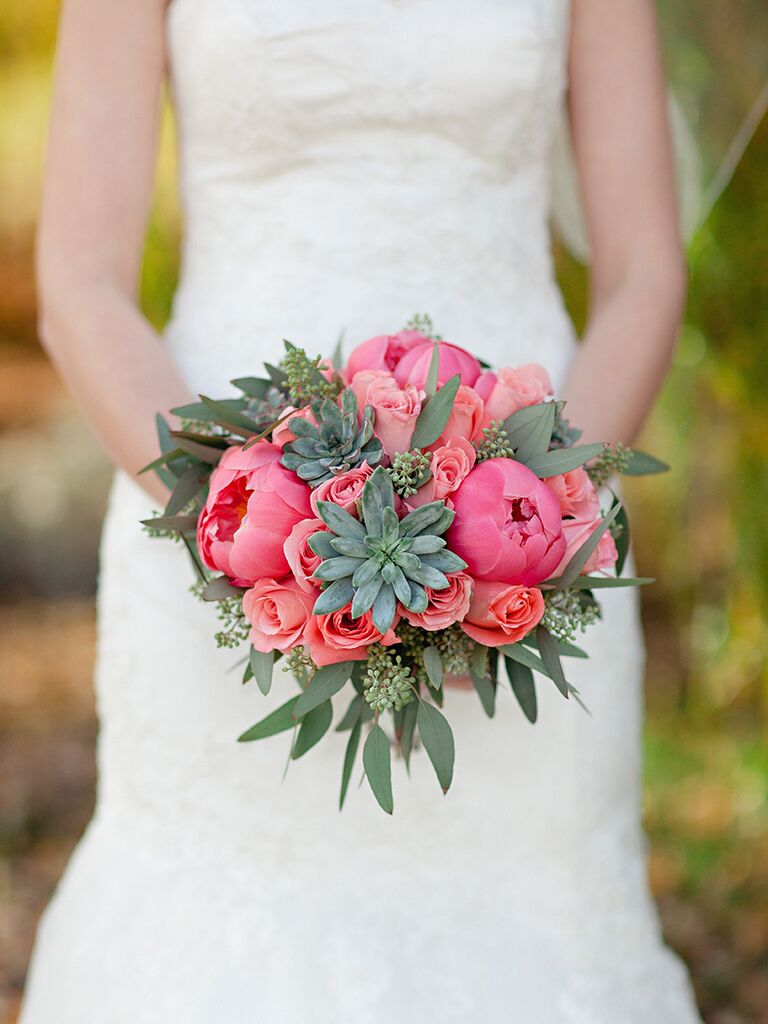 Flowers: Succulents, peonies and roses
From: A Rustic, Vintage Wedding in Clarksville, Missouri
10. Berry Succulent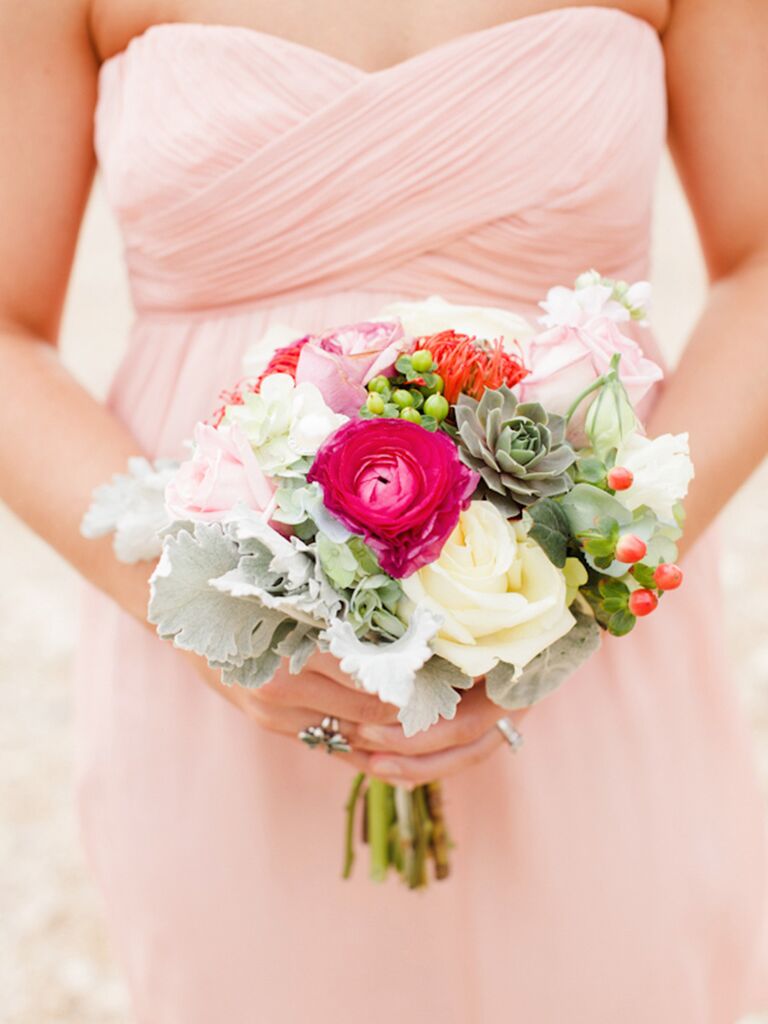 Flowers: Succulents, ranunculus, roses, lamb's ear and hypericum berries
From: A Shabby Chic Wedding at The River Centre at The Landing in Van Buren, Missouri
11. Bright Florals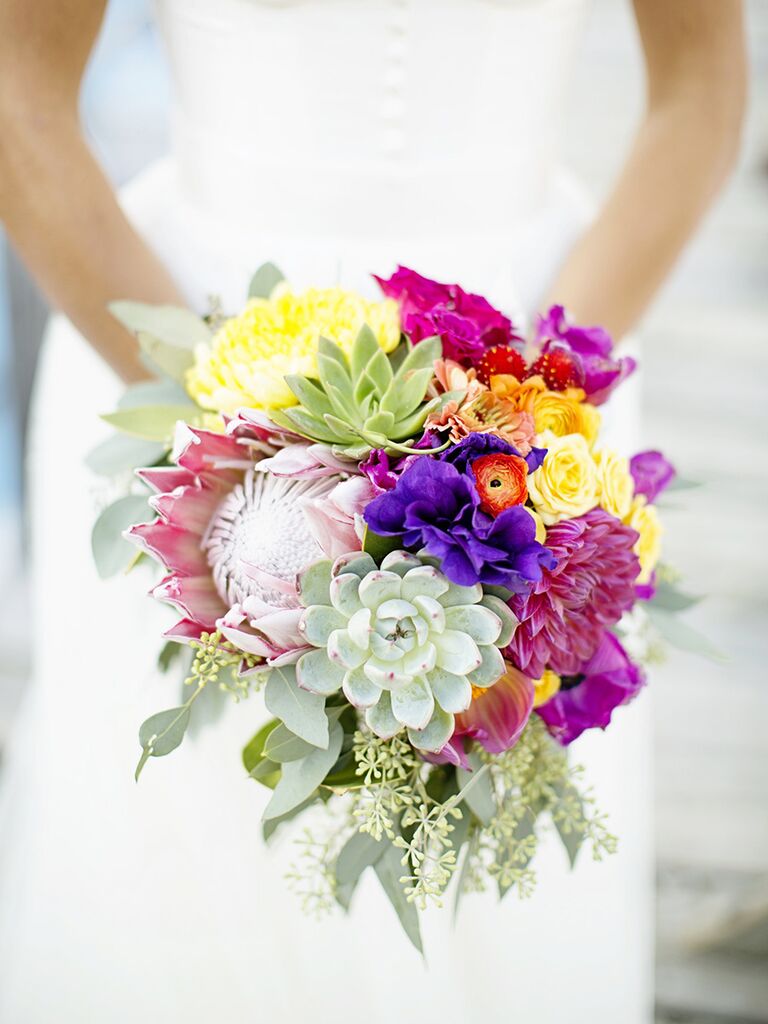 Flowers: Succulents, king protea and roses
From: A Belvedere Club Wedding in Charlevoix, Michigan
12. Romantic Blooms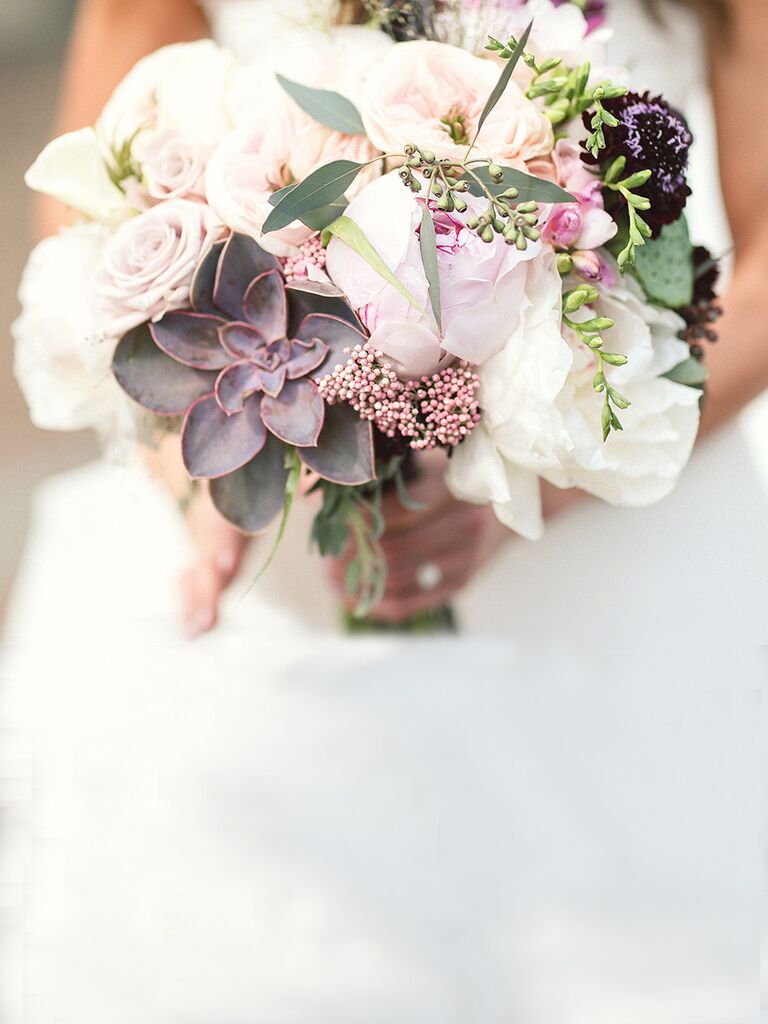 Flowers: Succulents, roses, scabiosas and fiddlehead ferns
From: A Nature-Inspired, Spring Wedding at Brooklyn Botanic Garden in Brooklyn, New York
13. Feminine Florals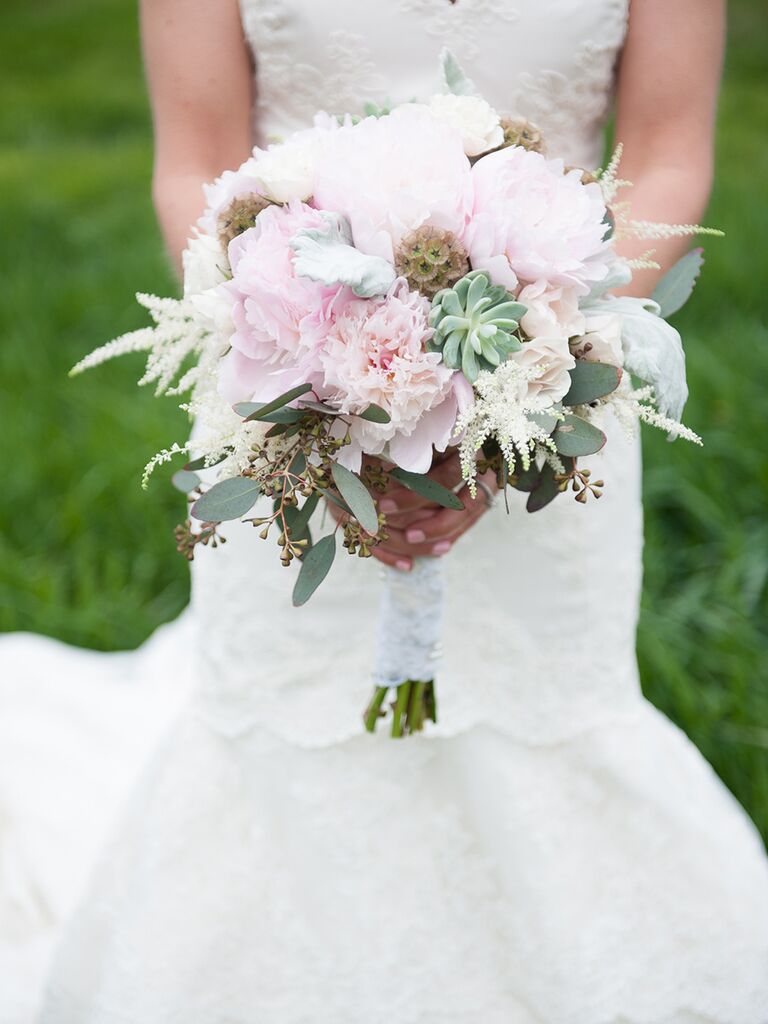 Flowers: Succulents, peonies, scabiosa pods, astilbe and seeded eucalyptus
From: A Rustic Wedding at Spruce Mountain Ranch in Larkspur, Colorado
14. Winter Wonder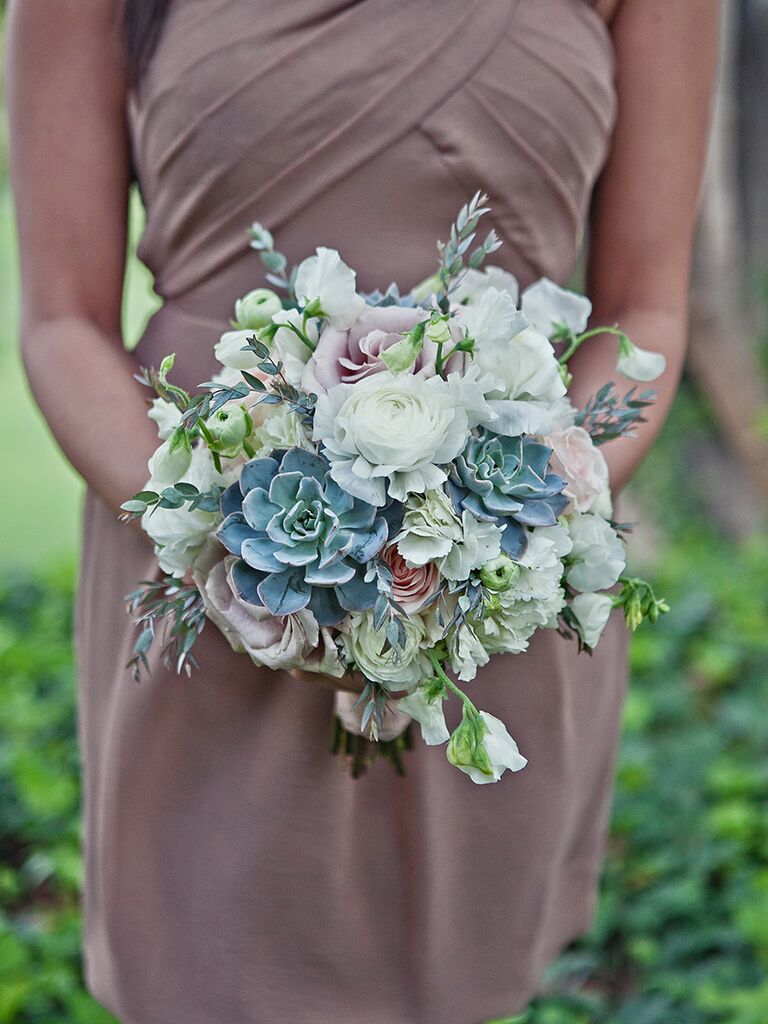 Flowers: Succulents, roses, ranunculus and greenery
From: A Romantic Vintage Wedding in Temecula, California
15. Golden Touch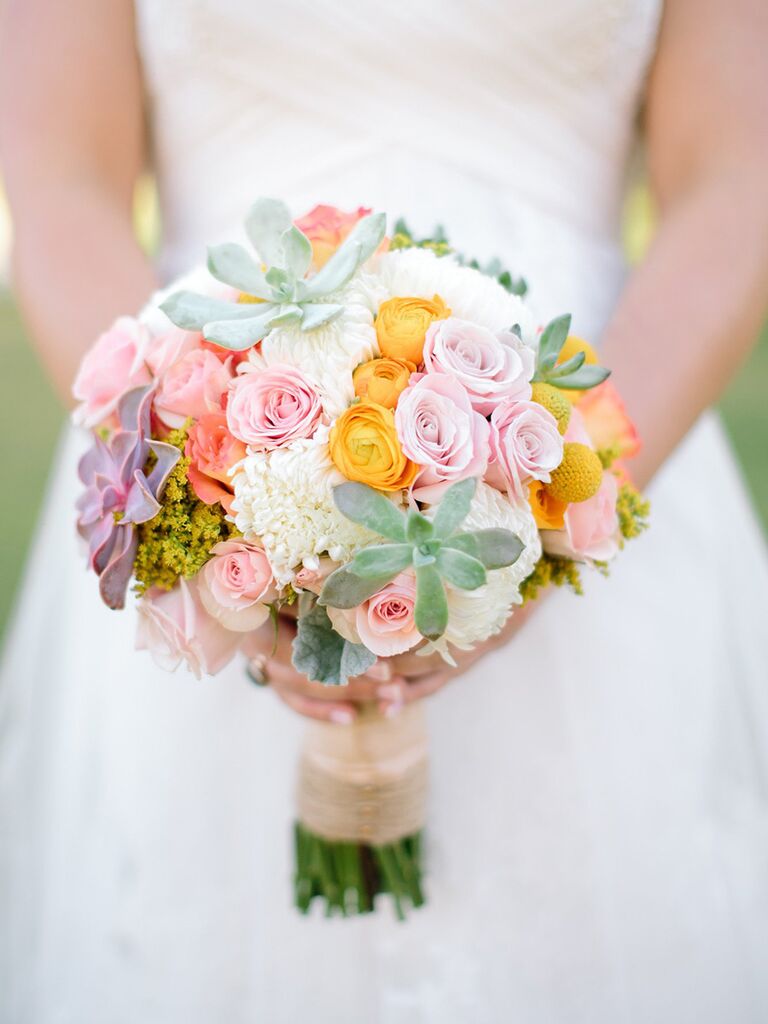 Flowers: Succulents, roses, ranunculus and dahlias
From: A Fiesta-Inspired Wedding in Scottsdale, Arizona
16. Cabbage Patch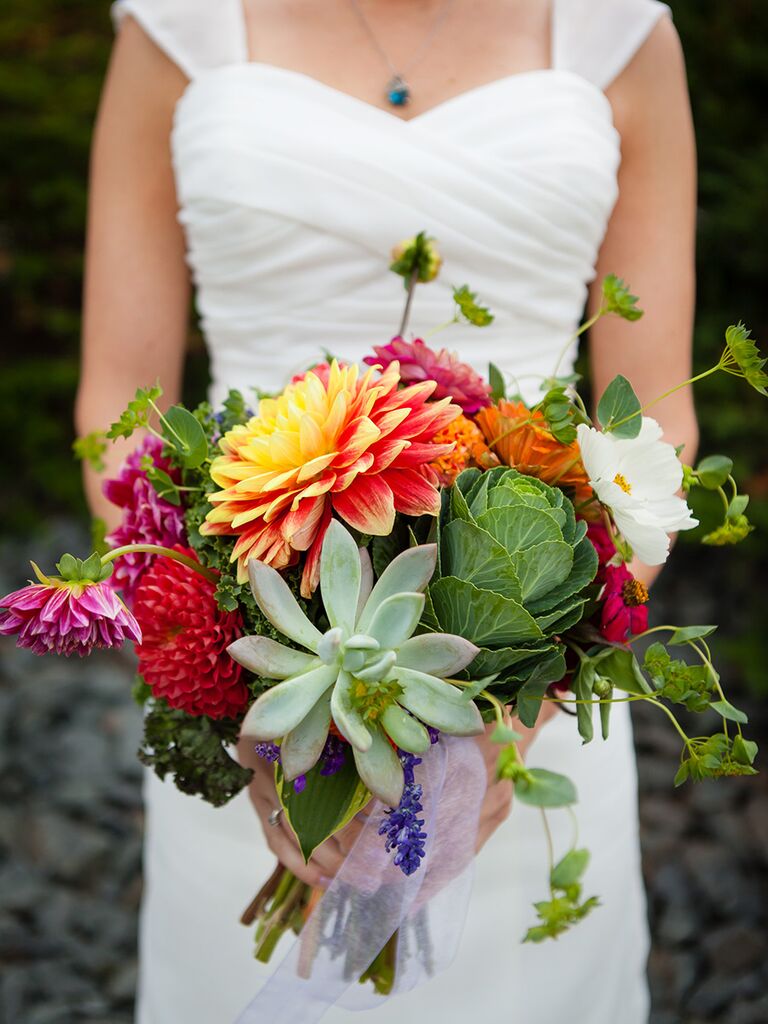 Flowers: Succulents, dahlias, zinnias, cabbage and wildflowers
From: A Rustic Vintage Wedding at Day Block Event Center in Minneapolis, Minnesota