How to Cut Costs on Your Reception Menu
Here's how Chef Matthew Antoun recommends slicing and dicing the cost of wedding food.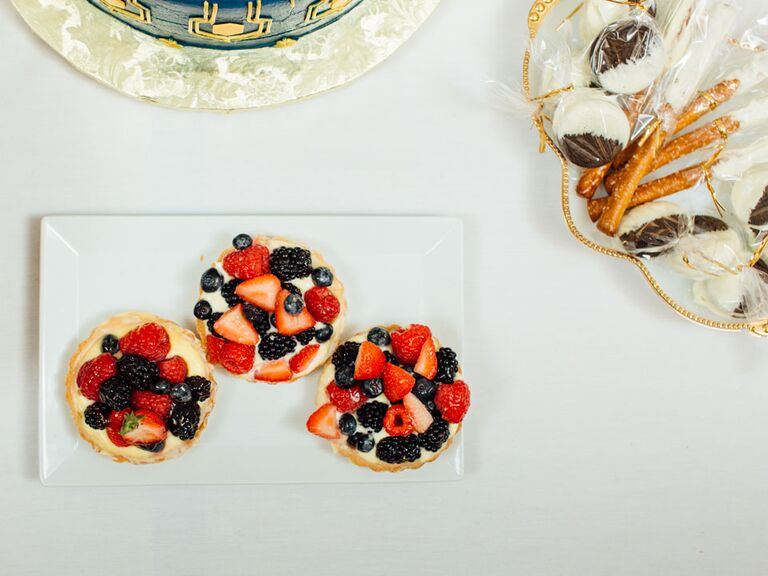 Best Day Ever Photography
The average price of catering rings up to $68 per person, according to The Knot 2015 Real Weddings Survey. When you multiply that by 139, the survey's average number of guests, you're facing a food bill of $9,452, at least. If budget isn't an issue, that amount may seem like small potatoes. But for many engaged couples, it's a big cost. The good news is that you can potentially pocket a portion of that nearly $10,000 without your guests leaving your reception ravenous. It all comes down to creative, smart-minded food choices. Unimpressed with standard catering fare and looking to make his mark on the culinary landscape, Chef Matthew Antoun started Modern Art Catering in 2010, a full-service caterer focused on innovative cuisine and personalized experiences. And while that may sound expensive, Antoun believes that even foodies on a budget can achieve the ultimate wedding menu experience.
"For example, pick more casual style food that can be served in a fun and interesting way, such as a corn dog cart, a New Orleans-style barbecue station or a make-it-yourself pizza bar," says Antoun. "There are many low cost food items that can be turned into a foodie's dream."
Serving Up Savings
If you're still in shock from the average $68 per person cost, Antoun is not surprised, as "people assume catering is going to be the same as food costs at a restaurant, but it's always more expensive because catering is personalized, and essentially your 'own' restaurant for the day."
"Another common misconception is that a buffet should be cheaper than a plated meal," says Antoun. "While that can be true by a small margin, it's not necessarily the case." That's because even though you may require less server staff, the food cost increases since a larger, less-predictable volume of food needs to be available. If you really want to cut back on the catering without skimping on servings and food quality, Antoun offers the following advice:
1. Use non-traditional cuts of meat: Different cuts of meat, such as beef cheeks, pork belly and seasonal, local fish, can actually enhance the menu and food selections. These cuts and varieties are cheaper, but make for a much more unique, delicious and creative menu for your guests.
2. Use disposables: Go for high-grade, eco-friendly disposables over traditional glassware and fine china. The cost per unit is less, and you can hire less bussing staff.
3. Pass on passed appetizers: While these are nice to have, if you're really trying to save money on food, this is a great place to cut down. You can decrease your food cost and labor/staff hours. Instead, set up a cheese station or a bread and olive oil station for your guests to snack on before dinner.
4. Cut the big cake: Serve a small ceremonial cake for pictures and cake cutting, but set up a dessert bar of simple sweets like cookies, cupcakes and brownies. Your guests will appreciate the extra options.