This Hilarious Book Will Get You Through Wedding Planning
If you loved 'Bridesmaids,' you're going to love this new book.
by Catherine Jessee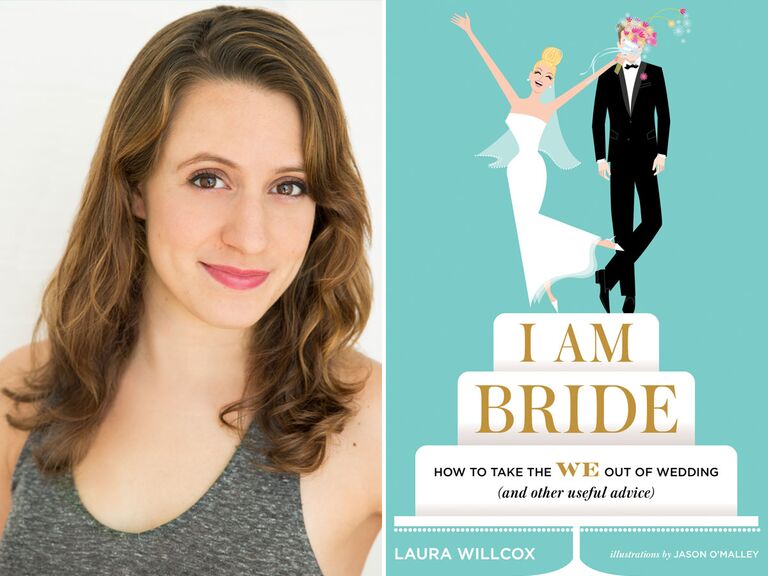 Robyn Von Swank; Abrams Books
Even if you have the best tools and support system in the world, planning a wedding can sometimes make you feel like you're going a little nuts. Suddenly, in the blink of an eye, you're expected to know the difference between crepe and silk organza, the price points of peonies and ranunculus, and how to navigate a whole new code of etiquette. Other than pour yourself a glass of wine, what you probably should do is take a step back and have a good laugh—and we have just what you need.
Enter I AM BRIDE: How to Take the We Out of Wedding, a new book by writer and comedian Laura Willcox (you might know her from RIOT/Refinery29's Femme Ed series or Comedy Central's Inside Amy Schumer) that will have you in tears of laughter almost immediately. Through the hyperbolic voice of an overbearing wedding planner, Willcox pokes fun at all-too-familiar wedding stereotypes and unrealistic expectations brides-to-be deal with while planning their day. Willcox was inspired to write the book while planning her own wedding, so take it from her—it can be hard to summon your sense of humor when a minor hiccup feels like the end of the world in the moment. But it's so important to look on the bright side to keep you sane and grounded.
Willcox promises you that the things that feel catastrophic are really just funny stories for the future, in disguise. Like when Willcox's seamstress accidentally pricked her finger and spilled blood on her wedding dress two weeks before the wedding (yikes!). "At the time, it really wasn't funny to me," she tells The Knot. "I was like, 'Ew,' and also like, 'Oh my God, what's going to happen? Can they get blood out?'" But now, it's one of her favorite anecdotes to share.
As for what she wishes someone had told her when she was planning her wedding? "No matter what goes wrong—because things go wrong—it doesn't matter, if you're marrying someone you love…. All those little details I was stressed about the day of—I didn't care."
Taking a moment to laugh doesn't only take the pressure off, but it helps you enjoy all the fun, romantic parts of getting married. The best thing about your wedding is that it's yours, quirks and all.
See the hilarious trailer for her book below:
And check more details on the book here.