Pinterest's 2019 Trend Report Just Dropped and Includes Major Wedding Inspo
Getting hitched in 2019? These Pinterest trends will be perfect for your bash.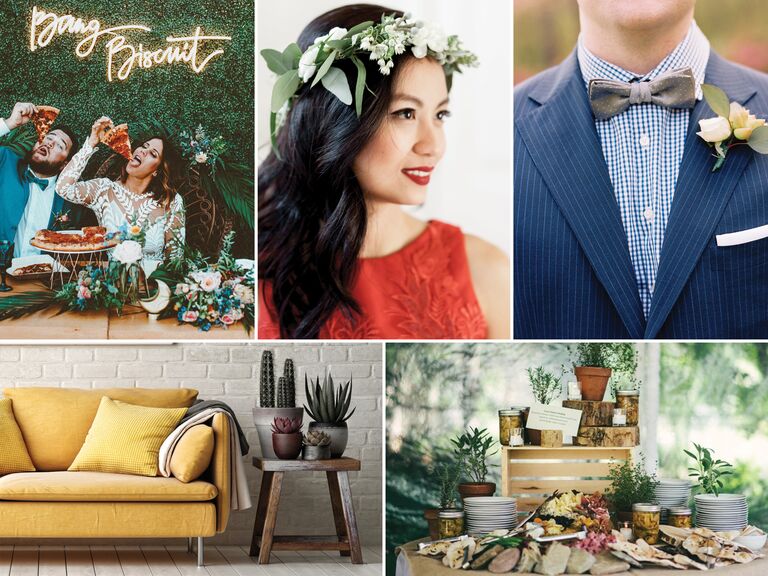 The countdown to 2019 is on—but before the ball drops, let's talk trends, shall we?
More specifically, Pinterest has dropped its annual trend report for 2019—a forecast of what's going to be hot next year based on what real Pinterest users are searching for (and loving) in the past few months. So whether you're looking for fashion, party, honeymoon or registry inspo, we have all the must-have ideas to steal in the new year, below.
Women's Fashion Trends
Tortoise jewelry (specifically earrings) should have a shell of a good year (get it?) in 2019. And good news for those who appreciate comfort: Sneakers are cooler than ever, in case you're in need of some practical reception (or ceremony!) shoes. If you'd rather tone down the add-ons and have a standout wedding dress instead, go for one of these on-trend looks—chic robe silhouettes, ruched detailing and golden gowns will be trending next year.
Men's Fashion Trends
Everyone will be checking the time more than ever on vintage watches (the perfect accessory for a groom with classic style). If you're having a fall or winter wedding, good news—scarves, corduroy clothes and plaid pants are in (as are mixed prints). Spring or summer wedding? Slightly cropped trousers are going to be extra-cool in 2019 too.
Beauty Trends
No need to stress about chipped nails ever again—dip manicures are more popular than ever. (A major win for manicure-lovers everywhere, since they're primarily chip-resistant and last longer than regular gel manis.) Make your best features shine with extra-glossy makeup on your lips or lids, or go for a classic look with a bold red hue. Prefer your eyes to pop? Give your lashes a natural lift with solutions like castor oil, grapeseed oil or aloe vera—popular au naturale ways to boost lash length right in time for your wedding.
​
Food and Drink Trends
Family-style grazing tables have always been ideal for a cocktail hour or rehearsal dinner—but they'll be trending more than ever in 2019, so get ready to embrace those charcuterie platters. Expect to see lots of bites that include nutrient-packed mushrooms and all kinds of jams—recipes with those ingredients are on the rise as well. Looking for fresh cocktail inspo? Adding a slice of ginger to drinks isn't just tasty, it's nutritious too (it has digestive and anti-inflammatory benefits).
Décor Trends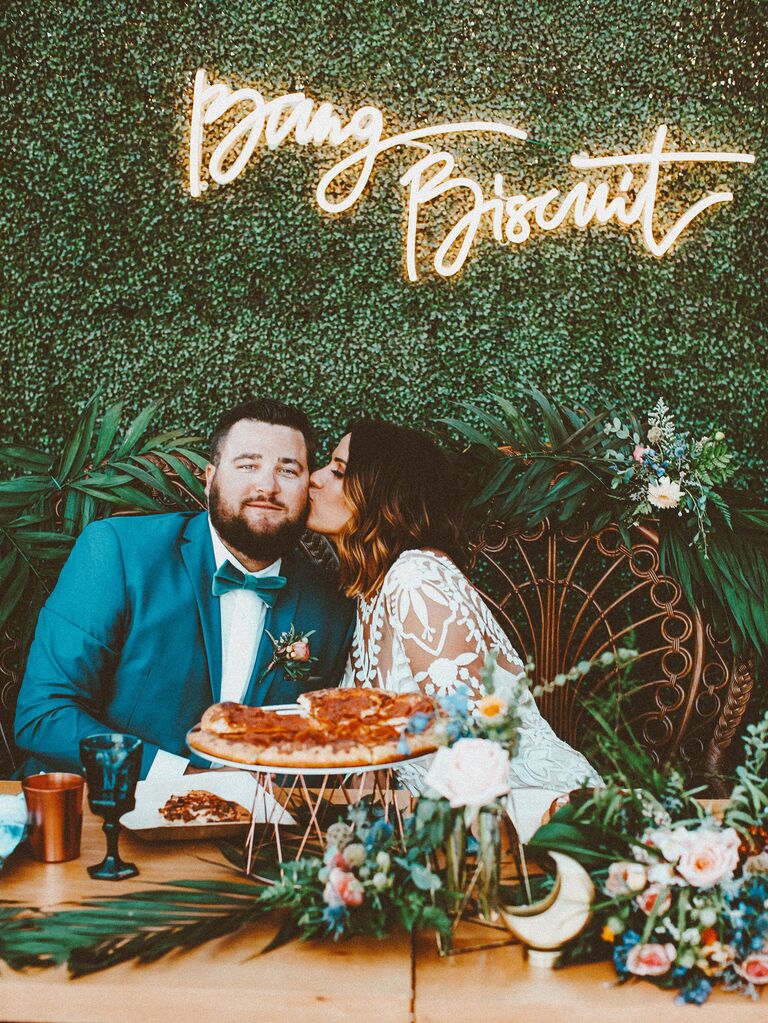 We called it in our own 2019 trend report—smoke bombs will be everywhere at 2019 weddings. If you're already loving trends like neon signs and doughnut walls, you're in luck—those ones aren't going anywhere next year either. Allover, hanging floral garlands and backyard weddings are also on the rise, as are number-shaped cakes (a cake molded into your wedding date would be like nothing any of your guests have seen before).
Registry and Home Trends
Mustard is having a moment—from accents to walls, the hot yellow hue will be everywhere in 2019. If you're a lover of greenery, try a vertical garden (aka floor-to-ceiling green) in your home, or collect some cacti via your registry to add some edge to your newlywed nest. Lastly, indoor and outdoor fireplaces are heating up more than ever—especially sleek and modern ones.
Honeymoon and Travel Trends
2019 honeymooners, take note: Pinterest's 2019 travel trends are giving us major wanderlust. From planning fall getaways to seeking out hot springs, travelers will be all over the map in 2019. And the means of getting from place to place is changing too—bike tours and bus travel will be more popular than ever. Trying to go international? Pinterest users are loving out-of-the-way towns, off-the-beaten-path castles and the city of Rio de Janeiro.