41 Maximalist Wedding Ideas for the Couple That's So Extra
End goal: charming and a little gauche.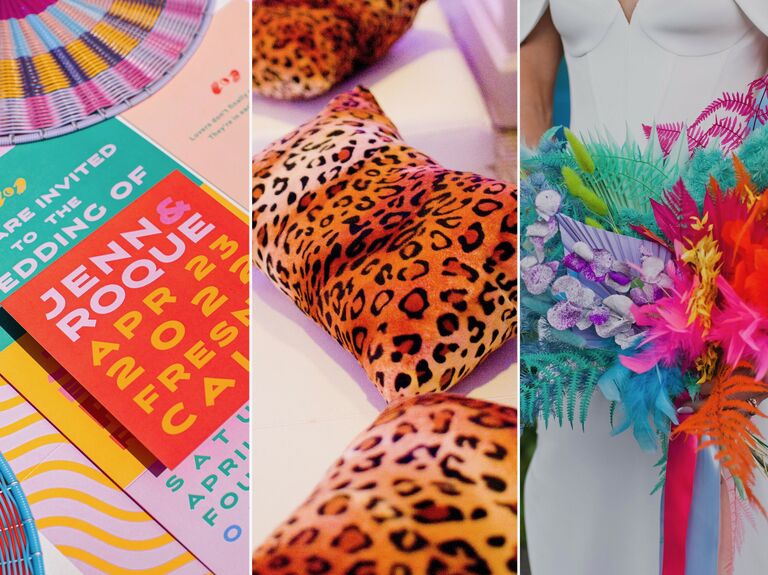 Photos from left to right: Anna Zajac Weddings, Embrace Life Photography, Khaki Bedford Photography
If you love pattern play, piling on accessories and surrounding yourself with colorful details, congrats—you're a maximalist. The maximalist wedding aesthetic is our latest obsession, because it's all about creating a fun, lively celebration that's packed with personal details and originality. From elaborate decor to unique ideas for your color palette, centerpieces and beyond, we're showing you exactly how to lean into this wedding theme without hesitation (because fully committing is key). When it comes to this style, being extra is always a good thing.
In this article:
What Is a Maximalist Wedding?
The maximalist wedding aesthetic focuses on incorporating an eclectic mix of patterns, bold colors, textures and decorative details to achieve an over-the-top look. In some ways, it might even seem like the elements of a maximalist wedding are clashing with each other, which is kind of the whole point. We like to think of it like this: if nothing matches, it all matches. This wedding style definitely isn't for the minimalist couple—but it's a perfect choice for anyone who is drawn to a wide range of design styles or loves to think outside the box.
You might have already noticed maximalist weddings taking over your FYP and other social feeds, which is why we checked in with one of our very own to get the scoop on this latest wedding theme. Meghan Ho, social media coordinator and Pinterest lead at The Knot, says that vibrant colors, oversized floral arrangements and elaborate reception table decor are the top three details for a maximalist wedding. She's noticed an uptick in the more-is-more approach, and explains that maximalist weddings are a great way to get creative and provide a unique experience for guests. "Since there are no rules to maximalist weddings, couples are having fun showing off their personality and style while standing out from other weddings," says Ho. "Not to mention their guests will be wowed and it'll look fantastic in photos."
Ideal Maximalist Wedding Venues
Finding the right wedding venue is a major step for every couple, but it's especially important for a maximalist wedding. In general, you want to look for a wedding venue that's already packed with a lot of details or unique decor that you can build upon—you can start your search on The Knot by filtering potential venues based on their type, amenities and more.
An art museum is one example, especially if you opt for a venue that features contemporary pieces and installations. Restaurant venues are another good pick, since they're usually decked out with themed decor. Opulent mansion venues and estates will tap into the luxe side of the maximalist wedding aesthetic, while garden wedding venues can also be a stunning option. And if you want to celebrate like Hollywood royalty, there are a handful of celebrity homes that you can actually rent for your wedding day. How do you get more extra than that?
Maximalist Wedding Budget Priorities
Because there are so many different layers and components to a maximalist wedding, your vendors will be the A-team when it comes to pulling it off. We recommend working with a professional wedding planner or event designer who can expertly coordinate all of the different colors and details that go into this aesthetic—you want it to look mismatched but intentional. Extravagant flowers are another major tentpole of the theme, so be sure to work with a wedding florist who's up for the task. Lastly, hire a wedding DJ, live band or surprise entertainer (like a tarot card reader or live painter) who will help shake up the party.
Maximalist Wedding Colors
Your wedding color palette is the foundation of the whole event. Here are our maximalist-approved recs.
Rainbow Color Palette
Set the scene for your maximalist wedding by incorporating every color of the rainbow. You don't have to use all of the colors equally—for example, you can pick two or three focal colors and use hints of the remaining colors through small details and decor accents—but the goal is to overload your color palette with all of the hues.
Black and White Color Palette
Lean into the modern maximalist vibe with a two-tone black and white color palette. This combo is always a bold pairing, especially when you incorporate a few color blocking elements (like checkerboard), but you can amp it up even more with one or two accent colors.
Jewel Tone Color Palette
Opulence and grandeur are two important aspects of the maximalist wedding aesthetic. Achieve it by leaning into jewel tones, like ruby red, emerald green, amethyst purple, sapphire blue and topaz yellow—we'd suggest using all of them together for the most impactful effect. Finish the palette with dusty rose or mauve as an accent color (and don't forget to include actual bejeweled details, like this hair bow).
Find your kind of venue
From barns to ballrooms, discover reception venues that feel like you.
Fruit-Inspired Color Palette
Throw a maximalist-themed summertime bash by choosing a color palette inspired by fresh fruits, like strawberries, cantaloupe, watermelon and limes. Plus, this palette was made for fruit-inspired centerpieces and decor. Harry Styles would approve.
Stripes and Prints
You can't have a maximalist wedding with at least one print or pattern, and in this case, we say the more, the merrier. Wide stripes, harlequin diamond patterns, vintage-style toile and leopard prints are just a few that come to mind, so choose your favorite (or two) as a signature addition to your color palette.
Neon Pastel Color Palette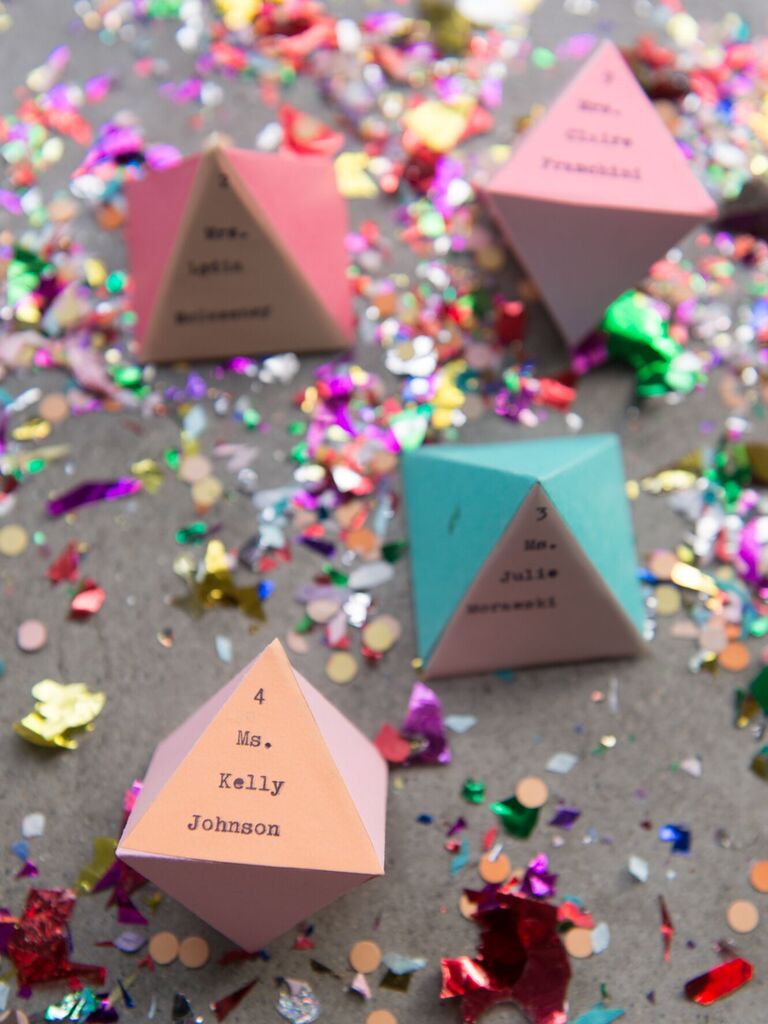 Pastel color palettes are usually considered to be the toned-down version of wedding colors, but not these hues. Neon peach, highlighter yellow, bubblegum pink and aqua are supersaturated versions of the average pastel palette, setting the tone for an energetic party.
Maximalist Wedding Decor Ideas
Leopard print? Check. Disco balls? Check. Pin these maximalist decor ideas to your wedding mood board when you're ready to start planning the details.
Cocktail Lounge Area
Use a floral-print couch, rug or ottoman as the focal point of your wedding lounge area. Add other items like vases, flowers and throw pillows to match the colorful maximalist look.
Disco Ball Decor
We're of the mindset that an entire canopy of disco balls is the way to go for a maximalist wedding, but even if you just use one above the center of the dance floor, your guests will love the twinkling effect. If you can't hang the disco balls, cluster them near an entrance or add miniature disco balls to your tablescape or wedding cake.
Chinoiserie Vases
The chintzy patterns found on chinoiserie vases and ginger jars are a match made in heaven for maximalist style. While you might choose matching vases for a more traditional aesthetic, the point for maximalism is to use vessels in all shapes and sizes for an eclectic look.
Balloon Installation
Balloon arches and backdrops continue to be favorites for anyone looking to add a statement piece to their wedding decor. Pack yours with colorful balloons in varying sizes and use it to transform a blank wall behind your sweetheart table, ceremony altar or dessert table.
Floral Arch
If you're opting for a floral arch instead of a balloon arch, bigger is better when it comes to maximalist design. Take a cue from this pink arch and use flowers that are similar in color for the most visual punch.
Neon Sign
A neon sign is anything but subtle—and that's exactly the goal for your maximalist wedding. There are so many different ways you can add a bright neon sign to your decor, whether you design a custom sign featuring a fun phrase or your names or you stick to something simple, like a glowing pink heart. Watch and wait as guests line up to snap their photos with it.
Striped Tableware
Sure, you could use the standard dishes and tableware that are included with your venue package, but this is no ordinary wedding. A maximalist wedding calls for detail-packed tablescapes, so jazz up your place settings with the help of interesting cutlery and patterned china.
Leopard Print Accents
Add a little * spice * to your maximalist wedding decor with leopard-print details. From throw pillows to cloth napkins and even bridesmaid dresses, this sassy print is spot-on for the aesthetic.
Champagne Tower
Give your champagne tower a boost by building a custom display for the coupes and bottles. You can have them pre-filled for guests to easily grab (for example, at the start of cocktail hour) or hire a bartender to man the tower throughout the night.
Colorful Escort Card Wall
No regular escort cards here. This ombré display of flowers will act as a major wow moment to kick off your reception, and guests can take the bud vases home as keepsakes.
Checkerboard Dance Floor
If your venue doesn't have a checkerboard dance floor, rent one. It's an easy way to transform your reception space IRL, and it looks even better in photos. The repetition of the checked pattern outshines a basic wooden or carpeted floor.
Tile Patterns
Bonus points if your venue already has interesting tiles in place, but if not, you can draw inspiration from Spanish, Moroccan or Italian designs to accent your decor. Incorporate tile patterns into details like stationery, table settings or custom backdrops.
Maximalist Wedding Bouquet Ideas
You don't want to skimp on your wedding bouquet when it comes to the maximalist theme. Check out these arrangements that are packed with color and statement-making blooms.
Peony Bouquet
Eye-catching coral charm peonies are always a worthy pick, but you can pair them with other blooms to pile on the color. This modern maximalist bouquet is packed with statement elements like orange and pink ranunculus, anthuriums, pincushion proteas, monstera leaves and spray-painted plumosa ferns.
King Protea Bouquet
With flowers like these, you don't need to add much else to your bouquet, but long ribbons tied around the stems will give the arrangement a finished look. For this bundle, the ribbons were embroidered with personal notes from loved ones.
Cascading Garden Rose Bouquet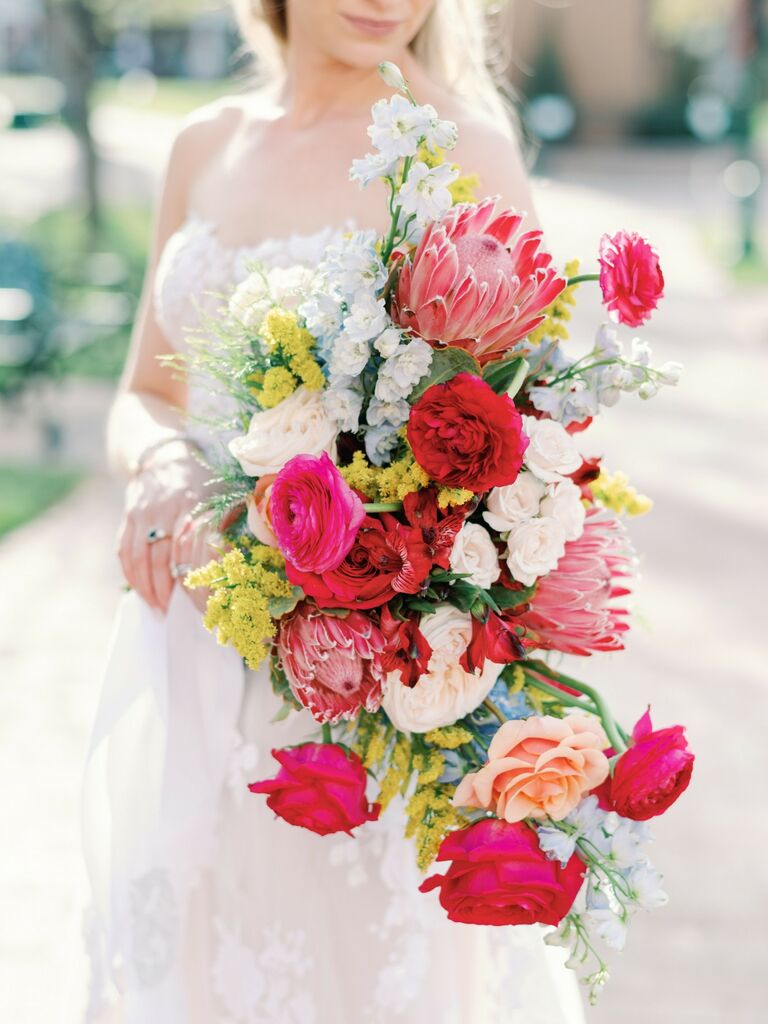 Be intentional with the shape of your wedding bouquet, along with the flowers. Cascading bouquets are hard to ignore, especially when filled with bright pink proteas and red garden roses.
Neon Bouquet
No one will be able to miss this bouquet coming down the aisle. To achieve the bright neon look, your florist will have to paint or dye most of the elements, and you can finish off the design with some colorful feathers and ribbons.
Jewel Tone Bouquet
Play up a jewel tone color palette by carrying a bouquet with blue, yellow, purple and red blooms. Cascading greenery, like this green amaranthus, will help you create an exaggerated shape.
Anthurium Bouquet
If there was ever a flower that screams maximalist, the anthurium is it, especially when painted in an iridescent hue. Don't shy away from going all out with this flower—pair it with feathers, orange marigolds and pink bunny tails to maximize impact.
Maximalist Wedding Centerpiece Ideas
From unexpected hanging decor to tall centerpieces, deck out your reception tables with these grand ideas.
Hanging Umbrellas
Who says you have to limit your centerpieces to the tables? Whether you use flowers, decorative umbrellas or something else, hanging centerpieces are immediate conversation starters that go above and beyond to transform your venue.
Tall Rainbow Florals
For long banquet tables, pick one color for each arrangement and line them up in order of the rainbow. Use colorful candles, glassware and table linens to finish the tablescapes.
Feathered Fans and Lamps
Instead of candles or overhead lighting, use lamps to illuminate your centerpieces or embellish a decorative vignette elsewhere in the room. Worried about not having access to outlets? Battery-powered light bulbs are the answer.
Oversized Floral Table Runner
Drape greenery garlands and floral runners over the sides of your tables and onto the floor. Even if you don't do it for all of the tables, it's a great way to accent the head table with a little bit of drama.
Monochromatic Centerpiece
Color blocking is another technique to embrace for your maximalist wedding decor. Stick to one color for all of the components of your centerpieces, from the flowers to the table linens, candles and glassware.
Antique Vessels
Unique vases and vessels will always bring an intriguing, bespoke look to your centerpieces. For a maximalist theme, opt for vessels with ornate detailing, hand-painted designs or exaggerated shapes. Work with your florist to source them or check out thrift shops for ideas.
Maximalist Wedding Cake Ideas
Swap the Plain Jane wedding cake for one of these maximalist creations instead, whether you choose a trendy vintage-inspired cake or a larger-than-life cake with seven tiers.
Vintage-Style Cake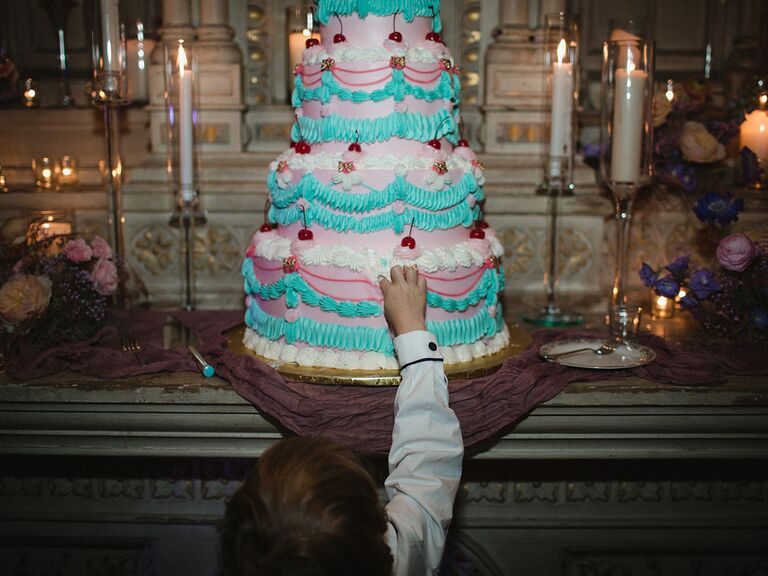 This vintage-style cake, also called a Lambeth cake in honor of the baker who created the decorating technique, is all about packing as many embellishments into the design as possible. Scalloped piping, red cherries and a pastel color palette are some of the Marie Antoinette-inspired components.
Black Cake
Opt for a black wedding cake as the centerpiece of your dessert table. The nontraditional look is sure to be memorable for your guests even after the slices are gone.
Pink and Yellow Cake
Stack colorful flowers in between the tiers of your maximalist cake to double the height of the entire design.
Rainbow Sprinkle Cake
Just because your cake is small in size doesn't mean you need to sacrifice on the maximalist aesthetic. Cover the cake entirely in rainbow sprinkles for an undeniable burst of color.
Seven-Tier Cake
Be prepared for jaws to drop when you bring out the seven-tier wedding cake during the reception. Because the height of the cake makes a major impact all on its own, you can stick to white and ivory adornments (or add colorful decorations in true maximalist style).
Editor's Maximalist Wedding Favorites
Want to know our must-haves for a maximalist wedding? Here's our expert opinion on what you should definitely include.
Colorful Stationery
We always say that your wedding invitations set the tone for the event, because they're usually the first detail that guests see. Choose unique invitation elements like block lettering, a bold color palette and fun patterns to let them know this is one party they won't want to miss.
Over-the-Top Entertainment
Speaking of parties, your maximalist mindset doesn't have to end with the decor and visual details. To guarantee that guests always remember your big day, save room in your budget for a live performance, whether it's a troupe of dancers, an aerialist or an Elton John impersonator decked out in sequins.
Statement Accessories
Your attire factors into your maximalist theme too. From non-traditional wedding dresses to pom-pom covered shoes, this is the chance to really go all out with your wardrobe.
Signature Cocktail
When else will you have the chance to create—and name—your very own cocktail? Creating a signature cocktail is very on par with the maximalist wedding aesthetic, and we recommend thinking about the presentation along with the recipe itself. Top the drinks off with a memorable garnish, like tinsel toothpicks or citrus peels branded with your initials.
Pattern Mixing
Mismatched patterns are a must-have for any maximalist theme. You can try this out with your bridesmaid dresses, table decor, stationery or all of the above.
Confetti Exit
End the night with a confetti toss to build off of the same celebratory mood that you began with. (And it's a fun way to kick off your after-party if you're planning to keep the festivities going.)