A Unicorn Petting Station Took This Wedding Over the Top
These photos are incredible.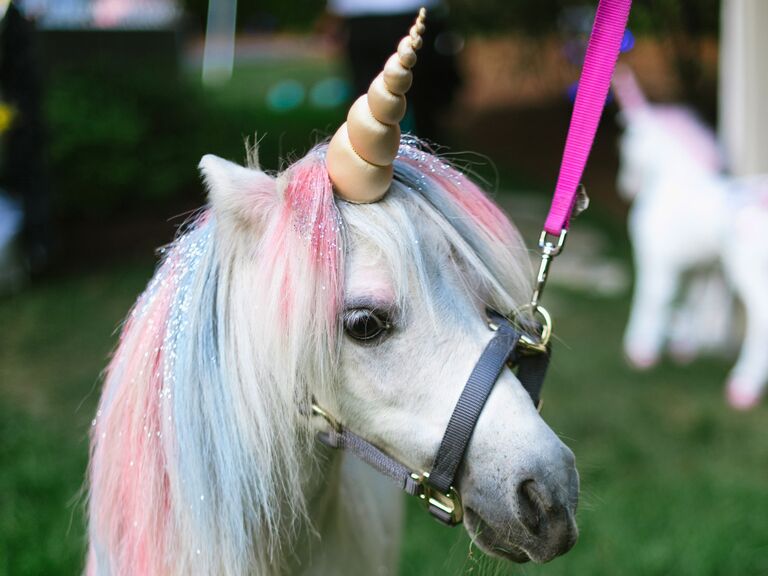 Jessica Maida Photography
Looking for ways to wow your wedding guests? Take a page from Jody and Frank's wedding in Manakin-Sabot, Virginia, and rent a miniature pony to be your colorful unicorn for the day. Your guests will never want to go home! Seriously, we haven't seen a creature this magical since bridal designer Hayley Paige's nuptials.
Jody and Frank pulled off some of the coolest wedding trends of the year thanks to Kim Moody Design. There were dangling flower installations, signature cocktails, multiple food stations, aerial performers, late-night eats, lawn games and much more—including a live unicorn petting station. But what made this wedding truly unforgettable was how thoughtfully and passionately the couple wove their personal narratives, family traditions and private jokes into every aspect of the celebration. The decadent food and drink selections all paid homage to their hometowns, travels, grandparents or favorite memories. Paper flower peonies honored the bride's aunt, while the one bridesmaid custom designed champagne flutes for the bride and groom.
Of all the incredible amenities and personal references, our absolute favorite has to be the sweet miniature pony from the Teeny Tiny Farm, who was dressed to impress with a baby-blue-and-pink-striped mane and golden horn. This four-legged cutie was both a symbol of how magical the day was, and also a nod to an inside joke between friends and coworkers (something about the term "unicorn" in the startup world). Honestly, we don't even need an explanation—when a unicorn is in the picture we don't ask questions.
See photos of the unicorn below.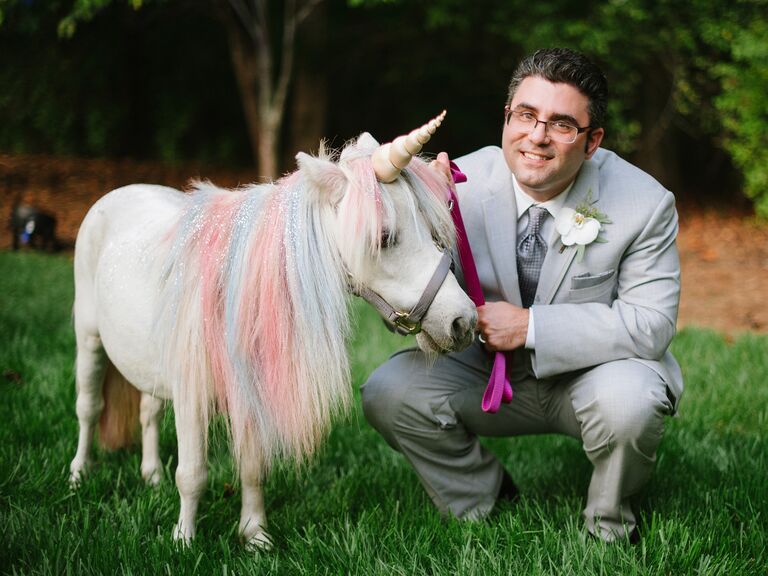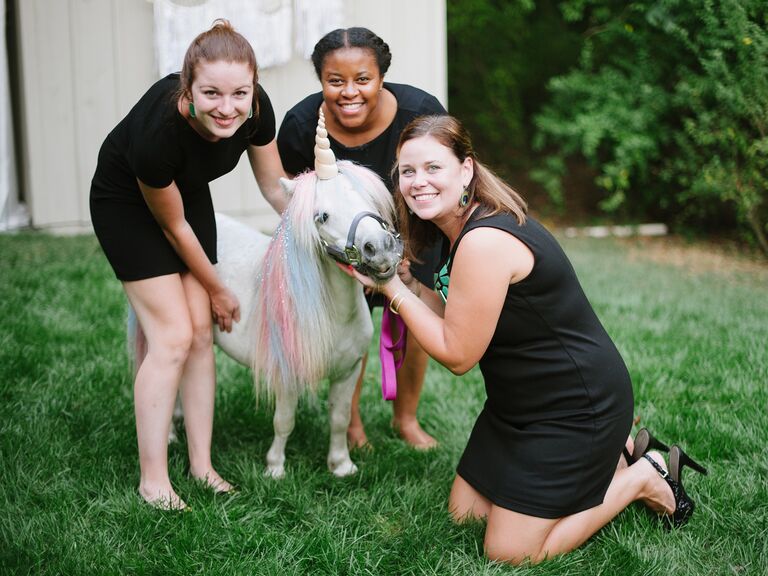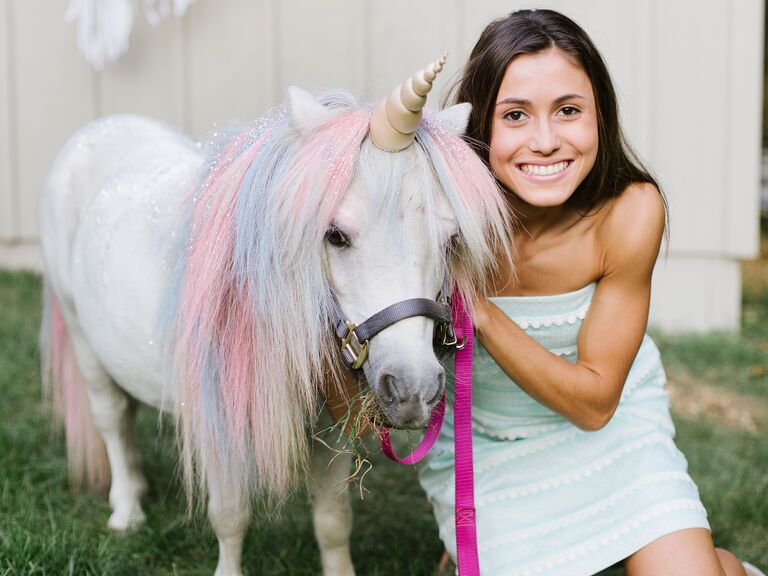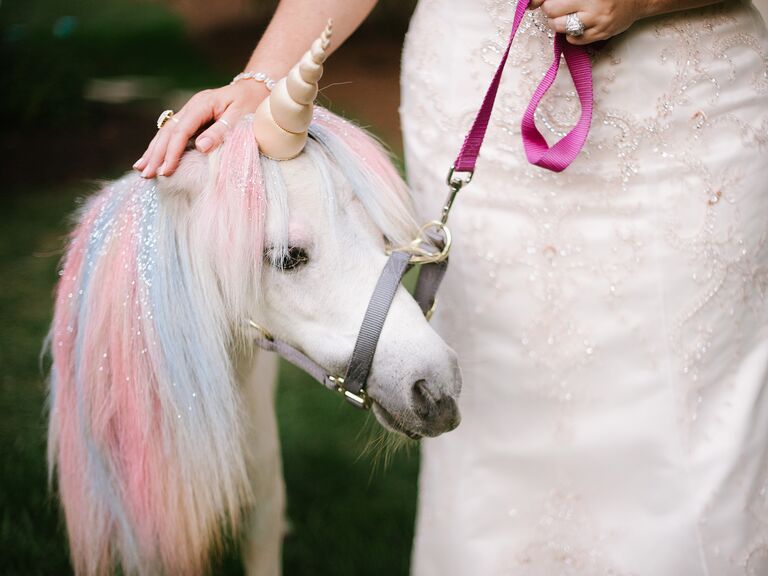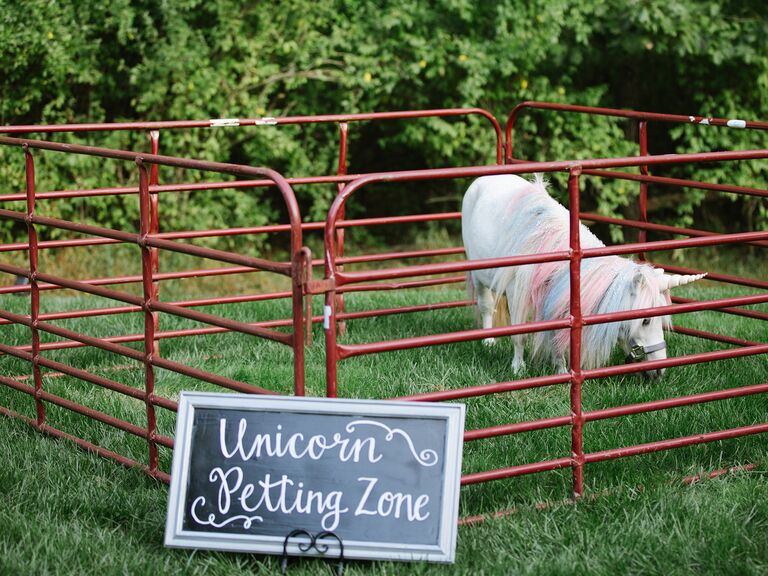 All photos by Jessica Maida Photography