13 Must-See Wedding Venues in Central Texas
These 13 wedding venues spread across Central Texas are a must-see.
The Lone Star State offers incredible must-see wedding venues for you to choose from when planning your big day, especially in Central Texas. Central Texas, sometimes known as the heart of Texas, surrounds the Austin area and is known for being easily accessible as it stretches from San Marcos to Waco. And there's a lot to do in Texas, making it a fun place for your wedding guests to explore. The Texas State Capitol is conveniently located in Austin, you can visit The Alamo and The River Walk in San Antonio, or check out the Space Center Houston. As far as culinary options goes, you can enjoy everything from barbecue to Tex-Mex, and frozen margaritas are a must. Here are 13 must-see wedding venues in Central Texas we think you'll love.
Barr Mansion Ballroom & Farmstead in Austin, Texas
Barr Mansion Ballroom & Farmstead in Austin, Texas, is an immaculate seven-acre estate with indoor and outdoor ceremony options for your special day. The Barr Mansion is a Victorian homestead built in 1898 by Braxton Barr and was home to the Barr family for the course of the century. Melanie McAfee, the property owner today, fell in love with this hidden gem and renovated the historic Mansion, and has since added an 18th-century Artisan Ballroom and open-air farmstead to the property. The Artisan Ballroom is a stunning option if you want to have an indoor reception or ceremony while enjoying the beauty of the outdoors. Surrounded by breathtaking grounds and architecture, this Texas wedding venue is a great option if you're looking for additional services, including organic cuisine, outstanding staff, seamless decorative rentals, and coordination services. Walk down the aisle Austin style on this beautiful property.
The Addison Grove in Austin, Texas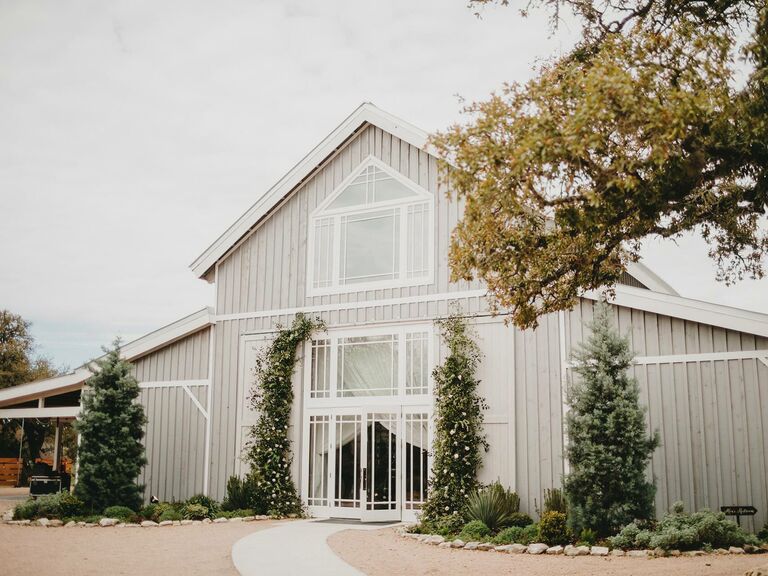 The Addison Grove is an elegant and luxurious venue located 15-minutes outside of Austin within the Texas Hill Country. Enjoy the rustic, relaxing setting of an elegant 6,000 square foot barn, acres of peaceful meadows and elegant woods, and other indoor event spaces for your wedding day. The barn is the main attraction at this venue, and it can hold up to 300 guests. With rolling glass doors and beautiful chandeliers against overhead beams, you can bring your rustic yet elegant wedding day dreams to life in this perfect setting. And if you're planning a destination wedding in Austin, The Addison Grove team can provide a curated list of professionals that have experience working in this country venue to make planning for your big day as easy as possible.
Ranch Austin in Austin, Texas
Ranch Austin is a classic combination of rustic vibes with longhorn and cattle grazing in the pasture paired with chic designs for various styles located 15-minutes from downtown Austin. This venue is home to weddings, private events, and corporate events. Choose from the indoor banquet hall with seating for up to 160 guests and the 10,000 square foot outdoor patio surrounded by beautiful large oak trees. Take advantage of the onsite bridal suite and the groom's cabin when getting ready for your special day. A catering prep kitchen, chairs, and tables are all available with your venue rental.
Camp Lucy in Dripping Springs, Texas
Camp Lucy is nestled on a Texas Hill Country ranch on a bluff above Onion Creek in Dripping Springs, Texas. This venue is an ultimate luxury getaway near the Texas Wine Trail and the perfect location for a Central Texas wedding. Choose from four one-of-a-kind settings, including Ian's Chapel, Sacred Oaks, Whit's Inn, and The Vineyard, for a picture-perfect setting. There are indoor and outdoor ceremony sites to choose from, as well as many luxury amenities for you and your guests, including a resort-style pool.
Garey House in Georgetown, Texas
Garey House is a Tuscan-style wedding venue on an estate in Georgetown, Texas. Choose from indoor and outdoor event spaces that exude the signature Tuscan style. Whether you're looking to invite around 100 guests to your wedding or are planning a smaller elopement or micro-wedding, Garey House is a great option for your needs. An onsite manager, two prep suites, and a catering prep kitchen are included with your venue rental. Furnishings include tables, chairs, cocktail tables, speakers, and outdoor lighting.
Star Hill Ranch in Austin, Texas
Star Hill Ranch is a unique Austin wedding venue for your big day. Star Hill Ranch is currently home to 22 historic buildings that were originally constructed between 1850 and 1935. All historic buildings were relocated from around Central Texas and restored. Nearly any size wedding can be hosted at Star Hill Ranch, with multiple wedding ceremonies and wedding reception spaces to choose from. You can even host a DIY micro wedding and rent spaces by the hour for flexibility for your needs. If you're looking for various event venue options to choose from, be sure to visit Star Hill Ranch.
Weddings at Riverbend in Austin, Texas
Weddings at Riverbend is a scenic non-denominational wedding chapel built in 2000 and designed with an old-world Tuscan style of the 18th century. This wedding venue is unique because the acoustics in the chapel are one-of-a-kind thanks to state-of-the-art equipment, a grand piano, and full audio capabilities. Invite up to 320 guests to your big day in the chapel with extra seating on the balcony, or check out the newly renovated reception hall in the ballroom for up to 280 guests.
Canyonwood Ridge in Dripping Springs, Texas
Canyonwood Ridge is a Hill Country wedding venue in the Austin area, just 20-minutes from downtown. This 12,000 square foot venue is wrapped in oak trees, creating a picturesque countryside backdrop for a wedding of up to 300 guests. Choose from an outdoor ceremony site or the indoor Chapel for your ceremony. The Reception Hall is adjacent to the Chapel for a quick and seamless transition from your wedding ceremony to your reception. Dramatic views coupled with elegance and romance make this venue a perfect place to say, "I do."
The Milestone | New Braunfels in New Braunfels, Texas
The Milestone | New Braunfels is home to two incredible venues on an estate: one modern farmhouse and one rustic hall. Legacy Hall has an open and airy feel with a farmhouse-inspired look. Stonehaven Hall features stone accents and staircases, grand archways, and polished wood floors for a rustic feel. Both venues can accommodate up to 320 guests, and with two beautiful yet very different options to choose from, you'll be able to plan the wedding of your dreams at this New Braunfels wedding venue.
Celebrino Event Center in Georgetown, Texas
Celebrino Event Center boasts 10 acres of natural beauty in the heart of Georgetown, Texas. This event center hosts various events, from weddings to rehearsal dinners to corporate meetings and everything in between. Celebrino Event Center sits atop the highest point in Williamson County and has 10 acres of beautifully kept grounds in addition to a 4,000 square foot indoor venue. The space is large yet dynamic, so you can customize it to fit your wedding needs.
The Lodge at Country Inn Cottages in Fredericksburg, Texas
The Lodge at Country Inn Cottages is the perfect destination for your ranch wedding. This venue, located a short drive from Austin and San Antonio, offers ceremony and reception sites for your big day. The Country Inn Cottages offers 28 cottages just steps away from the Lodge, making this location seamlessly convenient if you're planning a destination wedding.
Silo and Oak in Temple, Texas
Rustic meets shabby chic at this Central Texas venue created for small weddings. Silo and Oak, located in Temple, Texas, accommodate up to 72 guests with both indoor and outdoor event spaces to choose from. You can have your wedding under ancient oak trees or inside the chapel if you're planning an indoor wedding. A beautiful clay block silo makes this property unique, and it's used to create unforgettable and simply beautiful wedding photos.
The Vineyards at Chappel Lodge in Austin, Texas
The Vineyards at Chappel Lodge is a stunning venue located outside of downtown Austin. Surrounded by wildflowers, oak trees, and a California-inspired vineyard, this venue offers a tranquil and nature-filled scene for you to say, "I do." The team can help you plan your big day and has a lengthy list of preferred vendors to choose from, including caterers, cakes, photographers, videographers, florists, musicians, officiants, rentals, and more. And if including your furry friends in your wedding is on top of your list, this venue is dog-friendly.