15 Minutes With Yes Way Rosé
The ladies who turned their love of rosé into a full-time job gave us the scoop on how to get the best rosé Instagram, what region to look out for and more.
by Andrea Fowler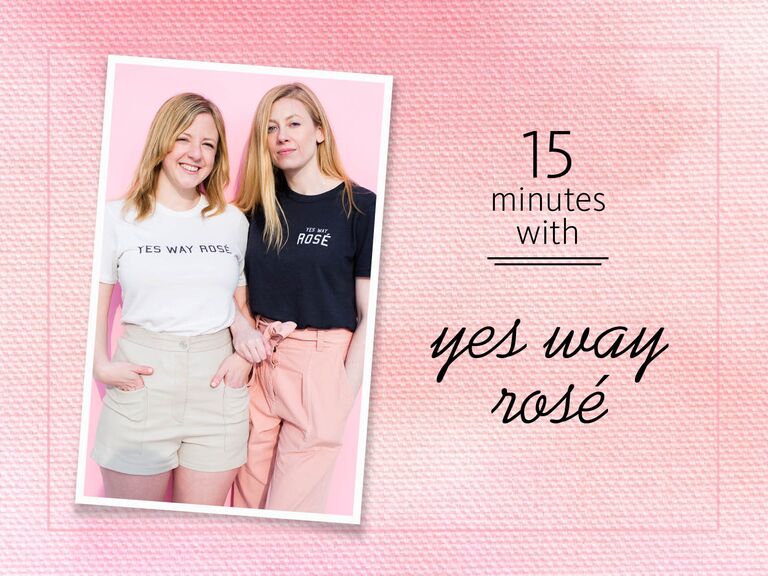 Shake out your sundresses, get out your beach chairs and get your wine openers ready: It's summer rosé season. What used to be looked down on as the distant stepsibling to white and red wines has become too popular to keep in stock. Last summer, there was a even a shortage.
Whatever your hashtag is (#HamptonsGatorade, #SummerWater, #YesWayRosé, #RingAroundtheRose), deep down, we're all rosé lovers—and we're willing to bet that Erica Blumenthal and Nikki Huganir, the founders of Yes Way Rosé, may be the biggest fans of all.
How did Yes Way Rosé come together?
It came together so organically it's kind of crazy. We are best friends and have been friends since we were about 14 years old. We both live in New York and, like most friends here, we're always trying new restaurants or planning beach trips. A few summers ago we started to grow infatuated with rosé, specifically those from Provence, and were constantly cracking each other up with jokes about it, like calling it Summer Water. Our other friends found it funny too, so we started an Instagram account called Yes Way Rosé to spread the rosé love and share the many ways it was inspiring us. Everything else that's happened has grown from there.
A couple summers ago, rosé seemed to become an A-list celebrity overnight. What do you think started that?
We don't think there's one thing that sparked it. The world was ready! For us, it was a realization that we love rosé more than any other beverage and so we broke down why, which is that the wine is a reflection of what makes summer so magical. We wanted rosé to be available everywhere that red and white wine was offered. There's room for the pink stuff too and we're seeing that now more and more.
When wine shopping, is there a certain rosé-producing region you keep an eye out for?
One of the highlights of starting YWR has been learning about the regions where rosé is made and what blends winemakers are coming up with. We've had rosé from Slovenia, New Zealand and Argentina, but are especially drawn to those from Provence and other regions in the South of France, Corsica, California—specifically Napa and Santa Barbara County—Austria, Hungary and the Willamette Valley in Oregon. But we look forward to trying rosé from everywhere!
What are your favorite rosé food pairings? Anything really unexpected, like the infamous champagne and fried chicken combo?
We really like drinking it with everything, from omelettes to summer vegetable salads and lobster rolls. What might be surprising is how good rosé is with heavier foods like steak. It's really nice to balance a rich meal with a light and crisp-dry wine.
Do you have a favorite rosé cocktail?
We love Negronis, and Cari Hah, the mixologist from Big Bar in Los Angeles, made a Yes Way Negroné that incorporates our rosé and is divine. We also love making rosé ice cubes and splashing soda water on top for a poolside rosé spritzer.
Tell us about your collaboration with WINC.
The WINC collaboration began last summer when they reached out to us about making a rosé together. When we were tasked with naming the wine, we went back to YWR's roots and naturally named it Summer Water. Last year we only made 300 cases, which sold out in a couple weeks, so this year we've made 5,000! It's a grenache/syrah blend from Santa Barbara county and it's delicious! It's a dry rosé made in the style of our favorites from Provence, with a bright, citrus-y California boost. It's super-versatile and pairs well with all summer activities.

How can we live in a rosé state of mind year-round?
We think about the qualities of the wine and how to apply it to our lives throughout the year. Rosé is light, carefree and represents the best summertime vibes. It's also completely transportive. Having a glass cozied up to a fire always brings us back to that happy place. This isn't to say we don't love a hearty glass of red or whiskey in the cooler months, but rosé is just our BAE.
Do you have any tips for posting the best rosé Instagram?
Keep the rosé as the focal point of your picture or video. A beautiful sunset or poolside setting will definitely add to the beauty of the photo, but rosé is gorgeous on its own. As long as the wine is looking good, you're rosé-golden.
Fill in the blank: Rosé is best enjoyed when....
...you're feeling great, having fun and keeping good company.
Share your lové for rosé with The Knot by using the hashtag #ringaroundtherosé on Instagram and Twitter!