The Best 55th Wedding Anniversary Gifts With Serious Wow Factor
Check out our favorite emerald anniversary gift ideas.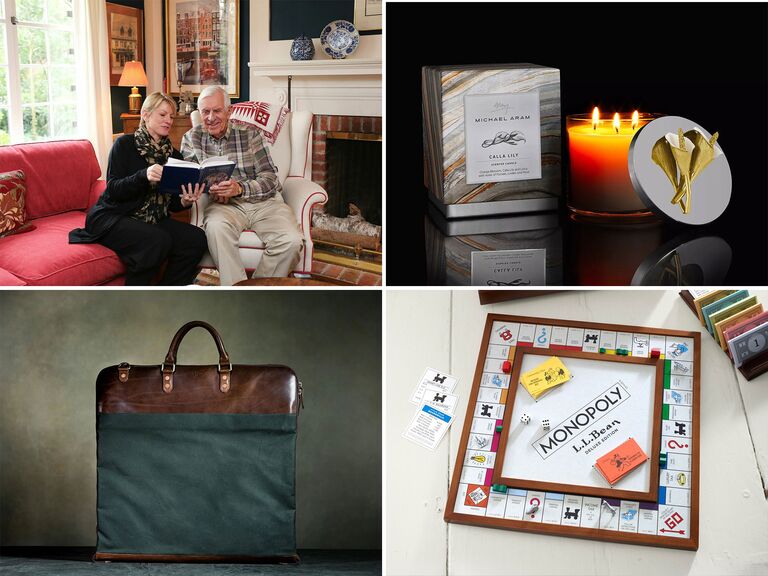 We have included third party products to help you navigate and enjoy life's biggest moments. Purchases made through links on this page may earn us a commission.
Fifty-five years of marriage is an incredible accomplishment—and it certainly deserves to be celebrated appropriately. If you're in search of a 55th wedding anniversary gift to mark this huge milestone, you've come to the right place. Whether you want to surprise your wife or husband with the perfect present or are looking for a thoughtful way to spoil your parents or friends on this momentous occasion, we've gathered some of the best 55-year anniversary gift ideas for anyone in your life.
In this article:
What Is the 55th Wedding Anniversary Gift?
Traditional and Modern 55th Anniversary Gift
The 55th anniversary is commonly known as the emerald wedding anniversary. This deep green gemstone represents both the traditional and modern gift and is believed to symbolize eternal commitment. In fact, emeralds were said to change shade if a partner is ever unfaithful. The timeless gemstone also represents rebirth, suggesting that—even after 55 years together—a couple can continue to learn and grow together through new experiences. How fitting that your long union is celebrated with a gemstone symbolic of devotion and loyalty?
Other 55th Anniversary Symbols
Like other milestone anniversaries, 55 years of marriage also has a specific color, gemstone and flower. If you guessed emerald was the 55th anniversary color and gemstone, you'd be correct. (Did we mention it's considered the emerald anniversary?) Meanwhile, the 55th anniversary flower is the calla lily which, like emeralds, represents devotion and magnificent beauty.
Ready to start shopping now? We've rounded up the very best 55th-anniversary gifts that follow the traditional gifting themes, as well as a few alternative picks. No matter who you're browsing for, they'll feel spoiled with one of these presents.
Emerald Anniversary Gifts
If you or your loved ones are celebrating a 55th anniversary, consider shopping for a traditional emerald gift to commemorate the occasion. Below, browse our favorite emerald wedding anniversary gifts ranging from timeless jewelry to green-hued home decor.
Pear-Shaped Emerald Studs
You really can't go wrong with dazzling gemstone jewelry for the emerald wedding anniversary. Even though they're rather traditional, these pear-shaped stud earrings will be a stand-out accessory. They're made from lab-grown emeralds and set in lustrous silver recycled metal, resulting in a beautiful pair of environmentally conscious baubles. Make sure to plan a special anniversary date so your spouse can flaunt them right away.
Gold Watch with Emerald Face
Time flies when you're having fun—which would maybe explain how 55 years have passed so quickly, right? Surprise your love with an elegant gold watch that boasts a luxe emerald green face in honor of your milestone anniversary. We have a feeling a sleek timepiece like this will elicit plenty of compliments.
Emerald and Ivory Glass Vase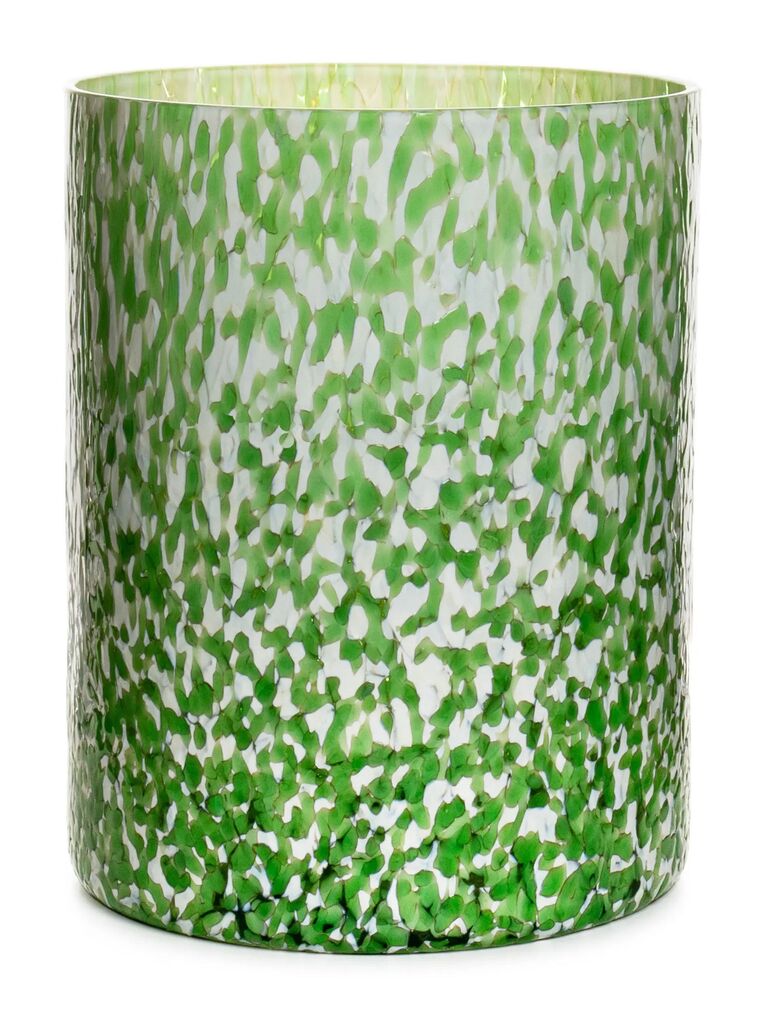 You simply can't go wrong with fresh flowers as an anniversary gift. To make this idea special enough for a 55th wedding anniversary, opt for an emerald green vase to compliment their favorite blooms (bonus points if you work in some calla lilies!). This particular piece is handmade in Venice, Italy—the home of Murano glass artistry—and features green and ivory-colored glass for a speckled opaque pattern.
Emerald Marbled Picture Frame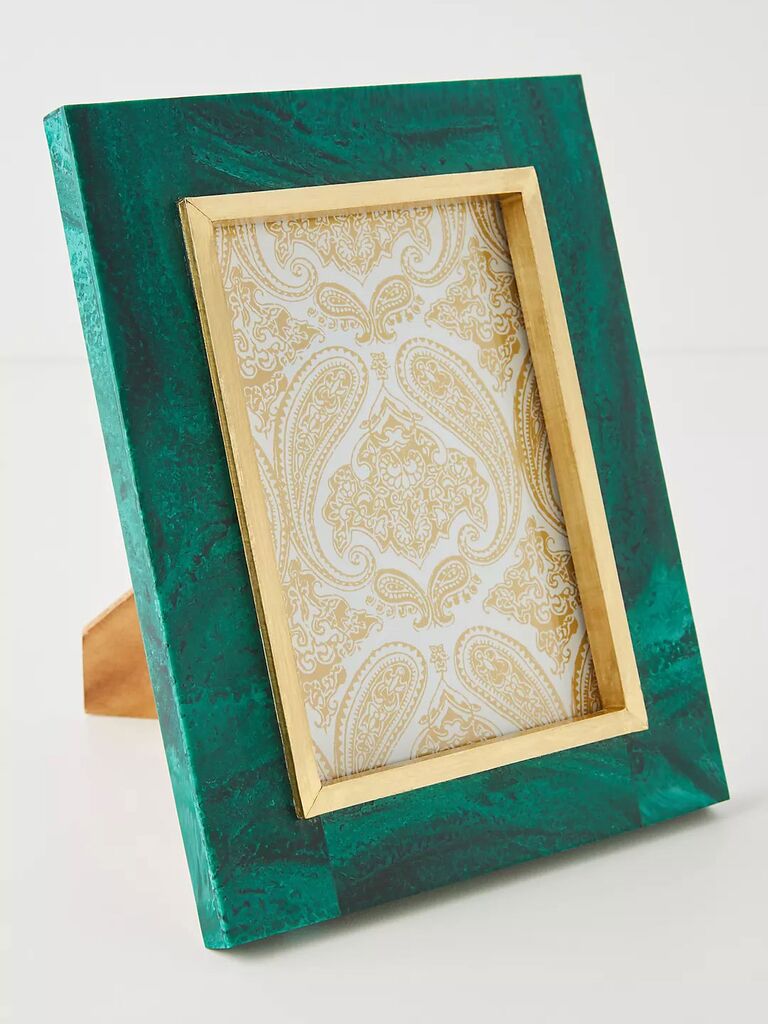 Are the pictures on the mantle starting to look old—or well, a little young? Revamp your collection with this stunning marbled green frame, which is very fitting for the 55th-anniversary theme. Pair it with an anniversary photo shoot so you have new, professional photos to fill the frame with.
Dark Green Velvet Chair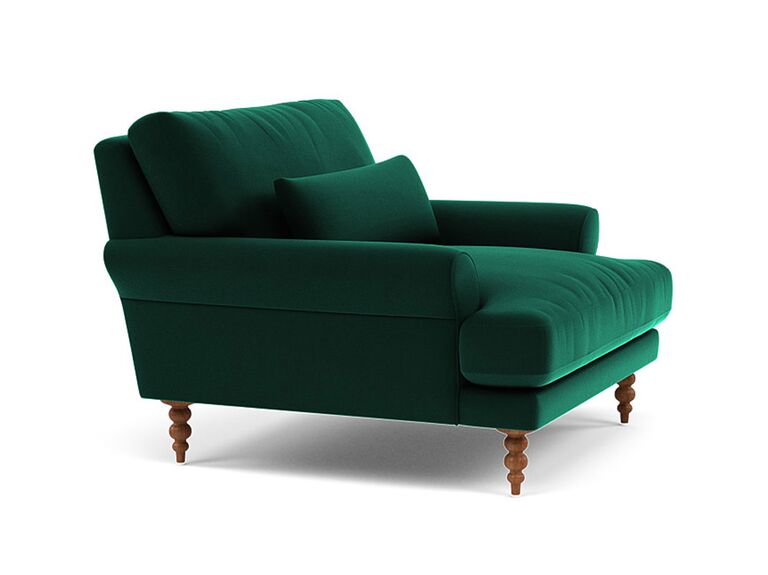 Is your partner's favorite spot to watch TV looking a little worse for wear? Consider surprising them with an upgrade—and don't worry, this accent chair will be just as, if not more, comfortable. The deep seat and low profile with soft, emerald velvet cushions is practically begging for a little R&R.
Green Garment Bag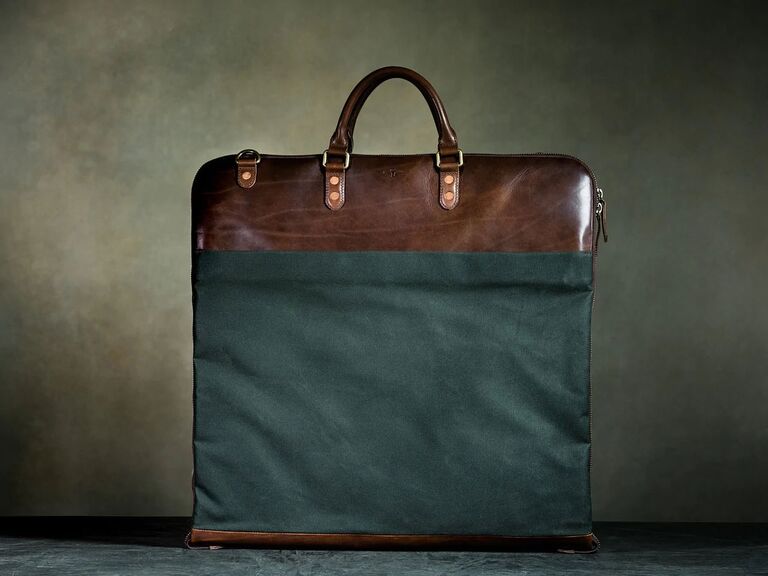 Planning a weekend away to celebrate your big anniversary? Make sure their clothes don't wrinkle when they travel with this waxed canvas and leather garment bag—in green, of course. It may look small, but it can hold three days worth of clothes, including two full suits plus accessories like shoes, toiletries, belts and more. It even boasts a hidden pocket for dirty clothes and a zippered exterior pocket for bonus storage.
Sterling Silver Emerald Cufflinks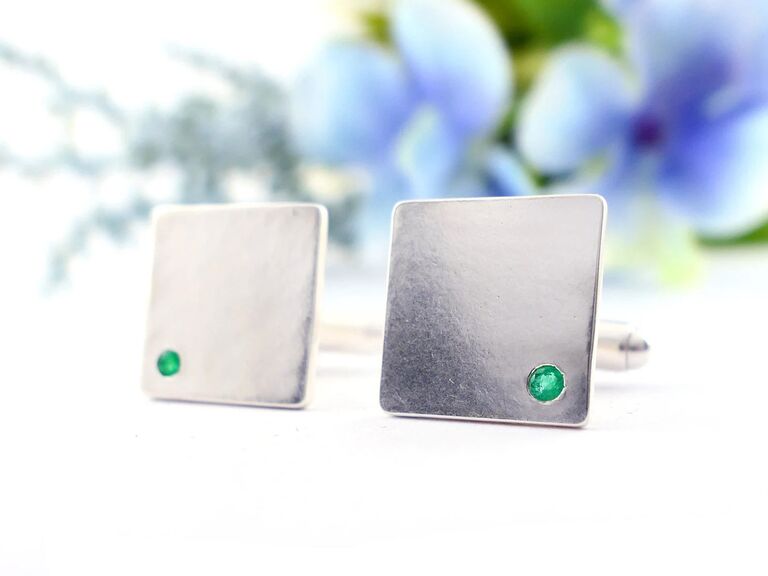 Speaking of best dressed, no formal outfit is complete without a standout pair of cuff links. If you're planning to treat yourselves to a fancy dinner in celebration of your 55th wedding anniversary, gift your spouse with this contemporary set of emerald cuff links (set in sterling silver) ahead of time.
Emerald Forever Rose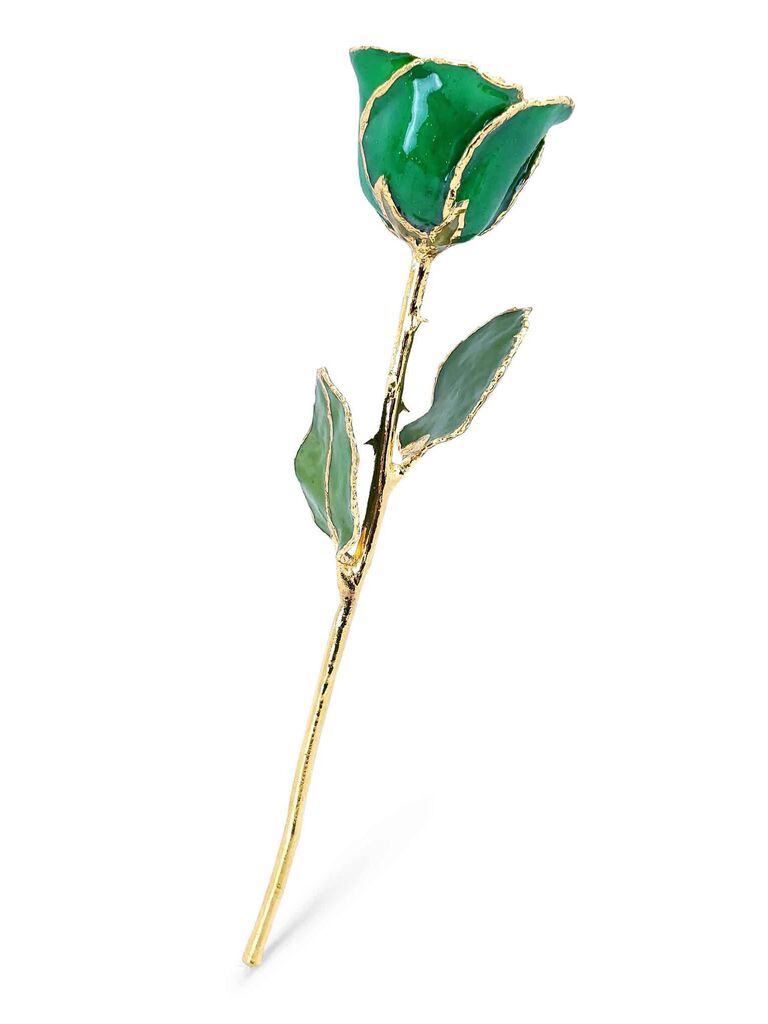 The only thing more romantic than a single rose is a single rose that will last forever! The Forever Rose takes real roses at peak bloom and preserves them in a durable lacquer as a symbol of true love and eternal relationship. This one is topped with a glossy emerald finish and 24K gold to match the 55th wedding anniversary's traditional color and material. You can even up the ante and have the stem engraved with a custom message.
Cozy Emerald Green Throw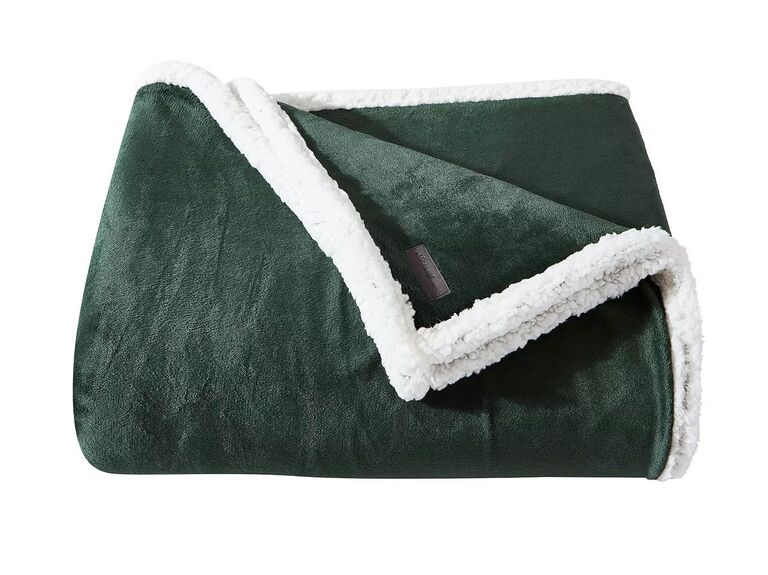 The key to a successful marriage? Never stop cuddling. And with this oversized blanket, two can comfortably snuggle up underneath. Give the happy couple this plush emerald throw that reverses to faux shearling for a cozy addition to their couch or an extra layer of warmth on the bed.
Emerald Silk Sleep Mask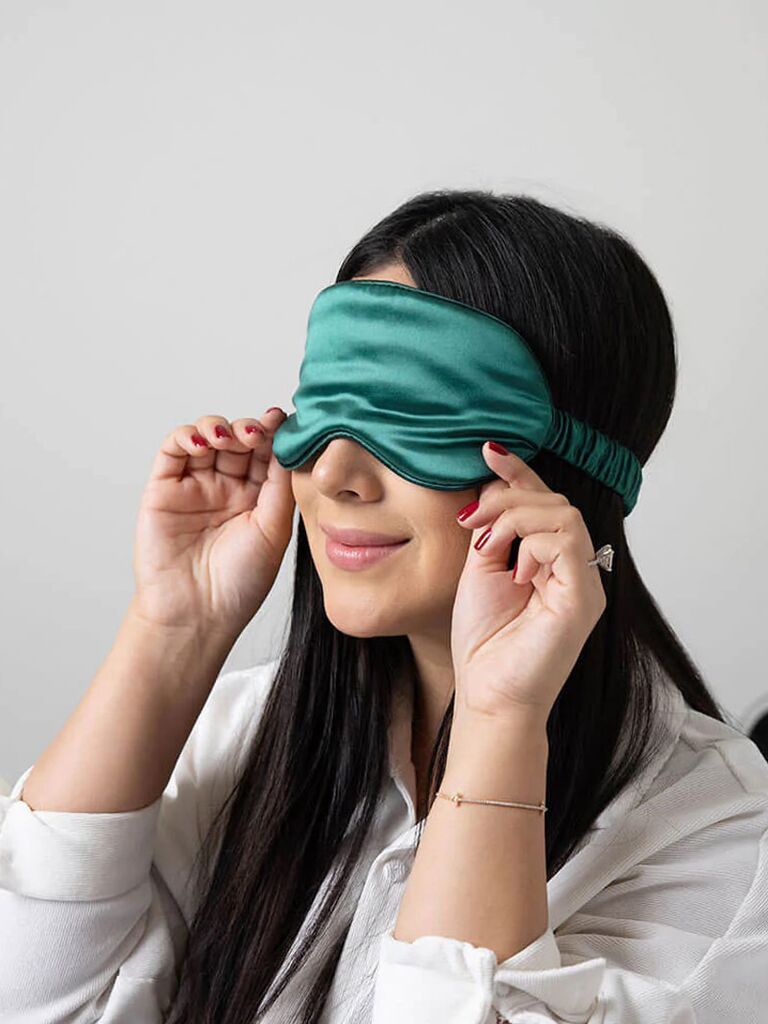 Nothing beats a good night's sleep. Help your partner settle into dreamland each night with a soothing (green) silk sleep mask. Not only will it block out any light that may disrupt their sleep, but the breathable fabric will protect their face from friction damage that can occur while sleeping, helping to keep skin healthy longer.
Emerald and Diamond Bolo Bracelet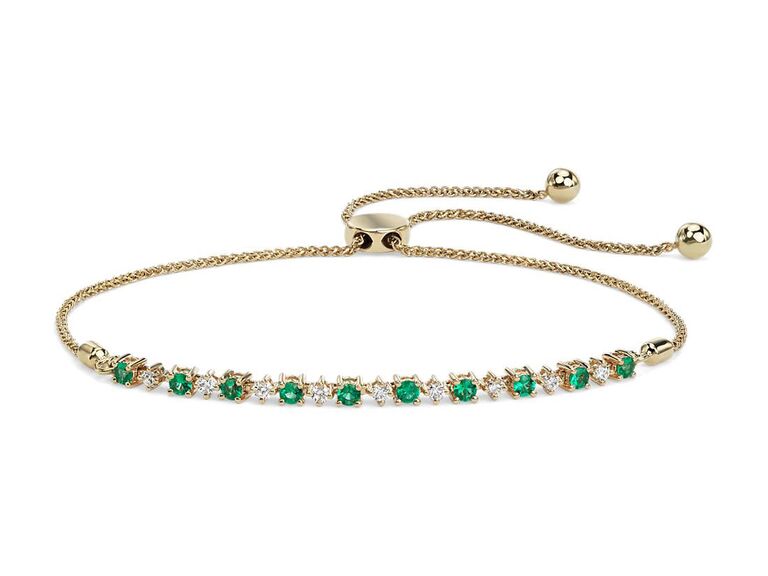 The emerald wedding anniversary only comes around once, so don't be afraid to splurge on something extra nice for your partner. This 14K yellow gold bolo bracelet boasts shimmering emeralds and diamonds in a symmetrical pattern for a stunning accessory that your spouse will find any occasion to wear.
Personalized Family Tree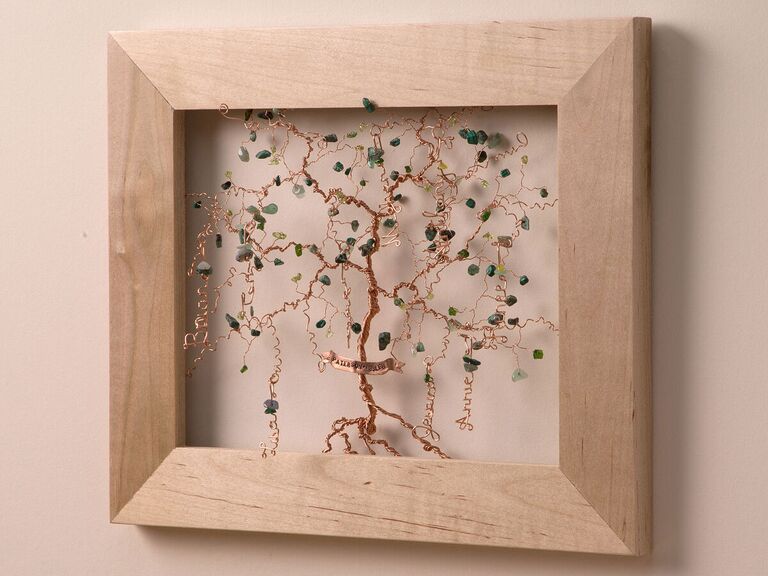 If you're shopping for a 55th wedding anniversary gift for your parents, consider a beautiful keepsake honoring the family they've built together over the last five decades. This personalized wire tree sculpture with on-theme green beads is personalized with the family name around the trunk and loved ones' names hanging from the branches. How special is that?
Emerald Green Wine Glasses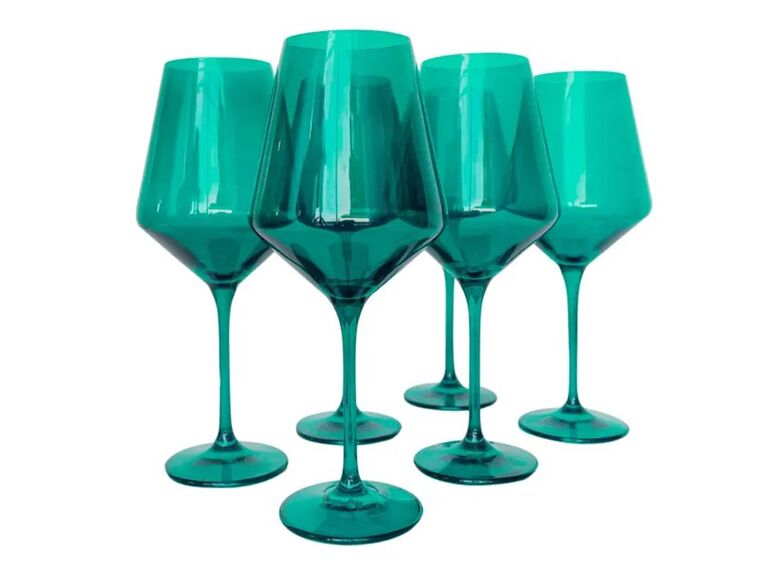 A 55-year anniversary is an achievement certainly worthy of a toast—or two, or three! Help your parents or favorite couple raise a glass in style with these elegant (and eye-catching) emerald green wine glasses. Since they come in a set of six, there are plenty of glasses to be shared with friends and family during their next dinner party.
Emerald Symphony Candy Dish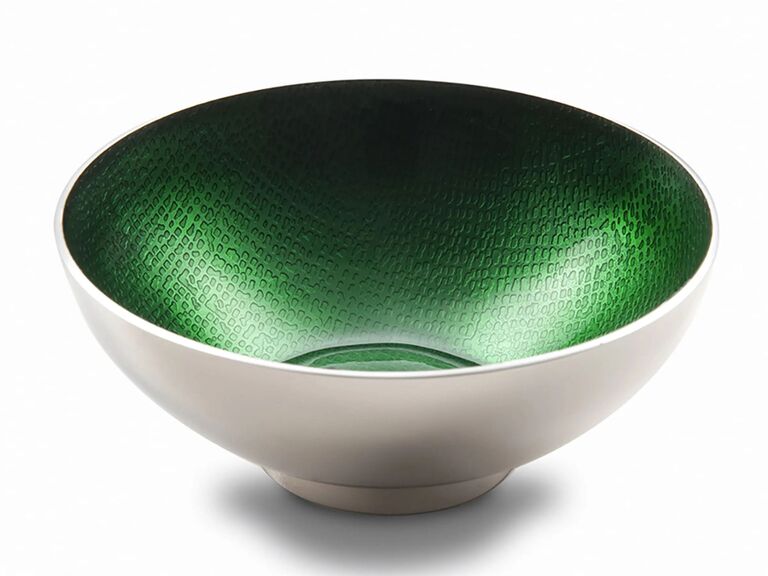 Frequent hosts are always in need of great serveware and this elegant option would make for a particularly lovely tabletop addition. It's made from stainless steel with a vibrant emerald enamel finish. Fill it with their favorite candy for a gift both your spouse and grandkids will enjoy.
Green Mountain Artwork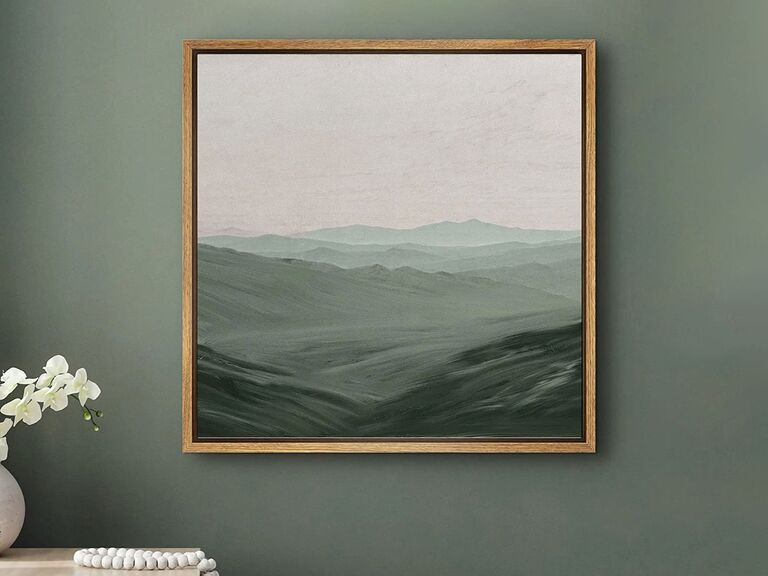 Whether you married an art collector or a naturalist, this framed landscape print will make any room instantly more vibrant. The emerald green wedding anniversary color of the rolling hills just makes it that much more special.
Alternative 55th Wedding Anniversary Gifts
You've probably purchased plenty of great anniversary gifts for your spouse over the years, so what do you get when they seem to have absolutely everything? Don't stress. Below, we've rounded up some of the most unique 55th-anniversary gift ideas on our radar that we guarantee will leave them speechless—and full of love.
StoryWorth Subscription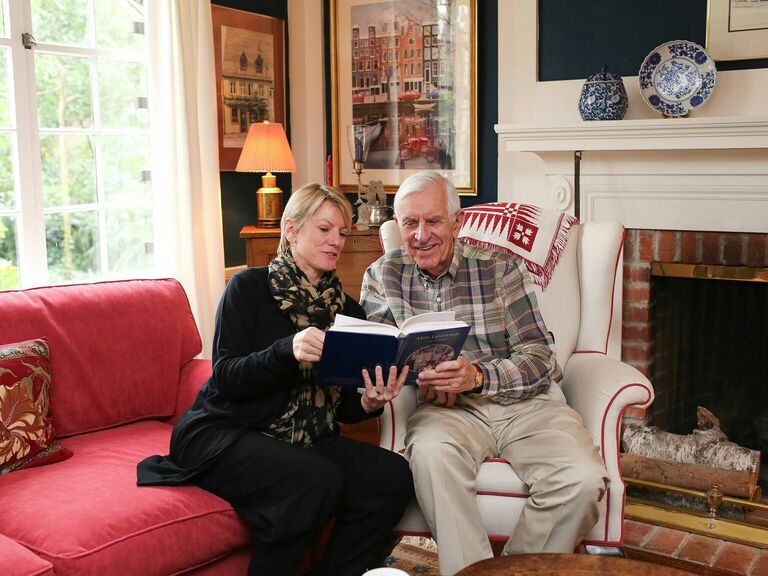 There's no doubt that your favorite couple has accrued plenty of great stories (and lessons!) from their 55 years of marriage. Turn those anecdotes into a beautiful keepsake book with the service StoryWorth. Each week, the company will send them an email with unique questions to answer, like what their fondest childhood memory is. At the end of the year, all their stories will be bound into a memory book, creating a touching and meaningful 55th-anniversary gift that ensures their love story lives on for generations to come.
New York Times Anniversary Book
History buffs and news junkies alike will love this creative 55th-anniversary gift from the journalists behind The New York Times. This leather-bound book is filled with the front pages of The New York Times from their wedding date every year through their most recent anniversary. They'll have so much fun looking back in time on each of their anniversary dates. (Psst, text look too small? For an extra fee, the book can come with a magnifying glass.)
Bouquet of Calla Lilies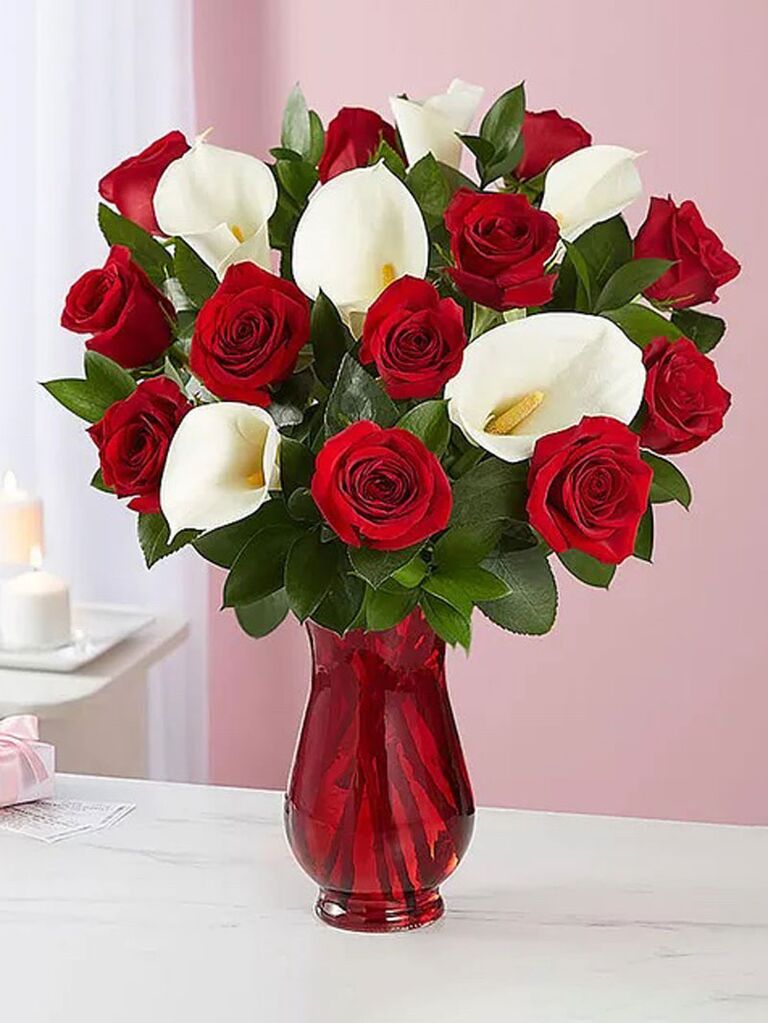 Imagine your partner waking up on the morning of your anniversary to this stunning bouquet at the breakfast table. It's designed with white calla lilies (the 55th wedding anniversary flower) and romantic red roses. They'll be delivered straight to the door and, yep, the vase can be included.
Crystal Wine Decanter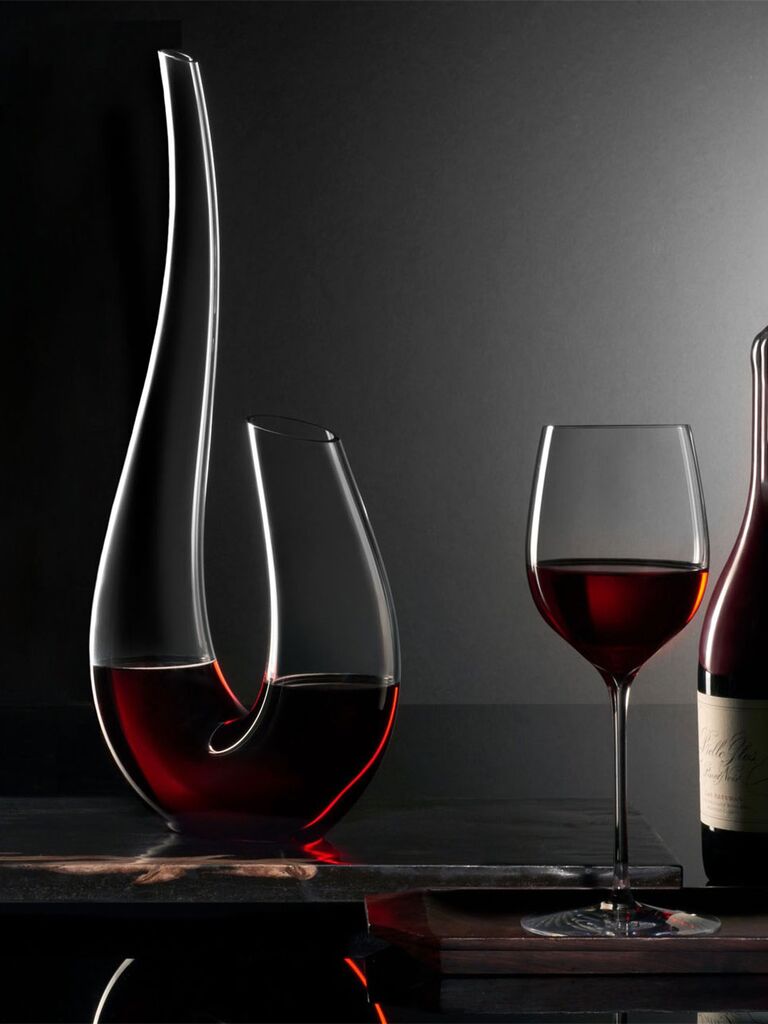 Your favorite oenophiles will be blown away by this stunning and sculptural crystal decanter. The undulating curves add oxygen to wine to enhance its aroma and make for a striking centerpiece at the dinner table. Pair it with a nice bottle of vino so they can put it to use immediately.
Timeless Diamond Necklace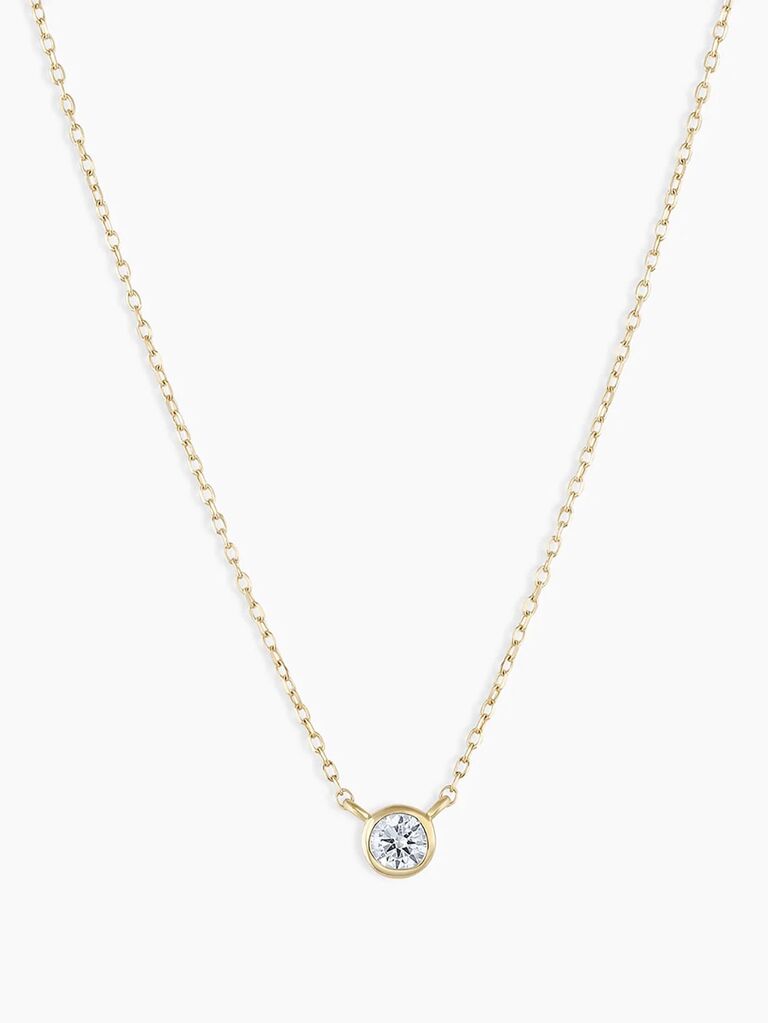 If you're stumped on what to get your spouse for your 55th wedding anniversary, stick with this universal truth: diamond jewelry never goes unappreciated. This classic necklace features a solitaire round cut diamond bezel set in 14K gold. It's simple enough for everyday wear, but will still make your spouse feel special.
Hidden Message Tie Bar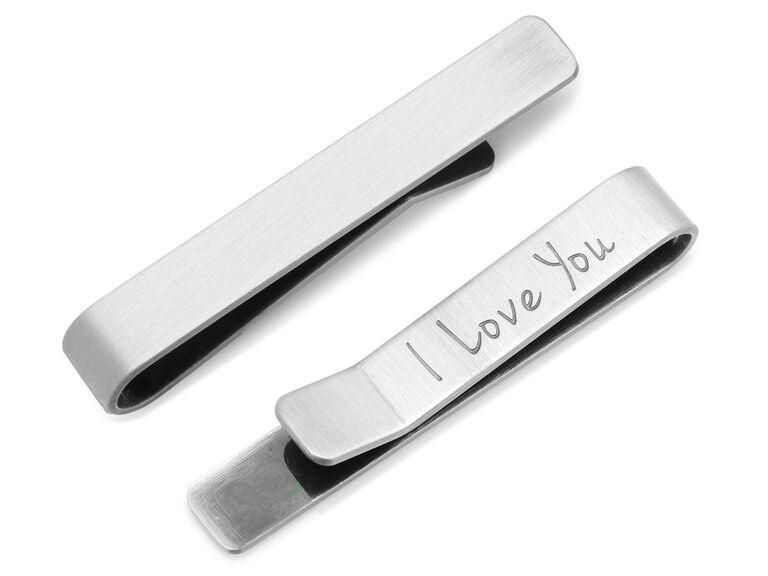 If your spouse routinely wears a suit and tie, gift them this antique silver tie bar to keep their look in top shape all day long. Don't worry, this gift is just as romantic as it is practical—the tie bar has a secret message that says "I love you" on the backside. Too sweet!
Custom House Portrait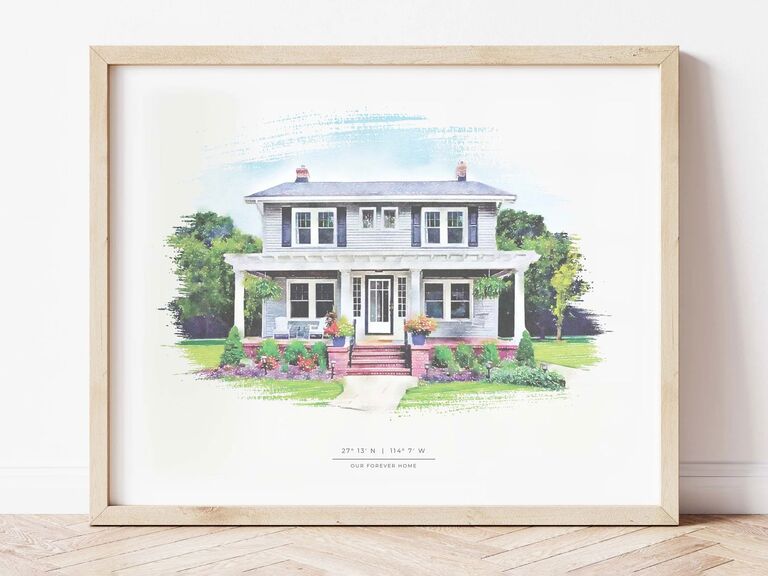 Have your parents lived in the same house for the past five and a half decades? Honor their home—and all the memories it represents—with a custom illustration. Simply send in a photo of their house for reference and this Etsy seller will create a custom watercolor print of it. An important note: There's no frame included, so you'll want to pick one up at your local craft store before gifting this sentimental piece!
Personalized Scrabble and Monopoly Board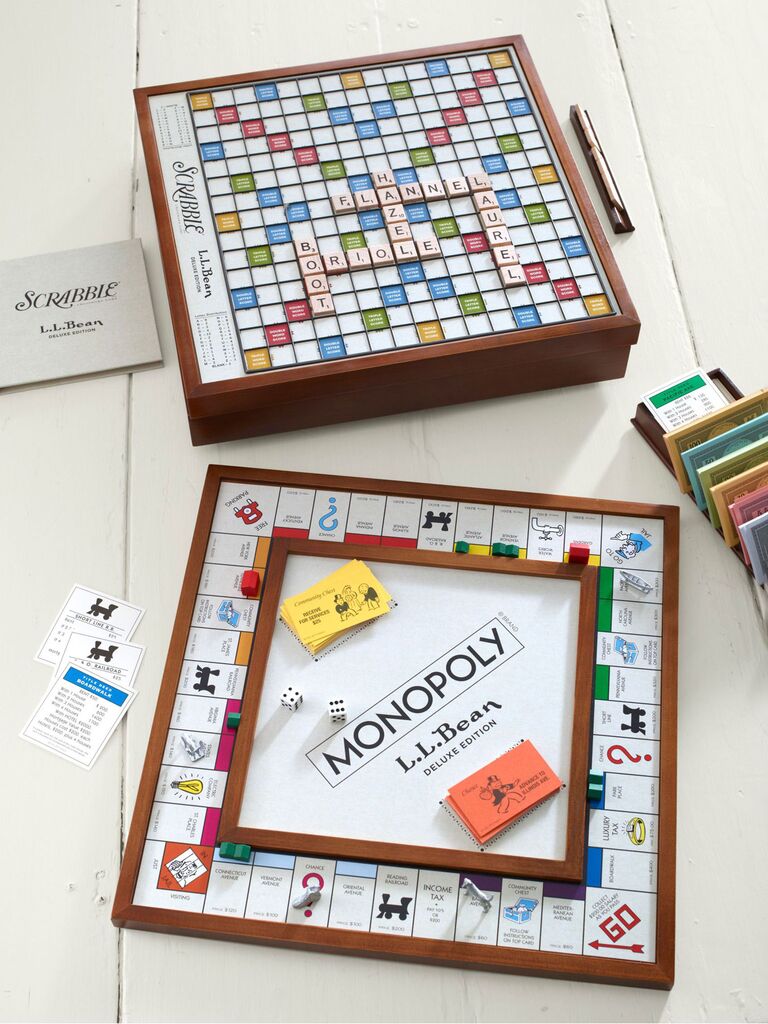 Consider a creative 55th anniversary gift, like this personalized Scrabble and Monopoly board, which has the owner's name engraved on a metal plate stamped on the wooden box. While it'll give the happy couple something fun to do, it'll also be a huge hit with the grandkids whenever they come over.
Cozy Bathrobe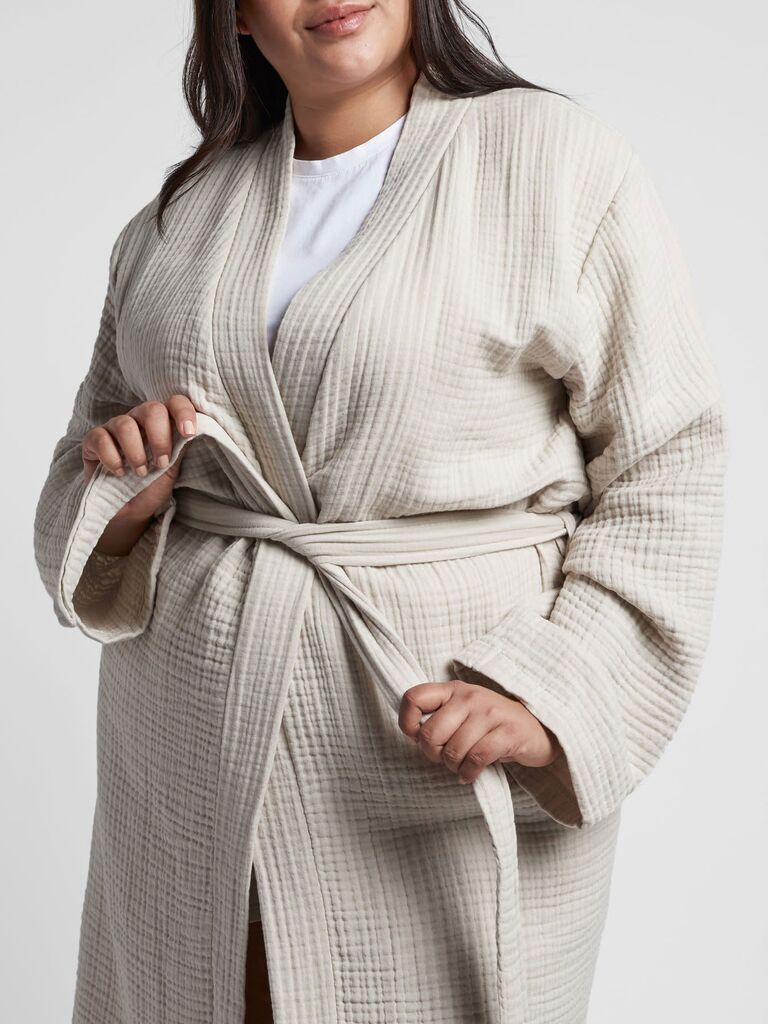 Mark our words, this luxurious robe will definitely get plenty of use. Made of 100% Turkish cotton, it feels almost as good as a hug from your true love. Your spouse will love drying off and cuddling up in this loungewear. (Psst. Inspired, but want a different color? Choose from eight different hues, including the 55th anniversary's color, green.)
Coffee Subscription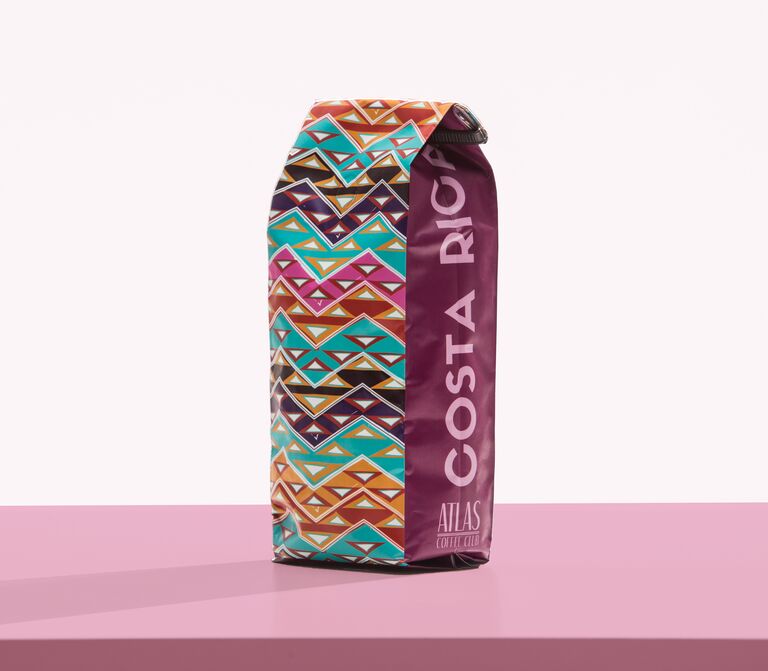 Johnny Nash said it best, paradise is a morning with your loved one having coffee. Make the routine that much better by introducing new brews from around the world through an Atlas Coffee Club subscription. Each month, your coffee-obsessed partner will receive a curated box of single-origin coffee with tasting notes and brewing tips meant to liven up their favorite morning ritual.
Guided Group Trip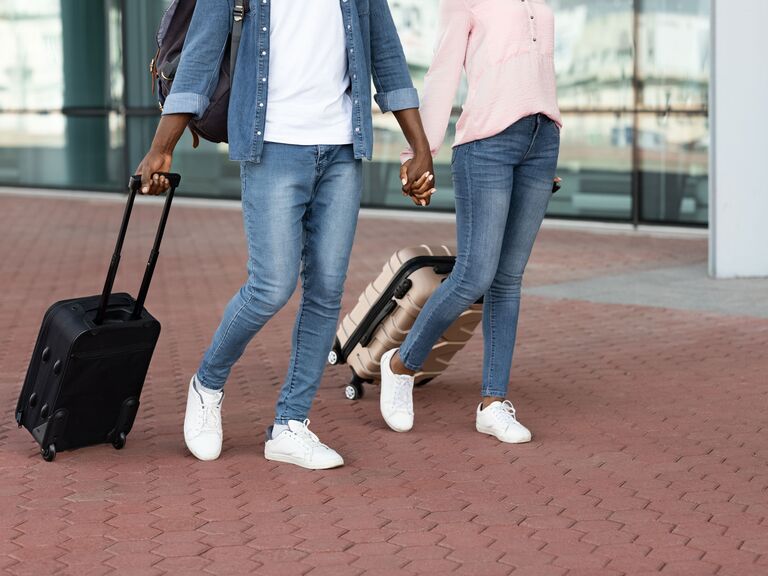 Remember how emeralds can represent new experiences? Here's one for the books: a guided trip abroad! For your 55th wedding anniversary, splurge on a fun vacation with your spouse or your whole family. With Go Ahead Tours, you'll get all the reward with none of the work. Their team of pros will secure your hotels and flights, design an exciting itinerary and pair you with local guides so you can enjoy the sites and culture of a new place without any stress. Choose from over 175 trips across all seven continents. Perhaps a trip to the Emerald Isle, or Ireland, is in order.
Monogrammed Luggage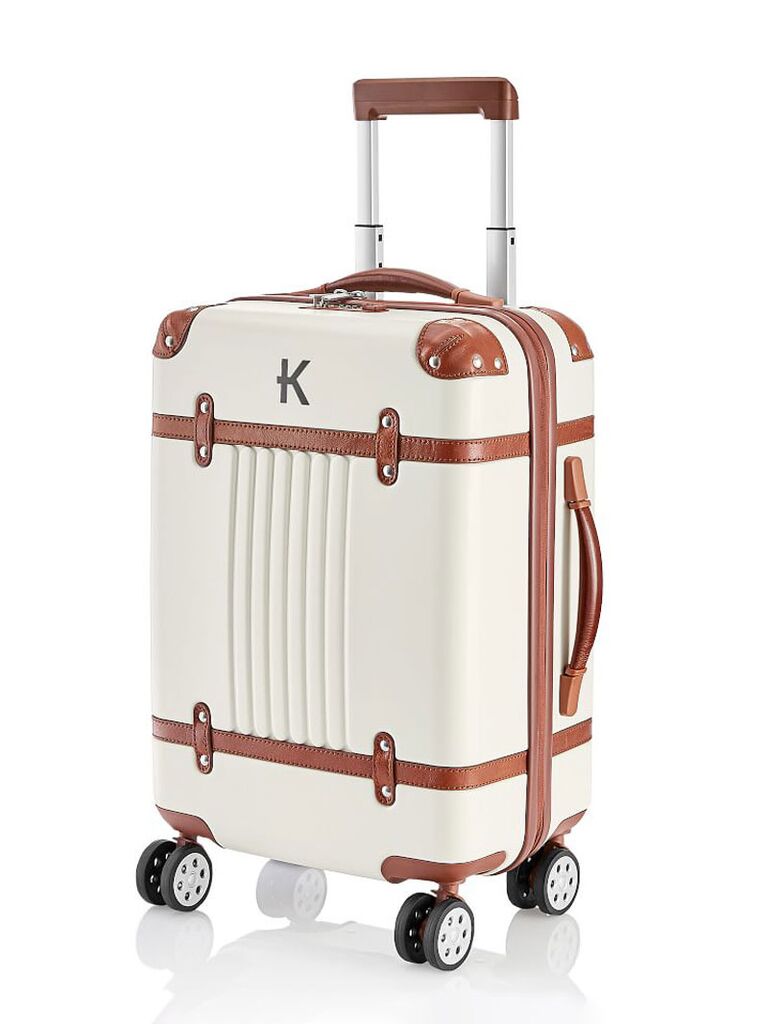 Don't embark on a new adventure before upgrading your spouse's luggage. If they've had the same carry-on since your honeymoon, replace it with this chic monogrammed suitcase from Mark & Graham. The durable polycarbonate shell is surprisingly lightweight, while the oversized wheels spin 360 degrees for easy transportation.
Virtual Baking Class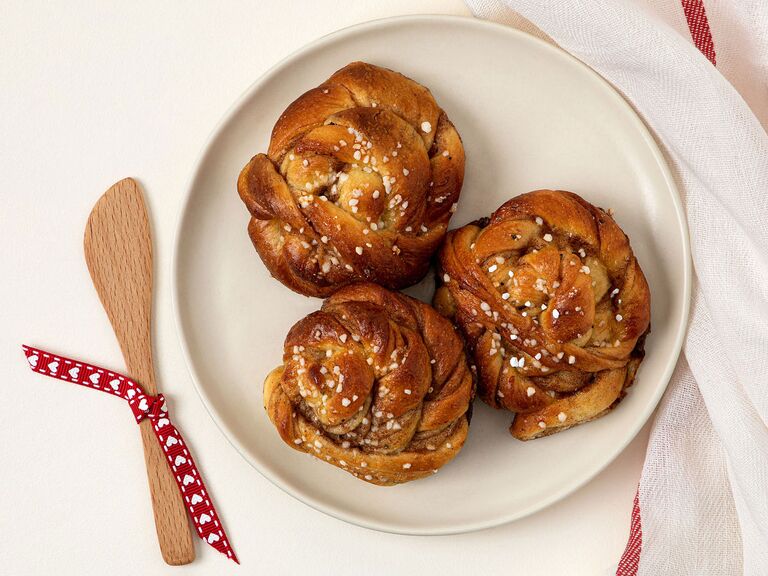 Looking for a new experience not quite so far from home? How about a virtual baking class? In this 75-minute lesson, you'll learn how to make two authentic Scandinavian sweets: cardamom-spiced cinnamon buns and shortbread cookies. You'll also learn about the Swedes' daily ritual of slowing down and socializing or, as they call it, fika. The gist: Good company and sweets are essential to happiness—and with this cooking class, you'll have both!
Personalized Garden Tote and Tools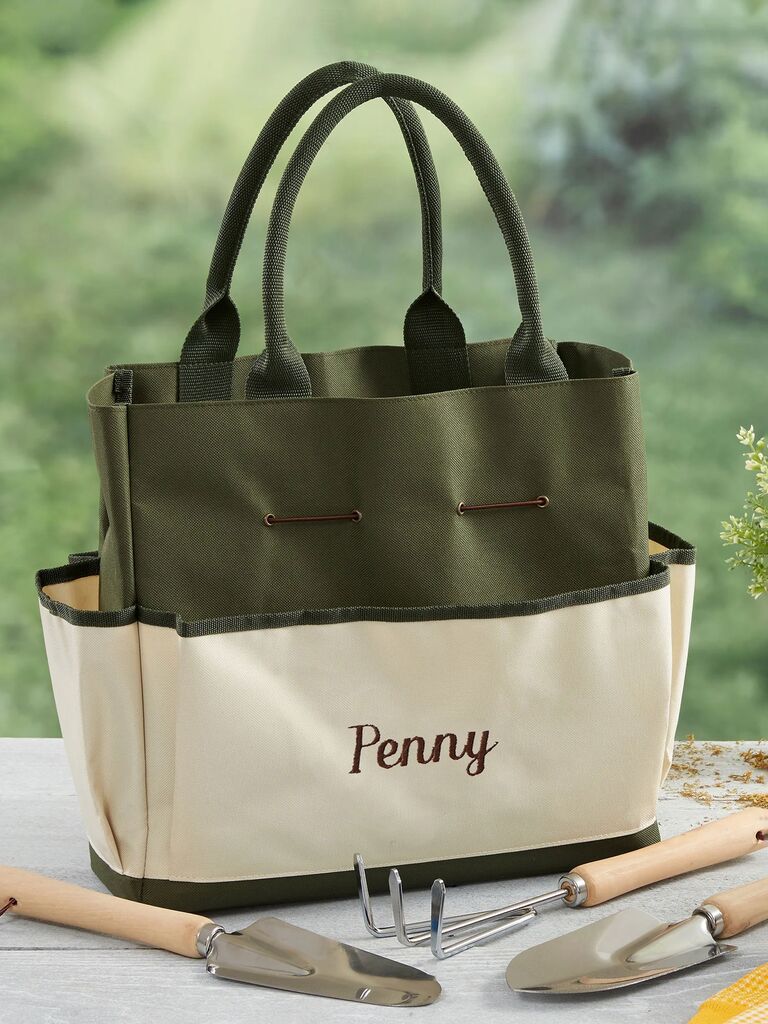 Married to a gardener? Organize their yard supplies with this personalized tote, which also comes with a digging trowel, planting trowel and garden cultivator in case their tools need an upgrade. You'll definitely see this 55-year anniversary gift make an appearance every spring morning.
Calla Lily Candle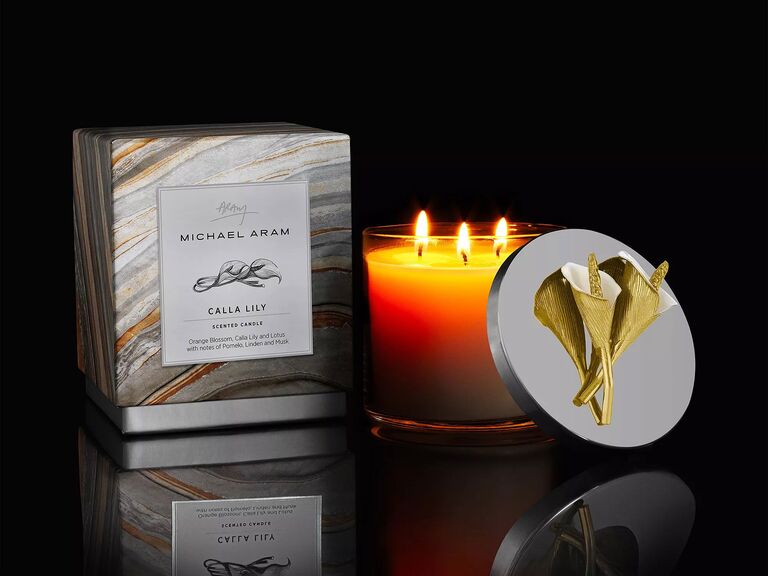 Light up their life, as they do yours, with a sweet-smelling candle. This one isn't just decorated with the 55th anniversary flower, calla lilies, it also smells like them—mixed with orange blossom and lotus. It will be a striking centerpiece for a coffee or bedside table.