7 Can't-Miss Tips from a California Planner
San Francisco-based planner Alicia Falango shares her favorite wedding trends, tips on choosing a venue and so much more.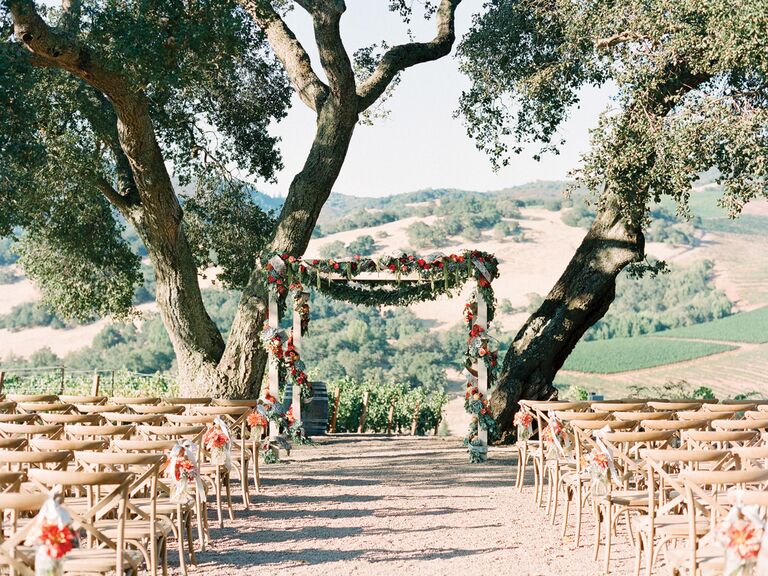 Lisa Lefkowitz Photography
Alicia Falango
Alicia K Designs, San Francisco
What are the first three things couples should do immediately after getting engaged?

After you've celebrated, sit down with your families to discuss your budget: Who is paying for what? How will payments be made? After that talk, create a "big day" bank account, so everyone can contribute.
Is planning a wedding in less than six months really doable?

I've found that couples without a lot of lead time tend to make quicker decisions, which helps to keep things moving. You may encounter fees for expedited items like a dress, but it's definitely doable.
Any planning tips for to-be-weds on a tight budget?

If you're unsure about hiring a planner, then pay one to put your budget together. He or she can help you determine how much money you should put toward specific wedding elements, including your venue, entertainment, décor and photographer.
What are the advantages of a planner versus a day-of coordinator?

Planners are normally associated with high-budget weddings, when in reality, couples with small budgets need a planner the most since they can help you maximize your dollar while staying within budget.
What's the key to finding your perfect venue?

Choosing a venue is one of the most important decisions you'll make, since it determines both your budget and the vendors. To start, find a few venues where you can actually imagine yourself getting married, then look at the numbers. You should also be concerned if a venue's team promises they can help with "everything." Make sure you understand what their definition of "everything" is. Ultimately, you need someone who's going to be on your side.
What's the biggest dilemma you've had to deal with on the day of a wedding?

I once had a bride change dresses three different times. We didn't account for that in the timeline, so it was a challenge—we wanted to make sure the couple could enjoy as much of their day as possible.
Describe a recent example of how you've put an inventive twist on an old tradition.

I worked with a client who hated to dance. So instead of a first dance, we brought in a bounce house so the couple could share a "first bounce" together. Their families even joined in—they had so much fun!