The Ultimate Guide to In-Season Winter Wedding Flowers
Everything you need to know about what's in season during the colder months.
We have included third party products to help you navigate and enjoy life's biggest moments. Purchases made through links on this page may earn us a commission.
When couples think of choosing an ideal wedding date, the decision-making factors most focus on are the availability of loved ones and vendors. However, it's important to also think about how seasonality will affect your decor and work with your chosen wedding style. While some color palettes work all year, there are certain shades that really shine during the winter months. Similarly, some flowers may look beautiful in inspiration pictures but not grow at your wedding locale during the time of your nuptials. For example, peonies are a fave bloom among to-be-weds, but the popular botanical has a short growing season and is only available from late spring to early summer, making it difficult to procure for winter couples. To help you get off on the right foot as you make floral design plans for your wedding, we're taking a look at what flowers are in season during the winter to ensure you have beautiful and fresh arrangements on your big day.
In this article:
Top Tips for Sourcing In-Season Winter Wedding Flowers
Communicate with your floral designer.
The florist you've tasked with creating arrangements for your special day will be an invaluable resource as you're brainstorming wedding ideas and deciding on what flowers to include in your wedding plans. Eddie Zaratsian, a floral expert and owner of Eddie Zaratsian Lifestyle & Design, encourages to-be-weds to talk with their floral designer when it comes to selecting wedding-day blooms because "they'll have the most knowledge on the species you're looking for. They can tell you whether it's in-season, which color varieties are available, or close alternatives if the flower won't be in-season for your wedding day."
In addition to discussing flower options with your floral designer, there are a few additional resources to-be-weds can keep in mind throughout wedding planning. Flower Color Guide by Darroch & Michael Putnam is a great way to identify blooms and learn when they're in season. Additionally, PlantNet is like Shazam for flowers. You can upload a picture of a bloom you love and it will help with identifying what species it is.
Regionality and seasonality go hand-in-hand.
It's important to keep in mind that terrain and climate vary greatly across the United States, which means that the ability to grow certain plants varies from state to state. The USDA has broken the Unites States up into 13 separate hardiness zones which means that while the flowers we highlight below are the most commonly available flowers during the winter, the availability of blooms will vary slightly depending on where you're saying "I do."
Consider sourcing from elsewhere.
If the flower variety you have your heart set on isn't in season on your wedding date, consider seeing if your floral designer can import the bloom from a place that will be able to grow the plant for the big day. "One thing that I love to tell couples is that there are very few florals that are inaccessible year-round. Think about it—when it's summer on the other side of the world, it's winter here and vice versa. Even if it's not in season here, it can still be sourced elsewhere if you're comfortable paying the uptick in price," explains Cece Todd, floral designer and owner of Cece Designs. For example, dahlias are a popular bloom that is generally only available from August through September. However, your florist may be able to look into sourcing the bloom from elsewhere if it's a variety you have your heart set on.
Incorporate berries and greenery into your winter arrangements.
Since fewer flowers are in bloom during the winter months, consider adding non-floral elements, like berries, silver brunia, pinecones, dusty miller and eucalyptus greenery, into your winter arrangements. Bron Hansboro, floral designer and owner of The Flower Guy Bron notes that "berry-producing flowers and plants like to spring up in late Winter as the weather and temperature transitions from chilly to moderate."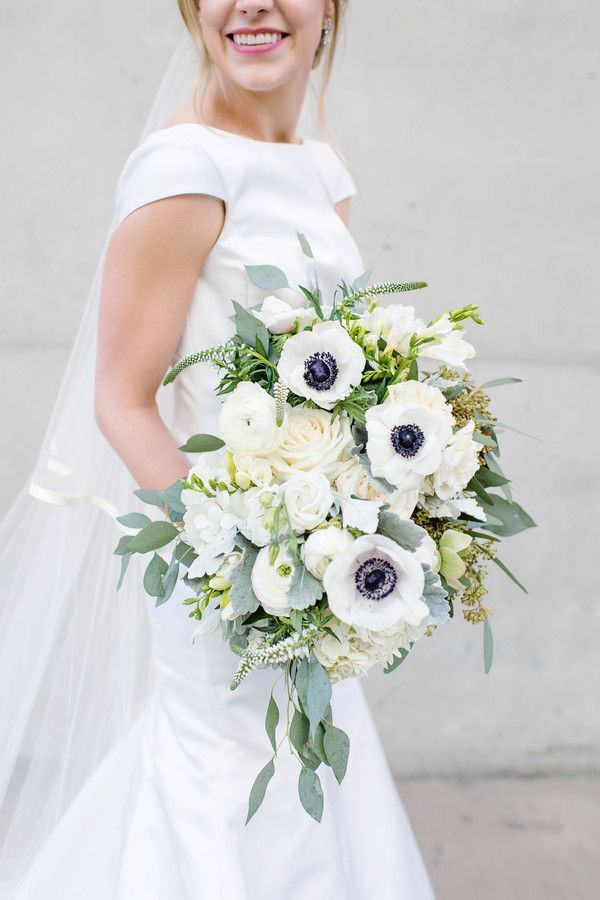 Wedding Flowers That Are in Season During the Winter
Picking flowers that naturally grow around the time of your wedding is one of the best ways to ensure that your arrangements look fresh and match the seasonal aesthetic of your big day. While it's possible to import flowers from other places so you can use out-of-season blooms at your wedding, these in-season varieties are sure to wow. Plus, for couples who want to prioritize sustainability at their wedding, sourcing local, in-season botanicals is an eco-friendly option.
Amaryllis
Amaryllis flowers grow from bulbs into trumpet-shaped blooms. The funnel-shaped flowers grow in hardiness zones 6-8 from fall through late spring and are available in shades of pink, red and orange.
Anemone
Anemones, whose name is derived from the Greek word for wind, can actually be planted at two different times during the year, meaning that they're in season both during mid-spring and during winter. Anemones have an appearance similar to poppies and are recognizable by their dramatic black center and generally have petals that are white, purple or red. Most anemone varieties can be grown in hardiness zones 3-8.
Camellia
Camellias resemble a cross between a ranunculus, peony and gardenia and are in season from October through May. There are around 3,000 hybrids of camellia species which means you can find camellia in a variety of shades, from white and purple to multicolored ones with pink-and-white petals. The camellia is Alabama's state flower and especially popular at Southern weddings; the plant thrives in hardiness zones 6-9.
Hellebore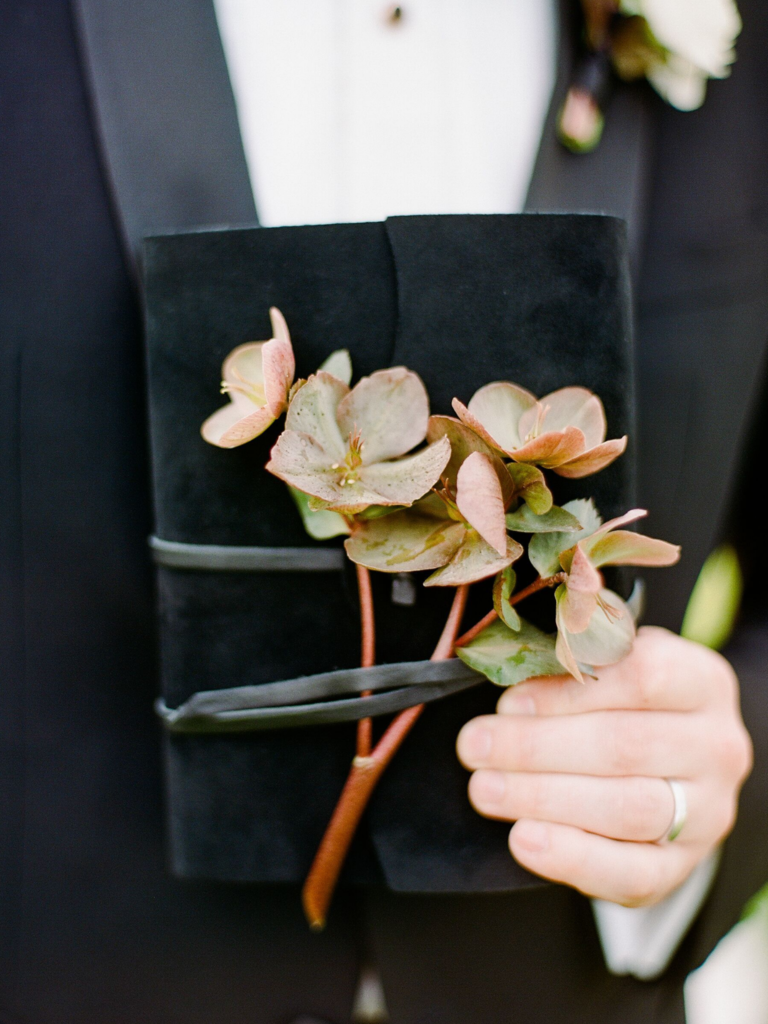 For couples planning boho or eclectic winter weddings, hellebores are a great choice for your floral arrangements. The star-shaped bloom typically presents in shades of green, purple, burgundy or brown. Some hellebores even showcase a blending of multiple shades.
Narcissus Paperwhite
Narcissus is a genus of flowering plants most commonly known for the daffodil. However, the paperwhite is another plant in the narcissus genus and is a great option for winter weddings. The bloom is smaller than a daffodil, but with the same trumpet-like shape and, as the name would suggest, is all white. The flower grows in hardiness zones 8-11 along the southern part of the United States.
Phalaenopsis Orchid
Sometimes referred to as moth orchids, Phalaenopsis orchids have a distinct shape that looks like a Rorschach test. The plants, known for their thick leaves that come in shades of white, pink and purple, bloom from late winter through the spring in USDA hardiness zones 10-12. The distinct shape and crisp colors, especially all-white orchids, look right at home in glam- and romantic-themed weddings.
Poinsettias
The quintessential Christmas flowering plant, poinsettias are a great option for to-be-weds tying the knot in December. Most poinsettias are recognizable by their bright red leaves and green foliage, but cream-colored varieties of poinsettias are available as well. Since the blooms are so large, poinsettias work well as altar flowers for a Christmas wedding ceremony. The flowers are indigenous to Mexico and Central America.
Ranunculus
Recognizable by their tightly-packed, swirled petal pattern, ranunculus, which are related to the buttercup, is a popular wedding bloom. The versatile flower, which grows in zones 8-10, and comes in sundry shades ranging from white and orange to red and burgundy, can be used in boutonnieres and bouquets as well as centerpieces.
Tulip
Tulips, known for their cup-shaped blooms that bend open at the top, are great for a late-winter wedding in March. Since the blooms are so small, they're better used as statement blooms as opposed to filler. Tulips are hearty plants that grow in zones 3-8 making them readily available for couples tying the knot across the middle and northern parts of the United States. Pro tip: A unique variety of tulips, known as fringe tulips, are gaining popularity within the world of weddings because of the eye-catching fringe they have along the edge of the petals.
Star of Bethlehem
As the name would suggest, the slender petals of this white winter flower spray out in a star-like way. The tall flower, which belongs to the hyacinth family, begins by sprouting from a cone-shaped growth of foliage. Most varieties of the plant thrive in zones 6-10.
Stephanotis
Stephanotis, also known as Madagascar jasmine, is an eye-catching petite white star-shaped bloom, similar in appearance to narcissus paperwhite blooms. The delicate bloom works well in petite bouquets as an alternative to lily of the valley or as a boutonniere flower. In the past stephanotis has also been referred to as bridal veil, bridal wreath and bridal bouquet—names that stemmed from the plant's popularity in flower arrangements. Notably, stephanotis represents marital harmony.
Sweet Pea
This delicate bloom grow in late winter before hot summer temperatures knock it out. One reason sweet peas are beloved in the world of weddings is because of how many colors the plant comes in: pink, apricot, white, red, yellow, blue, purple—no matter what your color palette is, there's likely a sweet pea variety that'll work for your wedding. Sweet peas also grow well in hardiness zones 2-11 meaning that they're readily available to couples tying the knot almost anywhere in the United States.
Year-Round Flowers to Consider for a Winter Wedding
Beyond knowing what flowers are in season for your wedding, it's worth taking stock of the blooms that are readily available any time of the year.
Calla Lily
Calla Lilies can be readily cultivated in greenhouses making them an accessible bloom all year long. White calla lilies work well in modern nuptials, but eclectic couples could even consider using purple or magenta calla lilies in their arrangements.
Carnation
Carnations are a budget-friendly flower that works great as a filler for arrangements because of the ruffled nature of its petals. Another bonus is that the bloom is available in an incredibly wide array of color schemes, from white and orange to pink and burgundy.
Gardenia
Certain varieties of gardenia thrive during the winter months in hardiness zones 9 and 10 (think: SoCal and the coast of the Gulf of Mexico) because the weather stays warm throughout. The bloom is both eye-catching and fragrant which makes it a nice addition to bouquets.
Gerbera Daisy
For couples who want to infuse their winter weddings with a burst of color, gerbera daisies are the way to go. The cheerful bloom grows in prismatic shades of red, orange, yellow, pink and white. Thanks to the long growing season Gerbera daisies have, the bright bloom can easily be cultivated for almost any wedding date.
Hypericum Berry
Berries and other non-floral botanicals are good additions to winter arrangements. Hypericum berries, which are generally either green or a soft apricot color, work especially well in winter arrangements.
Rose
Roses are far and away the most popular wedding flower and, as such, growers have found ways to make them readily available all year long. Chances are you already have plans to include these iconic flowers in your arrangements in some capacity.
Waxflower
Waxflower is characterized by petite blooms that burst forth from wiry stems. It makes a great filler flower and is a nice alternative for couples who don't want to include baby's breath or Queen Anne's lace in their arrangements.
Gorgeous Winter Wedding Flower Arrangement Ideas
On top of knowing what flowers are in bloom during the winter months, it's important to take stock of the floral design styles you like. Peruse the below arrangements for inspiration and save your favorites to share with your florist. For even more inspiration, take a peek at these winter centerpiece ideas and winter wedding bouquets.
Green and White Winter Wedding Bouquet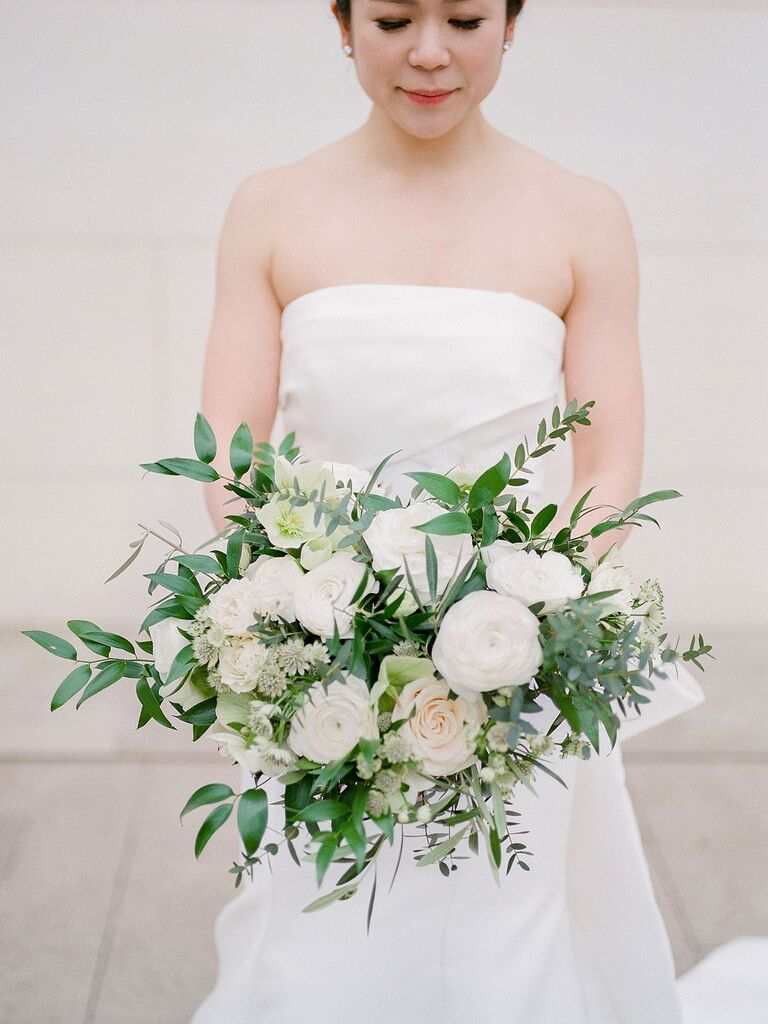 This bridal bouquet was comprised of ranunculus, roses, scabiosa and Ruscus.
Bouquet with Eucalyptus and Scabiosa
Dark burgundy scabiosa added eye-catching contrast to this bouquet with eucalyptus, hydrangea, roses and anemones.
Rustic Winter Wedding Bouquet
Caramel-hued roses brought a rustic vibe to this white anemone-filled clutch.
Bouquet with Lisianthus and Anemone Blooms
Because of the ruffled nature of lisianthus blooms, they add great texture to winter floral arrangements.
Fern Bouquet for Modern Winter Wedding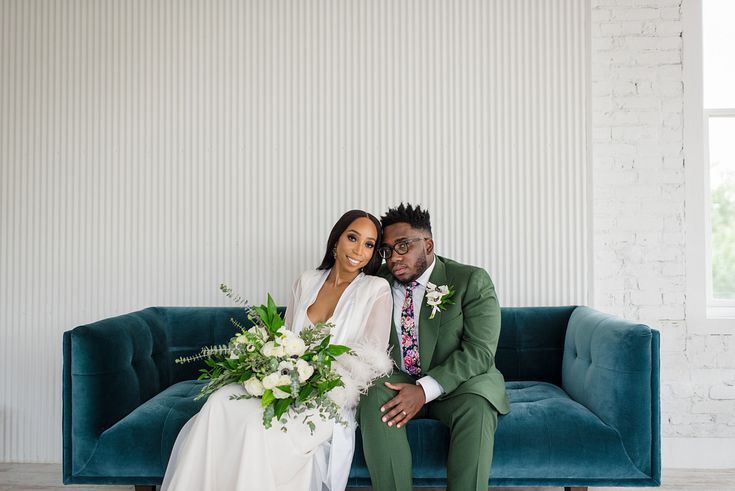 Fern sprigs were paired with white roses in this arrangement.
Bouquet with White Garden Roses
White garden roses and white ranunculus blooms, paired with berries and lush greenery, brought a wintry feel to this arrangement.
Greenery-Centric Bouquet
Thistles, berries and white flowers worked in harmony with an assortment of greenery in this design.
Protea and Thistle Bouquet with Matching Boutonniere
For her winter wonderland wedding, this to-be-wed carried both a bridal bouquet and wore a coordinating boutonniere.
Red Amaryllis Wedding Bouquet
Evergreen leaves and hypericum berries completed this vibrant red amaryllis bouquet.
Scabiosa Boutonniere with Velvet Ribbon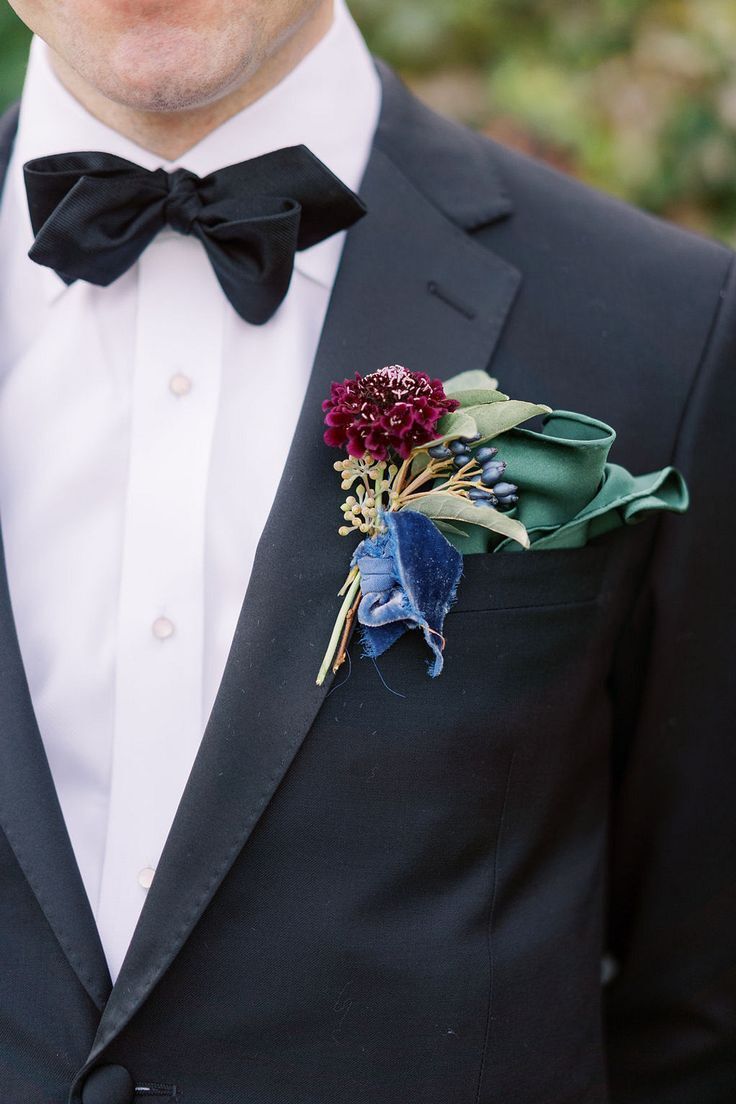 Velvet is a great addition if you're searching for a simple DIY way to add more texture to your wedding design.
White Wedding Boutonniere
This boutonniere, which would look great at both a fall wedding and a winter celebration included white lisianthus and dried leaves.
White Rose Boutonnieres
For a winter wedding, especially a Christmas wedding, simple white spray roses or even red roses would be perfect for boutonnieres.
Amaryllis Wedding Ceremony Altar Arrangement
Arrangements of red amaryllis blooms sat atop pedestals at the ceremony for this winter wedding.
Green and White Wedding Centerpiece
Although this wedding centerpiece was mostly green, since the florist utilized a variety of types of greenery, the result was absolutely stunning.
Amaranthus Wedding Centerpiece
Tendrils of amaranthus worked well with the plum-hued orchids used in this arrangement.