17 Gardenia Wedding Bouquets to Complement Any Wedding Style
From dreamy pastel arrangements to a desert-inspired vibe, your options with gardenia wedding bouquets are limitless.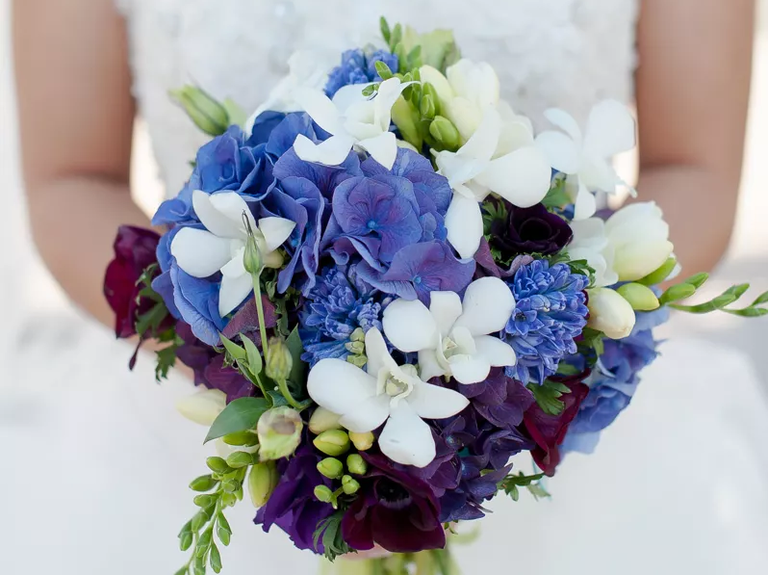 Photo: MELVIN GILBERT PHOTOGRAPHY,Floral design: ROSEBUD FLORAL DESIGN
Whether you want a soft and romantic aesthetic or are looking for something rustic and fall inspired, there's a lot versatility with a gardenia wedding bouquet. The tropical flower is known for its memorable scent, which is slightly sweet and spicy, with undertones similar to coconut or peach.
"Our memories are tied with fragrances, so I love it when a client wants to add gardenia blooms to their wedding day," said wedding expert Darcy Craig. Craig has more than 20 years of experience and is the owner and lead designer of Seascape Flowers in Aptos, California. "A lot of times they are a loved one's favorite flower too, which is a beautiful way for remembering someone."
These gorgeous blooms pair well with a variety of flowers including roses, calla lilies and succulents, as you can see in our roundup of 17 gardenia bouquet ideas. We're also covering everything you need to know about gardenias including when they are in season, what they symbolize and their average cost.
In this story:
Gardenia Meaning
The gardenia flower meaning stands for purity, gentleness and sweet love. The meaning of a gardenia also communicates the sentiment, "you're lovely." Tell a story with your wedding bouquet by pairing gardenias with flowers that have similar or complementary meanings.
Gardenia Colors
The most popular and well-known gardenias are the ivory variety. There are also colored gardenias in shades of yellow, pink and red.
Average Gardenia Wedding Bouquet Cost
"For high quality gardenias you can expect to pay $20-40 a bloom," Craig said in regards to the wedding flower cost of gardenies. "However, you can also ask for work [gardenias] (a #2 grade) and they will be a fraction of the cost." She added the #2 grade option comes in boxes of approximately 50 blooms and cost around $350.
Florists' Tips on Adding Gardenias to Your Bouquet
Including gardenias in your wedding bouquet is a beautiful way to add soft texture and incredible fragrance to your special day. When you're ready to start the search for a florist familiar with gardenias, head over to The Knot Marketplace to find a professional in your area.
What Flowers Go Well With Gardenia?
This versatile flower looks amazing in just about any wedding bouquet. "Roses, dahlias, hydrangeas, orchids, ranunculus and so much more look great with gardenias," Craig said. "They have such a classic and romantic look to them so pairing them with similar styled flowers is always a hit!"
When Are Gardenias In-Season?
This wedding flower blooms from the summer into the fall, and can blossom as early as spring depending on their location. Because they are a tropical plant, gardenias prefer a humid climate with hot days and cool evenings. If well cared for, they sometimes have a second bloom in the late fall, making them an ideal early winter wedding flower. Some varieties of gardenia grown in warmer-climates will thrive throughout the winter.
How Delicate Are Gardenias?
The last thing you want to see are bruised petals in your bouquet as you look through your wedding photos. "Be mindful of not touching the blooms," Craig said. "Gardenias can be very delicate and will start to bruise from the oils on our skin." Splurging for a higher quality gardenia also means the petals are more likely to hold up throughout the day.
Gardenia Wedding Bouquet Ideas
Gardenias complement blush roses for a romantic bouquet, and also pop against deep purple calla lilies for a dramatic contrast. Take a look at these gardenia wedding bouquets as inspiration for your bouquet.
Classic Gardenia and Rose Wedding Bouquet
Romantic and classic, this wedding bouquet features gardenia and roses. White blooms are offset by gentle touches of ivory and soft pink.
Romantic Wedding Bouquet With Gardenia and Lisianthus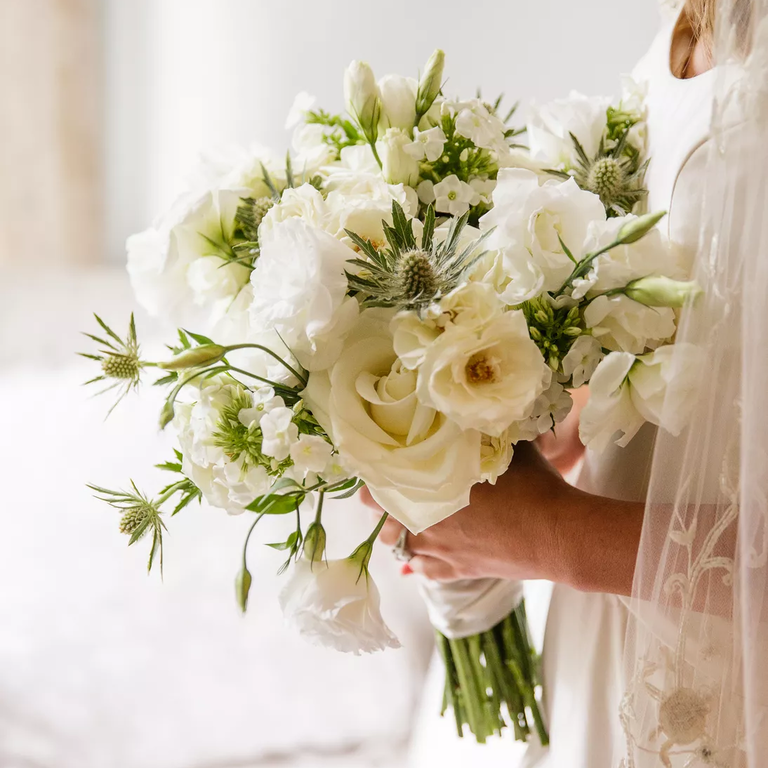 Garden roses, gardenias and lisianthus create a sophisticated and romantic wedding bouquet. The ivory and cream blooms are complemented by unexpected pops of green thistle.
White Gardenia Wedding Bouquet With Ranunculus
This classic white and ivory gardenia wedding bouquet includes a touch of subtle green accents. Gardenias are complemented by roses and ranunculus for a simple, yet elegant, arrangement.
Gardenia and Anemone Fall Bouquet
White gardenias and anemones accented by bright green magnolia leaves is a chic and elegant combination. The natural gardenia wedding bouquet is a lovely addition to a fall wedding celebration.
Gardenia and Peony Wedding Bouquet
Fluffy blush and ivory blooms come together in this dreamy gardenia wedding bouquet. The stunning combination includes ivory hydrangeas, white roses, Queen Anne's lace, pink peonies and gardenia.
Desert-Inspired Gardenia Flower Wedding Bouquet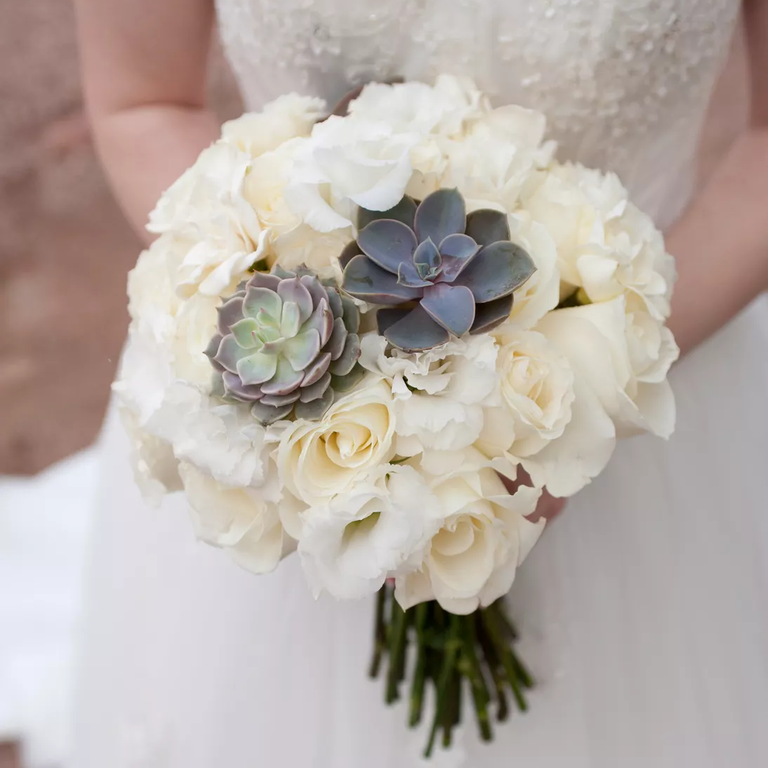 We love the combination of gardenias and champagne roses in this ivory wedding bouquet. Accents of green succulents add an unexpected touch and give the arrangement a rustic and desert feel.
Dahlia, Gardenia and Alstroemeria Wedding Bouquet
Blush, mint and pink blooms in a variety of textures are accented by rustic touches of brown wheat, pheasant feathers and scabiosa pods. This gorgeous bouquet includes gardenia, dahlias, alstroemeria, astilbe, ranunculus and hydrangeas.
Petite Wedding Bouquet With Gardenia and Dahlia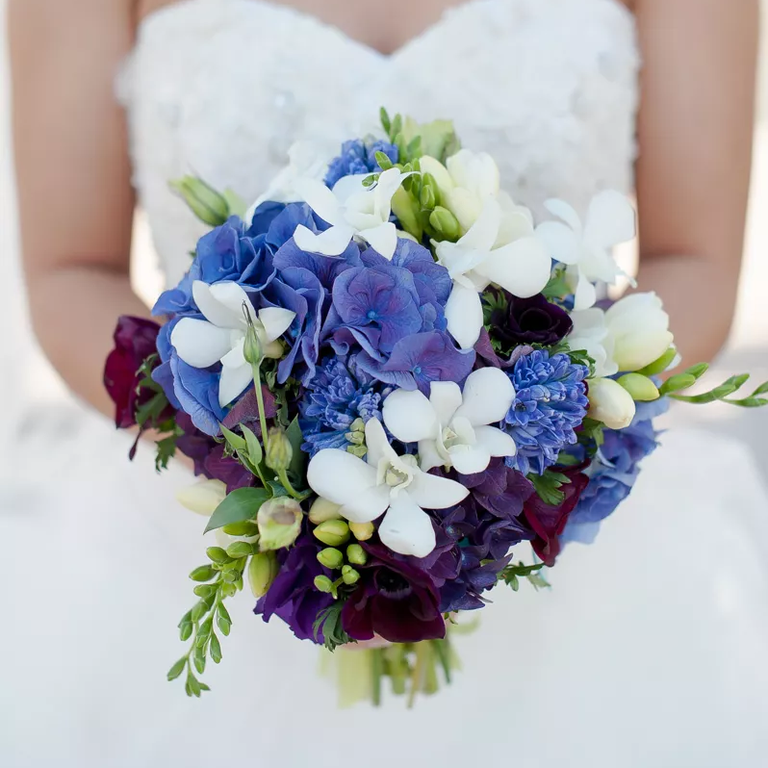 Deep purple and bright white create a stunning light and dark contrast in a wedding bouquet. White gardenias pair beautifully with hydrangeas and dahlias.
Whimsical Pastel Bouquet With Gardenias and Roses
This romantic gardenia wedding bouquet includes garden roses in peach, ivory and pink. The light and airy pastel blooms are accented by soft lamb's ear greenery.
Classic Pink and Ivory Gardenia Flower Wedding Bouquet
Pink and ivory make a classic color combination in this round gardenia wedding bouquet. Gardenias are paired with garden roses and fluffy peonies for a variety of soft textures.
Romantic Stephanotis, Hydrangea and Gardenia Bouquet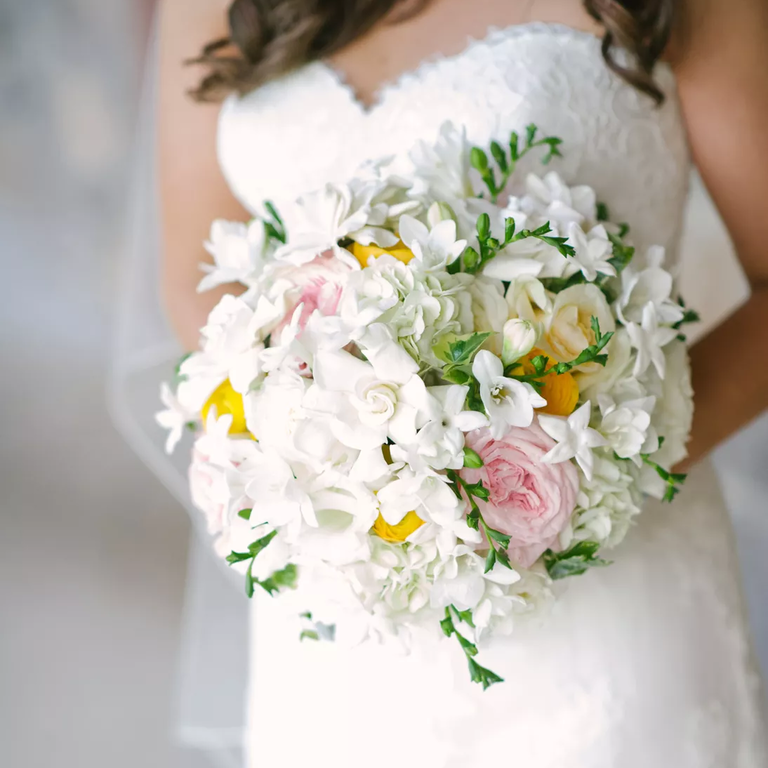 Carry a bouquet inspired by an English country garden with this lush arrangement. White gardenia, stephanotis and hydrangeas are accented by blush roses and yellow ranunculus.
Contrasting Wedding Bouquet With Calla Lily and Gardenia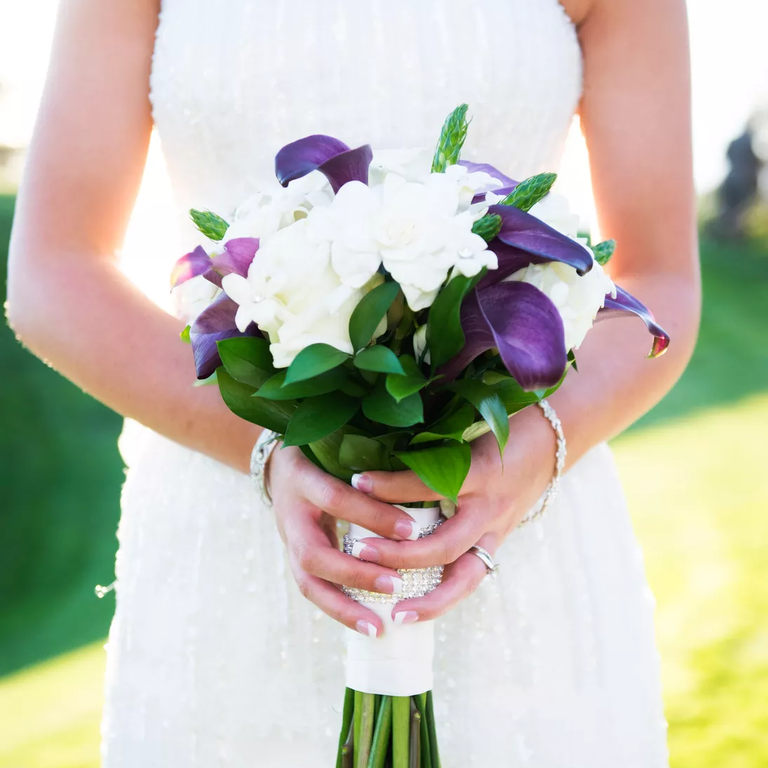 White gardenias and stephanotis stand out among deep purple calla lilies and vibrant greenery. We love the striking contrast of shades in this classic and structured bouquet.
Cascading White Gardenia Wedding Bouquet
White blooms are accented by fresh greenery in this cascading wedding bouquet. Gardenias are paired with ranunculus for a stunning and elegant combination.
Rustic Gardenia and Rose Bouquet
All white blooms of gardenia, roses and hydrangeas make up this rustic chic wedding bouquet. The flowers are accented by baby's breath and soft green eucalyptus and tied with a dupioni silk ribbon.
Round Gardenia Bouquet with Roses and Hydrangea
Create visual interest in an all-white arrangement with flowers of different sizes and textures. This lovely round bouquet includes gardenias, hydrangeas, cabbage roses and spray roses.
Petite Blue and White Gardenia Wedding Bouquet
A simple and elegant gardenia wedding bouquet is accented by pops of bright blue for a head-turning collection. Calla lilies, orchids, hydrangeas and thistle complete the design.
Gardenia and Greenery Bouquet
Vibrant greenery provides a classic accent to white gardenias. This elegant bouquet fits in perfectly with a rustic or fall wedding celebration.