42 Stunning Ranunculus Wedding Bouquets You'll Surely Love
Yes, these are buttercups.
Are you currently in the process of finding the perfect wedding bouquet? A ranunculus wedding bouquet is sure to bring joy and happiness into your big day. If you don't know much about ranunculus, there's no need to fear. We've done the work and chatted with knowledgeable wedding experts about these flowers to provide you with everything you need to know about incorporating ranunculus into your wedding bouquets.
In this story:
What Are Ranunculus Flowers?
Although you may not have heard of ranunculus flowers before, there's a pretty good chance you've heard of buttercups. Ranunculus are "layered petals that look like small cups when viewed from the top," says expert florist Michelle Morgan of Kuhn Flowers.
Ranunculus are sometimes confused with peonies. When it comes to distinguishing ranunculus from peonies, Kuhn explains that "ranunculus have many layers of petals that look like small cups, while peonies typically come with more rounded petals." She adds that "ranunculus is originally from Europe, North Africa and parts of Asia. Peonies are grown more so in Italy and cooler parts of the USA."
Ranunculus are beloved by many and are known to symbolize "joy, happiness, charm and attractiveness," says expert florist Jessica Gill of Luna Rose Florist.
Ranunculus Colors
There's a ranunculus color for just about every couple. As far as ranunculus colors go "you've got ranunculus in an array of shades like pink, yellow, white, red, or orange," notes Morgan.
Ranunculus Flower Season
Wondering when ranunculus flower growing season is? With regard to their season, "ranunculus blooms in spring and summer, usually from March to August; however, South America almost boasts all year-round production," explains Morgan.
Average Ranunculus Cost
Morgan explains that the cost of ranunculus depends on their size and type. However, they usually cost between $5 and $10 per stem.
Tips for Adding Ranunculus to Your Wedding Bouquet
Coming up with the perfect bouquet ideas for your wedding is overwhelming and exciting. If you plan on incorporating ranunculus into your wedding bouquets, you should consider how long they last in addition to the other kinds of flowers they pair well with to create the most beautiful bouquets. You can check out The Knot Marketplace to find a florist to bring your ranunculus wedding bouquet visions to life. Simply enter your location into the search feature to find recommended florists in your area.
What Flowers Go With Ranunculus in a Bouquet?
Gill notes that ranunculus are versatile flowers and can complement a variety of flowers. She says that "some of my favorite combinations include anemones, garden roses, tulips, delphiniums and stocks."
Morgan adds that ranunculus can be incorporated into bouquets with "flowers such as roses, peonies and tulips for a vibrant and cheerful composition." Additionally, she says that ranunculus "pair well with flowers such as roses, lisianthus, baby's breath, sweet peas, freesia, hydrangea and anemones and that soft drapey greens and astilbe also make great additions to help bring out the beauty and gracefulness of ranunculus."
How Long Do Ranunculus Last?
One of the great things about ranunculus is that they can last a while if properly taken care of and in proper conditions. Gill explains that "if kept in nice fresh water, ranunculus can last around 10 days in a vase. However, if you use them in a bridal bouquet, they are likely to be out of water for a significant amount of time, which could lead to them wilting." She suggests keeping bouquets in water for as long as possible or as soon as they show signs of wilting to perk them back up.
Ranunculus Wedding Bouquet Ideas
If you want to incorporate this stunning flower into your wedding bouquets, read on for 42 of our favorite ideas for creating beautiful ranunculus wedding bouquets.
Red Ranunculus Wedding Bouquet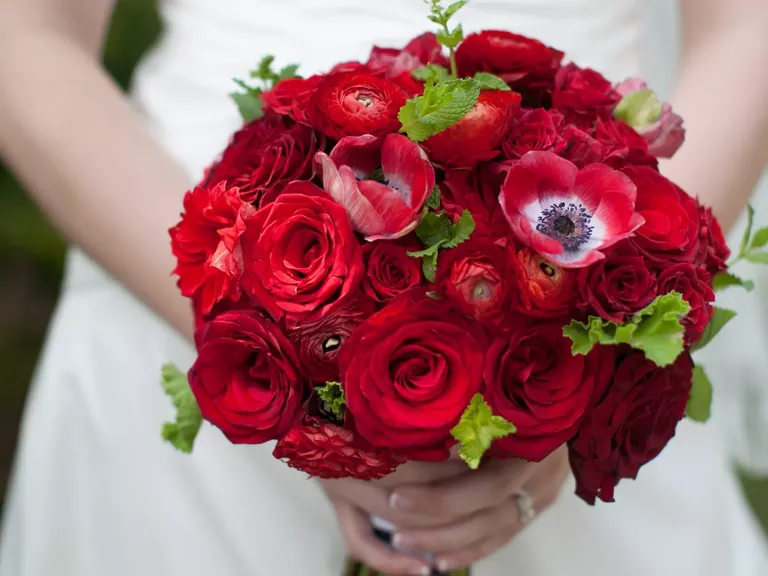 Make a statement with a red ranunculus wedding bouquet. Add some red anemones, roses and dahlias for some texture. If you're wanting to break up the red with some accent pieces, green geranium or mint leaves work wonderfully.
Eye-Catching Pink Ranunculus Bouquet With Anemones, Dahlias,and Garden Roses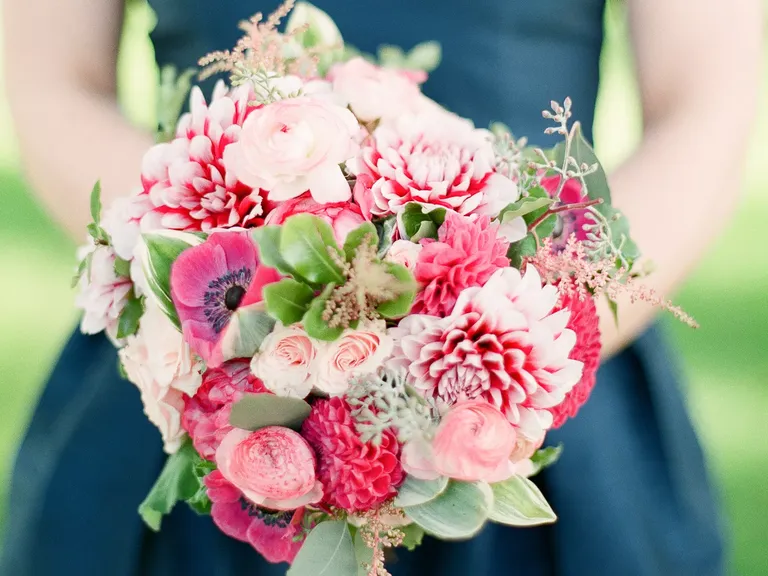 If you're planning a colorful wedding, a combination of pink ranunculus, dahlias, anemones and garden roses make for a playful and vibrant bouquet for your bridesmaids. The pink especially pops when held against darker dresses.
Burgundy Ranunculus and Pink Rose Bridesmaid Bouquets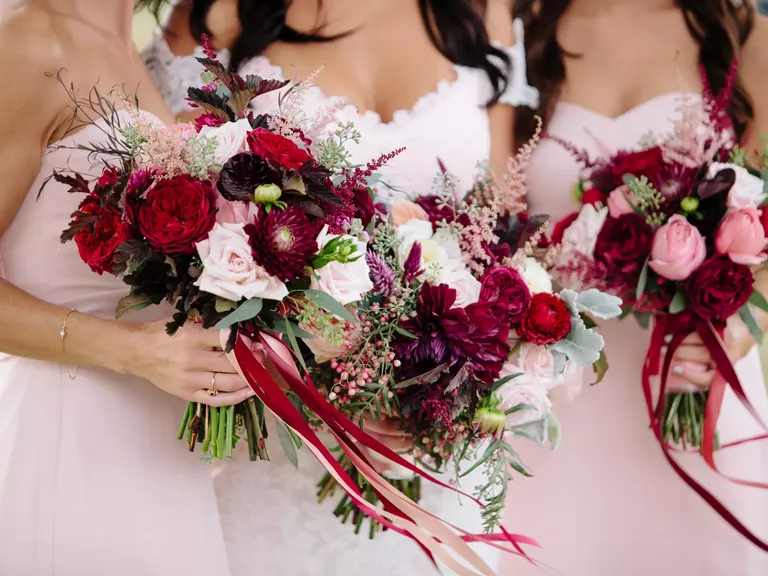 Looking for bridesmaid bouquets for your fall wedding? Consider textured bouquets with burgundy ranunculus and pink roses. Tie the stems together with some pink and red ribbon for an additional hint of color.
Vibrant Yellow and Coral Bouquet With Ranunculus and Tulips
This textured bouquet combines ranunculus, roses, lisianthus and tulips in various shades of yellow, coral, white and blush to create a vivid arrangement. Whether you're having a beach or barn wedding, this elegant bouquet will look beautiful against any white wedding dress or attire.
All-White Ranunculus Bouquet With ​Chrysanthemum, Hydrangeas and Wax Flowers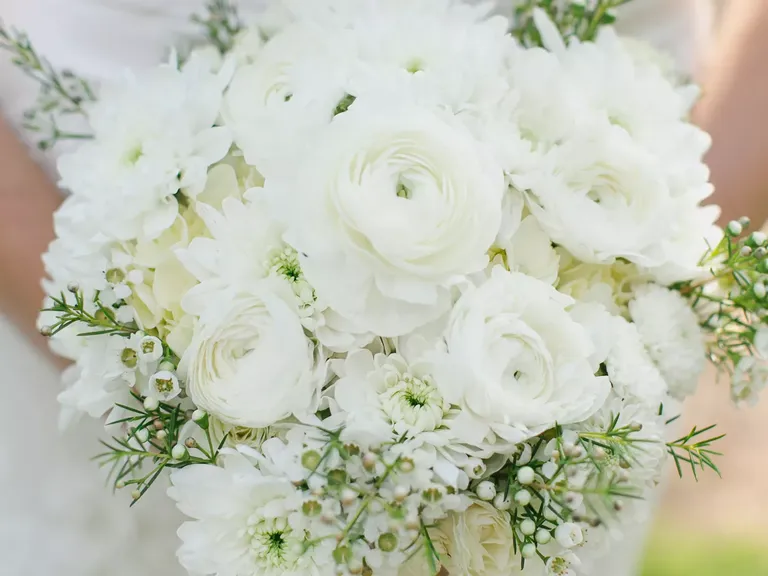 If you're sticking to an all-white wedding color scheme, consider an all-white bouquet with ranunculus at the forefront. Fill out the rest of the bouquet with chrysanthemum, hydrangeas and wax flowers for a more diversified arrangement.
Romantic Blush Bouquet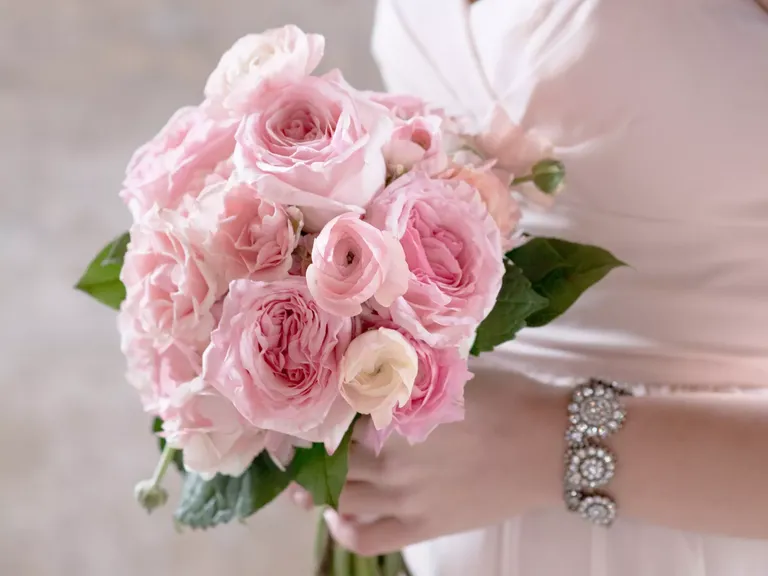 Planning an especially romantic wedding? If you answered yes, we have the perfect idea for your bridesmaids' bouquets. Consider a small round bouquet of blush-colored ranunculus and garden roses. We especially recommend this bouquet if your bridesmaids are wearing blush pink dresses as the bouquet will be consistent with the color scheme.
Colorful Ranunculus Bouquet
Whether you're planning a rustic fall wedding or a summer beach wedding, a pink, orange and green bouquet with ranunculus and peonies is sure to add a pop of color. Throw in some scabiosa pods, veronica, billy balls, lamb's ear, seeded eucalyptus and thistle for added dimension to your colorful creation.
Whimsical Rose and Ranunculus Bridesmaid Bouquet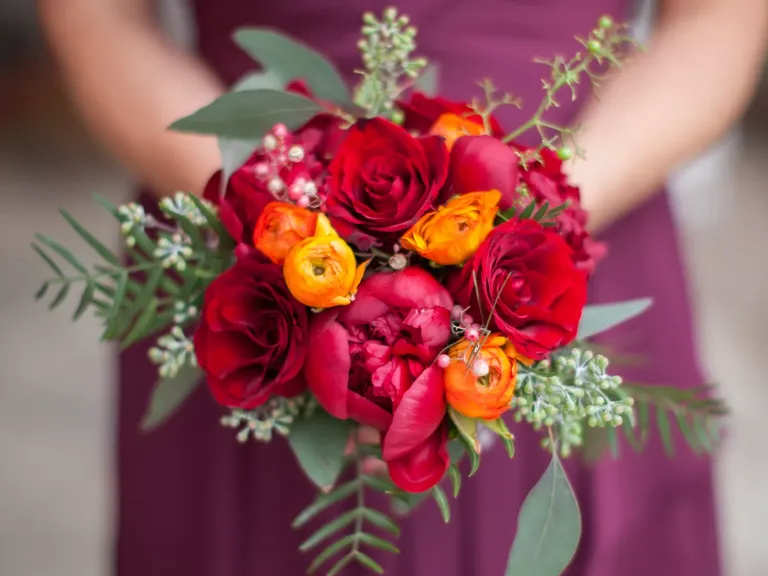 Filled with red and orange ranunculus and roses, this whimsical bridesmaid bouquet is perfect for fall weddings. We love how the greenery on the perimeter accents the bright blooms helping them to stand out — plus, you won't have to worry about these bouquets getting washed out in photos.
Elegant Purple Ranunculus Wedding Bouquet With White Hydrangeas
When it comes to this elegant wedding bouquet, the purple ranunculus stands out against the bouquet's base of white hydrangeas. Since purple is a lavish color, you will feel like royalty when holding this bouquet on your special day — as you should.
An Elegant Ivory Ranunculus and Garden Rose Wedding Bouquet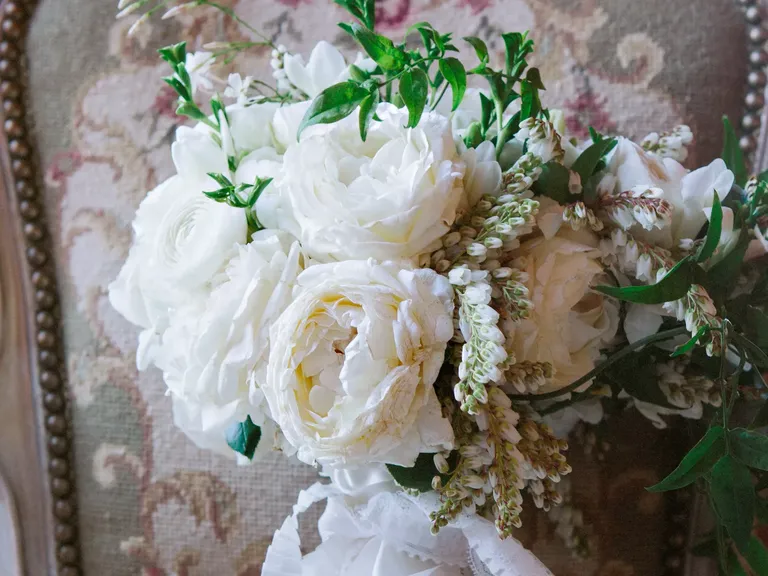 If you're looking for a bouquet to match your wedding's ivory color scheme, this may be the best bouquet for you. The ivory ranunculus and garden roses create a timeless look and are accentuated by the pieces of greenery spread throughout. Tie the bouquet in some paper and lace ribbon for an extra elegant touch.
Large Lily and Ranunculus Bouquet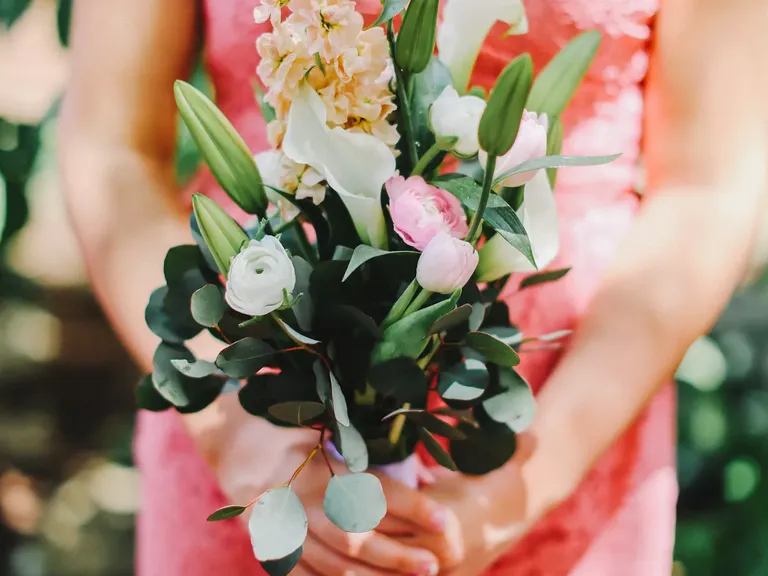 Don't let a large bouquet intimidate you. We love cascading bouquets because they draw attention, but don't take away from your moment. The combination of stargazer lilies, ranunculus, tulips, mini callas and eucalyptus creates a statement bouquet that will be remembered by you and your guests.
Yellow Ranunculus Bouquet With Air Plants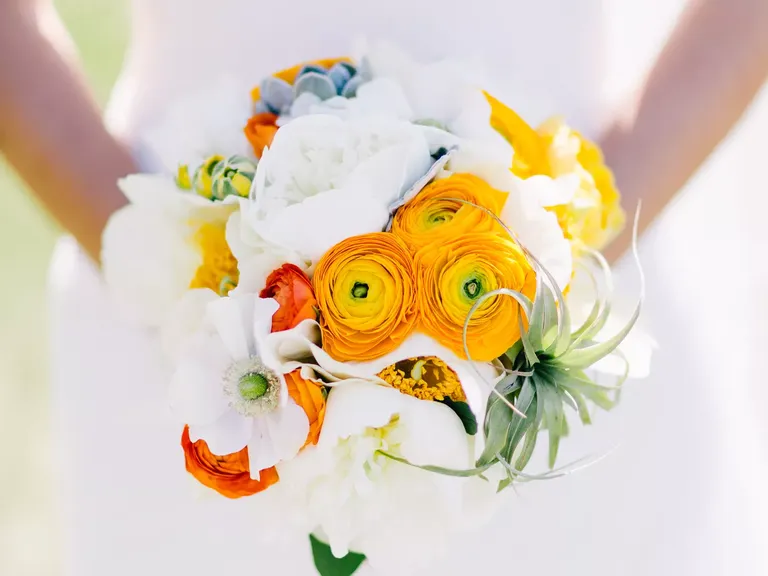 This compact wedding bouquet stands out with yellow ranunculus as the focal point. The white peonies, air plants and succulents surrounding the ranunculus balance and round out this simple and sweet bouquet.
Pretty Pastel Ranunculus and Rose Bouquet
This round pastel bouquet of ranunculus and roses is perfect for a springtime wedding with its light color scheme. These pastel flowers will add a subtle hint of color while keeping your bouquet classy and elegant. You can tie the bouquet with some ribbon (however, this is optional and up to you).
Chic Textured Bouquet With Pink Ranunculus and Purple Anemones
If you're planning a chic wedding, that should include a chic wedding bouquet, too. This lush bouquet featuring light pink garden roses, magenta anemones and pink ranunculus works especially well for weddings with a purple color palette.
Textured White Bouquet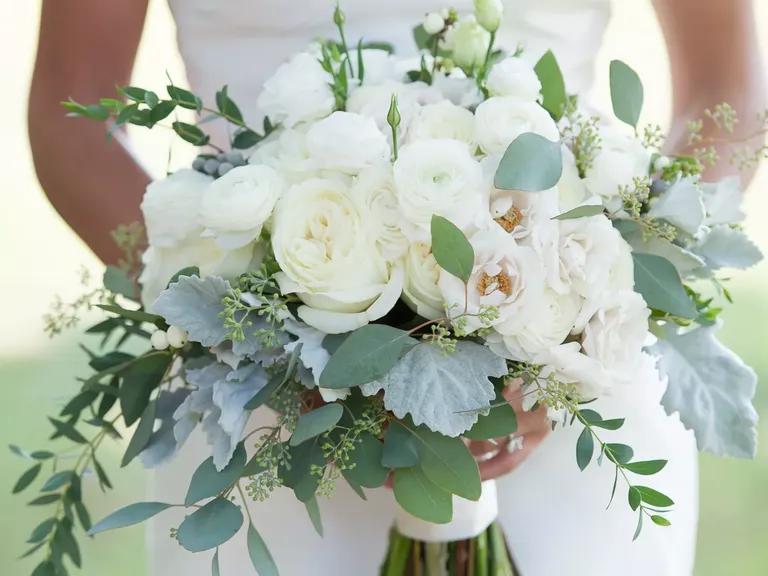 Stand out as you walk down the aisle with a textured bouquet filled with roses, ranunculus, lisianthus, dusty miller, snowberry, eucalyptus and bay laurel. Tie the stems with a string or piece of sentimental fabric for an easier time holding.
A Vintage Bridesmaid Bouquet Featuring Yellow Ranunculus, Roses and Craspedia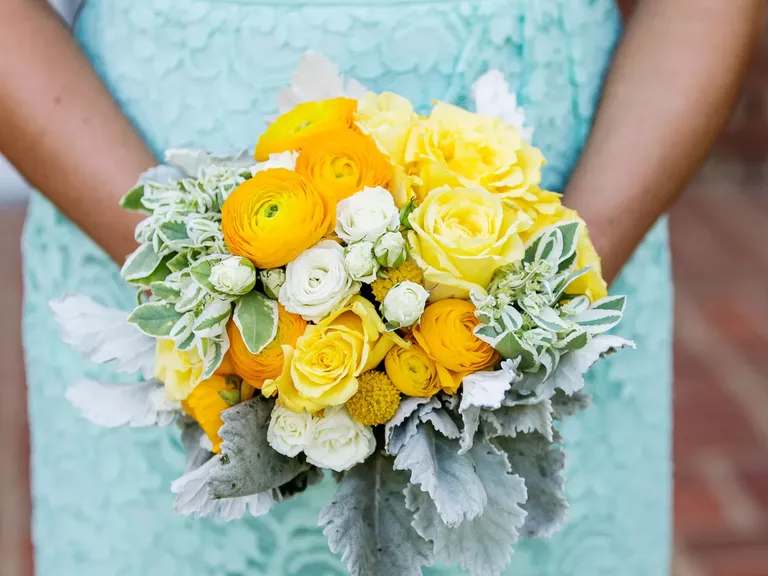 Throwing a vintage wedding? If so, you might want to bring a vintage look to your bridesmaids' bouquets, too. This arrangement of yellow and white ranunculus, roses and Craspedia is attention-grabbing, but won't take away from the guests of honor. We personally love the addition of the dusty miller as it creates a more relaxed look.
Rustic Ranunculus and Hellebore Bouquet
Planning a rustic wedding? Consider an ivory, blush and yellow bouquet of ranunculus, hellebore and dahlias for your special day. This bouquet is perfect for outdoor weddings and will look beautiful when held against a white dress or suit.
Textured Ranunculus and Dahlia Bouquet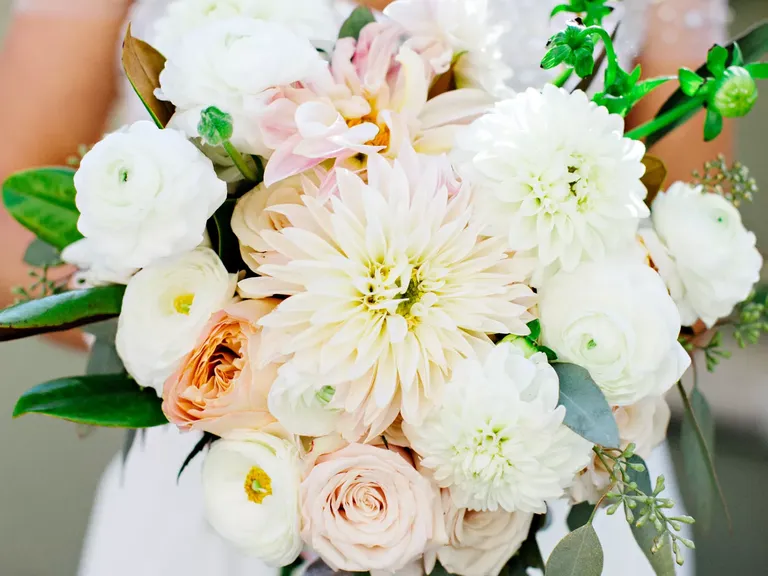 If you're looking for a strikingly beautiful and big bouquet, you should save this ranunculus and dahlia bouquet to your camera roll to show your florist. If your wedding's color scheme is blush and ivory it's even better. However, this bouquet style can be replicated with different colors of ranunculus and dahlias depending on what you're looking for.
Pink and White Bouquet With Ranunculus and Peony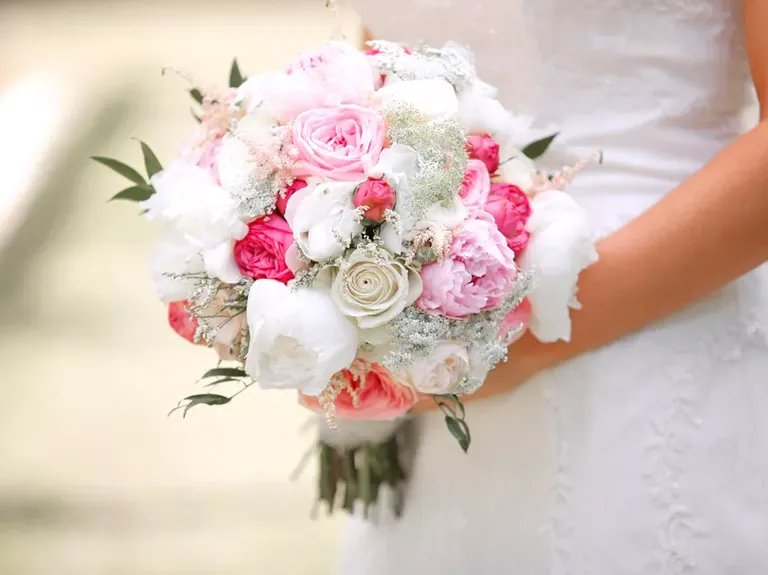 If you're looking for a charming bouquet for your southern wedding, look no further than a bouquet filled with pink and white ranunculus and peonies. The combination is feminine and graceful, and the addition of baby's breath adds volume.
White Ranunculus Bouquet With Lavender Roses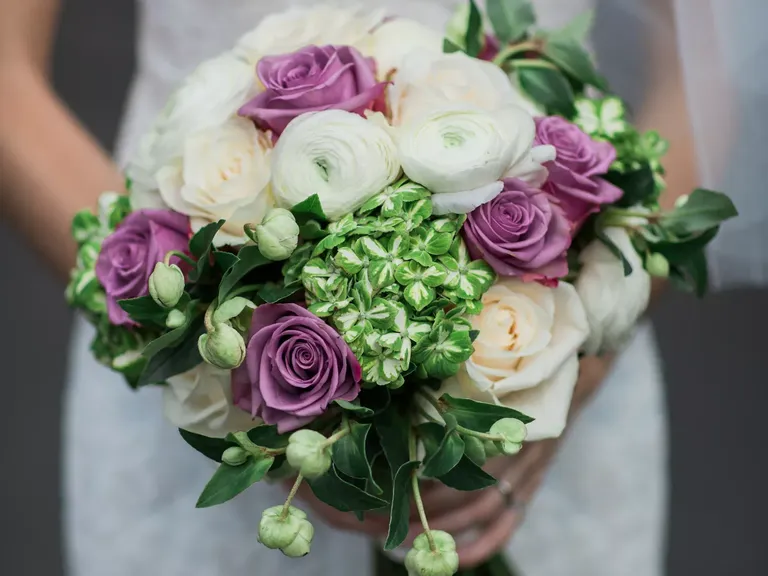 Pair white ranunculus with lavender roses for a simple bouquet. Its color scheme is elegant and looks especially beautiful when held during an outdoor ceremony.
Striped Ribbon Ranunculus Bouquet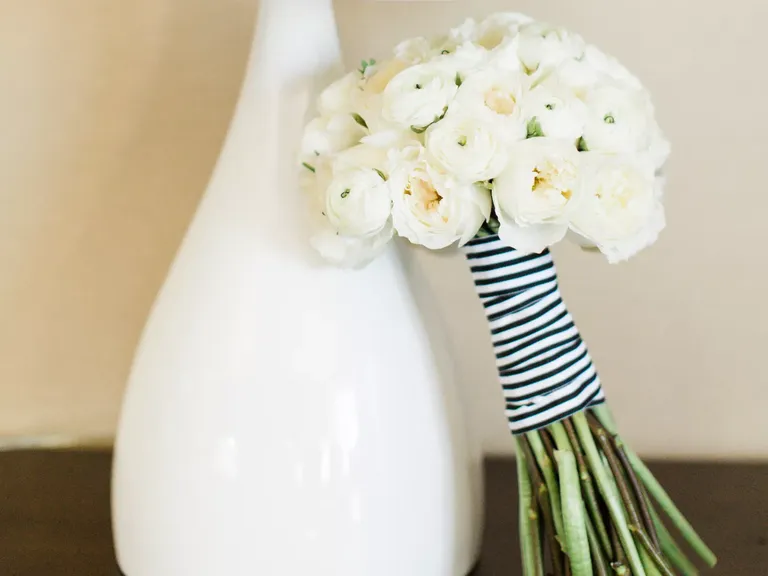 A bouquet made of all-white ranunculus? We're in love. This simple and round arrangement of ranunculus is classy and ideal for all kinds of weddings. Add a striped or another patterned ribbon of your choosing for a dash of color.
Modern Orchid and Ranunculus Bouquet
Having a modern wedding? Fill your bouquet primarily with white ranunculus and orchids for a simple base. Then, add some blue accents for a contemporary look.
Cascading Ranunculus and Orchid Wedding Bouquet
If you're planning a beach wedding, this cascading bouquet filled with ranunculus and orchids should be added to your floral inspiration folder ASAP. The red and pink color scheme is vibrant, fun and perfect for a summertime wedding.
Loose Bouquet With Ranunculus Sweet Pea, Lisianthus and Cosmo Blooms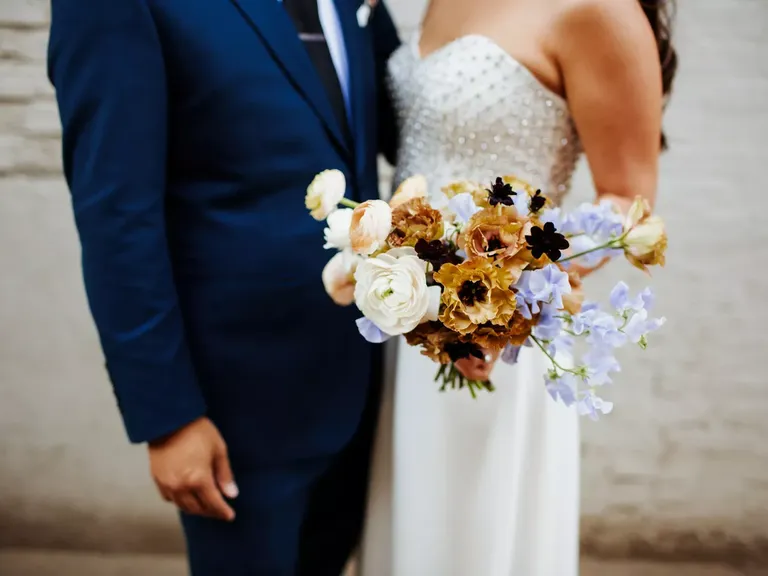 This loose bouquet of ranunculus, sweet pea, lisianthus and cosmo blossoms creates a whimsical look for an industrial wedding. Arrange the flowers to have some pop out for a textured look.
Loose Ivory Ranunculus Bouquet With Garden Roses
When it comes to this elegant ivory bouquet, the ivory ranunculus and garden roses stand out among the greenery. By arranging the flowers and greenery at different heights, this bouquet is filled with lots of dimension and texture which we love.
Fuchsia and Blush Ranunculus and Stock Bouquet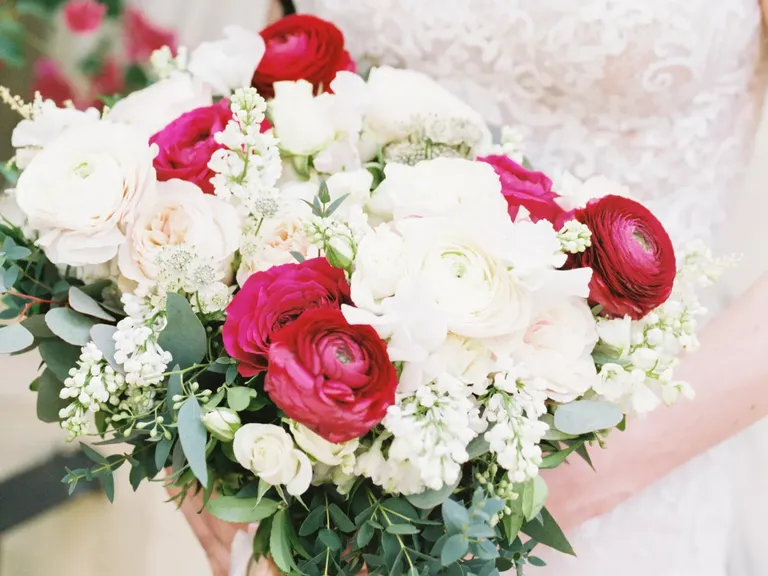 Turn a classic bouquet into a romantic one with fuchsia and blush ranunculus. If you're planning a Tuscan-inspired wedding, this is the bouquet for you.
Crystal Brooch Embellished Ranunculus Bouquet
Glam up your ranunculus bouquet by ornamenting the top with a crystal brooch. Whether or not the brooch has sentimental value to you, or you just like the way it shines, you'll feel like a queen when holding this embellished bouquet — trust us.
Pastel Round Flower Ranunculus Bouquet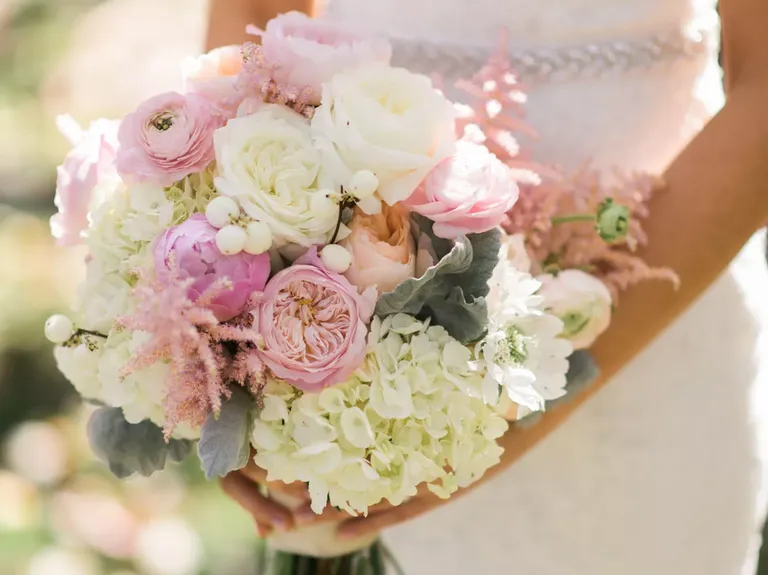 Round wedding bouquets are excellent for those who like to keep things simple and sweet. If various shades of pink make up your wedding's color scheme, this bouquet with pink and ivory ranunculus, hydrangeas and roses will make a great addition to your special day.
Tropical Ranunculus Bouquet With Anthurium, Protea and Leaves
Wonderful for a beach wedding, this tropical bouquet filled with ranunculus, anthurium, protea and leaves will help keep things relaxed on your big day. We like how this bouquet is dynamic, but still serene and aesthetically pleasing.
Boho Bridesmaid Bouquet with Yellow Ranunculus and Peach Roses
A Boho bridesmaid bouquet to match a Boho wedding — can you think of anything better? Treat your bridesmaids to a bouquet with peach roses and yellow ranunculus. We think they'll be peachy keen once they get a hold of this arrangement.
Bold and Bright Ranunculus Bouquet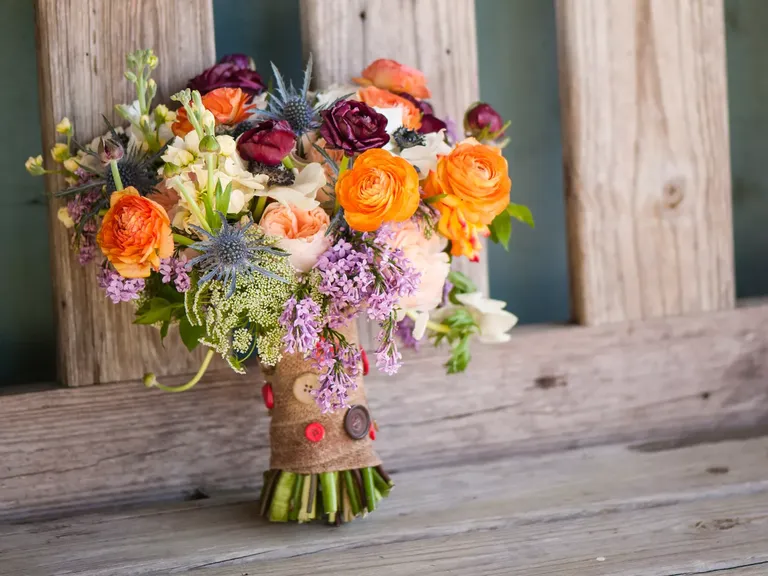 This vibrant and punchy bouquet combines orange ranunculus, blue sea holly thistles, blush garden roses, white delphiniums, blush peonies and white anemones. In addition to the brightly colored blooms, you can add some vibrant accessories to the bouquet's wrap — here's to vibrant bouquets!
Fall-Inspired Ranunculus Bouquet
Recognized for its pink and purple color scheme, this fall-inspired bouquet with white ranunculus is the perfect bouquet for a rustic fall wedding. Whether you'll be making your way down the aisle at a barn or a winery, this bouquet will look great in your hands.
Colorful Textured Ranunculus Wedding Bouquet With Viburnum and Rose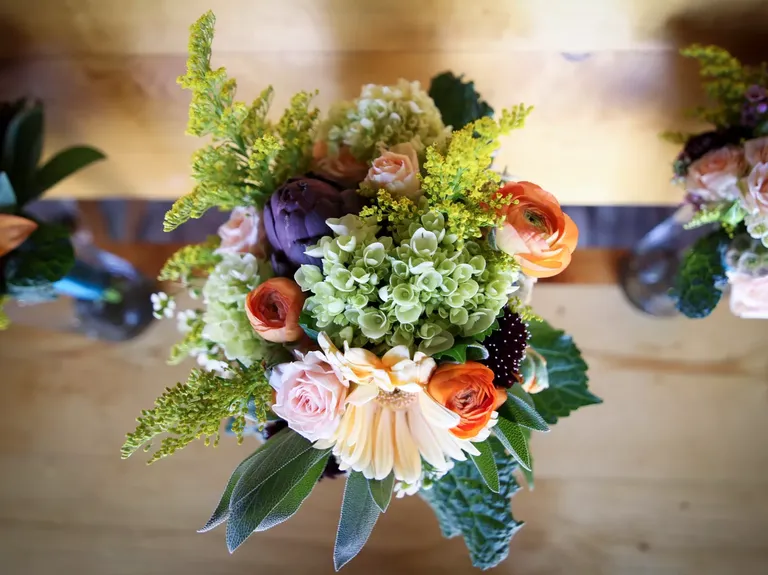 Looking for a bouquet with rustic charm? This combination of orange ranunculus, coral gerbera daisies, blush roses and yellow astilbes is just that. You can get creative with the flower choices, but we recommend including the greenery for a natural-looking finish.
Red and Purple Bouquet With Ranunculus and Dahlias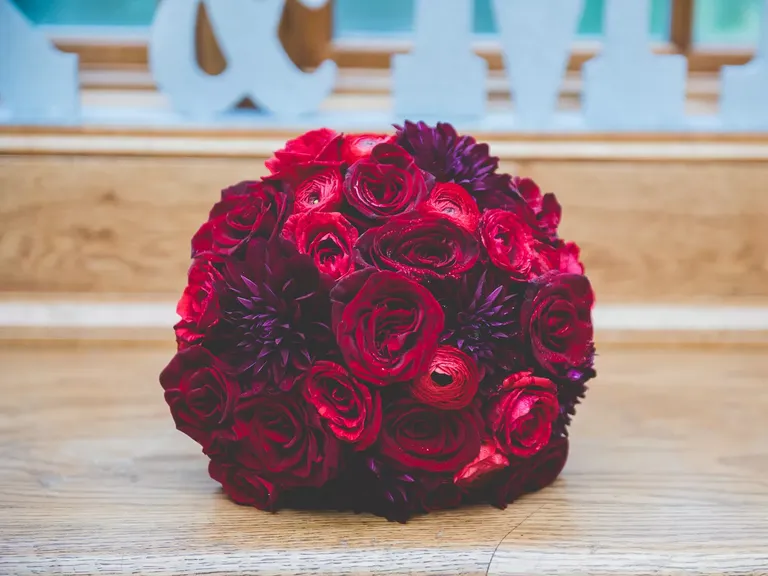 We love a glamorous bouquet and this bouquet with red ranunculus, red dahlias and purple dahlias fits this description perfectly. When you hold this round bouquet, there's no way you won't feel like a superstar on your special day.
White and Orange Ranunculus and Rose Bouquet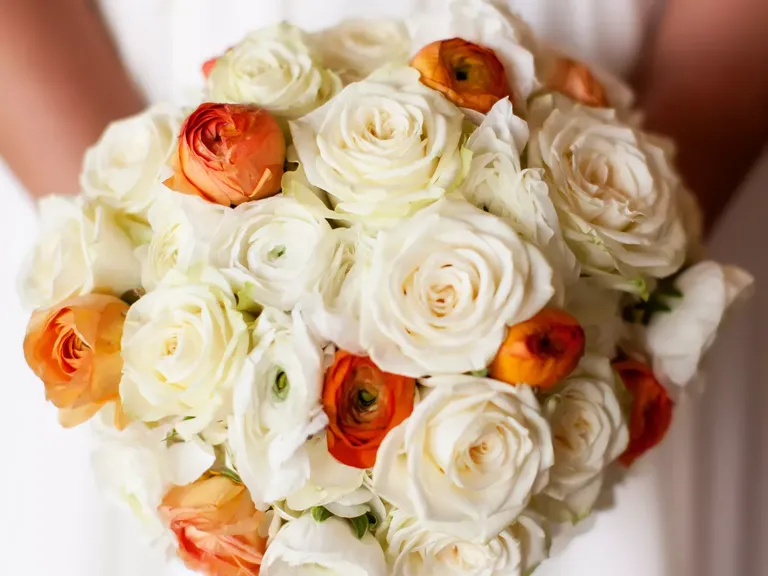 For a fall wedding, opt for a simple white bouquet with pops of orange ranunculus and roses. You'll love how this bouquet stands out, especially if the rest of your wedding follows a darker color scheme.
Playful Ranunculus, Rose and Peony Bouquet
Who said red, green and white was limited to Christmastime? Whether you're having a winter or summer wedding, this combination of ranunculus, roses, peonies and dusty miller makes for a playful bouquet.
Peach Rose and White Ranunculus Bouquet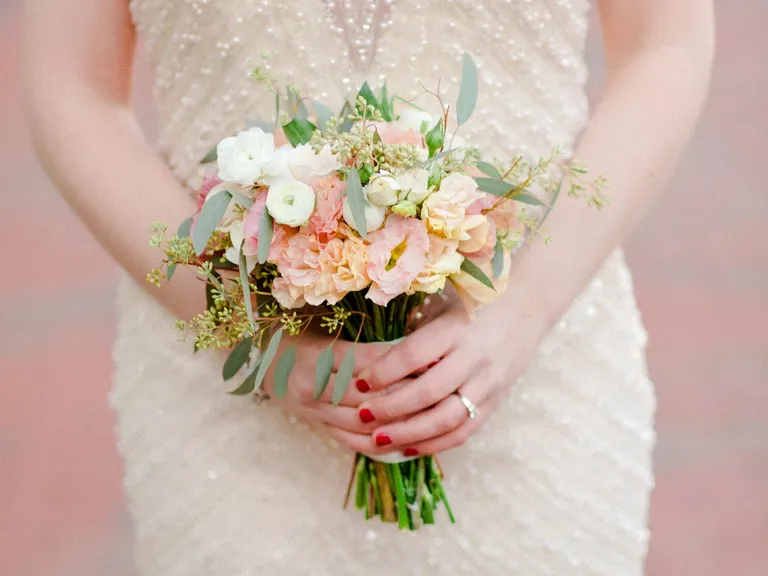 White is one of the most popular colors for ranunculus and any bouquet containing white ranunculus benefits (including this one). When white ranunculus are placed next to peach and pink ones, a beautiful pastel bouquet is created.
Pink Ranunculus Bridesmaid Bouquet With Roses and Hydrangeas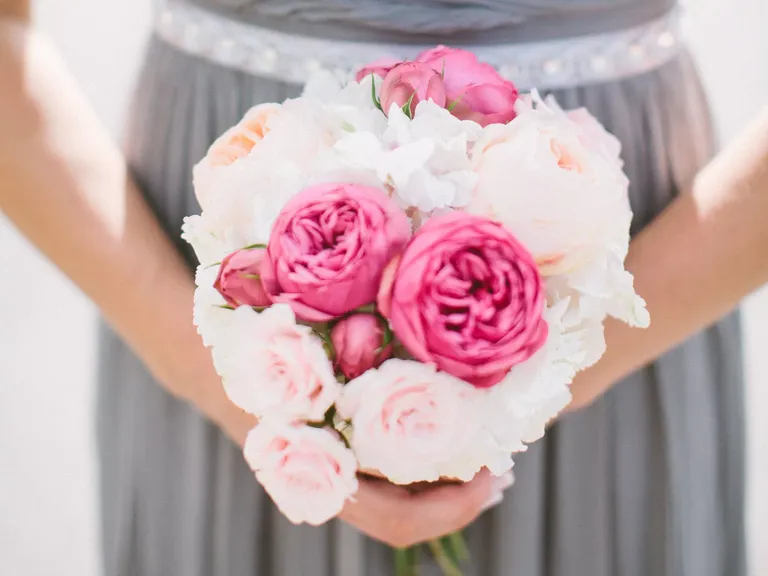 You can't go wrong with a classic bouquet for your bridesmaids. This soft pink bouquet composed of ranunculus, roses and hydrangeas will look beautiful when carried by your bridesmaids and look even better in your wedding photos.
Pastel Cascading Bouquet
We love a cascading bouquet especially when it's filled with pastel hues. This bouquet of ranunculus, roses, hydrangea, lamb's ear and ornithogalum is especially fitting for a summer or springtime wedding.
Spring-Inspired Wedding Bouquet
Springtime immediately comes to mind when looking at this bouquet of ranunculus, garden roses, hydrangeas and peonies. The ratio of pink and purple flowers can be up to you. However, we like the balanced look of this bouquet.
Yellow and Blue Ranunculus Bouquet
Make a grand entrance to your wedding holding a yellow and blue ranunculus bouquet. Although this is not a traditional bouquet, we're all for the lively colors.
Romantic Ranunculus and Rose Bouquet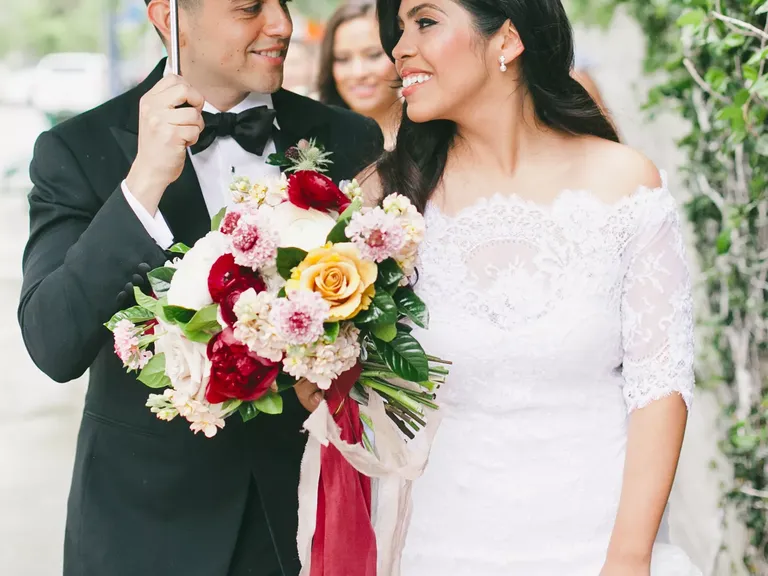 When combined in a bouquet, red, white and pink flowers create a romantic arrangement. You can honor a family member by placing a cherished item amidst the blooms for a personalized touch.