Fabulous Tulip Wedding Bouquets for Endless Springtime Vibes
"Tiptoe through the tulips" on your big day.
There's a good reason why The Netherlands endless gardens of tulips have inspired festivals. These beautiful flowers mark the start of spring, a time for new beginnings and vibrant color. Maybe that's why so many couples decided to have a tulip wedding bouquet for their best day ever. With its recognizable shape, range of stunning shades and low cost, the tulip is a perfect choice for any style wedding. Let's read more about this lovely bud.
What Do Tulips Symbolize?
Each flower symbolizes something different and that includes tulips. Tulips mean "perfect and deep love" and since tulips are a spring flower, they also can represent rebirth or new beginnings, which is what weddings are all about.
Tulip Colors
There are over 100 tulip colors, meaning you will always have variety with this flower. Many of the colors have their own special significance as well, like pink for good wishes or purple for royalty.
Average Cost of Tulips
Tulips are one of the more inexpensive options for wedding florals, making them a popular choice. The average cost per stem is between $2-$3, depending on location and a full bouquet of tulips can be $30 or more.
Tulip Flower Season
Tulips are the ultimate spring flower, so they pair wonderfully with other seasonal spring blooms. They can grow for many months as long as they have the right conditions, meaning they aren't limited to any time of year. One great thing about tulips is that even continue to grow after being cut, which is why couples adore adding this flower to bouquets. Choosing your wedding flowers should always involve incorporating greenery that you love.
Florists' Tips for Adding Tulips to Your Wedding Bouquet
To better understand the ins and outs of tulips, we connected with seasoned wedding vendor Mary Wilson of The Bloom Shoppe to get her expert advice. Here are some top tips directly from the expert wedding florist about blending tulips in with your wedding bouquet.
Incorporate Your Wedding Colors
Tulips come in over a hundred shades, so you'll definitely be able to find a hue that work with your palette. You can even look at parrot tulips and striped tulips for an extra burst of color.
Consider Other Seasonal Flowers
Since tulips typically bloom any time of year in the right environment, think about other seasonal flowers that may work with your theme and style. This will help with cost, as well.
What Flowers Go With Tulips in a Bouquet?
Speaking with a local florist will help give you a better idea of which flowers work best with tulips. The Knot Marketplace is a great resource for finding professionals nearby who can assist with your bouquet.
Tulip Wedding Bouquet Ideas
Have we almost convinced you to add tulips to your wedding? Let these inspo photos tip them in your favor, then:
Elegant White Tulip Wedding Bouquet
Pairing white tulips with other creamy blossoms adds a touch of elegance to any wedding bouquet. Consider anemones, baby's breath, roses and other soft flowers to complement your color palette.
Wow and Whimsical Tulip Bouquet
This colorful arrangement will wow your wedding guests, with its stunning hues and lovely shape. Throw in different shades of your wedding colors and mix and match your tulips for a truly unique bouquet.
Lovely in Blue Tulip Wedding Bouquet
Though there are thousands of types of tulips, blue is a rarity and adding it into your wedding bouquet gives you a "something blue" that no one else will have. It's the perfect pastel color for springtime weddings.
Perfect Beachy Vibes Tulip Bouquet
Sand, sun and tulips – we dare you to name a better combo. Your beachy wedding bouquet should scream "you" while still pairing together all of your favorite flowers, so throw in some colorful tulips for a unique display.
Unique Parrot Tulip Wedding Bouquet
Parrot tulips are not only shaped differently than other varieties, but they also have striping in their coloring that makes a serious statement. Carry your very own rainbow down the aisle with this stunning bouquet.
Dazzling Boho Tulip Bouquet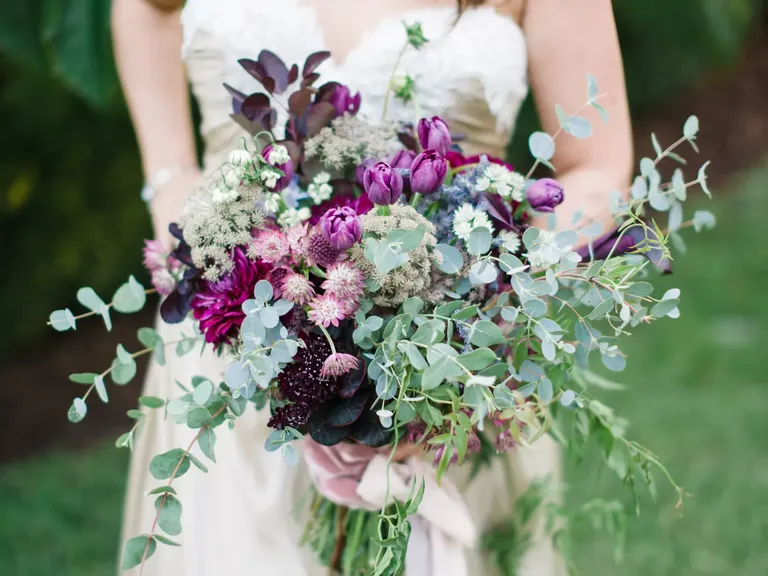 Throwing the bohemian wedding of your dreams should include the ultimate boho bouquet, complete with vibrant tulips. Combine different textures and let it overflow for a beautiful shape that'll surely impress your guests.
Powerfully Pink Tulip Wedding Bouquet
Nothing says "pretty in pink" like pink tulips and did you know they also symbolize good luck? Add some extra good luck charms to your bouquet, like a loved one's trinket or favorite flower, for that personal touch.
Brilliantly Colorful Tulip Bouquet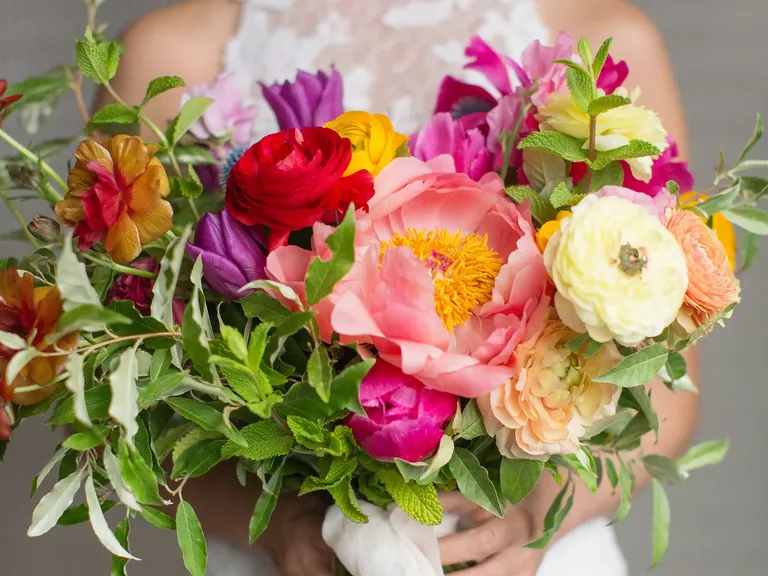 Bright blooms set against a white dress is such a classic and beautiful design and you can't go wrong with throwing some tulips in the mix. No matter which season your big day is set in, tulips give a touch of springtime to your wedding bouquet.
Ravishing Red Tulips Wedding Bouquet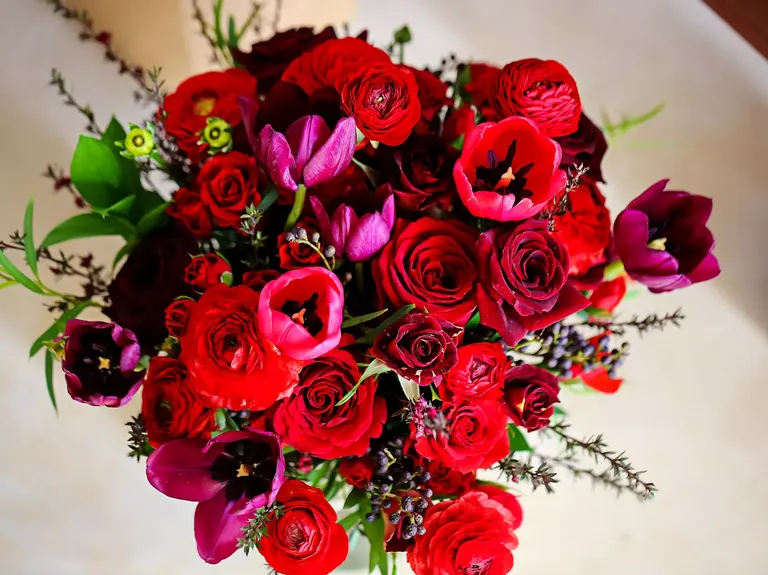 Like most flowers, red tulips are a symbol of love. Combining them with red roses and other crimson colors makes for a grand bouquet unlike any other.
Graceful Rose and Tulip Wedding Bouquet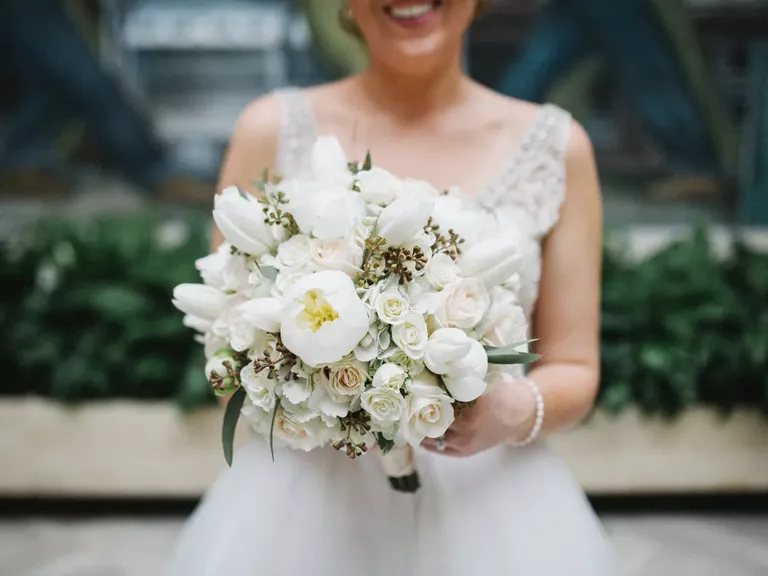 Speaking of roses and tulips, these blooms are a perfect pair no matter what color you choose. This soft and delicate white bouquet lets your flowers take center stage and it complements a wedding dress beautifully.
Pops of Color Tulip Bouquet
If you can't choose just one color for your bouquet, spice it up a bit with some pops of color. Tulips, especially in different hues, give you a chance to play around with your wedding colors.
Beautiful Tulips and Baby's Breath Bouquet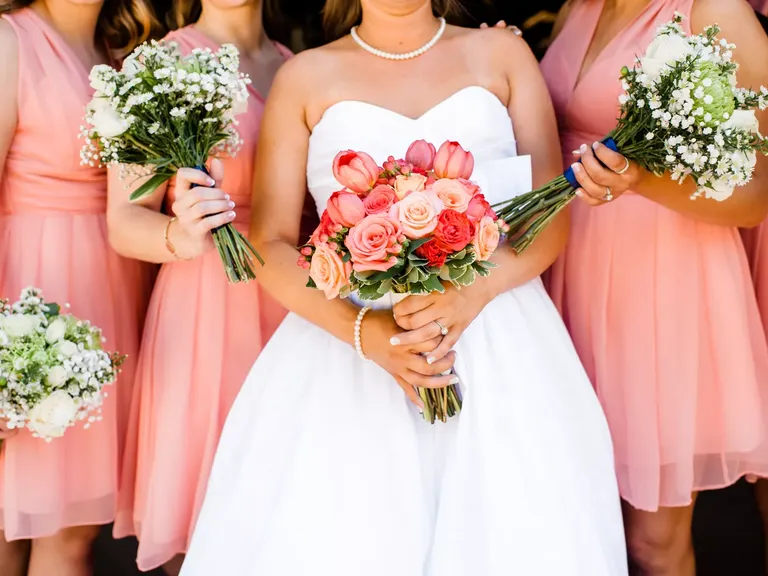 One creative idea for you and your wedding party's bouquet is to take elements from your arrangement but remix them for your bridesmaids. This tulip and baby's breath combination stands out while letting the bride have her moment, too.
Exquisite Textured Tulip Bouquet
For some added height and texture, play around with different seasonal flowers. This tulip bouquet uses daisies, dahlias and even hypericum berries for a colorful arrangement that puts a spin on the typical bouquet shape.
Radiant Tulip and Carnation Bouquet
Tulips and carnations are one dynamic duo, especially in this soft pink and bright purple. This wedding bouquet takes the best of both worlds, while adding a touch of romance and personality.
Bewitching, Bold Tulip Bouquet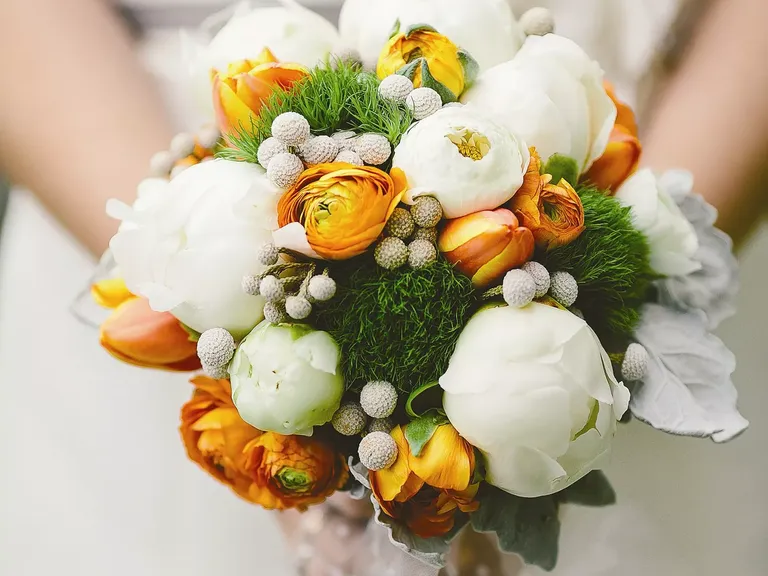 Go bold with your bouquet using a mix of colors and unique accents for a modern take on a classic arrangement. Colorful tulips truly pop against the deep greens and round berzelias.
Darling Daffodil and Tulip Bouquet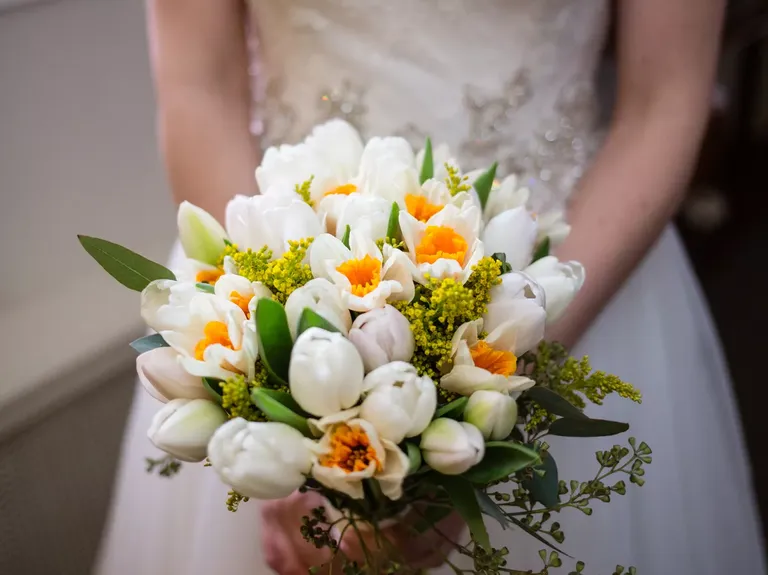 Here's something you didn't know you needed – white daffodils and tulips in your bouquet. This arrangement is like the perfect game of I Spy for bursts of color and yellows that will perfectly complement your white attire.
Pretty Tulip and Peony Wedding Bouquet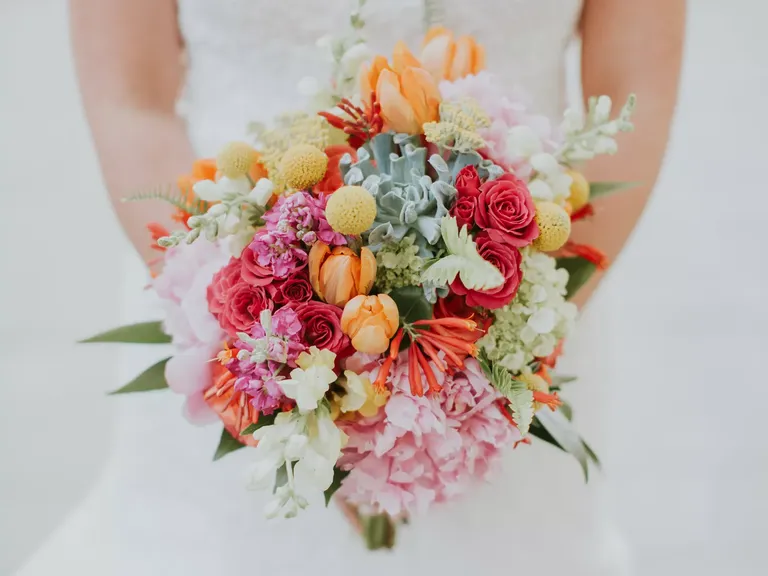 Since peonies promise good fortune, mix them in with your tulips to symbolize a happy marriage. Plus, who could resist these ravishing colors?
Chic and Modern Tulip Wedding Bouquet
You can take "classic" and make it chic using some of your favorite blossoms, like this unique tulip bouquet. Modernize your big day in simple ways that still evoke a timeless feel.
Charming Cascading Tulip Bouquet
Cascading bouquets have become all the rage and this falling tulip display is seriously jaw-dropping. Play around with longer-stemmed flowers in your wedding bouquet to get this affect.
Stunning and Simple Tulip Wedding Bouquet
Simple, in our books, never has to mean boring and this tulip bouquet is a wonderful example of that. Take your favorite color tulips and bind them with a ribbon for an understated but stunning arrangement.
Small-But-Mighty Tulip Bouquet
Not every bouquet has to be on the larger side and this one packs a mighty punch in its small form. A handful of vibrant tulips is the perfect way to keep it small-scale only in size and not color.
Wonderful Wildflower and Tulip Bouquet
If you've got to have tulips at your winter wedding, wildflowers are the perfect accent, especially since they'll be much easier to get this time of year. Utilize various shades and sizes to make your bouquet inject some spring into those colder days.
Magical Mixed Greenery Tulip Bouquet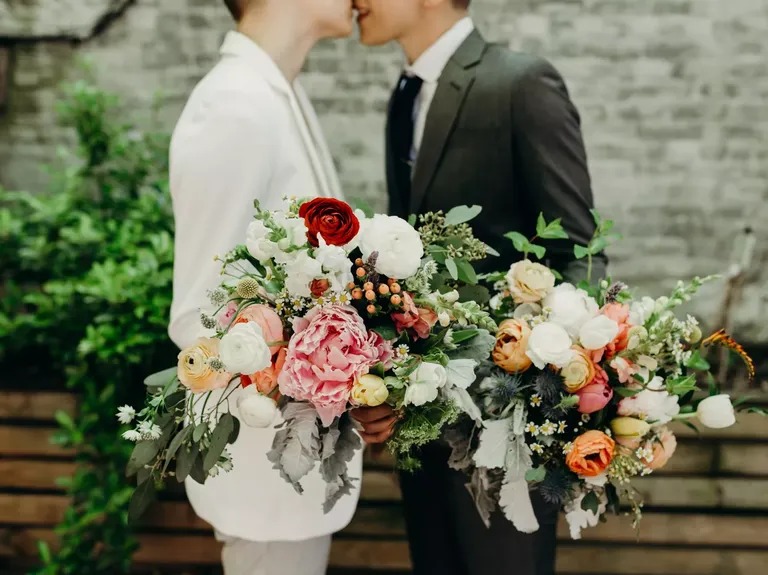 "I can't wait to kiss your tulips," said the happy couple on their big day. Puns aside, tulips are a popular choice for any mixed greenery arrangement with their stunning shades and recognizable shape.