What Is a 'Homeymoon' and How Do You Pull Off a Honeymoon at Home?
Forget the passport (for now).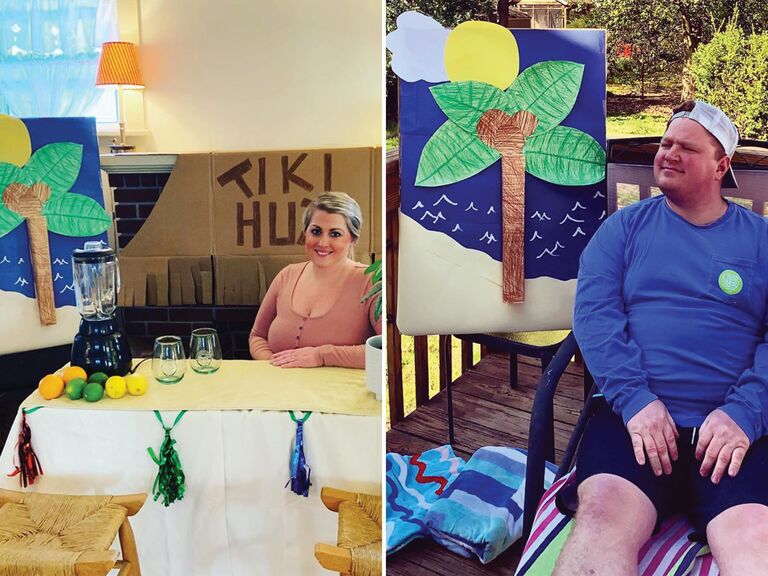 Courtesy of Ryan and Kelly Shanley
We have included third party products to help you navigate and enjoy life's biggest moments. Purchases made through links on this page may earn us a commission.
If you're looking for stay-at-home honeymoon ideas, you're not alone. One out of three couples depart for their honeymoons between the months of April through June, which means weddings aren't the only life event impacted by the coronavirus pandemic. With its far-reaching influence, COVID-19 has resulted in the postponement of hundreds of thousands of weddings (92 percent of engaged couples, in fact, plan to shift their weddings to a later date) along with a big hiatus on travel plans for to-be-weds.
While the possibility of a honeymoon at a far-flung destination is hard to imagine amid social distancing measures, we want to remind you that it's okay to be upset about the temporary postponement of your life events, including your honeymoon. Lately, however, couples have sought alternative ways to mark their pending life moments (from bach parties to virtual showers; their original wedding dates too). Honeymoons are up next with the introduction of "homeymoons."
What Is a Homeymoon?
A homeymoon is exactly that: a honeymoon at home. As couples follow social distancing best practices, they're still exploring this unprecedented time and counteracting the stay-at-home blues by transforming their spaces and seeking new experiences similar to what they would be doing on a honeymoon.
The homeymoon is one way to honor your original honeymoon dates while proactively discussing your future plans together—as you savor the company of your partner.
How Can I Throw a Honeymoon at Home?
Simple. First, what was your honeymoon destination? Or narrow down your dream honeymoon spot if you had yet to book. Once you've designated a location, then fill out your homeymoon itinerary. The duration is however many days you prefer.
Ryan Shanely and Kelly Burns decided to throw a honeymoon at home when the pandemic upended their plans. "April 4th was supposed to be our first day on our honeymoon in Antigua," says Burns. "All throughout the day, we made comments to each other such as, 'This is when we would be at the airport.' And, 'We'd be sitting by the pool at this time.' So we figured, why not bring the island to us?"
The Shanelys created makeshift palm trees, made their own frozen vacation drinks, threw on colorful resortwear, and basked in the great outdoors… on their porch. "Obviously, these times are stressful and resources are limited," says Burns. "But it was fun to create a fun vacation atmosphere. It kept us laughing and entertained."
If you're considering a honeymoon, you'll want to cultivate a space that reflects your destination. For example, if you're having a honeymoon in Tahiti, turn your TV to a backdrop that showcases the splendor of French Polynesia. Maybe have greenery delivered to replicate the environment or construct your own. (It's a bonus if you have a pool—inflatable is fine, we don't discriminate.) Finally, if you have the resources, maybe consider donating to a wildlife foundation to round out your homeymoon experience.
Stay at Home Honeymoon Ideas
Break out those beach chairs and blend yourself two piña coladas. If you've decided to throw a honeymoon at home, great. Below, you'll find 14 honeymoon at home ideas to make your experience all the more enriching and different.
Choose Your Social Media Strategy
Some couples will want to stash away their phones while others will want to document the countless fun they're having during their stay-at-home honeymoon. Regardless, designate whether you want to be offline or online fully during this time beforehand with your partner.
Create Your Own Indoor Jungle
Fact: bringing nature into your home with indoor plants is said to boost productivity and creativity, along with possible stress reduction. Hence, why, having house plants isn't only an additive for the air quality of your home, but also, your mind. Let's say you were planning a tropical honeymoon; why not use one stone by bringing your destination into your living room, while elevating the space overall?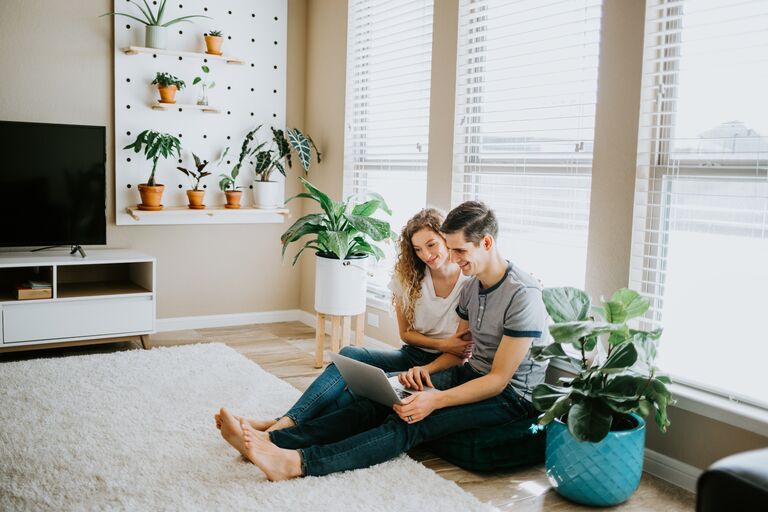 PlantShed's Creative Director Casey Godlove gives tips for the best plants to help recreate a tropical destination for a fresh, stay-at-home honeymoon idea. "Don't rule out cut stems: tropical blooms like protea, cymbidium orchids and anthurium can really add contrast, color and interest," says Godlove. "Cut foliage will amp up this look as well. Try incorporating dry or preserved greens along with fresh alocasia leaves or any large, interesting cut foliage. A stem or two in a vase can be enough to make a major statement." A variety of options are available from Plantshed, Bouqs and The Sill. For more guidance, see suggested tropical house plants from the expert below.
Bird of Paradise: The quintessential tropical vibes plant, with large oval green leaves that have a signature arching shape, the Bird of Paradise helps define the space and creates a great base for that at-home jungle.
Hanging Pothos: Easy to care for, pothos will give you that instant vining quality of a jungle and provide a smaller leaf structure. Plus, they are easy to propagate and cuttings can be given away as a little gift or token of appreciation.
Birds Nest Fern: Bright green foliage that adds layers and depth to your tropical home destination are what makes this houseplant unique. Misting the leaves and letting the water pool in their signature cups will make it feel like you're really left an urban environment.
Ficus Lyrata (Fiddle Leaf Fig): The broad leaves of these tree-like plants builds a tropical moment. The Ficus Lyrata can stand on its own or be used to add more depth.
Brush Up on Languages
Now is the time to lean into digital experiences to not only enhance eventual cultural immersion, but to also help you with future trips as a couple. If you were planning to travel to Italy, why not brush up on your Italian to help impress the locals beyond the Amalfi Coast? If you were planning to have a honeymoon stop in Mexico City with a Michelin restaurant tour, pick up Spanish so that by the time you land, you'll wow with your linguistics skills. Among the many options available across the internet, Rosetta Stone is the trusted authority in languages and prices start at just $12 a month up to $299 for a lifetime of unlimited languages.
Take a Coffee, Wine or Cocktail Masterclass
If your favorite barista or sommelier is out of pocket (some are offering virtual tastings), it's worth upping the education behind the beverages most consumed amid a pandemic: caffeine and alcohol. We recommend stocking up your bars and pantries, and exploring the minds of experts who will explain everything from cultivation to harvesting, all the way to what's right for your palette.
Lately, AirBnb is offering a range of virtual experiences from a "gin-spiration" cocktail class to a Colombian coffee bean experience. Peruse the multitude of options to see what's best for you and your partner and explore registry favorites like Crate & Barrel and Bed Bath & Beyond for barware as well. Finally, if you need specific products, consider Thrive Market for organic and fresh products that align with your dietary values.
Enjoy a Romantic Dinner by Candlelight
Order from your favorite restaurant if it's open and have a fancy dinner delivered straight to your home. (Postmates is one option or if you're adventurous, consider a meal kit like Sunbasket for a home-cooked option.) Plate it on chef-approved dinnerware like this chic collab between Food52 and Jono Pandolfi to recreate a fine dining experience. Refer to The Knot Registry Awards for more ideas.
Of course no romantic dinner is complete without a sea of candles in seductive scents. There's something for every couple these days, including Capri blue candles from Anthropologie to divine scented options from Voluspa. The Kardashian family's favorite floral brand Venus et Fleurs also released a candle scented of freesia and Damascena roses, a reminder of its luxe arrangements.
Create a Sleep Sanctuary
Technically, on a honeymoon, you've planned everything, executed the event and now, you're off for extended relaxation as newlyweds. Since most properties offer the best linens and sheets and other amenities in the world, why not build your own sleep sanctuary?
First, you'll need to stash the phone away, likely in a drawer or another room. Next, you'll want amazing sheets to replicate the finest hotel quality experience. We recommend crisp Percale sheets from Parachute or this organic, cooling set from Boll & Branch. To prevent face wrinkles, consider pillowcases made of silk like this option from Slip, which has a cult following. Include possible matching silk eyemasks if you're sensitive to light and a sleep-inspired scent for your diffuser. This one from Amazon has high ratings and close to 9,000 reviews.
Watch the Sunrise
Start your day with a morning run together with matching workout sets from Outdoor Voices so that you (and possibly your social media followers) can admire your cohesive homeymoon couple look. Run to a location (isolated from others of course) to admire the sunrise together. Then, go home for a meditation, followed by a delicious breakfast. You deserve it!
Glamp
If you have the space, set up a tent and create a luxe glamping experience in the comfort of your backyard. Set up camping chairs, sip coffee from these outdoor-friendly mugs, and a makeshift bonfire to enhance your glamorous experience. We have tips for stargazing below.
Stargaze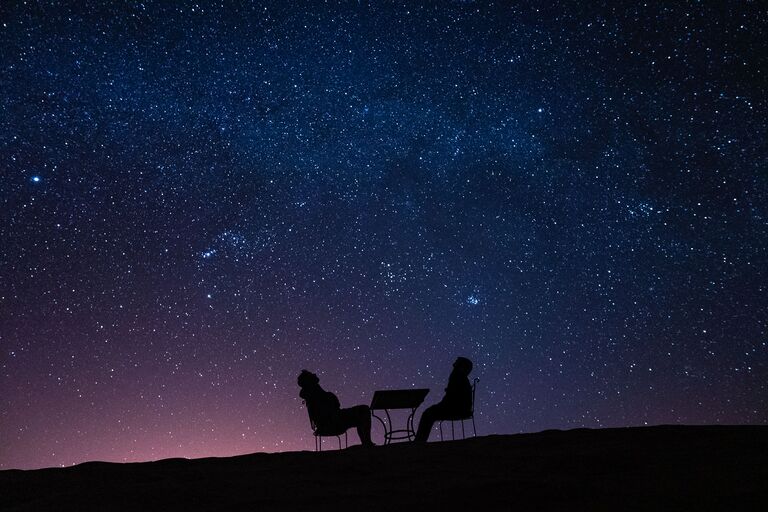 If possible, look out your windows or venture onto your front lawns for a night of stargazing. With spring, the celestial heavens are turning to help you find new inspiration and romance. If you have access to an outdoor area, lay out a mat, wrap yourselves in a cashmere blanket (like this luxe option from Naked Cashmere) and look up to spot galaxies far beyond the Milky Way. We recommend downloading an app to help you navigate space.
Make Your Own Glow
You would've gotten a spray tan anyways before a tropical getaway, so recreate your glow for your stay-at-home honeymoon. Among the sea of options for self tanning products, consider SOL by Jergens for extra hydration or the ever-popular bronzing bundle from Coco & Eve, which previously had a waitlist of 30,000. Here's expert advice on how to recreate the perfect tan at home.
Step 1: Exfoliate the skin where you want to tan.
Step 2: Moisturize all dry areas (including elbows, knees, feet and hands).
Step 3: Grab a tanning applicator mitt and spritz a tanning mousse. Move the mitt in circular motions for even covering and make sure all wanted areas are covered.
Step 4: Follow the instructions (especially with timing) and watch your glow go.
Read All the Books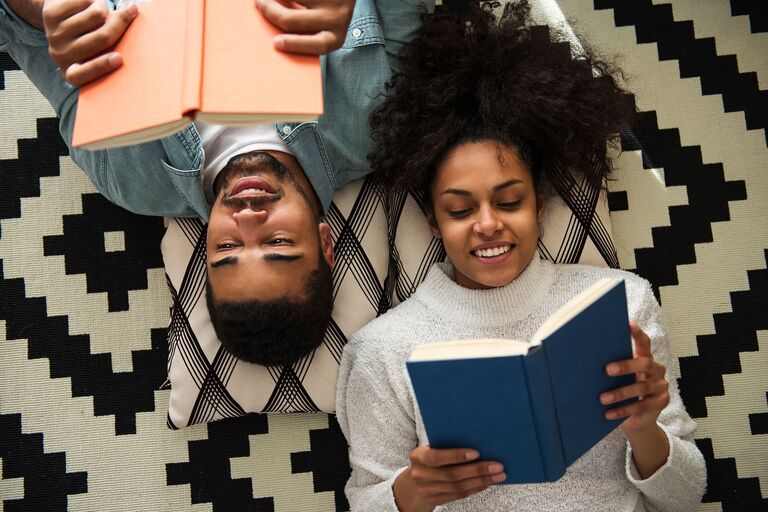 On honeymoons, couples frequently like to read and unplug from the outside world. Turn off your phones and fill your imaginations with bestselling books or classics. Book of the Month delivers books straight to your home each month (you can select classics or yet-to-be-released options, some even will be future bestsellers). Or, you can go with the travel-friendly Kindle since you'll be putting it to good use when you eventually depart for your honeymoon. Finally, if you'd rather listen to books like the Harry Potter series and more, we recommend Audible as an option.
Start Your Own Spa
We get it: it's different from languishing in the sound of waves as hands pad over your muscles to release tension from wedding planning. But you and your partner can learn how to give the best massages during this time with a few tips, which could benefit your relationship for a lifetime. You'll need massage oil like this cold-pressed option on Amazon, a fresh bath kit, candles for the bathroom and a fluffy bathrobe (like the 'Super-Plush Robe' from Brooklinen). Plus, you can also use the time to book future appointments with a local spa through platforms like Spa Week.
Unpack Your Lingerie
Now is the time to either shop for sexy pieces to wear around home, or to unpack the lingerie you've stored away for the honeymoon. Your partner won't complain if you decide to online shop for this item. We recommend Hanky Panky and ThirdLove for a variety of sets that are perfect for a stay-at-home honeymoon.
Explore Properties With Virtual Tours
One in five couples use social media to narrow down a destination, so while enjoying your homeymoon, start planning excursions and trips to bring future excitement to your stay at home honeymoon. Properties worldwide are now offering virtual tours with customized experiences and consultations from concierges.
Use this time to sip a vacation cocktail as you dream up your future honeymoon for all the wonderful memories to come. Maybe even set a material reminder of the experiences to come. Pieces like Catstudio's hand-embroidered location pillows will help any couple grappling with a deferred honeymoon or wedding.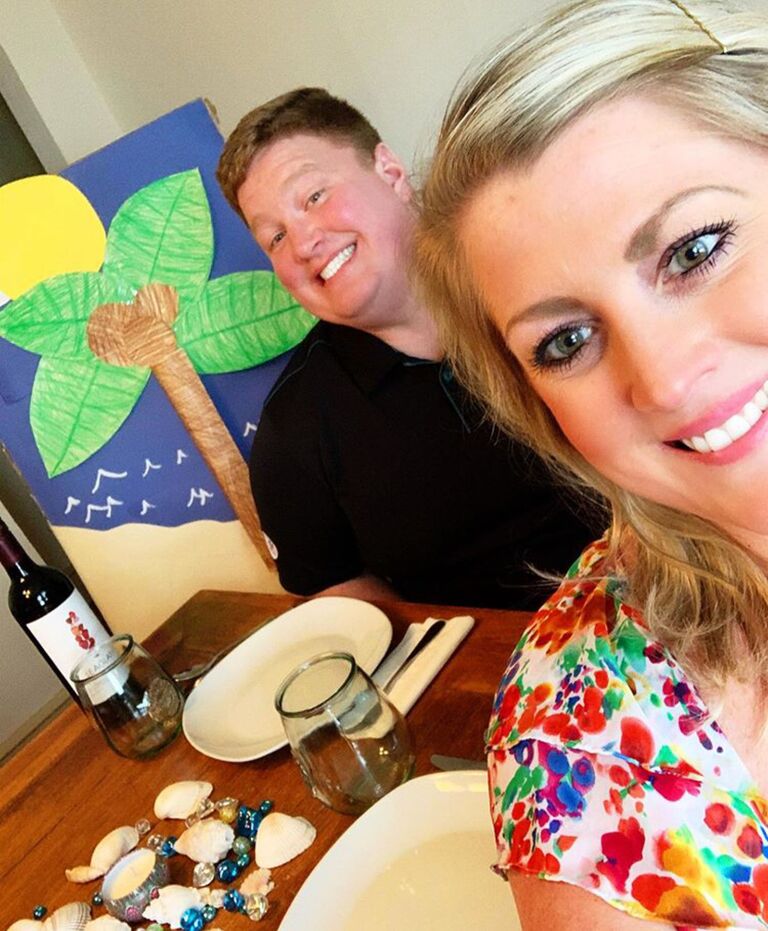 "During our [honeymoon at home], we realized we really do not have to physically go somewhere to create memories," Burns concludes. "We really appreciated being able to spend time with one another. Together, we can make the best of any situation."