Wedding Hangover Kits Are Elite—Here's What You Need to Know
Your guests will thank you.
We have included third party products to help you navigate and enjoy life's biggest moments. Purchases made through links on this page may earn us a commission.
Whether you're having an open bar at your reception or have opted for a wine tasting at a vineyard post-ceremony, wedding celebrations are pretty boozy bashes. If you've been researching the best wedding favor ideas for your upcoming nuptials and are stumped, consider gifting your guests a wedding hangover kit. Reason: You want your guests to have a blast on your wedding day, but the morning-after scaries of indulging in one too many cocktails can be grueling—especially if you've planned postwedding events with your wedding guests, like a group brunch or a hike near the venue the next morning. While you can't control how much your guests decide to "celebrate" during your reception (though, keeping plenty of fresh water at the bar and dining area will help the cause), you can equip them with the necessary supplies for conquering the consequences with a wedding recovery kit.
In this article:
What to Put in Wedding Hangover Recovery Kits
Hangover symptoms run the gamut of unpleasant ailments, from nausea and pounding headaches to dizziness and dry mouth. But dehydration is a universal symptom of overindulging in alcohol, so start here . Aside from water, electrolyte supplements are a great way to replenish the minerals lost from drinking and help accelerate rehydrating the body better than just water alone. You can find electrolyte powders at your local grocery store, drugstore (usually in the sports drinks aisle) or on Amazon. Some popular brands to check out include Liquid I.V., LMNT and Drip Drop. Pain, whether it be in the form of a borderline migraine or flu-like body aches is another common culprit of having one-too-many gin and tonics, so including a pain killer like Advil in the kit is also a must. Anti-nausea aids like Pepto Bismol tabs are also a good idea to include, along with a granola bar to ensure they can avoid any low-blood-sugar dizziness.
Now, because these are technically party favor bags, you'll want to include a few fun items to help them recover in comfort. Hangover kit wedding favors are also a good opportunity to include items with your wedding branding, hashtag or design as well. A cozy pair of socks, silk or satin eye mask with you and your partner's initials or maybe even a pair of inexpensive sunglasses with a cheeky phrase like "In Recovery Mode" or "But First, Coffee" inscribed makes the suffering feel a little more celebratory. What goes in a hangover kit that's unique to your wedding ultimately comes down to what you think your friends will like, but feel free to incorporate your wedding design and a dash of humor to make the recovery process a little bit more enjoyable. Check out a few of our wedding hangover kit filler ideas below:
Water bottle, Gatorade or other sports drink
Pain relievers
Electrolyte powder supplement packs
Anti-nausea tablets
Granola bar(s)
Comfy socks
Sunglasses
Canned coffee drink or instant coffee packs
Sleeping mask
Eye patches or face mask
Eye drops
Breath mints or gum
Silk or satin scrunchie or hair tie
A trendy reusable water bottle
Mini bottle of vodka and vegetable juice for a DIY Bloody Mary
Lip balm
Hangover/B-vitamin patches
UberEats/Postmates gift card
Where to Buy Wedding Hangover Kit Supplies
You can find most of the over-the-counter medications, toiletries and supplements you'll need to stuff your hangover kits for wedding guests at your local pharmacy or grocery store, but you can also buy smaller packets and bottles of these medications on Amazon. Socks, sunglasses, masks and other wearables can be purchased at Target, Walmart or Amazon. As far as the party favor bag goes, you can find cute empty drawstring bags at The Knot Shop or paper gift bags at your local dollar store or craft supply store. Depending on how many goodies you want to fill them with, you can also consider opting for a more durable reusable tote bag featuring your wedding design, branding or a playful hangover-related phrase, pun or slogan.
Our Favorite Premade Wedding Hangover Kits
If you're strapped for time or simply can't handle thinking about one more thing before the big day, there are plenty of premade wedding hangover kits to choose from on Etsy, Amazon and other sites. These prefilled bags come in a variety of options to suit any wedding style or theme—from rustic-chic to retro—and contain all of the essentials to help guests make it to brunch in one piece. You can also use a premade kit as a baseline for wedding recovery kit ideas and add your own personal touches, like monogrammed sleep masks or sunglasses. Scroll through below for a few of our favorite premade wedding hangover kits that you can buy online.
Simple Canvas Hangover Treats Party Bags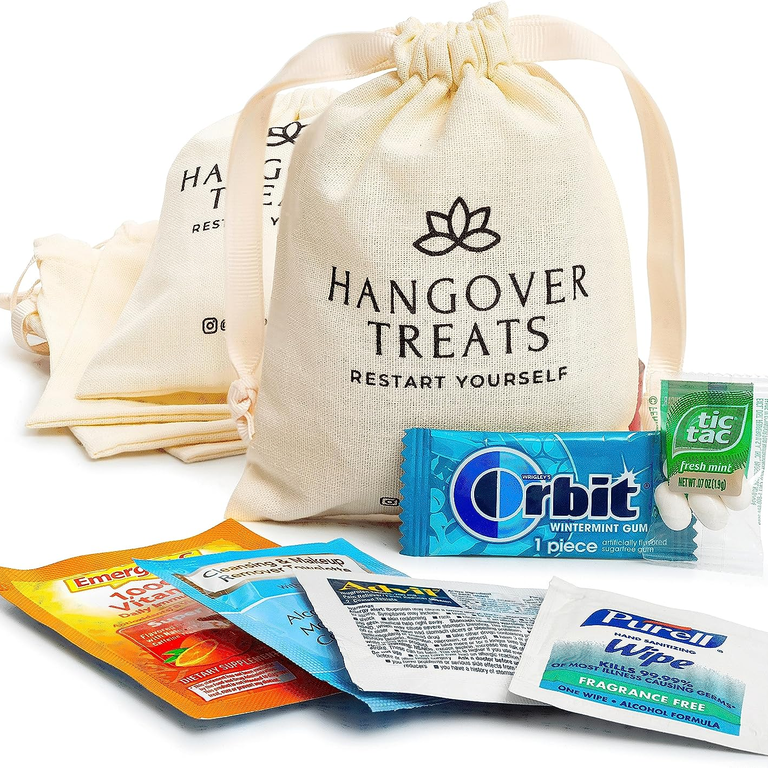 These prefilled wedding hangover kits contain the essentials for surviving the morning after: pain killers, wet wipes, electrolyte supplements, gum and mints. The cute canvas drawstring bag is perfect for a wide variety of wedding styles, but they're not customizable. This is a great option for smaller weddings or if you plan on distributing the bags to guests who are staying the night at the venue or hotel.
Mini Hangover Kit Boxes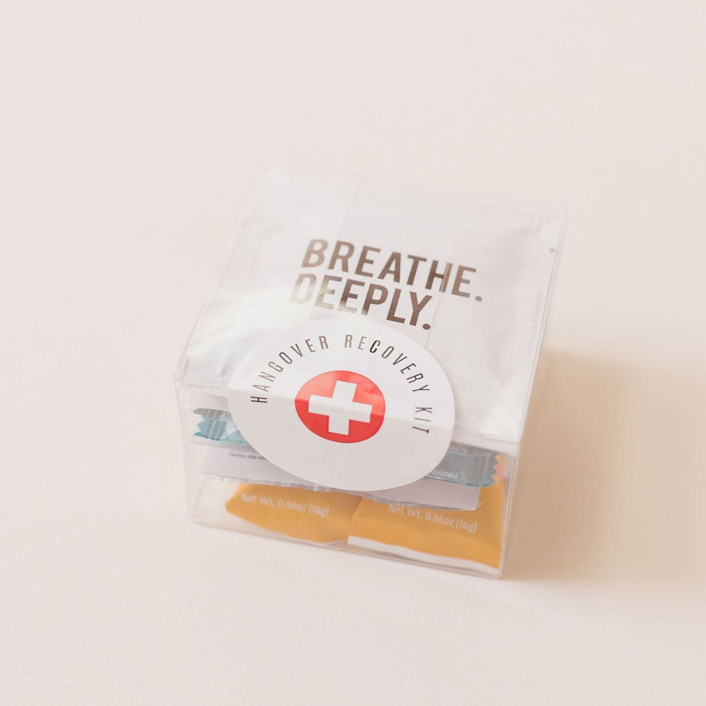 These small, but mighty hangover kits come packaged in a clear box sealed with a sticker, so they're great handed out on their own or in a larger bag with other non-hangover favors. Each prefilled box includes gum, Liquid I.V. packets, makeup remover wipes, Advil, gum and a stain-removing wipe for combatting wine spills and other mishaps from the night before.
Holographic Hangover Kit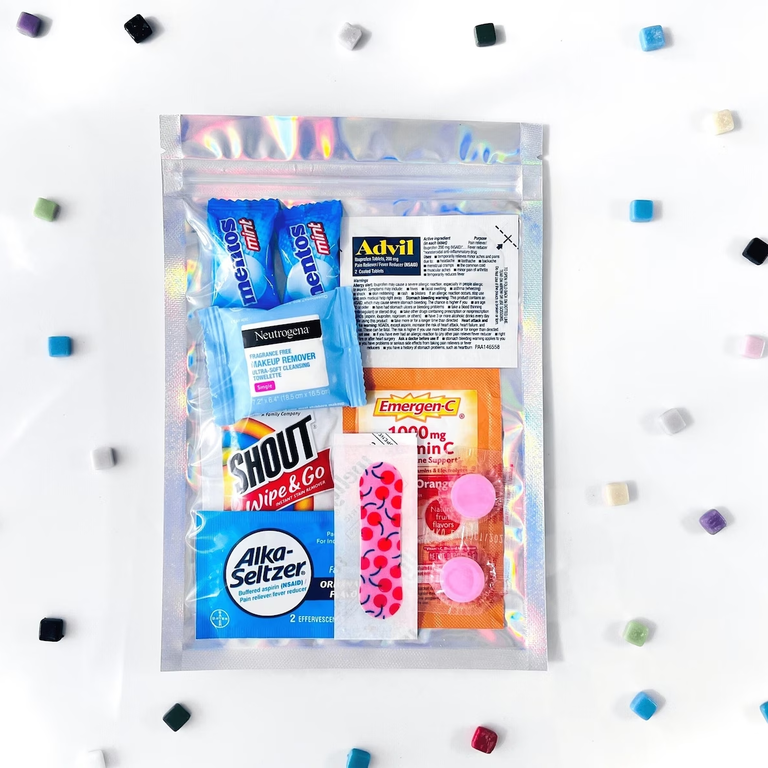 These prefilled recovery kits from Etsy are as cute as they are helpful. Each bag includes a range of hangover recovery essentials like Advil, Emergen-C, Liquid I.V., a band aid and more. You can choose between Basic, Deluxe and Elite options, which will give you more goodies, respectively. And the holographic bags are super trendy.
When to Give Wedding Hangover Recovery Kits
Now that you know how to make a hangover survival kit, you've got to figure out when to hand them out. If your guests are staying at the venue or the same hotel, the best option is to distribute the hangover recovery kits during check-in or to have the hotel staff leave the kits in the guests' rooms. This will ensure that your guests are armed and ready with a line of defense when they wake up in pain. Plus, this way, they won't have to embark on a walk of shame situation down to get their survival supplies the morning after.
If your guests are not staying overnight or are staying elsewhere, hand out the hangover kits as they leave the reception, since you likely won't be having wedding welcome bags. This way, they won't have to keep track of them while they're dancing, mingling and—of course—drinking. You can have your wedding planner or a designated member of your wedding party stand at the exit to distribute the bags or you can display them near the exit at a wedding favor display. Regardless of when and how you decide to give out the hangover recovery kits, your guests will surely be glad you did.