16 Hangover Kit Wedding Favor Ideas to Revive Your Guests
Because you still want your guests to love you in the morning.
Want to show your guests how much you care? Of course you do. Stuff your welcome bags with—or turn your wedding favors into—hangover kits that will save any loved ones who raised one too many glasses the night before (and can you blame them?). Whether you stock your wedding hangover kits with everything on this list, or pick and choose a few essentials, here's how to minimize the aftermath of an epic celebration. And when in doubt, just think: Which goodies would you want to wake up to?
1. Alkaline Water Bottles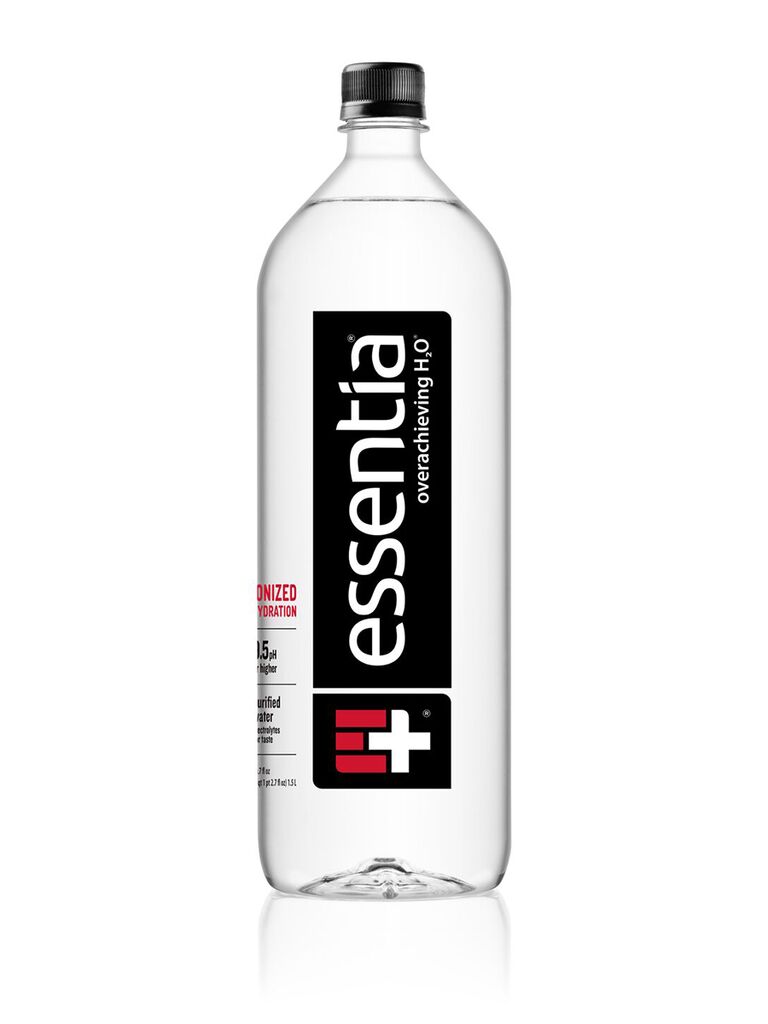 Need we say more? If you're up for it, go the extra mile with custom labels of your wedding date or even design a personalized label for each guest.
Essentia Ionized Alkaline Water bottles, $89 for pack of 24, Amazon.com
2. Headache Relief in the Form of Ibuprofen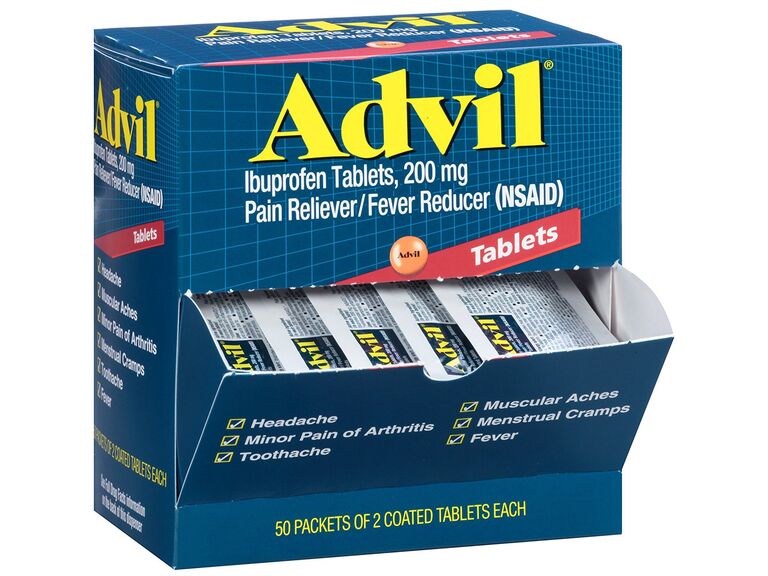 If only everyone would plan ahead and bring their own. Help out any friends riding the struggle bus by slipping in a mini pack of ibuprofen. That way they can forget their headache and focus on remembering the good times.
Advil 200-mg ibuprofen, $10 for 50 packets of 2 tablets, Amazon.com
3. Coconut Water for Electrolytes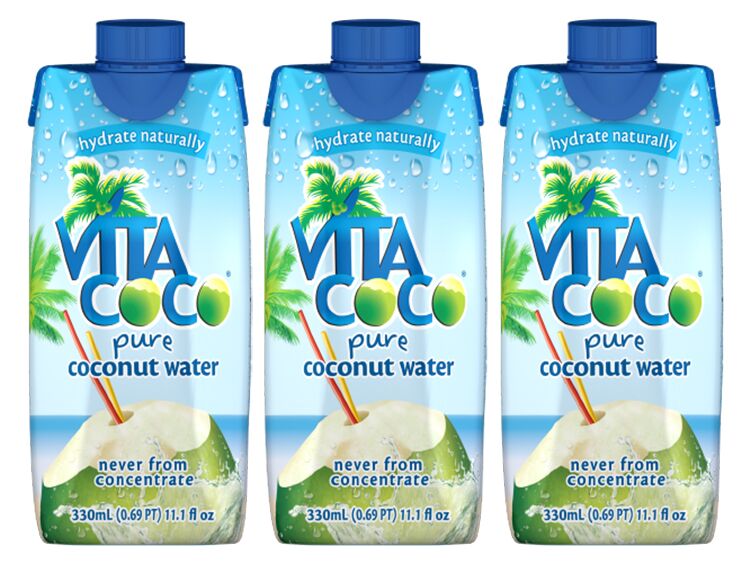 Water is always great, but coconut water is divine—at least when it comes to refreshing your guests' depleted store of electrolytes. Not everyone loves plain coconut water, but there are tons of delicious flavors to choose from, like lemonade and pineapple.
Vita Coco pure coconut water, $19 for pack of 12, Amazon.com
4. Pedialyte for More Electrolytes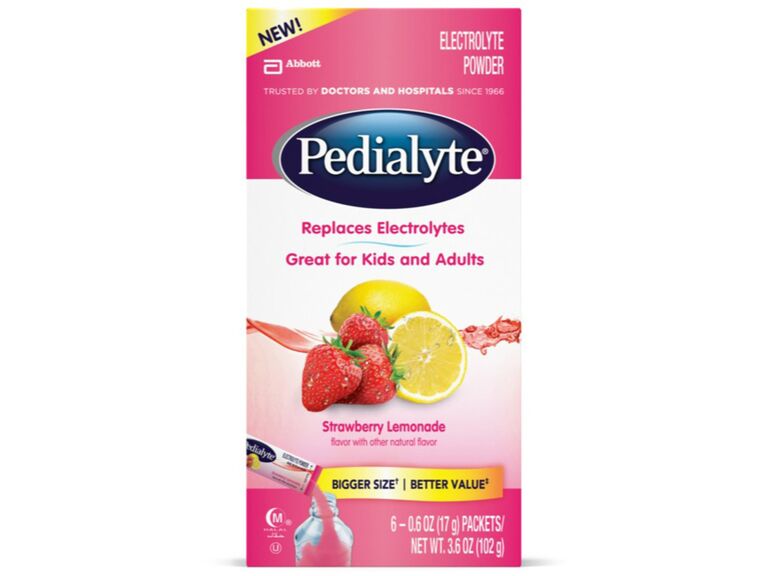 If you're not into coconut water, replace your guests' electrolytes with Pedialyte. You may think of this ultra-hydrating drink as just for kids, but it's quickly becoming a known hangover cure for adults. Hop on the bandwagon and be the hero your guests need.
Pedialyte Electrolyte Powder Sticks in Strawberry Lemonade, $10 for pack of 6, Target.com
5. A Dissolvable Hangover Prevention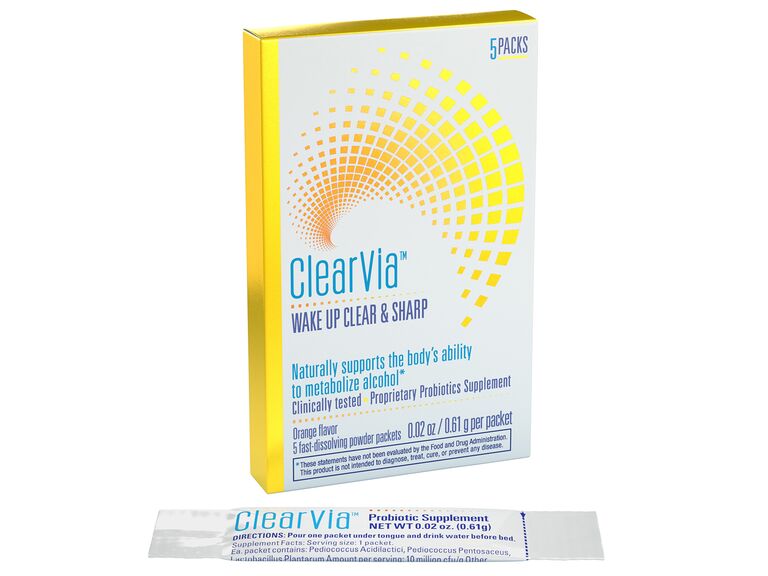 This little packet of probiotics is pretty genius. The powdered blend, taken with a few sips of water after drinking—and before hitting the sheets—naturally helps your body metabolize alcohol while you sleep. You'll wake up feeling like you stayed in the night before (even though everyone knows you were shredding the dance floor until 2 a.m.).
ClearVia probiotic supplement, $15 for pack of 5, ClearVia.com
6. Snacks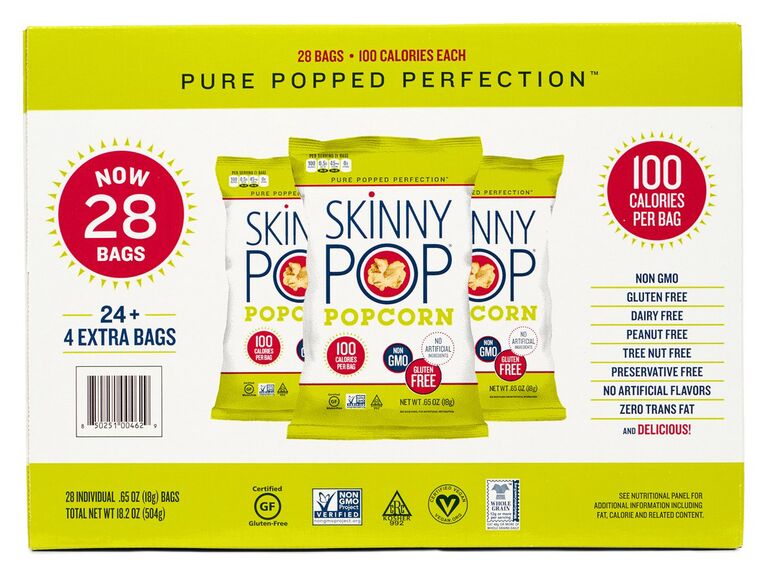 Whether it's mini cereal boxes or bags of crowd-pleasing munchies, give your guests something to tide them over until the morning-after brunch.
Skinny Pop popcorn, $17 for pack of 24, Amazon.com
7. A Vitamin C Cold Buster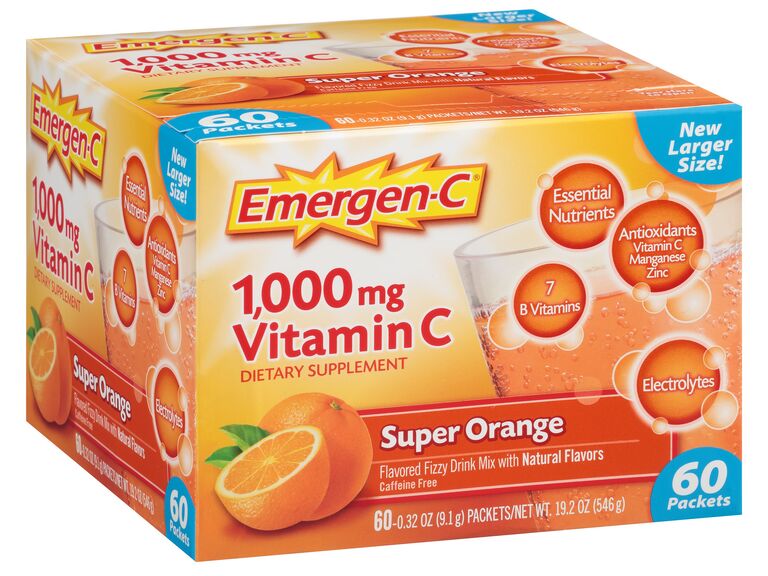 Ugh—that feeling when you have one fun night and get punished with the start of a cold. Not this time: Emergen-C packets will totally save the day and leave your guests saying, "They thought of everything."
Emergen-C Super Orange 1000-mg Vitamin C drink mix, $17 for pack of 60, Walmart.com
8. A Strong Caffeine Kick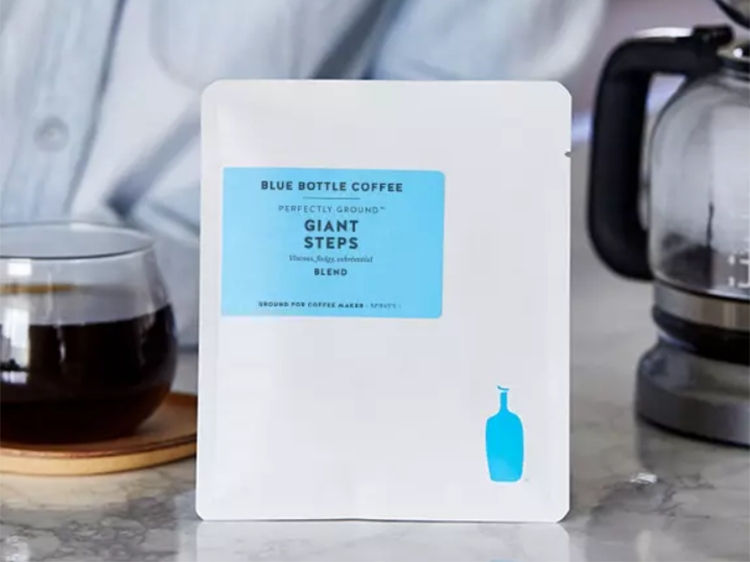 The worst feeling when you wake up with a hangover (besides the fact that you woke up with a hangover) is wondering how you're going to get coffee—good coffee. Beat your guests to the punch by gifting them a pre-portioned packet of insanely delicious grounds they can brew and enjoy minutes after they wake.
Blue Bottle Coffee single serving of Giant Steps blend pour-over coffee, $18 for pack of 5, BlueBottleCoffee.com
9. Soul-Soothing Green Tea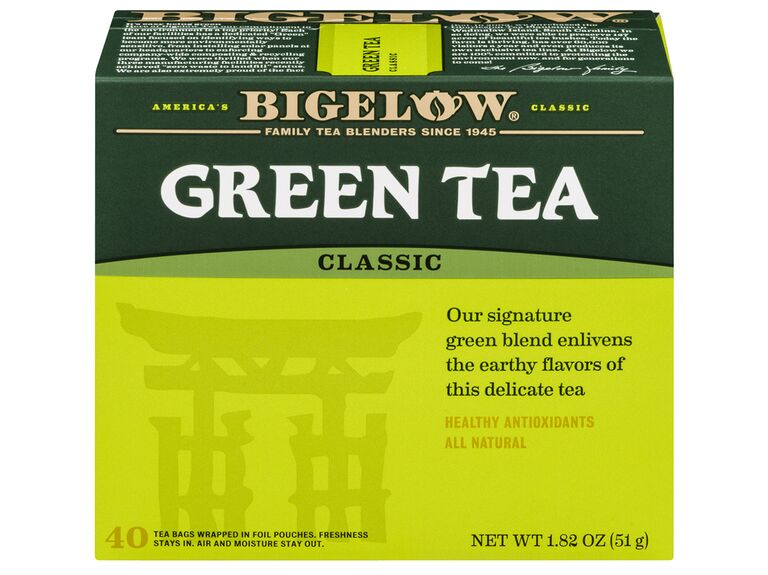 Any tea drinkers will thank you for thinking of them too. Plus, green tea has powerful antioxidants and can ease a headache or nausea (sadly, sometimes the price of an epic party).
Bigelow green tea, $4 for pack of 40, Walmart.com
10. Trusty Lip Balm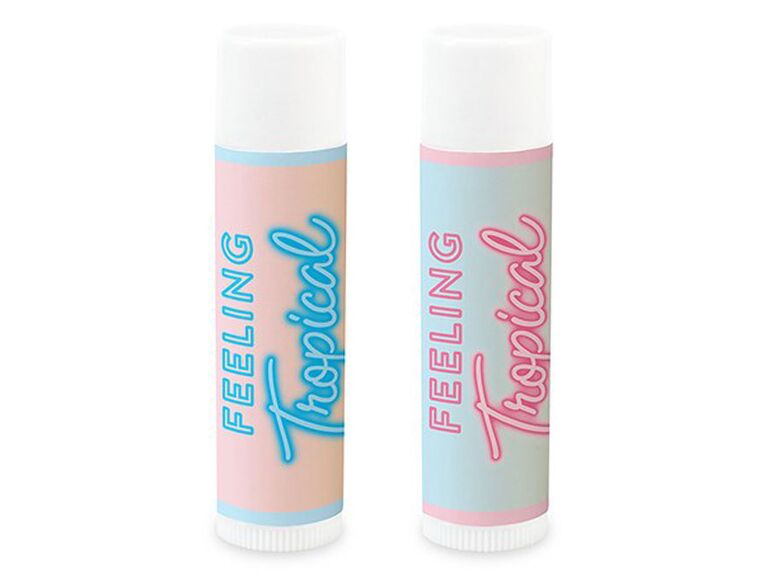 Don't underestimate the power of lip balm. And since dehydration is a telltale hangover symptom, chapped lips are a likely side effect of your epic reception. Throw some customized tubes of lip balm in your hangover kit favors, just in case.
The Knot Shop Summer Vibes assorted lip balm, $22 for 2 packs of 12, WeddingShop.TheKnot.com
11. Dissolvable Hangover Tablets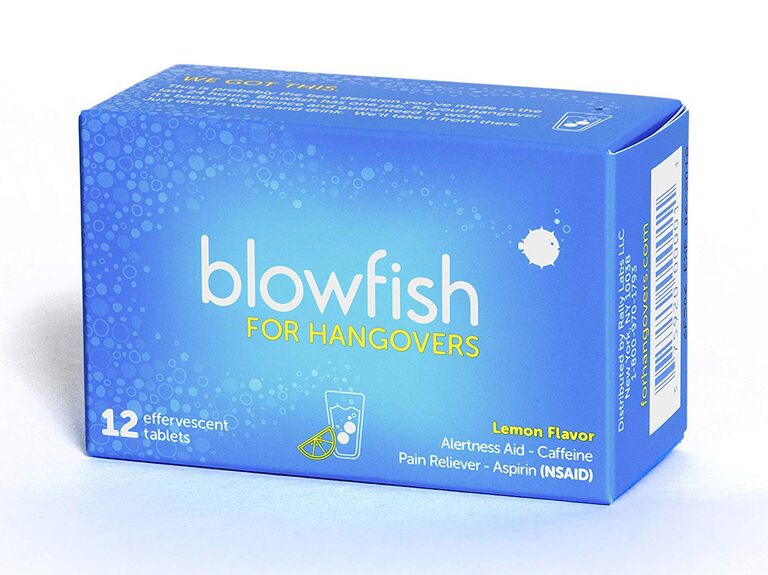 Blowfish promises to revive even your most under-the-weather guests. All you have to do is dissolve two tablets in water and sip its hangover-busting goodness (gentle, pharmaceutical-grade caffeine, aspirin and an antacid) in the form of a fizzy, lemony drink.
Blowfish for Hangovers hangover remedy, $12, Amazon.com
12. Flyby Hangover Pills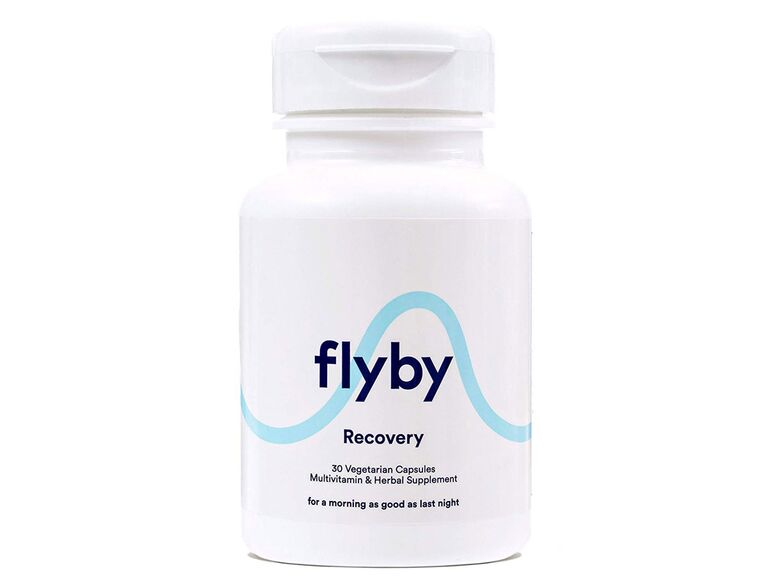 Flyby doesn't just have clean, minimal packaging that would look great in any wedding favor or welcome bag—it delivers. One Amazon review even dubs these PhD-developed tablets "Magical Unicorn Pills."
Flyby hangover cure and prevention pills, $18, Amazon.com
13. Nausea Fighter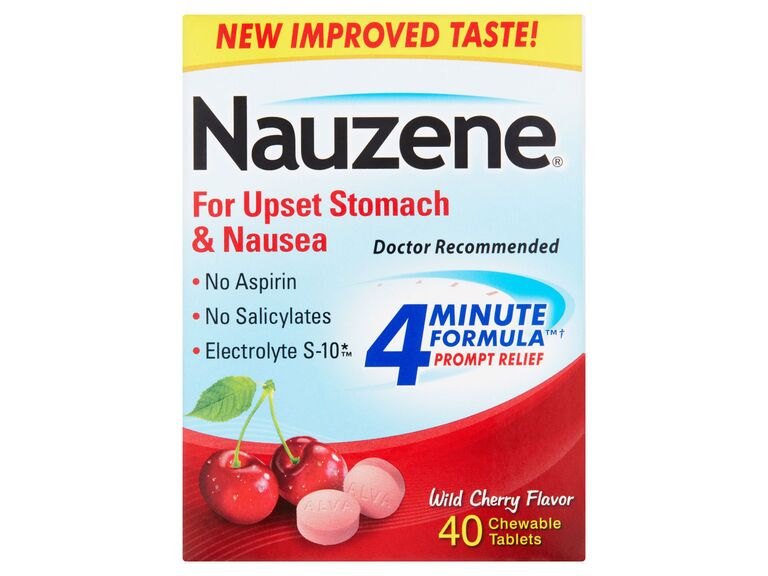 Don't knock this chewable tablet until you've tried it. Available at your local drugstore and online, Nauzene is a go-to for anyone who feels a little, um, seasick. Wedding guests with a long drive ahead of them after your wedding should keep a couple of these handy.
Nauzene chewable tablets, $4, Amazon.com
14. Sunglasses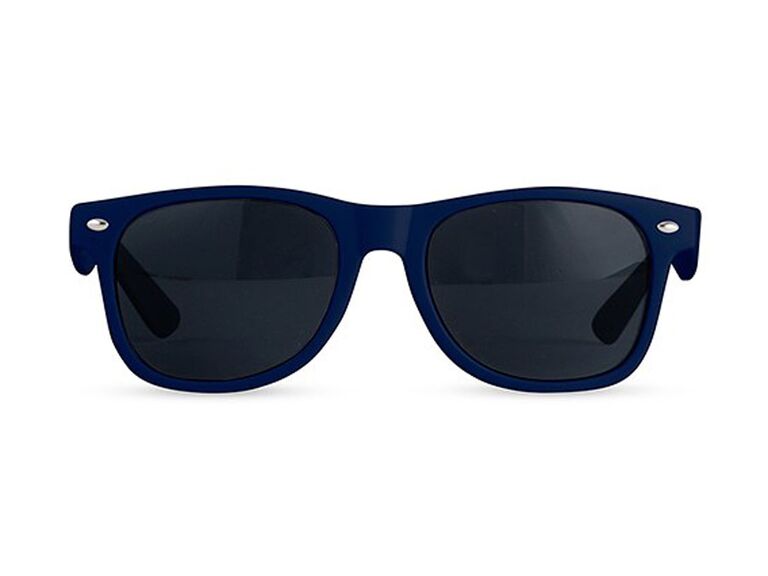 They might not need them now, but these shades will come in handy when the sun comes up and all they can see are hangover headache stars. Add some sunnies to your hangover kit favors to make going outside a little less painful the morning after.
The Knot Shop cool favor glasses, $2, WeddingShop.TheKnot.com
15. Splits of Bubbly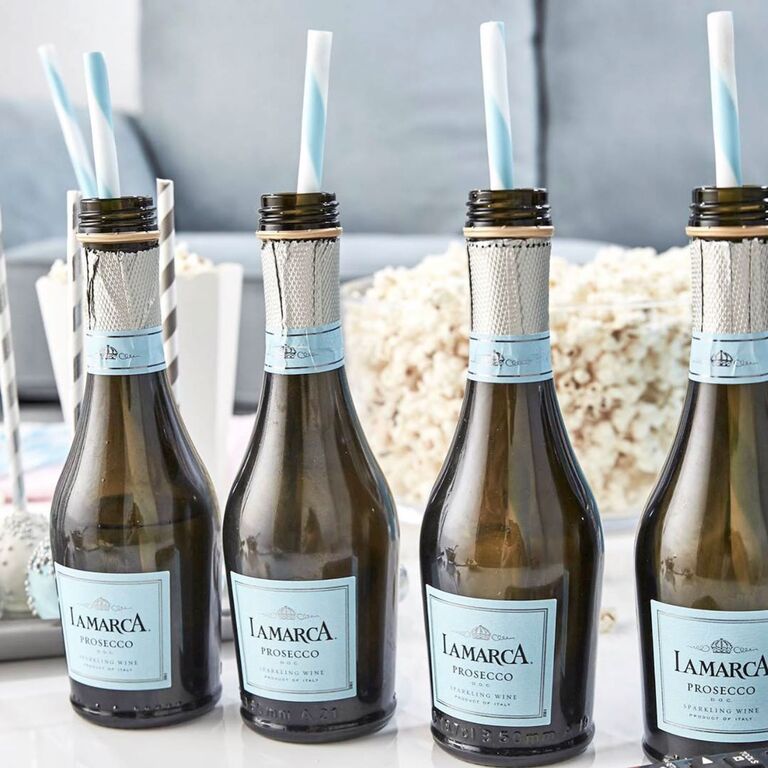 Sometimes the only way to nurse a hangover is to nurse a postwedding mimosa. It might sound cruel, but it's called hair of the dog, baby.
Lamarca 187 milliliter bottles of prosecco, $179 for case of 24, 1-877-Sprits.com
16. Backup Shoes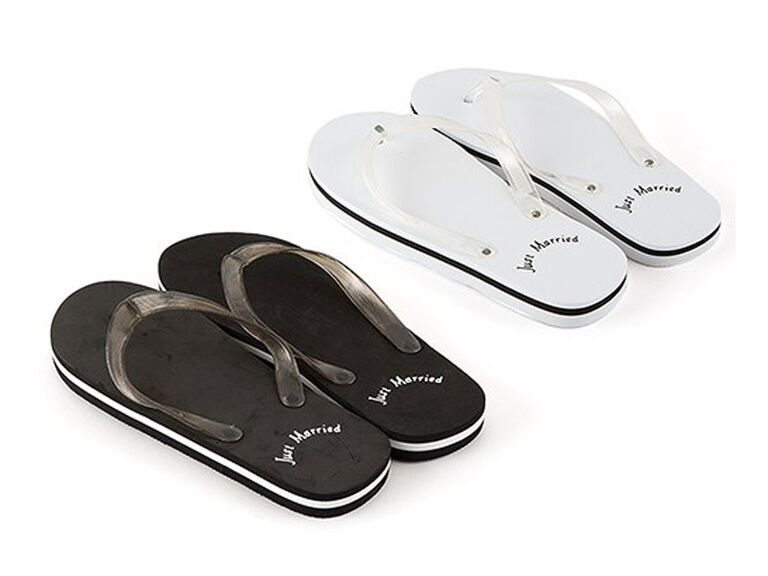 The best wedding receptions end in packed dance floors and kicked-aside heels. Gift your guests a backup pair of flip-flops they can slip on and wear home post-party. Add your monogram, a message or your wedding date for extra personalization.
The Knot Shop black and white Just Married wedding favor flip-flops, $8, WeddingShop.TheKnot.com