7 Wedding Social Media Mistakes to Avoid
Whether you're a guest or a to-be-wed, nobody wants to suffer a social media faux pas leading up to the wedding day.
by Ivy Jacobson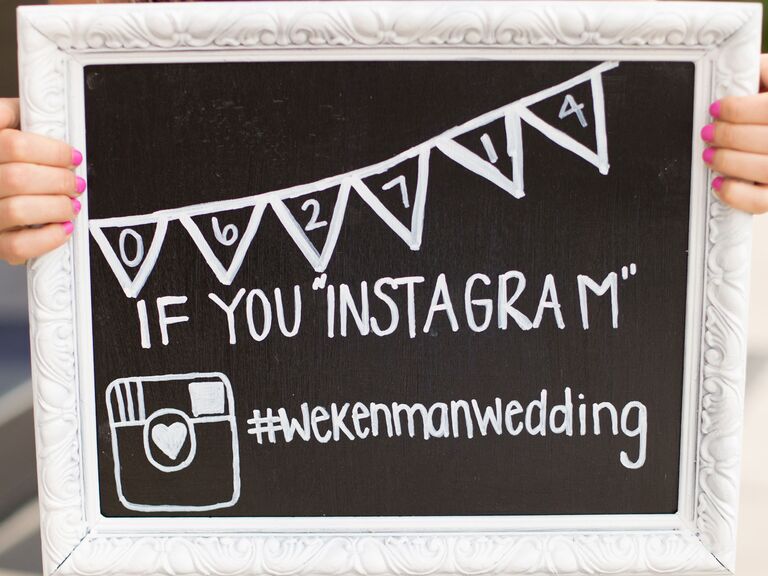 Nobody wants to be that person who forgot to silence their phone during the vows, or Snapchats the entire affair and forgets to be present—which is why minding your social media manners during the wedding day is one of the biggest responsibilities a wedding guest has in this digital age. It's also just as important for the engaged couple to err on the side of caution when it comes to incorporating social media into the events leading up to the wedding day. Here are our top seven mistakes to avoid.
1. Ignoring the couple's social media requests.
If the bride and groom choose to have an unplugged wedding, respect their wishes and keep your phone use as minimal as possible, and don't post photos on social media until you're given the all-clear. But if the couple has a hashtag, make an effort to use as much as possible on every post. They're excited to be able to see all photos taken from their wedding in one place and so quickly after the event too.
2. Posting photos of the bride or groom before the ceremony.
Even if you had the most fun ever getting ready with the bride, don't post any photos of her before she walks down the aisle (same goes for the groom!). Even if you snapped the most adorable pic of her with her hair in hot rollers sipping a mimosa with a sugared pink rim and a matching pink satin getting-ready robe while dancing to Taylor Swift (the stuff Instagram dreams are made of!), just don't do it. You don't want to risk giving any surprises away before she's married, even if she's doing a first look. Erring on the side of caution is best here, but posting photos of yourself or other bridesmaids before the ceremony shouldn't be an issue—but it's always courteous to ask the bride, just in case.
3. Announcing your engagement on social media before telling family members.
Imagine if one of your close family members or best friends posted an engagement announcement on Facebook without telling you first. That would feel pretty horrible, right? That's why you should be sensitive of your loved ones' feelings when you get engaged. Even though your fingers might be itching to drop the mic on social media right away, take the time to cover your bases and tell your immediate family and best friends, and anyone else who would be hurt if they didn't hear it from you first. Getting likes on your engagement ring photo is fun, but not as important as making sure your crew is all on the same page before you post it.
4. Competing with the photographer and videographer for shots.
One top pet peeve from photographers and videographers is guests getting in the way of their shots, even though they definitely don't mean to. Be courteous and mindful of where they are, especially during the ceremony. The last thing the couple wants to see in their professional ceremony photos is a sea of guests holding their iPhones up to capture the first kiss shot. We know you want to get the perfect photo for social media, but being courteous toward the professionals (and therefore, the couple) trumps anything else during important moments throughout the day.
5. Being on Snapchat for the whole reception.
Yes, there may be aerial bartenders, a cigar rolling station, fabulous signature cocktails and the best DJ you've ever heard, but try not to document every single second on Snapchat. The newlyweds want you to have fun at the reception, and if you're glued to your phone the whole time, you risk not being in the moment and truly enjoying yourself. Yes, everyone is bound to be on their phone at a few points during the night, but try not to let its presence overtake the evening.
6. Asking controversial wedding questions on Facebook.
Simply put, inviting all of your Facebook friends to offer their two cents regarding wedding questions is like opening Pandora's box. We can't tell you how many times we've seen brides post questions on their social media platforms like, "What do we do if we didn't get a gift from a guest?" or "Love it when one of my bridesmaids is causing drama—any tips?" and watch a contentious discussion get out of hand for all to see. Your friends likely mean well, but crowdsourcing for touchy topics is best handled offline so nobody's feelings are hurt.
7. Being on your phone for a good portion of your wedding day.
When the day rolls around, the last thing you want to be doing is answering calls and texts from your guests and vendors. There's going to be so much to soak in and enjoy, so try to stay away from your phone. Set up a communication plan and instruct your wedding planner and vendors to call either your parents or a member of your wedding party if anything pops up. And don't worry about snapping your own photos—your photographer and wedding party will be documenting the whole day for you. You can also hire a social media wedding concierge to keep your social feeds up-to-date too.