Are You at Risk of Wedding Vendor Fraud?
Protect yourself from vendor scams, fraud and negligence to avoid a wedding day disaster.
by Carrie Anton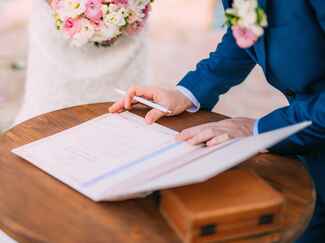 photo by
Shutterstock Images
Imagine finding and ordering the wedding dress of your dreams—only to discover the bridal shop closed their business. It's a very real scenario and one that can set you back a lot of money (bye-bye, deposit!) and leave you in a scramble for something to wear down the aisle. While this is just one example, couples can run into all kinds of vendor issues, be it fraud, negligence, services not as described, last-minute cancellations, businesses going under and so on.

It's definitely safe to say that most vendors aren't dishonest, and want to make your wedding the event you've always envisioned. But while scams comes with the shadier sets, sometimes mistakes and misunderstandings—and businesses failing—just happen. So how do you make sure you're not caught in a lurch?
More Than Money
Keep in mind that problems with vendors are not always directly related to money. In the case of the wedding dress, the loss of the down payment was part of the issue, but in the end, the bride has to find a dress to wear in a pinch, which can be stressful.
"I think the most common vendor problem in the wedding industry is directly surrounded around the final product," says Sarah Ntouskas, Owner/Principal Planner of Make it Posh Events. "You could receive cheaper flowers, centerpieces, and so on. The surf and turf you paid for comes with a fatty cut of beef that screams costs were cut."
Noting that both examples aren't the norm, Ntouskas still warns to be on the lookout for misrepresentation in the level of service being offered. "Some vendors will promise the moon and then cannot perform," she says. "They may also tell you they can work with your budget, but then you get hit with hidden costs."
Red Flags
Trusting your gut will play an important role when finding new vendors; if something doesn't seem, right follow your intuition.
"One of the best ways to decide whether to hire a vendor will come from his or her references and/or reviews on websites," says Christie Asselin, attorney and blogger behind YourWeddingLawyer.com. "Be sure to speak with your potential vendor's references. If the reviews are consistently poor, and/or your vendor cannot come up with references, that's a big, big red flag!"
Asselin also advises to meet as many of your potential vendors in person to best gain an impression of him or her immediately. "If he or she seems unprofessional, or something just seems 'off' or it seems as though your visions or personalities will not work well together, it may be best to move on."
As a wedding and event planner, Ntouskas works with a lot of vendors and her top advice is to ask questions pertinent to you. "You're interviewing the vendor as a potential contender," she says. "These consultations are not formality, but for you to get a sense of whether or not you like the vendor and their product, good or service. Don't stop asking questions after the interview either. Email questions following and see how quickly you get a response."
Before You Sign
Contracts come with the wedding planning territory, so get ready to sign. However, before doing so, know what you're signing. "Thoroughly reading a contract before you sign it is an absolute must," tells Asselin, who says it's her Golden Rule. "If you have questions about the contract, ask away! Don't be shy. And if you can't explain a provision of your vendor contract with confidence and in plain English to a friend, then you don't understand it well enough to sign it."
If you're not ready to go through your vendor contracts with a fine tooth comb, Asselin and Ntouskas both recommend hiring a lawyer to play it safe. "Don't feel like you have to sign the first thing presented," says Ntouskas. "If there's language you don't agree with, ask the vendor to make changes or strikethrough the paragraph. Just understand that some clauses may be non-negotiable."
Choose Wisely
With so many people tying the knot and using social media to share their experiences, word of mouth is becoming a reliable source for finding great wedding vendors—and there are tons out there to choose from. Asselin recommends talking to other couples and joining Facebook groups for engaged couples to get the vendor conversations started and to ask questions as you get deeper in the process.
"The right vendor for the right price is out there," says Ntouskas, who advises not to vet vendors solely on budget. "Also, don't settle because you're tired of looking and want to move on. This is not a time for snap judgment. Make sure everything is totally transparent, with you and your vendors on the same page, and you'll start your wedding planning off on the right foot."
If you want more broad-level protection from potential vendor problems, look to insurance. "Many of the problems that couples have can be best remedied by insurance policies," says Asselin. "So be sure to consider all of the insurance options in the market, from cancellation insurance, to general liability insurance to vendor bankruptcy insurance."