What to Consider When Making Your Wedding Budget
Create a wedding budget that's perfect for you, without skimping on the fun stuff. It's all about communication and organization—we'll take you through it.
by The Knot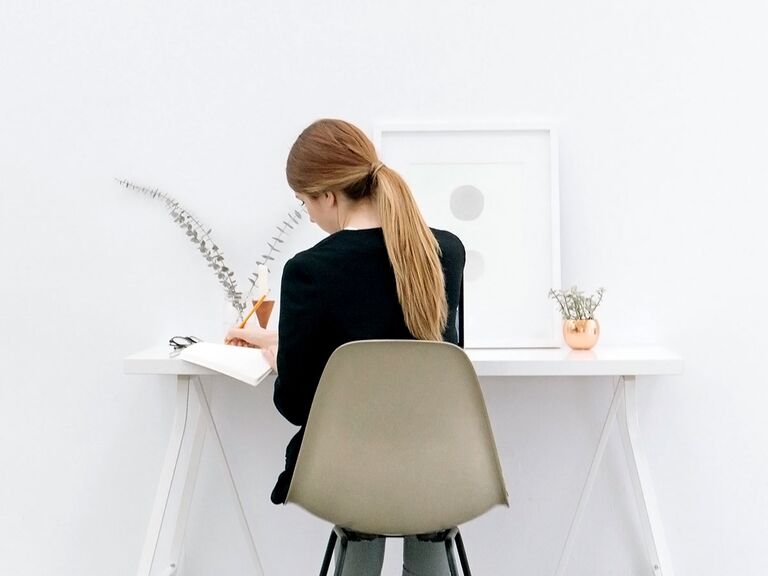 Figuring out your wedding budget can be stressful at first, but don't worry, we're here for you. Whether you're dreaming of a lavish hotel soiree or an intimate garden affair, answering these key questions will help you determine how much to spend to make it happen, make it special and make it yours.
1. Who's paying for the wedding?
Communication is key: Discuss with your families about who will be paying for what. While some couples' families will still pick up the entire tab, other couples (10 percent, to be precise) prefer to cover costs themselves. On average, according to The Knot 2017 Real Weddings Study, the bride's parents cover 45 percent of the wedding, the bride and groom contribute 41 percent, and the groom's side pays for 13 percent.
So, how should you broach the subject? For many couples, talking to each family separately is the best way to have an open and productive discussion. Here are some guidelines to help you and your families determine an initial budget:
Ask both sets of parents to commit to a specific dollar amount, and then add up all the contributions to create your budget.

Alternatively, ask each set of parents to finance a particular aspect of the wedding (such as the ceremony, honeymoon or catering).

Decide how much you and your partner can contribute.
2. How much do you actually need for the wedding?
Just like buying shoes, an apartment or a pair of jeans, when it comes to financing a wedding, you should determine how much you need to spend for what you want. Depending on your personal preferences and budget needs, you'll want to decide which elements of your wedding to prioritize—basically, what to save on and what to splurge on. Then, set your expectations accordingly. Here are some helpful stats to give you a general idea of how couples typically allocate their budget:
The national average cost of a wedding is $33,391 (excluding the honeymoon).
Here is a basic breakdown of what you can expect to pay:
Reception: 48%–50%
Ceremony: 2%–3%
Attire: 8%–10%
Flowers: 8%–10%
Entertainment/Music: 8%–10%
Photography/Videography: 10%–12%
Stationery: 2%–3%
Wedding Rings: 2%–3%
Parking/Transportation: 2%–3%
Gifts: 2%–3%
Miscellaneous: 8%

To avoid stress, allot about 5% of your budget for a "just-in-case" fund.

And definitely don't forget to budget for your honeymoon if you're covering it yourselves.
3. How much should you save for the wedding?
As soon as you're engaged , start putting aside as much of your income as you can for the wedding. Saving 20 percent of your monthly income is a good, albeit challenging, goal. The longer your engagement, the more you'll be able to put away. 
Ways to save: Limit your spending on small stuff (rent movies instead of going to the theater; switch from a twice-a-day latte run to once—or make your coffee at home; hit the trails for a run or bike ride instead of taking costly workout classes). These changes will hardly affect your quality of life, but after a year, the extra cash will help cover some wedding essentials. 

Make the most of your money: Instead of stashing your money in a low-interest savings account, consider buying certificates of deposit (CDs) or opening a money market account. The interest rate can be double that of a savings account. Just check the fine print to avoid penalties.
Planning on dividing and conquering wedding costs? Start creating your personalized budget with The Knot Budget Calculator to track, tweak and manage every dollar you spend.